10 Best Cookware Materials: Pros & Cons (2023 Guide With Pictures)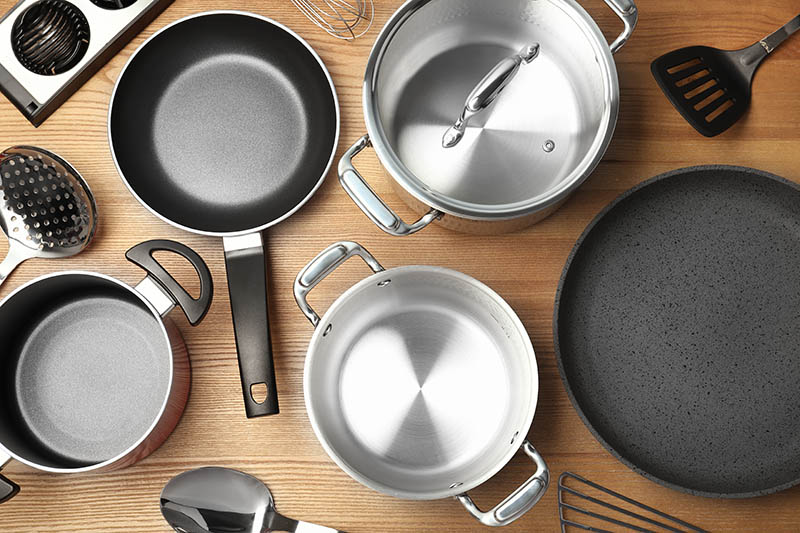 If you are looking to purchase your first set of cookware or it's been a while since you replaced it, you might be surprised to learn how many different materials are available. Each one claims to work better than the others, but which is best for your kitchen? If you need help choosing, you've come to the right place. Here, we go over the different materials and discuss the pros and cons of each to help you make an informed purchase.

Top 10 Cookware Materials
1.

Fully Clad Stainless Steel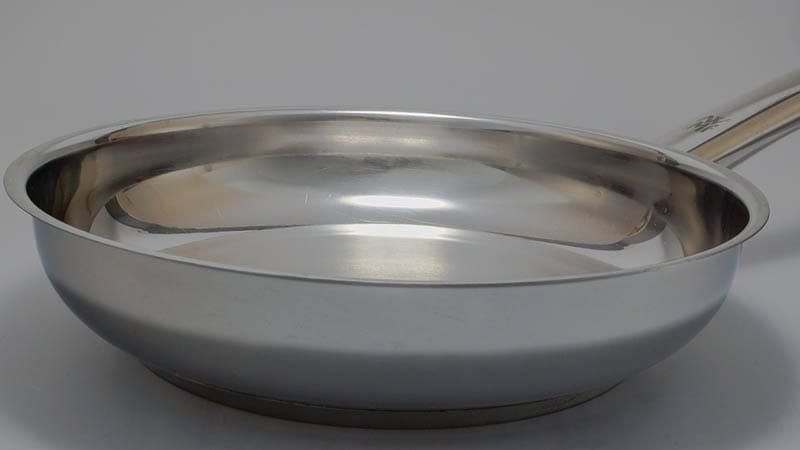 You might find fully clad stainless steel labeled as multi-clad, clad, or bonded cookware. Manufacturers create it by bonding, or cladding, several layers of metal. It usually has a stainless-steel cooking surface, an aluminum or copper core, and a stainless-steel exterior. Manufacturers clad stainless steel to aluminum or copper because stainless steel is not a good heat conductor. The other materials help the surface heat faster and more evenly, and the different materials used in the construction will also affect its performance. Fully clad stainless-steel cookware is durable and non-reactive, so it's perfect for searing, browning, frying, and more. The surface heats evenly and works well on all ranges.
The downside to fully clad stainless steel is that food tends to stick to it, so it can be more difficult to cook on and harder to clean. Stainless steel is also expensive compared to many other metals.
Pros
Durable
Versatile
Even heat
---
2.

Impact Bonded Stainless Steel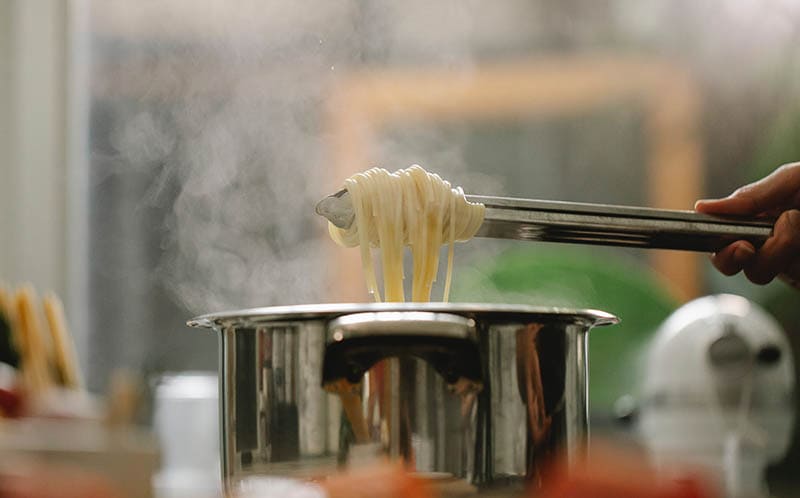 Impact-bonded stainless-steel cookware is similar to fully clad stainless steel but usually has fewer layers. With this type of cookware, the cooking surface and exterior of the pan are stainless steel, and it will usually have an aluminum or copper base bonded to the bottom. The main advantage of using this type of cookware is that the cooking surface is as good as what you will find on fully clad stainless steel, but it's much less expensive. There are also many brands of this cookware, and it's usually lightweight. Use these pans for searing and frying.
The downside to using impact-bonded stainless steel is that the sides are usually only stainless steel, so they won't conduct heat as well as the cooking surface. Food will also stick to the surface, as it does on fully clad stainless steel, so it will be more difficult for beginners to cook on, and it will be harder to clean. Since the sides don't have a heat-conducting material, it's not a good option for sauces and soups.
Pros
Inexpensive
Great cooking surface
Lightweight
Many brands
Cons
No heat-conducting material on the sides
---
3.

Cast Iron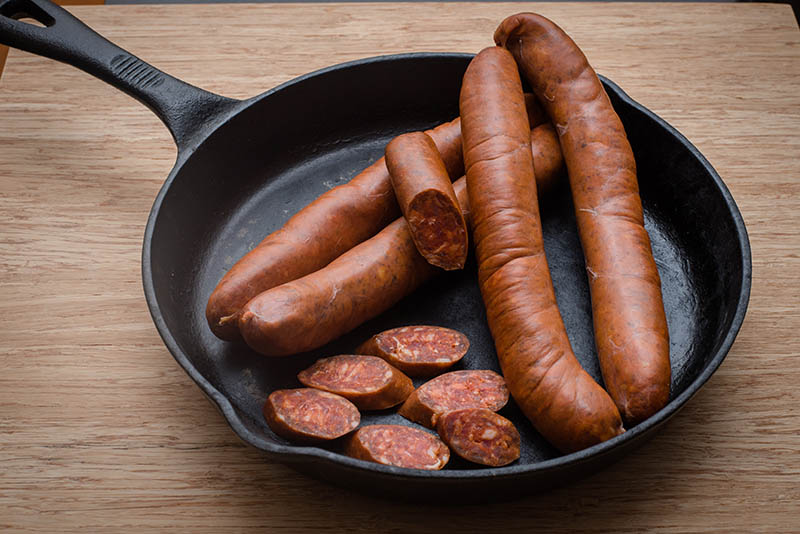 Cast iron is one of the oldest cooking surfaces, and it's usually a single piece of thick, heavy metal. This cookware heats slowly but evenly, retains heat well, and works especially well in high-heat situations. It's also versatile, durable, and inexpensive and creates a perfect surface for frying and searing that works especially well to seal in juices when cooking meats.
The downside to cast iron is that it's incredibly heavy and difficult for many people to maneuver around the kitchen. It's slow to heat, and the surface is reactive, so grilling acidic foods can break down the seasoning layer. Cast iron is also hard to maintain because it rusts easily.
Pros
Inexpensive
Durable
Retains heat
Naturally non-stick
---
4.

Enameled Cast Iron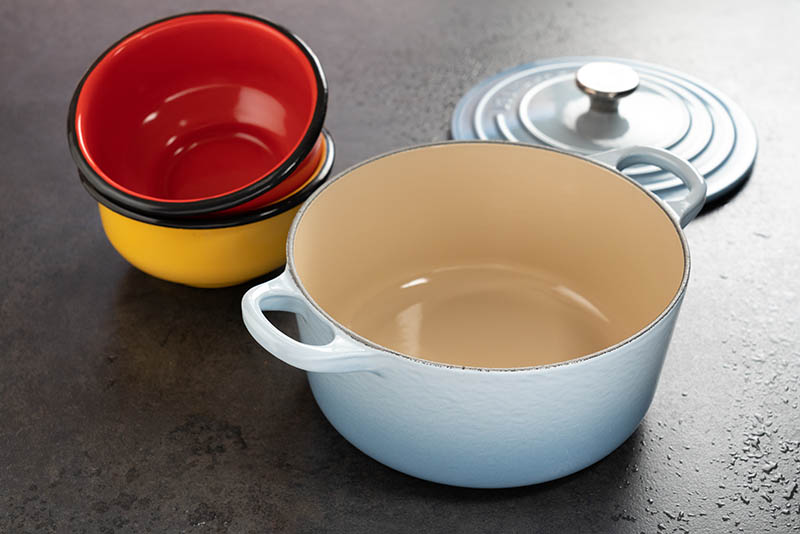 Enameled cast iron cookware is similar to standard cast iron, but it has a layer of enamel that helps create a non-stick surface without worrying about seasoning. The enamel coating also helps prevent rust and makes cleaning easier without sacrificing its ability to retain heat. It's non-reactive, so you don't need to worry about acidic foods, and you can purchase this cookware in many different colors. We mainly see this cookware in Dutch ovens, which are perfect for stews and chilis.
The downside to enameled cast iron is that it's much more expensive than traditional cast iron, and it can take a while to heat. The enamel can also chip away, destroying the non-stick surface and enabling rust to set in.
Pros
Retains heat
Non-stick surface
Easy to clean
Available in many colors
Cons
Expensive
Enamel can chip away
Takes a while to heat
---
5.

Carbon Steel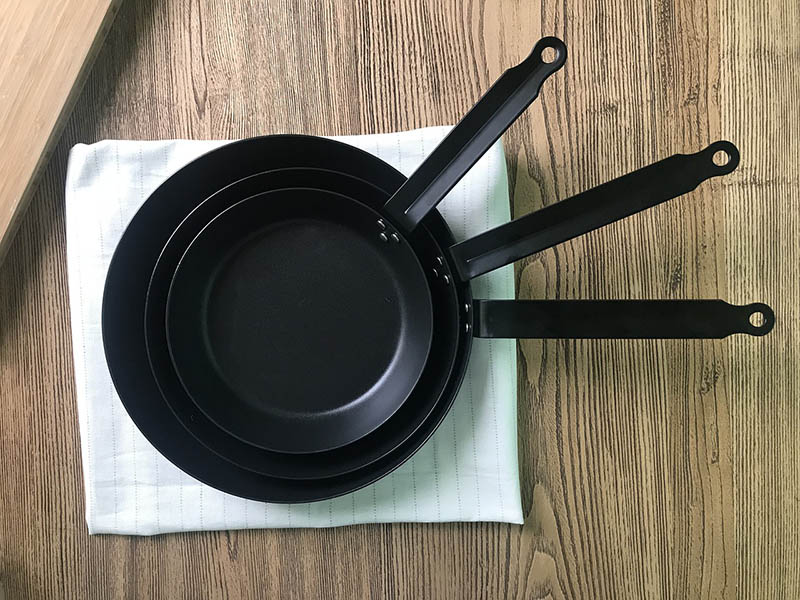 Carbon steel is extremely similar to cast iron, but it contains more carbon, making it much lighter and less brittle so the walls can be much thinner. It has a high heat tolerance and provides a more responsive cooking surface due to the thinner material, so it's easier to change the temperature while cooking. Carbon fiber is extremely durable and affordable, making it a good option for your first set.
The downside to carbon steel is that you will need to season it to create a non-stick surface that will react with acidic foods and that it can be difficult to clean.
Pros
Able to withstand high temperatures
Lightweight
Responsive cooking surface
Affordable
Cons
Reacts with acidic foods
Hard to clean
---
6.

Copper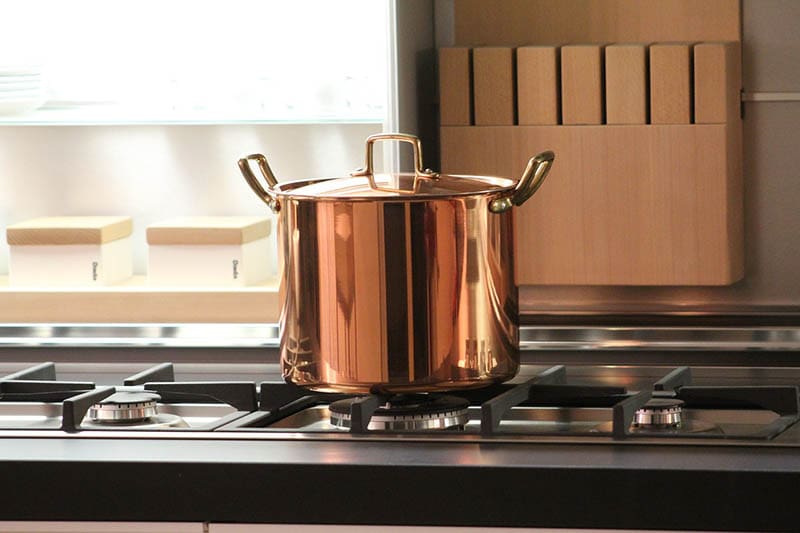 Copper provides a reactive surface that can heat and cool quickly, so there is no waiting to start cooking. This cookware will not rust, so it stores well. It's easy to clean and looks attractive, so many people choose this cookware when visitors see it.
The downside to copper is that since it heats and cools so fast, beginners can struggle to cook on the surface. It also reacts with acidic foods, which can lead to a metallic flavor, and it scratches, warps, and tarnishes easily, so it requires a great deal of maintenance to keep in good shape, and it can be more expensive than many other options.
Pros
Heats quickly
No rust
Easy to clean
Cons
Expensive
Not for beginners
Reacts with acidic food
---
7.

Non-Stick PTFE-Coated Cookware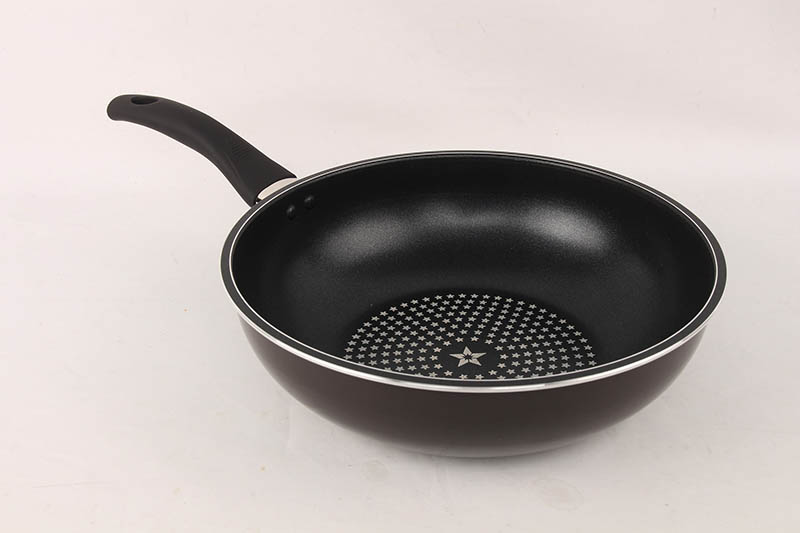 Non-stick cookware has a polytetrafluoroethylene coating, and you may see it called PTFE cookware or Teflon, a popular brand name. It does a good job of preventing food from sticking, so cooking and cleaning up is easy. The coating will cover a metal base that can be aluminum, hard-anodized aluminum, stainless steel, or another metal. This cookware is usually lightweight, affordable, and easy to cook on, so it is a good choice for beginners.
The downside to non-stick-coated cookware is that the coating isn't durable and usually starts to peel or chip away after a few years, so you will need to replace it frequently. It's also not good at handling high temperatures.
Pros
Inexpensive
Food doesn't stick
Lightweight
Easy to clean
Cons
Not durable
Not suitable for high temperatures
---
8.

Non-Stick Ceramic-Coated Cookware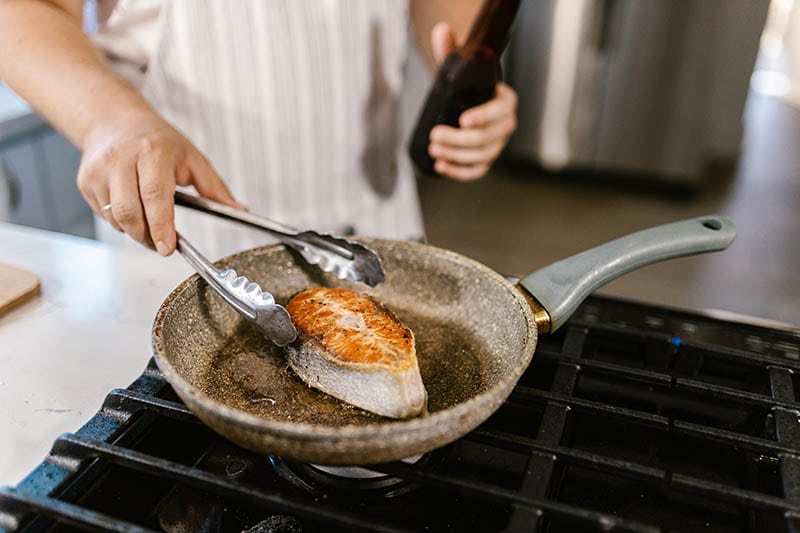 Non-stick ceramic-coated cookware coats the surface with a natural sand-based silicon that creates a smooth glossy surface that your food won't stick to while you cook. The base material can vary as it does with PTFE non-stick cookware, but it will usually be aluminum, helping it to stay lightweight and easy to manipulate in the kitchen. It's more environmentally friendly than PTFE because the manufacturing process uses less CO2, and you can purchase this cookware in many different colors.
The downside to ceramic-coated cookware is that the surface isn't durable and will wear away quickly with regular use. It also scratches easily, doesn't heat as evenly as other materials, and works best at lower temperatures.
Pros
Non-stick surface
Lightweight
Available in many colors
Cons
Not that durable
Scratches easily
Uneven heating
---
9.

Aluminum Cookware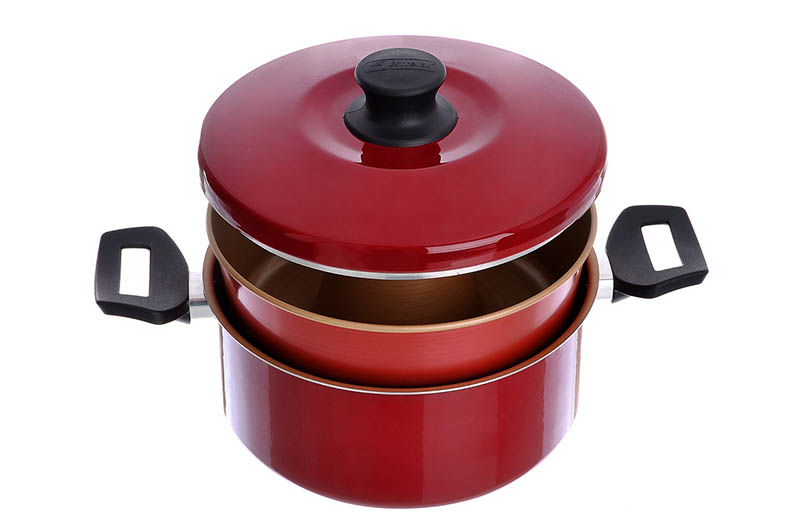 Aluminum is a common metal in cookware because it's highly conductive and transfers heat easily. It's also lightweight and inexpensive, but it's rarely seen on its own without a non-stick coating or other materials, like stainless steel.
The downside to aluminum is that it reacts with acidic foods and doesn't provide a non-stick surface, so it's harder to clean. It's also not durable and can warp if subjected to high temperatures or drastic temperature changes.
Pros
Inexpensive
Lightweight
Heats quickly
Cons
Reacts with acidic foods
Not durable
Can't withstand high temperatures
---
10.

Hard-Anodized Aluminum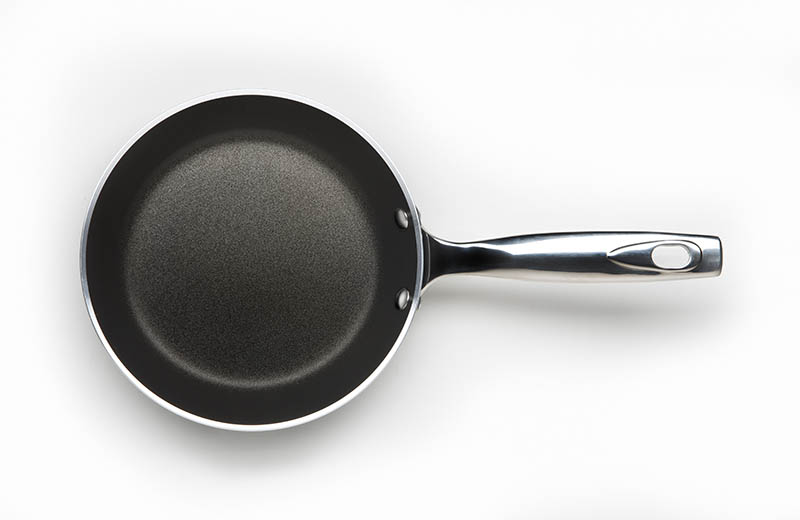 Hard-anodized aluminum is standard aluminum that goes through an electrolytic process, creating a special oxidized layer on the surface that hardens the metal and makes it more durable. It also conducts heat better and is more resistant to corrosion, so it will perform better in the kitchen. It heats quickly and is scratch resistant, so it's a pleasure to use in the kitchen and is easy to clean. Hard-anodized aluminum is also a common base for PTFE non-stick coating.
The downside to hard-anodized aluminum is that it's more expensive and heavier than standard aluminum, and quality can vary. It can also react with acidic foods if it doesn't have a PTFE non-stick coating.

Summary
If this is your first cookware set, you will likely do well with an inexpensive brand that uses PTFE or ceramic non-stick coating, so it's easy to clean and your food doesn't stick. Carbon steel is also a good option and will last longer, but it's usually more expensive. Cast iron and enameled cast iron are great choices if you do a large amount of baking or like to sear your meat when preparing meals, while fully clad and impact-bonded stainless-steel cookware is durable, lightweight, and inexpensive.
---
Featured Image Credit: New Africa, Shutterstock