10 Best Cordless Power Tool Sets of 2023 – Top Picks & Reviews
In many cases, it is significantly cheaper to purchase a power tool set than it is to purchase each tool individually. Often, companies provide a discount when you buy a set like this. If you need several tools, we recommend purchasing a set for this reason. However, not all sets are made equal, they vary widely in quality. So, it can be hard to know which set to purchase for your situation.
Throughout this review, we'll help you make the best buying decision for your budget. Below, you'll find our top picks, as well as essential information to help you make the best purchase.
Quick Comparison of Our Favorites in 2023:
Rating
Image
Product
Details

Best Overall

DEWALT Max Cordless Drill Combo Kit

Comes with 9 different tools
High-quality tools
All tools use Lithium-ion batteries
CHECK PRICE

Best Value

Ryobi One+ Cordless Tool Set

8 tools included
Batteries compatible with all tools included
2 batteries included
CHECK PRICE

Premium Choice

PORTER-CABLE Cordless Drill

Ergonomic and lightweight
8 tools included
3-year warranty
CHECK PRICE

Milwaukee M18 Cordless Compact

High-quality tools
Decent storage bag
2 batteries included
CHECK PRICE

Bosch Power Tools Combo Kit

High-quality tools
Inexpensive
Easy to use
CHECK PRICE
The 10 Best Cordless Power Tool Sets:
1.

DEWALT Max Cordless Drill Combo Kit – Best Overall
The Max Cordless Drill Combo Kit by DeWalt includes nine tools, including an impact driver and reciprocating saw, making it the best battery power tool set we reviewed. If you're looking forward to constructing DIY projects, these are the tools you'll need. Any homeowner who likes to do work themselves should have all of them handy, making this a great set to start with.
Dewalt's kit even comes with a branded Bluetooth speaker that is made for the job site. It really has everything you need for your most basic projects and then some. Furthermore, the kit is designed by a well-known company that makes quality tools, so you don't have to worry about them being low-quality. We generally find that most DeWalt tools are excellent , including those in this set. Overall, this is the best cordless power tool set of the year.
Furthermore, these tools work with most of the DeWalt brand rechargeable batteries. That means they can all share batteries, significantly reducing the number of batteries you'll need to keep up with and charge. You can also choose the best-size battery for your situation, allowing each tool to be more versatile.
Pros
Comes with nine tools
All tools use Lithium-ion batteries
High-quality tools
Different style batteries to choose from
Cons
The warranty is a bit complicated and misleading
---
2.

Ryobi P883 One+ Cordless Tool Set – Best Value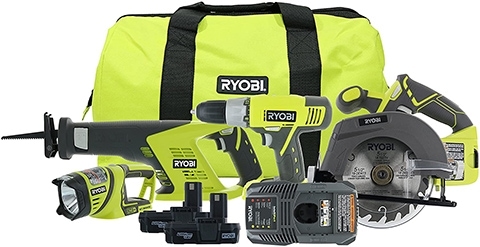 The Ryobi Cordless Tool Set includes eight tools for a much lower price than the DeWalt set we previously reviewed. In fact, it is much cheaper than the vast majority of the other toolsets we reviewed. Despite the low price, though, the tools are high-quality and suitable for most homeowners and handymen. This is the best cordless power toolset for the money. We highly recommend it if you're on a budget or trying not to spend hundreds of dollars on a decent toolset.
This kit comes with two separate batteries and a battery charger. All the tools included are compatible with the batteries, so you don't have to worry about fiddling with multiple battery types. Plus, if you purchase any other tools from this Ryobi, the batteries will likely be compatible with them as well.
The storage bag is also well-designed. Everything fits snuggly within it, keeping your tools safe as you travel or store them between projects. The contractor bag even comes with a wide mouth, making it much easier to get your tools out.
Pros
Eight tools included
Two batteries included
Batteries compatible with all tools included
Quality storage bag
Cons
Warranty is void if you do not purchase from a qualified seller
---
3.

PORTER-CABLE Cordless Drill Combo Kit – Premium Choice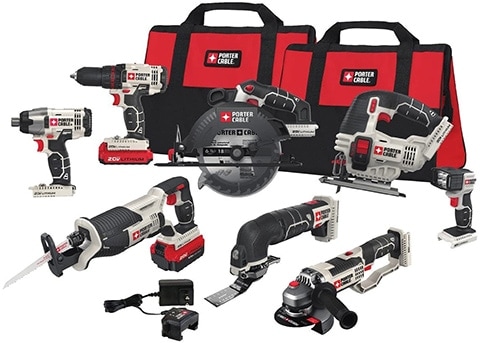 The Porter-Cable Cordless Drill Combo Kit is another eight-tool pack. It includes tools like a drill driver and circular saw, among others. It is designed to deliver performance with the portability often needed at the job site (and at home too). If you don't want to have to worry about extension cords or finding an outlet, these cordless tools are a solid choice.
All the tools are lightweight and ergonomically designed. This set is an excellent option for anyone who works long and hard. In these situations, a set that is comfortable to use can prevent fatigue, allowing you to get your project done faster. All tools included are backed by a 3-year warranty as well, so you won't have to worry about them breaking after a few months of use. Quality-wise, you may say this is the best power tool set.
However, Porter-Cable's kit is premium-priced. We only recommend this set if you're a professional or involved in several projects.
Pros
Ergonomic and lightweight
8 tools included
3-year warranty
Very portable
---
4.

Milwaukee M18 Cordless Combo Tool Kit
The Milwaukee M18 Cordless Compact Combo Tool Kit only comes with four tools—one of which is a flashlight. Of course, a charger is included as well. However, it is a bit more expensive than our number two pick, which comes with more tools. In general, we don't recommend purchasing this set unless you're in love with one of the particular tools that come in it. Otherwise, you'll get the most for your money by purchasing a different set.
Milwaukee's tools are well-made, and you don't have to worry about them breaking down quickly. However, the price doesn't necessarily match up with increased quality. While they are a bit better, it is not worth paying nearly double the price in most cases. This set comes with two batteries, which should be plenty for the number of tools included. The batteries are compatible with all the tools, allowing you to swap batteries as necessary.
Pros
High-quality tools
Decent storage bag
Two batteries included
Cons
Expensive
Only four tools included
---
5.

Bosch CLPK22-120 Power Tools Combo Kit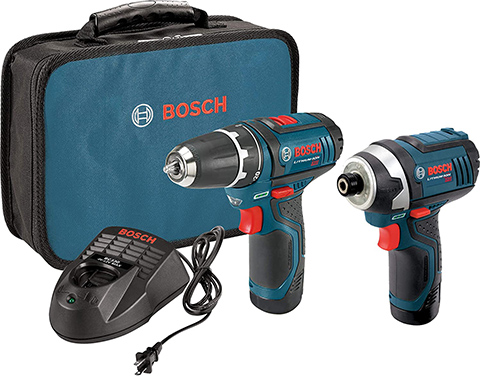 If you're looking for a much smaller toolset, the Bosch Power Tools Combo Kit may be a suitable option. It only comes with two tools: a drill and an impact driver. If you're involved in several projects, you'll probably need more tools than this. However, Bosch's kit can be a good set for a beginner or new homeowner. Everyone needs a drill, and the drill included in this set is pretty nice, as is the storage bag.
Furthermore, the price of this set is low and on par with what we would expect from a set containing only two tools. The lightweight design makes it suitable for beginners and masters alike. These electric tools will not fatigue you very quickly. They are both lightweight and suitable for nearly any project. We also noticed that they were straightforward to control, and the mounted LED lights allowed you to see into tight, dark spaces with ease.
The only reason this set scored so low was that it only contains two tools.
Pros
High-quality tools
Inexpensive
Easy to use
Cons
Only includes 2  tools
Somewhat lacking in power
---
6.

BLACK+DECKER MAX Cordless Drill Combo Kit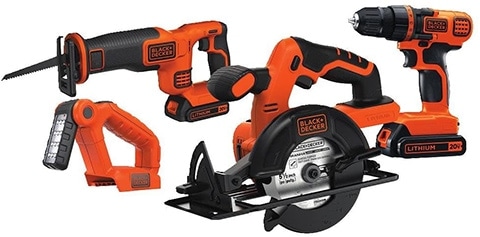 We found the Black and Decker MAX Cordless Drill Combo Kit to be surprisingly inexpensive. However, we soon discovered that this set had a few flaws, which is why it scored so low on our list. In all, this set has four tools. The charger is not included in the tool number, and neither is the working light. While this set only included four tools, it comes with 10 pieces if you count the battery. So, it isn't as small as you may first think.
All the tools are decent, but they aren't mind-blowing. The tools in some other kits were better overall, though we wouldn't mind using these Black and Decker tools if we had to. One thing we didn't like is that it didn't come with a carrying case. When you have this many tools, you need somewhere to put them. With this set, you're on your own to figure it out. The charger also takes 5 hours to charge a single battery. It is not a fast-charging system, unlike what comes with other kits.
Cons
Low charger included
Does not come with a case
---
7.

Makita Lithium-Ion Cordless Combo Kit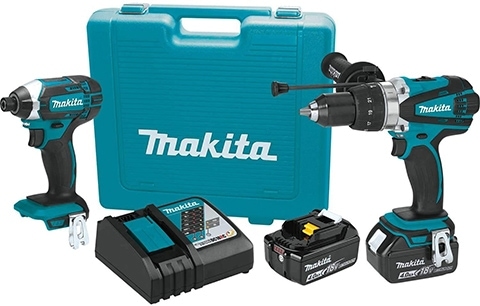 Makita makes this small LXT Lithium-Ion Cordless Combo Kit. It comes with a driver drill as well as an impact speed driver. Both tools are variable speed and lightweight. They are engineered to withstand the dust and water that often comes with DIY work. However, we didn't find that these tools were more durable than some of the others we reviewed, so the "extreme protection technology" doesn't seem to be doing much.
The tools are protected against overloading and overheating. This is very useful, though many other high-quality tools come with this feature as well. While this feature isn't awe-inspiring, it is useful to have.
This kit also comes with a charger, two batteries, and a durable carrying case. However, it is not as high-quality as other cases. This kit is a bit more expensive than you would expect since it only contains two drills. You can purchase other, cheaper kits that also have two tools. In most cases, we recommend saving your money and buying them instead of this kit.
Pros
High-quality tools included
Comes with 2 batteries
Cons
Expensive for what it is
Poor-quality carrying case
---
8.

KIMO Cordless Drill/Driver Kit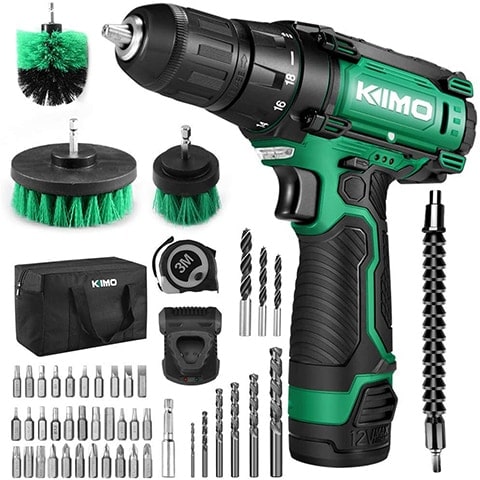 Unfortunately, we can't heartily recommend the KIMO Cordless Drill/Driver Kit. It only includes one tool though it does include many add-ons. In this way, some may consider this product a tool kit. However, it does not come with nearly all the tools a handyman or DIYer needs to complete projects. It is fundamental and more suitable for a homeowner who only feels confident attacking elementary projects.
Despite this limitation, the driver included in this kit is high-quality. The battery is lightweight and lasts for quite a while—longer than even some of the more well-recognized brand batteries. The tool is designed to be extremely versatile. It comes with an adjustable clutch and a variable pressure trigger, enabling it to perform various jobs even though it is a single tool.
Still, we don't recommend this kit unless you don't have room for multiple tools. This may be a good option for someone living in a small house. Otherwise, we recommend a different kit.
Pros
High-quality tool
Many attachments included
Cons
Only includes one tool
Not suitable for serious projects
---
9.

CRAFTSMAN Cordless Drill Combo Kit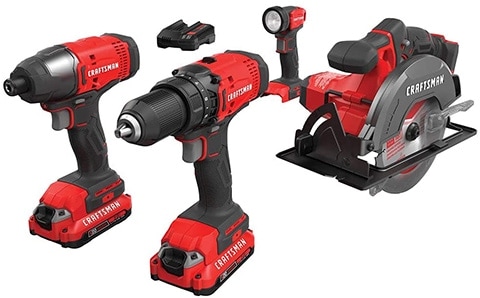 Including a cordless drill, impact driver, circular saw, and a LED light, the Craftsman Cordless Drill Combo Kit technically comes with four tools, batteries, and a charger. However, the light doesn't count as a tool. It's a filler tool, for lack of a better word. Because of that, we only consider this set to come with three items that are proper tools.
However, this set is very cheap, so you're getting what you pay for. It does not cost as much as some other four- or even two-piece kits, so the flashlight doesn't bring down its rating much. The tools are of decent quality, and it comes with a 3-year warranty.
Still, we found a few things we didn't like about this set. Firstly, it runs out of charge very quickly. The batteries included are not the best. It isn't necessarily bad for the price, but you could spend just a bit more and get our number two pick, which is a far better option for those trying to save money.
This battery tool set also does not include a tool bag, so you'll have to deal with the storage issue on your own. There are many decent tool bags on the market, but that only drives up the price you're paying for your tools.
Pros
3 quality tools (plus a flashlight that you probably won't use)
Cons
No storage bag
The battery runs down quickly
---
10.

PowerSmart Cordless 4-Tool Combo Kit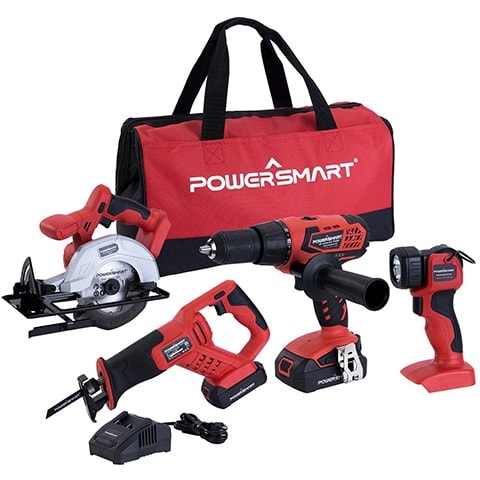 This PowerSmart Cordless Tool Combo Kit is the last set on our list. It is alright, but nothing more. It comes with four tools, technically. However, one is a flashlight, which is ultimately a filler tool. Because of this, we would only consider it to have three tools you'll use. Most people will not use this flashlight simply because you probably already have one. Even if you don't, the flashlight is just decent, but it isn't any more special than a cheap one you could purchase at your local hardware store.
The other tools are not particularly great, either. They'll do for minor jobs. However, if you're doing anything major, you should purchase better tools. They probably aren't suitable for a simple deck job or remodel. The batteries also don't last very long and overheat quickly. They're suitable for a short period of use but not for an extended project.
Pros
Comes with 3 decent tools
Cons
Batteries overheat quickly
So-so flashlight included
Tools not suitable for large jobs

Buyer's Guide – Choosing the Best Battery Powered Tools
There are many cordless power tool kits on the market. Knowing which one is right for you is difficult. Most of them are very suitable for homeowners and even professional handymen. However, the particular one you should purchase depends on your situation and budget. A first-time homeowner who is looking for the best cordless power toolset to get themselves started is going to need something different than a professional handyman that spends all day on the job site.
Here are some things to keep in mind when deciding on the best kit to purchase:
What Comes in a Toolkit?
This depends on the toolkit. Usually, power tool kits come with a drill and a driver. Many kits will include a flashlight, which is inexpensive to produce but allows them to up the number of tools included in their kit. Usually, these flashlights are not particularly special.
When trying to find the best cordless combo kit, be sure to check and see what comes in it. Don't be lured in by a "10-piece kit" that is listed for a surprisingly low price. It may just include a whole bunch of filler tools. It may even be counting the batteries as a "piece" of the kit.
Also, keep in mind what project you're planning on doing. If there are specific tools you need, be sure to purchase a combo kit that includes them. If you're never going to need a circular saw, there is no reason to buy a kit that has one in it. There are many options out there, so don't settle on a kit that contains tools you doubt you'll ever touch.
You may also want to consider how many tools you need. If you only do small projects, you likely aren't going to use very many tools. At the same time, if you use power tools every day, you probably don't want to purchase a kit that only comes with two tools.
Important Factors to Consider
Below you'll find a few key points we recommend considering before purchasing any tool kit. We may have touched on some of these features previously, but many are worth mentioning again:
Tool quality: Some companies provide very cheap tools in their kits. This helps them keep the cost down. Furthermore, people tend not to research each tool included in the kit, which allows companies to get away with providing less-than-stellar tools. They may also provide one great tool and a few lousy ones. Many people will purchase the kit because of the great tool and put up with the others. But this isn't necessary.  Several brands stock their kits full of great tools. Don't settle.
Batteries: All of the tools mentioned in this article are cordless. Because of this, the battery quality matters. Some batteries can only last for a few minutes when hooked up to a saw. Others can last for quite a while. You want the best quality batteries you can get and as many of them as possible. Preferably, they should also charge fast. Otherwise, you may be waiting a while to finish your project.
Storage bag: Most kits come with a storage bag or case. When you purchase several tools, having somewhere designed to hold them is hugely beneficial. It prevents them from being damaged while you're traveling and helps ensure that you know where they are at all times. If a tool kit doesn't come with a storage bag, you'll likely have to purchase one. Be sure to include this added cost in your budget.
Price per tool: Most toolsets provide a built-in discount. They're often cheaper than purchasing every tool separately. You should pay attention to just how much cheaper they are, though. One kit may include higher quality tools but be more expensive overall. Still, you could be saving hundreds by purchasing the kit. Another might include so-so tools and not provide much of a discount, even though it is cheaper.

Cordless Power Tool Sets FAQ
Are cordless tool sets powerful?
They can be, but they usually will not be as powerful as a corded option. Batteries can't provide as much power as a cord. Still, high-quality cordless tools should have enough oomph for most users, especially if you're the average homeowner. If you think you need all the power you can get, though, we recommend purchasing a corded tool instead.
What company makes the best cordless power toolset?
Out of all the tools we reviewed, we liked the one by DeWalt the most. It included the most tools for a reasonable price, and all the tools included were high-quality. It doesn't get much better than that if you're looking for an excellent all-around toolset. It includes most of the tools you'll need for construction projects, making it an excellent choice for the serious DIYer looking to upgrade their current workshop.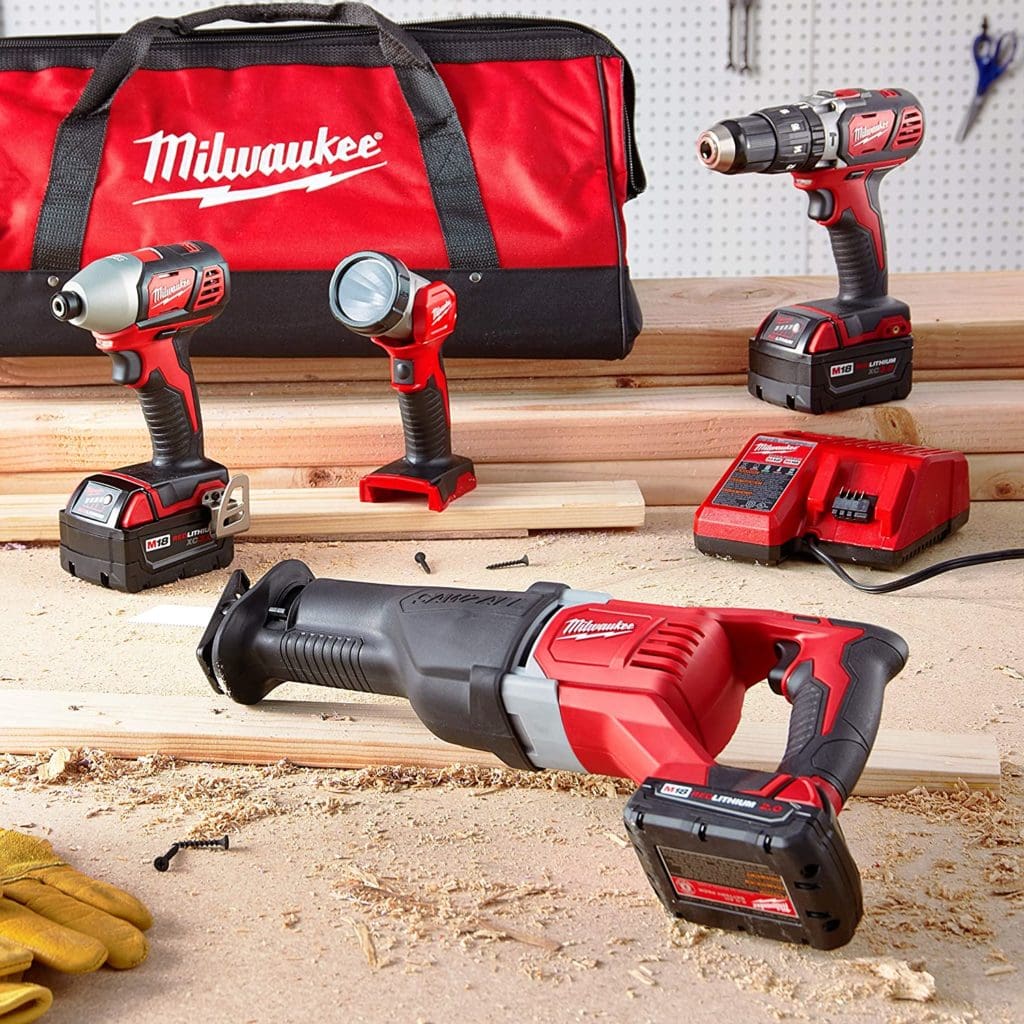 Do I need a cordless power toolset?
It depends on your current situation. If you need one or two specific tools, you probably don't and can buy the tools individually. A toolset is excellent for those who want to upgrade all their tools at once or those who are just starting and need to purchase several. They're an easy way to set up a workshop quickly, especially if you're a new homeowner or someone who just started doing DIY work. However, for those who need a circular saw, there's no need to invest in an entire tool kit.

Conclusion
Out of all those we reviewed, the DEWALT DCK940D2Max Cordless Drill Combo Kit is the best cordless combo kit. It includes most of the tools the average person could need, which are high-quality to boot. All of the included items were easy to use and durable. We even liked the storage bag!
If you need to stay on a budget, the Ryobi P883 One+ Cordless Tool Set offers the best cordless tools for the money. It includes a wide variety of tools and is surprisingly inexpensive. Despite the price, the tools were well-designed and durable. Hopefully, this article helped you figure out precisely which tool kit to purchase for your needs. Choosing the best option can be hard, but we hope our reviews shone some light on the problem.