8 Best Painter's Tapes of 2023 – Reviews & Buyer's Guide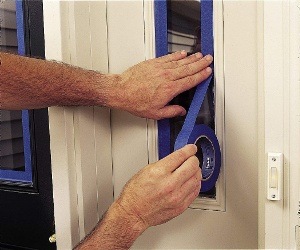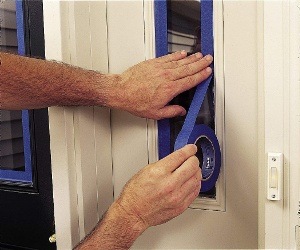 "Cutting-in" with a brush is detailed work that requires a fine brush and a steady hand.   For years, the finishing work of cutting-in had to be done by a master painter.  Painter's tape eliminates that painstaking process, speeding up your work and eliminating tiresome detail work that most of you would rather not be bothered with.
When painter's tape first came out, only one company offered it.  You either used theirs or did without. But that's changed in recent years.  Now there are a growing number of manufacturers producing painter's tape and making conflicting claims about their products.  Who should you believe about what?
We're going to make it easy for you.  We've already examined the different tape manufacturers' competing claims, doing all the hard work of comparing them to discern which ones live up to their press and which ones don't.  Then we put together these reviews so you can see the evidence for yourself.  The information we've found will help you decide which one to get, what the best painters tape in different applications, and which one will give you the most bang for the buck.
---
A Quick Glance at our Favorites (updated in 2023):
Rating
Image
Product
Details

Best Overall

ScotchBlue

Sticks well
Doesn't leave a residue
Comes off in straight lines
CHECK PRICE

XFasten Blue

Prevents paint bleeding
Sticks to many surfaces
Doesn't damage surfaces
CHECK PRICE

Best Value

FrogTape

Doesn't bleed
Comes off cleanly
Moisture activated
CHECK PRICE

AmazonBasics

Six pack
Affordable
Easily torn by hand
CHECK PRICE

Duck Blue

Versatile
UV resistant
Sixty yards to a roll
CHECK PRICE
The 8 Best Painters Tapes:
1.

ScotchBlue Painter's Tape – Best Overall
This is the "original" blue painter's tape from Scotch, as seen on so many HGTV home improvement shows.  It comes in a variety of widths, from 3/4″ to 2.82″, and in rolls that are either 45 or 60 yards long.  Millions of people have used this tape over the years and absolutely loved it.
This tape will stick to just about every surface imaginable, such as ordinary walls, wood trim, metal window frames, and even carpet.  There is very little bleed of paint under it, although, depending on the surface, you may have to spend a little extra time pressing the edges down.  Of course, this is true of any tape in this list.
Once the paint is dry—whether it's the same day you applied it, or up to fourteen days later—it comes off easily and cleanly without damaging the surface underneath, leaving a crisp, straight line.  Occasionally it will come off in pieces, but other than that, this tape is nearly flawless.
Even when this tape has been exposed to direct sunlight for up to fourteen days, it still comes off quickly and cleanly.  You can't beat the original, and that's why it's our pick for the best tape for painting.
Pros
Sticks well
Doesn't leave a residue
Comes off in straight lines
Cons
Occasionally comes off in pieces
---
2.

XFasten Blue Painters Tape
Another "blue," this painter's tape is a fierce competitor for the top pick.  It sticks to a wide variety of surfaces, and then comes up without leaving a sticky residue behind.  Exposure to direct sunlight doesn't seem to affect it in this regard.  However, it doesn't stick quite as well as the manufacturer says it does.  It occasionally curls up along the edges, which then requires you to spend some extra time pressing it down again so it will hold.
The manufacturer claims it will hold for up to sixty days without leaving a sticky residue. But this is hyperbole more than anything.  Extravagant claims set a bad precedent.
One thing that is disturbing is the physical width of this "half-inch" tape.  It isn't half-an-inch wide.  It's 7/16″.  In a six-pack of tape, that missing 1/16″ adds up to 3/8″, almost enough for another full roll of tape.  So you're paying for a roll of tape you're not really getting.  This is deceptive advertising.
Overall, this is one of the best tapes for painting. But the manufacturer needs to straighten out a couple of issues in order for it to take the top spot.
Pros
Sticks to many surfaces
Doesn't damage surfaces
Cons
Missing 1/16″ on each roll
Doesn't stick as well as it claims
---
3.

FrogTape Painters Tape – Best Value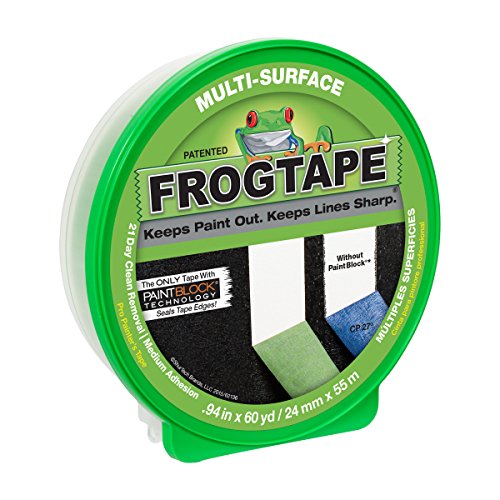 This multi-surface painter's tape is .94″ wide on a sixty-yard roll.  This tape has the interesting quality of being moisture activated. If you're having trouble sealing the edge to a surface, run a damp rag over it and it seals quickly.
This "multi-surface" tape has problems sticking to surfaces such as painted walls and tile floors.  In fact, it doesn't stick to them at all.  You'll need to use another tape for those types of surfaces.
When it does stick though, there aren't any bleeds as long as you press it down correctly, and it comes off cleanly when you're done.
Quality control at the factory seems to be lacking though.  Some of the edges of the rolls are wavy instead of even.  This makes it impossible to create straight lines, which is the whole point of using painter's tape.
The results on this tape are somewhat mixed.  It doesn't have the qualities of the first two tapes, but for the price, it's a decent painter's tape and will get the job done.  You just have to work with it a little.
Pros
Doesn't bleed
Moisture activated
Cons
Won't stick to some surfaces
Quality control lacking
---
4.

AmazonBasics Painters Tape, 1.88″ x 180′, 6 Rolls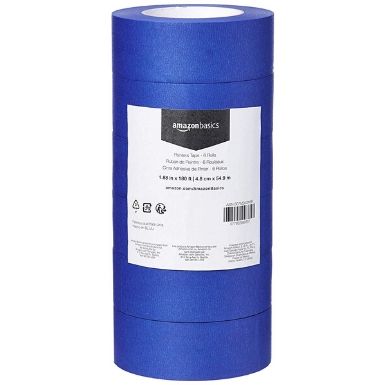 AmazonBasics makes affordable products that deliver a surprising level of quality. Such is certainly the case with this option here.
You get six rolls, all equally well equipped to protect the sensitive spots on your home during your next paint job.
The tape has been made specially to be effortlessly torn by hand for ease of use. It is also resistant to UV rays so that you can use it even outside on hot summer days without worrying that the adhesive element will melt.
Perhaps best of all, the tape also leaves behind only a small amount of residue, making cleanup very easy.
The only real issue is that the tape doesn't work very well on concrete surfaces. For drywall, it will work beautifully, but otherwise you may need to look for something else.
Pros
Affordable
Six pack
Easily torn by hand
Can be used in the hot sun
Cons
Doesn't work very well with concrete
---
5.

Duck Blue Painter's Tape 1-Inch (0.94-Inch x 60-Yard) 'Clean Release'
The Duck Blue Painter's Tape is a versatile option that works well on wood, steel, concrete, and drywall. Like the AmazonBasics it can be easily torn by hand and it is resistant to UV rays which makes it a good option for outdoor projects.
You also get sixty yards worth of tape which makes it an excellent value offering. There is one issue that you'll want to be a little wary of: the tape tends to leave behind a substantial residue. This is particularly true when it has been lingering on the wall for a long time.
Pros
UV resistant
Versatile in terms of where it can be applied
Sixty yards to a roll
Cons
Tends to leave behind substantial tape residue
---
6.

3M 2090 ScotchBlue Painters Tape
The ScotchBlue is an affordable tape that can be readily applied to virtually any surface. The moderate price and the ease of application make it a really great choice for do it yourself projects.
Like most of the other great tapes on our list, it can be used outside, and it will leave behind only minimal residue if removed within two weeks of use.
But while the tape is made to impress it isn't without issues. Many users report that it is very difficult to tear. In the process of trying, it is possible to damage the entire roll which can lead to excessive amounts of waste.
Pros
Affordable
Versatile
Minimal residue left behind
Cons
Difficult to tear which can lead to waste
---
7.

Gaffer Power Painters Tape, 3-Pack
The Gaffer Power Painters 3-pack is especially known for sticking on tightly to surfaces and then subsequently being removed with ease. In the world of painter's tape, you can't ask for much more than that, can you?
And of course, it can also be used indoors or outdoors regardless of the weather, making it versatile enough for almost any do it yourself project.
The only issue is that the tape is excessively thin. This makes it somewhat fragile. If you aren't careful with how you tear, it is very likely that you will damage the roll.
The thinness factor also can lead to paint bleeding through if you somehow wind up with an unexpectedly large mess on your hands.
Pros
Easy to remove
Sticks well
Great for indoor/outdoor use
Cons
Tape is fairly fragile
May not hold off paint perfectly
---
8.

IPG PMD24 ProMask Blue Designer 14-Day Painter's Tape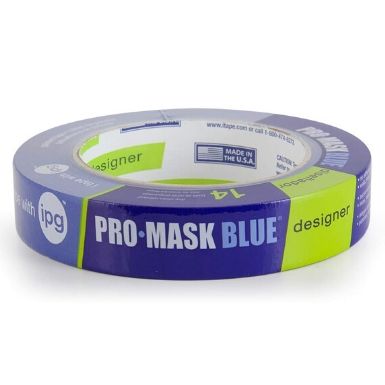 The biggest selling point about the IPG is that it is very affordable. If you are looking for something that won't put an aching on your wallet, this will probably be the tape for you.
However, the quality of the performance does seem to suffer somewhat. The IPG leaves behind lots of sticky residue which can corrupt the quality of your work surface.
It's also hard to tear, and not as good at holding back runny paint as some people might prefer. It may be a suitable option for smaller projects. However, if you have an important job on your hands, you'll want to invest in something a little bit better.
Cons
Hard to tear
Doesn't hold paint off very well
Leaves lots of residue behind
---
Buyer's Guide – Choosing the Best Painter's Tapes
When you're buying painter's tape, pay close attention to the total cost since that's usually how online retailers decide if your order qualifies for free shipping.  Otherwise, it might be cheaper to run down to the hardware store to get your tape.
Available Options
One way to get free shipping is to get some add-ons you'll need anyway.
Paint trays and liners are an obvious addition.  You'll also need brushes, paint thinner for cleaning them, drop cloths, and spare rollers.  Get them all at the same time and you'll be able to push your total high enough to save money on the shipping.  This is where your best savings will come from as opposed to buying from a local hardware or paint store.
---
Conclusion
The ScotchBlue Painter's Tape is (no surprise) the clear winner on our list of the best painter's tape.  Scotch has a long history of producing a quality product that delivers a reliable result.  The "original" walks away with it, hands down.
The FrogTape 1358463 came out as the "best tape for painting for the money" in these reviews.  It doesn't have quite the quality you'd expect or desire, but for the price, it's a quick and easy choice for smaller projects.
Unless you're a master painter who can cut-in by hand, painter's tape is an essential ingredient in your toolkit.  Hopefully, we've given you the information to choose the tools you'll need.  With these reviews in hand, you'll be able to decide, quickly and easily, which tape is best for your project.