7 Best Pool Slides in 2023 – Reviews & Top Picks
Are you dreaming of summer and spending time at your pool, lounging in the sun while the kids splash in the water? Perhaps you want to add a slide for a fun attraction at your next pool party or to keep the kids entertained a little longer.
A pool slide is a great option for pool owners, and the good news is that you don't have to spend a ton of money to get a functional one.
This reviews list features seven different types of slides to fit your expectations from price to style. Descriptions and pros/cons of each will give you in-depth information about each one featured, and the buyer's guide offers considerations to keep in mind before you make a final decision.

A Quick Comparison of Our Favorites in 2023
Rating
Image
Product
Details

Best Overall

S.R. Smith 698-209-58124 Cyclone Pool Slide

Durable
Strong
Enclosed ladder
CHECK PRICE

Best Value

RAVE 3004.8632 Sports Pontoon Slide

Adjustable straps
Stable and strong
Resistant to mold and mildew
CHECK PRICE

Premium Choice

Inter-Fab WRS-CRT-SS Water Pool Slide

Impact-resistant acrylic
Stainless steel
Can hook to a water source
CHECK PRICE

S.R. Smith 670-209-58123 Typhoon Pool Slide

Large yet compact
Sturdy and durable
Wide flume
CHECK PRICE

WOW Watersports 19-2060 Slide N Smile

Versatile
Heavy-duty
PVC Double lane
CHECK PRICE
The 7 Best Pool Slides
1.

S.R. Smith 698-209-58124 Cyclone Pool Slide — Best Overall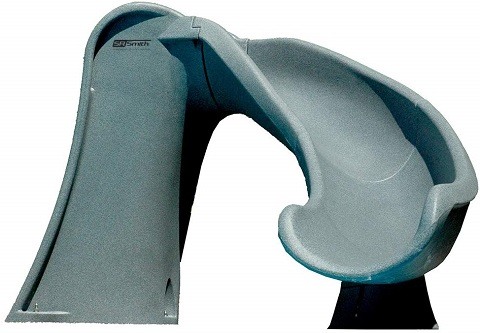 The Cyclone is one of the best pool slides because it is made from quality materials and has many great features. It is made from rotomolded construction that helps increase the strength and durability of the slide. The ladder has an enclosed design that prevents wet feet from slipping through the rungs, making it safer to use.
It is 4 feet and 1 inch in height, with a wide and deep 6-foot, 10-inch plume. You can attach your garden hose to the slide for constant water to flow through the flume. This slide will hold up to 175 pounds, and you can pick from three different colors. Another great feature is that it is Consumer Product Safety Commission (CPSC) compliant and comes with a three-year warranty.
On the downside, the instructions aren't easy to read and understand. This could be a concern for some people if you aren't used to installing pool slides.
Pros
Durable
Strong
Enclosed ladder
Deep and wide plume
Water-hose attachment
CPSC certified
Three-year warranty
Cons
Confusing installation instructions
---
2.

RAVE 3004.8632 Sports Pontoon Slide — Best Value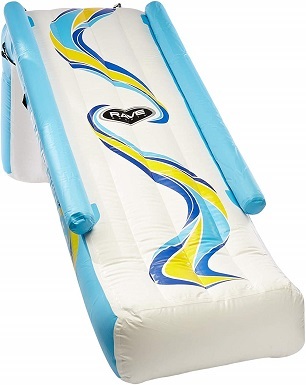 The best pool slide for the money is the Rave Sports Pontoon slide because it is easy to use and is offered at an affordable price. This slide will fit most pontoon boats because it has adjustable straps that allow for a customized fit. The short straps on the upper portion of the slide attach to the top rails of the boat, while the longer straps extend 54 inches to secure on the lower portion of the rail.
It is made of commercial-grade material that is resistant to UV rays, mold, and mildew, so it will last for many summers. There are four vinyl-molded inset steps on the ladder with two handles at the top and inflated side railings for added safety. When fully inflated, it is firm and stable, and it will hold up to 250 pounds, which is great if adults want to join in on the fun.
The Rave comes with a 12V high-pressure inflator that you connect to your car or boat battery for power. This slide can be modified to use with a home pool too; some have secured it to their decks and backyard pools. The only downside to this is that it may not be as secure because it is made specifically for a pontoon boat, which is why it didn't reach the number-one spot on the list.
Pros
Affordable
Adjustable straps
Stable and strong
Resistant to mold and mildew
Pump included
Could modify to use at home
Cons
Not the most ideal setup for a home pool
---
3.

Inter-Fab WRS-CRT-SS Water Pool Slide — Premium Choice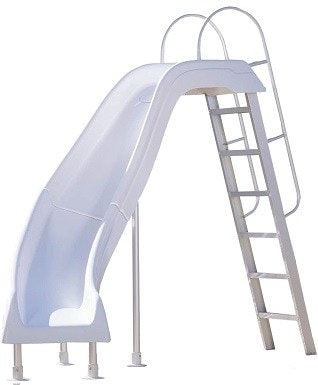 This traditional style slide is a great option for your backyard pool. It has many great features that make this a premium choice, besides the fact that it is pricey.
The Inter-Fab is made in the U.S. from impact-resistant acrylic and stainless steel, making it a durable slide. Setup is straightforward and easy, with the option to make it left or right curve. The flume is a deep semi-circular, and the stairs are enclosed with large handrails for added safety. It will hold up to 250 pounds, so adults can enjoy this slide too.
Once you hook up the garden hose or to your pool's return system, there are no problems with friction when using the slide. The instructions are easy to understand, and there is also a video you can watch on the company's website. It comes with a three-year warranty. It is not recommended to use with above-ground pools or commercial pools.
Pros
Made in the U.S.
Impact-resistant acrylic
Stainless steel
Can hook to a water source
Easy to set up
Three-year warranty
Cons
Pricey
Not for above-ground pools
---
4.

S.R. Smith 670-209-58123 Typhoon Pool Slide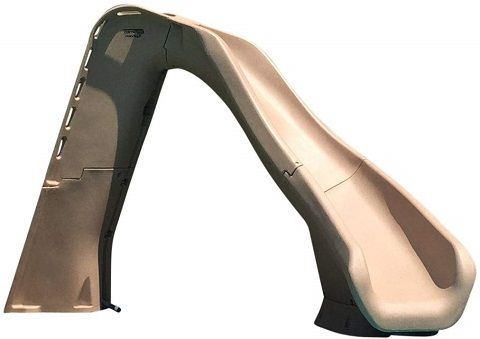 The S.R. Smith Typhoon slide is designed with an option to buy a left- or a right-hand curve. It is over 7 feet tall, with a flume length of almost 10 feet, making this a good option for older kids and adults. It will hold up to 275 pounds, and its compact design fits on smaller deck spaces.
It is made from a sturdy rotomolded plastic that adds durability and longevity. You can attach a garden hose to deliver up to 25 gallons of water/minute to reduce friction while sliding. The flume is wide and deep, and the ladder rungs are enclosed with a molded handrail along each edge for added safety. You can use this slide with chlorine or saltwater pools because there are minimal metal parts.
To install this pool correctly, you will need a second person to assist and be comfortable with using power tools and following the instructions as written. Therefore, it may be somewhat difficult for those who aren't confident or who have less construction experience. Another downside to the Typhoon is the high price, but this slide is certified by the Consumer Product Safety Commission (CPSC) and comes with a three-year warranty.
Pros
Large yet compact
Sturdy and durable
Wide flume
Enclosed ladder
Can attach to water hose
CPSC certified
Three-year warranty
Cons
Pricey
Can be difficult to install
---
5.

WOW Watersports 19-2060 Slide N Smile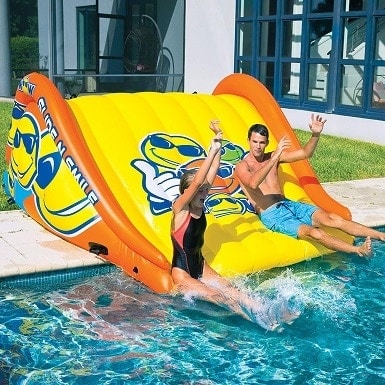 The inflatable WOW Watersports slide is an option for those who don't want to install a permanent slide or those who don't have enough pool deck to place one. It is a versatile slide because you can also purchase connecting pieces such as walkways and mats if you want to take this to the lake for a weekend.
It is made of heavy-duty PVC construction and is designed as a two-person slide with a width of 50 inches. There are two grommets on the side (with 10-foot ropes) to tie down this 9-foot-long toy. We like the bright colors that make it visible if using on a dock or in a lake for added safety. Also, the weight limit is 550 pounds when fully inflated.
Since it is so large, it takes time to inflate and does not come with a pump. The WOW Watersports is an affordable option for those who don't want to spend the money on a traditional slide.
Pros
Versatile
Heavy-duty PVC
Double lane
Easy to set up
Bright colors for visibility
Affordable
Cons
Takes a while to inflate
Pump not included
---
6.

Intex 58849EP Water Slide
Another option for an inflatable slide is the Intex Water slide, which is ideal for backyard pools. Besides being affordable, it features five air chambers and heavy-duty foot rungs, and it is made from sturdy 20-gauge vinyl. You can attach a garden hose that makes water spray from each side of the slide, and it also comes with a repair kit.
The weight limit is 176 pounds and is recommended for six years of age and older. It is almost 7 feet wide and 11 feet in length, so you will need a decent-sized space to use it poolside. The Intex does not come with a pump and can take up to 30 minutes to inflate, depending on the type of pump you do end up using. We found that this slide isn't that heavy duty and won't hold up to a great deal of abuse and/or rough-housing.
Pros
Affordable
Heavy-duty rungs
Five air chambers
Water hose attachment
Large in size
Repair kit included
Cons
Slow to inflate
Durability
---
7.

Swimline Super Slide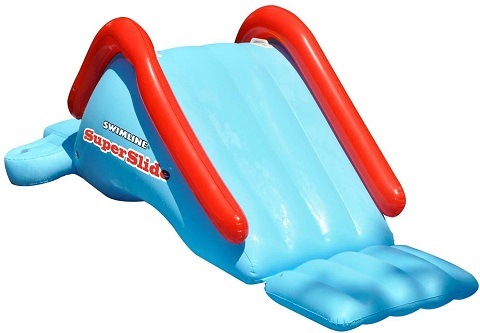 The Swimline inflatable slide is offered at an affordable price that will fit into many budgets. It is 4 feet wide and 8 feet in depth, so it fits well alongside pools that don't have as much deck space. There is a garden hose attachment that helps keep the flume wet and slippery.
A pump is not included in the purchase, but since it is a smaller slide, it fills up fairly quickly. There are inflatable safety rails on each side and heavy-duty side handles and foot rungs on the back. Two outside chambers that fill with water for added weight keep the slide in place.
Anyone less than 150 pounds can safely use this slide, and it is wide enough for two children to slide at the same time. The Swimline does not come with a repair kit, which is unfortunate because it is not made from heavy-duty material, and we found that you have to re-inflate it every day to keep it firm enough to use.
Pros
Affordable
Great for small decks
Water hose attachment
Easy to inflate
Water chambers for added weight
Heavy-duty handles and rungs
Cons
Durability
No repair kit
Have to re-inflate frequently

Buyer's Guide – Choosing the Best Pool Slide
As you search for the best pool slide, there are a few things to consider before finalizing your decision. Everyone will have a different reason for buying a slide, as well as different expectations. This buyer's guide will help you choose the best slide for you and your family.
Considerations
Materials
You will find that slides are made from a variety of materials, from molded plastic to PVC. The quality of the material will determine the durability of your slide. Inflatable PVC slides won't be as durable as a molded plastic, but you have to keep in mind that not all PVC slides are made the same, and some will resist punctures and rips better than others. Acrylic is one of the best materials for a slide due to its durability; on the downside, it is more prone to UV damage and is heavier.
Space
Consider how much room you have on your pool deck. Typically, a large pool will have more space around it, so you can fit a larger slide. Curved slides will take up less space than a straight flume slide. If you don't have a large amount of room, an inflatable slide may be a great option because they are smaller overall and can be deflated when you aren't using them. Measure the area before you make your purchase, and when you choose a slide you like, make sure it fits in that spot.
Safety Features
Most of the time, your children will be playing on the slide — which of course, doesn't mean that adults can't join in on the fun. However, it needs to be safe for whoever is using it. A permanent slide that is CPSC certified will have many safety features, and you get the peace of mind that it has gone through rigorous testing to get onto the market.
Enclosed ladder rungs are a great feature, especially for young children who tend to hurry up the slide with slippery feet. Handrails on the ladder will also provide extra stability to prevent falls, and high-walled flumes will ensure that no one falls over the side when sliding down.
For inflatable slides, you will want one that stays in place when your child is bouncing down the flume and one that stays inflated while they are using it. The weight limit isn't something to ignore either, as it is there for the safety of the users. If not followed, your slide could break, tip over, or deflate.
Ease of Use
This includes installation or setting up the slide for use. Your permanent slides will be more complex and require a higher skill level. It is important to install these correctly to prevent injuries, as they are heavy and have to be secured to the ground while following the manufacturer's instructions for safe results. If you aren't comfortable with the installation, there are people you can hire who have experience installing slides.
One benefit of an inflatable slide is that you don't have to install this version, though you do have to inflate and deflate it frequently, so you will want one that is simple to use. If either slide offers a hose attachment, having one that is easy to apply will save you frustration and time. A slide that features a hook up directly to the pool to circulate the water is beneficial so your pool doesn't begin to overflow.
Price
There is a large price gap between an inflatable and a stationary slide. It will depend on your goals, expectations, and budget. Keep in mind that an inexpensive item will not be as durable, so if you have rambunctious children, you may want to purchase a higher quality slide to ensure that it lasts longer than one summer.
Color
Gone are the days where the slide matches the color of the water. Many manufacturers offer slides in different colors that contrast nicely with the pool and mesh well with your landscape. Earthy colors are an ideal choice for many.
The inflatable slides will be bright in color, which is a positive feature if you are using it dockside on a lake to increase your visibility. However, a bright red and orange slide may be somewhat of an eyesore in your backyard.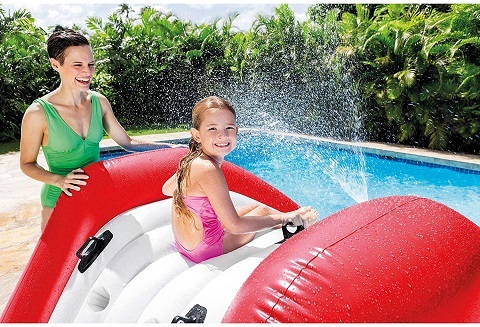 Helpful Tips:
Know your local ordinances and rules for your homeowner's association if you have one. There may be limits on maximum height, whether you need a fence, or if you can even have a slide.
Consider how easy it is to clean the slide to keep it looking nice and working effectively.
There are steps to winterizing your slide, such as draining the waterline. Know whether your slide can tolerate cold temperatures.
Not all slides are good for saltwater pools, especially ones with metal components.
Place your slide in a location where the water is deep enough. The higher the slide, the deeper the water will need to be.

Conclusion
A pool slide can be a great addition to your pool, and kids and adults alike can enjoy having one available. This reviews list features the top seven slides that you can purchase to use poolside, and some are mobile enough to be transported to the lake or used with your pontoon boat.
Our top pick for the best pool slide is the S.R. Smith Cyclone slide, which has high-quality construction and many safety features that can't be beaten. The Rave Pontoon slide is an affordable option for those who want a durable slide for their boat. Our premium choice for the best pool slide is the Inter-Fab water pool slide. It may be a pricey item, but you get a large slide with many features that make it a long-lasting and fun choice.
We hope that our reviews list helps you find the ideal slide that fits within your budget and expectations. Safety is an important factor, as well as ease, hence why our featured slides have many great features that suit a variety of preferences.
---
Featured Image Credit: imging, Shutterstock