Starbond Super Glue Review 2023 – Pros, Cons, & Verdict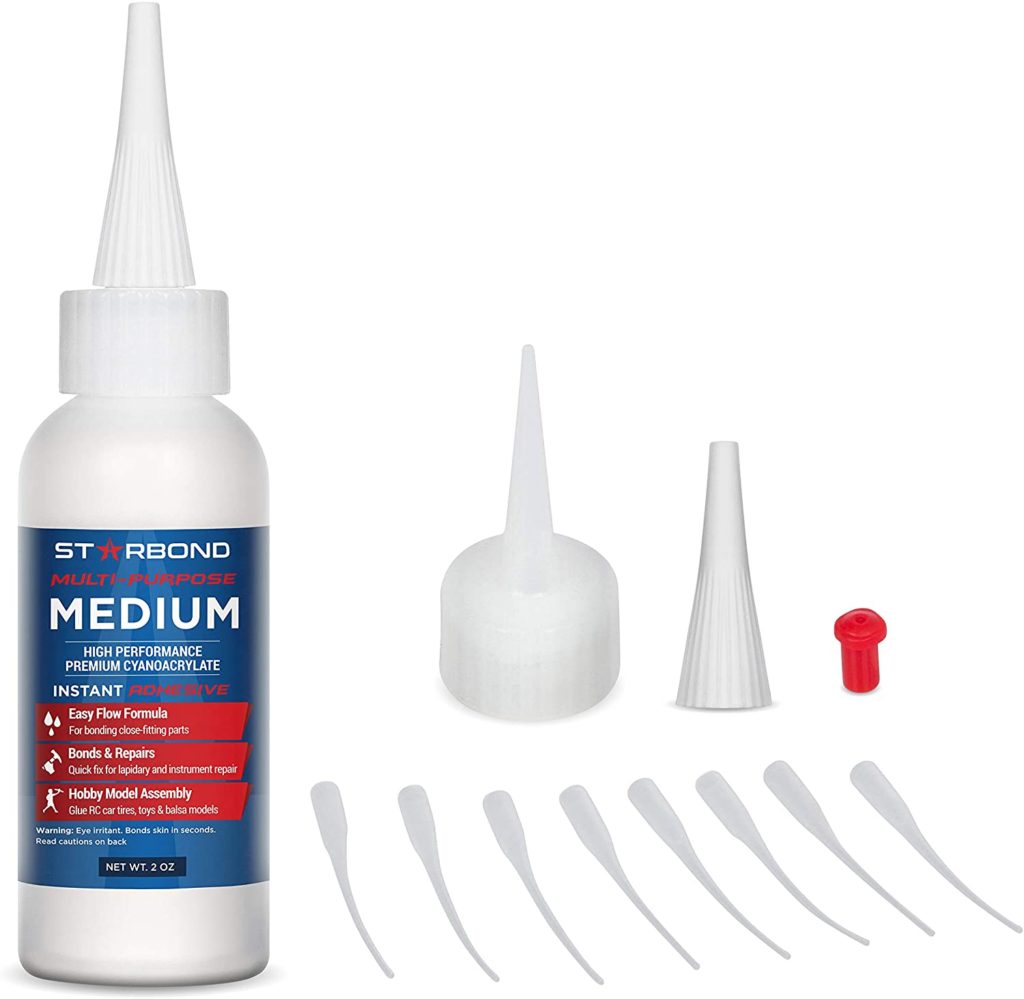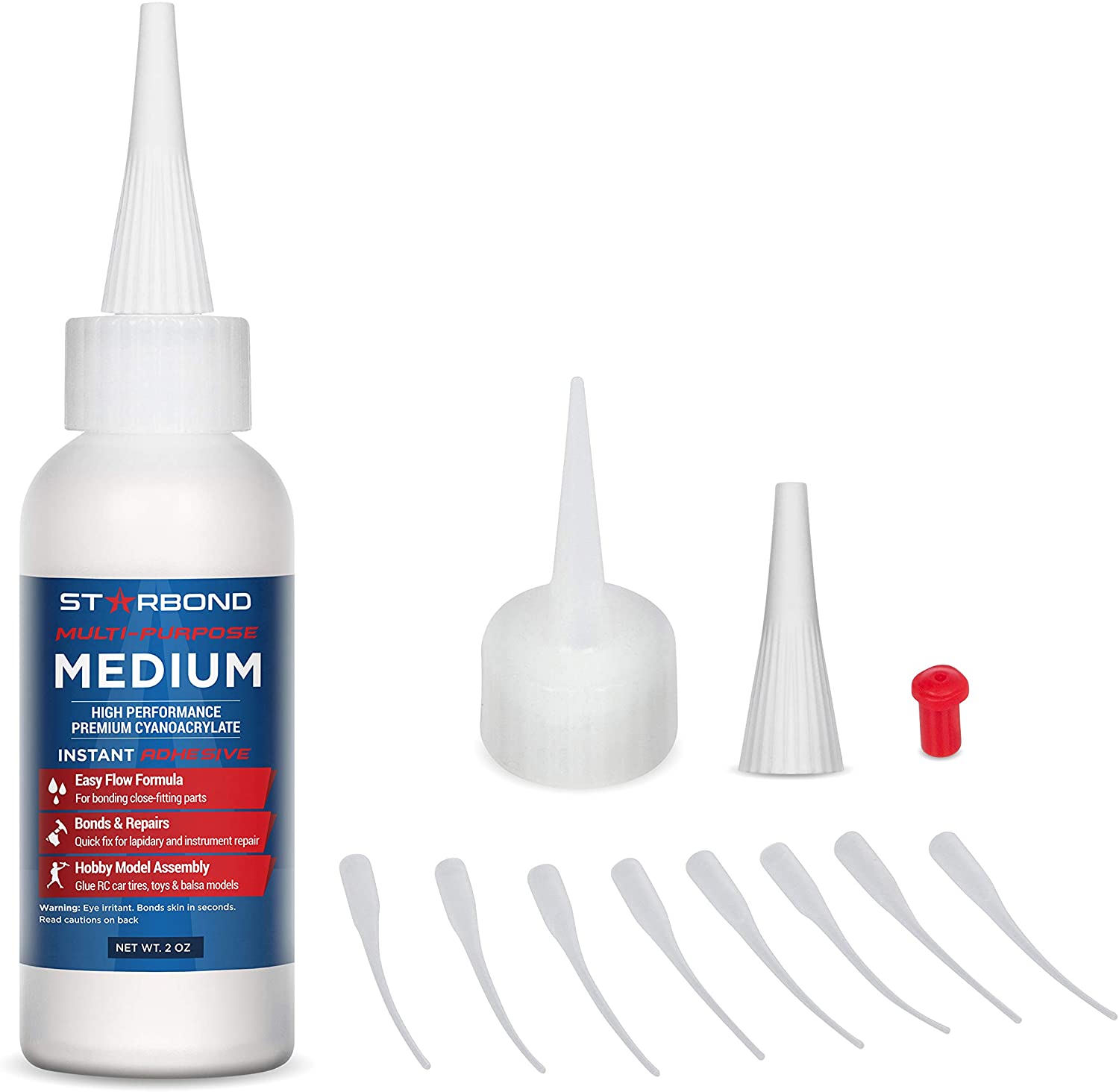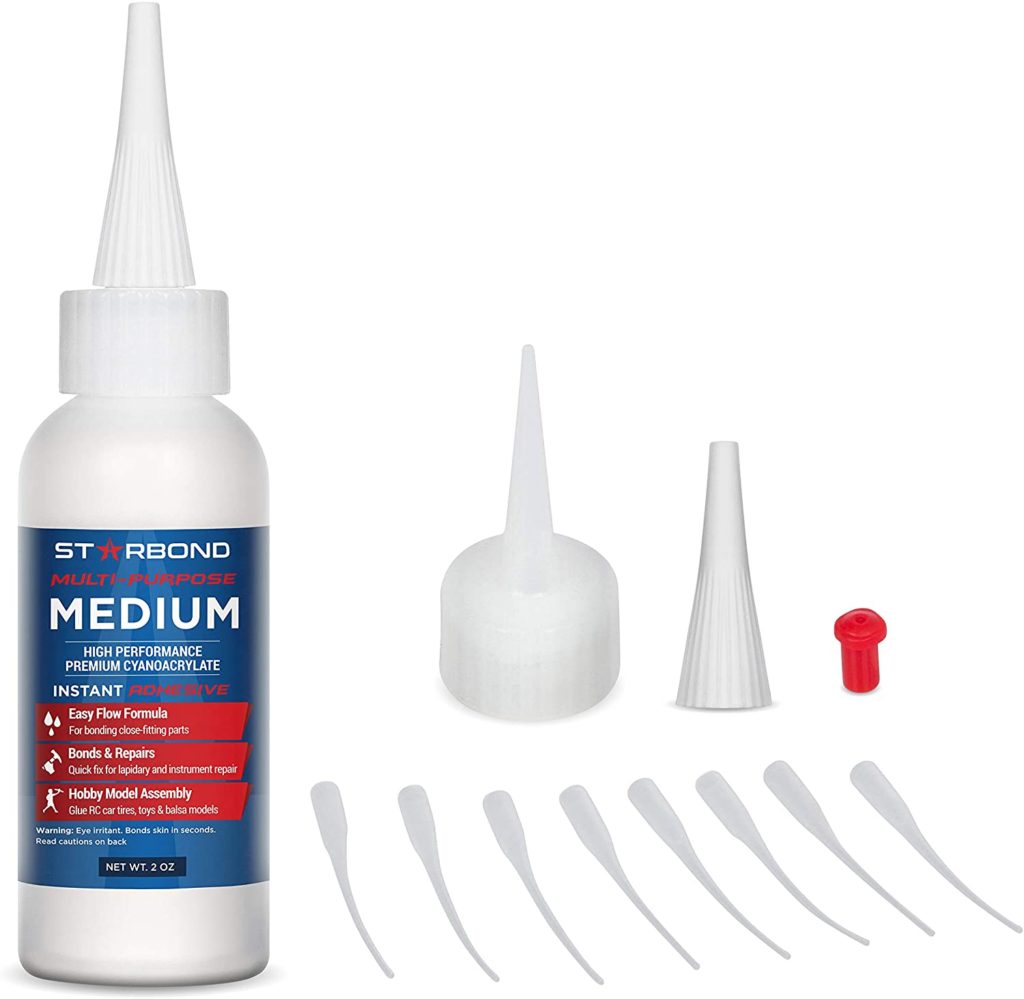 We give Starbond Super Glue a rating of 4.5 out of 5 stars. 
Build Quality: 4.5/5
Power: 4.5/5
Features: 4.8/5
Price: 4/5
Review Summary
Today, we're taking a closer look at Starbond Super Glue. This will help you determine if this is the glue you trust to really keep things together!
Who is this glue intended for? Strictly speaking, it's great for anyone who needs a strong and reliable glue. But at this relatively high price point, it is pointed more towards professional handymen and/or professional hobbyists.
What helps Starbond stand out from the pack? First, it's available in three adhesive varieties: thin, medium, and thick. Second, they have an accelerator that helps you to speed things up. Finally, they offer glossy jet-black adhesives that might be more suited to gluing darker materials together.
As this variety indicates, Starbond is a trusted name in the world of adhesives. And our review will help you discover if they are a brand you can both trust and enjoy.
Starbond Bundle – A Quick Look
Pros
Very versatile
Bonds fast
Bond is very hard
Cons
You'll need a lot to fill gaps
Relatively expensive
Specifications
Specifications
Brand name: Starbond
Compatible materials: wood and ceramic
Warranty: 30-month shelf-life warranty
Adhesive: Wicking type adhesive
What's It Good For?
The Starbond Bundle is suitable for wood and ceramics, but users have had success with other materials. The glue's capillary penetrating action –otherwise known as "wicking" – is what makes it so good with wood. The formula penetrates the cracks, pores, and micro-fractures with ease, ensuring a strong bond. The thin formula sets with a fine sheen that's great for finishing products.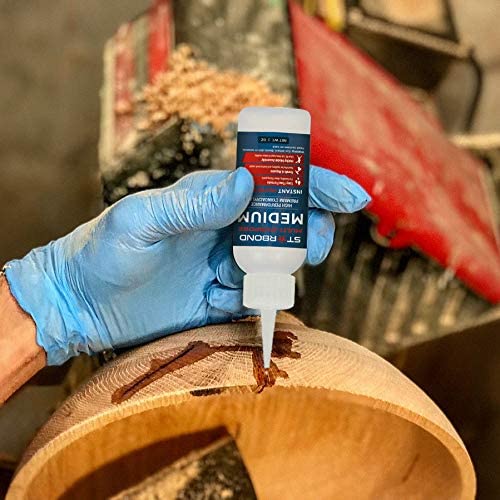 Ease of Use
The application kit that comes with this bundle is very easy to use, and comes with extra applicator tips in case one gets clogged. Depending upon the type used (thin, medium, or thick), drying times vary. However, the thin version gets sucked into the wood in a matter of seconds. So, you need to apply it with speed and accuracy.
Shelf-life & Warranty
The 30-month shelf-life warranty is about as good as you could hope for with a super glue. In comparison, Gorilla Super Glue doesn't advertise any warranty on its products.

FAQ
How good is the warranty that comes with this model?
The warranty is very robust compared to other brands. Starbond comes with a 30-month shelf-life warranty. If the glue does not last at least that long, you can get a free replacement or refund, and this provides great peace of mind when you're buying the glue!
How durable is this glue?
This glue is very durable, though it is primarily intended for smaller projects. This includes things like guitar repair, model airplanes, RC cars, acrylic nails, and other similar projects. And the bundle provides adhesives in thin, medium, and thick varieties, which lets you find the durability best suited for your needs.
Is this model good for beginners also?
Generally speaking, the Starbond brand is very user-friendly. Beginner hobbyists and handymen should have little trouble using the glue and the accelerator to great effect.
The one thing to keep in mind is that this glue is relatively expensive compared to many other brands. If you've never used super glue for hobby projects before, you might want to start off with cheaper brands before you invest in Starbond.
But once you make that investment, you may never want to look back at other brands!
Can this glue help hide imperfections?
For many types of glue, the major "downside" is that it leaves behind an ugly residue. And that's the last thing you want to worry about when you're trying to restore an old guitar or put the finishing touches on a personal project.
Fortunately, Starbond's excess glue is very easy to clear away, so you don't have to worry about leaving unsightly globs of glue on your different surfaces. And you can also buy a black Starbond glue that is particularly suited for covering up imperfections on darker surfaces.
What the Users Say
Users generally praise the different features of Starbond. Some users found this glue very reliable for precision work, including kitchen cabinet crown molding.
Other users praised the beginner-friendly design. Specific praise was given to the instructions which make it easy for even complete newbies to start using this glue and accelerator right out of the box.
Some buyers really like the fact that you can buy this glue in a bundle. They praised the product for being very versatile, ultimately saving the time and money that would have gone to frequently buying new super glue products as needed.
A few users felt that it can often take a bit too long in order to fill cracks of any size. You can fix this by using an activator spray, though, so it is a relatively minor concern.
Some experienced hobbyists praised this glue for how easy it was to trim off unwanted excess. There was very specific praise for how intuitive it is to cut the excess off with a chisel instead of having to sand it off.
A major feature many users enjoyed was that this glue is less brittle than that of the competition. That is important if you are looking for trustworthy glue for more delicate products and projects.
One of the few regular criticisms of the different Starbond products is that they are relatively time-intensive. It takes longer to set up than other glues and takes longer to fill in different cracks. But the general consensus is that this glue is worth the wait.

Conclusion
All of this brings us to the big question: what's the final verdict of Starbond super glue?
Overall, we were very impressed by Starbond and its performance. It is easy and intuitive for beginners looking for a reliable glue. But it is powerful enough that professionals can trust this glue with their most sensitive projects.
The only thing that might give a buyer pause is the higher price tag. It's true that you could buy a cheaper super glue. But you'd be hard-pressed to find a super glue that has better durability and performance than the Starbrand suite of adhesive products.