Tesla Cybertruck vs. Ford F-150 Lightning: Prices and Specs Compared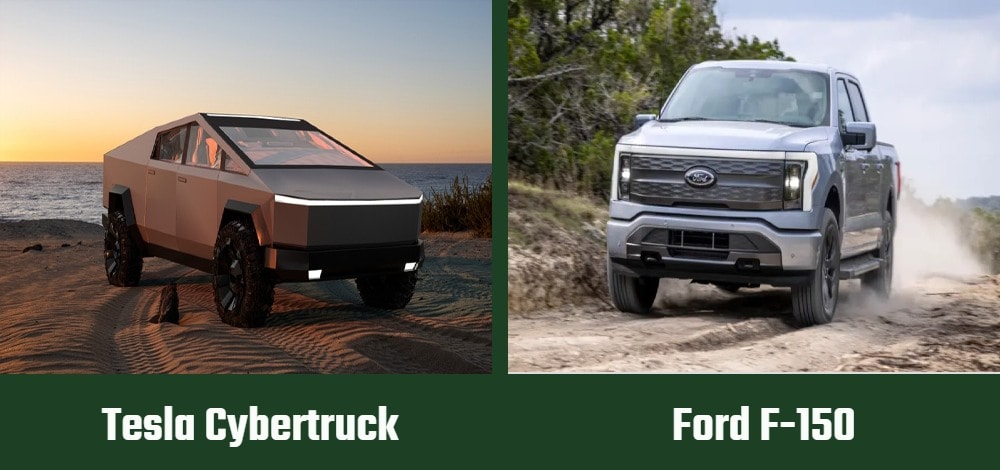 The Tesla Cybertruck instantly became one of the most anticipated vehicles of all time when it was revealed by Elon Musk at an event in 2019. The truck looked futuristic, and Musk promised that it could outperform traditional gasoline-powered trucks, paving the way for a greener future. However, since the reveal, the Cybertruck has been delayed multiple times, and now production is not scheduled to start until 2023. That has not stopped people from lining up to reserve their Cybertruck and follow the development with bated breath.
While Tesla was the first company to tout an all-electric pickup truck, Ford soon followed. Ford responded with the F-150 Lightning, an electric truck based on the always-popular F-series truck. Ford greatly expanded its electric production facilities and are moving all its newest orders to online-only. Ford has also run into production issues, and a large number of F-150 Lightning trucks have been pushed into 2023.
Electric pickup trucks are still few and far between, but the number of them hitting the road is slated to grow exponentially in the next couple of years. The Tesla Cybertruck and Ford F-150 Lightning continue to be the most intriguing electric pickup trucks on the market today. This comparison will look at pricing, availability, and specs for both the Tesla and Ford models of electric trucks.

Specs At a Glance
Here are the currently available specifications for both models. Note, specs for the Tesla Cybertruck are subject to change as production ramps up in 2023.
Tesla Cybertruck
Starting Price: $39,900
Battery Range (miles): 250 / 300 / 500
Towing Capacity: 7,500 lbs.
Cargo Bed: 6.4 ft.
Availability: 2023
Ford F-150 Lightning
Starting Price: $41,500
Battery Range (miles): 230 / 320
Towing Capacity: 7,700 lbs.
Cargo Bed: 5.5 ft.
Availability: Now

Overview of Tesla Cybertruck:
The Cybertruck could be the future of electric pickup trucks. It has a unique look, a rugged stainless-steel body, a potential range of 500 miles or more plus a 6 ft. cargo bed, and towing capacity that starts at 7,500 lbs. There will be three levels of Cybertruck, each with enhanced capabilities above the previous model. The base model starts at $39,000 and has a range of 250 miles. The dual-motor variant starts at $49,900 and has a range of 300 miles. The so-called flagship tri-motor variant will start at $69,900 and offer up to 500 miles of travel on a single charge. There were rumors that a quad-motor variant is also in development, which would stretch the limits of an electric vehicle to the maximum.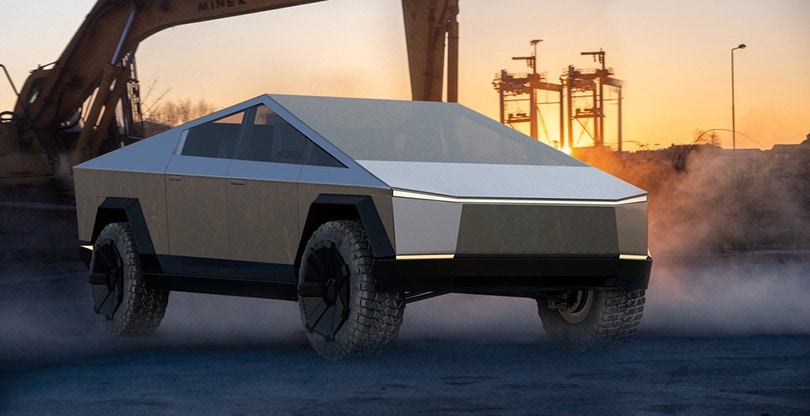 The Cybertruck can go from 0 to 60 in just 2.9 seconds, tops out at 130 mph, and has an ingenious air suspension system that allows you to raise and lower the truck to your preferred height. The maximum ground clearance of the Cybertruck is 16 inches. The Cybertruck will also benefit from Tesla's expansive charging infrastructure that can be found all over the United States.  All of this adds up to a versatile, futuristic, and fresh take on electric vehicles. The only problem is the truck continues to be delayed, and it is not available yet.
Pros
Unique eye-catching look
Unlimited potential
Long-range and plentiful charging options
Cons
Delays have pushed the Cybertruck back to at least 2023
Sales suspended everywhere other than North America

Overview of Ford F-150 Lightning:
Ford did not set out to reinvent the wheel when they designed the Ford F-150 Lightning. The F-series of trucks are one of the most popular vehicles of all time, and they continue to dominate the market year in and year out. Unlike Tesla, Ford is not trying to create something completely fresh. They simply want to take their ever-popular F-150 and bring it slightly forward into the near future. The F-150 Lightning is the F-150 everyone knows and loves, simply battery-powered instead of gasoline-powered.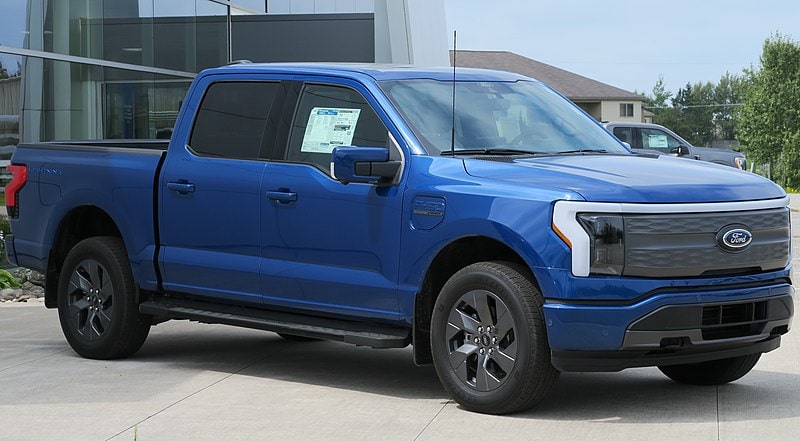 Like the Tesla Cybertruck, Ford is offering multiple different models with varying capabilities. The base model will start just north of $40,000, but there is an extended range option as well that will eke out 320 miles to a charge. There are six different trim packages ranging from the base model up to a Platinum Extended Range model that will cost a hefty $92,000. The mid-range model is right around $70,000, so these trucks will not be cheap if you plan on upgrading over the base model.
Ford has retained the classic look of the F-150, the ample towing capacity, and the cargo capacity. The Lightning ships with a 5.5 ft. bed, a full cab, and a 2000 lbs. maximum load capacity for the bed. The Lightning can reach 60 mph in just 4.5 seconds and feels solid and dependable on the road. A single charge will take you 230 miles, and the truck can be easily charged at home with 110 volt or 220-volt garage chargers. The Ford Lightning is also able to function as a generator that can power a home or job site in times of need. This will make it an invaluable construction vehicle or a disaster response vehicle.
Pros
It's an F-150 through and through
Able to function as a powerful generator
Can be charged at home
Great power and towing capacity
Cons
Expensive above the base model
Somewhat limited range

What Are the Differences Between Them?
Performance
Edge: Ford F-150 Lightning
The Ford F-150 Lightning takes the edge in terms of performance mainly because production models of the truck are available. The specs of the electric F-150 have been confirmed by reviewers, testers, and drivers. The specs for the Cybertruck are currently speculative. Tesla has made some corporate demonstrations of the Cybertruck's capabilities, but since the vehicle is not in full production, the final specifications cannot be verified.
In the meantime, Ford's electric pickup can travel 230 miles on a single charge, has an upgrade available for extended range, can reliably tow 7,500 lbs., and handles like a classic F-150. This is simply a case of a bird in the hand is worth two in the bush. Tesla's truck might eventually outpace Ford in terms of performance, but until the specs can be fully vetted, Ford takes the edge.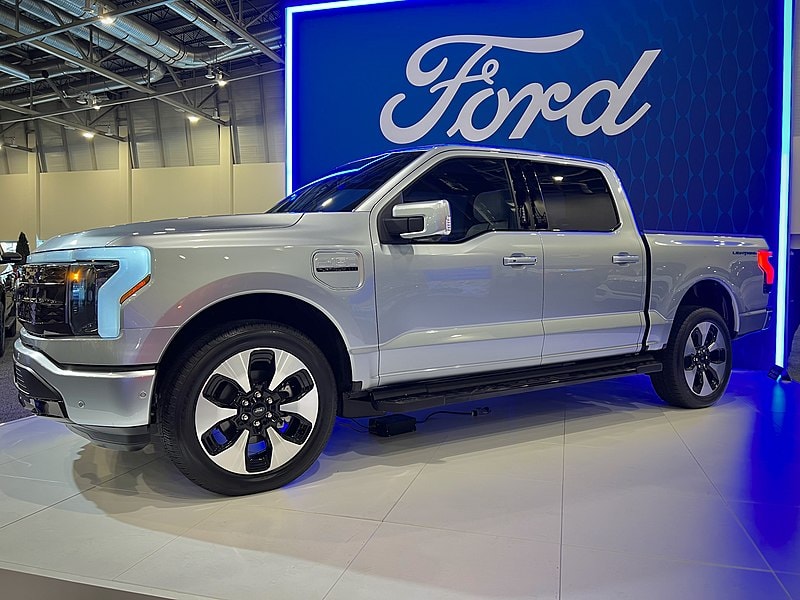 Price
As of 2022, the Cybertruck is slated to be available at a lower price than the Ford. Tesla's base model Cybertruck will come in at just under $40,000 and have 250 miles of range and a 6 ft. cargo bed. Ford's base model is currently selling for just under $42,000 and only features a 5.5 ft. bed and 230 miles of range. However, since the Cybertruck has yet to enter full production there is a good chance the eventual price of Tesla's electric pickup will surpass Ford.
Currently, Tesla's base model offers more standard features and a better range and will be available for a slightly lower price than Ford's version. That gives Tesla a very slight edge in terms of price for the moment.
Charging
The Tesla Cybertruck has the edge in terms of charging capabilities. This is because the Cybertruck is going to have access to thousands of official Tesla chargers that are located all over the country. Tesla charging stations have appeared in most major metropolitan areas in the United States and are especially prevalent in certain areas. A large number of widely dispersed chargers will give the Cybertruck an immediate leg up over the F-150 Lightning.
The electric F-150 can be charged at home using 110 or 220-volt charging stations and will have the ability to charge at public DC stations. However, it will lag behind the Cybertruck in terms of charging options available, at least at the start.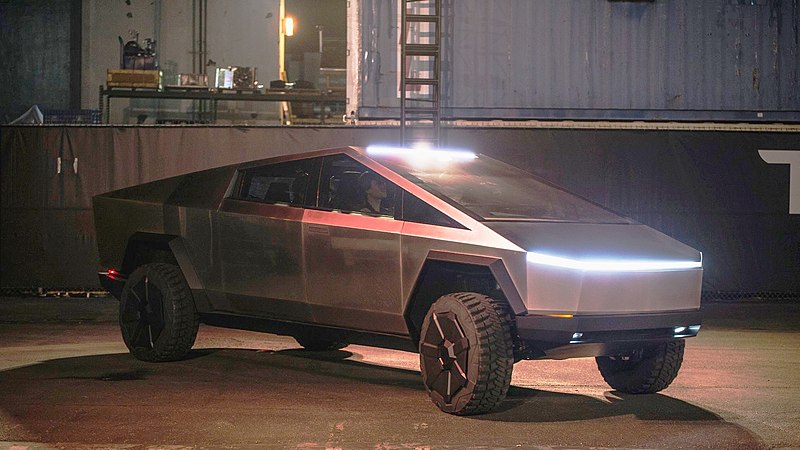 Design
How a person feels about the respective designs of the F-150 and Cybertruck are going to vary by individual. Some people absolutely love Tesla's bold and futuristic body design for the Cybertruck, while other people find it hideous. The Cybertruck is decked out in angular stainless-steel plating that makes it look like something out of a sci-fi epic rather than modern roads. The look has proven to be very galvanizing and polarizing up to this point.
The F-150 Lightning did its best to look like an F-150. The classic look of the Ford will appeal to many truck owners. The F-150 is one of the best-selling vehicles of all time for a reason. Anyone who likes the look of an American pickup will feel right at home with the F-150 Lightning. So, the design aspect of these trucks will largely come down to personal preference.
Range
On paper, Tesla's Cybertruck has an edge in terms of range. Tesla's base model truck will be able to cover 250 miles on a single charge which is 20 miles further than Ford's base model performance. However, Tesla has begun to shine with its optional upgrades. Tesla is offering three levels of performance for the Cybertruck. The middle level can go 300 miles on a single charge, while the top-level extended range version will allegedly be able to cover 500 miles. Ford's extended-range upgrade only boosts the travel distance to 320 miles. Add in Tesla's edge in charger availability, and they easily take the cake in terms of potential range per charge.
What Drivers Say
Since Ford is the only company with a drivable electric pickup truck out on the roads right now, the feedback largely falls with Ford. People are extremely excited about the upcoming Tesla Cybertruck, and they are extremely invested in the potential. Many people like the bold and futuristic look that Elon Musk chose for his electric pickup truck, but no one has been able to reliably get behind the wheel of a Cybertruck and probably won't until at least 2023, possibly 2024.
By comparison, the Ford F-150 Lightning has arrived with a lot of fanfare and good reviews. Drivers are impressed with the towing capacity, which matches most gasoline trucks. The Lightning also has a lot of zip and quick acceleration, thanks to the EV powertrain. EV powertrains offer superior acceleration compared to gasoline trucks. Ford also added a front trunk in the space left over from the old gasoline engine which is a nice touch. The truck also handles extremely well. Since the truck is now anchored by large batteries under the cab the center of gravity came down which increased the handling potential of the F-150 Lightning.

Conclusion
As it stands now, the Ford F-150 is the better electric truck for a few reasons. First, it is available right now. Second, it builds off of the most popular vehicle body in the world and turns it into something fresh for the future. Lastly, the F-150 Lightning can be used as a generator to power homes and job sites remotely, which is an awesome touch. The Tesla Cybertruck has all of the potential in the world, but until it reaches dealer lots, all of that potential is purely hypothetical. There is a chance Tesla surpasses Ford in every way, but until then, we will just have to wait and find out.
---
Featured Image Credit: (L) Mike Mareen, Shutterstock | (R) Ford.com