WEN 6550 Thickness Planer Review 2023 – Pros, Cons, & Verdict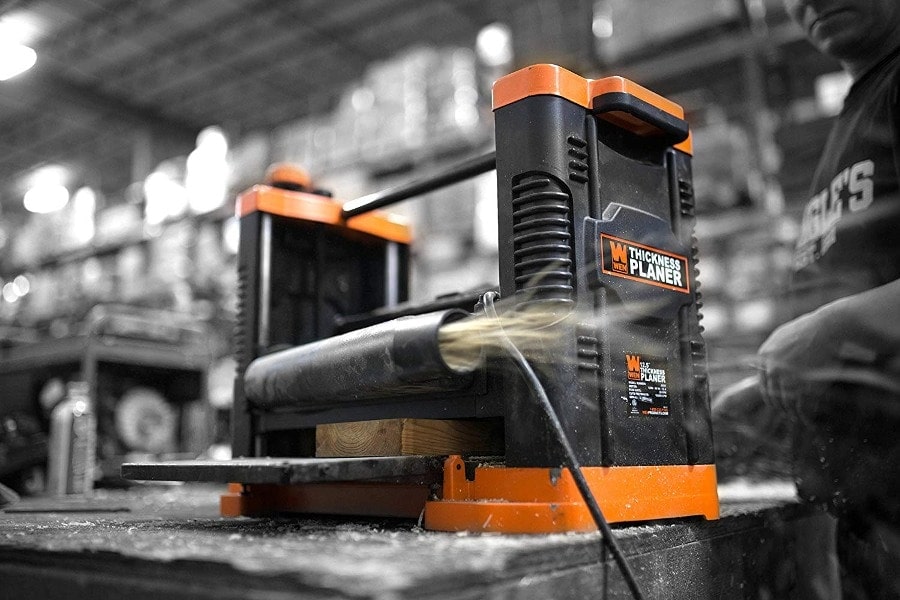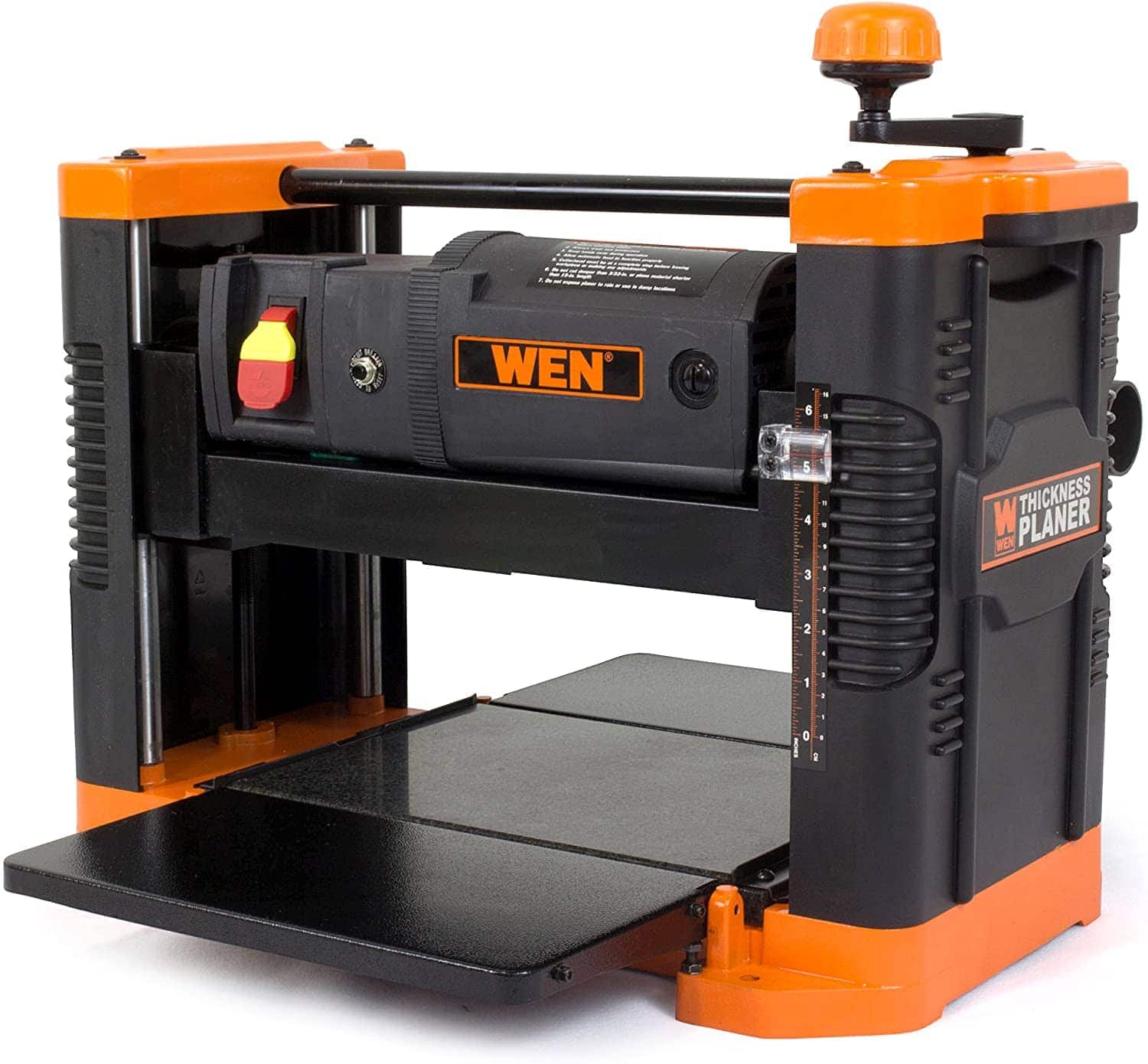 We give the WEN 6550 Thickness Planer a rating of 4.7 out of 5 stars. 
Build Quality: 4.5/5
Power: 4.5/5
Features: 4.7/5
Price: 4.9/5
Review Summary
From the producers of some of the best woodworking tools on the market, the people at WEN have given us a powerhouse that will satisfy all of your planing needs. This model will make a fantastic addition to any business that produces wooden items and needs the work done efficiently.
Never again have to plane your timber manually. The WEN 6550 has a feed rate and cut speed that will make you wish you picked up one of these sooner. It will cut any type of wood with pristine precision and give you perfectly uniform edges. It doesn't matter if you have imported African mahogany or some boards off a pallet on the side of the road; it will shape them perfectly, cleanly, and evenly.
It is powerful, can handle a tremendous volume of work, and with the chute for debris, it will do the job without too much of a mess. It gives you the quality of craftsmanship you have come to expect from the WEN family of products. And you will appreciate that the 6550 Thickness Planer is available at a very economical price. Let us tell you about the perks and the deficits, and you decide whether this tool is right for you.
The Wen 6550 – A Quick Look
Pros
Powerful 15A motor
High feed rate
Twin, double-sided cutting blades
Affordable
Cons
Must be bolted to table for stability
Not wise for small shops
Very loud
Specifications
Specifications
Brand Name: WEN, Inc.
Model: 6550 Thickness Planer with Granite Table
Motor: 120V, 15A
No-Load RPM: 8,500
Cuts per minute: 17,000
Maximum stock width: 12.5 inches
Maximum stock thickness: 6 inches
Feed rate in feet per minute: 26
Gross weight: 73 pounds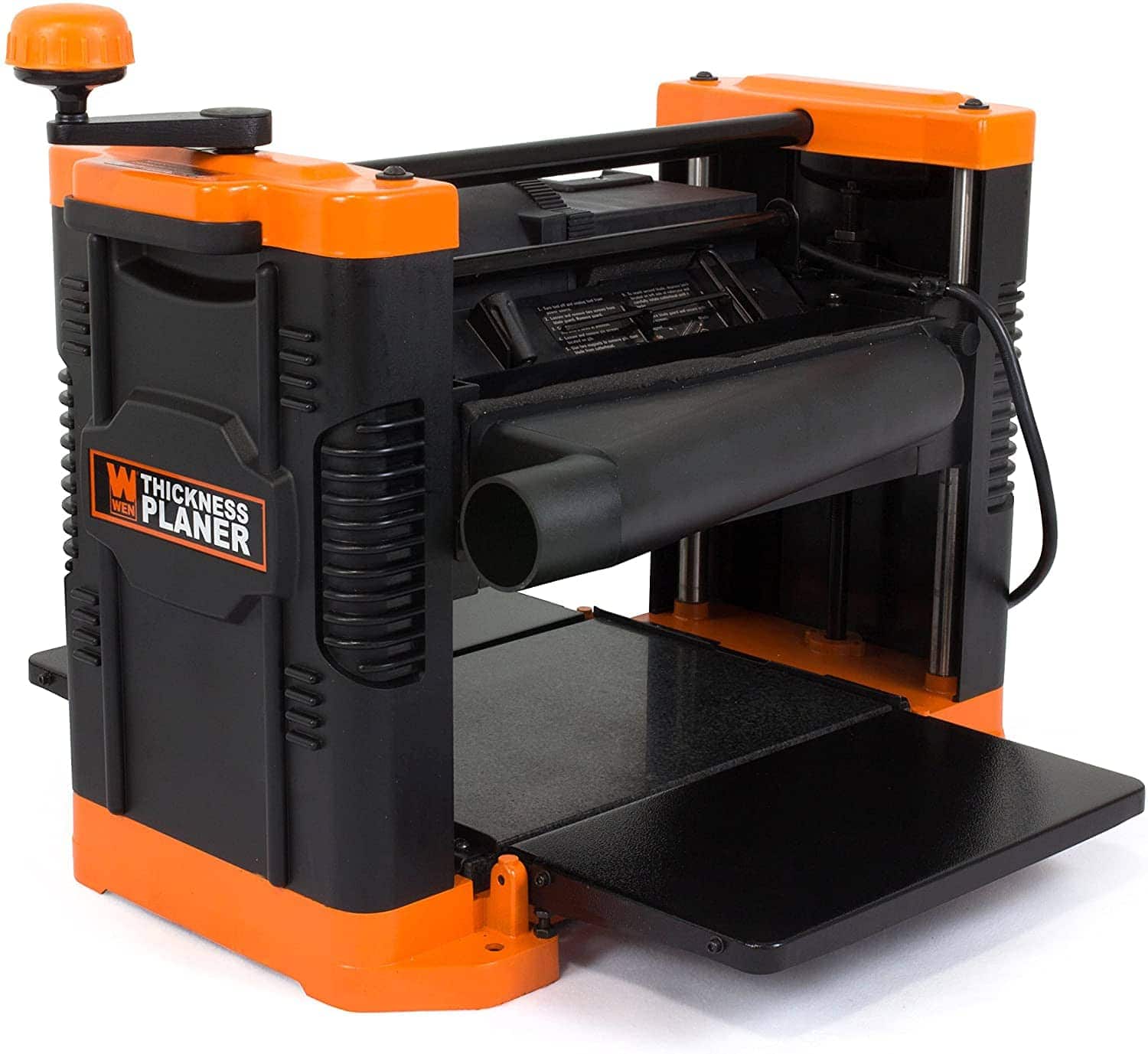 Tool Construction
As with all WEN products, the 6550 Planer is built of the best materials and put together with the knowledge that it will get plenty of use over many hours working in woodshops worldwide. It is designed to be both sturdy and efficient yet still light enough to relocate if necessary.
While it is loud, it is buffered to resist the vibrations during operation. And if you need to disassemble the blade mechanism to sharpen the action or flip the blades to their other side, that has been streamlined for maximum safety and speed. This tool is ready to do the job and built to do it right, efficiently, and without fear of potential injuries.
Stability
This model comes with a granite table to improve its overall stability and give it a little extra weight, so it doesn't dance around during your planing activities. It is built to be bolted to a level, well-seated surface, such as a workbench or heavy table. This feature is common with many lightweight shop tools and is becoming more popular.
Ease of Use
The 6550 planer has two fantastic features that make your job a snap. One is the high RPM cutting double-sided blades, and the other is the easy to use handle that lets you lower the planing blades to cut your wood to a maximum shave thickness of 3/32 of an inch. At that rate, planing even the most warped board will be handled very quickly.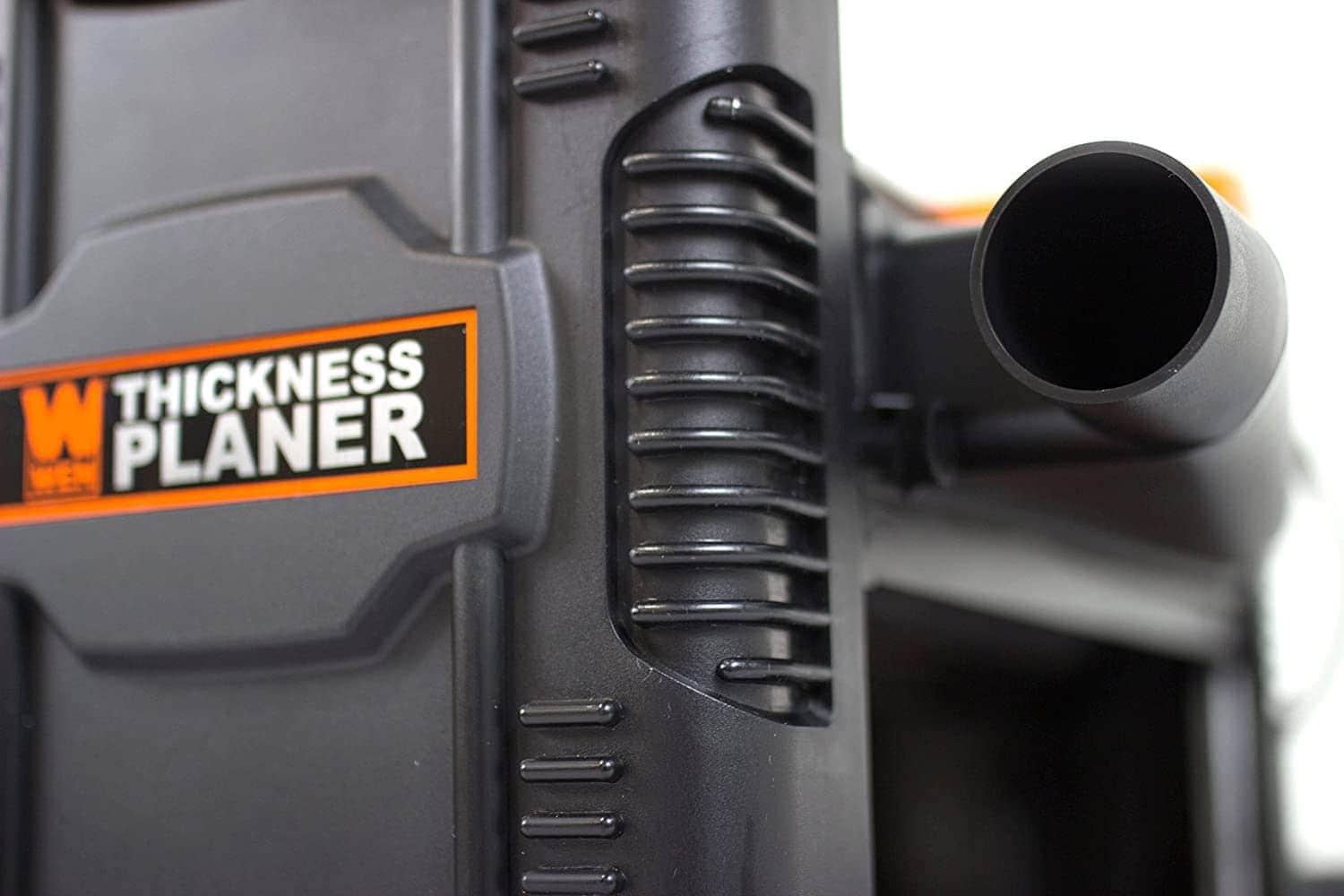 Customer Care
As with all WEN products, the WEN 6550 Thickness Planer has a concrete manufacturer's warranty of 90 days from purchase or 500 hours of commercial/professional use and only applies to the original purchaser. They do not cover items that wear out naturally.
Debris Management
All woodshops have one thing in common, and that is a surfeit of sawdust. The WEN 6550 is built with a directional exhaust port on the rear of the machine to expel the shavings from the wood being planed. It is simple to add a hose to the end of the port to guide that sawdust into a receptacle, keeping your shop cleaner with minimal effort.

FAQ
Is any assembly required?
Not much. The adjustment handle needs to be affixed to its home, and the sawdust chute has to be bolted to the body of the unit, but beyond that, it is pretty much ready to go right out of the box. All assembly will take less than 10 minutes if tools are readily available.
Can it be used in any shop?
With the feed rate, it is not advisable for smaller shops. The recommendation is to use it in a shop with plenty of space. However, if you have an opening, like perhaps a garage door that exposes your shop to the outside world, that might be a solution in the event you pick this model up and feel a little cramped working with it.
Are the blades easy to change?
Most users say they are. A few times, a person changing the blades has struggled, but the people who have successfully done a blade swap without difficulty give a very optimistic view of the process.
What is snipe?
Snipe is a deep cut in a board going through a planer that usually occurs on the ends of the board. This happens when the board is tilted into the cutting wheel after the majority of the wood surface has already been through the planer. This is why having a level surface is so important.
Can an apprentice use this model, or is it better for professionals? 
The WEN 6550 is very intuitive and user friendly. Anyone with the patience to let the wood be planed at its optimal speed can operate this with ease. So, it doesn't matter what skill level you have.
What about safety?
The WEN has 3 rollers that guide the wood through the planer, the center roller being the one with the cutting blades. As with all bladed tools, safe operating and avoiding distractions is critical. It is also always wise, especially when working with wood or steel, to wear the appropriate personal protective equipment, such as safety glasses.
What Users Say
For the most part, user and owner perspectives are very positive when it comes to the WEN 6550. They enjoy the speed and precision the tool offers and the efficiency with which it planed even the most gnarled and warped wood. Users commented that the ease of adjustments made doing the work so much more efficient than other models they had tried. And they appreciated the user-friendly operation. The ease of assembly was a crowd-pleaser as well.
A few users had issues with the blades chipping within short order after they started operating the device for extended periods, and they speculated it had to do with the bearings inside one of the rollers. And there is a carry handle for convenience, but it is located on the cross member on top, which is the one place the manual says not to lift from. This is seen as a significant manufacturing oversight by users that need to move their tool regularly.

Conclusion
For the quality, for the price, the WEN 6550 is one solid contender. Put it against any other comparable planer and watch it leave them in the dust; the sawdust, that is. It is a superb option for any woodshop with room to accommodate it and will give you smooth, clean cuts in all woods, from ash to zebrawood. As an investment, you will not be disappointed.