Arcan vs Pittsburgh Floor Jacks: Which is Better?
Anybody who has worked on cars knows the necessity of a floor jack. Two of the best floor jack brands are Arcan and Pittsburgh. Many mechanics opt for an Arcan floor jack, while others are dedicated Pittsburgh floor jack fans.
If you have never bought a floor jack before, it can be challenging to know which one is better. In short, you will decide between an Arcan and Pittsburgh based on your needed portability and budget. They are identical in every other way.
To find out whether or not you should get an Arcan or Pittsburgh, read on. We take a close look at both brands and provide a buying guide at the end. This buying guide will help you make up your mind if you are downright stuck when selecting a floor jack.

Overview of Arcan Floor Jacks
Arcan floor jacks are powerful, durable, and portable. With these bad boys, you'll be able to lift just about any car without fear of rust or transportation. You should select an Arcan floor jack over a Pittsburgh if you need a floor jack that is light enough to carry and durable enough to withstand rust.
Materials and Durability
An Arcan floor jack body is made from high-quality aluminum. This allows the jack to be both lightweight and durable. Many mechanics enjoy this material because it is less prone to rusting. The aluminum frame ensures that your jack withstands high pressure, but it also makes it easy enough to carry around.
There is a downside to this aluminum frame, however. Since aluminum is both durable and lightweight, it is expensive. As a result, the Arcan floor jack is more expensive than the Pittsburgh, which does not use aluminum for the frame.
Transportability
Obviously, the lighter the floor jack is, the easier it will be to carry. The aluminum frame on the Arcan floor jack makes it incredibly lightweight. This is a great perk for those who need to carry the jack to different locations. It will be light enough that you can pick it up without straining your back.
More so, the Arcan floor jack also comes with a two-piece handle. The handle makes this floor jack even more comfortable to carry around with you since it doesn't feel awkward or uncomfortable to hold.
Better yet, the hand also comes apart. This may sound like a minor addition, but it is incredibly helpful for storing purposes. By removing the handle, the jack is smaller, making it easier to keep in tight places.
Lifting Power and Floor Clearance
Despite the lightweight frame on the Arcan floor jack, it offers incredible lifting powers. The exact capacity will depend on the model you select, but some models can lift as much as three tons. This jack uses a dual-piston pump to lift three-ton cars, and it only takes 12 pumps to raise the car 19.4 inches.
So, the floor jack can reach most cars, it comes with a 3.6-inch floor clearance. This makes the jack a great option for those who intend to use it on a variety of vehicles. With this clearance, the Arcan can lift anything from a low-profile car to an SUV.
Takeaway
The Arcan floor jack is powerful, durable, and lightweight. Its aluminum frame ensures that it withstands use and the elements while also allowing it to be light enough to carry. The steel handle further enhances the transportability of the product. The 3.6-inch floor clearance also makes this jack suitable for a variety of vehicle types.
Pros
Made from aluminum
Durable
Rust-resistant
Lightweight
Easy to transport
Includes a steel handle
6-inch clearance height makes it suitable for most vehicles

Overview of Pittsburgh Floor Jacks
Like their Arcan counterparts, Pittsburgh floor jacks are incredibly powerful and suitable for a variety of cars. They are made from steel, making them one of the strongest options available. You should opt for the Pittsburgh floor jack if you need a durable and versatile jack that you don't intend to move. Those on a tight budget may also prefer the Pittsburgh.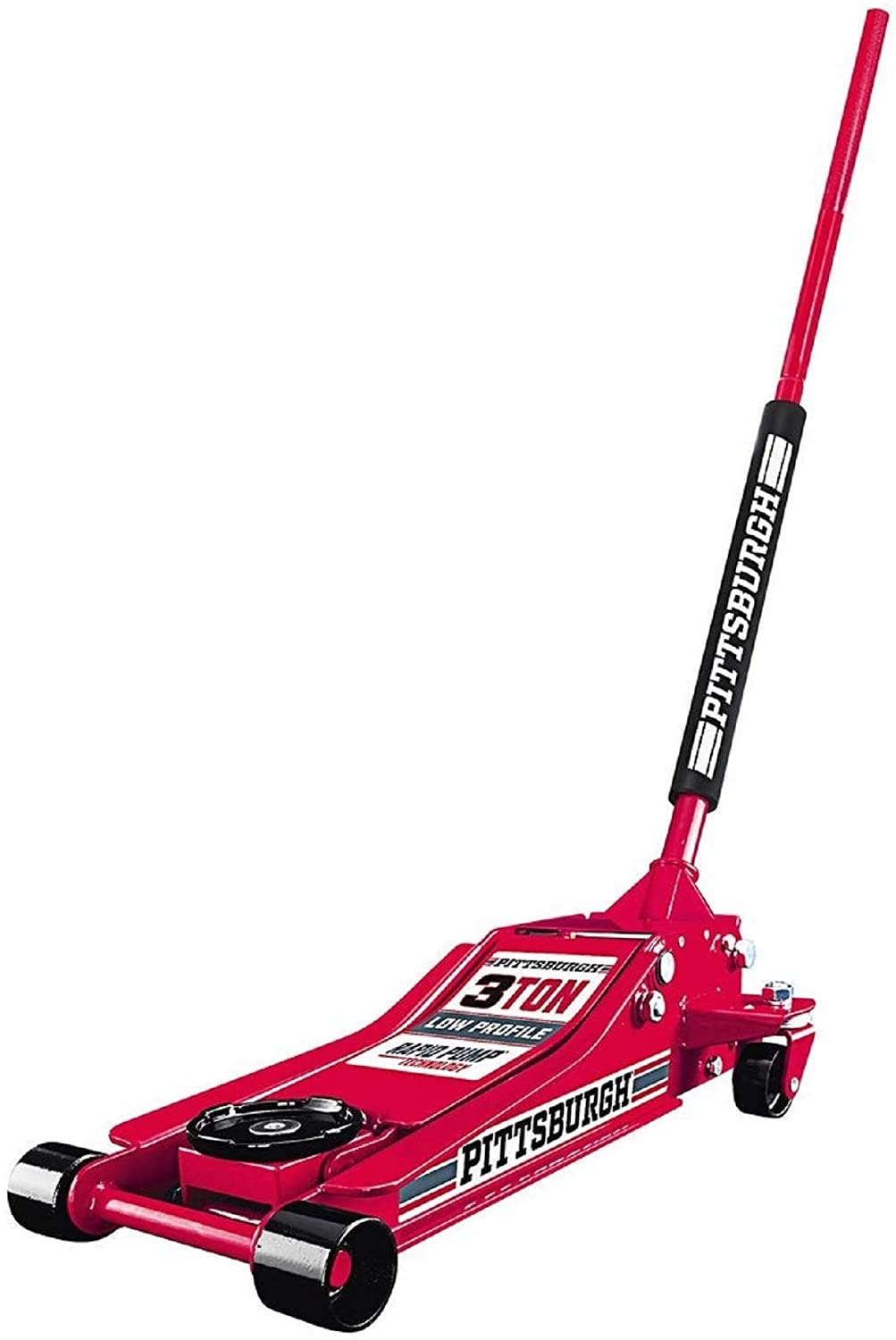 Materials and Durability
Pittsburgh floor jacks are made from industrial-grade steel. This steel is easily one of the most powerful materials on the market. This makes the jack suitable for just about any lifting purpose. It is also more affordable than aluminum, making it great for those on a budget.
Although steel is powerful, it is not the most durable option. It will withstand weight and pressure easily, but it will rust if not maintained properly. Make sure that you store and maintain your Pittsburgh floor jack properly to prevent it from rusting over time.
Transportability
Another downside of steel is that it is incredibly heavy. For those that have no intention of moving their jack around, this will not be a problem. If you may want to move, transport, or store your floor jack, though, it will be incredibly challenging due to its weight. In fact, a Pittsburgh jack can weigh as much as 75.1 pounds.
The Pittsburgh does not come with a handle either. This further makes the jack more difficult to move and transport. All around, the Pittsburgh floor jack is not known for its transportability, and you should only get one if you don't expect to need to move it around with you.
Lifting Power and Floor Clearance
Like the Arcan, the Pittsburgh offers great lifting power and floor clearance. It has a starting height of 2.875 inches, making it suitable for low-rise cars. It can also fit big trucks and other equipment thanks to its 19.75-inch high point. The maximum capacity load is three tons as well.
No matter the size of the vehicle or equipment, the Pittsburgh can handle it. It includes a dual-parallel pump system that allows it to lift vehicles easily. Meanwhile, the universal release system allows you to control how fast the vehicle lowers. You can even stop the lowering process altogether by twisting the handle.
Final Takeaway
The Pittsburgh floor jack is similar to the Arcan in that it offers substantial lifting abilities. Its steel frame makes it highly powerful and resistant to weight. Still, you will have to maintain it properly to prevent rust. Additionally, the steel material means that it is incredibly heavy and difficult to transport.
Pros
Powerful
Withstands bumps and scratches easily
Made from industrial-grade steel
875 to 19.75-inch lifting ability
Dual-parallel pump system
Affordable
Cons
Heavy
Not easy to transport
Prone to rusting if not maintained well
Buying Guide: What to do When You Can't Make Up Your Mind
How to Choose
 
Arcan
Pittsburgh
Materials
Aluminum
Steel
Weight
Light
Heavy
Price
Expensive
Affordable
Best For 
Ease of transportation

Ease of maintenance

Affordable price
Really, choosing between the Arcan and Pittsburgh floor jack is easy. Since the two jacks offer about the same lifting powers, you only need to consider two factors: weight and material. These two factors will tell you which one is best for your needs.
When to choose the Arcan: Choose the Arcan if you need a floor jack to transport and move with you. Given that it is made with aluminum and includes a handle, you can move this jack easily. Additionally, select an Arcan if you need a model that requires less maintenance. Since it doesn't rust, you don't have to be as careful about moisture.
When to choose a Pittsburgh: Choose a Pittsburgh if you don't intend to move the jack and need to save a little money. The steel material makes it heavier and less expensive than the Arcan. This means it is perfect for stationary use or budget picks.
It's really that simple. Just select the floor jack based on the weight and material that are best for your intended jack use.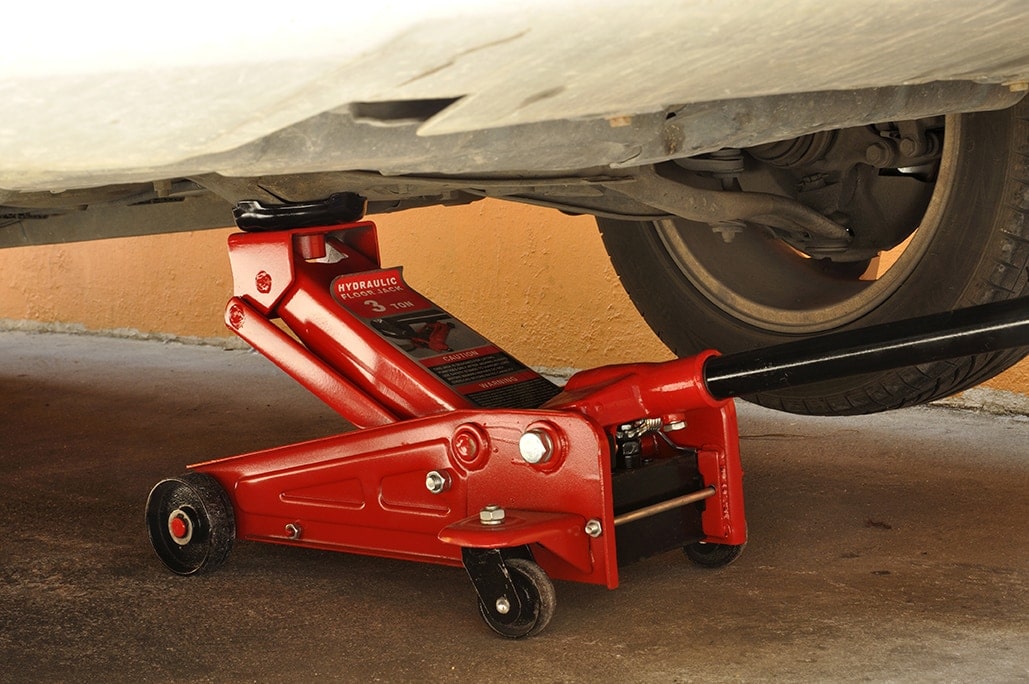 Other Factors to Consider
Overall, the Arcan and Pittsburgh floor jacks are identical except for in terms of weight and material. You can consider other less important features if you would like. These features add to the respective jacks, but they aren't necessary or as important as the features covered above. Nevertheless, here are other factors to consider:
Vehicle Protection: Floor jacks touch the cars you are working on. Make sure to get a floor jack that protects the car with a rubber saddle or foam handle bumper. Though some Pittsburgh models have protection, Arcan is more reliable for this feature.
Castor Size: When working with your floor jack, the last thing you want is for it to be unstable. Look for larger castors for enhanced stability. Pittsburgh floor jacks tend to have larger castors due to their heftier weight.
Appearance: Some people like for their tools to match. If you are one of those people, certainly consider the appearance or color of the jack. Arcan and Pittsburgh jacks come in all shapes, sizes, and colors. Select a model that matches your other tools for a more uniform look.
How to Maintain Your Floor Jack
Since floor jacks are more expensive tools, you need to know how to maintain them. Here is how to maintain both floor jacks:
Inspect Regularly: After every use, inspect the jack to make sure it functions properly, is not damaged, etc. Repair or replace the jack as soon as you spot any issues. Check for cracks, loose nuts or bolts, damage, or leakage. This includes examining the body and wheels.
Clean: Floor jacks get dirty easily since they are constantly exposed to grease. Clean your jack regularly with a clean cloth. Follow up with a lightly oiled cloth. Make sure to do this with the Pittsburgh since it is more prone to rusting.
Lubricate Moving Parts: Use heavy grease on the wheels and hinges. This keeps them moving freely, which makes it easier and safer to use. Once a year, remove built-up grease and re-lubricate the moving parts.
Change the Oil: Replace the hydraulic oil on occasion. You should do this no more than once every couple of years. Make sure not to overfill the jack for it could damage it.
Bleed the Cylinder: Bleed the system after changing the oil or when the jack acts up. If the jack cannot hold weight as before, bleed the system.
Storage: Release all pressure before storage. Place it in the upright position in a safe, dry location.

Quick Look: Our Top Choices
| | | |
| --- | --- | --- |
|   | Arcan 3-Ton Quick Rise Aluminum Floor Jack | Pittsburgh Automotive 3-Ton Heavy Duty Ultra Low Profile Steel Floor Jack |
| Maximum Capacity | Three tons | Three tons |
| Profile | Low | Extra low |
| Material | Aluminum | Steel |
| Weight | 58 lbs. | 75 lbs. |
| Easy to transport? | Yes | No |
| Price | $$ | $ |
Our Favorite Arcan Floor Jack: Arcan Three-Ton Quick Rise Aluminum Floor Jack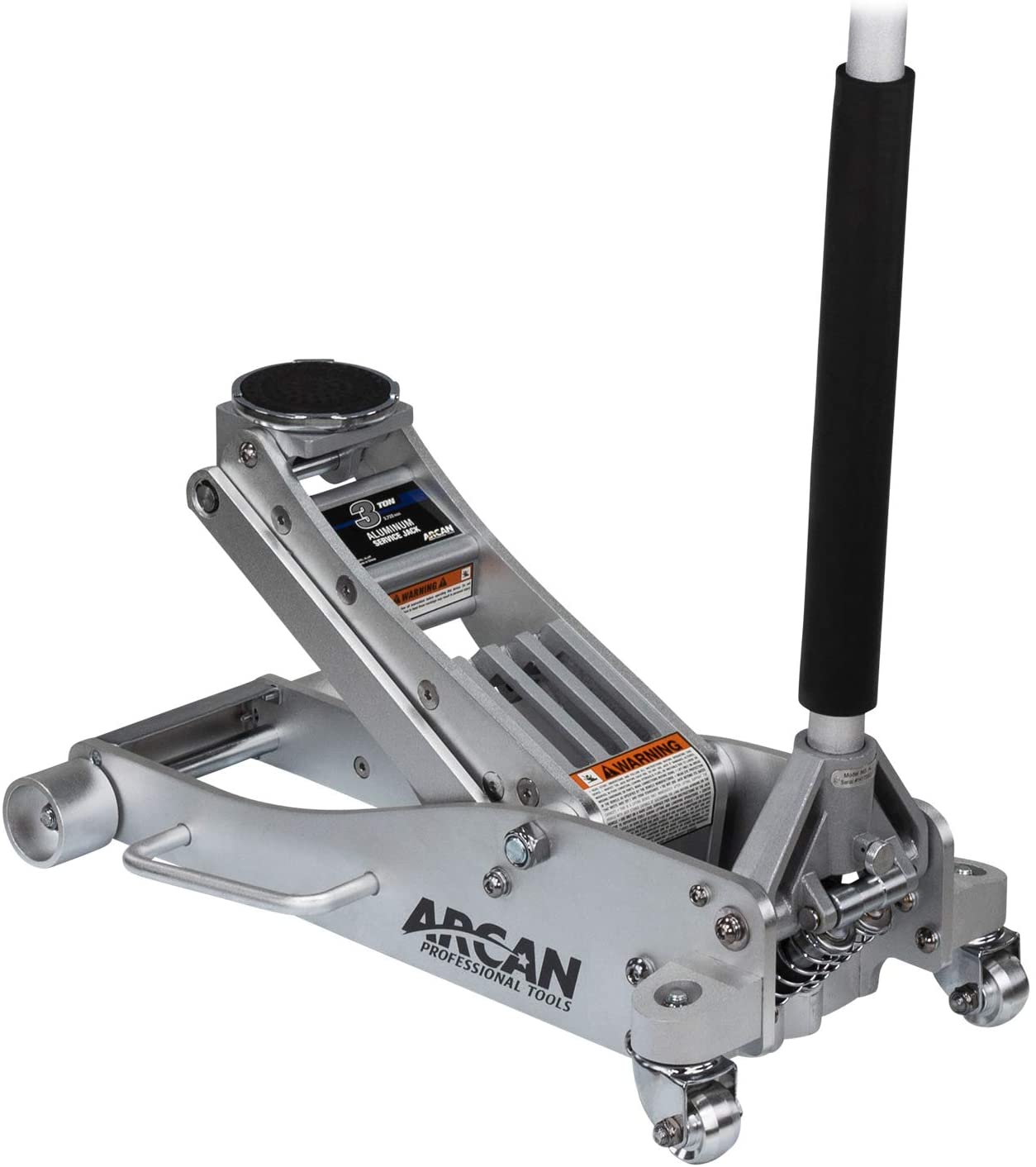 The Arcan 3-Ton Quick Rise Aluminum Floor Jack offers incredible lifting power. It can handle up to three-tons of weight for just about any vehicle. It includes dual pump pistons and a reinforced lifting arm that make it fast-acting, smooth, and powerful. The Arcan also offers vehicle protection and a two-piece handle, making it perfect for those who need an easy to transport, powerful floor jack. However, it is more expensive than other models.
Our Favorite Pittsburgh Floor Jack: Pittsburgh Automotive Three-Ton Heavy Duty Ultra Low Profile Steel Floor Jack
The Pittsburgh Automotive 3-Ton Heavy Duty Ultra Low Profile Steel Floor Jack offers three tons of weight lifting abilities at an affordable price. The industrial-grade materials and Rapid Pump system make the pump fast-acting and powerful. This floor jack is especially useful for its low profile, making it a great choice for those who need to work on low rise vehicles or show cars. Though you will not be able to transport this model easily, it offers competitive lifting abilities.

Conclusion
Arcan and Pittsburgh are two brands you can trust. Their floor jacks are virtually similar in every way except for the materials used and weight. Arcan floor jacks are made from aluminum, allowing them to be more lightweight and expensive, while Pittsburgh floor jacks are made from steel, making them heavier and budget-friendly.
You really can't go wrong with either option. Just make sure to consider your budget and intended transportability. If you consider those two things, you will easily be able to decide on an option.
Related Reads: