9 Accent Wall Trends In 2023 – Design Ideas for a Modern Home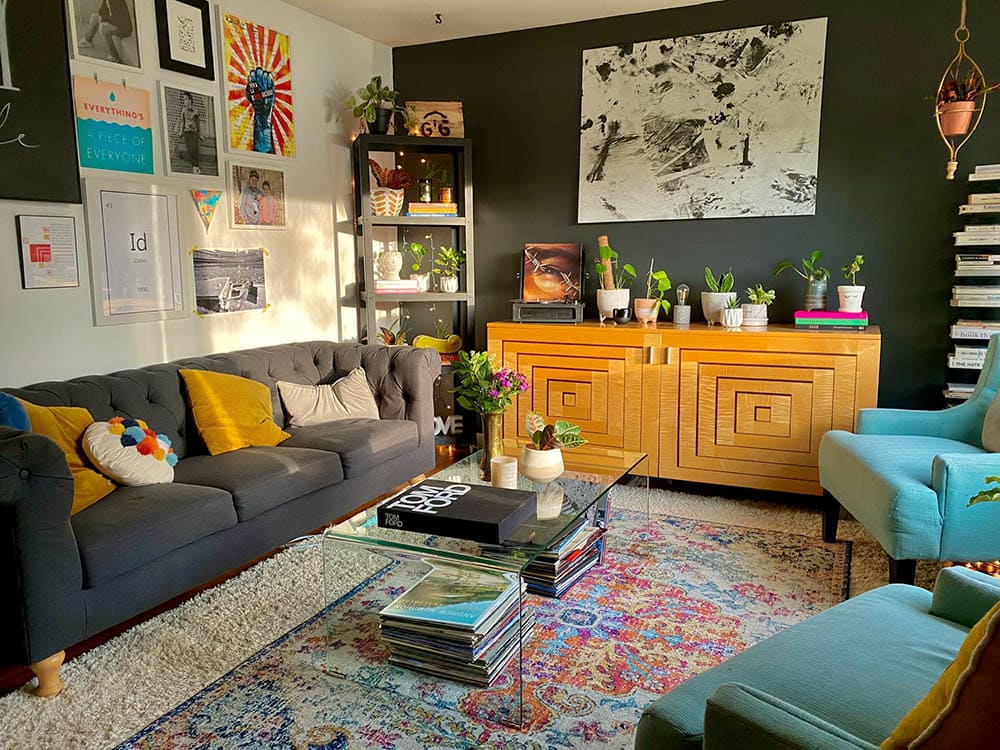 Accent walls are back in 2023, and more popular than ever before. This is a year of bold statements and unique, eccentric ideas. That's why an accent wall may be an easy solution to make any home more exciting and distinctive. It's a great way to draw focus on a particular section of the room or simply divide the area with a touch of color.
The trends in accent walls have changed over the years and you might not be sure what is trendy this season. We've created this list of 9 accent wall trends in 2023 to help you out! Hopefully, it will help you find the style that suits your needs so your home will look stunning in the months to come.

The Top 9 Accent Wall Trends
1.

Wood Accent Wall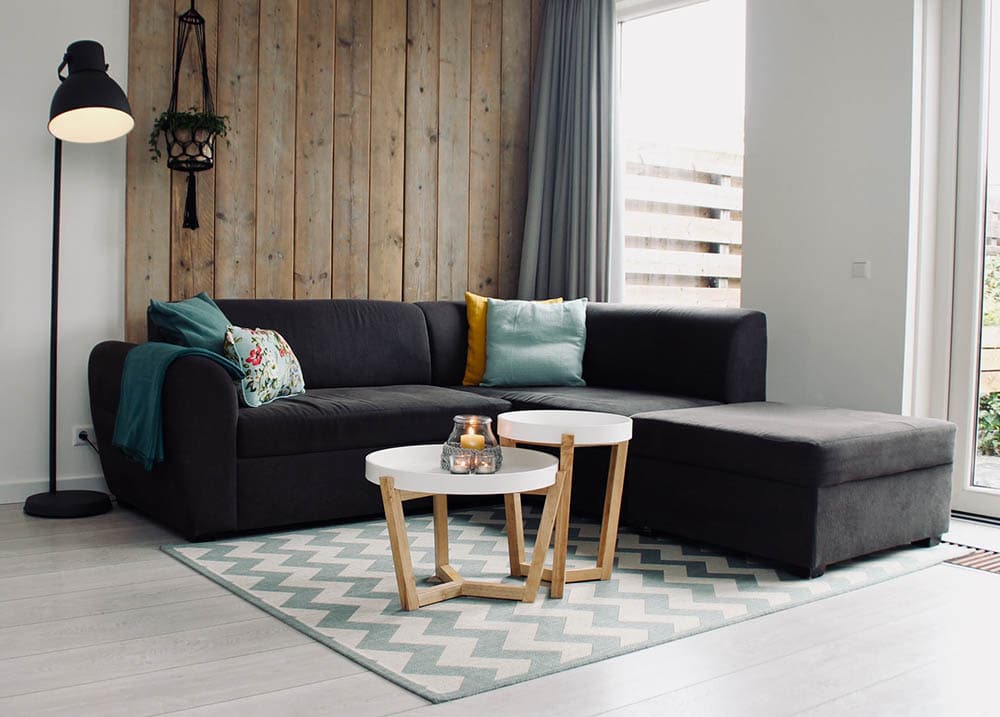 If you want to make your home look warm and inviting, there are few better options than a wood accent wall. This trend has been popular for decades, and it will remain popular in 2023. You could go for a slat wall, or use reclaimed wood, plywood, or shiplap—the options are endless.
Depending on what kind of a feel you want to achieve, you can play with wood patterns, colors, and textures, and it's a perfect way to add dimension to your home and make it stand out. You can lay the wood vertically or horizontally, make interesting shapes, or even create a wooden mosaic.  Depending on which style and wood material you choose, a wood accent wall can cost you anywhere from $8 to $40+ per square foot.
---
2.

Wallpaper Accent Wall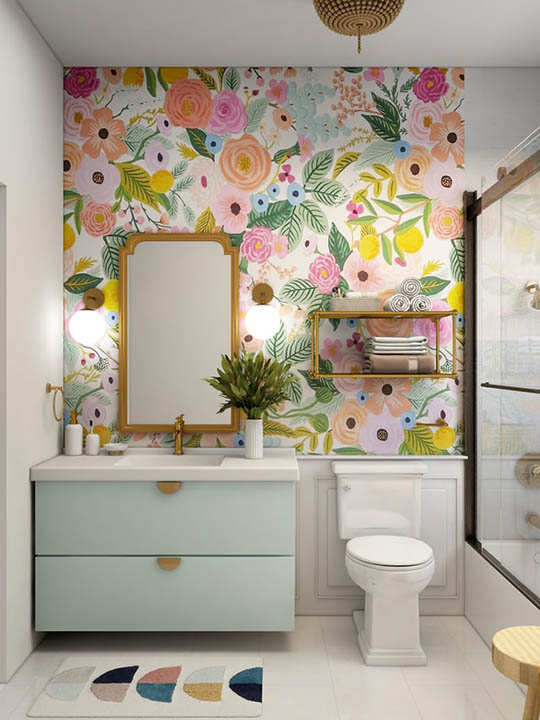 A wallpaper accent wall is another trend that was popular before and made a huge comeback this year. It's come a long way, and more and more people are using wallpaper for their accent walls. Wallpaper accent walls can be set in any room in your home to enhance its beauty and make it more interesting. What's great about wallpaper accents is that there are endless designs, blueprints, and patterns to choose from.
The most popular wallpaper has geometrical, abstract, and tropical designs this year, but there are thousands of different options, so you easily should be able to find the perfect wallpaper for your home. Depending on the design, wall size, and wallpaper material, an accent wall will usually cost you around $250, but it can be as much as $2,000.
---
3.

Black Accent Wall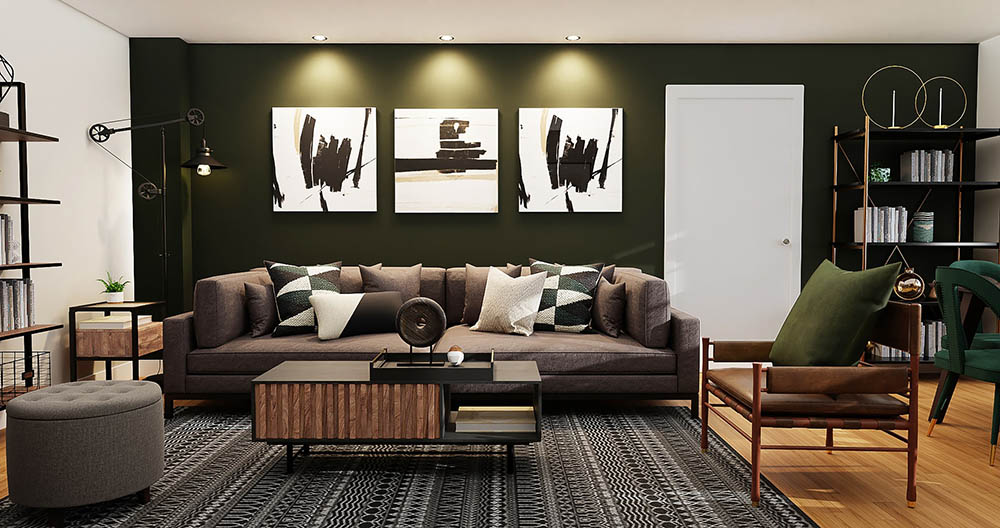 There's just something about black that draws people in, and it's become one of the major trends this year. Black is a modern, powerful color that will instantly transform any room. Some people are afraid that black might make their home look dark, but it's actually the opposite and makes a room feel more eliminated because it draws light into the room.
This is one of the cheaper options for accent walls because it only requires black paint, so if you're looking for a quick way to make your house more contemporary, try painting one wall in black, and you'll be amazed by the change.
---
4.

Decorative Panel Accent Wall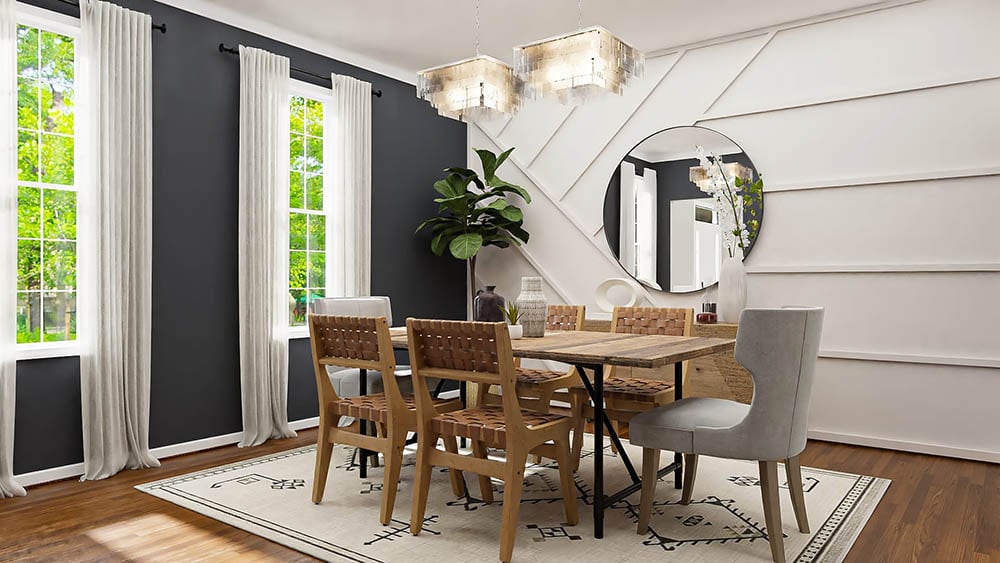 If you're looking to add dimension and texture to your home, you can install a decorative panel accent wall. This is a newer trend that is extremely beautiful and works well in any space. There are several decorative panel options for your accent wall, and they come in many shapes and colors.
Decorative panel accent walls are among the most expensive accent walls and can cost anywhere from $1,000 up to $2,000 or more if you go for a custom design. On the other hand, if you are handy and love DIY, you could install a decorative panel accent wall and save on costs.
---
5.

Colorful Geometric Accent Wall
Since both colors and geometric patterns are fashionable this season, why not make a perfect mix and try a colorful geometric accent wall? This will make the wall the focal point of the room and give the room a cheerful and aesthetically pleasing feel. Some stylish colors in 2023 are green, blue, purple, and red.
If you select larger geometrical patterns and shapes, the room will look bigger, while it will appear smaller if you choose smaller shapes. This is another inexpensive accent wall option because you can do most of the work yourself.
---
6.

Mirrored Accent Wall
To achieve a splendid, luxurious feeling in your home, try a mirrored accent wall. It will illuminate the room and make the space feel bigger and more open. Since mirrors come in all sizes and shapes, the wall can be decorated however you like, with an entire mirrored wall or smaller tiled mirrors. Either way, your home won't lack style with this wall accent trend.
This technique is beneficial in smaller homes because it helps small spaces appear larger. On average, the accent wall can cost you from $5 to $20+ per square foot.
---
7.

Ceiling Accent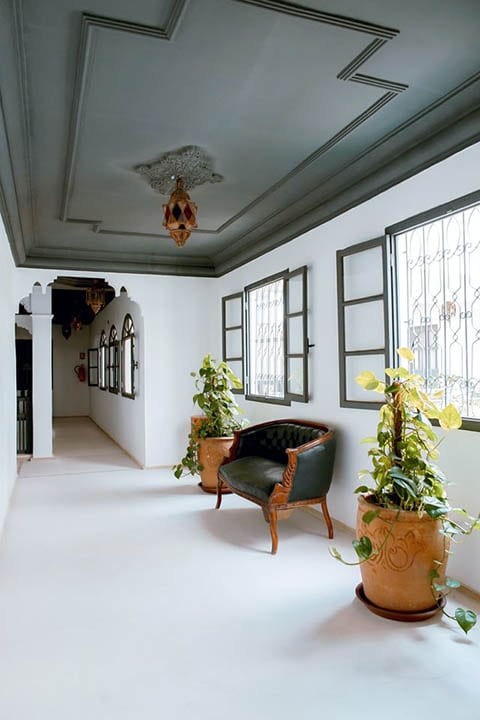 A ceiling accent is a new trend in interior décor this year. It might take some time to get used to, but making the ceiling the focal point of any room will make it seem higher and bigger. You can choose a one-colored ceiling, unique patterns, wood paneling, wallpaper, or almost anything else you can imagine.
It's a great way to change the whole room, and since not a lot of people are using ceiling accents, they can make your home distinctive. The price of the ceiling accent wall can vary depending on the size and the material/style you decide on.
---
8.

Tile Accent Wall
Tiles are no longer just used in bathrooms and kitchens, and tile accent walls are becoming popular. There are so many great tiles with unique forms, motifs, and patterns to choose from, making your accent wall truly one of a kind. Setting up a tile accent wall lets your unique personality shine through your wall design.
Another great thing about tile accent walls is that they're easy to maintain and will make your home beautiful for many years. The price will depend on the wall size and the tiles you go for since they can be cheap or very expensive.
---
9.

Brick Accent Wall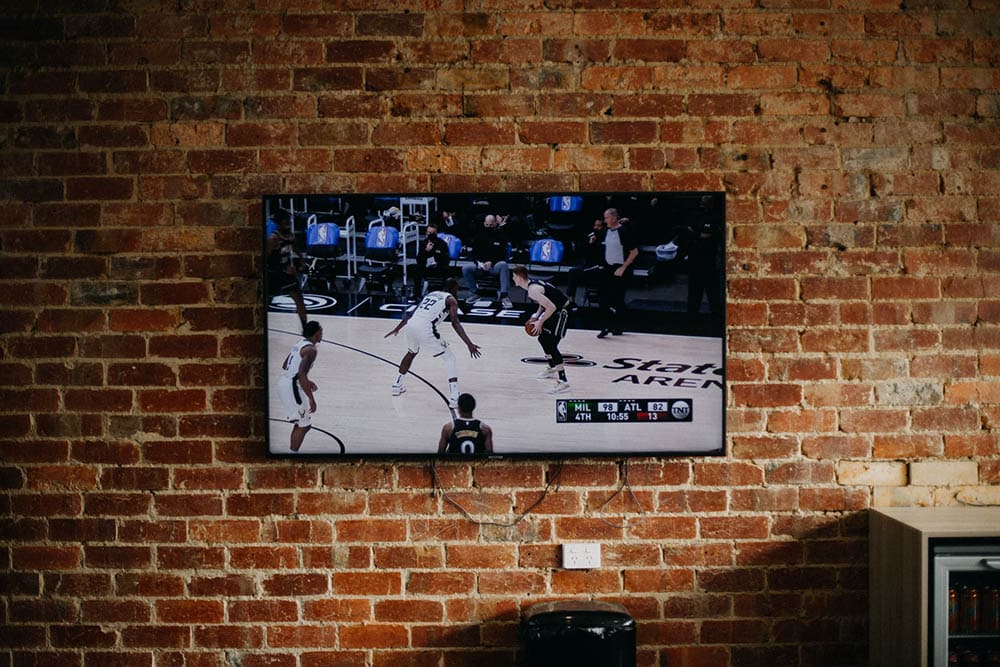 A brick accent wall is an excellent option for people looking to make their home look contemporary with an industrial feel. This is a timeless, classic look that can go great with any furniture style, and, depending on your preference, you can even paint them to match the rest of the interior.
If you don't have bricks, you can go for faux bricks that look surprisingly similar. Their cost is around $10 to $50 per square foot, depending on the brick thickness and size.

Are accent walls going out of style?
Accent walls have been in and out of style in the past, but they are looking to be very popular in 2023. If this is not something you have tried before, it's an excellent option for your next home project.
There are so many materials, colors, and patterns you can go for, and you can easily incorporate them into any space to make it fashionable without doing major renovations and updates.
What is the purpose of accent walls?
Accent walls are a simple way to add color, dimension, and style to any room without being over the top. It's a quick way to make the interior more aesthetically appealing and increase the overall appeal of your house. Accent walls allow you to express yourself creatively through just one wall.
They can be a powerful statement and if done correctly, they can be the focal point of the room and a true eye-catcher. Since there's such a diversity in accent wall options, they can make a room seem bigger, smaller, darker, or lighter, depending on your needs.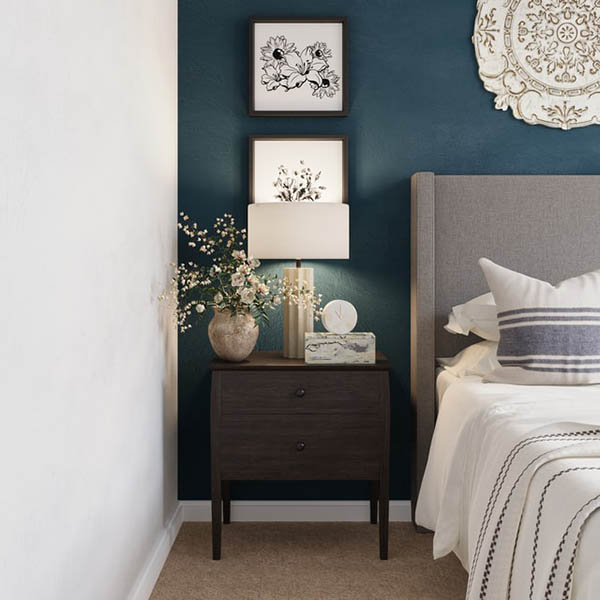 Which wall should be the accent wall?
Usually, accent walls are the room's main focal point, but you can set up an accent wall entirely to your preference. Most people set the accent wall to be the first wall you see when you enter the room. You can use accent walls to highlight a beautiful area of your room or to separate two spaces in one room. Accent walls work really well for fireplaces, opposite sides of windows, or separate compartments in your home.
They are there to add a touch of color and provide contrast to your home.
Accent walls – what not to do?
Consider which accent wall will make the room pop and add a stylish touch to the interior design. Avoid styles that are not complementary to the room; several patterns or mismatched colors can be unstylish and tacky. Also, if any of your rooms already have a lot going on, there's no need for an accent wall because the room can quickly be overcrowded with details. Don't be afraid to explore all accent wall options and possibilities, as long as you make it match the rest of the room to create a cohesive, aesthetically pleasing, and alluring space.
Related Read: 12 Bathroom Color Trends – Design Ideas for a Modern Home

Conclusion
Installing an accent wall is a perfect opportunity for you to express yourself and add fresh detail to your home without spending tons of money. Since there are so many possibilities and ways to create an accent wall, everyone can find something that will suit their needs.
There's no better time for change than the beginning of a new year, so if you're looking to make home improvements, let your imagination run wild and create a stunning accent wall in your home!
---
Featured Image Credit: LeeAnn Cline, Unsplash