Are Shipping Container Homes Legal in California? Everything You Need to Know!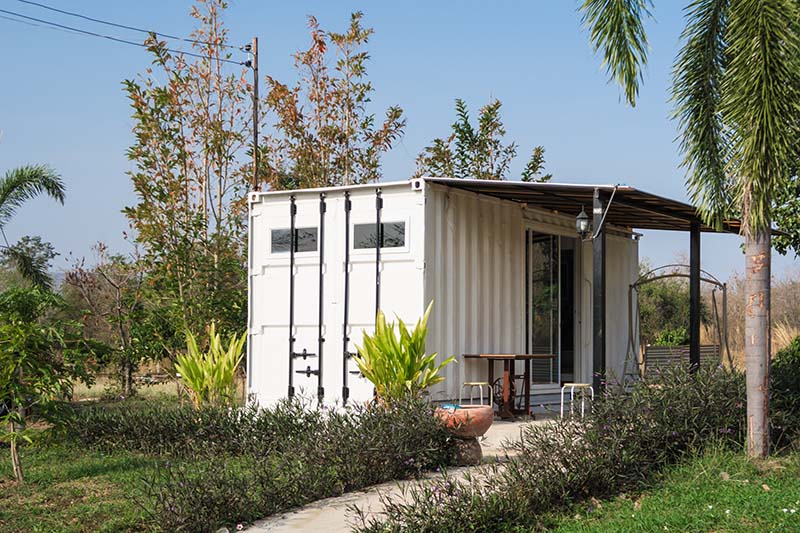 With the economy struggling, real estate prices in California are off the roof. That's why many people choose to live in container homes: they're cheap and easy to build. So, the question is—will you get in trouble with the law if you move into a cargo container? As long as you comply with the zoning laws and building codes, the container home will be 100% legal.
In this article, you will learn more about shipping container homes in California. Let's get started!

What Is a Container Home?
Easily customizable, mobile, and incredibly cost-effective—that's the best way to describe a shipping container home. Essentially, it's a cargo container(s) turned into a living space. That's right: we're talking about steel boxes used for shipping goods. Now, these units come in two sizes¹: 20 feet x 8 feet (160 square feet) and 40 feet x 8 feet (320 square feet).
If you have the resources for that, you can put 2–3 containers on top of each other for an improvised "mansion". While these dwellings might not always look much, as a cheap housing solution, shipping container homes offer a great bang for the buck. And here's a quick look at the biggest advantages and disadvantages of owning such a home: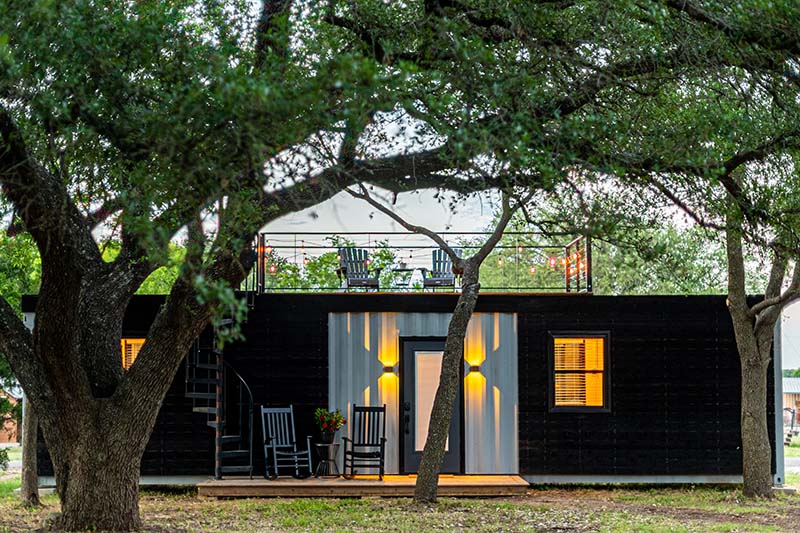 The Biggest Pros of Container Homes
Incredibly affordable
Depending on the size and the customization work involved, it's very well possible to get your hands on a container (in a decent shape) for $2,000–10,000. And you won't have to put much effort into turning that container into a home. Besides, this can be done with a few building materials.
Take very little time to build
On average, contractors get the job done in 1–2 months. Their services won't be cheap, however. That's why a prefabricated container might be a better investment. This is especially true if you have some DIY skills and are ready to put them to use.
Sturdy and last for a long time
Shipping containers are specifically built to withstand harsh weather conditions. We're talking about large bodies of water, UV rays, and temperature extremes. Crafted from corten steel¹, they can take a beating. You won't have to worry about the climate.
Highly customizable
You can always add a new container into the mix—that's the beauty of container homes. If you're on a low budget, start slow (with a single container) and go from there, expanding the makeshift home and introducing new sections like a kitchen or kid's room.
Mobile by design
Tired of the view from the windows? Well, why not call in a transportation company and have your home relocated? A quick note: if the cargo container house is bigger than average, moving it around will cost a pretty penny. But this is still a big pro.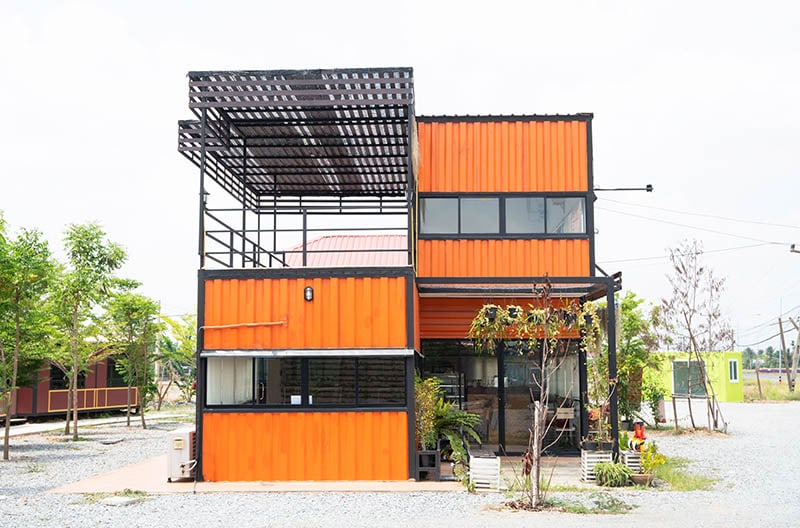 The Biggest Cons of Container Homes
Not quite aesthetically pleasing
If you're a designer at heart and are willing to invest long hours into it, a container home can, indeed, look great. But most people only add a couple of windows here and there and call it a day. Furthermore, no matter how much tweaking you do, it will still be a container.
Might not be eco-friendly
Repurposing cargo containers is a great way to help the environment. That's because these homes have very modest needs for building materials. Unfortunately, some containers are used by shipping companies to transport dangerous chemicals¹. Potentially, that means health issues for you.
The utilities won't be cheap
To introduce modern-home conveniences into a shipping container dwelling, you will have to pay an electrician, plumber, and HVAC specialist to have it all set up. Most likely, the utilities will be custom-built and cost more than in a standard house. Consider going with solar panels.
Extra expenses can be steep
While these containers are, indeed, very durable, they do have one weak spot, and that's the roof. For California, this isn't a big issue. In contrast, somewhere up north where it snows all the time, the roof won't be able to hold its weight. Insulation will be expensive, too.

California's Law on Container Homes: Breaking It Down
Shipping container homes haven't been around for a very long time. That's why there are no universal regulations for all 50 states. To ensure you're not breaking any laws, check in with the authorities (both local and state) to get all the latest info. Now, California doesn't have anything against turning a cargo container into a dwelling.
And you won't have to wait for long months before the government gives you permission/permit. The only thing that the state does require is that you follow the building codes and abide by zoning laws. We'll take an in-depth look at that in a moment. For now, here's a list of container home parameters that are regulated in California:
Size (the square footage, height, and number of containers)
Foundation (the type and depth of the foundation)
Color and style (certain colors are not allowed)
Materials used (the walls, ceiling, and floor)
Offsets (the distance between the container and the property line)
Means of egress (how many exits are inside the house)
HVAC, electricity, and plumbing
Protection against fires and smoke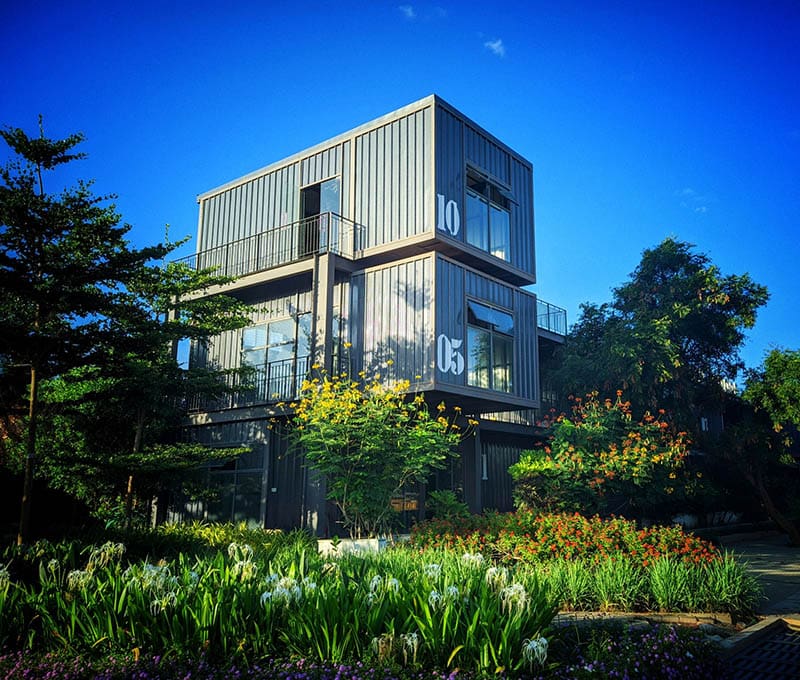 What Is a Building Code?
In simple terms, a building code is an official permit issued by the state. It allows you to build a home, garage, shed, or any other structure on your property. So, what you should do is create a project application (make it as detailed as possible) for the residential unit that you want to build. In this case, it's going to be a shipping container home. Next, send it to the authorities and wait for their response.
In California, there are no federal or state government regulations when it comes to building codes or zoning restrictions. That said, you'll still have to deal with the county and municipal government. To speed things up, reach out to them via email or phone and ask about your application.
What Is Property Zoning?
How do the authorities develop a city? How do they keep it cohesive? Well, that's where zoning areas come in. Governments use them to break cities and entire states into different zones, each with its own set of homes and commercial buildings. Essentially, it's a tool that allows controlling the use of individual properties¹. That means if your land is classified as R-1, you won't be able to build an apartment complex there.
Speaking of residential zones¹, we've got R-1 (single-family dwellings), R-2 (two residential units), and R-3 (multiple residential units in the same lot). In California, container homes may be built in all three zones¹. However, if your land is less than two acres, you'll only be allowed to build one single container home¹ (with a maximum size of 320 square feet).
What About the Regulations in Other US States?
According to the International Code Council, there are 30+ million ISO-certified shipping containers¹ out there. The ICC provides guidance on how to safely use these containers as a building element without violating any laws. You can use it to educate yourself on the building code and zoning requirements in the US. But, to be 100% sure, check in with local regulations.
And one more thing: in some states, the laws on container homes aren't at all demanding. For example, in Alaska, you won't have to worry about zoning restrictions. The same is true for Louisiana, Tennessee, and Texas¹. These states give US citizens the freedom to build cargo container homes and dwell in them. This is especially true for the suburbs.
How Much to Build a Shipping Container Home?
If you're on a limited budget but want to move into a cargo container home ASAP, go with a used 8 x 20 container. On average, that will cost $1,200. An 8 x 40 unit, in turn, will set you back $8,000–10,000. As for the foundation (concrete), expect to pay $5–25 per square foot. Insulation prices come in at $5–16 per square foot. And here's a quick look at some additional expenses¹:
| | |
| --- | --- |
| Drywall for the walls: | $1.50–3 per square foot |
| Brand-new roof: | $5,000–45,000 |
| Plumbing installation: | $2,000–15,000 |
| HVAC installation: | $5,000–13,000 |
| Electrical wiring: | $500–2,500 |
So, that sums up to around $30,000 for a fully-packed cargo container home.

Conclusion
California is the wealthiest American state. Home to almost 40 million people, it has a GSP of 3.4 trillion dollars. Sadly, not every single person living in "Cali" can afford a house. They're costly, and it takes decades of hard work to buy one. This is exactly why there are so many shipping container homes there.
The good news is that the local laws have nothing against living in a container. You will have to follow certain regulations, of course. Otherwise, you'll have to deal with the authorities. So, make sure you're familiar with the building codes and zoning requirements before you turn a container into a home. Take care!
---
Featured Image Credit: Ezzolo, Shutterstock