Vitamix 7500 vs 750: Which Blender is Better?
Rating
Image
Product
Details

Best Choice

Vitamix 750

User-friendly
BPA-free Housing
Pre-Programmed Modes
CHECK PRICE

Best Price

Vitamix 7500

More Affordable
Variable Speed
Pulse Feature
CHECK PRICE
Any Vitamix blender is going to be hard to beat. Some fans of the company's impressive product lineup may even go so far as to say that the only blender that can beat a Vitamix blender is another Vitamix blender.
While that is a question for another day, it is at least safe to say that this manufacturer has a history of making excellent kitchen equipment.
The Vitamix 7500 and the Vitamix 750 may be two of their very best products. With that in mind, today we're going to pit them against each other to see which is best for your kitchen.
The choice will be tough. With both options, you get an incredible 2.2 horsepower motor, a revamped motor housing for noise suppression and better cooling, ten-speed settings, and an impressive  64-ounce container.
However, the 750 does edge out the 7500 a little bit in terms of user-friendliness. The 750 features five pre-programmed settings that allow you to perform common blending tasks with the touch of a button.
You do pay for convenience though. The 750 also happens to be more expensive than the 7500, which may lessen its appeal to budget buyers.
Read on to find out if more features are worth more money.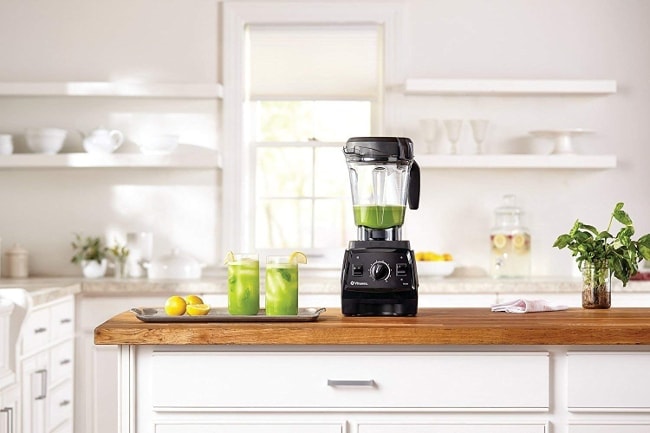 What are the differences between them?
Price (Winner – the Vitamix 7500):
Not only are both of these blenders expensive compared to other products, but they're also expensive relative to the rest of the Vitamix product line.
Since these are two of their newer units, they're both very expensive. However, the 750 is a little bit newer than the 7500, and for that reason, it's also a little bit pricier.
As we already mentioned, you do get a little bit more for your money. But if you value saving a few dollars over getting a few more features, then you may prefer the 7500.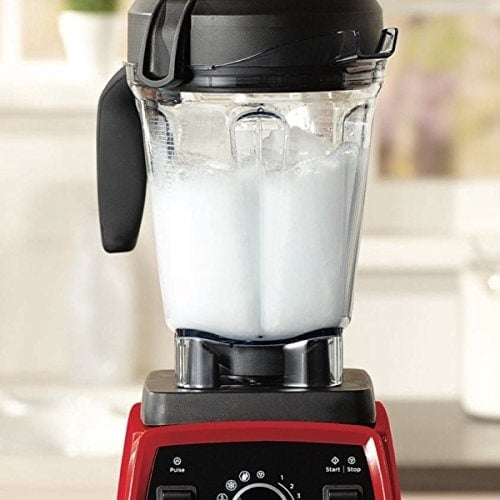 Ease of Use (Winner – the Vitamix 750):
As we mentioned in the introduction, the big difference between these two options is the inclusion of pre-programmed settings that are found only in the 750. With these settings, you can make hot soup, cold deserts, smoothies, and pureed vegetables and fruits—all with the push of a button. There's also a pre-programmed setting for self-cleaning.
All of this said, it's important to keep in mind that the 7500 can do all of these things as well. While you may have to play around with the speed settings a little bit to figure out which option is best at doing what, the 7500 can do anything that the 750 can.
For some people, the inclusion of pre-programmed settings is important. For other users, they aren't that big of a deal. Ultimately, you'll have to decide for yourself which camp you fall into. Either way, if you do want the settings, you'll find them in the 750.
Everything Else: Tie
The 7500 and the 750 really do have most things in common. With either option, you'll get sophisticated housing, loads of power, and massive containers that can make up to a half-gallon of blended goodness.
They're also both equally versatile, with the ability to grind coffee and make soups, ice cream, or even pizza dough.
As you've no doubt already realized, the only true differences between these blenders pertain to price and settings. In every other department, the options are tied.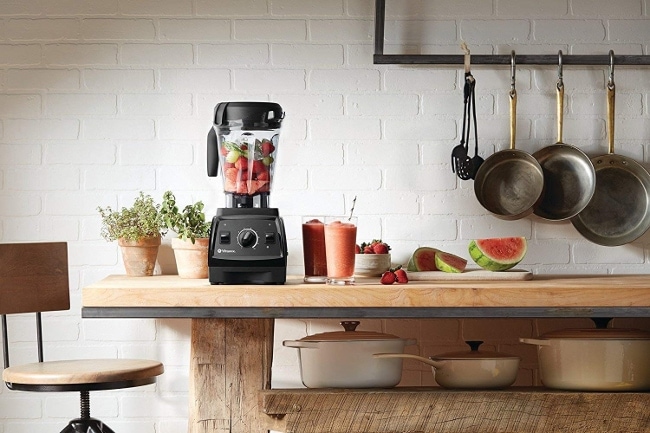 Quick Rundown of Vitamix 7500:
Vitamix 7500 Blender, Professional-Grade, 64 oz. Low-Profile Container, White
Variable Speed Control: Ten variable speeds allow you to refine every texture with culinary precision, from the smoothest purées to...
Pulse Feature: Layer coarse chops over smooth purées for heartier recipes, such as chunky salsas or thick vegetable soups.Electrical...
Low-Profile 64-ounce Container: Perfect for family meals and entertaining, while fitting comfortably under most kitchen cabinets. Cord:...
Pros
More Affordable than 750
Ten Speed Settings
Powerful
64-Ounce Container
New Housing Optimized for Cool and Quiet Running
Quick Rundown of Vitamix 750:
Pros
Pre-Programmed Modes
Ten Speed Settings
Powerful
64-Ounce Container
New Housing Optimized for Cool and Quiet Running

What the Users Say
Both the 750 and the 7500 are enjoyed by the people who use them. In particular, we see a lot of love for the presets in the 750. Many users like the ability to make common foods without needing to overthink the process.
The new motor housing also gets a lot of love (though users don't realize this is what they're praising). We hear from many people who report that both units run considerably quieter than they expected.
We haven't heard many complaints about either blender. We have heard from some users of the 7500 who struggle to adapt to life without presets.
Indeed, if you're used to standard blenders that don't feature variable speed settings, you may initially find the options daunting. However, most users that we've heard from do eventually adapt to them.
Conclusion
So, which to buy? In the end, the decision is going to depend on what you're hoping to get out of this purchase. Buyers who want the very best they can get will find it with the 750. Pre-programmed settings really can be nice to have if you don't want to have to think too much as you make your morning smoothie.
However, if you're trying to keep to a budget, you may not mind the lack of modes in the Vitamix 7500. Variable speed settings are actually one of the best aspects of Vitamix blenders. Though relying on them exclusively will require adapting to a learning curve, it certainly isn't the worst thing in the world.
Ultimately, you get a good blender with either option. You just need to decide for yourself which is best suited for your needs.