6 Best 2000W Inverter Generators Of 2023 – Top Picks & Reviews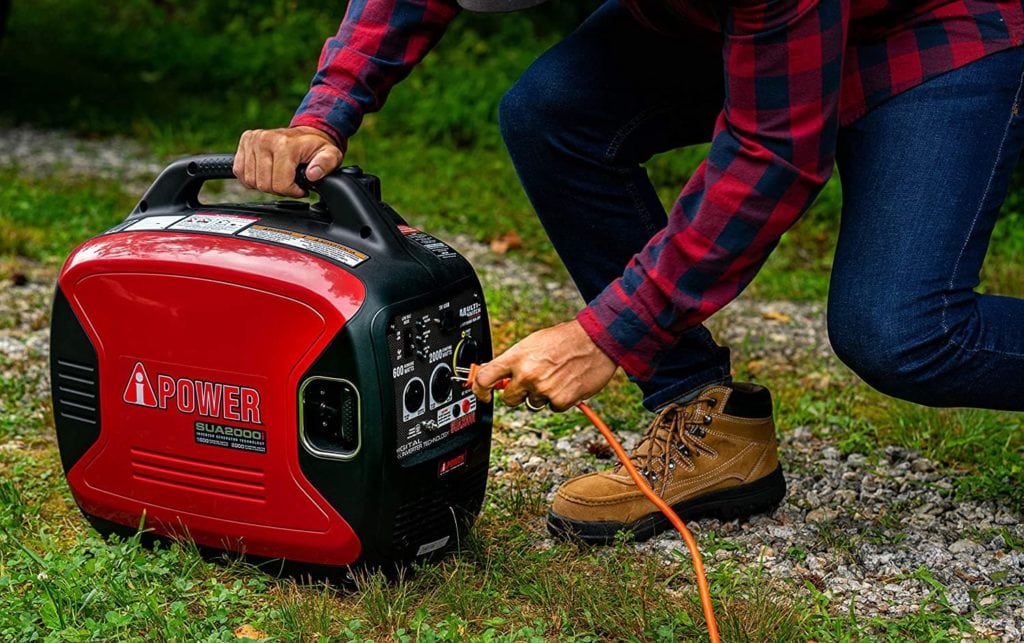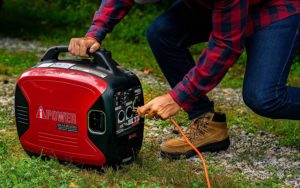 Whether it's an emergency situation, off the grid, or out on the job site, a reliable inverter generator can make or break the day. You want something efficient, powerful, and quiet to power your electrical devices when grid power isn't available. In addition, it needs to be reliable and flexible.
With hundreds of models to choose from, it can be difficult to find exactly the right model for your needs. Luckily, we've compiled a list of top picks with detailed reviews to make the decision easier. Read on to find your next best inverter generator.
A Quick Comparison of Our Favorites
Rating
Image
Product
Details

Best Overall

Westinghouse iGen2200 Portable Inverter

Fuel efficient
Quiet
Lightweight and portable
CHECK PRICE

Best Value

A-iPower SUA2000iV Portable Inverter Generator

Small and lightweight
Quiet
Multiple outlets
CHECK PRICE

Premium Choice

Honda EU2200i Portable Inverter Generator

Powerful
Lightweight and portable
User-friendly
CHECK PRICE

WEN 56200i 2000-Watt Portable Inverter Generator

Small and easy to store
Quiet
Three types of power receptacles
CHECK PRICE

Briggs & Stratton P2200 Inverter Generator

Quiet
Solid power
3 outlets
CHECK PRICE
The 9 Best 2000-Watt Inverter Generators – Reviews 2023
1.

Westinghouse iGen2200 Portable Inverter – Best Overall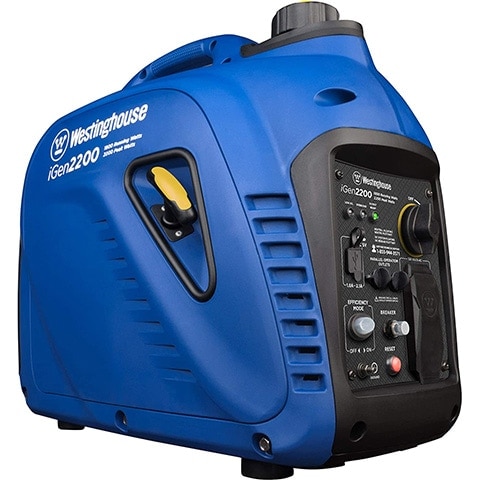 The Westinghouse iGen2200 Portable Inverter offers the best of multiple worlds. With high levels of fuel efficiency, a quiet motor, and multiple outlets, it's a real find in the inverter generator department. However, the benefits don't stop there.
The generator is equipped with a 1.2-gallon tank. While that's not a huge fuel capacity, it doesn't much matter as it will run for twelve hours with that much fuel. There's also an economy mode for maximum fuel efficiency.
Not only that, but this generator is quiet. With a noise output as low as 52 dBA, you'll barely notice it's there. The gentle hum of the generator will fade into the background compared to other white noise.
It's also got solid power behind it, with options to increase available wattage and amperage. On its own, it produces 1800-2200 watts. It's equipped with two USB outlets and two 120-volt, 20-amp AC outlets. For additional power, it can be run in parallel with another generator. This operation requires a separate parallel cord.
When they say this generator is portable, they mean it. It weighs in at only 46 pounds. At the size of a suitcase, it's easy to carry, pack, and store.
As with any product, this one comes with a downside. The gas cap doesn't seat properly, which could be a safety concern. It can also leak gas and oil.
Pros
Fuel efficient
Quiet
Lightweight and portable
Runs in parallel
Cons
Gas cap doesn't seat properly
---
2.

A-iPower Portable Inverter Generator – Best Value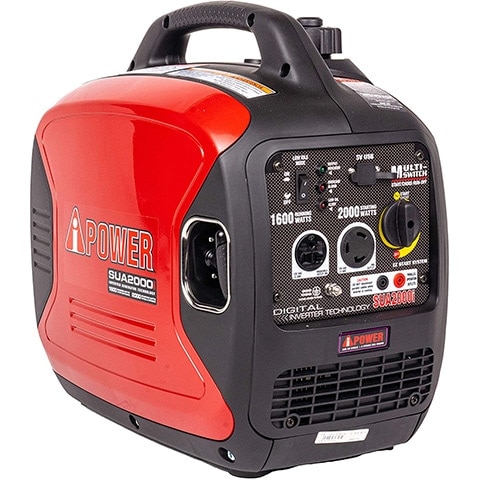 Another great inverter generator is this one by A-iPower. It offers a lightweight, portable option for people on a budget. It's one of the best 2000-watt inverter generators for the money.
First off, it's the perfect size for most uses. Whether you're camping, tailgating, or need it in an emergency, this generator will fit where you need it. It's only 46 pounds and 22" x 13" x 20", making it extremely easy to store and transport.
At 1600 running watts, it doesn't have quite the power of the Westinghouse model, above. However, it still produces plenty of clean, safe electricity for your electronics and appliances. It pushes this power through 2 USB outlets, one standard outlet at 120 volts and 20 amps, and a twist-lock outlet at 120 volts and 30 amps. For additional power, this model can also be run in parallel.
Additionally, the 79cc engine runs quiet. At 58 dB, it's only marginally louder than the Westinghouse model.
On the down side, this model is a hard starter. It sometimes takes quite a few pulls of the cord to get it running.
Pros
Small and lightweight
Quiet
Multiple outlets
Runs in parallel
---
3.

Honda EU2200i Portable Inverter Generator – Premium Choice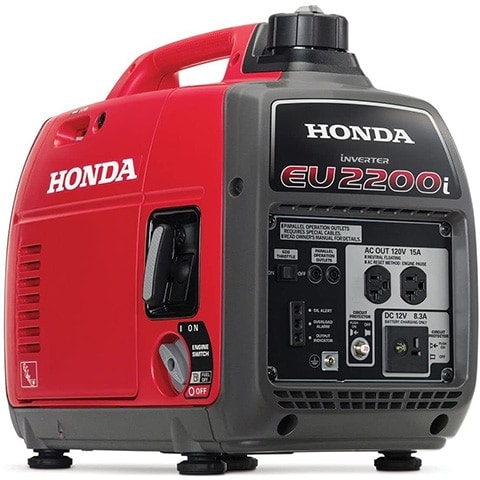 This Honda generator offers many excellent features in a lightweight and portable package. First off, it pushes out 2200 watts of power, with a parallel option for double that amount. It sports two 120-volt, 15-amp AC outlets.
In addition to its power options, another feature is the generator's compact size. With dimensions of 16" x 20" x 11", it's one of the smaller generators on the market. This makes it easy to find a place for it, whether you're storing it, using it, or traveling with it. At 40 pounds, it's also lighter than our two previous options.
It's also user-friendly. The Honda GXR120 engine runs at 48 to 57 dBA, so it's very quiet. It also has a number of features that help with easy maintenance. In addition, a large spout and oil drain gutter help with oil changes.
On the down side, the run time on this generator is not top of the line. It offers 4 to 9.6 hours, depending on the load.
Pros
Powerful
Lightweight and portable
User-friendly
Easy to maintain
Runs in parallel
Cons
Lower run time than some other models
No USB port
---
4.

WEN 2000-Watt Portable Inverter Generator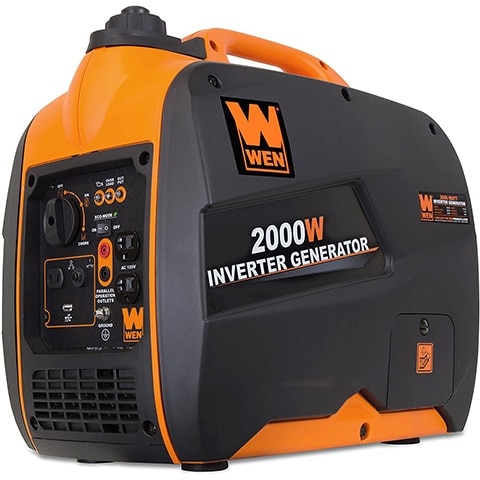 Here is another solid choice for your generator needs. It produces 1600 running watts of power and offers multiple power options. With two 120-volt AC receptacles, one 12-volt DC receptacle, and one 5-volt DC port, you should be set for power.  It's also parallel capable.
At 48 pounds, it's heavier than our previous three reviews. However, it's still light enough to be portable. At 18 x 11 x 18 inches, it's also easy to store.
This generator also remains in the quiet range. At 51 dBA, it's the quietest so far in this list.
There are several negative features with this product. First of all, the run time for this generator is mid-range. The maximum running time at a quarter load is 9.4 hours. Additionally, the oil dip stick leaks. Finally, it requires the removal of both sides of the unit and the gas tank in order to clean the carburetor, which is extremely inconvenient for maintenance.
Pros
Small and easy to store
Quiet
Three types of power receptacles
Cons
Mid-range run time
Leaky dip stick
Inconvenient maintenance
---
5.

Briggs & Stratton P2200 Inverter Generator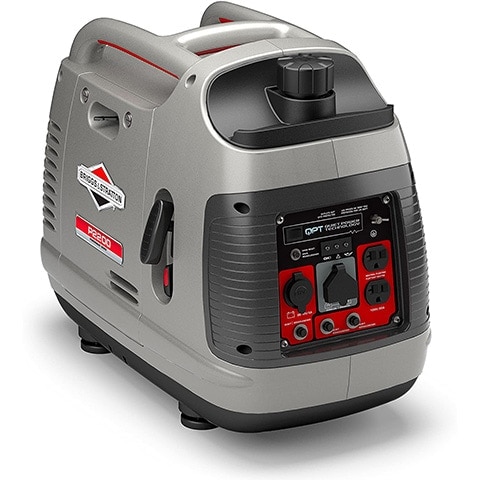 This Briggs and Stratton generator has a lot to offer, but doesn't make the top of our list. It features a 111cc engine that produces 1,700 running watts of power, making it slightly more powerful than the WEN model. The motor runs at 59 decibels, keeping it within conversational range, much like other generators on the list.
It's a decent power source featuring two 120-volt three-prong AC outlets and one 12-volt DC outlet, giving it a reasonable number of power options. It also offers the option to run in parallel with another unit for more power. It's a little weak on run-time, dialing in at 6.5 to 8 hours at one quarter load.
Another problem is that the unit tends to overload easily. Appliances like air conditioners and refrigerators seem to trip the overload at lower wattages than should be the case. However, for lighter duty uses, this generator still does the trick.
It's also heavier than other portable generators in its class.
Pros
Quiet
Solid power
3 outlets
Cons
Run-time at the lower end
Overloads easily/not heavy duty
Heavy
---
6.

Pulsar Portable Gas-Powered Inverter Generator
The Pulsar comes with a range of fairly standard features for generators in its class. Among them are its four power sources. It has two 120-volt AC outlets, a 12-volt DC outlet, and a USB port, making it useful for a range of applications.
It generates more power than some competitors. It rates at 2,300 peak watts and 1,800 running watts. This gives it a little more in the way of reserves. Like other models, it can be run in parallel for more power.
It comes in a fairly compact shape. At 47 pounds, the weight is toward the middle range of other generators on this list.
This one has a few drawbacks. First of all, it gets louder than expected when under heavy use. Second, it has a habit of shutting off after just a few hours.
Pros
Lightweight and compact
4 outlets
Solid power
Cons
Louder than expected
Shuts off unexpectedly
---
7.

Generac 6866 iQ2000 Inverter Generator

Generac's 2000-watt inverter generator has a little less punch than some other models. At 1600 running watts, it's near the bottom of the range for this list. Along with that, it's far from the top in terms of run time. At 5.7-7.7 hours, it's one of the less efficient models in its class.
Among the positive features of this generator are its size and readout information. It's fairly light, weighing in at 46.2 pounds. Its dimensions are 20" x 12.6" x 16.9", putting it near the middle range for overall size. It also offers a variety of easy to read gauges including fuel, run-time remaining, and generator status, so you should always know where you stand with this one.
Along with the substandard qualities listed above, there are a few other hangups. It leaks gas and oil. It idles extremely rough. The manufacturer doesn't offer a noise rating, but it's louder than expected out of the box. It's also not useful for mobile home camping. It won't run a microwave and a refrigerator at the same time. Overall, there are better choices out there.
Pros
Compact and light
Easy to read gauges
---
8.

Rainier R2200i Portable Inverter Generator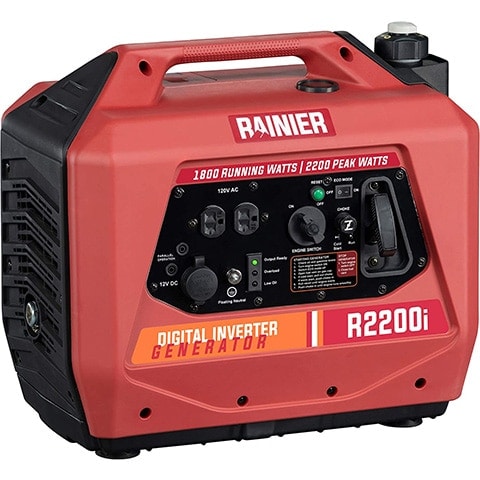 This Rainier generator is portable. It weighs only 43 pounds, making it the third lightest generator on this list. Its dimensions are 20" x 12.5" x 18". So, it's not the smallest on the market, but it isn't the largest either.
As a power source, it's fairly standard. It produces 1800 rated watts and offers two 120-volt AC outlets and one 12-volt DC outlet. It is also parallel capable. One superlative feature in terms of power is its run time. It offers up to 13 hours, which puts it near the top among this selection.
This generator comes with a variety of problems. It's rated by the manufacturer at 52 dBA, but it's extremely loud running idle. It registered between 70 and 75 dBA. It also has no oil gauge or dip stick. This is a real problem, as you then have no indication when to top off the oil. Finally, in eco mode, power surges trip it easily, requiring a reset.
Pros
Lightweight
3 outlets
Parallel capable
13 hours of run time
Cons
Runs loud
No oil gauge
Handles power surges poorly
---
9.

Champion Power Equipment Portable Inverter Generator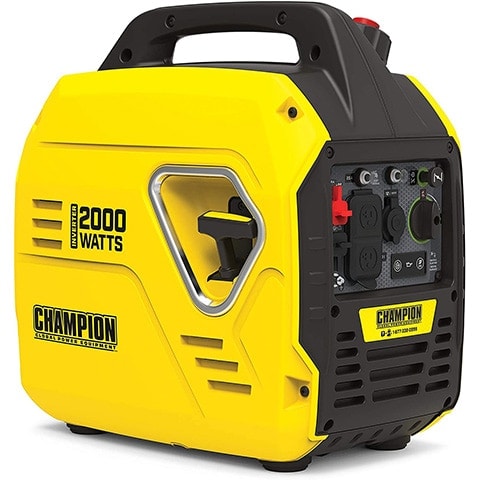 Champion put a lot of thought into making this generator portable and efficient. It's not only the lightest generator on this list, but it's one of the smallest, making it easy to both haul and store. It has an 11.5-hour run time. Unfortunately, those may be the only truly superlative aspects of this inverter generator.
The rest of the features are fairly middle of the road. The noise level is 58 decibels. It produces 1700 running watts. In terms of outlets, it offers two 120-volt AC receptacles and one 12-volt DC receptacle. There is no USB port. Like many models, it is parallel capable.
While we didn't experience anything truly terrible in our time testing this generator, Champion generators have a reputation for a short lifespan. So, buyer beware.
Pros
Quiet
Lightweight and small
Three outlets
Long run-time
---
Buyer's Guide – How to Choose the Best Invertor Generator
There are a lot of factors to consider when purchasing a 2000-watt inverter generator. Here are a few guidelines as you shop.
Purpose
Before you put out a big chunk of change on a generator, it's a good idea to first have a firm idea of what it will be used for. There are a lot of different possible applications for generators. They include worksite power sources, camping, backup power during an outage, tailgating, and more. The generator selection you would make if the only intention were for emergency use is different from the choice you'd make if you planned to use it for multiple purposes.
Size and Weight
While this won't matter in every case, portability offers versatility. Because generators can be used for a variety of purposes from backup power and work to tailgating and camping, size is key in the purchasing decision. Unless you have unlimited space for storage, and a spare set of hands to move things around when needed, a small, lightweight generator is where it's at.
The generators on this list weigh between 39 and 50 pounds and their dimensions average at 3,500 cubic inches. That makes them relatively easy to carry, pack, and store. Except in cases where function is affected, the smaller and lighter the generator, the better it will serve you.
Peak and Running Wattage
Obviously, power is the reason for purchasing a generator in the first place. However, it's easy to assume that all 2,000-watt generators produce the same running wattage. That's not the case. Due to efficiency levels along with a number of other factors, there can be a wide range of outputs. The generators on this list range from 1,600 to 1,800. Be sure to check carefully to be sure you're getting the most power for your dollar.
Number and Type of Outlets
With the variety and number of different electrical devices you might want to power, the number and type of available outlets on the face of the generator matter a great deal. The better generators provide multiple AC outlets, a DC outlet, and one or more USB ports. This lets you power nearly anything you'll need to. There are, of course, adapters available to change outlets to the type you need. However, having each type available from the get go eliminates any hassle with power.
Parallel Capability
Sometimes you just need more power. In these cases, one option is to run two generators in parallel. Having this capability means you can produce more power from two smaller generators rather than procuring a single larger one. All of the generators on the list above have this capability.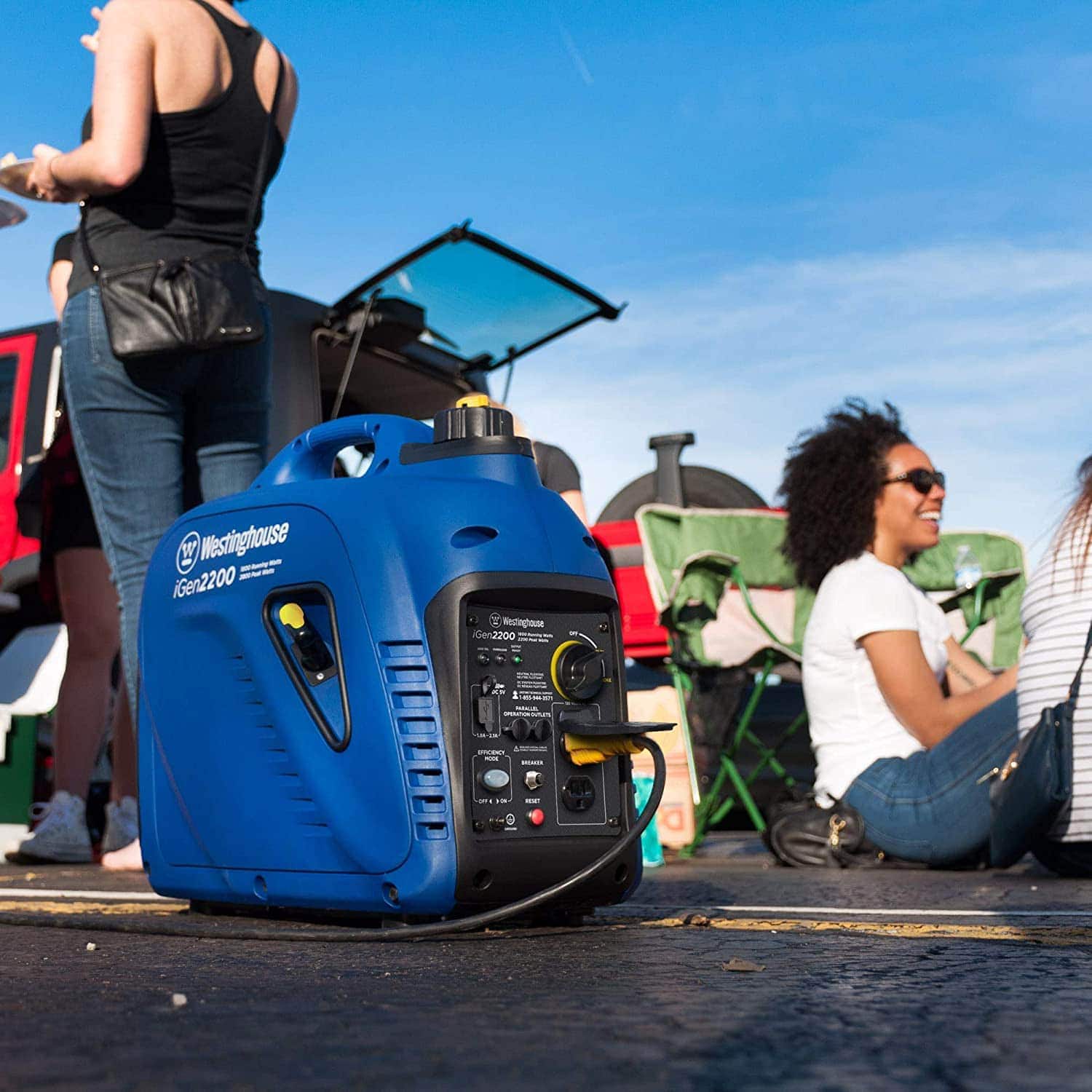 Gauges and Meters
It's important to know as much as possible about how your generator is operating. There should be a gauge or dipstick for oil so you know when to add. There should be a gas gauge. Ideally, the generator will also have some sort of readout to tell you how many hours of run time you have left. The more information you have, the better you can keep your generator running and the less down time there will be.
Run Time, Gas Tank, and Fuel Efficiency
Whether you're taking it camping or powering appliances during a power outage, solid run time for a generator is important. Run time is a combination of the amount of gas in the tank and the efficiency with which that fuel is processed. Larger tanks contribute to greater run time but also increase the overall weight of the generator, so it's generally more advisable to select one with a reasonably-sized fuel tank and a high degree of efficiency.
Run time can vary greatly depending on the generator. The selection above includes generators that run for anywhere from 4 to 12 hours. In general, more efficient generators are more expensive. However, you end up saving on gas in the long term.
Cost
Obviously, cost is a factor in deciding which product to purchase. There's such a wide range of price points among inverter generators that it can be difficult to determine the best selection. Overall, price should be taken into consideration alongside the other factors we've just discussed in order to discern the best overall value. After all, a very inexpensive generator that doesn't work very well isn't a great buy.

Conclusion
As you can see, there are many factors that go into choosing the right 2,000-watt inverter generator for your purposes. From power and efficiency to gauges and meters, each element of these relatively expensive pieces of equipment needs to be considered when making a purchase in order to get the best value for your dollar. Because they're fairly complex pieces of equipment, it's helpful to have a basis for comparison and shopping checklist. This was intended as that basis, and we hope we've helped make sense of some of the finer points of generator selection in these reviews and buying guide.
Based on the details from the buying guide above, the Westinghouse iGen2200 Portable Inverter generator was the best overall. With the best combination of features, this one won hands down over the rest. In terms of best value, the A-iPower SUA2000iV Portable Inverter Generator takes the cake, with a reasonable price for a solid power supply.
More buying guides like this:
Top 5 rated inverter generators as of right now. Read more.
Top 5 rated 3000-watt inverter generators right now. Read more.
Our favorite inverter generators for RV & Camping. Find it here.