10 Best 5.25-inch Car Speakers of 2023 – Reviews & Top Picks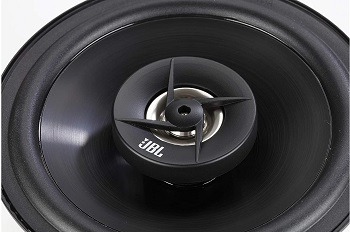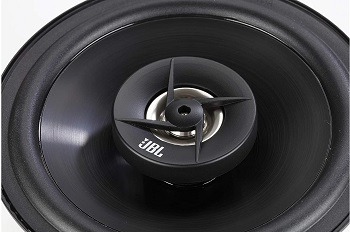 Are your stock car speakers starting to fall a little flat? Or are you in need of a little more boom?
When it comes to stock sound systems in vehicles, many of them are just subpar. They're choppy at times, and fuzzy at others. And forget finding some decent bass, it's near impossible.
But that doesn't mean you need to go out and buy a full-blown replacement sound system. Often just changing out your car's original 5.25-inch speakers will give you those clearer, sharper tones you've been looking for.
However, the car audio market is flooded with so many different brands. It can be difficult to know where to start. That's why we've put together these reviews to help you determine the best car speakers for you.
---
A Quick Comparison of Our Favorites in 2023
Rating
Image
Product
Details

Best Overall

Rockford Fosgate R1525X2 5.25″ Coaxial Speaker

Full range
Easy to install
Vacuum polypropylene cone
CHECK PRICE

Best Value

BOSS Audio Systems CH5530 5.25 " Car Speakers

Inexpensive
Durable
Decent audio quality
CHECK PRICE

Premium Choice

Polk Audio DB522 5.25″ Coaxial Speakers

Weather-proof
Great for motorcycles
boats
jeeps
travel trailers
Decent top end
CHECK PRICE

JBL CLUB5020 5.25″ 2-Way Coaxial Car Speaker

Great sound for daily driver
Decent bass after break-in
CHECK PRICE

Kicker D-Series 5.25″ Car Audio Coaxial Speakers

Great bass
Sturdy construction
CHECK PRICE
The 10 Best 5.25-inch Car Speakers
1.

Rockford Fosgate R1525X2 5.25″ Coaxial Speaker – Best Overall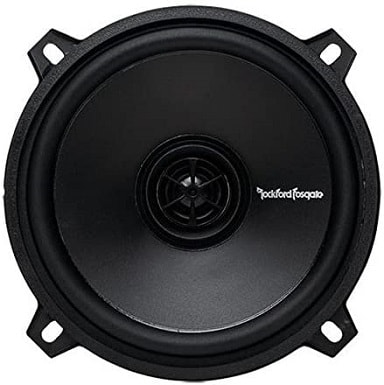 Our top overall pick for best 5.25-inch car speaker has to go to Rockford Fosgate. These speakers are well-designed and durable. Instead of using old generic paper cones, Rockford's replaced them with vacuum polypropylene ones. This not only makes the speaker look nicer, but it also helps to protect the speaker internals.
These speakers are full range 40W speakers meaning that they've got the woofer, tweeter, and integrated crossover all-in-one. This leads to a super easy install. All you'll need is to find the correct wiring harness (easily obtainable at most auto parts stores) for your vehicle and you're on your way.
Now these speakers sound great. They put out a nice crisp sound when played at "normal" volumes. However, they do tend to distort at higher volumes. But that's the case with most 5.25-inch speakers. If you're just looking for a simple affordable upgrade, these are exactly what you need.
Pros
Affordable
Full range
Easy to install
Vacuum polypropylene cone
Cons
Not the best at high volumes
---
2.

BOSS Audio Systems CH5530 5.25 " Car Speakers – Best Value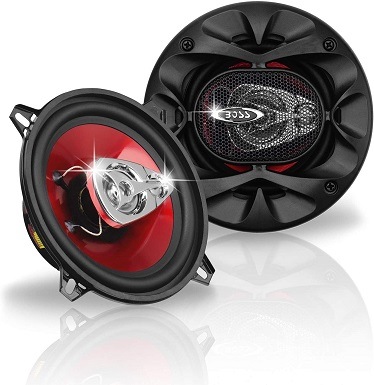 If you're looking for the best 5.25-inch car speakers for the money, we recommend picking up these by Boss.  They're inexpensive and can give your car audio that extra boost you've looking for.
The speakers are constructed with a high-temperature voice coil to prevent over-heating and blown speakers. They also are fully rubberized lending a more durable quality to them.
They aren't going to be the most powerful speakers on this list. But they're decent speakers in a pinch and definitely a great bargain find and we rate them as the best 5.25 inch speakers for the money.
Pros
Inexpensive
Durable
Decent audio quality
---
3.

Polk Audio DB522 5.25″ Coaxial Speakers – Premium Choice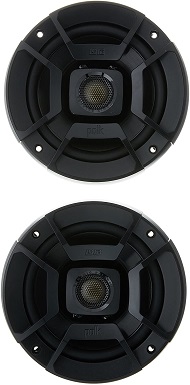 Finding a good weatherproof speaker can be difficult. Generally, you should avoid exposing your speakers to the elements at all costs. But that's hard to do when you're looking for a good speaker for your boat or motorcycle.
But Polk Audio's got you covered. These speakers are certified marine-proof meaning they can take the brunt of salt-fog, UV rays, and humidity. They also carry the IP5-5 rating making them water and dirt resistant. They're truly built like a tank.
And they've got a decent sound as well. We just wish they had a bit more bass to them. The bottom end tends to be relatively non-existent at normal volumes and underwhelmed when turned up higher. This wouldn't be so impactful if they weren't so expensive.
Pros
Weather-proof
Great for motorcycles, boats, jeeps, travel trailers
Decent top end
---
4.

JBL CLUB5020 5.25″ 2-Way Coaxial Car Speaker
JBL's been known to make great speakers from show monitors to portables for your laptop. And their car speakers uphold that tradition.
These speakers are of a high sensitivity design and can produce some really crisp mids and treble with a very tight mid-bass. Although, the bass does need a breaking in period to reach its full potential.
However, these can be a little difficult to install. The included instructions are somewhat jumbled together. If these are your first car-audio installations, you may want to have someone standing by to help. And they are a bit more expensive than other speakers without a super substantial increase in value.
But all-in-all, these are great speakers to upgrade your stock deck for daily use.
Pros
Great sound for daily driver
Decent bass after break-in
Cons
Paying for JBL name
Confusing Installation Instruction
---
5.

Kicker 43DSC504 D-Series 5.25″ Car Audio Coaxial Speakers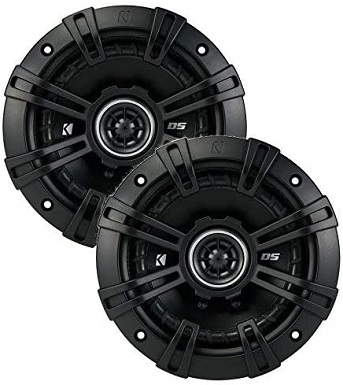 All of the previous entries on this list—including our top spot—have been lacking in a single area. Bass.
However, this is not the case with these Kickers. Kickers have been known for quite sometime for their speakers' lower end. And if you're looking for some extra bump in your car, these should be a considered as a viable option.
They're also very well built in order to handle the heavier bass notes. On their own, they have an OK sound. But to unlock their true potential you'll need to pair these with an amp. And these aren't the most budget friendly either, but at least you're getting some bass out of them.
Pros
Great bass
Sturdy construction
Cons
More pricey than other options
Need amp to bring out full potential
---
6.

Pioneer TS-G1320S Coaxial Full Range Car Audio Stereo Speakers

These are the speakers we recommend for those looking for a stock factory speaker experience. These Pioneers aren't going to blow your mind.
But that's the point. They'll give you a nice, clear sound at normal volume with no distortion. You don't always need speakers that bump or have the best highs. These Pioneers ooze practicality.
If you're fixing up a vehicle that has no sound system, toss in a pair of Pioneers and you'll be set. And they're priced for you to do so. These aren't going to break the bank, but they'll still give you a solid performance.
Pros
Everyday speakers for everyday people
Extremely affordable
Cons
Minimal bass
Distort at elevated volumes
---
7.

JBL Stage 502 2-Way Coaxial Car Audio Speakers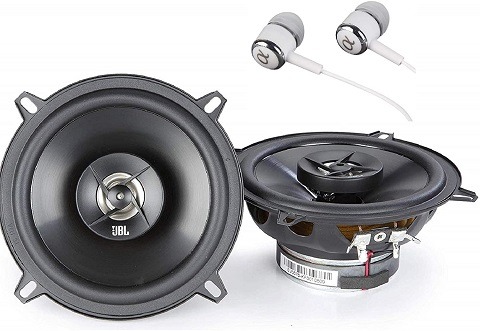 This is our second entry from JBL on this list. These are very similar to the others but with one major difference.
These come with enhanced olyetherimide tweeters. This helps to smooth out some of those rough transitions from mid to high ranges. They also allow for better power handling and increased output at higher volumes.
However, there is a bit of a trade off here. With increased mids and highs, the bass lessens even more than normal. If your taste in music is bass-intensive, these are not the speakers for you. Opt for the Kickers above.
Pros
Superb mids to highs
Able to handle louder volumes with less distortion
---
8.

Sony XSFB1330 5.25″ Car Audio Speakers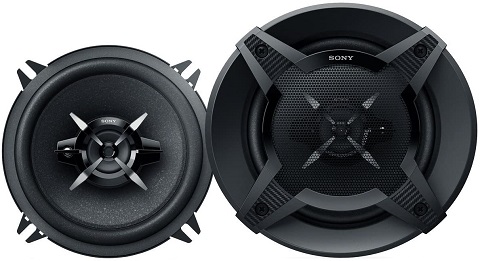 The Sony XSFB1330 series is another set of speakers we recommend if you're just looking for a simple upgrade to your factory speakers. They aren't going to dazzle you with crystal clear top-end or rumble your car with gripping bass notes. But they will give you a better listening experience for a decent price.
As far as output, these have a 35W power handling rating which is 5W less than our top choice. Sony has an established reputation for putting out a consistent product, but we still recommend grabbing the Rockfords over these.
Pros
35W of power
Decent audio quality for the price
Established brand name
Cons
Mediocre audio quality
Just a step above factory speakers
---
9.

Kenwood KFC-1366S 5.25″ Car Audio Speaker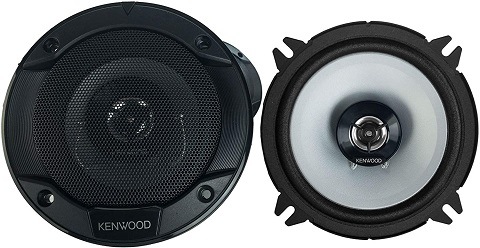 Most speakers aren't built to last the test of time. And that's especially true for the factory speakers in your car. And if you're not looking to really upgrade your sound system at all, then look to these Kenwood speakers.
As a matter of fact, you might just find that these are your car's stock speakers. The Kenwood KFC-1366S speakers aren't an upgrade by any means. But they are a good, cheap replacement.
Pros
Stock speaker replacement
Cheap
Cons
No real upgrade value
Only 30w
No low end
---
10.

Planet Audio TRQ522 5.25″ Car Speakers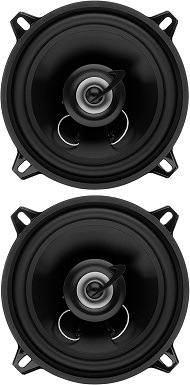 These speakers are made by BOSS—the same company that produces our best value speakers. Unfortunately, they don't seem to hit the mark.
These speakers are merely a cheap upgrade for those who don't currently have any car audio. But most stock speakers have a higher sound quality than these from Planet Audio. At higher volumes, the tweeters put out a strange metallic twang and are pitchy even throughout the mids.
If you're in a real bind and can't find anything else, the Planet Audio TRQ522's will work. But that's about it.
Cons
Pitchy
Metallic Sounding at Higher Volumes
Not as Good as Most Stock Speakers
---
Buyer's Guide – Choosing the Best 5.25 Inch Car Speakers
So how do you determine which set of speakers is right for you? With so many similarities between many of these, it's hard to really zero in on what you need.
But there are several factors you should consider before making your purchase. Let's talk about them.
Size and Shape
Speakers normally come in one of two shapes: round and oblong. You need to think about which shape will actually fit in your car to prevent buying something you can't use. You will find that some companies make speakers in decorative shapes, but we recommend you steer clear of those entirely. They're just gimmicks.
Also, you need to ensure you get the right size. A 5.25-inch car speaker isn't necessarily 5.25. That measure refers primarily to the speaker component itself—not necessarily the housing around it. To be safe, it's always best to measure your car's available space before buying. If possible, find a template of the speaker you're planning to buy in order to get the most accurate results.
Construction Materials
Your speaker's output is contingent on many different factors. And one of the main contributors is what the speaker is actually made of.
For instance, tweeters can use a wide variety of materials to produce a more complex high end. For crisp and vibrant high ends, opt for a tweeter comprised of metal, ceramic, or even graphite. More mellow high ends can be produced with materials such as synthetic fabrics or silk.
Low ends need stiff, yet lightweight materials for quality sounds. This is where you'll see many synthetic options such as polypropylene.
Power Handling
Power handling refers to the amount of Watts that your speaker can safely handle. And there are two different ratings when it comes to this.
Peak Power Handling
RMS Rating
Peak power is essentially the maximum wattage your speaker can handle during brief expressions of sound. Exceed this value and you're likely looking at a blown speaker.
The most important rating, though, is the RMS. This is a measure of how much your speaker can handle at continuous play. Your speaker's RMS will be significantly lower than the Peak Power rating. Continuously playing a speaker above its RMS will degrade the speaker producing distorted sound until it ultimately fades away.
Sensitivity
This refers to your speaker's capability to produce sound off of the energy applied to it. So for instance, if you have a highly sensitive speaker when compared to a low energy system (i.e. factory sound system), you'll end up with a balanced sound.
But if you've done any aftermarket sound work such as a stereo upgrade or adding an amplifier, you'd want to get low sensitivity speakers. That way you don't pick up that electrical background buzz and you're left with clean sound.
---
Conclusion
So after examining all these different speakers, we've determined our two main recommendations.
We hope these reviews have given you a realistic and practical insight into which speakers are right for your next car audio project. Be sure to follow through our buyer's guide and compare between speakers as some of these options may not apply to your exact situation.