10 Best JBL Car Speakers of 2023 – Reviews & Top Picks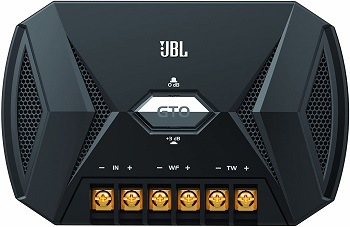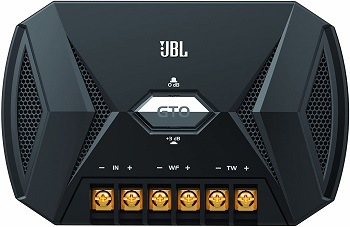 JBL is known for making good speakers, but that doesn't mean that every product they make will be right for you. On the contrary, selecting the right car sound system can be complicated, and even frustrating.
To make your job easier, we've surveyed JBL's entire product line, featuring their ten best speakers on our list.., Whether you're a budget buyer or someone willing to get a premium product, there will be something here for you.
Read on for the best JBL car speaker reviews!
---
A Quick Comparison of Our Favorites in 2023
Rating
Image
Product
Details

Best Overall

JBL Premium Co-Axial Speaker

Rich sound
Pivotable tweeter
Independent bass/tweeter adjustments
CHECK PRICE

Best Value

JBL Stage 3-Way Coaxial Car Audio Speakers

3-way system
Should be an easy installation
Affordable
CHECK PRICE

Premium Choice

JBL GTO Series Car Coaxial Audio Speakers

Rubber coated woofer for better bass
Titanium lined tweeter for clarity
Easy installation
CHECK PRICE

JBL Premium Component Speaker System

Good bass
Great tweeters
Fine-tuning
CHECK PRICE

JBL 2-Way Coaxial Car Speaker

Very affordable
CHECK PRICE
The 10 Best JBL Car Speakers
1.

JBL Premium Co-Axial Speaker – Best Overall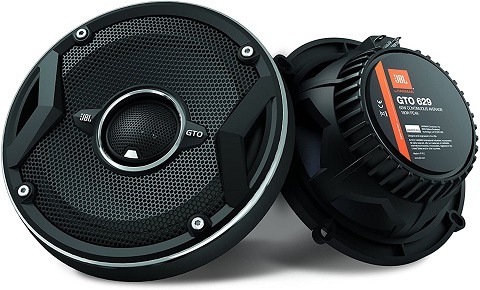 The JBL Premium is a full range (AKA co-axial) pair of speakers that will be optimal for the person who wants to crank up the bass. The carbon-infused design concept is specifically optimized to circulate more air through the speaker system, facilitating that rich, weighted sound people look for in their bass-heavy music.
The onboard tweeter also has a lot going for it, featuring a pivot component that allows you to direct where the sound will be output. You can use this feature to direct the soundwaves at yourself, giving the music a much livelier effect. The tweeter and the bass can be adjusted independently to optimize sound levels to your preference.
Mounting dimensions are 5-1/16 inches, and it requires at least 2 inches of internal clearance. The speakers require an amplifier range of 25-180 watts to perform as manufacturers have intended. You should be aware that people with open cars (jeeps, SUVs, vans, etc.) don't get much out of the bass. If you don't have a compact car, you may need to offset this problem with subwoofers. Despite this, we still think these are the best JBL car speakers on the market today.
Pros
Rich sound
Pivotable tweeter
Independent bass/tweeter adjustments
Cons
May require subwoofer in a larger car
---
2.

JBL Stage 3-Way Coaxial Car Audio Speakers – Best Value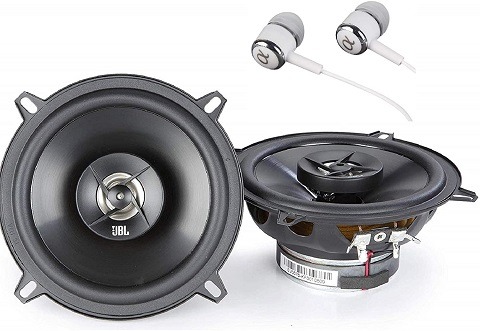 The JBL Stage is an affordable 3-way system that will do well to serve the needs of the buyer on a budget. Indeed, that is why we have rated it our best JBL car speaker for the money. The 6×9 inch speakers have been molded with polypropylene for the stiff build that bass requires.
The units handle 70 watts of continuous output or 210 at peak power. The pair of speakers also feature a built-in dome and piezoelectric super tweeters for a more layered listening experience.
Last, but not least, the speakers are easy to mount and should fit in well with the factory pre-cut holes on most cars.
Unfortunately, the sound quality is a little bit lacking relative to some of the other products on our list. It features staticky feedback that audiophiles probably won't tolerate. Still, if you need something affordable and basic, this will do the job nicely.
Pros
3-way system
Affordable
Should be an easy installation
Cons
Sound quality is only so-so
---
3.

JBL GTO Series Car Coaxial Audio Speakers – Premium Choice
The JBL GTO Series features a rubber-coated woofer cone that will be perfect for amplifying the effects of your bass. Meanwhile, the tweeter is surrounded by a titanium lining to add depth to the sound quality.
It features a peak output rating of 300 watts, (or 600 watts per pair) and a sensitivity rating of 94 dB–stats that will help you crank up the music if you're feeling so inclined.
They are also made with durability in mind. The speakers are specifically optimized for handling humidity, and rapidly changing temperatures—both factors that can jeopardize the health of car speakers.
Last, but not least, it also benefits from a super easy installation. The manufacturer specifically made the speakers fit naturally into the precut holes made in the factory.
Unfortunately, these are some of the pricier speakers on our list. However, if you don't mind the premium price, you will find plenty to appreciate here.
Pros
Very powerful
Rubber coated woofer for better bass
Titanium lined tweeter for clarity
Easy installation
Extremely durable
---
4.

JBL Premium Component Speaker System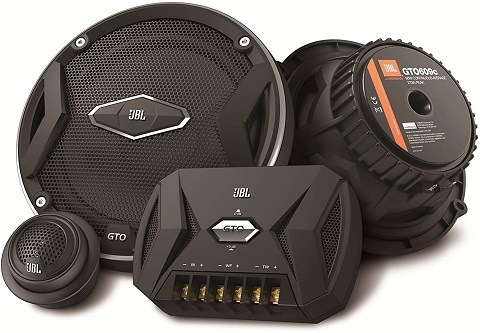 The JBL Premium Component Speaker System benefits from a carbon injected woofer cone that is spaced to filter in more air. This feature creates a more robust sound profile that accentuates the bass. The separate tweeter, meanwhile, is optimized for heat dissipation, and better power handling, creating a nice, smooth sound profile.
The tweeter can be fine-tuned to enhance the performance, regardless of speaker placement in the car, while the "low impenitence" 3-ohm factor is made to compensate for poor wiring in your car.
Mounting options are also user friendly. The specially designed hardware allows for exterior or flush mounting, allowing you to select an approach that is best suited for the layout of your car.  The speakers can handle 270 watts of power at peak output.
All of this said the sound quality won't compete with that of higher-end systems. Ultimately, these speakers are best seen as a replacement for damaged factory installations than they are a deluxe upgrade.
Pros
Good bass
Great tweeters
Fine-tuning
Multiple installation options
---
5.

JBL 2-Way Coaxial Car Speaker
The JBL CLUB6520 is a very basic, but  affordable speaker that will be good for replacing factory-installed units when the time comes. It features a peak output of 150 watts, and a sensitivity level of 92 dB, which, though not record-setting, will still be adequate for the average car owner. The mounting measurements have been specifically made to fit most factory presets, though of course, this may not be true of some cars.
The only problem with these speakers is that there is no wow factor. The power and sound quality are both average, but won't likely serve as an improvement to what you are already used to.
Cons
Power and quality both average
---
6.

JBL GX Series 2-Way Coaxial Car Loudspeakers
The JBL GX Series is an affordable coaxial pair of speakers that can handle 180 watts at peak power. Operating at the 50Hz – 21kHz frequency, it's able to hit a wide range of sounds with clarity. The installation width is sized at 6 inches, which should be suitable for the vast majority of factory precut holes. It benefits from 3 ohm and comes with deluxe earbuds that further enhance the value of the purchase.
Unfortunately, the range of these speakers may not be everything that you are hoping for. The tweeters specifically seem to struggle a good deal with high notes. Unfortunately, that's the sort of drawback you tend to encounter at this price range. However, the speakers will serve as an upgrade for most factory issued speakers.
Pros
180-watt peak
Easy to install
Comes with deluxe earbuds
affordable
Cons
Struggles to hit high notes
---
7.

JBL Coaxial Car Audio Loudspeaker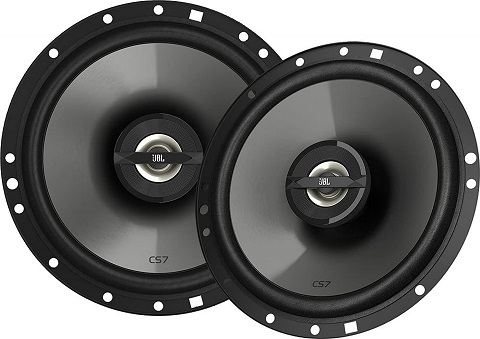 The JBL CS762 features power handling of 45Wrms,  a peak performance of 135 watts, and a frequency response of  55Hz – 20khz. The two-pack is very affordable and comes sized with a width of 6 inches, to accommodate most factory preset holes.
Unfortunately, many buyers are reporting that the hardware did not quite line up with the factory holes, requiring small alterations before the installation could occur. This was particularly true of older cars dating back to the early 2000s. Fixing the holes is an easy task, but if you aren't comfortable with it, you'll need to shell out more for professional help.
You should also note that the power output probably won't improve that of the speakers that came with your car. These are designed to replace, but not necessarily upgrade factory speakers.
Cons
The hardware did not line up very well
Won't upgrade the average speaker
---
8.

JBL GX Series Coaxial Car Loudspeakers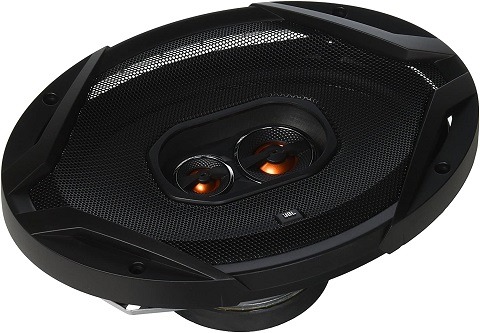 The JBL GX963 is a powerful set of two speakers that feature a peak wattage of 600. The speakers are coated with rubber, enhancing the durability factor, and providing a nice, stiff foundation that will do well to amplify the bass.
Many users have reported that their speakers didn't last for very long. Several have claimed that their speakers didn't make it a year. Granted, this complaint may have something to do with how the user listens to music. For instance, if they use an overpowered amp, it could blow the speakers out sooner.
Still, it is something to be aware of.
Pros
Rubber coated
Peak wattage 600
Cons
Many report that speakers didn't last for long
---
9.

JBL Stadium High-Performance Speakers
The JBL Stadium is a component-based set. The bass woofer cones are made of fiberglass, and are designed to be both lightweight for air circulation, and stiff for sound depth and quality. It also benefits from a surface area approximately 25% larger than that of the average speaker, which, at least in theory, further improves the sound quality.
Meanwhile, the dome tweeters feature soft woven fabric for smoother frequencies. The tweeter can be adjusted effortlessly via a dial by +0 dB flat and +3 dB.
Keep in mind that installation isn't going to be very easy, especially if you don't have a lot of experience. You also won't get a ton out of these speakers without a decent amplifier, so account for that in your budget as well.
Cons
Not easy to install
Needs amplifier
---
10.

JBL Peak 3-Way Coaxial Car Audio Loudspeaker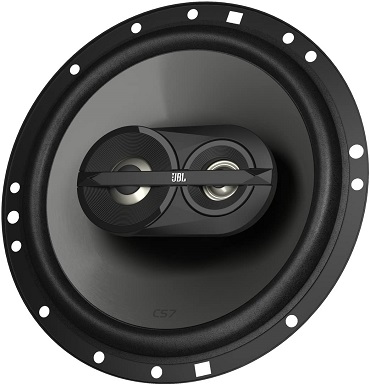 We close things out with the JBL CS763. It's a basic, but effective pair of speakers that will be a good way to replace blown-out factory presets on the cheap. They feature power handling 45Wrms and a 135W peak. The sensitivity rating comes in at 93 dB.
If you opt for this set, be prepared for the installation. The package doesn't come with any wiring or hardware, which certainly complicates things. It also doesn't come with any grills, and the power levels are mediocre.
As with several other options on our list, it works as a replacement set but won't offer much in way of an upgrade.
Cons
Difficult installation
No grills
Mediocre output
---
Buyer's Guide – Choosing the Best JBL Car Speaker
A lot goes into a good speaker. Below, we look at a few considerations that should help you better understand what makes a product special.
Sensitivity
The sensitivity of a speaker references how well it will be able to make use of the power it is given. Higher powered systems do best with a low sensitivity rating, while the opposite is true of lower powered units.
Striking the right balance will help ensure that you enjoy excellent sound quality.
Power Handling
Power handling refers to the maximum wattage of power that a speaker can handle. For basic systems, you don't need to worry about power handling at all. However, if you're investing in a more intricate configuration (with powerful external amps, etc) then you will want to make sure the power handling rating is high.
Full Range Speakers
When it comes to adding in aftermarket speakers, full range is usually the path of least resistance. These units feature everything you need (woofers, tweeters, etc.) in one easy package.
Better yet, they can often go directly into the same spaces that hosted your factory speakers, for an easy installation.
Component Speakers
Then there is the component style system. Buying component speakers is significantly more complicated but typically results in a better experience if you do it right.
With this configuration, woofers and tweeters are separated but coordinate via a crossover network. The harmonization adds vibrancy to the music, doing well to replicate the "live" experience.
The downside is that they usually come with a complicated installation, and will often be more expensive than full-range speakers.
Materials
The materials of the speakers dictate both sound quality, as well as the overall durability of the design concept. Below, we detail materials that are optimal for both types of speakers.
Woofer Material: Woofers thrive with stiff materials. Most are crafted with synthetic plastics, like Polypropylene. However, woven metal is also sometimes used to facilitate a robust bass sound. In that case, aluminum is a good option because it is lightweight, but also highly responsive.
You also want the surrounding material to be durable, but still capable of facilitating high-quality output. Rubber is usually prized for its ability to handle a range of different temperatures and weather conditions.
However, you can save money by opting for cloth and foam, and still enjoy a good experience.
Tweeter Material: In contrast, tweeters tend to be made of softer materials, like silk, or other poly-blend fabrics. The softer components facilitate a mellow sound to provide a nice contrast to the stiff vibrancy of the bass.
Pivoting Tweeters
Even in the confined space of your car, the direction of the soundwaves will have a major influence on your overall experience. Pivoting tweeters allow you to manipulate the direction of the output so that the sound is coming directly at you.
The result is that the music feels much more vibrant and alive than it otherwise would.
Installation
Professional installation may add considerably to the cost of your new speakers. However, many units are straightforward enough that the average joe shouldn't have any trouble getting them in.
If you don't have any technical prowess but would still prefer to avoid the expense of a professional installation, there are options out there for you.
Look for products that are sized to fit the average factory sized holes. Granted, this won't be a one size fits all situation, but you can usually find out more about your car's compatibility with a set of speakers by visiting the manufacturer's website. JBL may have a list of makes and models that their speakers will work with.
Bluetooth
Most of us don't use CDs anymore, and the radio will only get you so far. For on-demand music, opt for speakers that are compatible with Bluetooth. Phone compatibility is a pretty common feature these days, and may even be available at an affordable price.
---
Conclusion
Now that you've read our JBL car speaker reviews, you hopefully have a much better idea of what product is right for you. However, if you're still stuck between a couple of different options, you might benefit from some recommendations.
If you're looking for a true upgrade, our top choice, the JBL GTO629 Premium Co-Axial Speaker will be the way to go. However, if you're just trying to replace factory speakers without spending a ton of money, you're likely going to prefer our runner up, the JBL Stage 9603 3-Way Coaxial Car Audio Speakers.