10 Best 6.5-Inch Car Speakers of 2023 – Reviews & Top Picks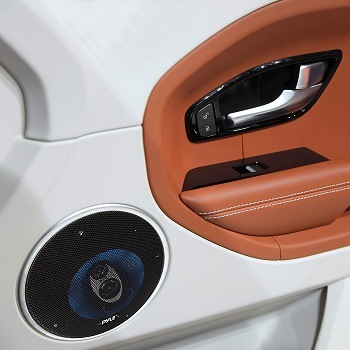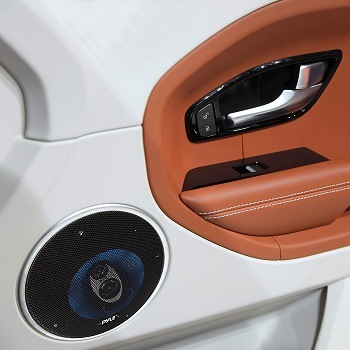 The average American spends around 17,600 minutes a year driving. That's a ton of mileage and a ton of potential music listening time. Driving alone in your car is arguably the best time to listen to music. In fact, for many people, it may be the only time they listen to music. That makes the quality of your cars sound system an important investment. Spending hours in bumper-to-bumper traffic can swiftly be turned from pain to pleasure with a good fidelity sound system.
The right set of component speakers, set up and tweaked correctly, will make your car's audio go from adequate to impressive. This is one of the most important component decisions you'll make regarding audio quality inside your car.
The middle frequencies of the audio spectrum are where most of the magic happens. This is where the clarity and vocals come through, all made possible by the humble 6.5-inch middle-range speaker.
We looked at the 10 best options for 6.5-inch speakers to help you wade through the confusing array of specifications and find the right speaker for your unique needs.
---
A Quick Comparison of Our Favorites in 2023
Rating
Image
Product
Details

Best Overall

Rockford Fosgate 6.5" Car Audio Coaxial Speakers

Three-way coaxial for great bass
mids
and highs
Built-in high-pass crossovers
High-quality materials
CHECK PRICE

Best Value

BOSS CH6530 Car Speakers

Strong materials for longer lifespan
High power output
Three-way frequency range
CHECK PRICE

Premium Choice

Alpine S-S65C 6.5-inch Speakers

High-quality construction
High power output
Large frequency range
CHECK PRICE

Pyle PL63BL 6.5" Three-Way Car Speaker System

Affordable
Decent build quality
CHECK PRICE

Pioneer TS-G1620F Coaxial Car Stereo Speakers

Trusted brand
Great audio quality
Perfect for mid-range focus
CHECK PRICE
The 10 Best 6.5-Inch Car Speakers
1.

Rockford Fosgate 6.5" Car Audio Coaxial Speakers — Best Over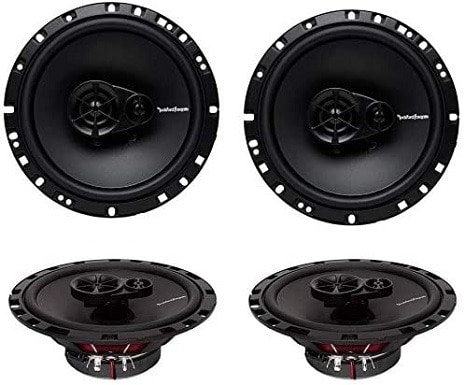 Rockford Fosgate is a well-known player in the car audio world. It offers high-quality speakers and other car audio equipment made to last. The R165s are no different. These are three-way coaxial speakers, which offer a woofer, mids, and a tweeter for higher-range frequencies. They have a power rating of 45 watts RMS and 90 watts peak.
They come equipped with high-pass crossovers for clearer and crisper audio and are easily installed with plug-and-play mounting hardware. They are relatively inexpensive, giving you great quality for a reasonable price. They have a frequency response of 52-20,000 Hz, which may be considered narrow but is more than adequate for most applications.
Pros
Three-way coaxial for great bass, mids, and highs
High-quality materials
Built-in high-pass crossovers
Affordable price
Cons
Fairly narrow frequency range
---
2.

BOSS CH6530 Car Speakers — Best Value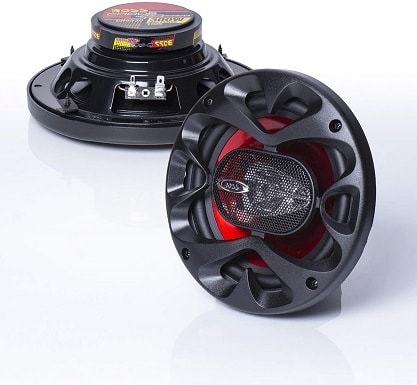 The Boss CH6530s are the best 6.5-inch speakers for the money on our list. With polyurethane cones and a stamped metal basket, they are built to last. These three-way coaxial speakers have a full-range frequency, with an RMS rating of 150 watts and a peak rating of 300 watts.
They have a frequency range of 100-18,000 Hz, which is perfect for most users. However, the Rockford Fosgate speaker does have a slightly wider range, keeping the Boss Audio from coming in at number one. It is one of the best-selling 6.5-inch car speakers on the market, which indicates its quality of audio and durability.
Pros
Strong materials for longer lifespan
Three-way frequency range
High power output
Cons
Fairly narrow frequency range
---
3.

Alpine S-S65C 6.5-inch Speakers — Premium Choice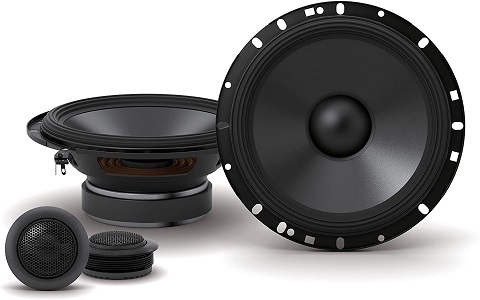 The Alpine S-S65c speaker is our number-three choice, due to its higher cost. However, the price is justified. Alpine is a trustworthy and reputable brand, so you can rest assured that the higher price you pay comes with reliable quality.
These speakers have an RMS rating of 100 watts and a peak of 300 watts. They have a wide frequency range of 65-29,000 Hz, making sure you get a good low frequency and crisp and clear highs. The woofers are made with a multi-layered hybrid fiber and a 1-inch ring radiator tweeter.
Pros
High-quality construction
High power output
Large frequency range
---
4.

Pyle PL63BL 6.5" Three-Way Car Speaker System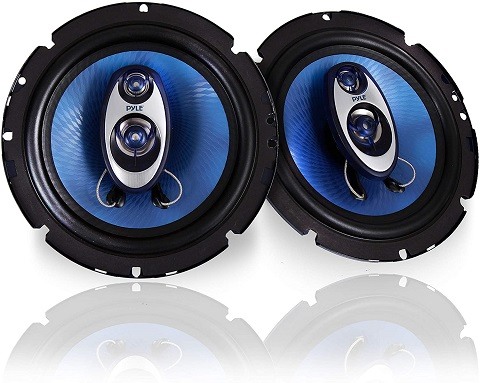 The Pyle "Blue Label" series is perfectly suited for those on a tight budget. These three-way speakers have an output of 180 watts RMS and 360 watts peak. They have a frequency range of 95-20,000Hz, which leaves much to be desired when compared to some of the other speakers listed here.
While these speakers won't break the budget, they aren't breaking any decibel meters either. You will get a pair of speakers that sound adequate but have a poor bass performance and are prone to blowing. For audiophiles, these speakers will likely disappoint. However, for everyone else, they'll give you what you're looking for — a decent replacement for your standard system.
Pros
Affordable
Decent build quality
Cons
Narrow frequency range
Low-quality audio
Poor bass response
---
5.

Pioneer TS-G1620F Coaxial Car Stereo Speakers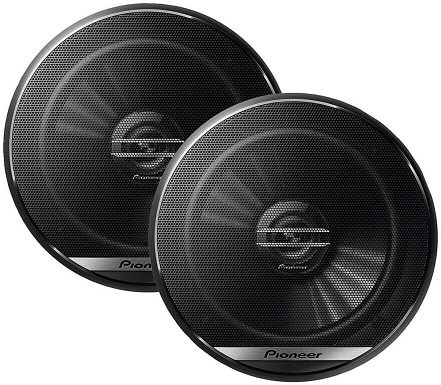 Pioneer is another well-known car audio brand, so you can be sure you're getting decent quality. The first thing to note is that these are two-way speakers, so there is only a woofer and mounted tweeter. If you are only using them for high- and mid-range frequencies and are not looking for much bass, they are perfect. You will get great quality audio from a trusted brand.
They have a frequency range of 31-18,000Hz, perfect for mids, but lacking the bass response. A peak rating of 300 watts and an RMS rating of 50 watts is perfectly adequate for a mid-focused speaker.
Pros
Trusted brand
Great audio quality
Perfect for mid-range focus
Cons
Narrow frequency range
Lacking in bass response
---
6.

JBL GTO609C 6.5-Inch Component Speaker System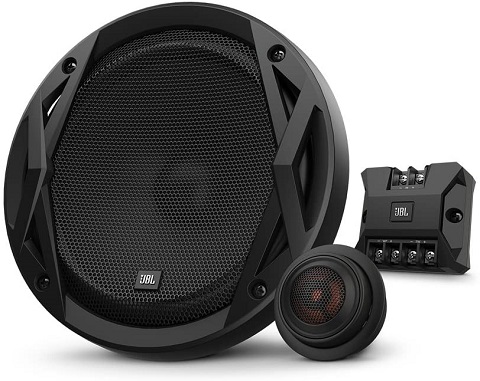 JBL is well known in the car audio world and the audio world in general. This is a split-speaker system that won't disappoint when it comes to quality audio. It has injected carbon cones for longevity and better bass performance. The tweeters have larger coils for increased high-frequency clarity.
These speakers also have a unique "i-mount" system, a great feature that makes surface and flush-mounting a breeze. They have great bass response and are an affordable option to replace your old standard system. Audiophiles may not get what they are looking for, but these are better-than-average speakers, perfect for most users.
Pros
High-quality build
Great sound quality
Easy mounting system
Cons
Low frequency range
Poor quality highs
---
7.

Kenwood KFC-1666S 6.5" 2-Way Car Coaxial Speakers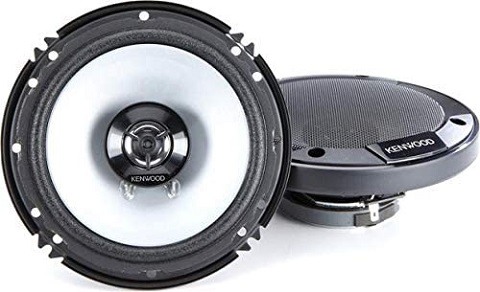 These Kenwood two-way speakers have a peak rating of 300 watts and an RMS rating of 30 watts. It offers a decent audio experience that won't empty your pocket.
Being only a two-way speaker, it has a distinct lack of bass response, with overpowering middle frequencies that can be hard to tame. You will need to play with your EQ settings in order to balance the sound. It does have a "sound field enhancer" for improved audio, but Kenwood does not explicitly state what this does. Users have reported difficulty with mounting, needing to purchase additional brackets. This issue, of course, will depend on your car model and desired placement.
Pros
Low price
Sound field enhancer
Cons
Mounting issues
Only a two-way frequency band
Pronounced mids and lacking in bass response
---
8.

JVC CS-J620 6.5" 2-Way Coaxial Car Speakers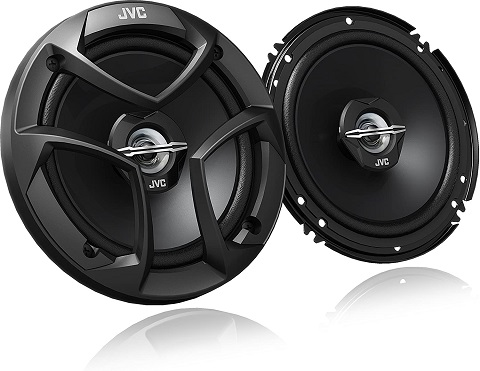 JVC is a popular car audio brand offering decent quality products on a budget. These two-way coaxial speakers fall squarely into the budget range, though they still have decent sound quality. They will peak at 300 watts and have an RMS of 30 watts, which is not a huge amount of power.
They have a 35-22,000 Hz frequency range, which on paper, suggests a decent bass response. But in reality, they are a bit lacking. If you have the patience to EQ them, they can give you a fairly decent middle response and a mid-bass low-frequency response at best.
Pros
Affordable
Broad frequency range
Cons
Low power output
Low bass response
Need EQ adjustment
---
9.

Polk Audio DB652 Coaxial Speaker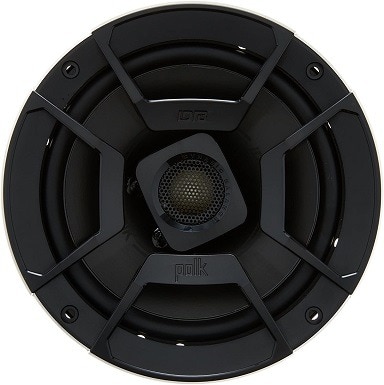 While this Polk Audio speakers have specifications like a 100-watt RMS rating and a decent frequency range of 40-22,000Hz, their build quality leaves much to be desired. They have a harsh, tinny sound, but with time and EQ adjustment, this can be tamed. The lows quickly become muddy and the highs have little clarity.
There have also been reported issues with warranty, so don't hold your breath on replacement should something go wrong. That said, many users have reported no issues other than lower sound quality. These reports also include the speakers not living up to the claimed power rating. For the low price, though, they may be a worthy consideration.
Pros
Affordable
Good frequency range
Cons
Harsh sounding
Warranty issues
Poor audio quality
Inaccurate power rating performance
---
10.

Kicker 46CSC654 Car Audio Speaker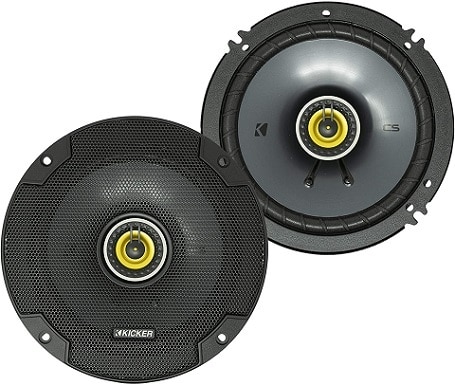 Kicker offers these full-range coaxial speakers at an affordable price. They have an RMS rating of 100 watts and a peak rating of 300 watts. With a frequency range of 40-20,000Hz, they will give you a range comparable with many other 6.5-inch speakers. The deciding factors are build quality and audio reproduction quality.
The highs are sharp and cutting, and the bass response is almost non-existent. Middle frequencies can approach a decent sound after EQ tweaking. With the need to EQ for decent audio and lower quality materials, there are better options to consider in a similar price bracket.
Cons
Poor build quality
Harsh high frequencies
Poor bass response
Will need EQ adjustment to sound adequate
---
Buyers Guide – Choosing the Best 6.5 inch Car Speakers
The car audio world has a massive range of available options, and it can be a dizzying experience to try and navigate. There are a few important considerations when looking for a new set of 6.5-inch speakers with which to deck out your car. These are power, sound quality, and build quality.
Power
It's a commonly held idea that more watts equal more power. However, this is not necessarily accurate. While it is true that a 100-watt speaker will generally be louder than a 30-watt speaker, several other factors come in to play. Volume can also depend on your amplifier, how you've wired your speakers, and of course, the speaker quality.
Another factor to consider is peak vs. RMS rating. Speaker companies can often mislead you with power ratings, showing either the combined speaker power rating without clearly stating it or only the peak rating.
RMS, or root mean square, refers to how much continuous power a speaker can handle. The peak power rating is how much it can handle in short, quick bursts. Typically, the RMS rating is far lower than the peak rating but gives a far more accurate representation of the speaker's capabilities. As a quick example, a speaker with an RMS rating of 30 watts and a peak rating of 60 watts means the speaker can run comfortably at a continuous 30watts, with occasional peaks of 60 watts.
Speakers with a low RMS rating will generally work well with a standard low-powered car stereo. Speakers with a higher RMS (100 watts or above) will require an extra amplifier to reach their full potential. A basic rule to remember: It's always better to under-power rather than overpower your speakers. So, try and make sure you accurately match the two in order to prevent blown components.
Sound Quality
It can difficult to assess whether a speaker sounds good without actually hearing it. Apart from aspects like brand names and material quality, there are a few other ways to get a good idea of sound quality.
The first is whether speakers are coaxial, which means they are full-range speakers. A coaxial combines a woofer with either an additional mid-range component or tweeter or both.  They will usually include a specifically matched crossover to help separate high, middle, and low frequencies. A 6.5-inch speaker will usually be a two-way — a woofer and tweeter — or a three-way — consisting of all three components.
For dedicated audiophiles, there are also component speaker setups that consist of separate woofers, mids, and tweeters. However, these are generally more expensive and complicated to install. If you are a dedicated bass-head, a component system is the way to go. Coaxial speakers will not provide much bass, but it will have crisp and clear mid-bass and high frequencies.
Build quality
A speaker's woofers are constructed from thin and flexible yet strong and durable materials, like polypropylene. Higher quality speakers will be reinforced with metal thread and other durable materials. They are ideally housed in a pressed-metal casing, with the tweeters being made from softer materials like cloth or rubber. High-quality speakers can also have features like waterproofing and dust-proofing.
Build quality has a big part to play in sound quality. However, it will also make your speakers last longer and not be susceptible to being blown or distorting.
---
Conclusion
With all the above factors in mind, the Rockford Fosgate R165s top our charts for sound quality, durability, and volume. They are full-range, three-way coaxial speakers designed to give you everything you need for a well-rounded audio experience.
The best buy for the money are the Boss Ch6530s. They will give you all the features of the Rockfords, as well as more power, with a narrower frequency range being the only drawback.
Quality 6.5-inch speakers will be a major step up from your car's standard factory installation, no matter which ones you choose. Combined with an extra amp or even your stereo's stock amp, they will make your 17,600 minutes of yearly driving that much more enjoyable. Hopefully, we've helped you sift through the myriad options available in order to choose the right speaker for your audio needs.