3 Best Aquabot Pool Cleaner Reviews 2023 – Reviews & Top Picks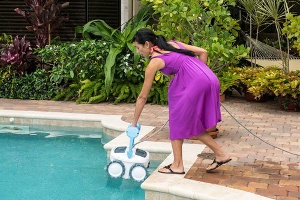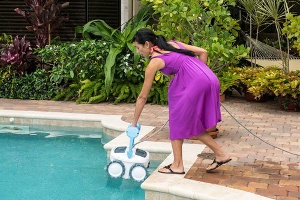 Buying a robotic pool cleaner is a bit like hiring a full-time pool boy; you will get more features and benefits, but you'll pay a premium for them.
Aquabot Pool Cleaners are high-quality machines that will make your pool maintenance work considerably more manageable.
We have put together a series of reviews on the three best Aquabot pool cleaners of the year.
Each of these units is capable of leaving your pool sparkling; now, it's time to decide which one would be best for your individual needs.

A Quick Comparison of our Favorites in 2023:
Rating
Image
Product
Details

Best Overall

Aquabot Elite

360-degree anti-tangle swivel
Scrubs in addition to cleaning
Great at cleaning all pool surfaces
CHECK PRICE

Aquabot Breeze

Climb walls
Works on all surfaces
Cleans pools up to 60 feet
CHECK PRICE

Best Value

Aquabot Rover

Can clean both large and small particles
Cleans above-ground and in-ground pools
Large wheels help it get over difficult surfaces
CHECK PRICE
The 3 Best Aquabot Pool Cleaners:
1.

Aquabot Elite Pool Cleaner – Best Overall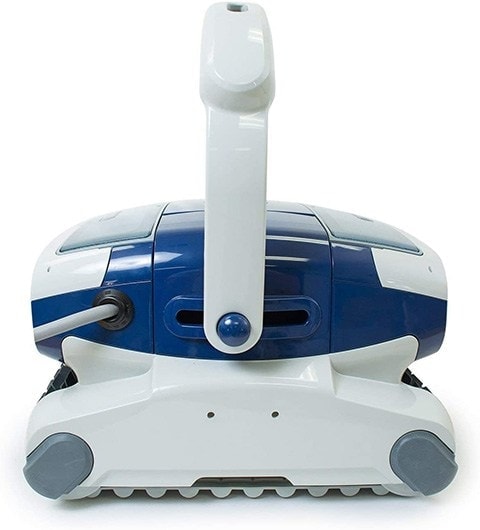 Our top pick for the best Aquabot Pool Cleaner of the year is the Aquabot Elite. This is a premium model with an incredible amount of cleaning power.
To start, the Aquabot Elite has top loading dual filtration cartridges. These are large and can handle debris of all sizes. There are no bags to clean with this pool cleaner, and that is a real positive. Not only do the bags fill fast, but it can be challenging to get all of the tiny particles out of the bag.
The Aquabot Elite comes with a 360 Degree anti-tangle swivel. One of the more difficult and annoying things about owning a robotic cleaner is that they can get tangled. Nothing is more frustrating than coming home and seeing your robotic cleaner was attacking itself all day. The 360 Swivel makes this machine run so much smoother.
The Aquabot picks up dirt and leaves from the bottom of your pool, and it has scrubbing brushes as well. The scrub brush will help to keep algae and bacteria from growing on the walls and floor of your pool and can clean rough or difficult surfaces. If you have a gunite or pebble concrete pool, this vacuum will work well.
When you purchase the Aquabot Elite, you also get storage and transport caddy. It also comes with a built-in timer so you can have this cleaner run when you want it. With a three-year warranty, you can't go wrong with the Aquabot Elite for a durable and reliable pool cleaner.
Pros
Great at cleaning all pool surfaces
Scrubs in addition to cleaning
Has a 360-degree anti-tangle swivel
Three-year warranty
Comes with a transport and storage caddy
Cons
Price is higher than other models
---
2.

Aquabot Breeze Pool Cleaner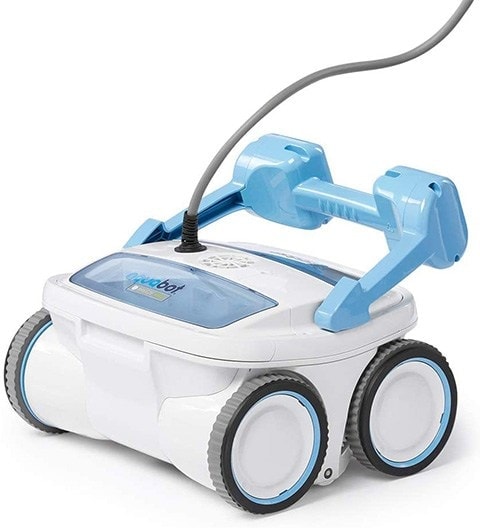 If the Aquabot Elite was a bit more than you wanted to spend, the Aquabot Breeze might be a better fit. This is the best Aquabot Pool Cleaner for the money. The Aquabot Breeze robotic pool cleaner that will for work for all pool shapes and surfaces as big as 60 feet long. Almost all residential swimming pools will be more than okay with this unit in place.
Just like the Elite model, the Breeze comes with rotating brushes to help eliminate and lessen algae and bacteria growth in the pool. The brushes also help with non-smooth pool surfaces and getting the dirt out of tough to reach locations.
The Aquabot Breeze has a four-wheel-drive that helps it power through your pool with confidence and makes it easier to navigate turns as well. The top of this unit has large debris baskets that are easy to get to and clean.
In addition to cleaning the bottom of the pool, this unit is capable of cleaning the walls, moving backward, and moving forward. The Breeze model does not come with a carrying cart like the Elite does, and it can be a little harder to empty and clean, but it is an excellent unit for considerably less than the Elite.
Pros
Cleans pools up to 60 feet
Works on all surfaces
Will climb walls
Has four-wheel drive
Medium price range
Cons
A little harder to clean than the Elite
No transport or carrying case included
---
3.

Aquabot Rover Pool Cleaner – Best Value
Last, we have the Aquabot Rover Pool Cleaner. This option is the best If you are looking for a lower-priced alternative with fewer features than the other models.
If your pool is less than 40 feet long, this pool cleaner will have enough cable length to get the job done. The Aquabot Rover Pool Cleaner is capable of cleaning up to 5400 sq. ft. per hour. Although this is a more straightforward machine than the top two models, you still get some great value with this pool cleaner.
Since this is the hybrid model, it will work on both above ground and in-ground pool. The Rover Pool Cleaner is capable of getting out large leaves and algae. It does have a microfilter bag that will need to be cleaned, and it can be a little more complicated than the cartridges on the Elite model, yet it still works.
The Pool Rover comes with a guidance system that helps it navigate your pool, but it doesn't have the same 360-swivel that other models offer. The extra-wide wheels on this model will help it to get over any type of pool surfaces, but the fact that it is not a scrubbing model will leave you still having to brush the sides of your pool.
Although the Pool Rover is a cheaper alternative to the other two Aquabot models in this review, make sure that it offers enough of what you need before making your final decision.
Pros
Will clean above ground and in-ground pools
Large wheels help it get over difficult surfaces
Can clean both large and small particles
Cons
Does not have scrub brushes
Harder to clean and empty
Won't work in pools over 40 feet
Tends to get tangled at times

Buyer's Guide – Finding the Best Aquabot Pool Cleaner
When it comes to choosing a robotic pool cleaner, there are quite a few things to sort out.
Why Go with A Robotic Pool Cleaner?
Possibly our favorite thing about a robotic pool cleaner is the fact that there is so much less wear and tear on your pump. The robotic cleaners are stand-alone units; they do not need your current pool equipment to function. Traditional pool vacuums use the plumbing system your pool has in place to suck leaves and dirt through it. When you use a robotic unit, all of that is collected in a basket or cartridge.
Keeping this junk from moving through your pool system is a great thing. It also allows you to run this robotic cleaner without having your current pool equipment running. Most of the time, robotic pool cleaners are quite a bit more energy efficient than traditional pool vacuums.
Another thing we love about the robotic vacuums is the high-end technology that some of them offer. When you can use a remote to tell your pool filter where to clean, you will be seriously increasing the efficiency of your pool maintenance regime.
Is Smart Scan Technology Necessary?
In most situations, smart scan technology is just a preference and not a necessity. If you have had trouble with previous pool cleaners getting stuck in certain areas of your pool, this type of scanning and learning can be helpful. When a machine knows your pool better than you do, it can genuinely do a great job of keeping it clean. Usually, these machines are at the higher end of the pricing chart, so that will need to factor into your decision.
What If My Pool Is Irregular in Shape?
Depending on the pool cleaner you purchase, you may have trouble with it getting stuck in certain spots. With irregularly shaped pools, it is essential to look into cleaners that have some sort of anti-tangle mechanism or smart scanning technology. The anti-tangle will help to keep the cable from restricting the unit. Smart scanning is a technology that allows your pool cleaner to scan and learn your pool. It will know where to clean and make sure that it hits certain areas that often go missed without this type of technology.
Both of these features will cost you more money initially, but when you have a unit that keeps cleaning the same spot over and over again and missing half of your pool, was that worth the savings?
What About the Walls?
Not all robotic pool cleaners are capable of climbing and scrubbing the walls of your pool. In all seriousness, this is something you will want to think hard about before making your final choice. If you end up going with a unit that does not scrub, you will be doing quite a bit of manual brushing yourself.
If it comes down to spending a few extra dollars at the time of purchase, it may be worth it. If your robotic pool cleaner cannot climb walls, consider how much time you will still have to spend doing this yourself. If pool walls are not scrubbed often, algae and bacteria will grow on them, even if your chlorine levels are perfect. We don't believe that you need the most expensive and technical pool cleaner available, but something with scrubbing action is worth the money.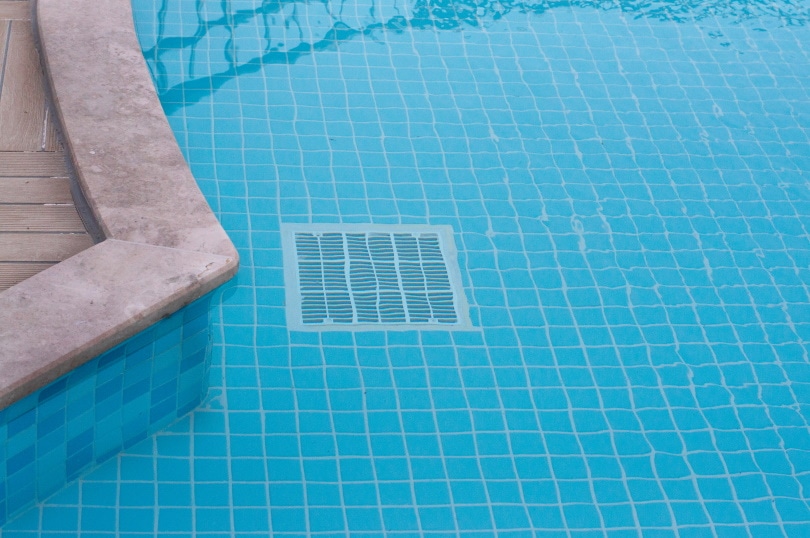 Will It Clean the Stairs?
If you have a robotic pool cleaner or an automatic pool cleaner, you are going to have some trouble with stairs. In general, robotic cleaners do a much better job of sensing, scanning, and climbing. Depending on which unit you purchase, you should be able to get your stairs clean as well. If your stairs tend to be a persistent problem, choose an automatic pool cleaner with a remote so you can direct it to clean the stairs, should it be missing that area.
How Much Should I Expect to Spend?
When it comes to robotic pool cleaners, costs can escalate rather quickly. When you start adding in features like smart scanning, Wi-Fi, and Bluetooth technology costs will skyrocket. It's realistic to expect to spend between $300 and $1500 on a robotic pool cleaner.
If you are currently paying a pool company to come out and do these things for you, it may be worth considering how much you can save. If it would take you only a few months to recoup your cost, the robotic pool cleaner is a sound investment.
These machines are made to last for quite some time, especially the higher quality ones. Try to choose something that has a warranty that extends for several years. Hopefully, this will give you some peace of mind in your investment.

Conclusion
The reviews of these Aquabot pool cleaners were put together to help you decide as to which one to buy. Do we think that you could pick the wrong one? Not really. The only issue that would happen is ending up with not enough features to clean your pool the way you want it done. The Aquabot Elite Pool Cleaner is our pick for the best Aquabot pool cleaner because of the quality of the clean and the diversity of the pools that is can sufficiently manage. This is a robotic pool cleaner that will last you many years and keep your pool looking great. Although it is a bit more of an initial investment, you will understand its value when it is purchased.