10 Bedroom Flooring Trends In 2023 (With Pictures)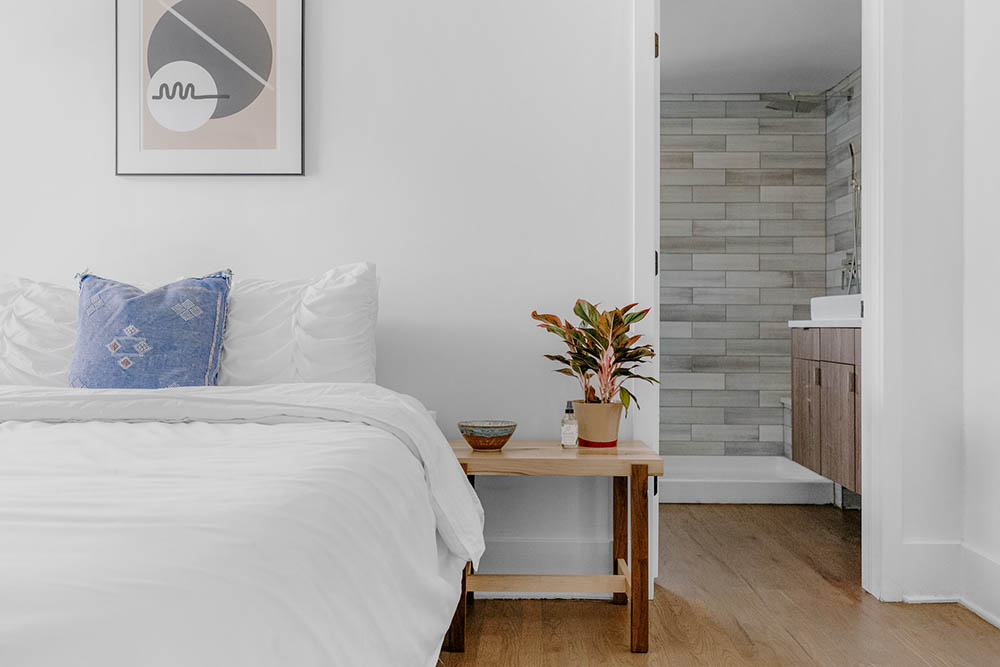 The bedroom is a place of rest and solitude. Because your bedroom is so private, you can decorate it however you want. Guest bedrooms, on the other hand, are less private. They are used by friends and family when they stay over. The room should be inviting and comfortable, but it should also be stylish and attractive. Kids' bedrooms should also look good, but they offer the greatest opportunity for color and experimentation, but they need to be rugged, hardwearing, and also comfortable for knees and bare feet.
Below are 10 bedroom flooring trends that will be popular this year so that you can find inspiration for whichever bedroom you are looking to upgrade and refurnish.

The Top 10 Bedroom Flooring Trends
1.

Patchwork Tiles
Patchwork isn't a specific or single look, but it means that you can use a variety of tiles, colored and patterned, to create the look you want. This is a good way to separate areas of the room. You could have one pattern underneath and around the bed with a different design near the window.
Patchwork patterns can work well in any bedroom but because a child's room is so multifunctional, for example with a sleeping area, play area, book and reading area, and a homework area, this presents the perfect opportunity to be creative.
---
2.

Encaustic Tiles
Typically, the color of a clay tile is added during the glazing process or, rarely, by painting the tiles once they are glazed. Encaustic tiles use two or more difficult colors of clay. Strictly speaking, an encaustic tile can have between two and six different colors of clay, but if you want more, you can find the tiles to match any preference.
Encaustic tiles tend to have a Mediterranean or Medieval feel, according to the style, and while you might not want them under the bed or in a cold house, they work well by a patio or balcony door.
---
3.

Metallic Tiles
Metallic tiles are not necessarily made from metal but are made to look like metal, or like they have elements of metal in their design. Although metallic tiles tend to be more popular in other living spaces, they can be used in the bedroom, and look especially effective when combined with a large and, more importantly, warm rug that is soft underfoot.
Consult a flooring expert
Find a flooring specialist in your area, and get free, no-commitment estimates for your project.


---
4.

Hexagonal Tiles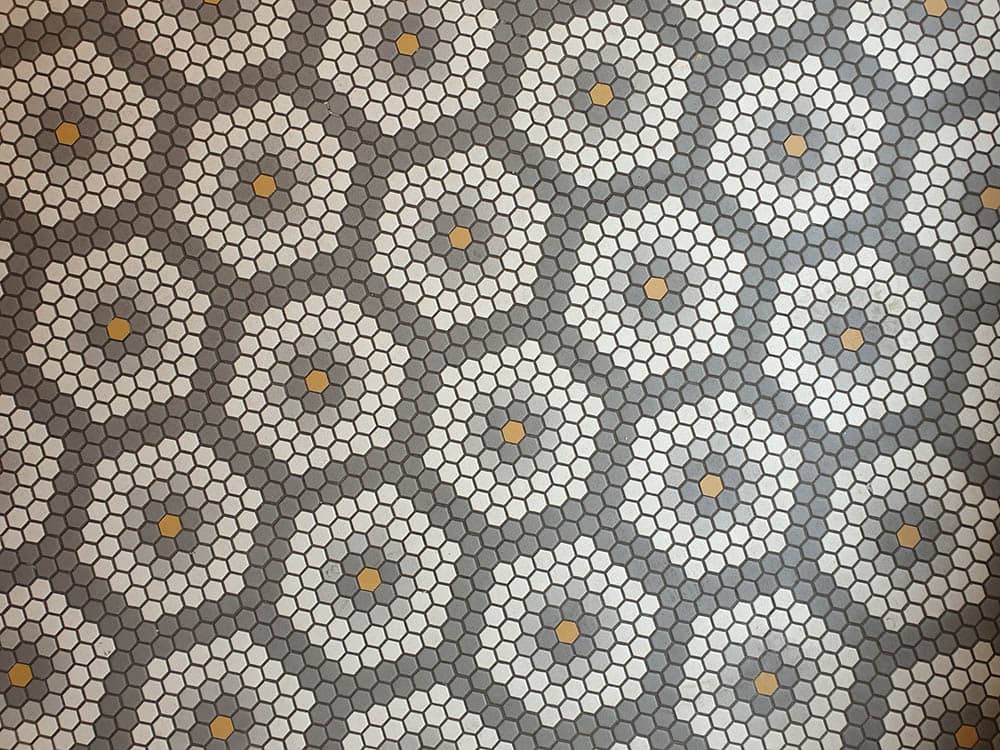 The geometric tile is very popular, and especially hexagonally shaped ones. Hexagons work well because they lock together in the design without looking too square. These tiles come in a range of materials, designs, and colors, and you can combine the hexagonal trend with that of the patchwork trend to create unique flooring in your bedroom.
You do, however, have to ensure that they are laid accurately and straight. A small error at the start will be magnified further along in the design.
---
5.

Carpet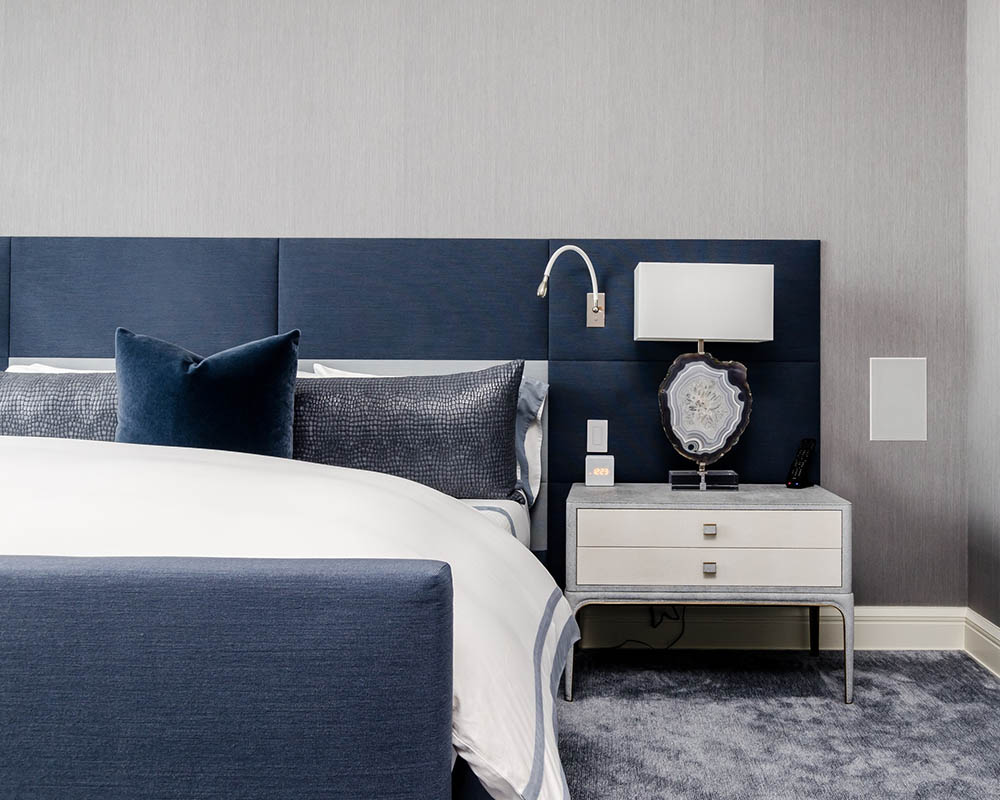 Carpet remains a popular choice in the bedroom, because it is the one room of the house where we tend to walk barefoot. Clay, metal, and even wood can be very cold underfoot in the wrong climate, but carpet, especially deep pile and plush carpets, are warm and comfortable. Gray is one of the most popular colors at the moment, and a dark gray carpet can go very well with lighter grays and lighter colors around the rest of the room.
---
6.

Carpet Tiles And Planks
Carpet tiles offer a similar luxurious feel to carpet rolls, but they have several added benefits. You can create the patchwork effect described above, or a gradient of color from one corner of the room to the other. You can also buy spare carpet tiles and store them so that if one of the tiles starts to look worn out, you can replace it without having to replace the whole bedroom floor. Carpet planks are longer than tiles, which means less measuring and laying of the sections.
---
7.

Soft Stripes
If you do want carpet but you don't want entirely plain colors, opt for soft stripes. Although there are plenty of different varieties and styles of striped carpet, the soft stripe can be barely noticeable but still offers something more than a block color. The carpet looks more textured but is still comfortable underfoot.
---
8.

Black And White
Black and white may sound boring, but done well, this design choice makes a real statement and stands out. Vintage black and white tiles are popular in bathrooms and kitchens, once again, and you can also enjoy the same striking benefits in your bedroom. Mix and match the designs, combine your new black and white floor with similarly colored bedding and ornaments, and it will look like a magazine spread bedroom.
---
9.

Bold Rugs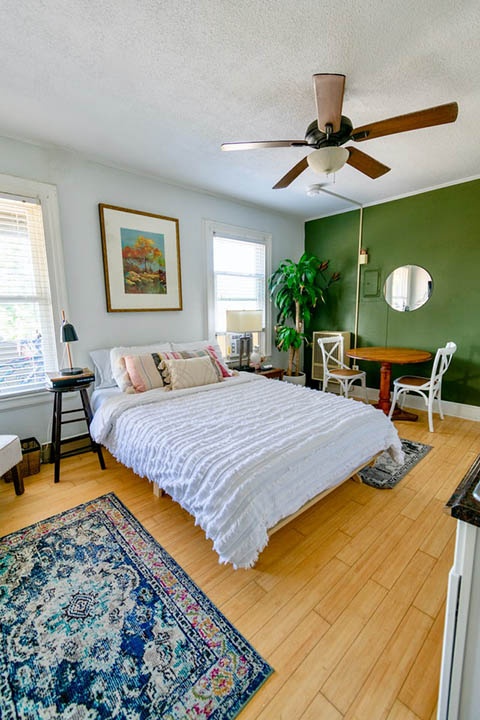 Having neutral and light colors in the bedroom is encouraged because it brings peace and tranquillity, encouraging a more relaxed atmosphere and enhancing your rest. However, plastering the walls, ceiling, floors, and the bed and furniture itself in cream and light beige colors can be drab. One way to embolden such a room is to add vibrancy with a bold rug.
Bold doesn't have to mean bright green, although a bright green rug can work well, and even some classic rug designs really brighten up a bedroom.
---
10.

Bleached Wood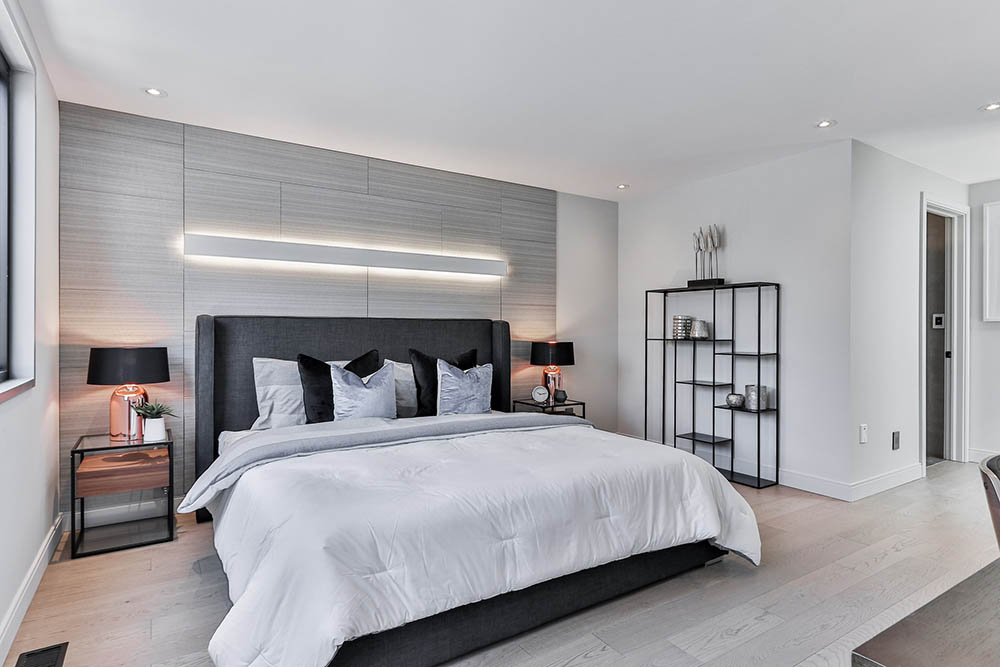 Scandi, Nordic, and Japandi design styles are fully in fashion, but even if you don't want to adopt the full look, one element that looks especially good in a bedroom is the bleached wood floor, or the whitewashed floor. It gives a wood floor an aged look that is reminiscent of a beach house or coastal property. It catches the natural light, too, so it gives the room an airy and spacious feel. If you don't already have a wooden floor that you can bleach, you can buy bleached wood floors especially.

What Flooring Is Most Popular In Bedrooms?
Carpets are popular because they are soft and warm, while hardwood floors look clean and are relatively comfortable and warm underfoot. If you do opt for hardwood, this year's color choice is bleached wood and you can always accessorize with a bold rug to add some color.
Can You Put Vinyl Flooring In A Bedroom?
Vinyl flooring is moisture resistant and durable, which is great in bathrooms and kitchens, but that doesn't mean that vinyl flooring isn't great in other rooms. It's warm, absorbs sound, and is easy to clean. It also comes in a whole host of designs and styles to match your preferences.

Conclusion
Flooring is an important part of any bedroom. You need to consider the temperature of your home, as well as the décor in the room, and your preferences. This year's trends include hexagonal tiles, black and white flooring, and the patchwork tile style that lets you combine multiple different floor designs.
Related Read: 10 Bedroom Carpet Trends
---
Featured Image Credit: SHOP SLO®, Unsplash