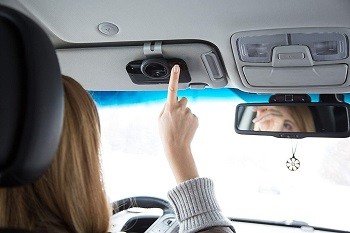 These days, most cars come with a built-in Bluetooth speakerphone as part of the vehicle's entertainment unit. Once you set them up, each time you get in the car, your cell phone will automatically connect to the unit, allowing you to make and receive hands-free calls as well as other things like stream music through your stereo.
These are great systems and you may be wondering why anyone might still need an aftermarket speakerphone? The truth is, if your car has a built-in system, you probably don't. But, if you are somebody who drives different fleet vehicles each day as part of your employment, or you have an older car without this inbuilt technology, you will benefit from one of these devices.
As with most electronic devices, there are many different makes and models of aftermarket speakerphones available, and choosing the best of them can be tricky, and there are a few different things you need to consider. So, to help you out we've put together this list of in-depth reviews that will give you a good start in finding the device that is right for you.
A Quick Look at the Winners of 2021:
Rating
Image
Product
Details

Best Overall

VeoPulse Hands-Free kit Car Speakerphone

Easy setup
Voice recognition
Auto on/off
CHECK PRICE

Best Value

Aigital Bluetooth in Car Speakerphone

Compact device
Auto on/off
Noise reduction
CHECK PRICE

Premium Choice

Jabra Bluetooth Speakerphone

Auto on/off
Easy setup
Voice recognition
CHECK PRICE

Besign BK06 Bluetooth 5.0 in-Car Speakerphone

Dual speakers
Latest Bluetooth technology
Auto on/off
CHECK PRICE

Avantree CK11 Hands Free Bluetooth Speakerphone

Easy on/off
Auto-connect
Rotary volume knob
CHECK PRICE
The 10 Best Bluetooth Car Speakerphones:
1.

VeoPulse Hands-Free kit Car Speakerphone – Best Overall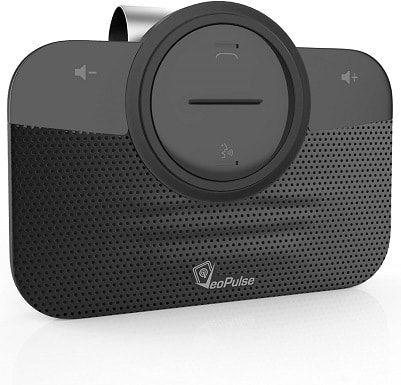 The VeoPulse BPRO2B is an excellent speakerphone. It's a well-designed unit that uses the latest Bluetooth technology, works with any Bluetooth enabled phone and is very simple to set up.
As with most of these devices, you will only need to pair your cell once, and after that, it will connect automatically. It works well connected to your phone for calls and doubles as a speaker on which you can stream music, podcasts or audiobooks from your cell while driving.
We are particularly impressed by the VeoPulse BPRO2B's automatic turn-on and off feature that is particularly handy if you plan on using the device in one vehicle.  With this feature, the BPRO2B will detect when you get in the car, automatically switch on and connect your phone, and importantly also automatically switch itself off when you get out.
The other big plus for this device that it works well with your phone's voice recognition. Meaning you can use your phone's voice commands to activate Siri or Okay Google and dial any number in your phone while using the device.
Pros
Easy setup
Voice recognition
Auto on/off
Good sound quality
Good build quality
---
2.

Aigital Bluetooth in Car Speakerphone – Best Value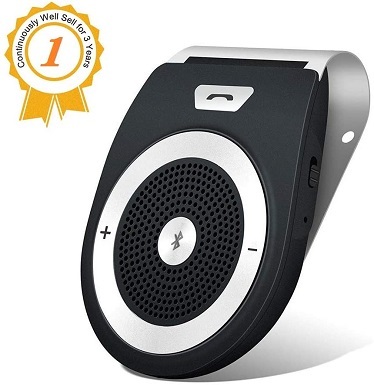 The Aigital Bluetooth in Car Speakerphone is a smaller device than some of the speakerphones we have reviewed for this article. Yet, despite its compact size, this little speakerphone still comes with many of the features found in its larger cousins and is, in our opinion, the best Bluetooth car speakerphone for the money.
As to be expected from such a small device, the sound produced by the self-contained speaker isn't to the same standard as your larger car speakers, but it is perfectly fine for making calls and listening to audiobooks and podcasts.
This device doesn't quite match the quality of the VeoPulse BPRO2B, but we really can't fault this speakerphone. So, if you are looking to save some money, this little device may be just what you need.
Pros
Great value for money
Compact device
Auto on/off
Noise reduction
Cons
Poor speaker sound
Uses older Bluetooth technology
---
3.

Jabra Bluetooth Speakerphone – Premium Choice
If you are looking for a car speakerphone with all the bells and whistles, and you don't mind paying extra, our premium choice, the Jabra 100-46000000-02 Bluetooth speakerphone is the device for you.
This well-built Bluetooth speakerphone comes with all the usual features and a few premium extras that you won't typically see on its cheaper cousins.
For music fans this device comes fitted with three speakers, providing a much cleaner sound than you'll get from any of the other speakerphones we have reviewed. On top of which, should you want to do so, this device will allow you to broadcast your music, calls and other streaming media to your car radio via a built-in FM transmitter.
Perhaps the most significant area of complaint about car speakerphones is background noise. With this device, however, this isn't a problem, as the dual microphones and background noise reduction technology that Jabra has built-in there device are outstanding.
Naturally, these extra features come at a cost, and at 50% more expensive than our top choice speakerphone this device won't be for everyone. But if you don't mind paying extra, you really can't go past the Jabra 100-46000000-02
Pros
Auto on/off
Easy setup
Voice recognition
Noise reduction technology
Great sound quality
Excellent build quality
---
4.

Besign BK06 Bluetooth 5.0 in-Car Speakerphone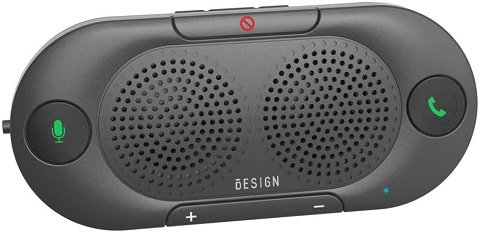 Bluetooth 5.0 connectivity is the latest Bluetooth version, and its inclusion is the standout feature of the Besign BK06 speakerphone.  Offering double the speed, and up to four times the range of the previous Bluetooth version means that this device is more stable and less likely to drop out mid-call that devices using earlier versions.
Another nice feature of this device is that it comes with in-built dual speakers. This helps slightly in overcoming the problem of poor sound quality that is common with speakerphones, but it is still unlikely that you will want to spend too much time listening to music on this device.
We quite like this speakerphone one major drawback we found is that the manufacture has chosen not to include an in-car charger. Sure, you can purchase a generic aftermarket charger, or take your device inside and charge it with the supplied USB cable, but for a device that is designed for your car, we feel that this is a significant oversight.
Pros
Dual speakers
Latest Bluetooth technology
Auto on/off
Cons
No in-car charger provided
---
5.

Avantree CK11 Hands Free Bluetooth Speakerphone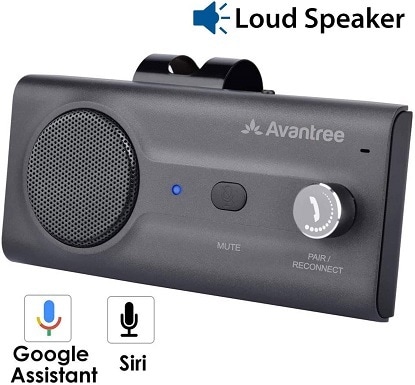 The Avantree CK11 is a reliable, well-built device that comes with all the standard features that you would expect in a modern Bluetooth speakerphone. However, we particularly like the large, easy to adjust, rotary volume knob, on the front of the device. This isn't something that you get on many speakerphones, and it is a smart addition that allows you to adjust the volume of your speakerphone without taking your eyes off the road.
Not so pleasing, however, is that Avantree has chosen not included the latest Bluetooth technology in their device, something that you could forgive in a budget device, but is a little disappointing for a mid-range model such as this.
Curiously, Avantree themselves have said that this device is not ideal for use in trucks. A fact that tends to suggest this device might be more prone to issues with background noise than some others.
Pros
Easy on/off
Auto-connect
Rotary volume knob
Cons
Uses old Bluetooth technology
Not suitable for use in trucks
---
6.

Motorola Sonic Rider Bluetooth in-Car Speakerphone
The Motorola Sonic Rider SP-005BK is well built, aesthetically pleasing and is from a well-known brand with a good reputation in the communications industry.
While it contains most of the features you would expect, its design and features have remained virtually unchanged for at least the last five years, meaning that the device uses some quite old technology. Most notably, this speakerphone does not employ the latest version of Bluetooth and won't work with cell phone voice Apps like Siri and OK Google.
Pros
Reputable brand
Solid construction
Auto on/off
Auto-connect
Cons
Older model device
Uses older Bluetooth technology
Fewer connectivity options
---
7.

SuperTooth Bluetooth Speakerphone
Like the Motorola device we reviewed above, the SuperTooth Z004098E is an older device that has remained unchanged for at least the last eight years.  As such, it does not use the latest Bluetooth technology and is likely to have a less reliable with your cell phone than newer model speakerphones.
Also missing from this device are some features that are now standard for newer car speakerphones, including auto power on/off and auto connectivity.  Conversely, if you are just looking for a basic device that you can connect your phone to, without having to worry about how to use some of the more modern features, this may be the right choice for you.
Pros
A basic device with no confusing features
Cons
Price
Older model device
Uses older Bluetooth technology
No automatic features
Less option for connectivity
---
8.

Plantronics K100 Bluetooth Speakerphone
The Plantronics K100 is another older model speakerphone. Having first been released in 2010, it doesn't have many of the features that are available on some of the more modern speakerphones.
You will, however, get a couple of nice bonuses with this device, including an in-car charger and an inbuilt FM transmitter that will allow you to play your calls, music, podcasts and other audio files through your car's stereo system.
Pros
Slim design
Built in FM transmitter
Comes with a in-car charger
Cons
Older model device
Uses older Bluetooth technology
No automatic features
Less option for connectivity
---
9.

Nulaxy BR05 Hands Free Bluetooth Speakerphone
The BR05 Hands Free Bluetooth Speakerphone from Nulaxy is one of the more recently released devices in this review. It is a reasonable and inexpensive device with some impressive specifications.
However, the BR05 is not as well constructed as some other devices we have reviewed. As such, it may not be the best speakerphone for drivers of commercial vehicles or those that require a robust and hard-wearing device.
We also found the device to be a little challenging to use, with many of the buttons have multiple functions, which isn't ideal and can make using the device a tricky while driving.
Pros
Inexpensive
Modern up to date technology
Auto connection
Auto on/off
Cons
Difficult to set up and use
Poor build quality
Not suitable for commercial use
---
10.

NETVIP Bluetooth Hands Free Speakerphone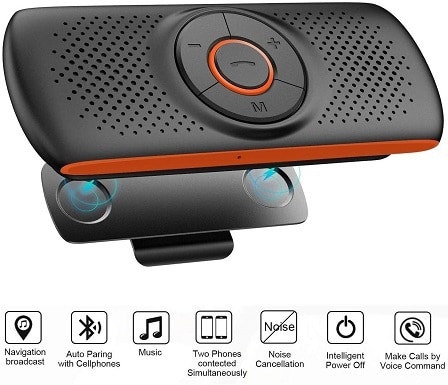 Though marketed as a hands-free speakerphone, the NETVIP US-T826-LS1 device is essential only a basic Bluetooth speaker that allows you to connect and operate your cell phone. It can support voice control via both Siri and Google Assistant but does not use the latest version Bluetooth software.
We have some concerns about the quality of the materials used to build this device as we have seen several reports from users stating that the outer casing around the plug point is very flimsy. Despite being fitted with a 3w speaker, which is more powerful than contained in many speakerphones, the sound from this speakerphone is quite poor.
If you are looking for is a very cheap speakerphone, that you will only ever use for making calls this device may be suitable for you.
Pros
Inexpensive
Can support voice control
Cons
Build quality
Sound – Volume and quality
Not suitable for playing music
Uses older Bluetooth software
---
Buyer's Guide
Build Quality
As with many electronic devices, there is a significant difference in the quality and price of speakerphones. While it is possible to find a device online, that is advertised with all the 'bells and whistles', for a very low price you should remember that as with most things, you will get what pay for.
Typically, speakerphones listed at bargain prices are of inferior quality and are likely to break or fall apart quite easily. They may also suffer from poor sound quality and other issues such as background noise interference.
Technology Updates
You should also be aware that Bluetooth is not a new technology. As such, there are many devices on the market that have not been updated for many years, and if you think about how quickly technology changes, you may want to reconsider purchasing anything offering old technology. At the time of writing, Bluetooth 5.0 is the newest version available.
 Sound
When purchasing a speakerphone, you should be aware that most devices on the market will advertise that they are suitable for playing music, and for listening to podcasts and audiobooks. While they will all allow you to do this, you should remember that speakerphones only contain tiny speakers, and the sound quality they produce will generally be quite poor. It is best to remember that the primary job of your speakerphone is to make hands-free calls, not replace your car stereo.
---
Conclusion
Hopefully, our list of reviews has helped you decide which car speakerphone is best for you.  We've tried to consider a broad cross-section of devices available and while there are many more you could choose from you won't go wrong with one of our recommended car speakerphones.
Our top choices are:
Best overall:                    VeoPulse B-PRO 2B Hands-Free kit Car Speakerphone
Best Value:                        Aigital Bluetooth in Car Speakerphone
Premium Choice:            Jabra 100-46000000-02 Bluetooth Speakerphone

Pete has been working in the trades since high school, where he first developed a passion for woodworking. Over the years, he has developed a keen interest in a wide variety of DIY projects around the home. Fascinated by all sort of tools, Pete loves reading and writing about all the latest gadgets and accessories that hit the market. His other interests include astronomy, hiking, and fishing.
As the founder of House Grail, David's primary goal is to help consumers make educated decisions about DIY projects at home, in the garage, and in the garden.