7 Best Budget Belt Sanders Under $100 – Top Picks & Reviews 2023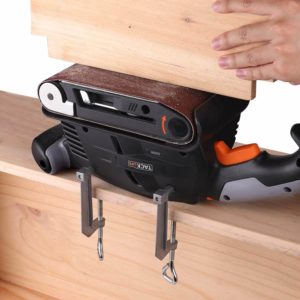 You have just completed your woodworking project and it is time to put the finishing touches on it. Paint it, stain it, or merely clear coat it – you have choices to make. Regardless of what you choose to do with your work of art, you will have to do some preparations and that includes sanding it.
A belt sander will smooth the ridges and knots or remove a fraction of an inch from a project piece. You may be remodeling an older home and you find imperfections in some of the original doors. You may even be one of the brave ones who dive in and want to refinish your backyard deck and you need to remove the old finish before you can make it look like new.
We have reviewed several belt sanders under $100 to help you make a knowledgeable choice on which of them would best suit your needs. We will take an in-depth look at the pros and cons of these belt sanders and will highlight our choice for the best overall product.
A Quick Comparison of Our Favorites in 2023
Rating
Image
Product
Details

Best Overall

TACKLIFE PSFS1A Belt Sander

Lightweight
Everything you need right out of the box
5-amp motor
CHECK PRICE

Best Value

BLACK+DECKER DS321 Belt Sander

Low profile design
Three-position handle
Large dust bag
CHECK PRICE

SKIL 7510-01 Sandcat Belt Sander

Auto-tracking belt alignment
Able to connect to a vacuum
Lock-on button
CHECK PRICE

WEN 6515 Belt Sander

30-inch sanding belt
5-inch sanding disc
Bevel table and miter gauge
CHECK PRICE

Ridgid ZRR2740 Heavy Duty Variable Speed Belt Sander

5-amp motor
Two-fan efficiency
Variable speed
CHECK PRICE
The 7 Best Budget Belt Sanders under $100
1.

TACKLIFE PSFS1A Belt Sander – Best Overall
Nothing comes close to our best overall choice, the Tacklife PSFS1A belt sander. Its 5-amp motor offers sufficient power for smoothing out a new door or removing the finish from a previously finished one. Its variable speeds let you adjust the speed to accommodate whatever surface you may be sanding.
Your purchase will include 13 pieces of sandpaper, seven pieces 80-grit paper, and six pieces of 120-grit paper. These are two of the more common grits and they will suffice for the average woodworking project. The metal clamping lever will allow you to change the sandpaper quickly and easily and an adjustable tension screw lets you cinch up the belt as it stretches and loosens. The dust collection box can also be removed easily when it fills up so that it can be cleaned quickly and you can move on with your sanding.
Key features of this belt sander are that it is lightweight and has cushioned grips, which makes it easy to be used for extended periods. If your hands do grow a little weary, you can use the two metal clamps that will let you turn the sander over and clamp it to a table, making it a stationary bench sander. The Tacklife PSFS1A Belt Sander is clearly feature-packed and that is why it is our choice for the best overall budget belt sander under $100.
Pros
Lightweight
Everything you need right out of the box
5-amp motor
Can be used as a bench sander
Cons
Small dust box
Short power cord
---
2.

BLACK+DECKER DS321 Belt Sander – Best Value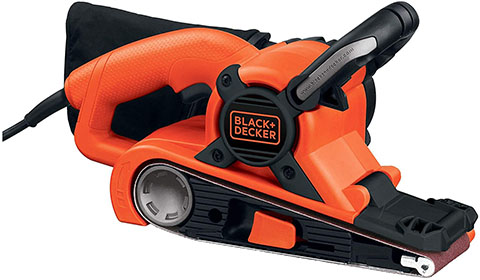 The Black+Decker DS321 Belt Sander is a smaller, more compact belt sander, but it is packed with power. Our best belt sander for the money has a 7-amp motor that can tackle larger jobs. It has a low-profile design so that you can sand all the way up to the wall. Adjust the handle to one of three positions for perfect comfort while you are sanding.
It is easy to change your sandpaper too, just use the belt release lever and the adjustment knob and you will be able to change the belt sandpaper quickly so that you can get back to work. You will like the dust bag that is included with your purchase. It is larger so you will not have to empty the bag so often.
Using the sander, be sure to let it do its job on its own. If you apply too much pressure to the sander the sanding belt tends to slip off of the rollers. Adjusting the tracking knob can help to correct this problem.
Pros
Low profile design
Three-position handle
Large dust bag
Cons
Tracking can be compromised
---
3.

SKIL 7510-01 Sandcat Belt Sander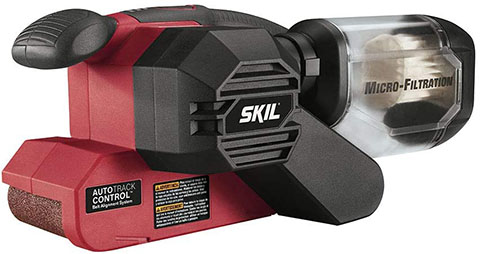 A high-powered belt sander that can take on any of the woodworking projects that you undertake is the Skil 7510 Sandcat Belt Sander. You can count on the auto-tracking belt alignment to keep your sanding belt tight and straight so it stays on the rollers. While you are sanding, you can connect the sander to a vacuum with an inch and a quarter hose so that you can enjoy nonstop sanding. Push the lock-on button and it makes continuous sanding even easier.
One of the unique features of this sander is the pressure control technology that warns you when you are applying too much pressure. A nice feature when you are working on an heirloom or expensive piece of furniture.
Taking a closer look, you will discover that this sander is heavier than most of the other sanders in our reviews. This can lead to fatigue but is not necessarily a deal-breaker.
Pros
Auto-tracking belt alignment
Able to connect to a vacuum
Lock-on button
Cons
Excessive weight
Short power cord
---
4.

WEN 6515 Belt Sander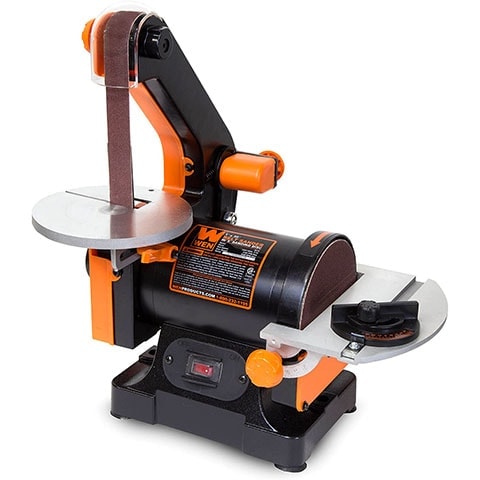 Coming in on the high end of the price category is the Wen 6515 Belt Sander, this belt sander is not portable. In fact, it weighs in at 16 pounds and you will need to find a workbench or a table to operate it from. It does have a compact design so you can store it fairly easily.
It has a 30-inch sanding belt, the longest sanding belt of all of our reviews. You will be able to sharpen knives, chisels, or other hand tools because of the metal plate behind the belt. This machine also has a 5-inch disc sander on it. You can use this sander to work on smaller wood projects. You will have the help of a tilting table and miter gauge for making your sanding even more precise.
A 2.3-amp motor will drive the belt and the disc at just over 3,000 RPM. Its durability can withstand hours of operation.
Pros
30-inch sanding belt
5-inch sanding disc
Bevel table and miter gauge
Cons
3-amp motor
Not portable
Heavy at 16 pounds
---
5.

Ridgid Heavy Duty Variable Speed Belt Sander

This is where power meets efficiency. Start with a 6.5-amp motor that is gear driven for added power, and couple that with the two high-efficiency fans that cool the motor and enhance dust pick up and you have a belt sander that will meet your expectations.
The variable speed dial, when matched with the electronic feedback, keeps the motor at a consistent rate of speed for more precise sanding. An automatic belt tracking system will keep the sanding belt aligned, and while you're smoothing the surface of your project, you can collect the dust by connecting your sander to a vacuum. The soft grips will help fight fatigue.
It should be noted that the Rigid sander is reconditioned which means that it was pre-owned and has been inspected, cleaned, and tested. With your purchase, you will receive the sander, dust bag, and 80-grit sanding belt. You will also have a 1-year factory guarantee. So, if you are looking for a powerful sander that will meet your project's needs, you may consider this Rigid reconditioned sander.
Pros
5-amp motor
Two-fan efficiency
Variable speed
Cons
Reconditioned
No belt adjustment
High priced
---
6.

CRAFTSMAN CMEW213 Belt Sander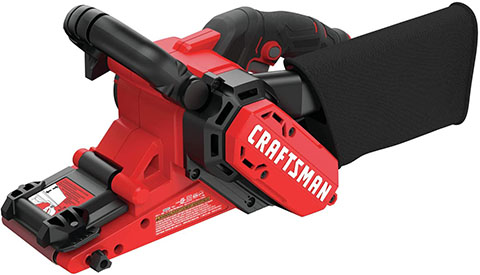 Craftsman has always been a household name when it comes to tools and power tools, so it's no wonder that it made it on our list of belt sanders. A workhorse, this belt sander has a 7-amp motor and can quickly remove material at 800 FPM. With the angled belt design, you will be able to get closer to those corners and adjoining walls.
You will not need to connect your sander to a vacuum because you have an included dust bag. The three-position handle lets you find the most comfortable position to keep sanding for hours and when you need to change the sanding belt you have a tool-free release to make the change quick and easy. There is an adjustment for the alignment of the belt. It has been known to be a bit sensitive and can take some tweaking to keep it moving smoothly and prevent it from falling off. Overall, it has the power but lacks some of the user-friendly features that would make it a truly attractive belt sander.
Cons
Lack of user-friendly features
Belt alignment
No vacuum connection
---
7.

GALAX PRO 8 Amperes Belt Sander

This valued priced belt sander has the strongest motor by way of amps, it checks in with an 8-amp motor. It has a variable speed switch that will let you adjust the feet per minute of the sander so that you can target them in more difficult areas. Additionally, you have a longer than normal electrical cord so you can make long runs for sanding consistency. Turn the lock-on switch on and the sander remains running while you continue to work.
You can make sanding belt changes quickly because of the tool-free release, so when you're switching sanding grits you won't have to waste valuable working time. There is a vacuum bag that is included too. It is user friendly, so you can easily take it off to empty it.
This sander is considerably larger and bulkier than the other sanders we reviewed. It also weighs in at almost 9 pounds. The added weight and bulkiness make it a bit more difficult to maneuver and to try and sand in those harder to reach places.
This sander works hard for you and will get the difficult jobs done well. It will definitely add value to your tool shed.
Pros
8 -amp motor
Longer power cord
Cons
No vacuum hookup
No manual belt adjustment
Heavier and Bulkier
---
Buyer's Guide – Purchasing the Best Budget Belt Sander
Owning a belt sander means you have decided to do your own finishing on one of your household projects. You want something that's going to make your life easier and cut down on the amount of time you are investing in your project. Even more than that you want something user-friendly. We have highlighted several of the top belt sanders here for you. Let's take a closer look at the features that will make your sander decision an easy one.
Motors
No two belt sanders are alike and what keeps them unique is they all have a different motor. The motor of the sander is obviously the most integral part because it is what makes or breaks how easy the sander will be to use. The power behind the motor is measured in amps, the higher the amps the more power. Careful though, more power does not always translate into longevity or quality.
The motor drives your sanding belt and depending on what type of material you are sanding you may need to be able to adjust the speed of the belt. Having a sander that has the capability of being able to adjust the speed, often referred to as FPM or feet per minute can enhance your experience and final product.
So, you can purchase a sander with a motor that is not the highest in amps but has a variable speed knob and you will have a sander that is suited for many types of projects.
Changing your sandpaper
Every sander has to have the capability of changing the sanding belt. Most often there is a release lever that is located between the rollers. Once you pull the release lever, you create slack in the belt and can slide it off of the rollers.
Replacing the belt with a new one you need to make sure that you line up the directional arrows so the belt will rotate in the proper direction. Once you put the belt over the rollers and on the track you will tighten the lever to cinch up the belt. Pay close attention, after operating your sander for a bit you may need to adjust the tension in the belt. Now some sanders have an automatic tension adjuster.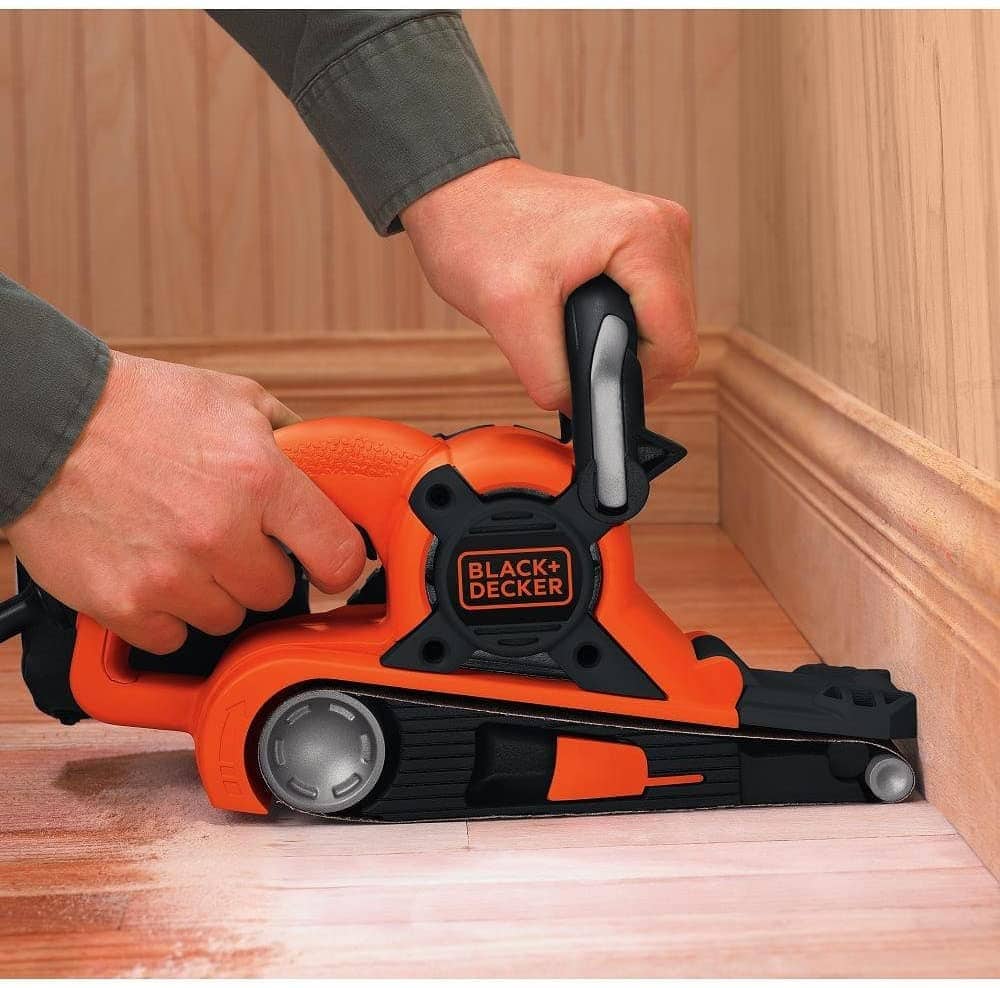 Other User-Friendly Features
There are a few other features that can make your sanding experience more pleasant. Little things like a lock-on switch to keep the motor running when you release the trigger, can make it easier to prep your project. Longer power cords will allow you to sand longer continuous passes so that your finish is more consistent.
The weight of the sander can also be a factor. If the unit is on the heavier side, you can experience fatigue more quickly if you are sanding a larger surface area. Soft grips will also help reduce vibration and hand fatigue.
Another option that can be beneficial is having the ability to hook up a vacuum to your sander. If you are sanding a lot, it can be inconvenient to have to stop and empty the dust bag periodically. Whereas, if you are connected directly to a vacuum you can enjoy uninterrupted sanding.
When to Use a Belt Sander
Continuous long surfaces
Removing finishes or old paint
Shaving fractions of inches off of edges
Small to Medium-sized deck
Wooden Doors
When to Use an Orbital Sander
To smooth surfaces without any marks
Not to be used between paint layers
On smaller projects
Detailed sanding
Furniture finishing

Conclusion
We have discussed the useful features of the belt sander and given you some tips to consider in making your decision on which sander to choose. In our reviews of the belt sanders, we have highlighted some of the great features of each of them. As you consider your choices make sure to have a clear picture of what your project entails and how large of a project it is. These are two crucial considerations.
Our choice for the best overall belt sander under $100 is the Tacklife PSFS1A Belt Sander. It combines many of the key features we discussed for a competitive price to make any household DIY project a success.
The best belt sander for the money has to be the Black+Decker DS321 Belt Sander, which packs a lot of features and power into an affordable unit that won't let you down.
More buying guides like this: