5 Best Oscillating Spindle Sanders of 2023 – Reviews & Buyer's Guide
Oscillating spindle sanders can give your project the perfect finish and make some complicated tasks straightforward and easy. The internet was supposed to do the same thing for shopping, but it doesn't do as good a job at that as many claim.
Online product descriptions can be misleading, and it can be hard to get a good feel for a product. If you can't get that, then it's impossible to tell if you're getting a good deal. We think that it doesn't have to be that way and that a well-informed customer can make a great decision.
Our reviews are designed to walk you through the upsides and downsides of the best spindle sanders so that you know what you're getting before you buy. We've also included a buyer's guide, so you can learn everything you need to know about oscillating spindle sanders before you buy, as well as giving you some tips on how to get the best value for your money.
---
A Look at our Favorites of 2023:
Rating
Image
Product
Details

Best Overall

Delta 31-483

On-board accessory storage
Includes five spindles
5 year warranty
CHECK PRICE

Best Value

WEN 6510T

Includes six spindles
On-board accessory storage
2 year warranty
CHECK PRICE

Triton TSPS450

Includes six spindles
On-board accessory storage
Powerful
CHECK PRICE

Shop Fox W1831

On-board accessory storage
Very powerful motor
Six spindles included
CHECK PRICE

ShopSeries RK9011

Powerful
Six spindles included
CHECK PRICE
The 5 Best Oscillating Spindle Sanders
1.

Delta 31-483 Oscillating Spindle Sander – Best Overall
The Delta Woodworking 31-483 is one of the best oscillating spindle sanders you can find today and one that most people will love using. It comes with five spindles, ranging from 1/4 inch to two inches in diameter. That adds a lot of value, despite the overall high price. It also comes with onboard accessory storage, so you won't have to spend time looking for the right parts before you start. The steel frame and cast-iron table are heavy, but sturdy, and resist damage very well. This machine should last you a very long time based on its great materials.
It also comes with a five-year warranty, which about the best you'll find for any tool on the market. A warranty that good means that the manufacturer is happy to stand by their product, which is a good situation in which to be when you've bought a new machine. Unfortunately, this model suffers from poor shipping that often results in cosmetic and minor physical damage. If that were to be worked out, we'd like this machine even more. Still, it's a great machine that will make most jobs fast and easy, and leave you happy with your purchase.
Pros
On-board accessory storage
Five-year warranty
Includes five spindles
Cast-iron table
---
2.

WEN 6510T Oscillating Spindle Sander – Best Value
If you don't want to spend as much money, but still want to get one of the best spindle sanders, then the WEN 6510T is the model for you. If you get this model, you'll only have to pay about a third of what you would have to shell out to get the top model on our list. Because of that, this model is the "best value for the money" model. It comes with six spindles, which is one more than the previous model. It also comes with onboard accessory storage, which adds a measure of convenience. The dust port on this model also works very well and greatly reduces the amount of cleanup you'll have to do.
It comes with a two-year warranty. That's not as good as some other models, but it's still decent, and it's a long enough period that mistakes from the factory can be easily fixed. What costs this model the top spot is its short frontside. Some users have fixed the problem by spinning the model around, but then the power switch is on the backside. However, if you want to save a lot of money, this is a great model to get.
Pros
Includes six spindles
On-board accessory storage
Great dust port
Two-year warranty
---
3.

Triton TSPS450 Spindle-Sander (Oscillating)
The Triton TSPS450 is another good oscillating spindle sander. It comes with six spindles, tying it with the top model when it comes to the number of included spindles. It also includes onboard accessory storage. That means you won't have to hunt for the proper parts before you get to work. The 3.5-amp motor on this model is plenty powerful. You'll be able to get most of your projects done in a short amount of time due to that great power.
What this model lacks is a large table. Like the previous model, it has a short front, which can make it hard to rest larger pieces on the table while you work. That makes this model less convenient to use than some and could create a problem if you're mostly working with larger pieces. It also has some fit issues with the included sandpaper and spindles, which is a pain to deal with. If those problems were to be resolved in design updates, we'd be happy to bump this model up a few spots. It has plenty of power, and you can get it for a decent price, but it won't perform well enough for most people's tastes.
Pros
Includes six spindles
On-board accessory storage
Powerful
Cons
Short front
Some fit issues
---
4.

Shop Fox W1831 1/2 HP Spindle Sander
The Shop Fox W1831 does many things right but fails to impress in some critical areas. It comes with six spindles, which gives you a wide range of sanding options. It also comes with onboard accessory storage, which like that on the other models, saves you time and frustration when using this model. The 1/2-horsepower motor is one of the stronger ones you'll find on the market, and for the price, it is about as much as you could hope for. That means you'll get the job done quickly and efficiently.
However, this model is very loud. That's a likely symptom related to its powerful motor. But, since it's noticeably louder than the competition, it loses a few spaces on our list. It also has poor quality control. Some models arrive broken and sending them back for a replacement is a pain that no one should have to deal with. Overall, this model doesn't provide great value, especially since it retails at a higher price than other models on our list. If the price were lower or the issues resolved, you could make a case for this model, but in its current state, it can take no higher than fourth.
Pros
On-board accessory storage
Very powerful motor
Six spindles included
Cons
Loud
Poor quality control
---
5.

ShopSeries RK9011 Oscillating Spindle Sander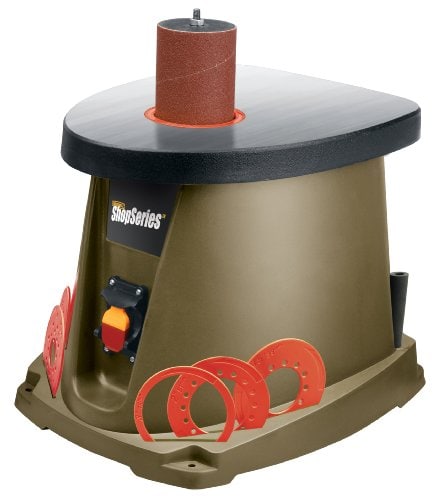 The ShopSeries RK9011 is a very disappointing oscillating spindle sander. While it comes with a 3.5-amp motor that delivers a lot of power, the quality isn't high enough to justify the price, and it has other flaws that may leave some users wondering if it's worth any price at all. It does come with six spindles and on-board spindle storage, which makes this a theoretically versatile and useful machine. However, the bad news starts when most users open the box. Some assembly is required, and the directions are laughably bad.
But far worse is the terrible quality control. Some users report that the model doesn't work out of the box and that after exchanging the model for a new one, the second one doesn't work, either. That's a lot of hassle to go through for a model that doesn't work. Many users also report that their units broke down within a few weeks or months of their purchase. The internal gears aren't well-made, and often pop loose or start smoking, which can lead to dangerous situations. Overall, this model isn't one that will last a long time, and that's a fact that will leave most users very frustrated.
Pros
Powerful
Six spindles included
Cons
Poor quality control
Bad assembly instructions
---
Buyer's Guide – Finding the Best Oscillating Spindle Sander
Hopefully, our reviews have already helped you get a handle on what makes for a great oscillating spindle sander, and what makes for a model that you'd be better off skipping. If you want to learn more about these tools before you buy, make sure you read this buyer's guide. We've packed it full of great general information about oscillating spindle sanders, designed to help you think through the buying process, and help you feel confident when you go to buy. We've also given some advice on maximizing the money that you spend, so if you're looking for great value, make sure you check out this guide.
Power
Like many tools, the most important feature in an oscillating spindle sander is its power. More power means you'll get the job done more quickly, and it generally means that an oscillating spindle sander will last longer since each use puts less wear on its internal components.
Like with most tools, if you want to get done quickly, you'll want an oscillating spindle sander that comes with plenty of power. Once you get up to about a 1/2-horsepower motor, you know that you'll have plenty of power to plow through your next sanding project with ease. However, if an oscillating spindle sander only offers two or three amps of power, you may find that it catches or freezes up on rough patches, or that it leaves your creation with an unsatisfying, uneven finish.
More power can also mean higher sander speeds, which can make up for deficiencies in your sandpaper. You may be able to use older, more worn sandpaper for longer since high speeds will somewhat offset the decrease in sanding power.
Table size
Unless you're always working with pieces that are small enough to hold easily, you'll want to invest in an oscillating spindle sander with a table which is large enough to conveniently rest your project while you work. The biggest benefit given by a table is that it lets you consistently do 90-degree sands along the edges of regular shapes. If you have to hold the object while you sand, you may sand at less than a perfect 90-degree angle, or add pits, or even create a bevel that you didn't mean to make, no matter how steady your hands are.
That could be a minor inconvenience, or it could ruin your project. So, if you're looking to make regular, well-sanded sides and corners, then it's a good idea to invest in a large table, and in a model where the spindle is located towards the rear instead of the front, so that you have plenty of space in which to work.
Spindle sizes
The phrase "one size fits all" has never applied to oscillating spindle sanders. You use spindles of different sizes to get high-quality sands on irregularly-shaped objects in the same way that you vary the grit on your sandpaper in order to get a coarser or finer sanding.
When it comes to value, you should be evaluating how many spindles come with an oscillating spindle sander. We've only included models that come with five or six spindles on our list, and the reason is simple. If a model includes any fewer spindles, then the manufacturer is trying to pull a fast one!
At the small end, you'll find that 1/4-inch in diameter spindle is about the smallest size for which you'll find regular use. For most people, two inches is enough at the large end, though people working on extra-large projects could benefit from getting a model that comes with a three-inch spindle.
Which oscillating spindle sander is right for you?
If you want to get great value for your money, it's sometimes a good idea to stop thinking about the price tag for a moment. After all, you could get an oscillating spindle sander for free, but if you don't like using it, it will just sit in your shop, collecting dust.
So, it's a good idea to start by figuring out what kind of experience you want to get out of your oscillating spindle sander, and what features will allow you to have that experience. Once you have those features in mind, create a list of oscillating spindle sanders that meet those requirements.
Then, choose the cheapest model from that list. It has all the features that you need to get a great experience, so you'll like using it, and since it's the cheapest model that can provide that experience, it provides the best overall value for your money.
---
Conclusion
The Delta Woodworking 31-483 is the best oscillating spindle sander overall due to its cast-iron table, five spindles, and a five-year warranty. The WEN 6510T comes with six spindles, a great dust port, and a two-year warranty, and given its low price, it's the best overall model for the money.  The Triton TSPS450 has good power and comes with six spindles, but its short front and minor fit issues keep it out of the top two. The Shop Fox W1831 comes with a very powerful motor, includes six spindles, but runs loudly and suffers from poor quality control. In the last place is the ShopSeries RK9011 which has good power and accessories, but poor quality control and bad assembly instructions hurt its value.
We hope that our reviews and buyer's guide have helped you understand the world of oscillating spindle sanders. Armed with that information, you should be able to find the model that makes your next project a breeze at a great price.
Read our other reviews of sanders:
Best 1/4 Sheet Sanders 2018 + buying guide
Orbital Sander vs Palm Sander: Which is Best for Your Needs?
Drum Sander vs Planer – Which is Best for Your Needs?