5 Best Composting Toilets for RVs in 2023 – Reviews & Top Picks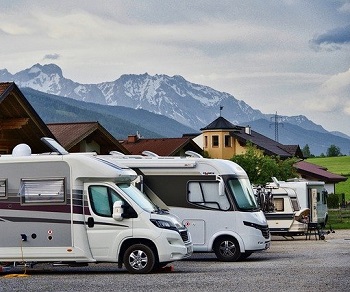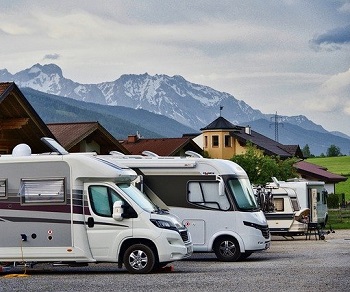 Did you know that the average adult produces around 320 lbs. of solid waste a year? Well, if you didn't already know how important your toilet is… think about having to dispose of that!
Choosing a toilet, and not just that but the right toilet, is especially important in an RV. When you're on the road the last thing you want to have to worry about is your bathroom.
And why complicate your bathroom breaks with worries about water usage and sewer lines? In your RV composting toilets are the way to go! With a composting toilet you'll never be forced to endure sleazy roadside restrooms or a surprise trip into the woods again.
We love how efficient and budget friendly composting toilets are. The majority are completely water-less, so they conserve resources and drastically lower your utility bills. A total win win!
In these reviews we'll give you a leg up on research with our top 5 best composting toilets. We've also included best overall and best value picks, as well as a handy buyer's guide for your convenience.
---
A Quick Comparison of Our Favorites
Rating
Image
Product
Details

Best Overall

Nature's Head NH-SPH

Waterless and extremely efficient
Easy to operate and empty
Vent hose and fan included
CHECK PRICE

Best Value

Separett Villa 9215

Waterless and efficient
Fits well in small spaces
Vent hose and fan included
CHECK PRICE

Premium Choice

Sun-Mar Excel-NE

Easy to operate
NSF certification
Fully composts waste and even handles toilet paper
CHECK PRICE

Nature's Head Dry

Waterless and extremely efficient
Easy to empty
Durable stainless-steel construction means it lasts longer
CHECK PRICE

Sun-Mar CSEM-01400WB

Easy to operate
NSF certification
Fully composts waste and even handles toilet paper
CHECK PRICE
The 5 Best Composting Toilets for RVs – Reviews 2023
1.

Nature's Head NH-SPH Composting Toilet – Best Overall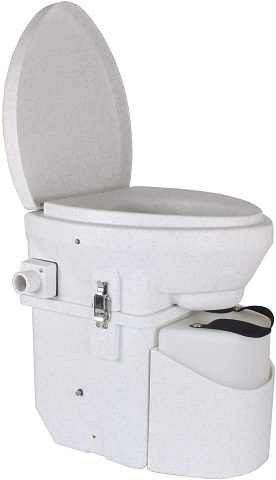 The Nature's Head NH-SPH stands head and shoulders above the competition. Designed by long time sailors, this toilet is incredibly durable and made to fit into smaller places without sacrificing ease of operation. And that makes it an excellent choice for RVs, in which space is at a premium.
It is also incredibly easy to use. So easy that even a toddler can operate one! Obviously, we let the adults tackle the emptying process, but that too was painless and simple. And you won't have to empty it often – only every 80 uses or so.
On top of all that, the NH-SPH comes in at a mid-to-low price range for composting toilets. Factor in how much you'll save on water bills and whoa. Even taking into account that it only comes with a limited warranty for manufacturer defects, you're getting a great deal. Overall, this is the best composting toilet for RV's on the market this year.
Pros
Waterless and extremely efficient
Easy to operate and empty
Vent hose and fan included
Fits easily in small spaces
Elongated seat for maximum comfort
Rugged design & materials to last longer
Use up to 90 times before emptying
Cons
Limited warranty for manufacturer defects only
---
2.

Separett Villa 9215 Composting Toilet – Best Value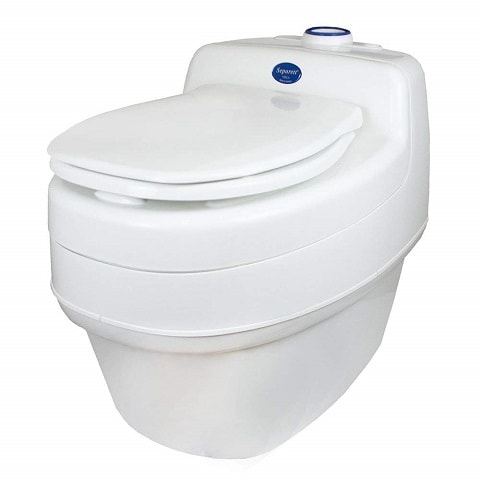 For those on a budget looking for an RV composting toilet to fit semi or full time off the grid living, look no farther than the Separett Villa! Completely waterless, this toilet is efficient and easy to use. Your purchase even includes compostable bags for insertion in the solid waste chamber to make disposal mess free.
Our favorite thing about this toilet is the variety of power options for your vent and fan. Plug it into the wall if it's convenient. But if you want to really increase your efficiency and independence it is also equipped to run on battery or solar power!
If you are a comfort fiend, however, be aware that the specialized size mean you won't be able to replace the seat with one of your own. You should also know that some users report the flush door loses the ability to close completely over time. It doesn't add to the smell, but it does mean cleaning will need to be more in-depth as it ages.
Weighing the exceptional good qualities against the relatively small bad, we confidently recommend this as the best composting toilet for a tiny house for the money.
Pros
Waterless and efficient
Fits well in small spaces
Vent hose and fan included
Power options: AC plug, battery, or solar
Easy waste chamber disposal
Cons
Flush door fails to close over time
Specialized design mean you cannot replace seat
---
3.

Sun-Mar Excel-NE Composting Toilet – Premium Choice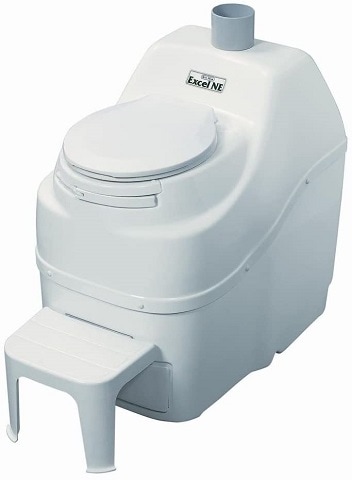 If you're willing to spend more to reap extensive benefits, check out the Sun-Mar Excel. You can go totally off grid in your RV with this premium non-electric design that fully composts waste inside the unit. It is another excellent waterless and odor free option.
The Excel is built for heavy use. It utilizes separate bins for solids & liquids, and with 2-3 people using it daily you only need to empty the solids about once a month. It also composts toilet paper with ease – something other models cannot say.
Part of our adoration for Sun-Mar is their application of rigorous testing. It has been independently tested by the National Sanitation Foundation at maximum capacity continuously for 6 months and passed with flying colors. No odor, and it produced safe, clean compost.
However, our big complaint is the price – it comes in at well over double the price of our best value pick! Sun-Mar is a trusted company that produces high quality composting toilets that require no electricity and are tested extensively, all at a premium price. Keep that in mind when shuddering at the price tag.
Pros
Easy to operate
NSF certification
Fully composts waste and even handles toilet paper
Waterless and extremely efficient
Non-electric for off the grid ease
Lightweight fiberglass tanks
3-year parts warranty, 5-year tank warranty
Cons
High price range, most expensive on our list
Optional fan must be purchased
---
4.

Nature's Head Dry Composting Toilet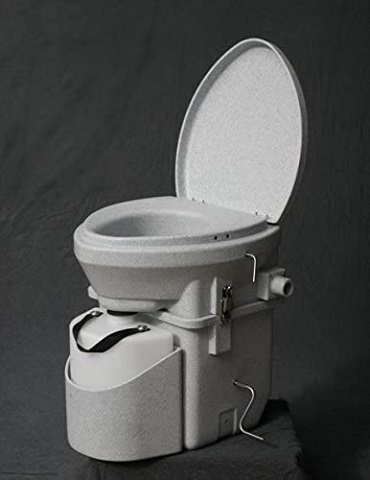 Like the best overall pick, this Nature's Head dry composting toilet is built to last. Made from durable stainless-steel and polyethylene, you won't need to buy a new one anytime soon. That and the mid-range price make this toilet an incredible value.
Unfortunately, this model requires significantly more space than its counterpart or competitors. And for RV life, where space is often very limited, that can be an irreconcilable issue. If you have the space, good for you! But most RVs will not be able to accommodate the larger handle and longer bowl.
Pros
Waterless and extremely efficient
Easy to empty
Durable stainless-steel construction means it lasts longer
Vent hose and fan included
Elongated seat for comfort
Cons
Larger size & handle makes it hard to fit in small spaces
Limited warranty for manufacturer defects only
---
5.

Sun-Mar CSEM-01400WB Composting Toilet
As with the larger Excel, with the Sun-Mar CSEM you get premium quality and features at a premium price.
A differentiation from its larger sister is the compact and pleasing design. The CSEM is one of the smallest composting toilets available due to its patented Bio-drum technology. And since space is priceless in an RV, this is an enormous benefit.
We just can't overstate how cool the full compost systems Sun-Mar provides. No need to dump your solid waste bins into another compost heap – these units fully decompose solid waste into safe, handleable compost. This model also has a heated chamber for evaporating liquids, which means an even easier emptying process.
Once again though, the price is daunting. It comes in at barely cheaper than the Excel – a substantial investment. But if you don't have much space available and a full in-tank compost system is important to you, definitely consider this high-quality option.
Pros
Easy to operate
NSF certification
Fully composts waste and even handles toilet paper
Waterless and extremely efficient
Heater evaporates liquid and eliminates need to empty
One of the smallest on the market
3-year parts warranty, 5-year tank warranty
Cons
High price range, most expensive on our list
Optional fan must be purchased
---
Buyer's Guide – Choosing the Best Composting Toilet for RV's
There are a lot of different features and considerations when shopping for an RV composting toilet. It can be a little overwhelming – but it doesn't have to be! We put this handy buyer's guide together to make sure that you are fully equipped to buy the right toilet for your needs.
How They Work
The way a composting toilet works is ingenious, but not overly complex. Anyone can get a handle on the principles they operate on. And we think knowing how your toilet works will better equip you to pick the right one and take care of it for longer!
To begin with, the composting chambers are filled with a carbon material. Such materials include sawdust, dried sphagnum moss, and coconut fibers. The waste is mixed in with these to help it start breaking down.
Liquid waste is separated from the solid in one of a few ways. Some models drain liquid into a heated evaporation chamber to collect and remove. Others simply have a liquid waste disposal chamber. The separation of liquid from solid helps keep odor down and facilitates the composting process.
And once it's full it's as simple as emptying the chambers into a larger compost pile to fully decompose, or disposing according to sanitation laws. Don't worry – this doesn't need to be done as often as you might think. Some composting toilets can see as many as 90 uses before needing to be emptied!
Types
You'll see that there are a few different types of composting toilets based on factors like resource availability and use. Here's a basic rundown of common features so you can pick the right toilet for your needs.
Batch Units
Batch units have two or more bins inside them. Once the bin is filled, it is moved to a difference area for it to finish composting. These models can be emptied in stages, breaking up the work of doing so into manageable chunks.
Continuous System Units
Continuous system units have, as the name suggests, one large chamber in which waste is stored. In this model the waste stays in the chamber until the composting process finishes, at which point you empty it all in one go. Folks interested in this type should be aware that you will need underfloor space in your RV to accommodate a continuous system.
Most composting toilets us no water at all. When traveling in an RV you are not always able to hook up to water or sewage, so resource conservation & management is incredibly important. For this reason, we highly recommend going for a waterless option.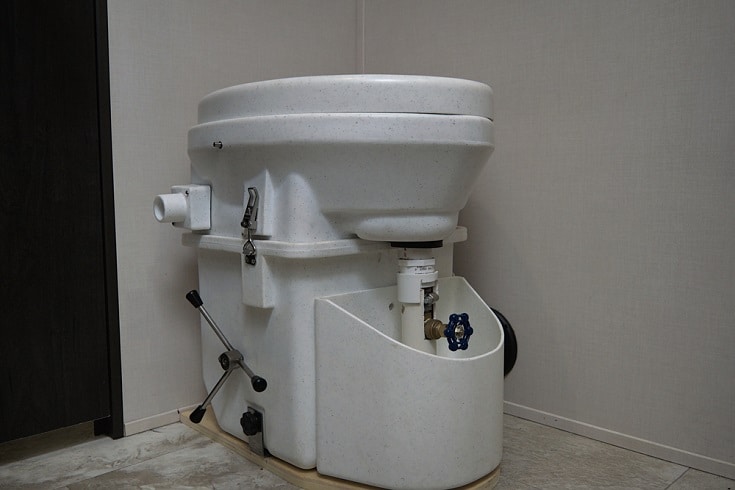 Water Flush Units
Water flush composting toilets do exist, however. Those who value a traditional, at home feel to their toilet experience will be pleased to know that they use very little water – usually a pint or less. But the complication of plumbing and efficiency just don't make it a good choice for campers.
Electric vs Non-electric
Unlike their traditional indoor counterparts, the majority of composting toilets need electricity to work. You don't need a lot of power to run them though, as it's mainly for fans and ventilation. And trust us, in close quarters keeping your bathroom smell free is a worthy cause!
For folks who want to go totally off the grid, there are non-electric designs as well. Some have batteries, and others built-in solar panel capabilities. Truly non-electric composting toilets have a longer composting time, since they lack the assistance of electrical, and often have a smaller capacity.
Why Choose a Compostable Toilet?
Composting toilets are the height of efficiency, and that means they save big on utility bills as well! When traveling you can't always count on finding water or sewer hookups, so why use valuable water to flush your waste? A composting toilet will save you money and resources.
And speaking of their efficiency, this also means composting toilets are incredibly environmentally friendly. Just like recycling your old bottles & cans, you can stop your bathroom waste from going into the planet's oceans and rivers. Do your business and do some good at the same time!
When it comes to RV toilets, the composting variety eliminates some of the most uncomfortable down sides associated with traditional models. You won't have to deal with clogs, loud flushes in the middle of the night, or backsplash. And, best of all in our opinion, they're all designed to prevent odor.
Further Considerations Before You Buy
Space
Space is a valuable commodity in an RV or camper. If you want to live comfortably, you'll need to be sure that you're using all the space available to you as effectively as possible. Composting toilets come in a variety of sizes, so make sure you know how big the bathroom in your RV is and what size of toilet it will accommodate.
Legal issues
Did you know that human waste disposal laws are different from state to state, and even city to city? Do some research on your location before emptying your toilet's compost bins. Especially if you're traveling far, don't set yourself up for unpleasant (and embarrassing!) run in with the law in an unfamiliar place.
Installation
Concerned that you may need help from a professional installing your toilet? Pay attention to whether a unit comes pre-assembled. Though a rare few have somewhat complicated ventilation installation, most composting toilet brands pride themselves on including instruction that anyone can follow with ease.
Maintenance Tips
It may not be immediately apparent how you can best clean and care for your new composting toilet, since they are so different from the traditional variety. Have no fear, because we've got some tips that will make cleaning a breeze. Taking care of it will help it last longer, and you'll enjoy using it more too.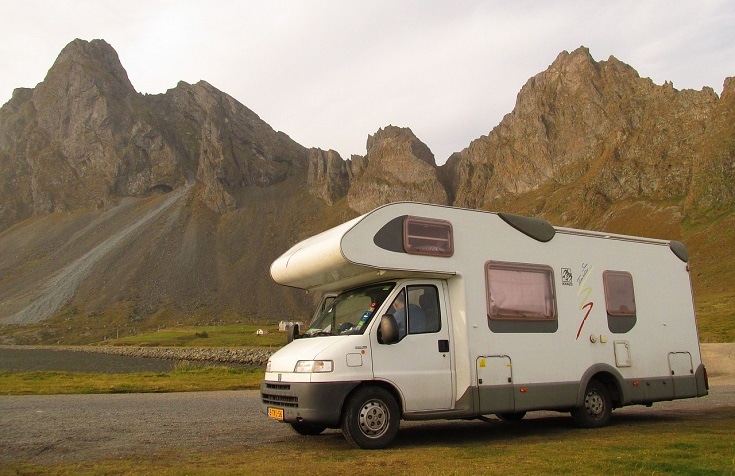 No toilet paper in the bowl
Avoid putting toilet paper in your composting toilet as much as possible. Not only will the toilet paper fill up the waste bins more quickly, but the paper will also take longer to compost. Consider a separate trash just for toilet paper, so you can avoid having to empty your toilet's bins more often.
Odor control
For keeping your composting toilet clean and fresh, vinegar is the way to go. Keeping a spray bottle of vinegar & water on hand so you can spritz the bowl after using. Vinegar is a natural sanitizer, helps dissipate smells, and breaks down stubborn proteins reducing the need for hand scrubbing.
Yearning for a bit of luxury on the road? We found that a few drops of the essential oil of your choice in the bowl can make all the difference for a fresh, fancier feeling RV bathroom.
---
Conclusion
For almost every purpose, the Nature's Head NH-SPH Composting Toilet has great value and impressive durability making it our best overall choice. If you're looking for a budget model, however, we recommend the Separett Villa 9215 Composting Toilet for its convenient size and operation at an excellent price.
Thank you for reading today, and we hope that these reviews have helped you find the perfect composting toilet for your needs.
See also: Do Semi-Trucks Have Bathrooms? What You Need To Know!
---
Featured Image Credit: MemoryCatcher, Pixabay