8 Best Corded Electric Weed Eaters of 2023 – Reviews & Buying Guide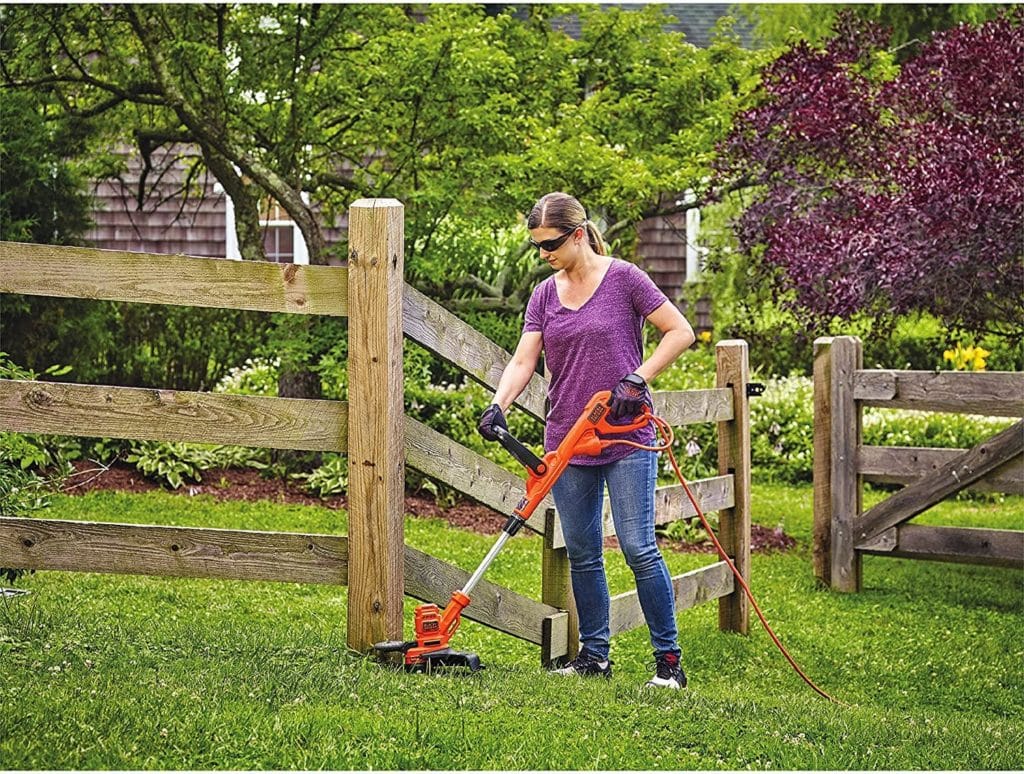 If you are the person in charge of your landscaping, you know that just mowing the yard is only part of the job. After the grass is cut, it's time for the edges. And nothing gets the edges quite like a weed eater. Versatile and lightweight, a weed eater can get into those hard-to-reach places that big, bulky mower just cannot.
Many people have discovered the corded electric weed eater, and it has changed the way they view lawn maintenance. No more storing two-cycle fuel that only has one purpose. No more hauling around that massive machine. These electric weed eaters are light but still do the same job as the larger, louder models.
We have compiled the best corded electric weed eaters in this list of reviews, complete with why they are the best, and some specs that give each individuality. All the top brands are represented. We hope this will help you in purchasing your next corded electric trimmer. Get that extension cord ready, cause here we go.
A Quick Comparison of Our Favorites in 2023
Rating
Image
Product
Details

Best Overall

Toro 51480 Corded Electric Trimmer

5-amp motor
14" work zone
Telescoping handle
CHECK PRICE

Best Value

PowerSmart PS8208 Corded String Trimmer

Great performance
Lightweight
Auto-feed spool
CHECK PRICE

Premium Choice

BLACK+DECKER GH900 String Trimmer

5-amp motor
13" cutting path
High-torque transmission
CHECK PRICE

Sun Joe TRJ607E-RED Electric String Trimmer

Light
Compact
Great for small yards
CHECK PRICE

WORX WG119 15 Electric String Trimmer

2-in-1
90° pivot head
Flower guard
CHECK PRICE
The 8 Best Corded Electric Weed Eaters
1.

Toro 51480 Corded Electric Weed Wacker– Best Overall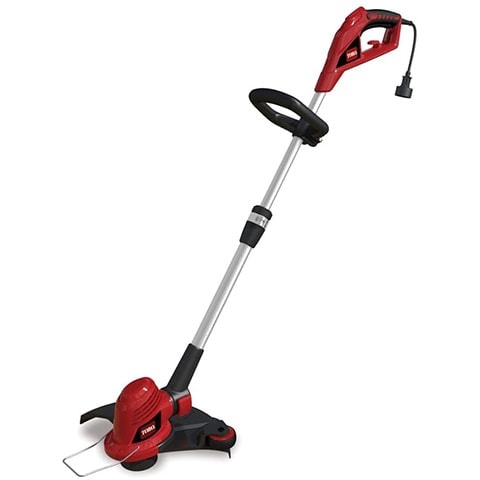 Your weeds won't know what hit them when they are attacked by the 14 inches of fury at the end of Toro 51480 Corded Electric Trimmer. It boasts a powerful 5-amp motor that will show no mercy. With its extra-wide dual-line cutting head, you get the job done faster, and its auto-feed mechanism keeps you from having to stop and spool.
Its rust-proof aluminum shaft telescopes for maximum reach, and the adjustable handle maintains your comfort through the entire job. And this is not just a weed trimmer. With the push of a button, the trimmer segment twists 90° to become a formidable edger. And the built-in guide wheel helps you keep those edging lines straight.
The only complaint we had was with the string. Restringing it was a bit of a chore, and the auto-feed advanced the line every time the trigger was released, which can become somewhat tedious when edging pavement.
Pros
5-amp motor
14" work zone
Telescoping handle
Aluminum s haft
Edger
---
2.

PowerSmart PS8208 Corded Electric String Trimmer – Best Value
Get a balanced mix of power and performance no matter what you are trimming with the PowerSmart PS8208 Corded String Trimmer. Its 2.3-amp motor will make short work of your weeds, grass, and overgrowth with little resistance. And the auto-feed spool will make sure you have plenty of line to get the job done.
To prevent accidental cord disconnection, this model features a cord retention system. It is very lightweight and user friendly. It comes fully assembled in the box and already spooled so that you can get to your landscaping right away. It's one of the best corded electric weed eaters for the money.
One thing we recommend if you pick this trimmer is to change the line before use. It does come pre-spooled, but the line is thin and low quality, which means it will often break during use. Pick up a better quality of line, and you will be much happier with the trimmer's performance.
Pros
Great performance
Lightweight
Auto-feed spool
Cord retention system
Cons
Low-quality string
Too short
---
3.

BLACK+DECKER GH900 Electric Weed Wacker – Premium Choice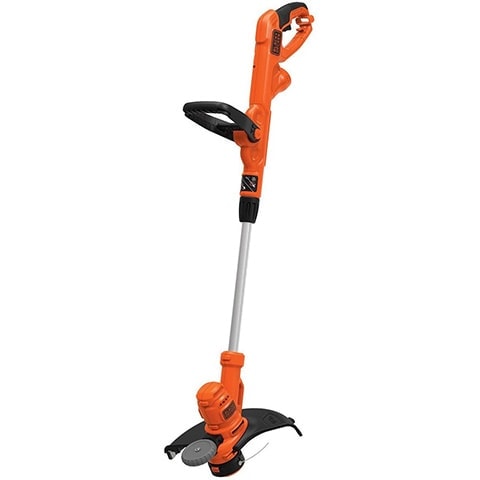 Do you want power? The BLACK+DECKER GH900 String Trimmer has brought power, and then some. This monster has a 6.5-amp motor with a high-torque transmission to give you the performance you crave from a string trimmer. And its 13-inch cutting path gets the job finished quickly with clean precision.
To ensure you do not have to stop to spool more line, it is equipped with an intuitive auto-feed system that does not require releasing the trigger or bumping a button on the base. And it has an ergonomic design with adjustable height and pivoting handle to give you the most comfortable trimming experience.
Our big issue is that the plug on the handle of the unit is too small to handle a three-prong outdoor extension cord, and it isn't easy to find a two-prong cord that is long enough to allow this trimmer to be efficient. And while it has an edger feature, it seems to work less effectively than the trimmer feature.
Pros
5-amp motor
13" cutting path
High-torque transmission
Auto-feed spool
Cons
Cannot fit in 3 -pronged plugs
Edger not efficient
---
4.

Sun Joe TRJ607E-RED Electric String Trimmer
This little red worker bee is ready to take on those smaller projects. The 2.5-amp motor on the Sun Joe TRJ607E-RED Electric String Trimmer is perfect for making an impact on small yards, flower beds, walkways, patios, and stones. It is smaller than most trimmers and very lightweight at only 2.8 pounds.
Its design is centered around minimizing fatigue, from the forearm rest at the base to the ergonomic handle that minimizes wrist strain. It can easily cut a 10-inch swath in a single pass, and the motor won't bog down for a moment. With its bump feed spool, there is no slowing this string trimmer down.
Our only major complaint was with the plastic parts within the motor housing. After a while of sustained use, the motor got very warm, and the plastic melted, then cooled on the engine, rendering it useless. This did not happen with all models but is a concern.
Pros
Light
Compact
Great for small yards
Ergonomic
Cons
Plastic motor pieces melt
Bump release malfunctions
Flimsy armrest
---
5.

WORX WG119 15 Electric String Trimmer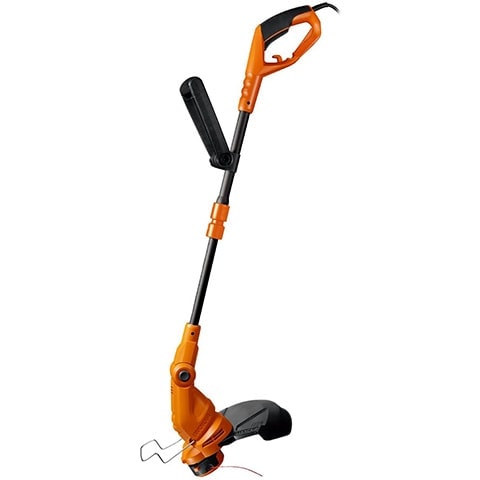 There is no need to buy a separate edger when you have this 2-in-1 beauty ready to handle your workload. In only seconds, the WORX WG119 15 Electric String Trimmer can flip from a trimmer to an edger and back. And its dual-line feed provides all the string you need when you need it.
It is versatile, great for tall and short users due to the telescoping shaft, and its head pivots 90° to accommodate trimming on inclined areas and those places that are difficult to reach. And this model has the attractive feature of a flower guard, preventing you from accidentally cutting plants or damaging ceramic yard décor.
Ventilation on the motor housing is our biggest gripe with this model. The trimmer and the motor are too close together, and the vents for the motor allow debris to get into the motor area, clogging airflow and gumming up the works. And breaking it down to clean, it was just not an efficient use of time.
Pros
2-in-1
90° pivot head
Flower guard
Cons
Motor overheats
Airflow clogs
Poor design
---
6.

CRAFTSMAN CMESTE920 Electric Weed Wacker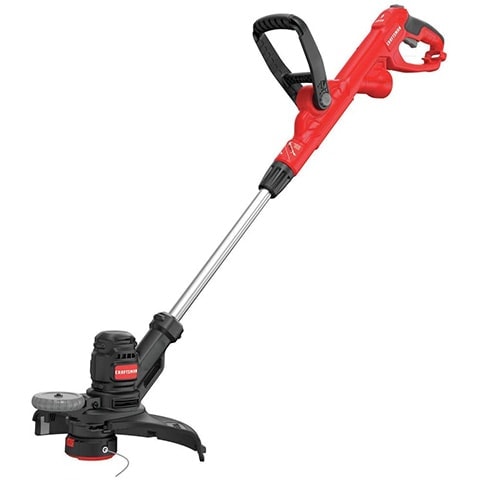 From the quality tools at Craftsman, we give you the workhorse of the Craftsman line of String Trimmers, the CRAFTSMAN CMESTE920 String Trimmer personifies the Craftsman standards in every way. From its 6.5-amp motor to its 14-inch cutting path, this string trimmer means business.
It has an extremely comfortable ergonomic telescoping pole and a push-button feed system for the wire spool. Add that to the wheeled edger feature, the two additional spools that come with it, and the 3-year warranty, and you have a tool that holds to the Craftsman brand.
On the models we tested, the line feed system had some troubles. It fed when we did not need it to and did not when it was necessary. The trimmer worked fine, but the edger was weak and ineffective. And the line jams, meaning you spend more time fighting with the spool than doing yard work.
Pros
5-amp motor
2  additional spools included
3-year warranty
Cons
Spool jams
Line feed problems
Edger is weak
---
7.

Earthwise ST00009 Electric String Trimmer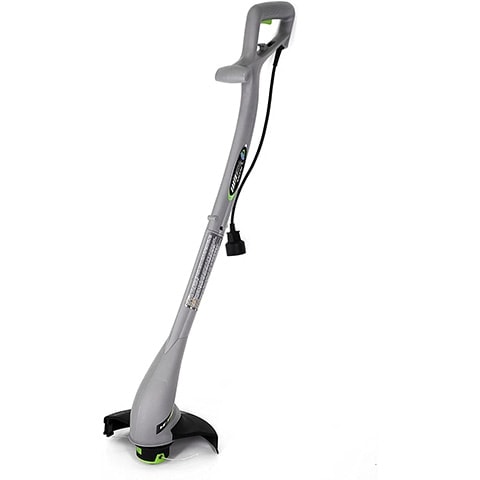 Designed with outdoor work in mind, the Earthwise ST00009 Electric String Trimmer has all the outdoor features you can want. Its custom-designed waterproof plug is perfectly suited to fit a three-prong cord, saving you time and adding efficiency, and its 9-inch cutting path will make the job quick and easy.
Earthwise is a planet-friendly company that thinks about the outdoor needs of its customers and the overall needs of the planet. This electric string trimmer is built with that green-friendly philosophy. Your carbon footprint will never be lighter from its 2.4-amp motor to its adjustable handle and telescoping pole.
Of all string trimmers, this is one without a line auto-feed. It makes for a tedious and slow trimming process when you must stop, take the housing apart, feed the line by hand, and do it many times throughout a landscaping process. And the plastic used for the motor housing and string feed is very thin. What's more, the warranty support is minimal at best.
Pros
Carbon neutral
Waterproof plug
Cons
Cheap plastic construction
No auto-feed
Poor warranty support
---
8.

Scotts Outdoor Power Tools Corded Electric Weed Eater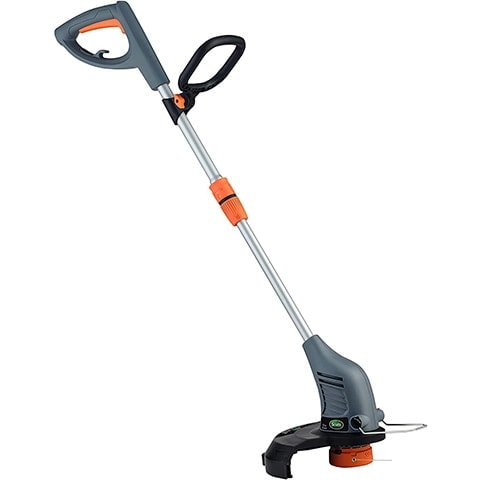 From the turf builder company we all know and love, the good people at Scotts offer the Scotts Outdoor ST00213S Corded Electric String Trimmer. It has a powerful 4-amp motor for hacking and slashing those weeds around your home down to headless nubs. And the three-position edger will get them, even in those challenging areas.
For your comfort, while performing lawn maintenance, this model features a telescoping pole and adjustable handle, and its built-in retention hook will keep your cords out of the way, so you can get the work done without concern. With a variable 11  to 13-inch cutting width and auto-feed line spool, it is an excellent all-around trimmer.
The issues with this model are a combination of design and quality. The handle is uncomfortable and awkward. It is also not very well crafted for taller folks. The string it comes with is minimal, so a person must replace it very quickly if this model is used right out of the box.
Pros
3-position edger
11" – 13" cutting path
Cons
Awkward design
Uncomfortable handle
Comes with minimal string
---
Buyer's Guide – Finding the Best Corded-Electric Weed Eaters
What to Consider When Picking Your Electric String Trimmer
For the most efficient lawn maintenance experience, having all your landscaping tools work in harmony is the only way to get the job done. First, you mow, then you trim and edge. If one does not work with prescribed effectiveness, it's as if the job is only half done.
Picking the right string trimmer is mainly about how well it eats, as a trimmer and as an edger, if it has that feature. Here are some things to think about when picking yours:
Motor size
Cutting pathwidth
Comfort
Physical size
Weight
Landscaping, when done right, takes a while. The fastidious landscaper looks for new ways to make the lawn look better than the last time. And getting the minute details right is essential. Knowing the space you need to cut, the room for maneuverability and the distance from a plug is critical when deciding what you need in a string trimmer.
Power Source
As these reviews have stated, these string trimmers are corded electric models. They are powered by a plug built into the handle, attached to an exceedingly lengthy extension cord. The gauge of the cord can vary from model to model if the motor size is factored, but usually, it is a 14 gauge, three-prong plugin. Although, some can only handle a two-prong plug.
Get an extension cord that is longer than you need. If you have a 50-foot yard, get a 75-foot cord or longer. Not too long, though. Wrapping up a big, heavy cord in the spirit of overkill is just a waste of time. You need the longer cord if going around trees or large lawn ornaments like fountains. Tangles are tedious.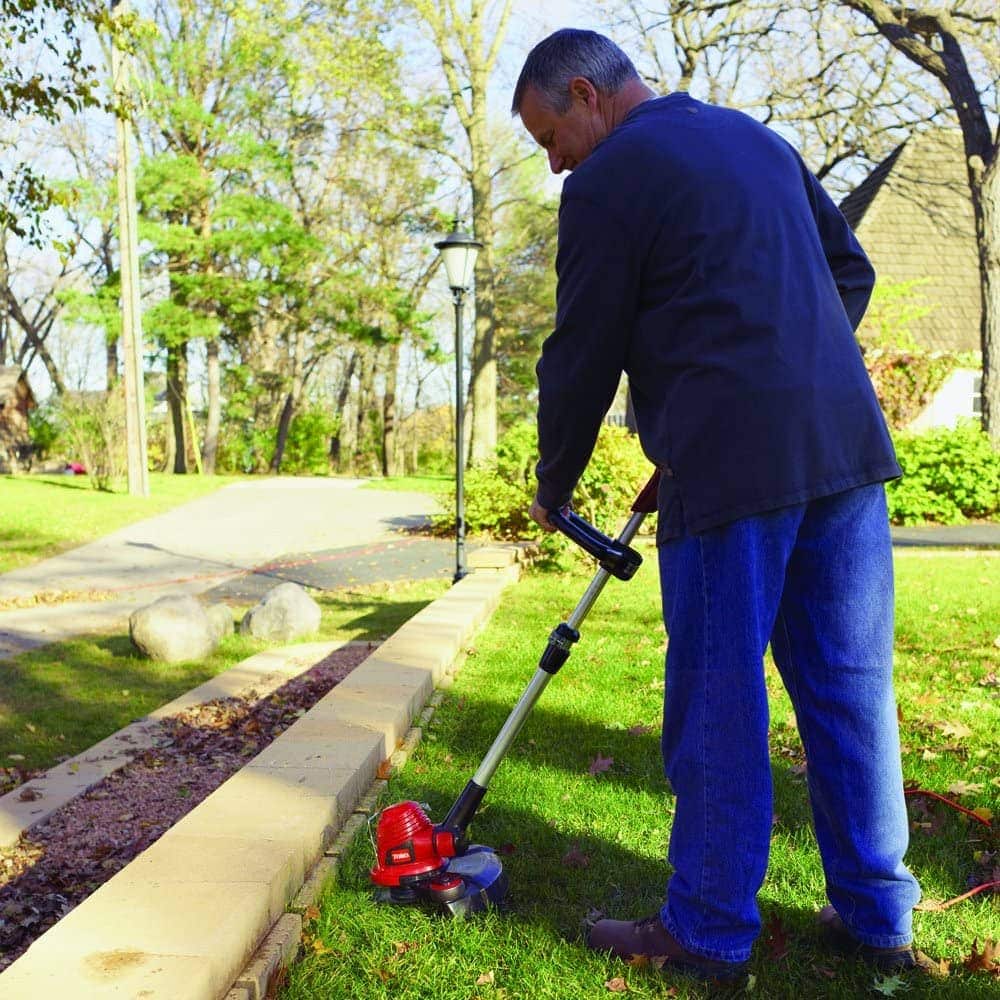 Line Feeder Desires
There are three standard line feed options:
Trigger release auto-feed: The trigger release will feed new line when you let go of the trigger long enough for the wheel to stop spinning. You can waste a lot of line with this feature unless you constantly goose the trigger when moving from area to area.
Bump feed: Burp feed is a button on the base of the wheel, and all you do is depress the button when needed and line spools out in increments.
Intuitive feed: Intuitive feed models know when your line is too short and fill the gap using a wheel mechanism.
The last possibility, and by far the least efficient, is the self-feed or manual feed. This requires you to take the wheel apart and feed the line by hand.
When picking your trimmer, deciding what string feeding efficiency will work best for your project can make a big difference in work speed and level of frustration. No one wants to be frustrated when doing routine lawn maintenance.
Related articles:

Conclusion
Selecting the right trimmer for you is not difficult if you consider your needs. If you have a larger yard, a bigger motor with a larger cutting path makes sense. For smaller yards, yards on hills, and yards with lots of brick or stone, there are trimmers explicitly designed for that. Know the need, and the choice is clear.
For our best corded electric weed eater overall pick, we went with the Toro 51480 Corded Electric String Trimmer. Toro has been making lawn products such as mowers and gas trimmers for decades.
Our pick for the best value is none other than the PowerSmart PS8208 Corded String Trimmer. Quality and price meet in a marriage that has produced a very fetching, yet remarkably simple trimmer.
We hope our reviews have helped you when deciding on your next corded electric string trimmer.