Electric vs Gas Weed Eater – Which is Best for You?
When it comes right down to it, the question of whether to buy a gas- or electric-powered weed eater rests on how much you hate noise. We'll break down the relative pros and cons of each here shortly, but ultimately the issue that matters when you're using it is whether you can put up with the noise of an internal combustion engine.
If you can't stand what is sometimes a high-pitched, loud whine, you'll want to go electric. Weeds don't normally require all that much power to clear out, so you can sacrifice the output of a gas engine and still get the job done.
Rating
Image
Product
Details

Our Favorite Gas Weed Eater

Poulan Pro PR28SD

Effortless pull starting
Superior cutting result
Quick and simple trimmer spool reloading
CHECK PRICE

Our Favorite Electric Weed Eater

BLACK+DECKER LSTE525

2 speed control
Converts from trimmer to wheeled edger
Power drive transmission for increased torque
CHECK PRICE
How Do Weed Eaters Work?
Weed eaters are also known as weed whackers, stringed trimmers, and trimmers.  The best way to understand how it works is to consider it a handheld lawnmower, with some differences.
String
Weed eaters don't use metal blades like lawnmowers. Instead, they use string. The string is usually nylon, and about 1/16-inch thick, resembling a thick fishing line that's wound on a spool. You can purchase replacement spools or rewind them yourself from a larger supply.  A protective case covers the spool, and it's attached to the motor. A few inches of the string is allowed to hang out to cut weeds.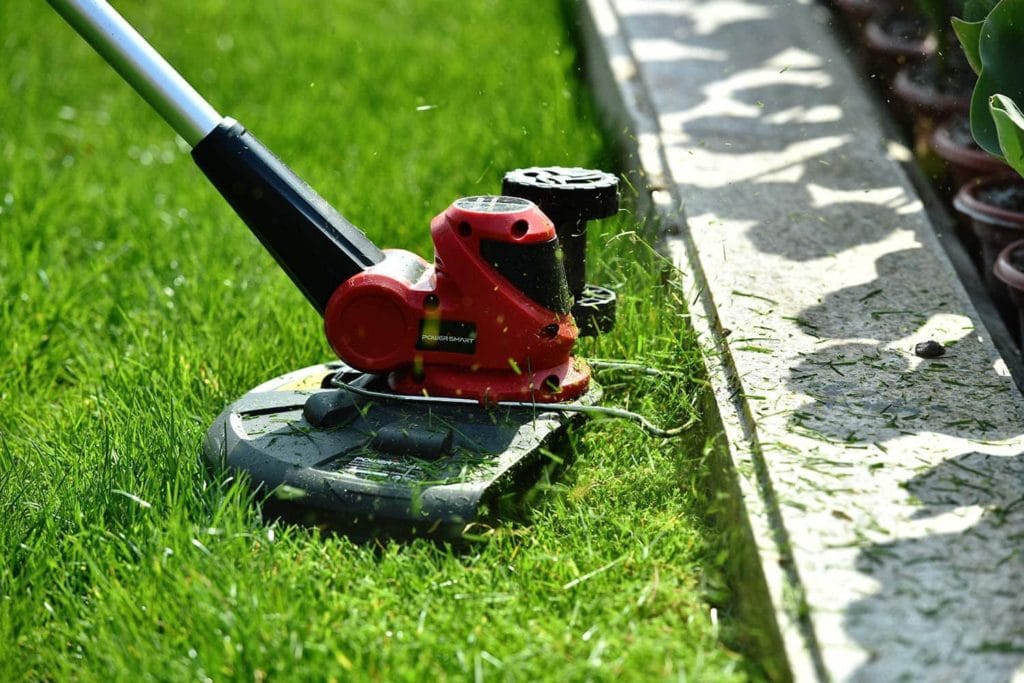 Auto Feed and Bump Feed
As the string cuts the weeds and grass, it will wear down. The cartridge that holds the spool will let out more string in one of two ways, auto-feed or bump-feed.
Bump Feed
Bump feed is the method that has been around longer, and more weed eaters are likely to use it. If your weed eater has a bump feed, you will need to bump it off the ground to get the spool to release more line. This system gives you more control over how much line you are using, and since it's been around longer, it's easier to find someone that knows how to repair it.
The downside to the bump feed is that it's hard to get used to the idea of whacking the weed eater off the ground. There's no way to tell how much line comes out, if any, when you do, and the constant abuse is likely to break some part of the machine over time. Especially if you have a hard time getting used to how hard you need to tap it to get more line.
Pros
More control over string use
Easier to repair
Cons
Hard to get used to
Hard to gauge how much line you are using
It can damage the machine.
Automatic Feed
The automatic feed is a much more complex system found on many newer models. An advanced internal mechanism releases more line when it detects that it's time to do so. These systems are easy to use, and you won't need to worry about the string at all until the spool is empty. This system saves your weed eater from a ton of abuse, and there is no learning curve.
The downside to the automatic feed is that they are a more complex system, so it's hard to find someone that can fix it. You also have no control over how quickly it dispenses line, and it usually releases line fairly liberally, so you can expect to use more than you would with a bump-feed.
Pros
No learning curve
No abuse to the machine
Cons
Hard and expensive to repair
No control over line feed
Uses more string
The Handle
The handle is usually a long pole that you can adjust to suit your height. It contains all of the controls and usually allows you to start and stop the motor as well as adjust the speed. While the handle doesn't do anything mechanically, it will make all the difference in usability and comfort while you work. We recommend holding the weed eater before purchase to make sure it feels comfortable and can make any adjustments you might need.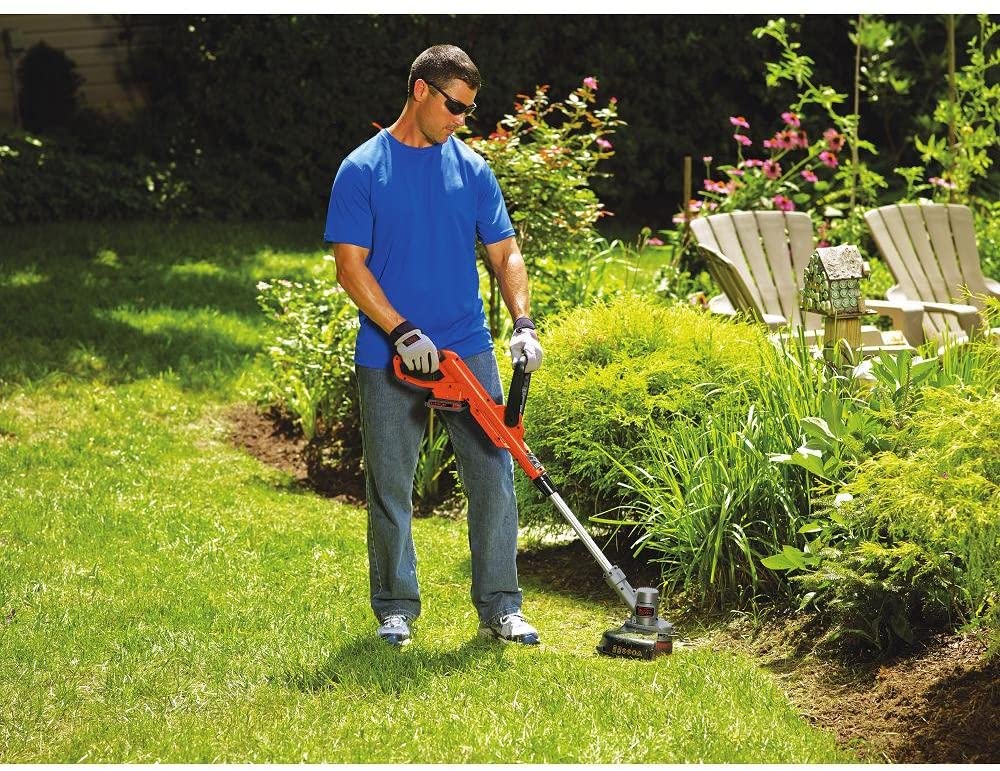 The Motor
The motor is the heart of the machine, and it is responsible for spinning the spool of wire fast enough that the string becomes stiff enough to cut weeds and tall grass. If the engine is not powerful enough, it can bog down and take a long time or even fail to cut. Higher Revolutions Per Minute (RPM) will cut better.
The Guard
The guard protects your feet, ankles, and shins from the nylon string as it's spinning and trimming, but it also supplies you with a guide, so you know where the line will cut, avoiding accidental cuts. The guard is usually the first thing to break on a bump-feed system.

Electric Weed Eater Overview
Now that we understand a little more about how the weed eater works and its important components, we can take a look at the different types of power sources the engine might use, which are electricity and gas. We are going to start with electric weed eaters, and there are two types, corded and cordless.
Corded Electric Weed Eater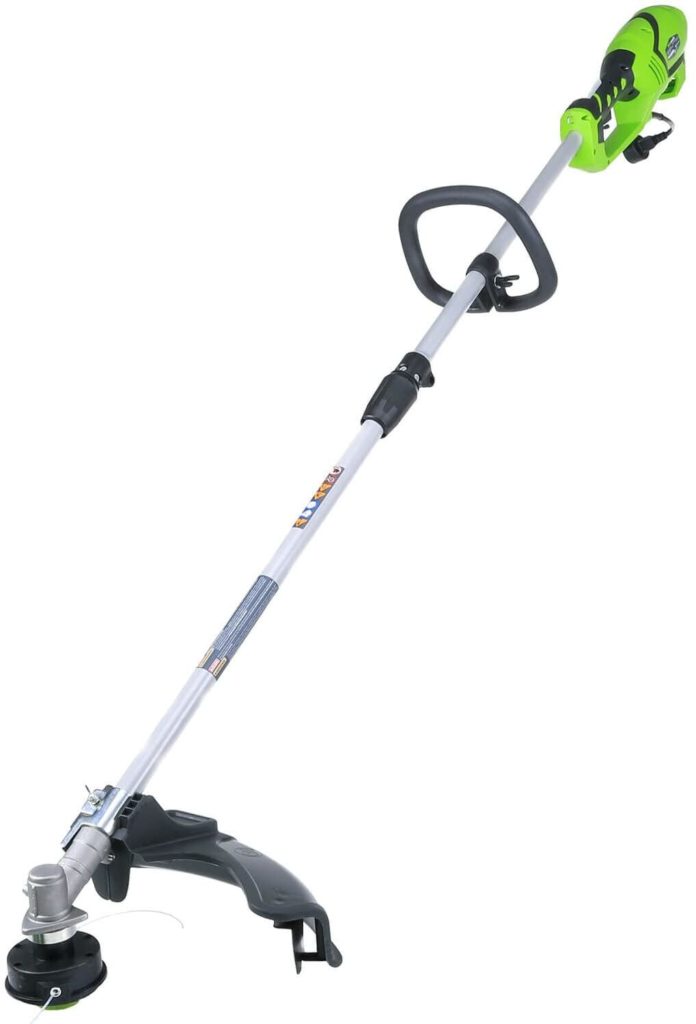 Corded weed eaters have a plug on them that you plug into the wall like any appliance. It is the lightest type of weed eater, usually weighing no more than a few pounds, and they have more than enough power to cut through any weeds around your home. They are the least expensive of all types, and they never need recharging or refueling.
The downside to corded weed eaters is that you can only go as far as the wire allows. Even using extension cords can leave you with a few areas that are hard to reach.
Pros
Plenty of power
Lightweight
Inexpensive
Cons
Tethered to an electrical outlet
Here is an example of a high quality corded electric weed eater.
---
Battery Powered Weed Eaters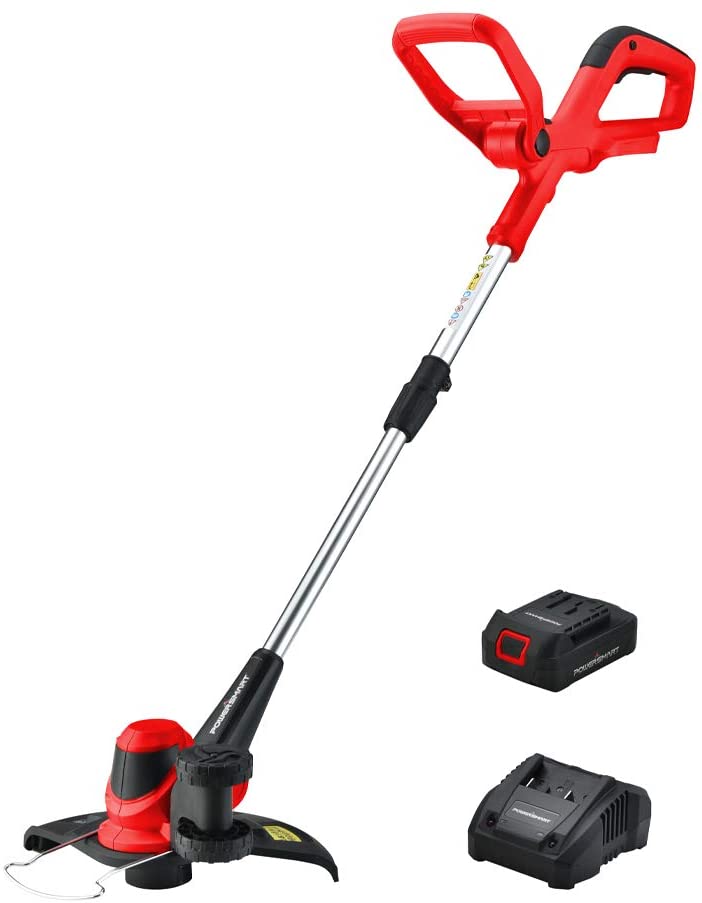 A few years ago, battery-powered tools all used nicad batteries, which were not up to the task of powering tools like the weed eater. However, since the invention of the Lithium-Ion battery, tools have become much more powerful, and it's finally practical to purchase a rechargeable weed-eater. Lithium-ion batteries can deliver as much power as the corded units while they remain charged, and they are completely portable.
The downside to battery-powered weed eaters is that they rarely include the battery or charger, so you will need to purchase them separately, and they are not cheap. It can also take a long time to recharge these batteries, so you will need to plan, or you won't be able to work when you want. Battery-powered weed eaters can also be a little heavier than the corded models.
Cons
Battery and charger sold separately
More expensive
Long recharge
Heavier than corded models
Here is an example of a high-quality cordless weed eater.

Gas Weed Eater Overview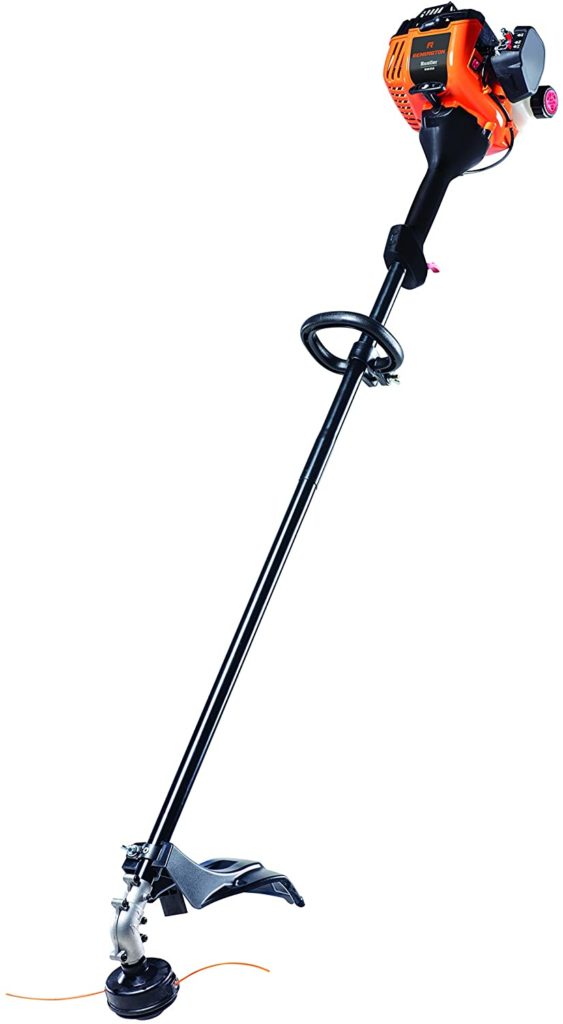 The last type of weed eater we need to look at is the gas-powered models. Gas-powered units will unquestionably deliver the most power. They also tend to be much more durable, even the types that use bump-feed. Like rechargeable weed eaters, they are entirely portable if they have fuel.
However, there are many downsides to consider before purchasing a gas-powered weed eater. These units often have a pull start like a lawnmower, and it can be challenging to get running. They will also usually require you to mix some oil in with the gasoline, and the engine will require regular maintenance and spark plug changes. Gas weed eaters are also harmful to the environment and are much heavier than the other types. You can expect to pay as much, or more, for a gas-powered weed eater as you would for a rechargeable one.
Pros
Plenty of power
Portable
Durable
Cons
Hard to start
Bad for the environment
High maintenance
Heavy
Expensive
Here is an example of a high-quality gas weed eater.

Summary
We would recommend an electric style weed eater for most homes. The workload is fairly light around the common house, and the electric models are more than up to the task. They are lightweight, inexpensive, and better for the environment. If you have other tools or plan on purchasing other tools that use battery power, choosing and sticking with one brand can save you a lot of money. Otherwise, the corded weed eater should more than satisfy most needs. If you are a landscaper or own several homes, a gas-powered one will be more suitable because they have more power and are durable enough to take the heavy workload.
We hope you have enjoyed our comparison of the different types of weed eaters and have decided on a type for your home. If we have helped you, and you think it can help others, please share this guide to electric and gas weed raters on Facebook and Twitter.