8 Best Cordless Dremels of 2023 – Top Picks & Reviews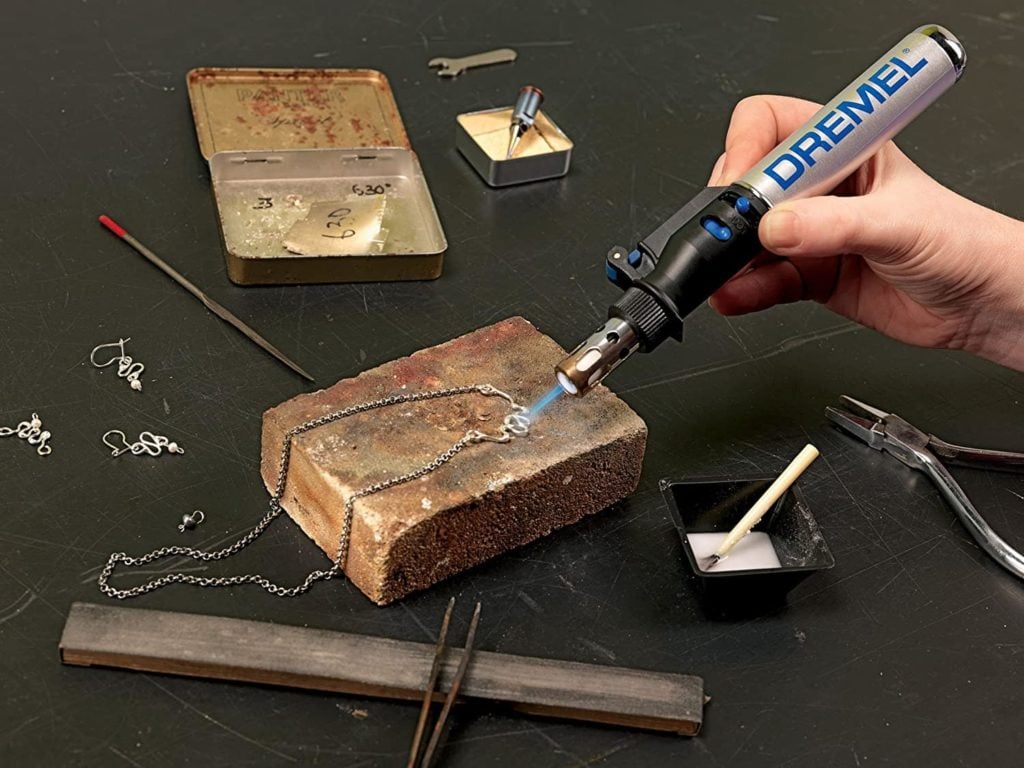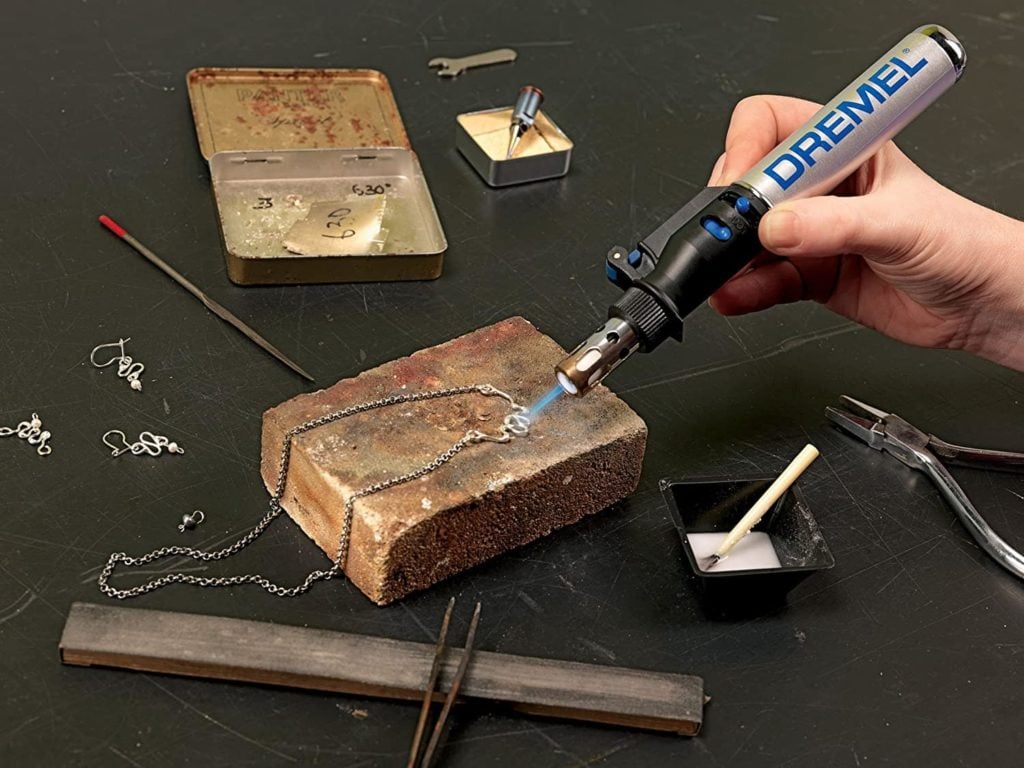 For the best and most versatile tool for those who desire precision, there is only one name that comes to everyone's mind, and that is Dremel. The Dremel tool system has been around for a pretty long time, but only recently has it gone cordless, and that innovation has opened up a whole new world of creative uses.
Another aspect of this epic precision tool that is always a crowd pleaser is the cadre of accessories that come standard in many kits. You can indeed buy a Dremel tool by itself, but if you are getting your first one, selecting a comprehensive kit will open the door to so many creative ideas.
Sharpening, buffing, sanding, carving; the sky's the limit, and the possibilities are endless. So, take a stroll through our reviews and ratings and pick your next Dremel. We guarantee you will find one with the style, accessories, and power that will inspire you to use yours almost every day.
A Quick Comparison of Our Favorites in 2023
Rating
Image
Product
Details

Best Overall

Dremel 8220-1/28 Cordless Rotary Tool Kit

Lightweight
Ergonomic
Powerful
CHECK PRICE

Best Value

Dremel 8050-N/18 Micro Cordless Rotary Tool Kit

Very lightweight
Great for details
LED project light
CHECK PRICE

Dremel 2000-01 VersaTip Portable Micro Mini Welder

High heat
Ease of Use
Self-igniting
CHECK PRICE

Dremel Lite 7760 N/10 Multi-Purpose Rotary Tool Kit

EZ twist nose cap
USB charging
Soft handle
CHECK PRICE

Dremel 4300-9/64 Rotary Tool Kit

Powerful
Tons of accessories
Storage box
CHECK PRICE
The 8 Best Cordless Dremels
1.

Dremel 8220-1/28 Cordless Rotary Tool Kit – Best Overall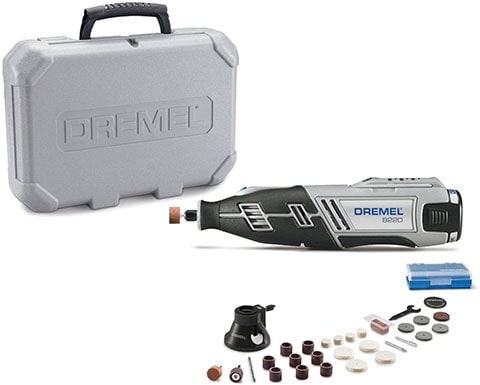 If you are looking for style, versatility, and a powerful tool to get every precise project done, then look no further than this top pick. With its slim and ergonomic body that is not only lightweight but comfortable to use, the Dremel 8220-1/28 is ready to work. We particularly liked its EZ nose accessory cap for quick switching between attachments.
It will accommodate all Dremel attachments and includes a multi-purpose cutting guide attachment, so your list of uses just went up by a factor of 10. And did we mention it is cordless with a powerful 12V Lithium-ion battery? Add the USA-based customer service and a two-year warranty, and you are all set. And don't forget the fetching carrying case.
The big gripe with this Dremel is regarding its charger. In many instances, the device functions perfectly, but the accompanying charger is faulty and will either not charge the battery at all or will fail and stop working entirely, even after a short life of use.
Pros
Lightweight
Ergonomic
Powerful
USA-based customer service
28 accessories
---
2.

Dremel 8050-N/18 Micro Cordless Rotary Tool Kit – Best Value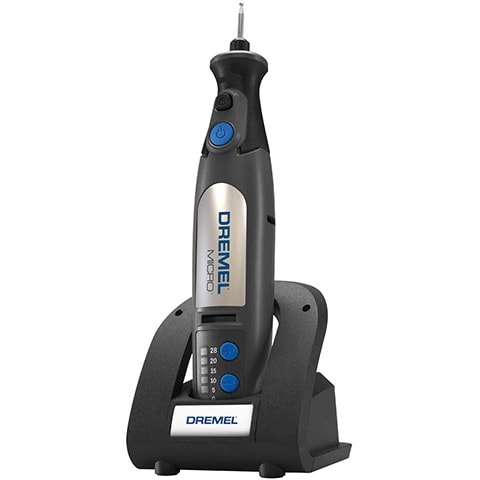 Similar to the concept behind your cordless shaver or a cordless house phone, this little gem, the Dremel 8050-N/18, has its very own docking station to charge it when not in use. It is a light-duty model, with the size and style to take care of those more intricate projects, such as engraving glass, carving wood, detailing, sanding, and polishing.
It not only has the ergonomic grip to assist you with those surgical details, it also has an LED project light on the front to give you a nice spotlight to see your project more effectively. And speaking of LEDs, the docking station has an LED battery life indicator to tell you exactly when your micro Dremel is ready to be used again.
The battery on this model is also a Lithium-ion, but unlike some of the other models, it is only an 8V. Thus, many users are unhappy with how long the battery lasts during continued use. And there are still some complaints about the docking station's charging efficiency, similar to the change ports for the removable batteries in other models.
Pros
Ergonomic
Very lightweight
Great for details
LED project light
---
3.

Dremel 2000-01 VersaTip Portable Micro Mini Welder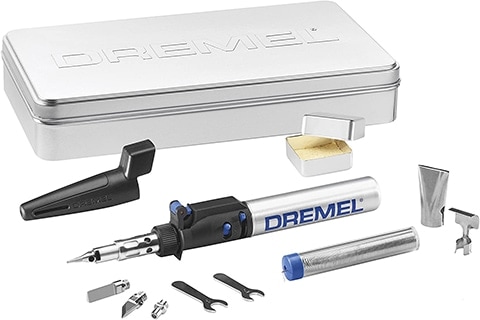 And you thought Dremels could only do things like etching and buffing—not this little guy! He is ready to heat things up. The Dremel 2000-01 is a fully functional butane heating point for soldering, wood burning, pyrography, heat shrinking, and many other creative concepts involving high heat and precise contact.
This product's operating temperature can be between 1022° F–2192° F and is completely adjustable. And it has a flame lock mechanism to keep your torch flame burning at a constant rate for long periods of use. One thing that makes this fantastic torch a wonder is the ignition trigger that renders the need for an independent ignition device unnecessary.
Now that you're excited about this model, here's the bad news. Since Dremel isn't exactly known for heat-based products, getting replacement parts can be not only frustratingly tricky but also expensive. And with that knowledge in their back pocket, Dremel is phasing out this product entirely, so if you have one, enjoy it, and stock up, because it will soon be history.
Pros
High heat
Ease of Use
Self-igniting
Cons
Soon to be discontinued
Expensive replacement parts
---
4.

Dremel Lite 7760 N/10 Multi-Purpose Rotary Tool Kit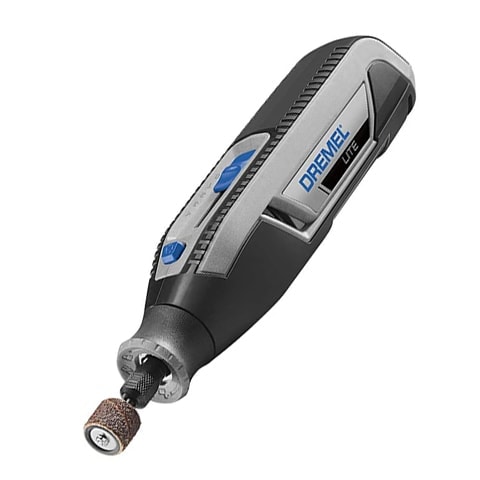 The Dremel Lite 7760 N/10 doesn't use a charging station but has a USB port that will quickly charge with a wall adapter. And if that wasn't an efficient and very modern notion, the battery within is a 4V Li-Ion, capable of charging very quickly.
This is a great model for light-duty work, with its soft rubber ergonomic handle and minimal weight, giving you maximum control. It has a variable speed setting that adjusts easily to your needs as well as the EZ quick change nose cap that is such a great feature on the majority of Dremel lines. Plus, it has a built-in LED light to indicate when recharging is needed.
Remember, when you buy this model, it is for light-duty use. Many of the complaints about this unit are about the battery dying too quickly. It is a small battery, and thus, not a super-powerful unit. But if used the way it is intended, it will work fine. Heavy-duty use causes overheating.
Pros
EZ twist nose cap
USB charging
Soft handle
Cons
Only light-duty use
Small battery
---
5.

Dremel 4300-9/64 Rotary Tool Kit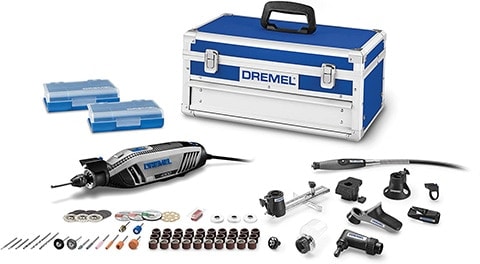 The Dremel 4300-9/64 is chock full of tons of accessories, a very sturdy base unit, and a metal carrying box to store it all. And that doesn't even add in the nine-flex shaft attachments for utmost versatility.
The universal three-jaw-chuck uses a simple-to-use, toolless mechanism for quickly changing between any of the 64 accessories. And the rotating pivot light automatically adjusts its glow to illuminate your work, even if it's a funny angle or difficult position. All of this is complemented by the powerful motor that gives the user ultimate control and outstanding performance.
This unit seems to have some vibration issues as well as problems with the chuck threading correctly. Along with that, despite its powerful motor, it is also prone to overheating in some applications. Many of these problems occurred very early in the usage cycle. Fortunately, Dremel honors the warranty.
Pros
Powerful
Tons of accessories
Storage box
Cons
Vibrates violently
Overheats
Chuck issues
---
6.

Dremel 7300-N/5 MiniMite Cordless Rotary Tool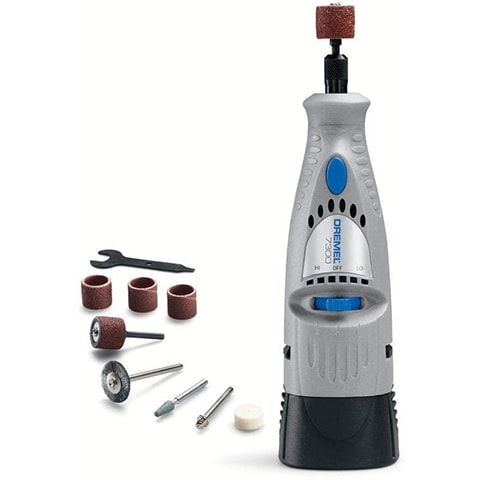 This little fellow is a small wonder, and with its 4.8V battery and five accessories that come standard, it is ready to tackle your smaller tasks. It is entirely compatible with all
Dremel accessories but beware that some of those fun bits are for heavier work and will not be wise with the Dremel 7300-N/5 MiniMite. It is perfect, though, for details and hobbying.
The tool operates at two speeds, which helps with drilling, sanding, and shaping soft items. It is the little helper you want with the size you can appreciate in those tighter spaces. And the removable battery pack recharges in about three-hours so that you can get back to work quickly. With a fatigue-free handle, the MiniMite is worth a look.
We can see very few complaints with this neat little tool, save one, and it is preventable. The battery terminals can rust in a high-humidity environment, so if you live near the water, it must be stored somewhere dry; otherwise, you will have a paperweight on your hands.
Pros
Compact design
Fast charging
Two speeds
Cons
Battery terminals can rust
Small battery
Light-duty use only
---
7.

Dremel GO-01 Powered Cordless Electric Screwdriver Set
We are sure there have been plenty of occasions where a cordless screwdriver would have come in handy. Maybe you bought a cheap one, and it failed; time to replace it with the Dremel GO-01. This fantastic model has a hex inset head that fits most bits. Be it torque, flat, Philips—or for those IKEA items, an Allen head—the Dremel GO-01 wants to simplify your life.
It is rechargeable with a USB port integrated into the base. The motor can drive in a two-inch screw and has variable torque settings to keep you from stripping those screw heads, as is often the case with powered screw guns. It comes with the seven most commonly needed bits and is compact for convenience.
Its one weakness is supposed to be its greatest strength. The mechanism to activate it is a pressure engagement unit in the bit chuck itself, requiring that you apply force to initiate operation. This is the case when removing screws. So, the biggest complaint is the lack of a button to push. The words "poor design" are mentioned several times.
Cons
Poor design
No buttons
Short battery life
---
8.

Dremel 200-1/15 Two-Speed Rotary Tool Kit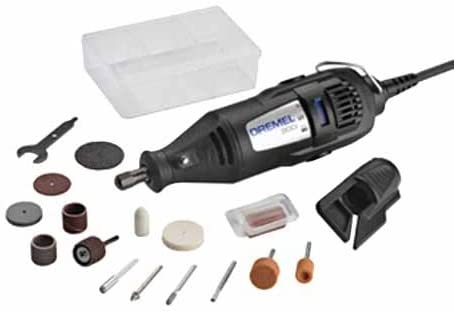 This Dremel tool is a beast. The Dremel 200-1/15 does just about everything, from pushing screws through two inches of timber, to buffing the edge of a silver ring, to grinding the head off a bolt. It is mighty, yet is so smooth and so quiet, you might not realize how efficient it is until the work is done.
Even with its impressive torque and overall versatility, it is very lightweight, great for long periods of continuous use. It has two speed settings that improve its usefulness by giving the operator a slower setting for more delicate work and a higher setting for those heavier duty jobs that need to get done with force and speed.
However, not a lot of good things were said by the folks who got a defective model. Plus, the motor doesn't run at the high rate advertised. In fact, it is about one-quarter of the specified rotation speed. And it is too small for most bits, including the bits it comes with from Dremel, which should be universal.
Cons
Slow rotation rate
Defective models
Bits don't fit
---
Buyer's Guide – Purchasing the Best Dremel Tool
Every home needs a Dremel tool. There, we said it. Think of all the applications on an average day. It is capable of so many uses, so many precise possibilities, the fact that everyone doesn't have even a base model is mind-boggling. But maybe it is because you don't know which one to get.
We understand. As you have seen from this list of reviews, there are several, and we have barely scratched the surface of all that the Dremel brand offers for light and heavy-duty options. So, let us break it down for you into manageable chunks, and maybe we can help you pick the right Dremel tool that you will love to own.
How to Choose Your New Dremel Tool
What is your passion? Do you have a hobby that requires intricate detail workmanship to craft something beautiful, or do you need something lighter for here-and-there compact use? Knowing what you might use your new Dremel for is the first step.
The most significant factors to decide when choosing a Dremel are:
Application
Accessories
Power
Size
Versatility
Battery life
Once you have those nailed down, then you can work toward selecting your model.
Application
As we showed in the reviews, Dremels have many styles. And each style has a purpose or many purposes. The chart below will break down each of the eight types to their best functions, adding one variable into your Dremel equation.
| | |
| --- | --- |
| Model | Best Application |
| 8220-1/28 | Good for all projects and hobbies not involving heat |
| 8050-N/18 | Light-duty, intricate hobby details, modeling, jewelry making |
| 2000-01 | Soldering, small welds, wood-burning, plastic shrinking, heat-related projects |
| 7760 N/10 | Light-duty, hobbying, modeling |
| 4300-9/64 | Good for all projects and hobbies not involving heat |
| 7300-N/5 | Very light-duty, minor sanding, etching, detail work |
| GO-01 | Screwing |
| 200-1/15 | Good for all projects and hobbies not involving heat |
Accessories
The fun and plentiful world of Dremel has more nifty tips than you can shake a stick at. And if someone shakes a stick at you, Dremel has a tool that will cut that stick into small pieces. There is a universal accessory for almost any need, and with some small acceptations, the majority of Dremels have an EZ collar that allows quick bit switching to make you more efficient.
Picking a model that already has plenty of accessories is an excellent way to get a bundle that will save you money. But it is still acceptable to get the tool while getting the bits at a later time.
Power and Size
These two go hand in hand. The larger the model, the more power. In some tools, that isn't true all the time, but in this case, it very much is. The strange paradox with Dremels, though, is in the tool dimensions. Most Dremel tools are already very small, lightweight, and designed for ease of use and ergonomic control.
So, picking one that is a little bigger will ensure a greater power quotient, but first, you must know the sizes to have a basis for the comparison. Fortunately, most hardware stores like Home Depot have floor models you can hold and test, feeling the grip and maneuverability, even with the cordless options.
And that touches on another point. Cordless is great for tooling around the house without seeking an outlet, but it will lack the overall power and longevity of use without recharging that you will get from a corded version. Although that pretty much applies to all tools, so the point is more about your convenience and less its travel capabilities.
Versatility and Battery
Versatility and battery life will determine how long you can use the tool in those tricky situations and tight spaces. As we mentioned, the battery pack models last longer, despite the charge station having its series of design flaws, and the battery is larger than the built-in models, giving you more work time.
The more elegant models that charge in docks or with USB cords charge faster and are great for short-term use, but don't get caught in the attic with it. You will have to run down and charge it several times. The small battery inside the unit is perfect for small jobs here and there, but not for extended use. It will frustrate you into madness if you use it that way. So just don't.
Something else to consider with batteries: when you buy a battery-powered Dremel tool, the typical rule of thumb is to get a charger and an extra battery that is always on deck when needed. The same applies here. Having a spare battery charged and ready is another way to maximize efficiency.
Price
Dremel is a great product, but we recommend that you get it new in the box if you buy one. Many are sold on the cheap as refurbished, and while that is a great way to save a few pennies, you can't guarantee the quality, even if the company does what they call a thorough inspection before re-releasing it into the world.
This is also another instance where getting a bundle deal and getting a specific one for your need is essential. Almost always a standard style, with or without a cordless option, that has an almost universal application, will be the most economical choice.

Conclusion
For our top pick, we loved the Dremel 8220-1/28. It had all the features an average hobbyist might want, with the quality we all crave from the Dremel brand. It is undoubtedly a top choice amongst the reviews we compiled for this article.
As far as the best value, the Dremel 8050-N/18 stood out for its size, its versatility, its list of accessories, as well as its sticker price. An excellent option for anyone looking to get a Dremel but leery about spending an arm and a leg on it or tentative about how frequently they will use it. Upside, the accessories are universal for this model.
We hope this guide helped you with your next Dremel purchase. There are myriad options and an almost endless list of accessories, and the possible applications are limitless. So, we hope you found the one you desire and that it brings you plenty of peace of mind when looking into doing those smaller home projects.
More buying guides like this: