8 Best Ear Protection for Woodworking in 2023: Reviews & Top Picks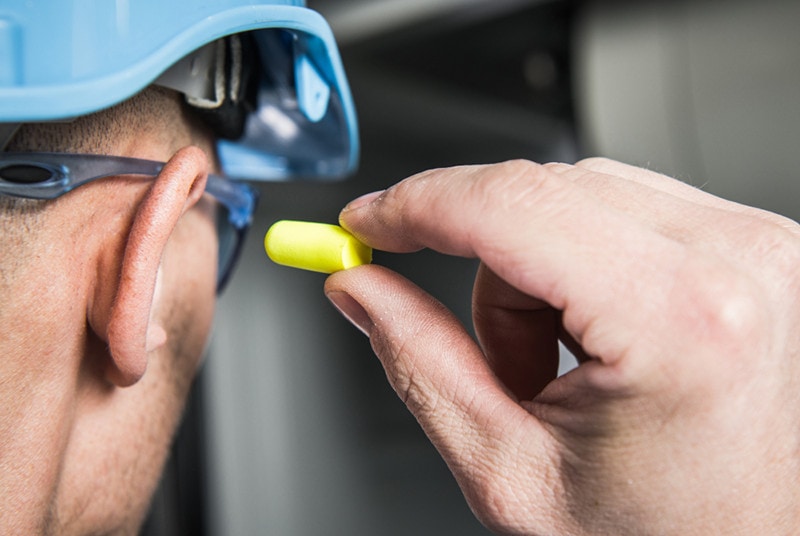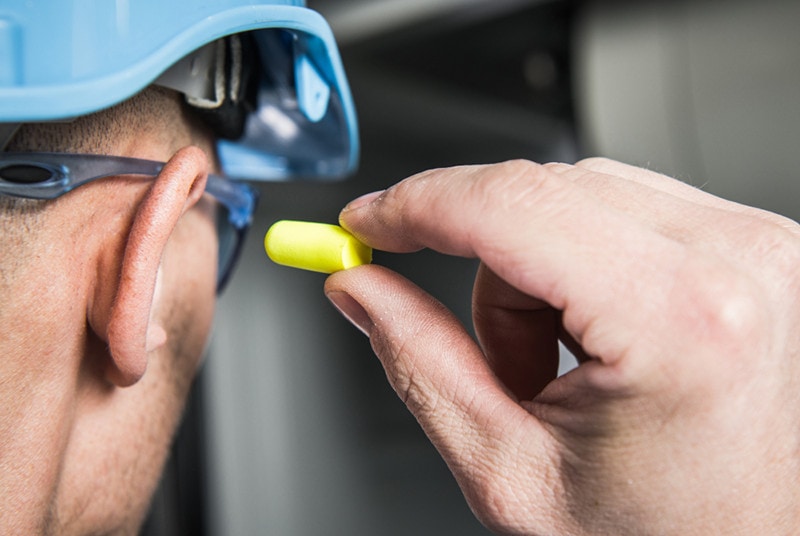 If you're a professional carpenter or just like to work on some DIY projects on weekends, hearing protection is a must. Circular saws, bench grinders, and power drills can be pretty loud. Long-term exposure to ear-piercing sounds often leads to hearing loss: the louder the raucous, the sooner that will happen. So, yes, hearing protection equipment is just as important as safety goggles.
You just put it on and get on with your woodworking business! The real challenge is in finding the muff or plugs that fit you best. At this point, you've probably looked at dozens of ear protectors and still can't take a pick. But don't worry: we've got your back! The following list includes comprehensive reviews of eight top-rated devices with an above-average NRR, excellent performance, and user-friendly designs. Check them out!

A Quick Comparison of Our Favorites in 2023
Rating
Image
Product
Details

Best Overall

PROHEAR 037 Bluetooth 5.0 Hearing Protection Headphones

Custom-built, comfy ear pads
Extended Bluetooth range
Battery included (40+ hours)
CHECK PRICE

Best Value

Mack's Ultra Soft Foam Earplugs

Available at an affordable price
Low-pressure, slow-release plugs
Recommended by the doctors
CHECK PRICE

Premium Choice

Howard Leight by Honeywell Sync

Air Flow Control for extra efficiency
Market-leading sound quality
Durable, can take a beating
CHECK PRICE

ProCase Noise Reduction Safety Ear Muffs

Flexible design: 360-degree rotation
Tight, yet breathable ear cups
Foldable, easy to carry around
CHECK PRICE

Fnova 34dB NRR Ear Protection for Shooting

Impressive noise reduction rating
Versatile, adjustable headband
User-oriented customer support
CHECK PRICE
Top 8 Best Ear Protection for Woodworking
1.

PROHEAR Bluetooth Hearing Protection —Best Overall
| | |
| --- | --- |
| NRR: | 25 dB |
| Weight: | 1.1 pounds |
If you want to do your woodworking chores in style and keep your ears safe, the PROHEAR 037 Bluetooth 5.0 Hearing Protection Headphones will help you do exactly that. This is a two-in-one kind of device that's equally great at dampening loud noises and keeping you entertained. And, thanks to the custom-built, soft cushions, your ears won't get tired during long sessions. At first, the earmuffs can be a bit tight.
But it won't take long to stretch them to size. PROHEAR comes packed with a mighty battery (1.1K mAh, 40+ hours). More good news: the muffs have Bluetooth 5.0 with an extended range, stereo sound, and voice broadcast. On top of that, the left ear cup has four buttons for quick controls. Add a generous package (manual, leather bag, and two cables), and you'll see why PROHEAR is the best overall ear protection for woodworking.
Pros
Custom-built, comfy ear pads
Extended Bluetooth range
Battery included (40+ hours)
Generous package
---
2.

Mack's Ultra Soft Foam Earplugs—Best Value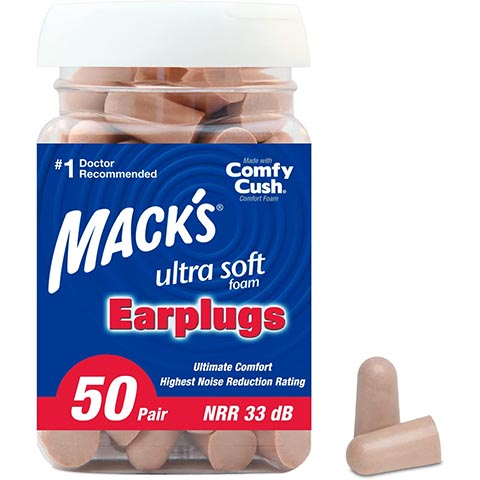 | | |
| --- | --- |
| NRR: | 33 dB |
| Weight: | 0.25 pounds |
Soft, low-pressure, and easy to put on and off, these Mack's Ultra Soft Foam Earplugs are a great pick for woodworking. The package includes 50 pairs of plugs and comes at a very affordable price. As far as the most comfortable plugs go, these are right there among the best picks. We also want to mention the exceptional NRR. With this gear, you won't have to worry about being exposed to loud sounds.
That's one of the reasons why this US-made equipment is recommended by many doctors around the country. The plugs might make your ears sweat if you wear them for too long, but short breaks will solve that minor con. The quality, quantity, and stable performance turn Mack's plugs into the best ear protection for woodworking for the money.
Pros
Available at an affordable price
Low-pressure, slow-release plugs
Recommended by the doctors
A 100% US-made product
Cons
Make the ears sweat a bit
---
3.

Howard Leight by Honeywell Sync—Premium Choice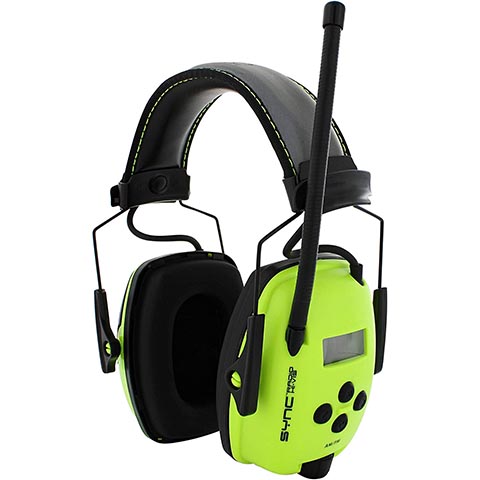 | | |
| --- | --- |
| NRR: | 25 dB |
| Weight: | 0.94 pounds |
Folks that work at crowded facilities or sites and are a bit worried they might drop and damage the equipment one day will find great use in the Howard Leight by Honeywell Sync earmuffs. Crafted from durable, impact-resistant materials, they are quite sturdy and long-lasting. The reinforced fork slides, padded headband, and snap-out cushions, in turn, keep the pressure on your head and ears to a minimum.
Next, the Air Flow Control technology does a great job of blocking loud noises. So, while the NRR isn't chart-topping (25 dB), these earmuffs provide a tight seal. The sound quality is another big pro. Lastly, while this device isn't exactly cheap, that's compensated by a digital antenna, 10 radio station presets, volume memory, and LCD display. As a bonus, you'll get a pack of batteries and a reflective headband.
Pros
Air Flow Control for extra efficiency
Market-leading sound quality
Durable, can take a beating
LCD display and radio antenna
Cons
Slightly on the expensive side
---
4.

ProCase Noise Reduction Safety Ear Muffs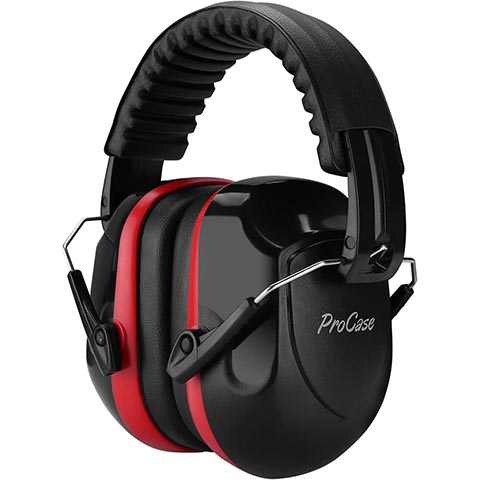 | | |
| --- | --- |
| NRR: | 28 dB |
| Weight: | 0.56 pounds |
If you have to constantly move around and need to always have the safety protectors with you, pay extra attention to the ProCase Noise Reduction Safety Ear Muffs. They are rather compact and only weigh 0.56 pounds. More importantly, they're foldable, which means you won't need a huge bag to carry them. The ear cups can rotate 360 degrees and are padded with premium-quality foam for extra comfort and proper air circulation.
The breathable cups don't make the ears sweat even when it's very hot outside. They fit both kids and adults; however, these muffs aren't the best option for larger heads, as they will feel a bit tight. Another con has to do with the performance. True, the NRR of 28 dB is enough to block most loud sounds, but the ProCase earmuffs aren't very good at dampening high-pitched noises.
Pros
Flexible design: 360-degree rotation
Tight, yet breathable ear cups
Foldable, easy to carry around
Cons
Not suited for bigger heads
Weak against high-pitched noises
---
5.

Fnova 34dB NRR Ear Protection for Shooting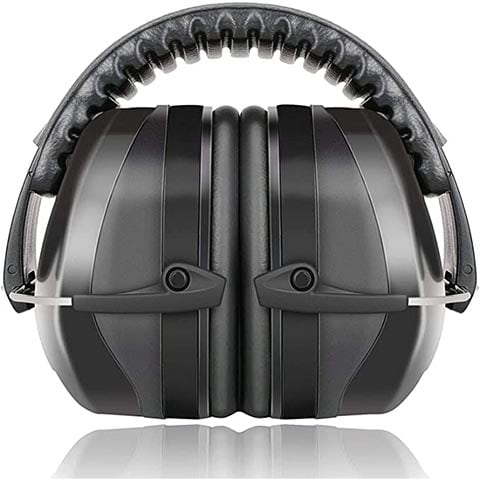 | | |
| --- | --- |
| NRR: | 34 dB |
| Weight: | 0.55 pounds |
The one thing that instantly makes these muffs stand out is, of course, the noise reduction rating. So, if you're working with overly loud woodworking tools, you might want to pick this gear over the competition. Now, as the name suggests, the Fnova 34dB NRR Ear Protection for Shooting is designed with fire ranges in mind. However, we have to warn you that the cups are a bit too big for practicing your headshots.
This is especially true if you're used to wearing a hat or glasses at the shooting gallery. Furthermore, despite the overall comfortable design (the muffs are quite flexible and come with an easily adjustable headband), you will have to take regular breaks to let your ears rest. On the bright side, Fnova offers fast, helpful customer support.
Pros
Impressive noise reduction rating
Versatile, adjustable headband
User-oriented customer support
Cons
Require regular breaks
Too bulky for gun practice
---
6.

3M Peltor X1A Over-the-Head Ear Muffs
| | |
| --- | --- |
| NRR: | 22 dB |
| Weight: | 0.55 pounds |
This company is famous for making some of the most reliable, comfortable, and well-built hearing protection equipment on the market. And the 3M Peltor X1A Over-the-Head Ear Muffs are a great example of that. Thanks to top-notch engineering, they are equally comfy for small and big heads and ears. To add to that, the twin-band design keeps heat buildup to a minimum while ensuring a snug fit.
The ear cups are crafted from ABS plastic and won't fall off your head when you're hard at work. Some buyers do complain about receiving the wrong package or getting poor performance, though. The noise reduction rating isn't very impressive, either: only 22 dB. But that will be enough for cutting and drilling into wood. Also, the headband is insulated and can protect you from exposure to electricity.
Pros
Twin-band, anti-heating design
Safe to use around electricity
Comfortable for large heads/ears
Cons
Minor QC/QA issues
Below-average NRR
---
7.

Quality Reusable Earplugs
| | |
| --- | --- |
| NRR: | 28 dB |
| Weight: | 0.78 pounds |
Next up, we have the Rips Store Quality Reusable Earplugs. For a reasonable price, you'll get 100 pairs of decent-quality plugs. The performance isn't quite on par with the more expensive and feature-packed options. Next, the plugs are fragile, deform easily, and don't last for a long time. But, since you're getting 200 plugs, the slightly disappointing quality is a fair trade.
Besides, they are soft, comfortable, and easy to grip. Plus, you'll still be able to use them for woodworking and operating loud machinery. Each plug is individually wrapped and has a removable cord that prevents it from sticking to your hair. Deliveries aren't always on time, however: you might have to wait a bit for the package to arrive.
Pros
Three-layer, easy-to-grip design
Feature a removable fabric cord
Cons
Flimsy, don't last for long
Lackluster performance
Slow delivery times
---
8.

Decibullz Custom Molded Earplugs
| | |
| --- | --- |
| NRR: | 31 dB |
| Weight: | 0.04 pounds |
Do you feel like no plugs or muffs out there fit you? Well, that can all change if you give the Decibullz Custom Molded Earplugs a try. These plugs are specifically designed to adjust to the exact shape of the user's ears. And, even if you don't get everything right the first time, you can always remold them. The process doesn't take long and is very intuitive.
Unfortunately, there are no pull handles, which means removing the plugs is much harder than putting them in. Another minor downside: you won't find any marking or indicators for setting the left and right earplugs apart. The engineering quality needs some work as well: the plastic core is hollow, while the caps are thin and brittle (same as the flanges).
Pros
Custom moldable for a perfect fit
Very easy to mold and use
Cons
No pull handles for easy removal
The plugs lack L/R indicators
Poor engineering quality

Buyer's Guide: Choosing the Best Ear Protection for Woodworking
How Loud Is Too Loud? A Quick Guide
We often use the term "loud" to describe sounds that make us uncomfortable. But what about the scientific definition—is 20 dB loud, or not? Here's the deal: normal conversations are 50–60 dB. A whisper, in turn, is two times quieter (30 dB). Dishwashers are rated at 70 dB, while leaf blowers easily cross the 80 dB mark. Now, 70 dB is a bit too much for the human ears. When exposed to it for a long period, you'll feel annoyed, and your head may start to hurt.
The negative effects will be much stronger at 80 dB. According to the CDC, if you're exposed to 85 dB for two hours, that can cause hearing damage; at 95 dB, that will happen in 40–50 minutes. And most woodworking tools tend to be loud. For example, circular saws generate 90 dB; table saws and routers are a bit noisier—95 dB. Miter saws are rated at 102 dB. The good news is, to avoid noise-induced hearing loss, all you need is a decent pair of plugs or muffs!
What Is NRR? How Does It Work?
NRR stands for "noise reduction rating". And the higher the NRR, the more efficient the hearing protection device will be. If you want to shoot guns at a firing range, you'll have to invest in a top-tier safety device. We're talking about an NRR of 20–30 dB. On the bright side, for woodworking, 20–25 dB will be enough to keep your ears safe. As long as the headband and cups are comfy, that device will be money well spent.
Do keep in mind, however, that the NRR stated by the manufacturer rarely applies to real life. That's because they test the equipment in ideal situations where it fits both the ears and the head perfectly. OSHA recommends dividing the noise reduction rating by 50% to get a more accurate rating. More than that, they subtract 7 dB from the NRR to comply with modern standards and advice, using earmuffs and earplugs together for dual protection.
Earplugs vs Earmuffs: Which Are Better?
Safety equipment for the ears is available in many different shapes and sizes. However, earbuds and regular headphones aren't very effective. As for canal caps, they do a solid job of blocking loud noises, but they're not very comfortable or easy to use. To get the best protection, you should buy a pair of earplugs or earmuffs. These are the most reliable and efficient devices not only for woodworking but also for shooting, riding a motorcycle, and even getting a good night's sleep.
Earmuffs. This gear looks and feels like headphones. The same is true for the dimensions, weight, and design. Speaking of phones, premium earmuffs can both dampen head-splitting noises and play music/radio. One of the biggest advantages of earmuffs over plugs is their versatility. Even if they don't fit your ears ideally, you'll still be able to use them. On the downside, muffs are much heavier and a bit harder to carry around.
Earplugs. Cheaper, lighter, and significantly smaller, earplugs fit directly into the ears. But you won't get a headband, foam padding, or other "creature comfort" features. Earplugs don't have any multimedia features, either. So, does that mean muffs are a better pick? Well, not quite. There are quite a few plugs on the market with a higher NRR and better overall performance. Muffs don't fall off, though, and put less pressure on the ears.
Shopping for Hearing Protection: 5 Things to Keep in Mind
Build quality. Earmuffs aren't that different from each other. You've got a headband, ear cups, and steel or plastic parts that hold it all together. Still, the manufacturing quality does make a difference. If the muffs are engineered with impact resistance in mind, they won't break easily. As for earplugs, they often come in packs of 50, 100, or even 200. Therefore, damaging or losing a couple of these won't be a disaster.
Comfort/ease of use. It's almost impossible to predict whether a pair of plugs or muffs will fit you, or not. So, try them out before making a purchase. Also, pay attention to how flexible the earmuffs are. The cups should be easily adjustable and breathable. Otherwise, you'll sweat a lot. ABS plastic and soft foam are one of the best materials for this. They create a tight seal and keep the ears comfortable.
Connectivity options. Woodworking can be a bit tedious at times, but music can help with that. If that's exactly how you feel, look for ear protection equipment that can be plugged into a phone and play music. Better yet, invest in a device with strong Bluetooth support. That way, you can leave the cables at home. Now, cheaper muffs will have an average-at-best sound, but it should be enough to get some work done.
Noise cancellation. Until recently, most ear protection devices were only capable of one thing: blocking out all outside noises, both loud and soft. That's what we call a passive device. But today, you can pay $10–$15 extra and get active earplugs or earmuffs. The biggest difference is that active devices are capable of attenuating loud noises while letting the quieter sounds through. As a result, you'll be able to hear colleagues and teammates.
The price. How much does the average pair of plugs/muffs cost? This equipment is quite affordable. Some of the best-selling and high-rated devices are available for $15–$20. If you want Bluetooth support and better build quality, that will cost $40–$50. The most expensive protectors will set you back $80–$120. For that kind of money, you'll get an extended Bluetooth range, a flexible, adjustable design, and premium materials.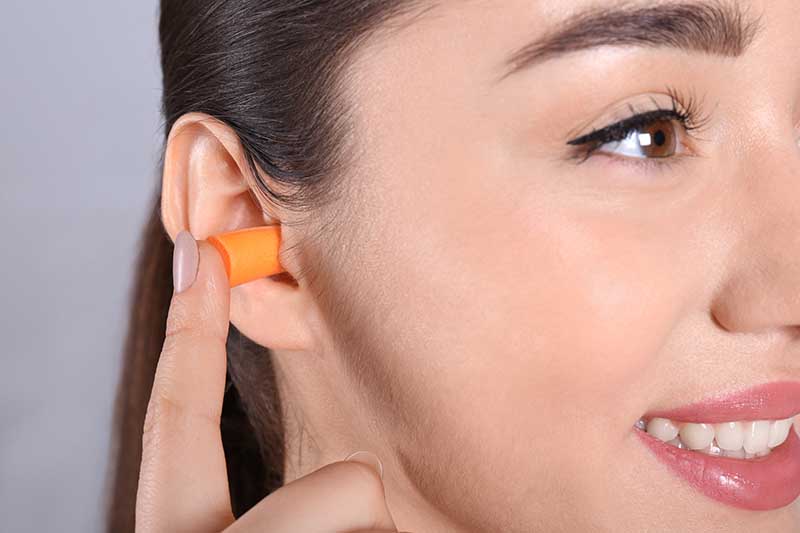 Why Invest in Hearing Protection? The Biggest Pros
Protection for the ears. The human ear relies on cells to capture vibrations generated by sound waves and transmit them to the brain. These cells are fragile, though, and easily damaged by loud noises. They can handle 50–60 dB, but once the noises reach 70–90 dB, that leads to hearing damage or loss. Even if you take short breaks, a high-speed molder or multi-cutter (100–105 dB) will cause permanent damage. Ear protection helps to avoid that.
Let you focus on the work. It's almost impossible to get used to the noises that the woodworking gear makes. So, if you want to be an efficient worker and protect your ears at the same time, earplugs or muffs are your best bet. Some of the sounds will still come through, but they'll feel more like a hum than a roaring. Safety equipment is also used when operating a leaf blower, shooting guns, and driving loud cars.
Keep the ears warm. We already know that earmuffs are good for two things: protecting the ears and playing music. Well, there's also a "secret" third ability: they can keep your ears warm during cold days. So, if you're constantly working outside, and winter is right around the corner, you might want to opt for muffs instead of plugs.
Lightweight, portable. Even the heaviest earmuffs on the market weigh less than two pounds, with most rated at 0.5–1 pound. Earplugs weigh much less. If portability is important to you, invest in earmuffs that come with a carrying bag. Also, see that the cups are foldable. This way, they'll take up less space and will be easier to carry around.
User-friendly and long-lasting. Just like headphones, earmuffs and plugs are very straightforward. You just put them on, pair them to a phone via Bluetooth/cable, and get to work. And if you buy a durable, cleverly-designed pair that fits your head and ears perfectly, the hearing protection equipment will last for at least 2–3 years. You might have to replace the cushion in the cups in 6–12 months, but that's about it.
What About the Downsides?
Plugs may hurt sensitive ears. Earmuffs have to be very tight and poorly made to put pressure on the ears. Even so, a little bit of stretching will, most likely, fix that. The same can't be said about earplugs. While the more expensive devices are soft and comfortable, the cheaper ones may be a bit too much for sensitive ears. Keep this in mind when picking between plugs and muffs.
Some muffs make you sweat. If you tend to sweat a lot, especially when working under the scorching sun, earmuffs might not be the best option. Now, some top-notch models are designed to keep sweating to a minimum. But, in general, you'll be better off investing in a pack of earplugs. They're significantly smaller and don't cover the ears or the head, which is why they don't sweat nearly as much.
Compatibility issues. This mostly applies to plugs because the ear canals of each person are unique, and they're often a bit too big or too small for comfort. Sometimes, plugs lead to wax buildup in the canals. Earmuffs aren't always ideal, of course, but in most cases, it shouldn't be hard to find such a device that's comfortable for your head and ears.

Conclusion
To recap our reviews, PROHEAR's ear protection equipment is the best pick for woodworking. It's incredibly comfortable, well-built, and Bluetooth-friendly. Next, Mack's offers the best bang for the buck with the Ultra Soft earplugs. They're cheap, easy on the ears, and officially recommended by US doctors. And if you're looking for something special and are ready to pay for that, go with the Howard Leight earmuffs.
For a slightly steep price, you'll get durability, a fancy LCD display, and premium sound quality.
---
See also:
---
Featured Image Credit: Virrage Images, Shutterstock