7 Best Pool Skimmer Baskets in 2022 – Reviews & Top Picks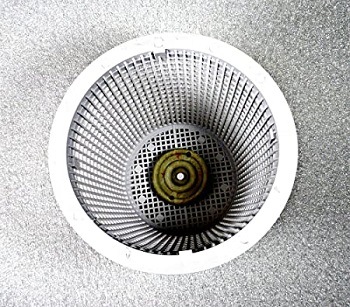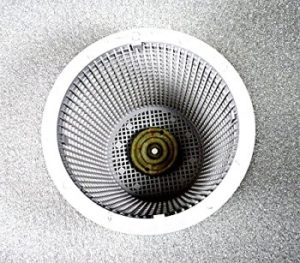 No matter where you live, if you have a pool, you have to deal with bugs, leaves, and other debris getting in on a regular basis. Luckily, pools have pump systems that automate a lot of the cleanup process by sucking water through skimmer baskets so you don't have to do it all by hand. But if you've had a pool for a while, then at some point, you've likely found a skimmer basket so full that it broke when you tried to remove it. Or you may have had a clogged basket cause your pump to run dry, damaging and possibly ruining it.
We understand these issues firsthand, so we set out to find the best pool skimmer baskets that wouldn't leave us with these problems. During our time testing out these skimmer baskets, we compiled a lot of information about them, which we've used to write the following seven reviews that should save you the trouble of testing them all yourself.
A Quick Comparison of Our Favorites
Rating
Image
Product
Details

Best Overall

Pentair R38012

Sturdy construction
Metal handle
Affordably priced
CHECK PRICE

Best Value

Blue Devil B8503

Made from sturdy plastic
Holes are a good size not to clog
Very affordable
CHECK PRICE

Premium Choice

Custom Molded Products

Very sturdy
Strong handle
Weighted to prevent floating
CHECK PRICE

GVT SP-HP

Tower vent
Won't allow pump motor to run dry
Handle protrudes
CHECK PRICE

Hayward SPX1070E

Affordable
Built-in metal handle
Durable
CHECK PRICE
The 7 Best Pool Skimmer Baskets – Reviews 2022
1.

Pentair Basket Assembly Replacement – Best Overall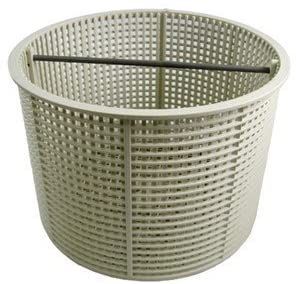 Pentair is one of the biggest and most trusted names in pool equipment. It's likely that your pump is even made by them. Since they're such a major name in the industry, it's not surprising that their pool skimmer basket tops our list as our favorite overall. It's very well-built and sturdy and the plastic never cracked or gave under pressure. Even when it was packed with heavy wet debris, the metal handle never flexed and the basket held strong. We liked the metal handle a lot more than the weak plastic handles built into many of the other baskets we tested.
Despite being one of the most durable baskets we tried during our testing, the Pentair basket is still quite affordable. And since it won't need to be replaced every season like some of the weaker and lower-quality baskets we've tried, you'll save even more money in the long run. But this basket is very large, so there are many skimmers it won't fit. It's imperative that you measure your current basket to make sure that this one will fit before you purchase it.
Pros
Sturdy construction
Metal handle built-in for easy removal
Affordably priced
Cons
Large size won't fit every basket
---
2.

Blue Devil B8503 Skimmer Basket – Best Value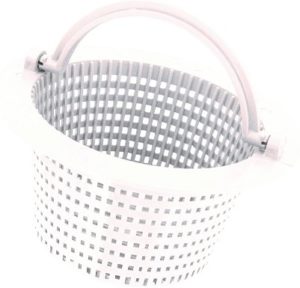 For smaller sized pools, this Blue Devil Skimmer Basket is an inexpensive option that's built surprisingly well given its low price, which is why we think it's the best pool skimmer basket for the money. But it is definitely small and won't fit the skimmer on many larger pools, so be sure to double-check your measurements before purchasing.
This skimmer is made from thick and sturdy plastic that never cracked or broke while we were using it. The holes are adequately-sized so as not to clog easily when debris starts to fill the basket. We generally prefer to see metal handles on pool skimmer baskets since they're much more durable, but the plastic one on this basket is very sturdy and never flexed or showed signs of stress, even when extracting a basket full of debris. Overall, we think the Blue Devil B8503 Skimmer Basket provides the best value of any basket we tested.
Pros
Very affordable
Made from sturdy plastic
Holes are a good size not to clog
Cons
Smaller size won't fit all skimmers
---
3.

CMP Vented Handle Skimmer Basket – Premium Choice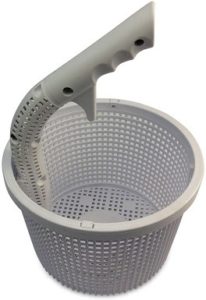 The CMP Vented Handle Skimmer Basket impressed us more than any other skimmer basket we tested, which is why it has earned our premium choice recommendation. It's a very sturdy basket with a large vented handle built into the side. The handle makes it easy to remove the basket from the skimmer so you can empty it, but also serves another purpose. The handle is vented so that when the basket fills with debris and water is being blocked, the handle will still allow water to pass through and prevent your expensive pool pump from running dry. This can save you from having to replace a pool pump that burnt out when water was blocked by a full skimmer basket.
The handle was very sturdy and showed no signs of bending under the weight of a full basket. But it did provide a dry place for spiders to hide and avoid drowning when sucked into the basket. You may want to take a peek before blindly grabbing and getting an unpleasant surprise! This basket is also a bit pricier than other options we tested, but if it saves your pool pump, then it will pay for itself several times over.
Pros
Weighted to prevent floating
Very sturdy and durable
Strong handle doesn't bend or break
Vented handle prevents the pool pump from running dry
Cons
More expensive than other options
Hollow handle provides a haven for insects
---
4.

GVT SP-HP Skimmer Basket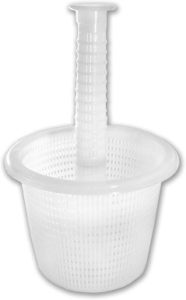 The GVT SP-HP Skimmer Basket is another model with a protruding vented handle. We like this design since it's very easy to remove and also prevents your pool pump from running dry. Even when the basket fills up with debris, water can still get to the pump through the venting in the handle. But this particular basket is much lighter than the CMP basket that earned our premium choice recommendation. Because of this, the GVT basket tends to float up and release debris back into the pool. But some of the debris manages to get stuck on the bottom where the handle design makes it more difficult to get out. We still like the pump-saving design of the vented tower handle, but we weren't thrilled about the way we had to fiddle with this basket to get all the debris out.
Pros
Tower vent allows for airflow when basket is blocked
Won't allow pump motor to run dry
Handle protrudes from the top for easy removal
Cons
Too lightweight – tends to float
Handle holds debris, making it hard to empty
---
5.

Hayward SPX1070E Skimmer Basket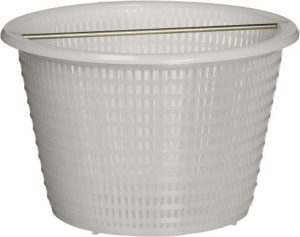 The Hayward SPX1070E Skimmer Basket is a very solid product with one major drawback that prevents it from being a good choice for many people. This basket only works with a few select skimmers. You could get lucky and it may fit yours by accident, but it's best to only order this if you have one of the specific skimmers it's built for. If you do, it's affordable and durable. We also liked the built-in metal handle that made it easy to get the basket out and never showed signs of bending, even when the basket was full. But the large basket openings did allow some of the smaller debris to get past and enter our pool pump system, something we weren't thrilled with.
Pros
Affordable
Built-in metal handle
Cons
Fits only specific Hayward skimmer models
Large openings allow debris to pass through
---
6.

U.S. Pool Supply Plastic Skimmer Basket
U.S. Pool Supply offers a set of two plastic skimmer baskets protected by a one-year satisfaction guarantee. It's no more expensive than the other baskets we tested, even though you get two, which makes it a pretty decent deal in our eyes. But the quality of the baskets leaves something to be desired. To start, they're not weighted, so they kept floating up when the pool pump would shut off. What's more, the flimsy and thin plastic handles are the worst we've seen. They broke quickly under the weight of a semi-full basket. Though you get two for the price of one, we think you're better off skipping the U.S. Pool Supply Skimmer Baskets altogether.
Pros
1-year satisfaction guarantee
Two baskets for the price of one
Cons
Flimsy plastic handles broke
Non-weighted basket floats up in the water
---
7.

SkimPro Tower-Vented Skimmer Basket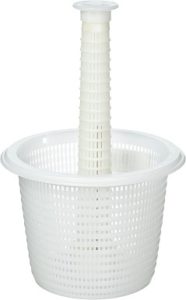 We actually like the tower-vented handle design that the SkimPro skimmer basket shares with some of the higher-ranking products on this list. But the SkimPro version did not execute the design as well as some of the other manufacturers. We like that it will prevent the pump from running dry and how easy it makes it to remove your skimmer basket. This one was even heavy enough to avoid floating when the pool pump shut off. But that was because of some metal weights that were placed in the handle. They fell out pretty quickly, causing the whole basket to lose the weight that held it down.
More than just the weights falling out, we experienced several cracks in the basket. The plastic used to make this product is too think and weak. Despite this, it's one of the more expensive skimmer baskets we tested, which is why we think it's overpriced and placed it in the bottom position of our list.
Pros
Vented handle prevents the pump from running dry
Heavy enough to prevent floating
Cons
Weak plastic prone to breaking
The weights in the handle fell out
Overpriced
---
Buyer's Guide
Now that you've seen how some of the best and most popular skimmer baskets compare to each other, let's talk about the things you need to think about before you purchase a basket. It may be tempting to just follow a link, make a purchase, and be done with the whole thing. But there are some important things you need to check first to ensure that the basket you purchase will fit your skimmer. If you don't take these steps first, then you may end up wasting time and money on the wrong skimmer basket. After we discuss the steps you need to take before picking a new basket, we'll go over what features you should prioritize in a new basket to help you narrow down the choices.
Before Purchasing Your Skimmer Basket
Before you purchase a skimmer basket, there are two main things that you need to check to ensure that the basket you buy will fit your existing skimmer.
Measure Your Current Basket
The first thing you need to do is measure your existing skimmer basket. You'll want to pick a new skimmer basket that will fit where your current one is now. If you skip this step, you'll be taking a gamble that the new basket you buy will fit. Skimmers come in many different sizes, and by measuring your current basket, you can skip all the guessing games and be certain that the basket you pick will fit.
Check if it Needs a Specific Basket
More than just measurements, some skimmers are meant to work with only specific baskets. They may have a unique shape or very specific sizing that other skimmers don't share. If that's the case for you, then you'll have to locate a skimmer specific basket from the manufacturer of your skimmer.
---
What to Look for in a Skimmer Basket
Now that you've taken the necessary first steps to determine what size skimmer basket you need, you're almost ready to make a decision. But first, there are a few traits we've found to be very helpful that we think you should prioritize when looking for a new skimmer basket and we're going to share them with you here.
Handles
It may seem like a no-brainer, but a handle makes it much easier to remove your skimmer basket. Surprisingly, some manufacturers market a skimmer basket with no handles, but we've seen and even used them. Having a handle is only half the battle. The other half is having a handle durable enough to withstand removing the basket when it's full of wet debris. A full basket can be unexpectedly heavy, especially if you have a larger-sized basket to begin with. Weak handles were a common breaking point on baskets we tested, so you'll need to look for a basket with a durable handle, not just any flimsy plastic bar will do.
There were two types of handles we preferred. First, we liked the small metal handles that span across the top of the basket. They're simple and strong, making an effective way to easily remove any skimmer basket, even when overloaded with debris. We also liked the extended vented handles. These handles were much taller and protruded from the top of the basket. They also featured vent holes that allow the water to pass through when the rest of the basket is full. This can save a pool pump from running dry and being damaged, so it's a feature we appreciate. Plus, extending so far above the top of the basket made these handles very easy to reach and remove the basket for cleaning.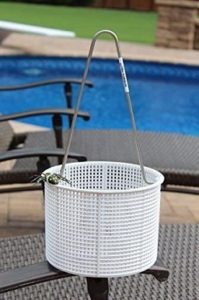 Size of the Holes
The next consideration is the size of the holes on your skimmer basket. Holes that are too small can clog very easily and be more difficult to clean out when you empty the debris. On the other hand, holes that are too large will let smaller debris pass through, which can eventually build up and damage your pool pump. You need to look for a basket with moderate-sized holes that will block small debris without clogging too easily.
Durability
Durability is another area where we experienced issues with a lot of the baskets we tested. Since they're made from plastic, some of these baskets were very weak. These baskets would sometimes crack under the pressure of the suction from the pool pump, or they would break under the weight of wet debris. Naturally, this will result in repeated replacement, which can get costly over time. Some of the baskets we tested were made from thicker, tougher plastic that never cracked or showed signs of stress. We prefer these baskets, though they tend to cost a bit more. We've already discussed handles, but they're another common place for breakages, so we recommend looking for a durable handle as well.
Price
Though they all perform the same basic function, these baskets cover a range of prices. It's a small item though, so they're never astronomically expensive. But the most expensive ones can still cost up to three times as much as the cheapest options, so it's worth comparing prices to save a few bucks. Of course, if you go too cheap, you may get a basket that won't hold up to the rigors of pool life, so price and durability may be a tradeoff.
Weight
This is one you may not think about until it's too late. When your pool pump shuts off, if the skimmer basket is too light, it can float up and release the debris back into your pool. Obviously, this negates the point of ever having collected it in the first place! You could add a weight to the bottom of your skimmer basket, like many people do, but that's not our favorite approach. Some of the baskets we tested were heavy enough to avoid this problem altogether, even if they were mostly empty. Save yourself the trouble and pick up a basket that's heavy enough not to float up when the pump shuts off.
---
Conclusion
While testing all of these skimmer baskets, we dealt with broken handles, clogged baskets, pumps running dry, and baskets that were constantly floating up and releasing their debris back into the pool. After reading our reviews, you should know exactly which baskets will help you avoid these problems, but we're going to mention them once more so that they're fresh in your mind. Our favorite overall was the Pentair Basket Assembly Replacement. It offers sturdy construction with a built-in metal handle for an affordable price, from one of the most well-known names in pool equipment.
If you want to save yourself a few bucks and get the best value possible, we recommend the Blue Devil B8503 Skimmer Basket. It's one of the most affordable skimmer baskets we tested, but it still provides sturdy construction with a strong and durable handle. But for better performance at a premium price, we suggest the CMP Vented Handle Skimmer Basket. It's built sturdy and durable with enough weight to prevent it from floating. More importantly, the large vented handle makes it easy to retrieve and prevents your pool pump from running dry when the basket is full.