10 Best Hardwood Floor Cleaners In 2023 – Reviews and Top Picks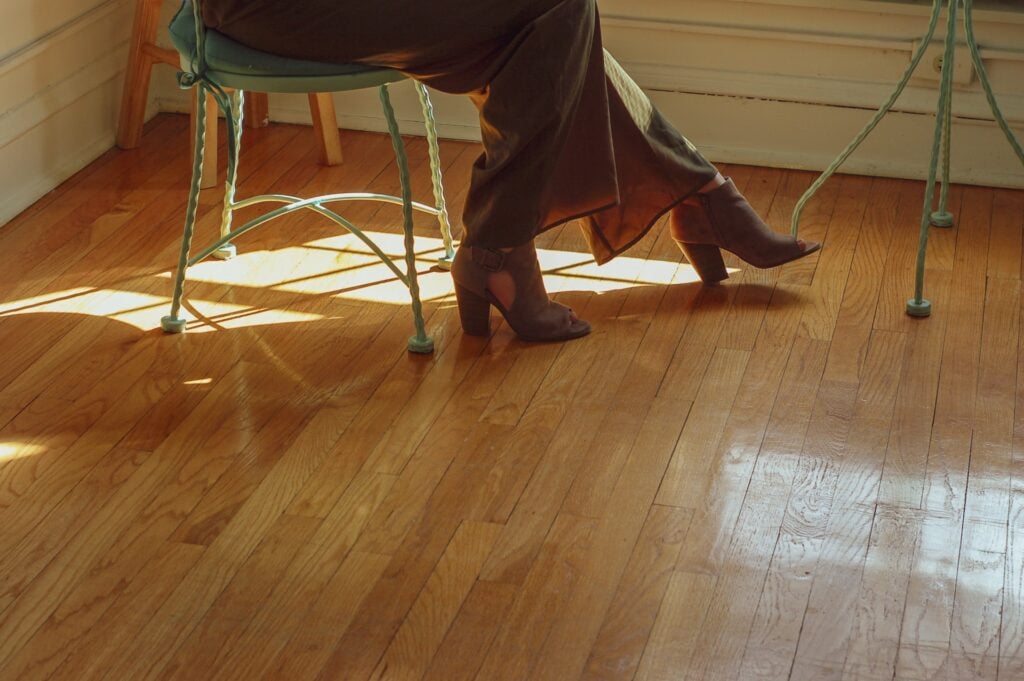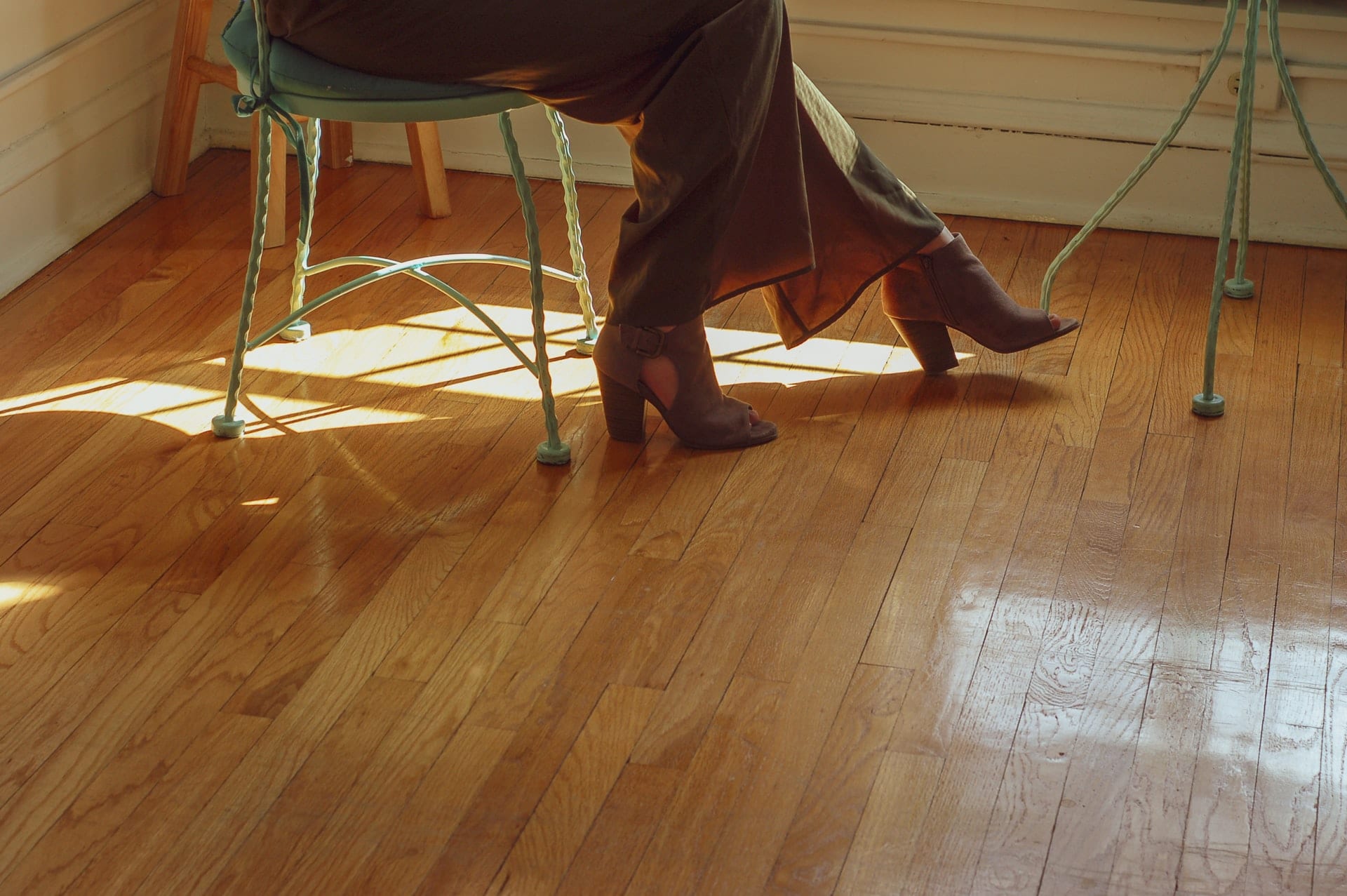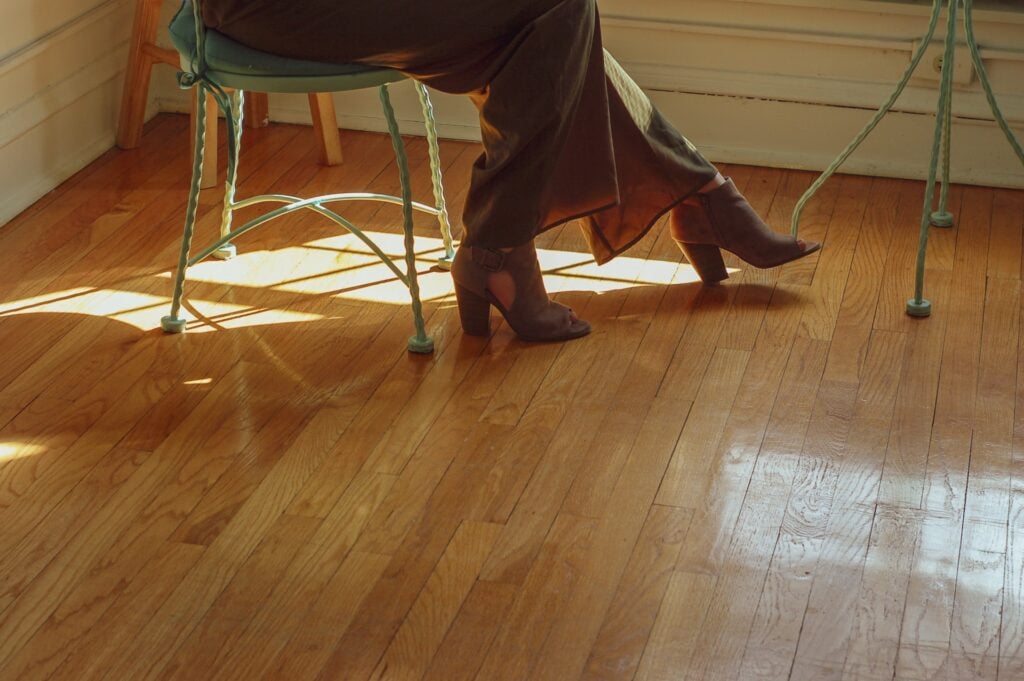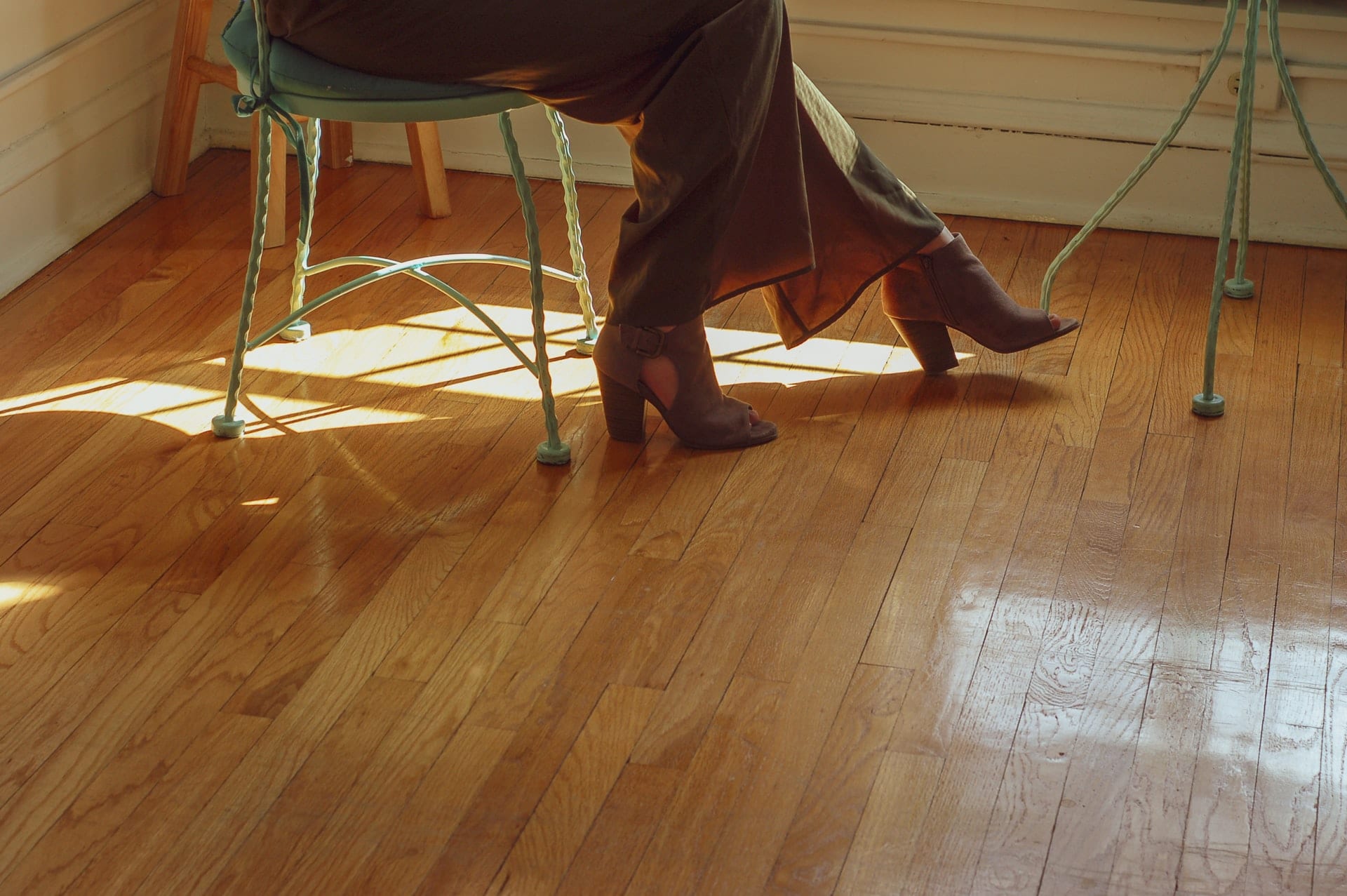 Properly caring for hardwood floors can be intimidating. Neglecting hardwood floors can cause them to fade and lose their luster over time. Cleaning hardwood floors improperly can cause them to wear out quicker, and in extreme cases, it can even cause irreparable damage to the floors. Hardwoods are beautiful, and they are often a large investment. Choosing the right products for the job is imperative for keeping your hardwood floors in tip-top shape.
This guide will provide overviews of all the top hardwood cleaning products, including mops, vacuums, cleaning solutions, and more. It also includes a comprehensive buying guide and cleaning guide that will help ensure that you make the best choice possible. By the end, you should be equipped with everything you need to clean and maintain your beautiful hardwood floors.

A Glance at Our Winners in 2023
Rating
Image
Product
Details

Best Overall

Method Hardwood Floor Cleaner

Almond
Squeeze
25oz (x6)
CHECK PRICE

Best Value

Bona Hardwood Floor Cleaning Spray

Unscented
Spray
32oz
CHECK PRICE

Murphy Oil Wood Soap

Citronella
Jug
1 gallon
CHECK PRICE

Aunt Fannie's Hardwood Floor Cleaner

Lemon
Jug
32oz
CHECK PRICE

Weiman Hardwood Floor Cleaner and Polish

Citrus
Squeeze
32oz (x2)
CHECK PRICE
The 10 Best Hardwood Floor Cleaners
1.

Method Hardwood Floor Cleaner – Best Overall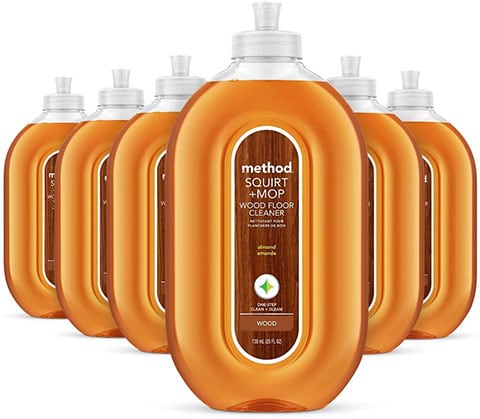 | | |
| --- | --- |
| Scent: | Almond |
| Bottle Type: | Squeeze |
| Size: | 25oz (x6) |
When it comes to excellence in hardwood floor cleaner there is none better than Method. Method hardwood cleaner uses a proprietary formula designed to cut through the dirt on top of your floors while protecting the beautiful wood underneath. Method has a unique scent, is extremely easy to use, and is beloved by people all over the country. Everyone raves about the cleaning power and protective qualities of this hardwood floor cleaner, and the fresh tantalizing smell it leaves behind.
The best part about this deal is you get six full bottles of a specialized hardwood floor cleaner for the price that some other brands charge for just a single bottle. This is not only the best quality hardwood floor cleaner available it is also one of the best deals in terms of value as well.  If you are looking for a good general hardwood floor cleaner, you can't go wrong with Method Hardwood Floor Cleaner. The one downside is that it may not make floors shiny.
---
2.

Bona Hardwood Floor Cleaning Spray – Best Value

| | |
| --- | --- |
| Scent: | Unscented |
| Bottle Type: | Spray |
| Size: | 32oz |
Sometimes people do not have the time or the energy to do a full deep clean of their floors. Sometimes there are small spots or spills that need to be cleaned up in a timely manner without breaking out the buckets. For those situations, Bona Hardwood Cleaning Spray is the best option. This spray bottle delivers the best cleaning power Bona can offer in an easy-to-use form that doesn't require the use of a mop. Other typical cleaning sprays are not designed for use on hardwoods, and using a harsh chemical spray runs the risk of ruining the small spot of the floor you are trying to clean. Bona combines the best of specialized hardwood floor cleaners with a simple spray bottle for small and quick clean-ups.
This bottle is affordable, backed by Bona's experience and expertise, and is the perfect way to clean small spots off your hardwood floors. Some people say it leaves streaks if you don't wipe it up well, but it's still the best hardwood floor cleaner for the money.
---
3.

Murphy Oil Wood Soap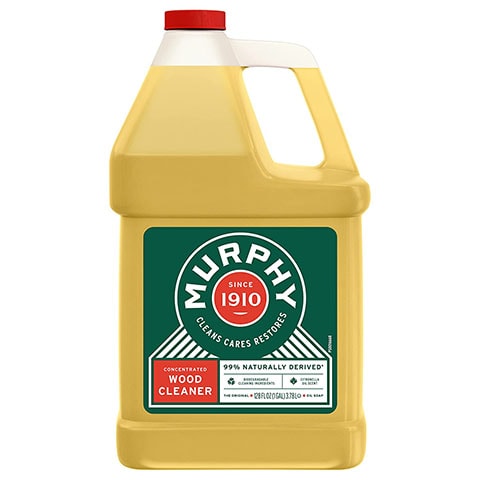 | | |
| --- | --- |
| Scent: | Citronella |
| Bottle Type: | Jug |
| Size: | 1 gallon |
Murphy Oil is a household name for many people. That is because it has been delivering excellent cleaning quality for over 100 years. If you are looking for a large jug of concentrated cleaner to use when you need it, this is the best choice by far.
A dash of Murphy Oil will allow you to safely clean your hardwood floors. This large gallon jug is affordable and will fill your home with the recognizable citronella scent of Murphy Oil. Murphy Oil is completely natural and does not contain any harsh chemicals. That makes it perfect for your hardwood floors, but it also makes it safer for children and pets than other cleaners that contain heavy bases and corrosive chemicals.
Murphy Oil Wood Soap is simple, affordable, and effective. It is one of the best concentrated cleaners on the market, hands down. Just be careful if you ordered online, as some people say the cleaner leaked into the box.
---
4.

Aunt Fannie's Hardwood Floor Cleaner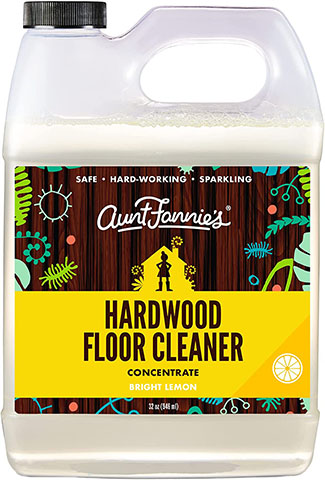 | | |
| --- | --- |
| Scent: | Lemon |
| Bottle Type: | Jug |
| Size: | 32oz |
Sometimes people are looking for the best product for the best price. Not everyone needs to load up on expensive cleaners. If you are looking for a solid, dependable, and well-liked hardwood floor cleaner for a great price, you want to look at Aunt Fannie's Hardwood Floor Cleaner.
This product is a concentrate that will provide dozens of buckets of cleaning power for an extremely fair price. It is hard to find specialized hardwood cleaners for cheap, so it is no wonder that Aunt Fannie's is a top product for bargain hunters. One jug of this cleaner will last you months and delivers a smooth and even cleaning power made especially for your hardwood floors. However, some people say that it is hard to pour out of the container.
---
5.

Weiman Hardwood Floor Cleaner and Polish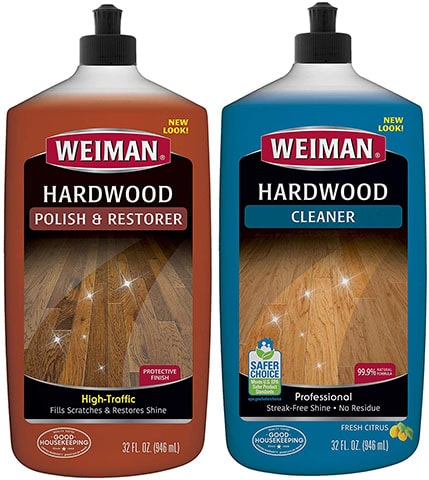 | | |
| --- | --- |
| Scent: | Citrus |
| Bottle Type: | Squeeze |
| Size: | 32oz (x2) |
Many hardwood cleaners have components that help bring the color of the wood back out. However, few cleaners come with a polishing agent built in. Most liquid floor cleaners are just concerned with getting the floors, well, clean. But sometimes, you want your floors to look extra sharp and extra shiny. For those days when you need to go the extra mile, there is Weiman Hardwood Floor Cleaner and Polish. For the same price as a typical bottle of hardwood floor cleaner, you get two 32oz bottles. The first bottle is a typical hardwood floor cleaner, while the second bottle is a special formula made to help polish and shine your floors.
Users claim that this product makes it look as though their floors were recently refinished. If done properly, the end result will stun you. Some results are night and day from what the dirty floors looked like beforehand. However, using this cleaner properly and effectively does involve putting a lot of time and labor in.
---
6.

Method Hardwood Floor Cleaner Refill
| | |
| --- | --- |
| Scent: | Almond |
| Bottle Type: | Squeeze |
| Size: | 68oz |
Method Hardwood Floor Cleaner smells great. It has a super rich nutty almond smell that immediately freshens up the home. This is an excellent floor cleaner for anyone who thinks that the common citrus smells are too potent or unpleasant.
Method's floor cleaner is designed to be squirted on the floor and mopped up without any rinsing or drying required. The bottle is also made from 100% recycled plastic and the cleaner itself was tested on people using cruelty free methods instead of animals so you can feel good about your purchase. It also leaves floors looking fresh and shiny after just one mop.
The only complaint about this cleaner is reports of mild waxy buildup after repeated uses. It is something to keep an eye on but nothing to worry about seriously. This cleaner is also very affordable and won't stretch the budget at all.
---
7.

Murphy Oil Soap Squirt and Mop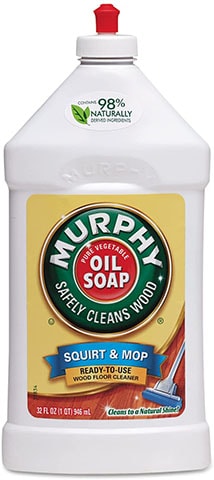 | | |
| --- | --- |
| Scent: | Citronella |
| Bottle Type: | Squirt |
| Size: | 32oz |
Murphy Oil Soap is one of the best hardwood floor cleaners on the market period. However, they also hold the top spot for the best squirt and mop bottle. This handy version requires you to simply squirt the soap onto the floor and then wipe it up with a mop. That is it. No rinsing, no drying, and no scrubbing required. Murphy Oil Soap is already one of the best products when it comes to hardwood floor cleaners and this iteration makes it easier than ever to get your floors clean. You don't even have to mix up a batch of water from concentrate with this bottle.
This floor cleaner takes the power of Murphy Oil Soap and the ease of their proprietary new formula to create a super simple, easy to use, and effective squirt and mop product that is second to none.
---
8.

Pine-Sol
| | |
| --- | --- |
| Scent: | Pine |
| Bottle Type: | Bottle |
| Size: | 40oz (x2) |
Not everyone wants to shell out money on a special hardwood floor cleaner that can only do one job. To be honest, some people just don't clean their floors that often and that is okay. For those who like versatile products that can fill multiple roles, we have classic Pine-Sol. Pine-Sol kills 99.9% of germs on contact, smells great, can make 40 or more gallons of disinfecting mop water, and is very affordable. Pine-Sol is completely safe for hardwood floors, instantly gives your house a fresh and clean smell that everyone recognizes, and can be used to clean a variety of surfaces, not just hardwoods.
Pine-Sol is a household name for a reason. It is a great product. Pine-Sol is a versatile cleaner that is perfect for hardwood floors and just about any other surface you can think of.
---
9.

Black Diamond Stoneworks Wood & Laminate Floor Cleaner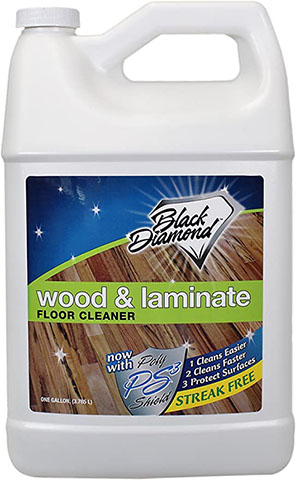 | | |
| --- | --- |
| Scent: | Mild cleaner |
| Bottle Type: | Jug |
| Size: | 1 gallon |
If you are worried about spraying down your floors with chemicals that might harm your pets this is a product you should check out. Black Diamond Stoneworks Wood & Laminate Floor Cleaner is designed to be completely safe around children and animals. It is water-based, biodegradable, non-toxic, and hypoallergenic. This is a great product for anyone with sensitive animals, allergies, or small children. You can still get a great clean on your hardwood floors without worrying about harsh or dangerous chemicals.
This gallon jug is perfect for cleaning your hardwood floors and will last you quite a while. However, all of that biodegradable goodness comes at a price. Black Diamond's cleaner is quite a bit more expensive than some other similar brands and that is because it uses a more technical formula that still delivers a great cleaning experience without the chemicals.
---
10.

Rejuvenate High-Performance Professional Hardwood Floor Cleaner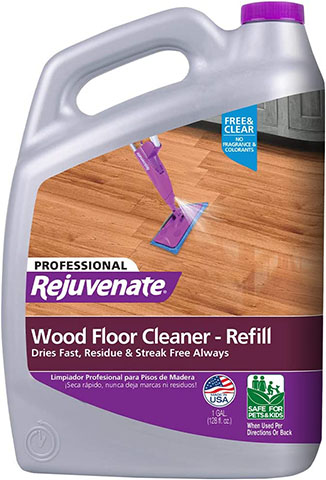 | | |
| --- | --- |
| Scent: | Unscented |
| Bottle Type: | Jug |
| Size: | 128oz |
Rejuvenate High-Performance Professional Hardwood Floor Cleaner is the best when it comes to getting a quick dry. Wet floors can be extremely dangerous, especially for older people and children. Making sure your floors get clean with as little liquid and drying time as possible is important for many people.
Rejuvenate has made a product that is designed to dry extremely fast and not leave any wet spots, puddles, or slippery areas behind. This is accomplished through a proprietary use of ionic discharging agents. These special chemicals ensure that the floor dries almost instantaneously. The ionic discharging agents are what puts Rejuvenate above the rest in terms of quick drying ability.
Rejuvenate's floor cleaner is also a good cleaner in general. It cuts through dirt and grime after one use, dries instantly, and doesn't have any frills or extras. It is only here to clean your floors. It is even unscented which is great for people with allergies or sensitive pallets. When it comes to the ability to dry quickly Rejuvenate is unmatched.

Buyer's Guide: How to Select the Best Hardwood Floor Cleaners
When it comes to keeping your hardwood floors clean and healthy, there are some things you should keep in mind. These are a general list of dos and don'ts specifically for hardwoods.
DO
DO: Sweep every day. Sweeping will help keep grime from accumulating on your floors leading to less frequent intensive cleanings.
DO: Use mats and floor protectors. Mats, rugs, and barriers can help keep your floors clean.
DO: Use specialized wood cleaning products.
DO: Clean gently and use dry mops whenever possible. Frequent scrubbing with soap, water, and chemicals can damage the longevity of your hardwood floors.
DON'T
DON'T: Leave damp or wet clothes, towels, or rags on the floor. Moisture exposure can lead to hardwoods warping and twisting over time.
DON'T: Use ammonia, vinegar, or bleach. These chemicals are too harsh for use on true hardwood floors.
DON'T: Use too much water. Use as little liquid as possible when cleaning your hardwoods.
DON'T: Use hot water. Use cold or lukewarm water to clean floors. Hot water adds the additional heat needed to cause wood to bend.
DON'T: Scrub hard. Avoid steel wool or abrasive cleaning tools. Scrubbing can cause scratches and tiny cracks to open, which will leave the wood exposed to humidity, water, and future dirt.
Target Specialized Cleaners
Hardwood floors are expensive, sensitive, and made to last a lifetime. For these reasons, you should always be using specialized wood cleaners that are specifically designed for use on hardwood floors. General cleaners are okay in some circumstances, but if you want to get the best results and health out of your beautiful wood floors, you really should take the time to do the research and invest in a good product.
Standard cleaners could have corrosive chemicals that can strip the wood floors, leaving them vulnerable to water and mildew. General cleaners can also lead to streaks and discoloration of wood floors over time. The safest and most effective option is to shop for and buy cleaners specifically designed for use on hardwood floors.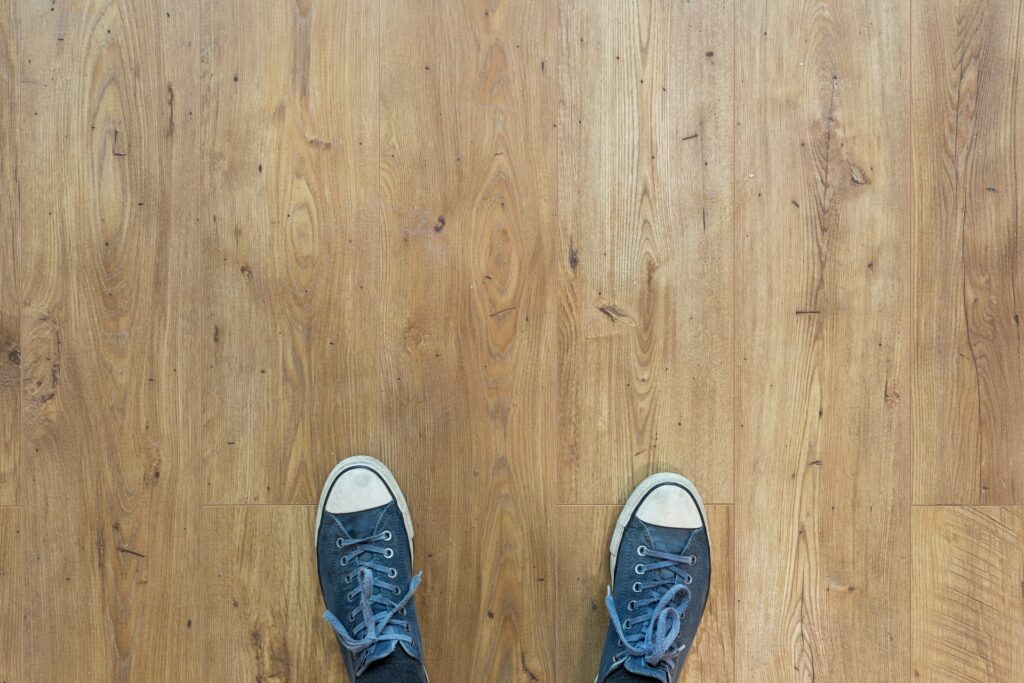 Dry Mop vs. Wet Mops
When it comes to hardwood floor cleaning devices, there are two main options: dry mops and wet mops. Dry mops work like large, specialized dusters that pick up as much dirt, hair, and dust as possible from the surface of the floors without using harsh cleaners or liquids. This helps to keep the floors intact by limiting their exposure to harmful moisture.
There are some messes that dry mops are not equipped to handle. Sometimes you need to really scrub your floors to get them back in good shape. For these types of jobs, there are specialized wet mops that use cleaner and water to gently scrub the floors. These mops are great for a deeper clean, and there is a time and place for them in addition to dry mops.
In most cases, the best course of action is to use a dry mop whenever possible. Some dry mops are designed to be used with specialized cleaners that turn them into a hybrid between a full wet mop and a dry mop. These are the best choices for daily use. The wet mops should only be used for large messes or spots that won't come up with a few passes of a dry mop. This prevents your floors from getting exposed to too much liquid or chemical cleaners, which will help keep them healthy for longer.
Are Steam Mops a Good Idea For Hardwood Floors?
You should be very careful and even wary about purchasing and using a steam mop on your hardwood floors. In most cases, using a dry mop or a wet mop is much preferable. That is because water and heat are two of the main components that cause wood to warp and lose its shape. Improperly steaming sensitive wood floors can lead to warping, cracking, gapping, and twisting. These effects can be amplified if the floors are steamed frequently or if the house is located in a hot or humid climate.
Steam mops can be used on hardwood floors, but they should be used sparingly and with as little water as possible. For general cleaning, using specialized hardwood floor cleaner and a dry mop is the best option. Steam cleaning hardwood floors is only good for disinfecting purposes as the steam works to kill most microscopic organisms.

Conclusion
The Method hardwood cleaner took the top spot in our reviews for a well-made product that gets the job done. The Bona Hardwood Cleaning Spray is an excellent value for the price. Whether you are simply looking for a safe cleaning agent to spray onto your hardwood floors or a complete all-in-one cleaning system, there are options here for you to peruse. There are options that will cost you just a few bucks and others that can run hundreds of dollars and can keep your floors clean for years to come. Hardwood floors are a central part of many homes and caring for them properly is important. Good care starts with the right products for the job.
---
Featured Image Credit: Meg, Unsplash