5 Best Heat Guns for Removing Paint in 2023 – Reviews & Buyer's Guide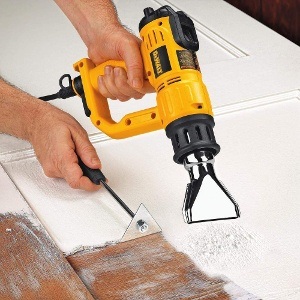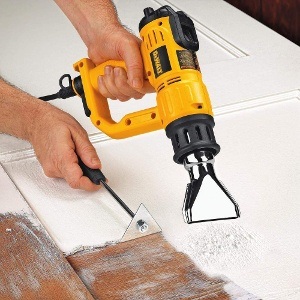 Paint stripping can be a messy, time-consuming task. However, using a heat gun can make your job easier, as you'll have to do less scraping, and the paint will come off the wall much easier.
If you're looking to make the jump to using a heat gun for paint stripping, you need to find a model that will work well and live up to your expectations, at a price that won't break the bank. And if you're shopping online, it might be hard to figure out which model best suits your needs. There are a lot of options out there, and sometimes it seems like there's no clear winner.
But, we've done the hard work for you. If you're looking for a heat gun to remove paint, we've created this list of reviews of some of the best heat guns for removing paint so that you can find the model that will help you get your next job done fast, and at a price that you'll love.
---
A Quick Rundown of our Favorites in 2023:
Rating
Image
Product
Details

Best Overall

DEWALT D26960K

LCD screen
Kickstand support
Multiple useful attachments
CHECK PRICE

Best Value

PORTER-CABLE PC1500HG

Price
Powerful motor
Wide temperature range
CHECK PRICE

BLACK+DECKER HG1300

Compact
Lightweight
Included kickstand
CHECK PRICE

Wagner HT1000

Dual temperature
Adjustable settings
CHECK PRICE

QST Multi-Purpose

Cheap
Good for small places
CHECK PRICE
The 5 Best Heat Guns for Removing Paint:
1.

DEWALT D26960K Paint Remover Heat Gun – Best Overall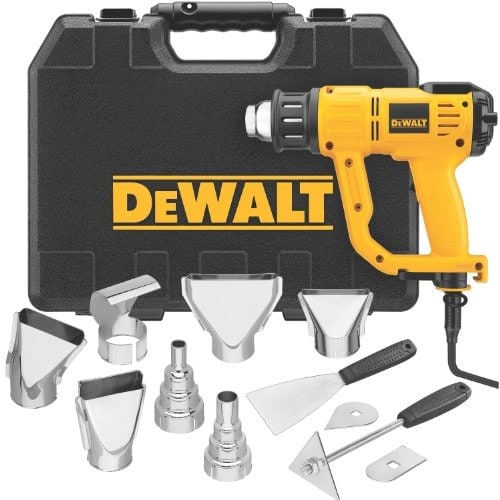 The DEWALT D26960K Heavy Duty is a top of the line heat gun that should change your expectations of what a heat gun can be. It comes with an LCD screen that takes the guesswork out of using a heat gun. It's adjustable through a massive 150-1100-degree Fahrenheit range in increments of 50 degrees, which means it's suitable for both sensitive and heavy-duty projects. It also comes with several useful attachments, which can shape the airflow for more precise applications, and to make common tasks more efficient.
It also comes with a kickstand, which allows you to set up this heat gun so that the nozzle is far from any surfaces and can safely cooldown. The one thing that this model lacks is a rapid cooldown feature, which is too bad considering how good it is in every other category. Overall, this is a great model for someone who has a project in mind but could see themselves doing something different in the future, as this model has the versatility to complete almost any heat-related task.
Pros
LCD Screen
Multiple useful attachments
Wide temperature range
Kickstand support
---
2.

PORTER-CABLE PC1500HG Heat Gun – Best Value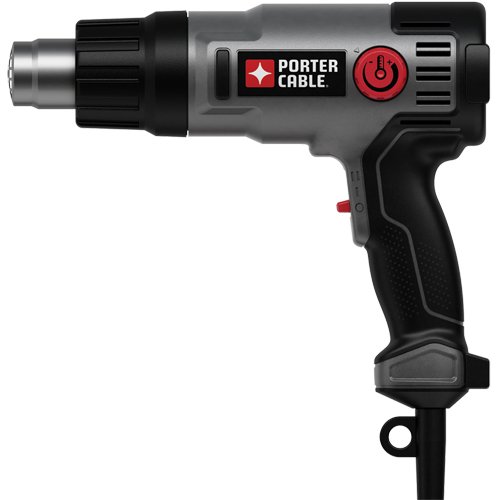 The PORTER-CABLE PC1500HG is a steal, even if you pay for it. You can get it for a fraction of the cost of the previous model on our list, and it has much of the same functionality. It comes with a powerful 1500-watt motor, which responds to changes on the heat dial almost immediately, which gives you the power to keep working without waiting on your tools to catch up. Its temperature range is also quite wide, ranging from 120-900 degrees at low speed and from 130-1150 degrees at high speed, meaning that it has a slightly higher range than the DEWALT.
Since it has two different speeds, you have some control over how fast you work and gives you the power to customize your equipment to the task at hand. One knock against this model is that its high setting isn't as high as you'll find on other models, which means that the airflow is going to be lower. That flaw means you must hold this model closer to the object from which you're stripping paint to get the same effect. Still, if you're looking for a good deal, this is the model for you.
Pros
Price
Powerful motor
Wide temperature range
---
3.

BLACK+DECKER HG1300 Heat Gun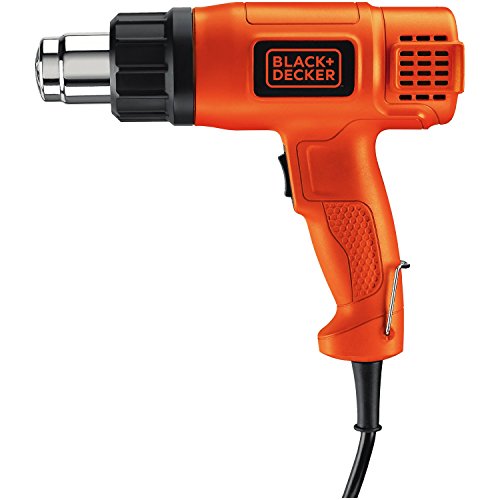 The best thing about the BLACK+DECKER HG1300 is that it comes in a small form factor. Compared to many of the other models on this list, it's very lightweight and compact. It clocks in at under 2 pounds, which means this is a good model for extended use on smaller objects or in tight spaces, at it will fit and won't wear you out. It also comes with a built-in kickstand, which gives you a way to safely position it while it cools down.
However, this model only has two temperature settings, 750 degrees, and 1000 degrees. At the low end, it's too hot, and at the high end, it's not warm enough for some applications, which means that the number of projects on which this device will be useful is limited. It also tends to burn out if used too long on the highest heat setting, which is disappointing. If you're in need of a model with average temperatures and a slim case, then this model will satisfy your needs.
Pros
Lightweight and compact
Included kickstand
Cons
Few temperature settings
Burns out at high temp setting
---
4.

Wagner HT1000 Paint-Remover Heat Gun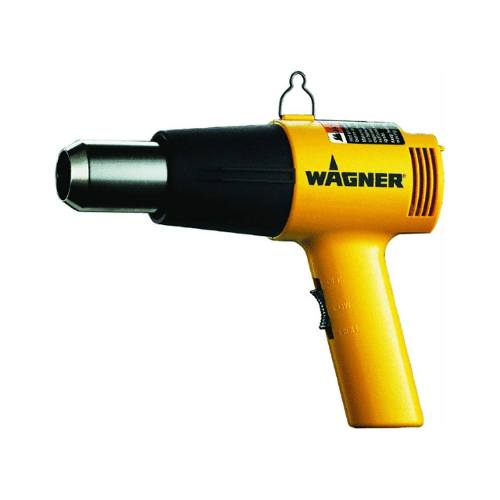 The Wagner 0503008 HT1000 is a very cheap heat gun and works about as well as you'd expect for a heat gun at this price. It comes with no frills. You get two temperature settings, 750 and 1000 degrees, which means it will be too hot for more sensitive applications, and too cold for more robust ones. It's weird to call a heat gun "lukewarm," but that's what you're getting with this model.
Given the price, it's not surprising that the overall part quality is quite low. You may experience a sticky switch, or weird burning smells from time to time, but that's the price you pay when you get a model this cheap. The upside is that you can get a 2-year warranty on this model, so you can replace it if and when it breaks. For an investment this small, that's not a bad deal, but you could spend a bit more money and get a heat gun with more features and a longer life.
Cons
Few temperature settings
Poor overall quality
---
5.

QST Multi-Purpose Heating Gun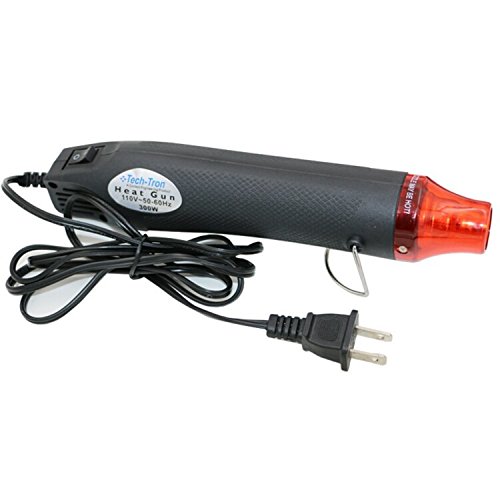 The best and worst things about the QST RFQ Multi-Purpose Heat Gun relate to its shape and size. It's small, so it's good for getting into tight spaces and corners where a larger model would be inefficient. However, it lacks the pistol grip found on other models, which means it's going to be more difficult to hold, and that's not a great tradeoff.
It also comes with a very small nozzle, which means that if you're doing a large project, you're going to have to move slowly, and you're going to cover less space with each pass than you would with a larger model. It also only heats up to 200 degrees, which means it's going to be useful for situations where you run a risk of burning something if the temperature gets too high. However, it's not great for paint stripping. Overall, this model is cheap, and while it may have some limited uses, large-scale pain stripping is not one of them.
Cons
Unwieldy
Small nozzle
Low max temperature
---
Buyer's Guide – Choosing the Best Heat Gun to Remove Paint
We hope that our reviews have started to give you an idea of what you should be looking for when you go to buy a heat gun. Paint stripping isn't an easy task but getting the right heat gun model can go a long way towards cutting down the time you spend and the frustration you experience. If you're interested in learning more about the thinking that went into our reviews or want to learn more about heat guns, be sure to check out this buyer's guide, which is packed full of good information about these tools.
Range of temperatures
One of the most important things to look for in a heat gun is a good range of temperatures. Many low-end models only come with two different settings, and as we all know, having a more settings leads to a higher degree of control and a better final result. Most low-end models just use a switch for "off-low-high," like a retro hairdryer, but modern models come with a dial for quick switching between a wide range of temperatures or use buttons and an LCD screen so that you can know exactly what temperature you're at.
Modern models can also go from just over 100 degrees to over 1000 degrees Fahrenheit, which means that you can work at lower and higher temperatures, depending on what you need to do for the task at hand. Different paints soften at different temperatures, so it's important that you research the paints you're planning to remove before you buy a heat gun. You'd get poor value if you got a heat gun that was too hot, or not hot enough, for your needs.
Adjustable airflow
The airspeed can have almost as much of an impact on your project as the temperature itself. You can have as much control of your temperature as you want, but if the heat gun does a poor job of getting the hot air to the surface in question, you're not going to enjoy the experience. You never want to touch the tip of the heat gun to the surface you're working on, and having good airflow is one of the best ways to make sure that you can stay a safe distance away.
Many models come with "low" and "high" speed settings, though that doesn't always mean that you're getting great airspeeds at either setting. One of the best ways to ensure that you get good airflow is to check the model's wattage. If it has more than 1000 watts of power, odds are good that you'll have enough airflow to get the job done.
Temperature displays
Many models only have two temperatures, which makes a temperature display seem redundant. However, it's nice to know that you've given the heat gun enough time to heat up before you start working and that it is putting out heat at the temperature you want. That's why LCDs, while expensive, are so nice. With them, you always know what the temperature is, and you won't ruin a project due to internal failure that caused the heat gun to put out the wrong temp. If something like that happens, you'll see the discrepancy on the screen.
Models with an LCD screen also frequently come with more granular adjustments to temperature. Many models feature gaps between possible settings that are hundreds of degrees large. Digital models often have adjustments as low as 50 degrees, which gives you great precision and control over your project.
Thermal cut-off
Thermal cut-off isn't so much a feature as it is something that ought to be required, and something that if its missing from the model means you shouldn't buy it. Like all equipment, heat guns can burn out if they get too hot. They're built more heat-tolerant than most kinds of home tools, but they can still melt and malfunction if they get too hot.
Thermal cut-offs are designed to turn off the tool before it reaches those thresholds, which while inconvenient, protects your investment.
---
Conclusion
The DEWALT D26960K Heavy Duty is a workhorse that will make any paint stripping job easier, due to its easy-to-use LCD screen and multiple useful attachments. The PORTER-CABLE PC1500HG provides the best value on our list, due to its wide temperature range and low price. The BLACK+DECKER HG1300 is a middle of the road model, more compact than others, but runs the risk of burning out on its high setting. The Wagner 0503008 HT1000 is very cheap and has the problems associated with cheap tools but comes with a 2-year warranty. The QST RFQ Multi-Purpose Heat Gun is not great for paint stripping but might be useful for other small heat-related projects.
You may want to read our guide about other ways of stripping paint.
Hopefully, our reviews have helped you understand what you should be looking for when you shop for heat guns. Armed with that information, you should be able to find the model that will make your next project a breeze.