14 DIY Bluebird House Plans You Can Build Today (With Pictures)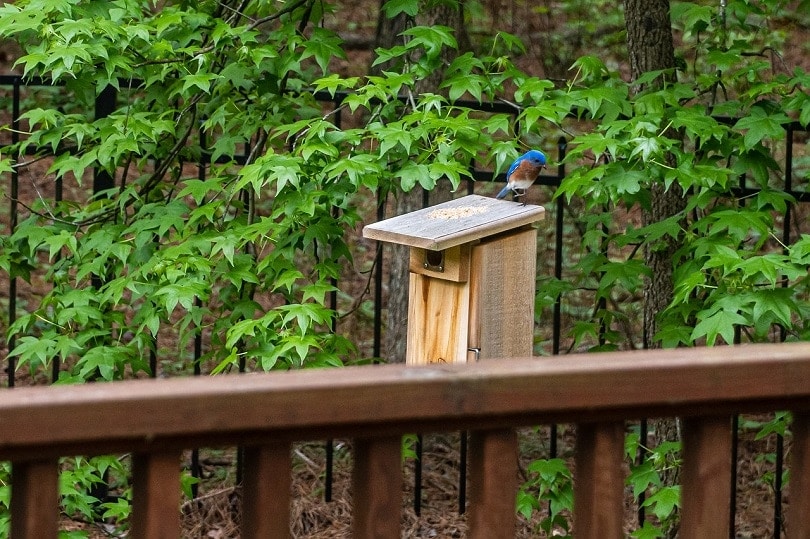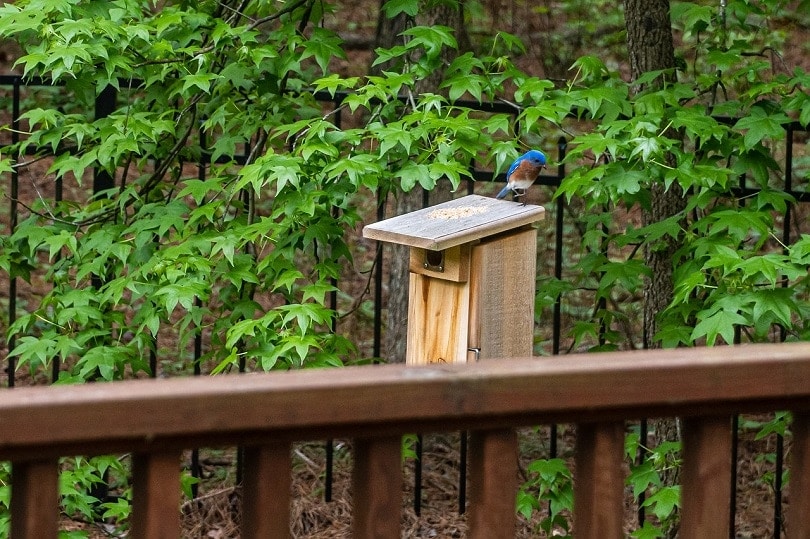 Bluebirds were once much more common than they are today. Their numbers declined due to competition for nesting sites from other birds, including the crow, the sparrow, and the starling. However, you can still find them in all parts of the United States, and building them a house can improve their numbers and make your yard more attractive. We've searched the internet to find as many plans as possible to help give you some ideas for your next project. We'll supply pictures as well as a short description to let you know anything particularly important about each one.
Now, let's dive into how to build a bluebird house!

What is a Bluebird House?
Bluebirds are picky when it comes to their home, so when you are looking for your bluebird house plans, there are a few things you should make sure the project has. If you see something you like that deviates from these suggestions, you can modify it to improve your chances of having the desired bird nest there.
Entrance
Having the right size entrance hole will encourage bluebirds to use your home while discouraging other species from taking it over. The entrance hole in your plan should be 1.5 inches wide for eastern and western bluebirds and 1.56 inches wide for mountain bluebirds.
---
Entrance Height
The ideal entrance height for your bluebird house is 6-10 inches above the floor of the house. Bluebirds like to walk in and drop down in their home for increased safety and protection from the weather.
---
Floor Space
The bluebirds will need room to move around and raise a brood, so most experts recommend a 5"x 5" floor plan. This floor size is enough room to raise about eight chicks. More floor space is always good.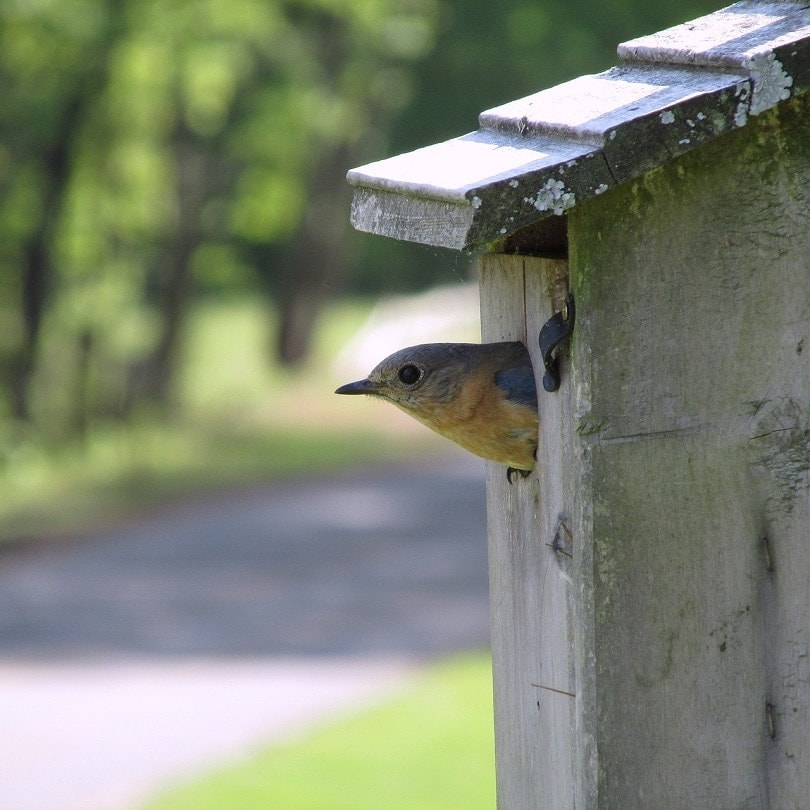 Total Height
The total height for your bluebird house should be between 8-12inches. Usually, the back is a little higher, so the water won't destroy the roof.
---
Proper Ventilation
You will need to make sure your birdhouse plans provide plenty of ventilation so your birds can breathe easy and keep cool. You can always drill a small hole near the top if you feel your plan doesn't allow enough air movement.
---
Perch
Many people might not realize that bluebirds do not require a perch and providing a perch on your bluebird house only helps predators into their home. We recommend leaving the perch off any designs you create and removing it if it's already there.
---
Monitor the Nest!
It's important to keep a close eye on the house to make sure no predators make a home there while you are hosting bluebirds. You can also report the number of birds in your house so scientists can better track them. We recommend using an automatic camera that lets you see into the house without disturbing it.
---
Habitat
Before a bluebird lives in your home, you will need to attract it with food and water. Bluebirds prefer open fields with scattered trees so remove as much clutter from your yard as possible to encourage them to nest.
The 14 DIY Bluebird House Plans
We focus mostly on eastern bluebird house plans, but you can use the same plans for western b luebirds, and to use them for mountain bluebirds, make the entrance hole slightly larger, as we recommended in the last section.
1.

Eastern Bluebird House
The first example on our list is a basic Eastern Bluebird House. It's easy to build and uses lightweight white pine that you can find easily and inexpensively.
---
2.

Triangle Bluebird House
The Triangle Bluebird House is an attractive design that isn't hard to build. It works great on a tall pole or tree, and the front opens for easy cleaning. While we have had some success with this house, you may need something with more floor space for raising chicks to get long term residents.
---
3.

Rustic Bluebird House
The Rustic Bluebird House is a little harder to build than the ones we looked at, but it looks amazing and provides plenty of room for your bluebirds to raise a brood. This house also uses white pine and is ⅝-inch thick.
---
4.

Easy Bluebird House
The Easy Bluebird House is a simple DIY project that will take only a few minutes to build and uses a minimum number of materials. The lid lifts so it's easy to clean, and it's easy to mount to a building or pole.
---
5.

Multiroom Bluebird House
The Multiroom Bluebird House is a simple design that allows multiple birds to nest in the same place. It has a front locking panel that opens for easy cleaning and a slanted roof for runoff.
---
6.

Multistory Bluebird House
The Multistory Bluebird House is an attractive abode made from cedar wood and provides enough room for multiple birds. The top section is well suited to bluebirds. You only need to worry about the entrance hole.
---
7.

The Outhouse Bluebird House
The Outhouse Bluebird House is a unique design that provides enough room for a family of birds while creating an attractive conversation starter for your guests.
---
8.

Community Housing
The Community Housing plan accommodates multiple bird families and is perfect for the bluebird. Though these plans are expensive to purchase, you can easily build something similar for far less.
---
9.

Fledgling Series Bluebird House
The Fledgling Series Bluebird House is one of the most attractive designs on this list. It will take more skill and experience than most others, but if you're patient, you will be able to get it completed.
---
10.

Backyard Birdhouse
The Backyard Birdhouse is a very simple project that incorporates a small camera into the design. There are many cameras you can use, and some will automatically snap pictures as the birds visit, while others will send the transmission directly to your computer so you can watch them or look at the images without disturbing the house.
---
11.

Cottage Birdhouse
The Cottage Birdhouse is another advanced-level design that results in an attractive birdhouse that you can show off. It has plenty of room for a full family of bluebirds, and it is extremely durable.
---
12.

Bluebird Observation House
The Bluebird Observation House is a simple project that opens from the side for easy cleaning. It has just enough room, and you can finish it in several different ways based on personal taste.
---
13.

Face Bluebird House
The Face Bluebird House is another standout on this list that will look attractive in any yard. The two eyes and mouth create three separate living environments, each providing enough room for a bluebird family.
---
14.

  Hand-Painted Bluebird House
The Hand-Painted Bluebird House is a great example of how you can improve your birdhouse's appearance with a little artistic creativity. If you can't draw, you can use templates, decals, and stickers to personalize your eastern bluebird house plans.
Summary
We hope that our list of plans that teach how to build a bluebird house have given you some ideas about what you can build for your home. We recommend trying out a few of the simpler DIY plans before purchasing any because we think you'll be happy with what you create, and if you follow our guidelines, there is a good chance you will get some bluebirds. We also recommend an automatic camera that will transfer images and video to your home, so you don't need to disturb the nest to see what is going on and check for predators.
We hope you have enjoyed reading and found this guide useful. If you think it can help others, please share these 14 bluebird house plans you can build today on Facebook and Twitter.
---
Featured Image Credit: wileydoc, Pixabay