10 DIY Bluebird House Plans You Can Build Today (With Pictures)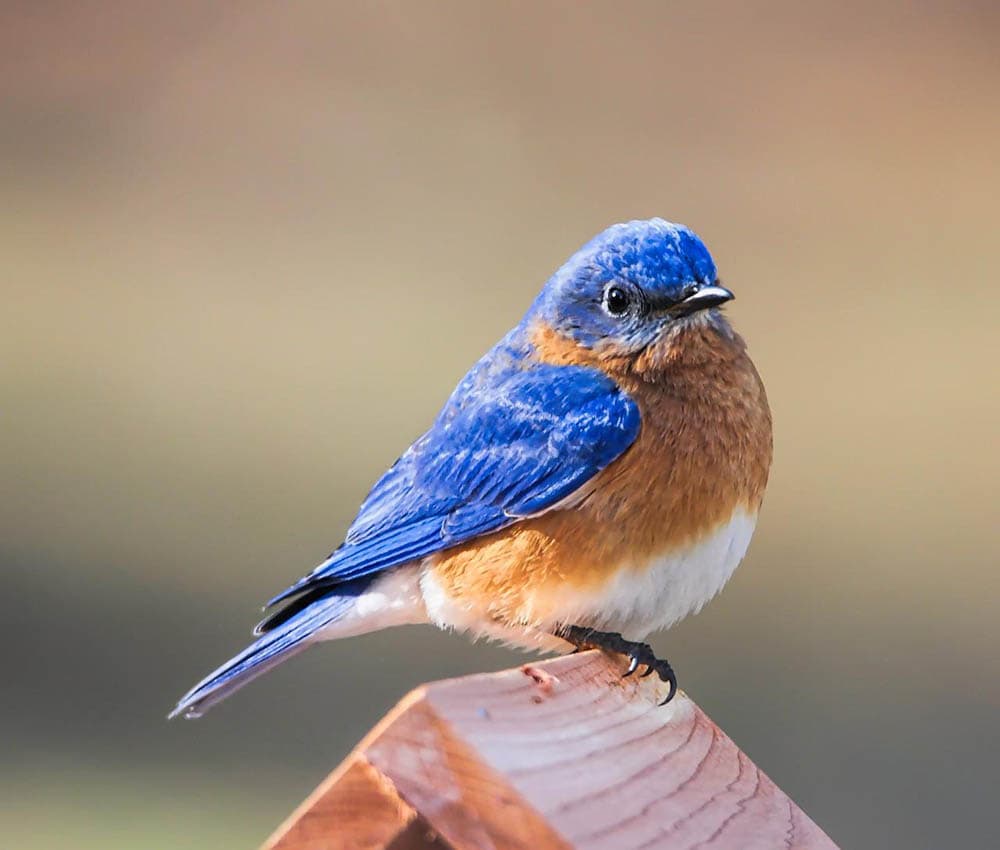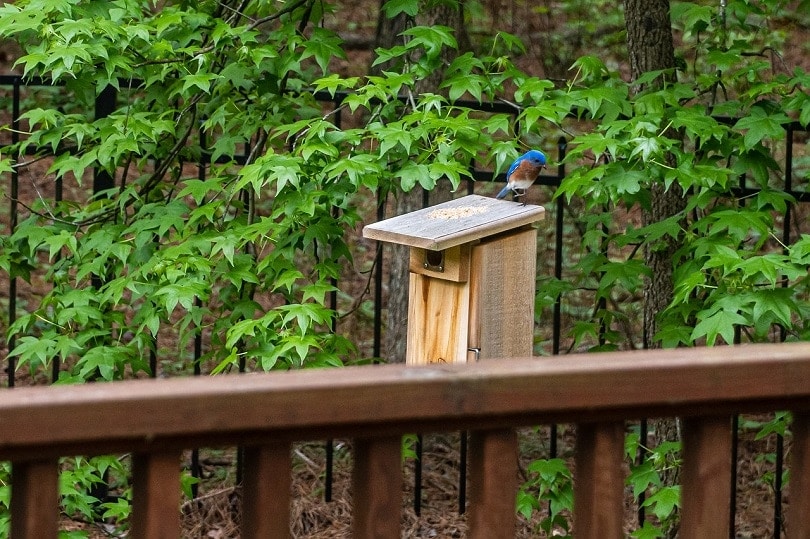 Bluebirds were once much more common than they are today. Their numbers declined due to competition for nesting sites from other birds, including the crow, the sparrow, and the starling. However, you can still find them in all parts of the United States, and building them a house can improve their numbers and make your yard more attractive. We've searched the internet to find as many plans as possible to help give you some ideas for your next project. We'll supply pictures as well as a short description to let you know anything particularly important about each one.
Now, let's dive into how to build a bluebird house!
The 10 DIY Bluebird House Plans
We focus mostly on eastern bluebird house plans, but you can use the same plans for western bluebirds, and to use them for mountain bluebirds, make the entrance hole slightly larger, as we recommended in the last section.
1.

Triangle Bluebird House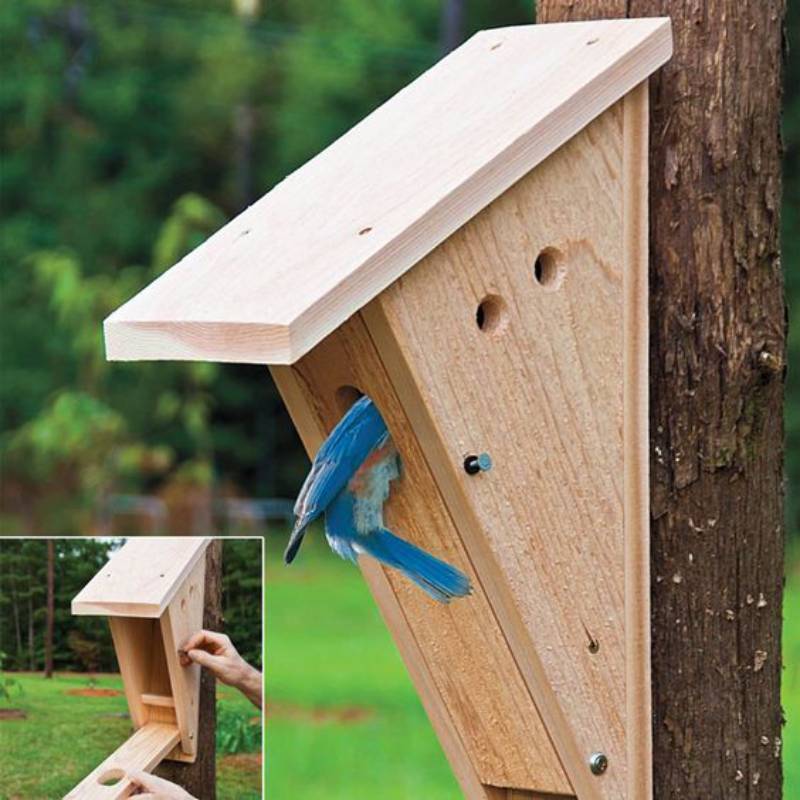 The Triangle Bluebird House is an attractive design that isn't hard to build. It works great on a tall pole or tree, and the front opens for easy cleaning. While we have had some success with this house, you may need something with more floor space for raising chicks to get long term residents.
---
2.

Easy Bluebird House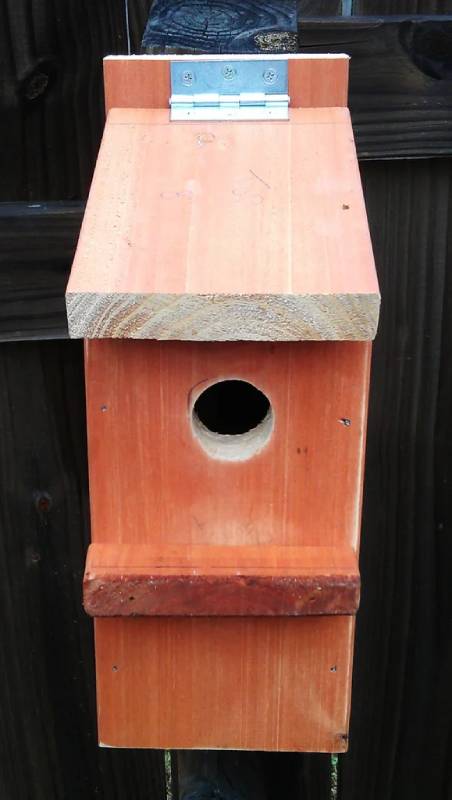 The Easy Bluebird House is a simple DIY project that will take only a few minutes to build and uses a minimum number of materials. The lid lifts so it's easy to clean, and it's easy to mount to a building or pole.
---
3.

Simple but Stellar Bluebird House by Construct 101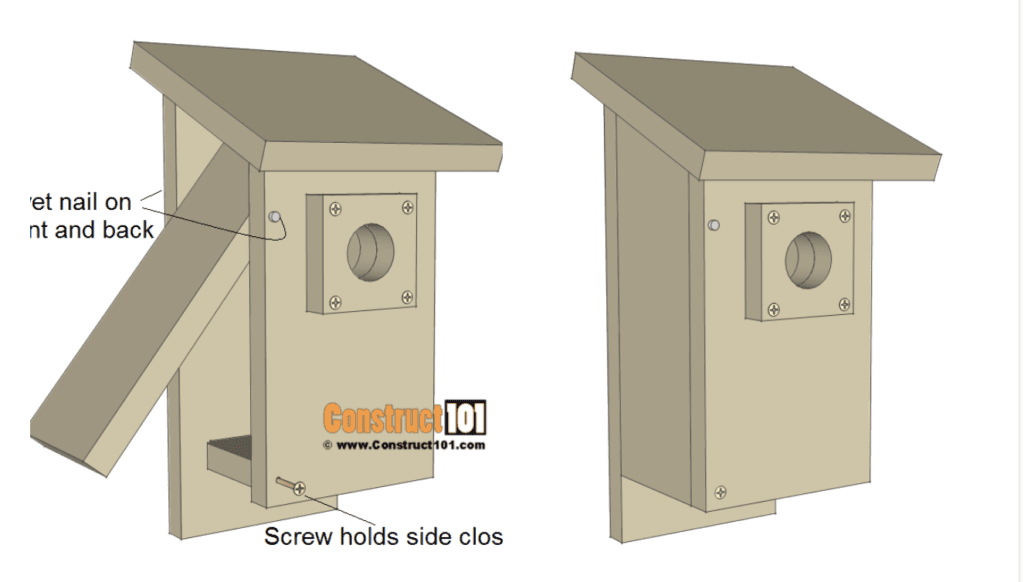 This DIY Bluebird house has complete plans you can download for free as a PDF. It's well-designed and functional and only demands moderate skills and tools. The resulting Bluebird house, however, is stellar, with an opening side door you can use to clean the birdhouse out if necessary.
The finished project looks great and will undoubtedly make a fine home for a young Bluebird family. Also, with very few materials needed, this DIY Bluebird house won't fly away with your DIY project budget.
---
4.

Kentucky Style Bluebird House for Nesting by Youtube
From Youtuber Larry Satchwell, this attractive, easy-to-make free Bluebird house is made in the Kentucky style. Mr. Satchwell goes through all the steps to create the Bluebird house. His laid-back, easygoing voice makes watching and rewatching the video pleasant as you work. The finished Bluebird house is minimalist, it's true, but it will still fit nicely in any backyard.
---
5.

Simple Bluebird House with no Angle Cuts by Construct 101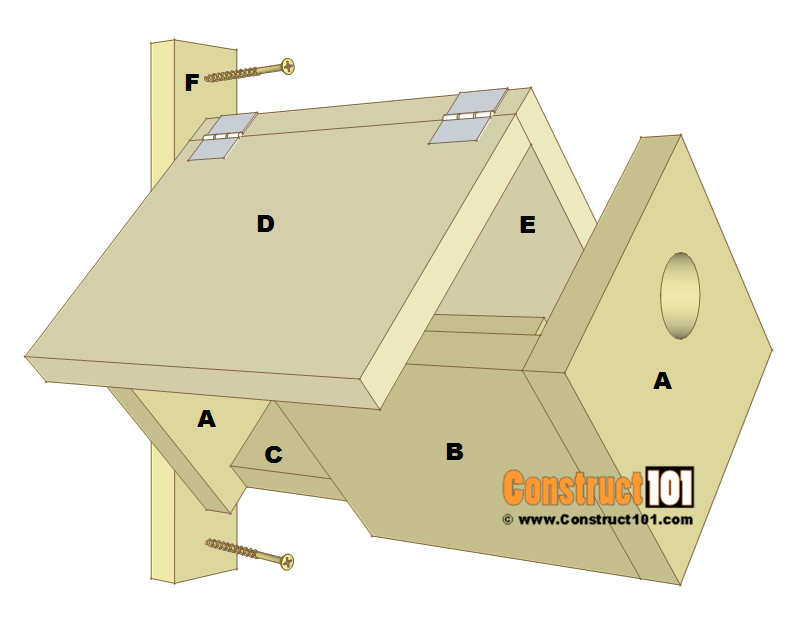 This DIY Bluebird house from Construct 101 has a free PDF of the full plans, too! The Bluebird house is an A-frame, setting it apart from many other DIY plans on our list. It's also geared towards the beginner do-it-yourselfer, with no angled cuts necessary to construct the Bluebird house. The result is a simple but effective house that should easily attract a mating Bluebird couple to come on down and make a nest!
---
6.

Xbox Bluebird House by Nest box builder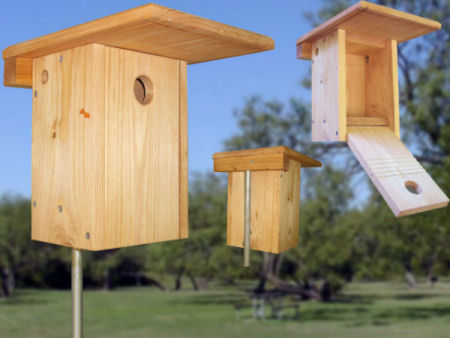 This easy-to-make DIY Bluebird house is similar to others we've seen on this list but different enough to be gladly included. The DIY plans are well-drawn and 100% free. They come from the website Nestbox Builder, where you'll find several more birdhouse plans for free. These folks are true experts, and their PDF shows exactly how to create the Bluebird house in only a couple of hours. They also have other tips about building birdhouses.
---
7.

Gilbertson Bluebird House Plans by Nest box builder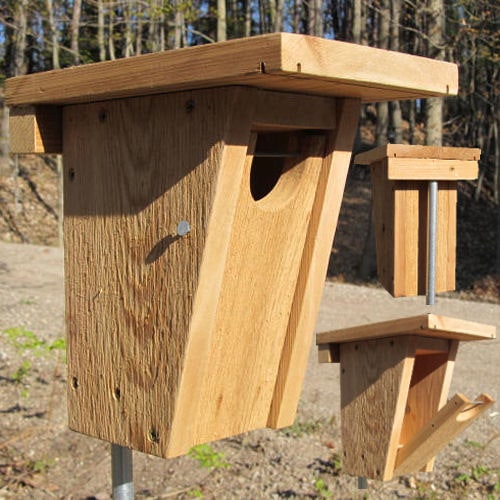 The Bluebird house plans from Nestbox Builder show you how to use a PVC pipe to construct the house. That makes it extremely durable and, along with the rebar and conduit mounting system, allows you to place this Bluebird nest box practically anywhere. Even better, the PVC pipe can be detached easily from the roof of the Bluebird house to give you quick access for monitoring the activity of the Bluebirds within. With a little black paint on the outside, you can quickly make this DIY project look like a birch tree, ready to be a home for your next family of Bluebirds.
---
8.

Cedar Picket Fence DIY Bluebird House by Youtube
Although basic, this DIY picket fence Bluebird house is a fun afternoon project. It's relatively easy to make, costs very little, and will provide a nice new home for any Bluebird family. Youtuber DIY with Wayne has a great way of explaining and, to help you even more, has a link to free PDF plans. This would be a great project for a parent to create with their child and teach them proper tool handling basics.
---
9.

Simple, Attractive DIY Bluebird House by Felt magnet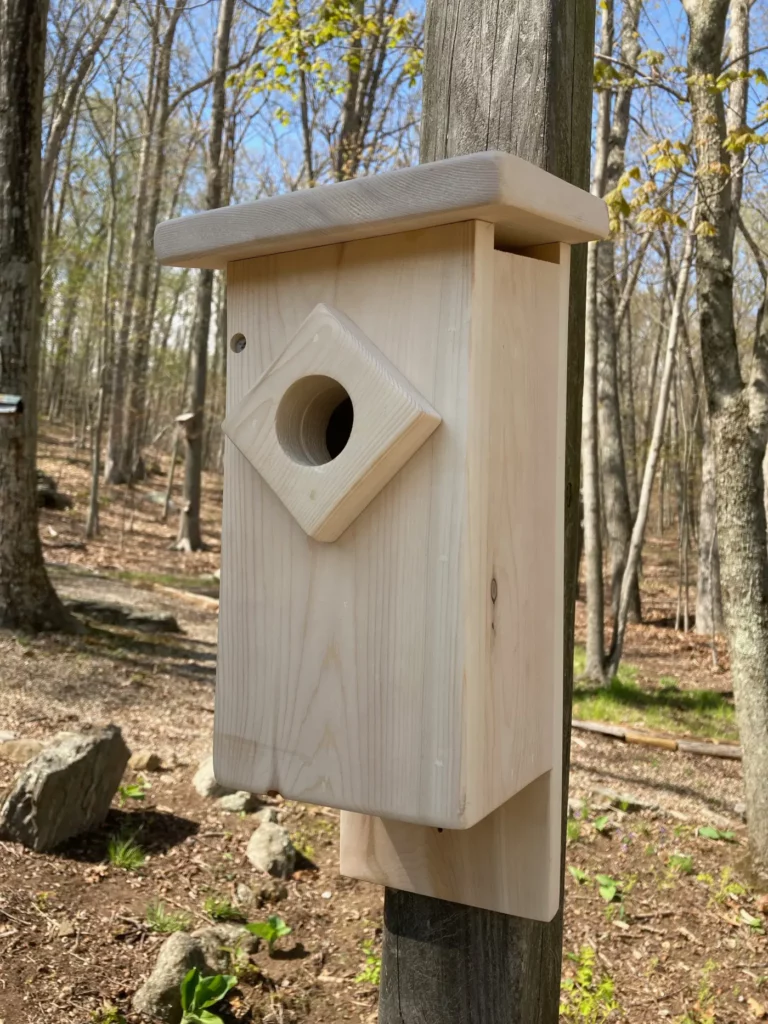 With an easy-to-open front for monitoring your Bluebird family, this free DIY Bluebird house is attractive but simple to make. The plans are fantastic, with everything well laid out and easy to understand. It also has an oversized roof to keep out the elements and keep your Bluebird family dry and warm. The finished Bluebird house looks very nice, especially if you use high-quality wood to build it. The website where the plans are located, Felt Magnet, also has plenty of tips and advice about building Bluebird houses.
---
10.

Sparrow Resistant Bluebird House by Youtube
These plans aren't for a Bluebird box, per se, but instead, they show you a way to improve an existing Bluebird house by making it sparrow resistant. Sparrows are the mortal enemy of Bluebirds. They are known to attack Bluebirds, kill their young, and take over their nest. They're so aggressive that sparrows will often make a new nest over the dead bodies of the Bluebirds.
That's the reason we included these plans from Youtuber Dean Rust. What you'll do is add a skylight to your Bluebird house. You see, sparrows hate light inside their nest, but Bluebirds don't mind it at all. By putting in a skylight and letting in more light, sparrows will stay away, naturally. For a few bucks and a few minutes of your time, all your Bluebird houses will be much safer for your Bluebirds and their families by keeping invasive house sparrows away.

What is a Bluebird House?
Bluebirds are picky when it comes to their home, so when you are looking for your bluebird house plans, there are a few things you should make sure the project has. If you see something you like that deviates from these suggestions, you can modify it to improve your chances of having the desired bird nest there.
Entrance
Having the right size entrance hole will encourage bluebirds to use your home while discouraging other species from taking it over. The entrance hole in your plan should be 1.5 inches wide for eastern and western bluebirds and 1.56 inches wide for mountain bluebirds.
---
Entrance Height
The ideal entrance height for your bluebird house is 6-10 inches above the floor of the house. Bluebirds like to walk in and drop down in their home for increased safety and protection from the weather.
---
Floor Space
The bluebirds will need room to move around and raise a brood, so most experts recommend a 5"x 5" floor plan. This floor size is enough room to raise about eight chicks. More floor space is always good.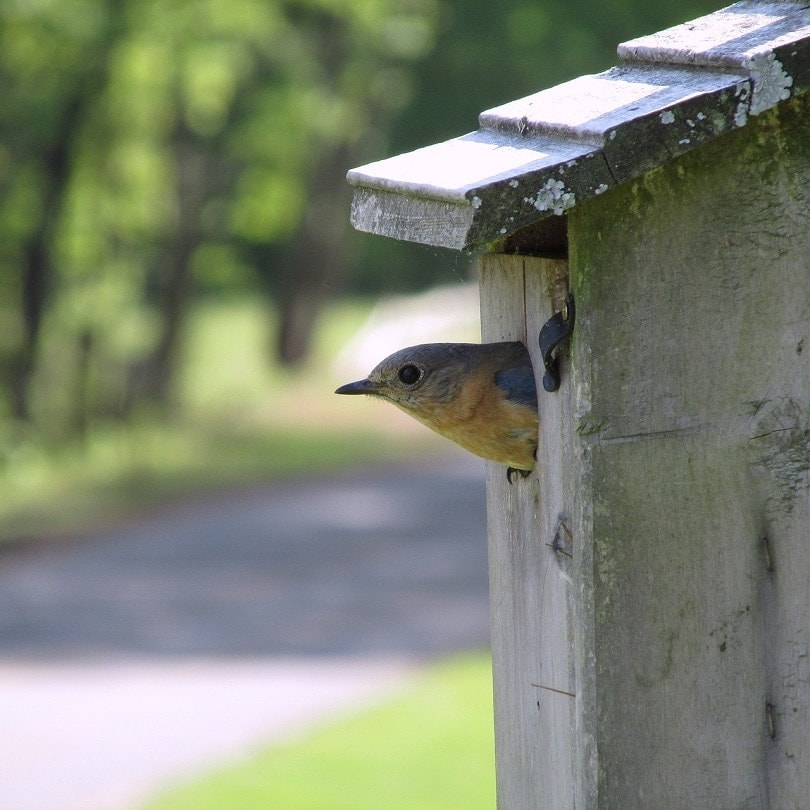 Total Height
The total height for your bluebird house should be between 8-12inches. Usually, the back is a little higher, so the water won't destroy the roof.
---
Proper Ventilation
You will need to make sure your birdhouse plans provide plenty of ventilation so your birds can breathe easy and keep cool. You can always drill a small hole near the top if you feel your plan doesn't allow enough air movement.
---
Perch
Many people might not realize that bluebirds do not require a perch and providing a perch on your bluebird house only helps predators into their home. We recommend leaving the perch off any designs you create and removing it if it's already there.
---
Monitor the Nest!
It's important to keep a close eye on the house to make sure no predators make a home there while you are hosting bluebirds. You can also report the number of birds in your house so scientists can better track them. We recommend using an automatic camera that lets you see into the house without disturbing it.
---
Habitat
Before a bluebird lives in your home, you will need to attract it with food and water. Bluebirds prefer open fields with scattered trees so remove as much clutter from your yard as possible to encourage them to nest.

Summary
We hope that our list of plans that teach how to build a bluebird house have given you some ideas about what you can build for your home. We recommend trying out a few of the simpler DIY plans before purchasing any because we think you'll be happy with what you create, and if you follow our guidelines, there is a good chance you will get some bluebirds. We also recommend an automatic camera that will transfer images and video to your home, so you don't need to disturb the nest to see what is going on and check for predators.
We hope you have enjoyed reading and found this guide useful. If you think it can help others, please share these 14 bluebird house plans you can build today on Facebook and Twitter.
---
Featured Image Credit: Naturelady, Pixabay