7 Best Jointers of 2023 – Top Picks & Reviews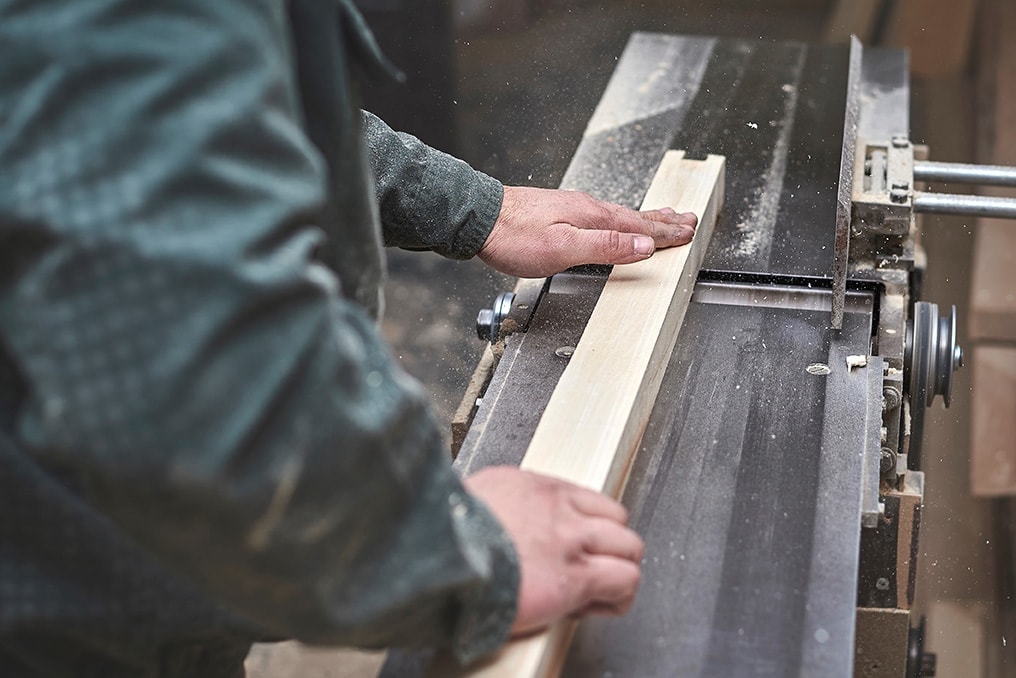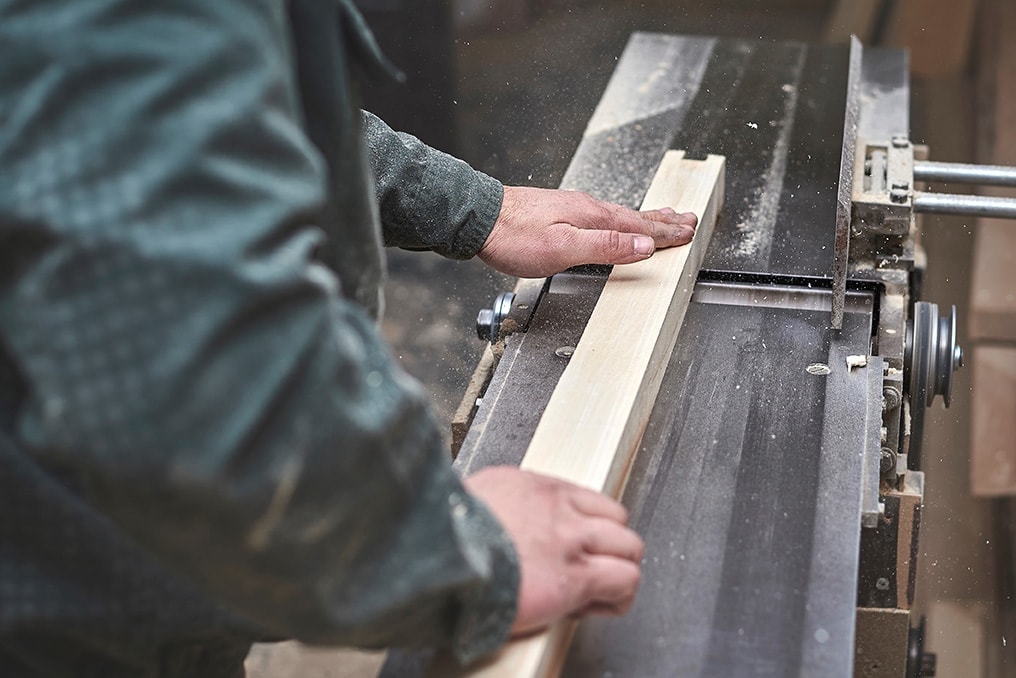 Purchasing a jointer for your workshop can be quite an investment, but most professionals would tell you that this purchase will pay for itself in a short time. If you spend much time woodworking, then you know that a jointer is an important tool.
In fact, we imagine that may have a little something to do with why you're here! Choosing the best jointer for your needs can be a challenging task. There are so many options out there.
We've got you covered! We've checked out the options for you and narrowed the playing field down to the very best jointers. We've put together some detailed reviews of the best jointers this year, complete with everything you need to know to be able to make an informed decision for meeting your needs.
A Quick Comparison of Our Favorites in 2023
Rating
Image
Product
Details

Best Overall

Delta 1610086K Benchtop Jointer

Perfect for a small workshop space
Blade measurements are accurate and precise
Setup is quick and easy
CHECK PRICE

Best Value

Craftsman Benchtop Jointer

Adjustable speed ranges
Adjustable cutter speeds
Designed for accuracy
CHECK PRICE

Premium Choice

Powermatic 1610086K 8-Inch Jointer

Premium choice model
Helical cutter head provides 4 sharp blade edges
Extended length working space
CHECK PRICE

Porter-Cable Benchtop Jointer

Easily adjustable to your needs
Easy to set to your preferences
Expanded working space for additional support
CHECK PRICE

Powermatic 54HH 6-Inch Jointer

The fence tilts to 45°
Backed by a 5-year warranty
Heavy-duty materials built to last
CHECK PRICE
The 7 Best Jointers
1.

Delta 1610086K Benchtop Jointer – Best Overall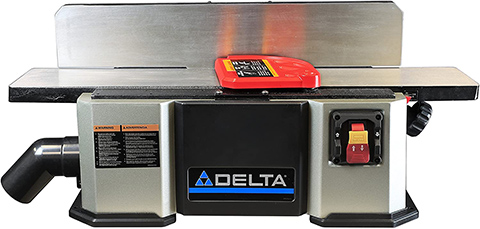 This Delta 1610086K Benchtop Jointer earned its spot in our number one position in the ranks! It's certainly a high-quality model and is our recommended best overall option.
This is a 6-inch top jointer that is made with cast iron materials. The cast-iron makes it slightly heavier so you have stability and less vibration. This machine is accurate and includes precision machining design.
The fence can be adjusted to both 90° and 45° settings, but it can be challenging to adjust. This beauty can cut 20,000 cuts per minute and can cut up to ⅛ inches deep as well. This jointer weighs about 76 pounds and is designed to be set on a bench or worktable.
As far as specs go, the Delta benchtop jointer measures 17 x 28.5 x 13 inches. Twelve amps provide you with plenty of power to handle just about anything you might throw at this machine. You will want to be able to connect your shop-vac to avoid being dusted out of the work zone as well.
Pros
Perfect for a small workshop space
Blade measurements are accurate and precise
Setup is quick and easy
Solid, heavy-duty build makes it durable
Cons
Produces quite a bit of dust
The fence can be challenging to adjust
---
2.

Craftsman CMEW020 Benchtop Jointer – Best Value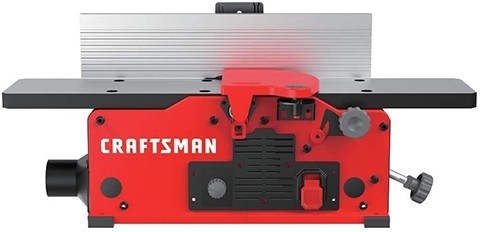 This Craftsman CMEW020 Benchtop Jointer happens to be one of the best jointers for the money. It is well-made and has a great price considering the features and durability.
This bench jointer from Craftsman is a 10-amp benchtop model. The speed varies from 6,000 to 11,000 RPM, depending on what you need. The cutter speed can also vary from 12,000 to 20,000 cuts per minute. The Craftsman CMEW020 jointer is versatile but it really works best for light-duty use. It can handle heavy-duty jobs but not on a running basis.
The cutter head has two knives and a built-in cutter headlock. Blade changes are simple with this design. The jointer cuts accurately.
There is a fence that is mounted directly in the center. This fence helps with accuracy and support when you are jointing. However, the fence on this product tends to be difficult to align and actually align squarely. Despite this we still think this is the best jointer for the money available this year.
Pros
Adjustable speed ranges
Adjustable cutter speeds
Designed for accuracy
Simple to operate
Cons
This jointer is best for light-duty
The fence is difficult to align squarely
---
3.

Powermatic 1610086K 8-Inch Jointer – Premium Choice

Next on our list is a premium model, the Powermatic 1610086K 8-inch jointer. This jointer certainly stands out with premium features and design. It is a more expensive model but well worth the cost if it is within your budget and has what you need.
This jointer has a helical cutter head equipped with four-sided inserts. These inserts help to cut smoothly and quietly and leave your wood with a nice finish as well. The table has extra-long fins to offer extra working space and additional support. These fins measure up to 73 inches!
The fence tilts using a worm gear system that is operated by hand. This allows your tilting to be smooth and accurate. You can easily adjust your cut depth and the machine is simple to work with. Be prepared for wood chips to possibly come out the front, which will just make cleanup a bit more tedious.
This heavy-duty machine has 2.0 horsepower (HP) and is large and superior, weighing 518 pounds. It also comes with a 5-year warranty. For a premium model, we are a bit disappointed in the quality control of the Powermatic jointer, as it often ships with broken or missing parts.
Pros
Premium choice model
Extended length working space
Helical cutter head provides 4 sharp blade edges
It is super easy to make adjustments for accuracy
Cons
Quality control issue on parts when shipped
Wood chips tend to come out the front, causing extra cleanup
---
4.

Porter-Cable PC160JT Benchtop Jointer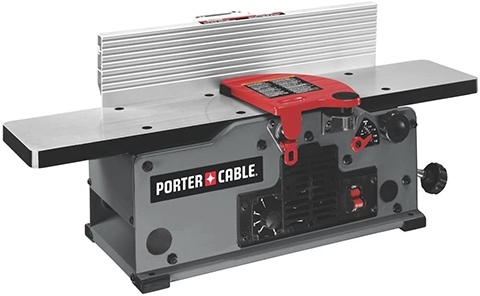 Porter-Cable brings us another valuable option with their PC160JT Benchtop Jointer. This jointer also has variable speed ranges, allowing some versatility for your needs. The variable speeds can range from 6,000 to 11,000 RPM.
The knives are easy to replace with a built-in headlock that allows you to adjust and replace them as necessary. This jointer is equipped with extra work support surfaces that allow you to handle 6 inches of width.
The fence is center-mounted to provide support while you're cutting, particularly for edge jointing. This is a highly-rated option and it is easy to use and operate. You get to control every movement, with both speed and accuracy in mind.
While this jointer is great for hobbies, it doesn't handle hard or heavy materials very well. . We also noticed that even when you're on the lowest speed, it seems like the speed is still running high. This could be a glitch in the design.
Pros
Easily adjustable to your needs
Expanded working space for additional support
Easy to set to your preferences
Reliable control and precision
Cons
Even the low speeds seem pretty high
Does not handle hard or heavy woods as well
---
5.

Powermatic 1791317K 6-Inch Jointer
The Powermatic 1791317K is a heavy-duty jointer with a sturdy base material. The cabinet base is all steel and raised 32 inches in height. This has a powerful motor that is single-phase and 1.0 HP. This motor is mounted within the base and can be converted for voltage purposes.
The helical cutter head has a four-sided knife. This helps to increase efficiency and accuracy while also reducing the noise that the machine might make while working. The infeed is adjustable to 6 inches to give you some additional working space.
This jointer is not made out of your everyday materials. The tables are made with cast-iron that offers support and durability. The fence system is considered to be high-performance and is designed to be precise. You can tilt the fence for some additional versatility.
The Powermatic jointer is another one that can't quite get the fence right. It is hard to set up squarely like several others. One more thing we want to mention is that working with the motor can be challenging and awkward due to the space it is set in.
Pros
The fence tilts to 45°
Backed by a 5-year warranty
Heavy-duty materials built to last
Helical cutter head design
Cons
The fence is challenging to set up squarely
Tensioning the motor belt is very awkward in a tight space
---
6.

RIKON Power Tools 6" Benchtop Jointer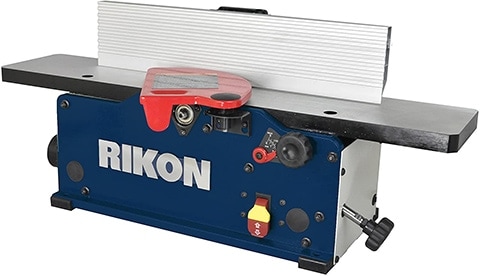 The RIKON Power Tool 20-600H 6" benchtop jointer is a benchtop model that is made with heavy-duty steel. It is all metal, rigid materials that are designed for optimal usage and durability. This benchtop jointer has a helical cutter head that offers superior cutting precision and efficiency.
This machine is pretty simple to operate. It has a spring-loaded safety guard that is effortless to work with. The fence can be set up squarely, but it does take some getting used to in order to adjust it just right. It also has a simple on/off switch that is located on the front of the machine. The fence is set in the middle and can be adjusted from 45° to 90°. It's simple to adjust and appears to be accurate as well.
This benchtop jointer has a 10-amp motor, which gives it a lot of power to get your jobs done quickly. The table is large, so you will have plenty of room to work with up to 30 inches of support.
We recommend hooking up your Rikon jointer to a shop-vac or else you will be working in heavy dust and have to stop to clear it regularly.
Pros
Benchtop jointer with helical cutter head
Adjustable tilting fence is easy to work with
Smooth and precise cutting
Lots of power with a 10-amp motor
Cons
The fence adjustments take some getting used to
Shavings can build up pretty quickly
---
7.

JET 12-Inch Jointer Planer Combo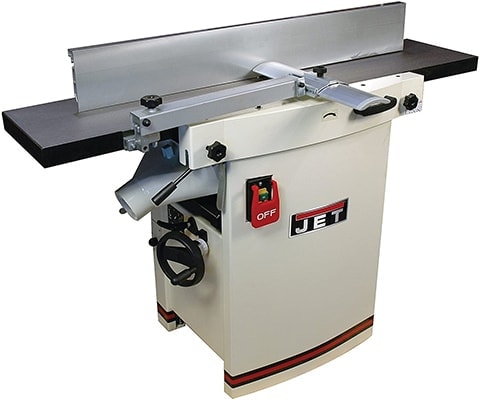 The JET 12-inch jointer planer combo is equipped with three steel knives on the cutter head. The additional knife means you can cut more quickly and more smoothly.
The table is designed in order to provide you with a precise cutting depth and it is easy to adjust for your needs. The fence is made with aluminum and is extra-large, but we noticed almost right away that it isn't really very accurate across the entire length. However, it is very easy to adjust as needed.
This machine allows you to switch between jointing and planing. It has a 3.0 HP motor, which is incredibly powerful and lets you handle tough materials without taking forever to get the job done. The JET 12-inch jointer planer combo does get really hot while you're working so you may have to give it breaks.
Pros
Powerful 3.0 HP motor handles everything
Can be switched between jointer and planer
Easy to work with and adjust
Extra-long fence provides plenty of control
Cons
The fence is not wholly accurate across the entire length
The motor heats up quite a bit when used for an extended period of time
See: The Essential Woodworking Tools

Buyer's Guide: How to Choose the Best Jointer
We can show you feasible jointer options all day long but when it comes down to it, it's really about fulfilling your needs. These can vary quite a bit across the board in terms of power, accuracy, ease of use, and more.
We feel as though it's important to prepare you with the right information before you make a selection. We've put together a complete buyer's guide to share with you tips on choosing a product that is right for you.
Remember that only you know the preferences and needs that you are looking for but we can help guide you on specific items you may want to look for. In the buyer's guide, we will share some information about your options, some tips for making a decision, and define for you what makes a jointer a good product.
Important Things to Consider When Finding a Jointer for Your Needs
There are several static features when it comes to a jointer. But these features are not necessarily equal across the board. Here are some of the features that we took into consideration while making our list of best jointers:
Cuts Per Minute
Cuts per minute are something you may want to keep in mind. Typically, the higher the cuts per minute, the finer the finished cut will be. Higher cuts per minute tend to cut more smoothly and precisely.
However, this number also directly correlates to the RPM and the number of blades as well. Here is what you want to look for: a  jointer with two to three knife blades should offer at least 12,000 cuts per minute if the RPM   is 4,000 or more. The lowest you will want to see for a versatile and precise machine is 12,000 cuts per minute.
Cut Depth
The depth of your cut could vary across the machine. This depth is determined by the height of the outfeed table and the infeed table and the difference between them. Most users prefer a maximum depth of about ⅛ inches as this means you have more control and usually a smoother finish as well.
Cut depths can vary from ⅛ to ½ inches. When you see this measurement, it means that is the maximum cut depth on that machine. You can typically cut shallower as well.
Table Size
The width and length of your table are also important. The longer the table length, the more room you have to work with. If you tend to work with long pieces of lumber, you will want a longer table size.
The rule of thumb is that your wood should never be more than double your table length. You need the table length to support the majority of the wood as you run it through the jointer. If your table length is too short, you may run into control and accuracy issues.
You will also want your table to be the proper width. You will want the width of the surface to be sufficient for the width of the lumber that you typically work with. The width needs to be sufficient to hold the wood.

Power
The power of the jointer is another important characteristic. For starters, you will need to be able to accommodate the power. Do you have the proper wiring and outlets to manage the power of the machine you're eyeing? You will want to pay attention to this in case you have to make adjustments for your setup.
You can look at the wattage, amperage, and horsepower measurements of the machines. The higher the wattage, the more powerful the motor. Additionally, horsepower is typically more powerful than the machines measured in amps. However, it doesn't mean that machines measured in amps can't handle your jobs.
Just be aware of these things and what you may need.
Cutter Head Types
You will notice in our reviews that some cutter head types were listed as helical. If they didn't have that description, then they were straight knives. Helical cutter heads are more powerful, more efficient, and cut more smoothly overall. If you want a helical cutter head, be aware that you will pay quite a bit more for your choice.
A straight cutter head is still accurate and powerful if it is properly designed. It is noisier to operate but it can still do a sufficient job of jointing.
Tips When Buying
Before we wrap up, we want to leave you with some tips for buying a jointer. We've shared features to consider and plausible things to look for, but let's point out some of the crucial variables that should go into your decision:
Budget – before you get too excited, determine your budget for filling this need. Prices can range a lot from one option to another. You need to determine your spending range and then find something that fits into that range.
Warranty – You will want to know whether or not your options have a warranty. A warranty is always a good idea when you're looking at making a costly investment. You certainly don't want to spend lots of money just to be stuck with some sort of defect.
Identify Your Needs – Finally, we want to remind you that your needs may be unique. What works great for one person may not be quite what you need. Before you make a final decision, be sure to dig in and find out whether the jointer you choose will be sufficient for your needs.

Conclusion
As you browse through these reviews, we hope you find an option that is suitable for your needs. If all else fails, let us point you back to our favorites! The Delta 1610086K Benchtop Jointer was our best overall pick. It is reliable and functional for most almost any need.
The Craftsman CMEW020 Benchtop Jointer won the best value award. It's affordable, versatile, and incredibly user-friendly. You can't go wrong with this one either.
Before you choose, just make sure that you keep in mind your jointing needs and work from there!