22 Free DIY TV Stand Plans You Can Build Today (with Pictures)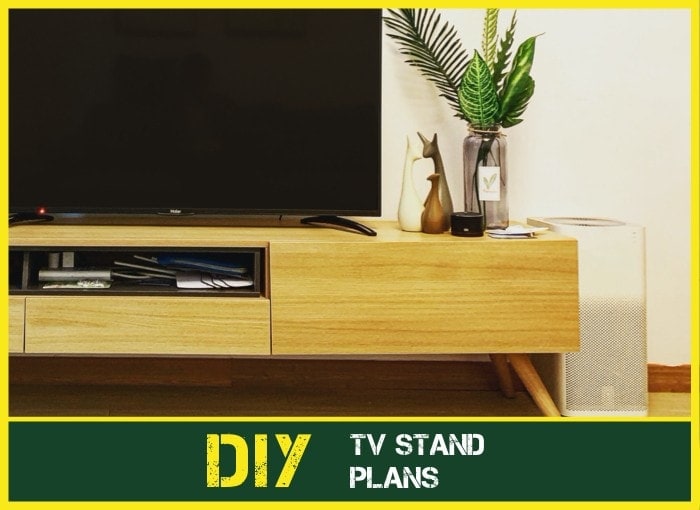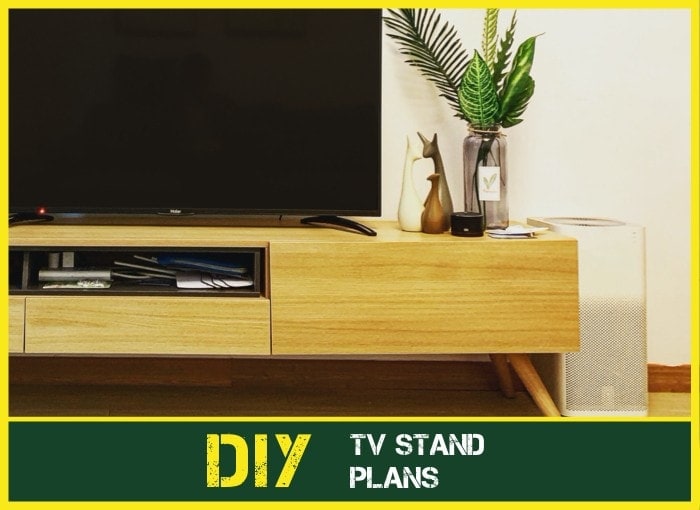 You can spend a lot of money buying the perfect entertainment stand, but there's an advantage to learning how to build a tv stand yourself. You might think that it's money, but while you can save a lot of money, what we're talking about is the fact that you can tailor your television stand to match your interior decoration scheme.
We've found a wide range of television stand plans, from rustic to modern. Some come with cabinet storage underneath; others have bench-style stands. No matter what you're looking for, we think you'll find something you'll like here.

The 22 DIY TV Stand Plans
1.

DIY Reclaimed Wood and Black Pipe TV Stand Plan from What Rose Knows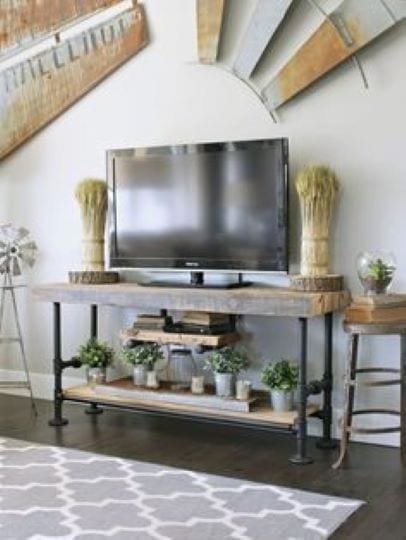 This blocky bench-style reclaimed wood television stand from What Rose Knows doesn't have a lot of storage to keep wires and other electronic clutter out of the way. However, it has a simple and well-designed plan that makes the television the center of everyone's focus. You can use the shelf underneath for consoles and accessories, keepsakes, photos, and even potted plants.
---
2.

DIY Farmhouse Media Cabinet Plan by Build Something
This elegant farmhouse media cabinet from Build Something gives you a sturdy centerpiece to put your television on, with plenty of storage underneath for consoles and accessories. Feel free to customize the color if a white frame doesn't suit your taste.
---
3.

DIY Sliding Door Console Plan from Ana White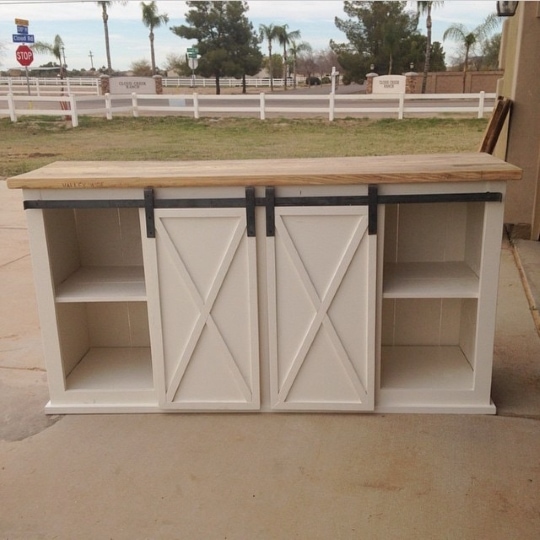 Another entertainment center with plenty of storage is this console table from Ana White, which relies on sliding doors instead of ones that open out. There's plenty of space underneath for you to keep unsightly wires from cluttering up your living room.
---
4.

DIY Barn Door TV Stand Plan by Shanty-2-Chic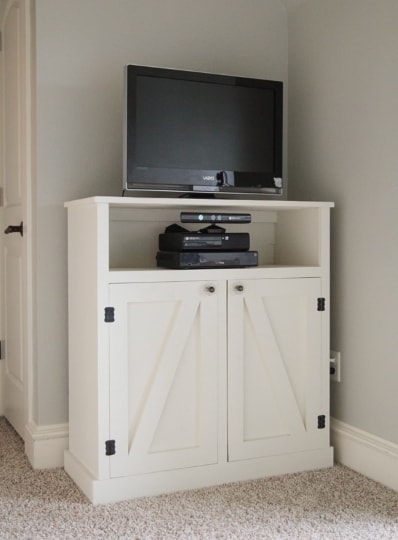 This barn-door media console from Shanty-2-Chic is perfect for smaller televisions in guestrooms, children's bedrooms, or the kitchen. It has space for consoles and a storage area for accessories. The plans include detailed instructions and pictures explaining where to use your power tools.
---
5.

DIY Flat-screen TV Stand Plan from Remodelista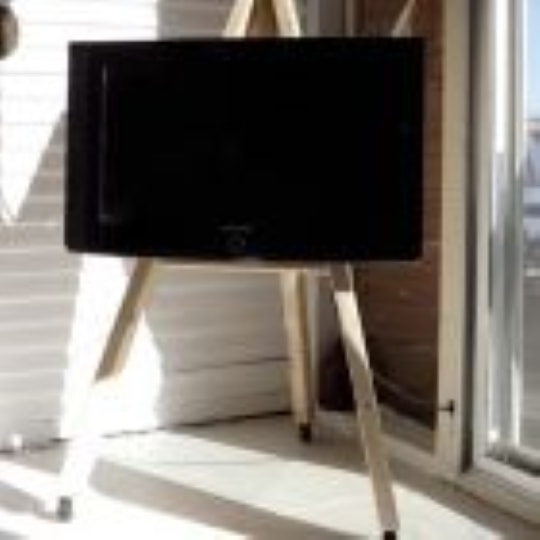 This fun, fast, and easy easel stand for flat-screen TVs from Remodelista combines mobility and simplicity to let your screen be the focus instead of its surroundings. We think you'll really like the wheels on the bottom. Its mobility is helpful if your entertainment room gets a lot of glare.
---
6.

DIY Tall Corner Media Console Plan from Ana White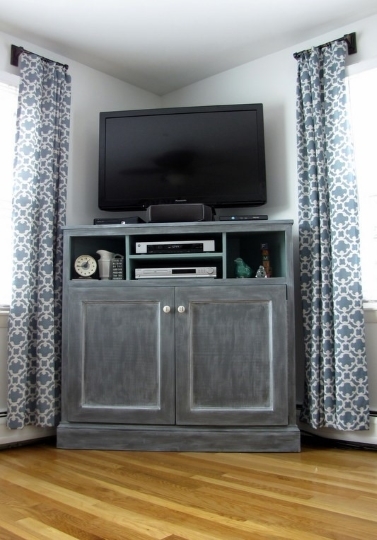 This tall stand built for a corner from Ana White is perfect for people who want to give their televisions a little altitude in their entertainment room. It has plenty of space below for consoles, accessories, or that odd collection of DVDs you still have hanging around.
---
7.

DIY Reclaimed Wood Media Console Plan from My Love 2 Create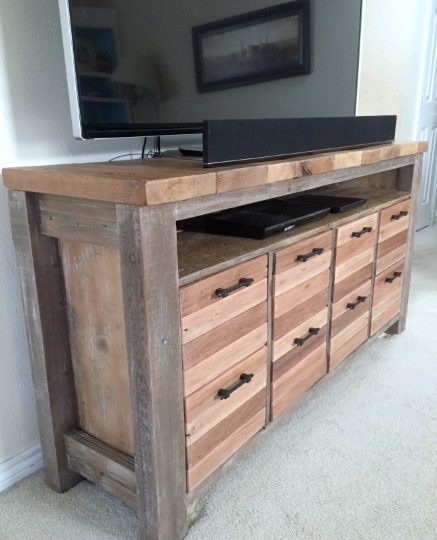 This one might be more fun to assemble than to use. Not only are there lots of drawers to build, but the materials are upcycled, which means that it's all hands-on work. The plans from My Love 2 Create include a detailed list of the necessary hardware.
---
8.

DIY Corner TV Stand Plan by Mimi Berry Creations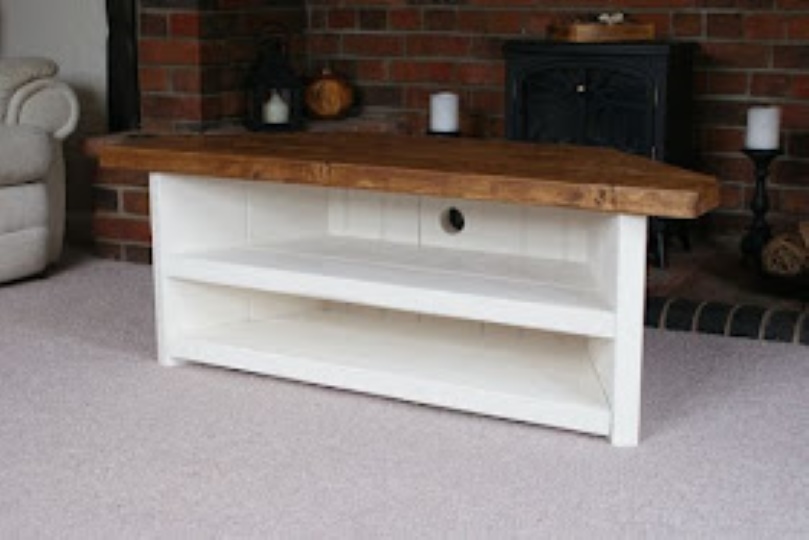 If you have a corner to put your television in, these plans from Mimi Berry Creations will help you get the right dimensions for your lumber to fit your television into the corner. This design calls for nice, thick wood in case you have an old television with a lot of bulk.
---
9.

DIY Windowframe TV Stand from Two Feet First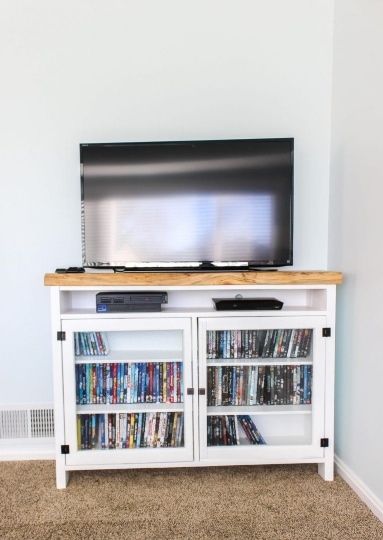 If you have old window frames lying around your house or in the barn, these plans for a DIY television stand from Two Feet First can be a fun weekend project. On top of that, the stand will look great and is a kind of throwback look for a modern entertainment set. There is space for your consoles and accessories.
---
10.

DIY Reclaimed Pallet Wood and Cable Drum TV Stand from 1001 pallets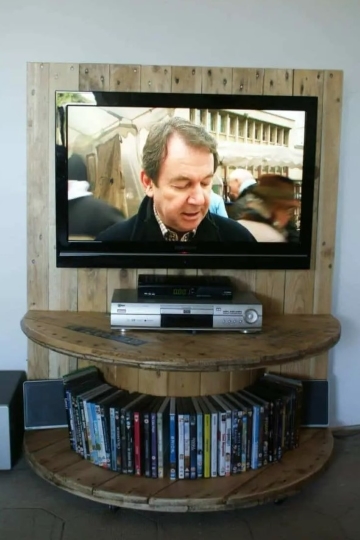 Cable drums are an underappreciated resource. Plentiful and cheap, you can make a variety of projects from them. If you're looking for a TV stand, you can make a good one using a cable drum at 1001 Pallets. It also incorporates pallet wood, which makes this an ultimate DIY project.
---
11.

DIY Apothecary TV stand Plan from Ashley Grenon
This simple apothecary-style TV stand has plenty of storage space for consoles and other accessories. The plans at Ashley Grenon are borrowed from Ana White, but the place we pulled them from has a couple of nice little twists and easier-to-follow explanations.
---
12.

DIY Corner TV Stand Plan from Rogue Engineer
This corner TV stand from Rogue Engineer lets you fill a corner while giving your stand a little depth. Additionally, you'll find storage space on the shelves underneath your TV.
---
13.

DIY Rustic TV Stand Console Plan from Ana White
One thing about this console from Ana White is that its uses aren't limited to just a TV stand. You can also use it as a regular furniture piece that blends in with your living room, bedroom, or dining room set. Fortunately, it's not as complicated to build as it looks.
---
14.

DIY X-Leg TV Stand Plan from Homemade from Carmona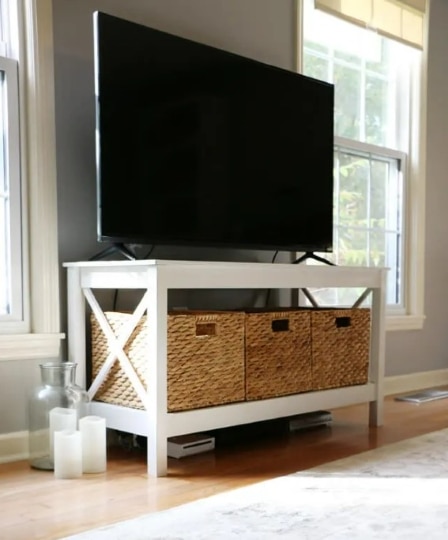 There is nothing complicated about this TV stand from Homemade from Carmona. It's just a simple stand with only an "X" to make it stand out. The one thing it has going for it is its simplicity. It's not going to overshadow your furniture or other decorations. This piece will give your TV a little altitude with a shelf for a bit of storage.
---
15.

DIY Pallet TV Stand from Cahill's Creation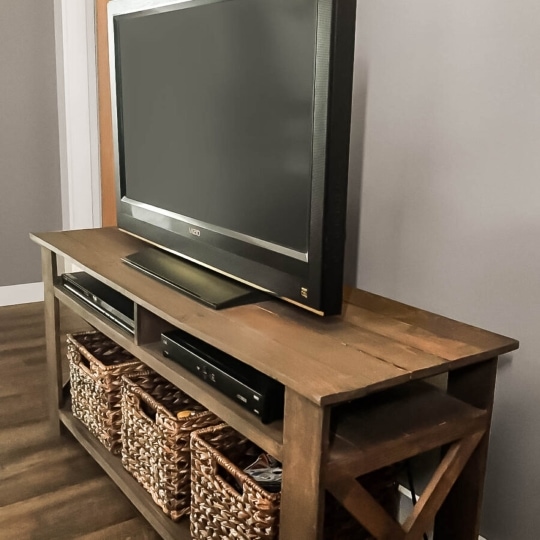 There are more inventive pallet wood creations than this TV stand from Cahill's Creation, but sometimes you need something basic and simple. This one doesn't require special skills or materials, but with a little stain and work, you build a stand that looks like it took much more time to complete.
---
16.

DIY TV Stand from The Family Handyman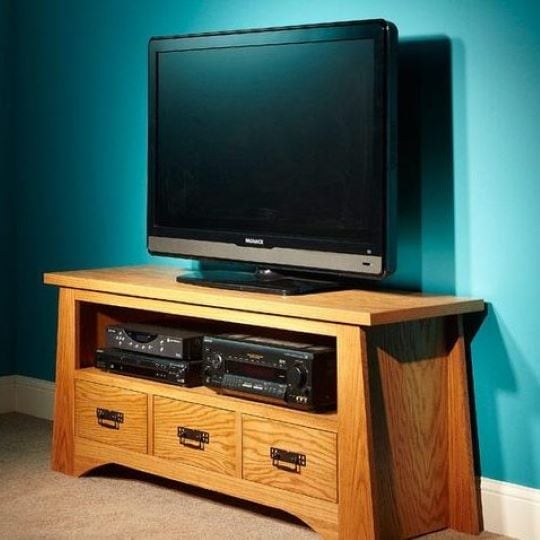 If you're on the hunt for a basic TV stand that looks like you might have purchased it, this DIY TV stand from The Family Handyman is a good one. Though it requires a little shaping and building drawers, it looks a little more refined than your typical DIY job.
---
17.

DIY TV Stand Plan from Dowelmax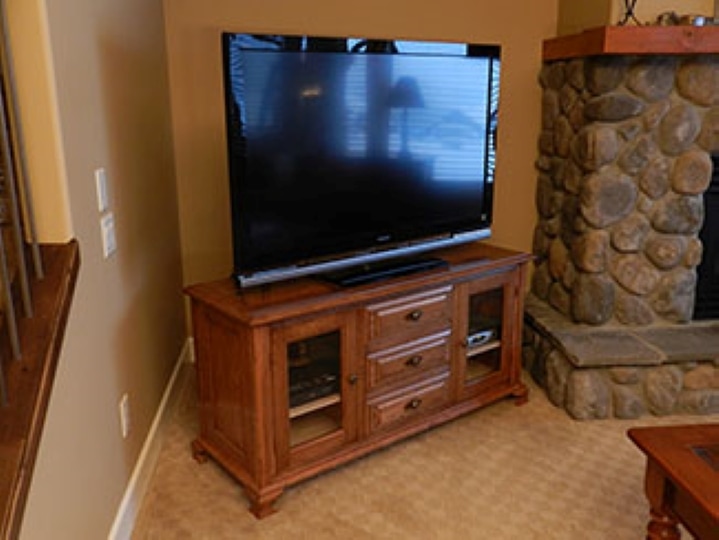 This DIY TV stand from Dowelmax doesn't have a DIY look to it. It looks like a model you may have bought from a furniture store. You might ask why you're building something that looks like a ready-to-go purchase; the answer is in the savings.
---
18.

DIY TV Stand from Homeedit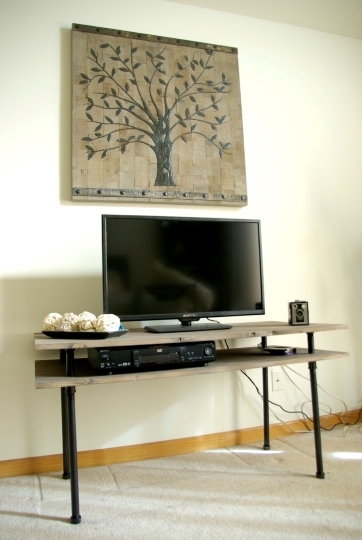 The DIY TV Stand by Homedit is easy to construct and requires minimal materials. It may not be as attractive as some of the other projects on this list, but it does what it's supposed to, and most people can use it the same day they decide to build it. It only requires a few boards and galvanized metal pipes.
---
19.

DIY X-Leg TV Stand from Build Something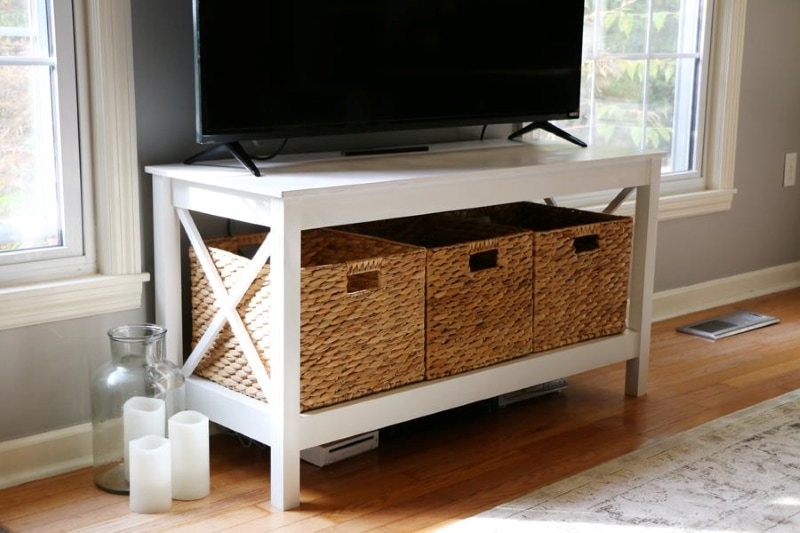 The X-Leg TV Stand is an easy build brought to us by Build Something .it doesn't take long and results in an attractive and durable stand. There are no shelves, but plenty of storage space is below the TV.
---
20.

DIY Bench Style Nine Red TV Stand from Nine Red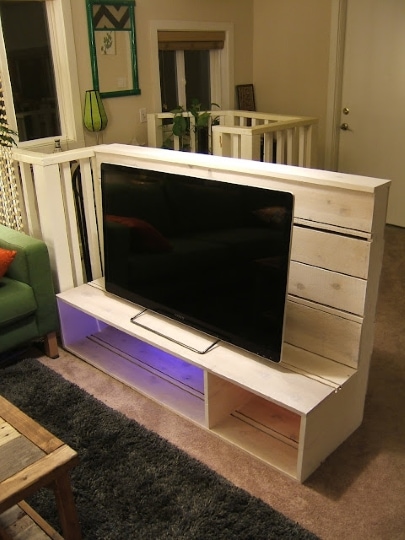 This bench-style DIY plan by Nine Red teaches you how to build an easy TV stand. It looks like a high-back bench, but it has space below for your media and other components. It's an attractive design that doesn't require much skill and hides the back of the TV.
---
21.

DIY Grandy Barn Door Console from Ana White

The Grandy Barn Door Console by Ana White is a moderately difficult YV stand that has several parts but doesn't require many tools or skills. The old-style hardware it uses can be expensive, but it's been decreasing in price over the last few years. Patience is the key to completing this build, and when you finished, you'll have plenty of space for the TV and other items.
---
22.

DIY Apothecary TV Stand from Ana White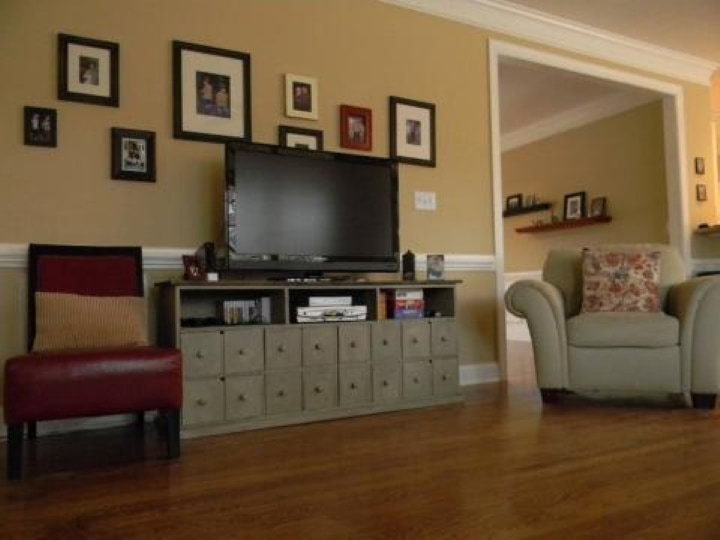 The Apothecary TV stand is an advanced build by Ana White. It is a large stand with several drawers and three open spaces for video players and gaming consoles.
Conclusion
Buying a stand for your television can be expensive, especially if your screen is 50 inches or larger. You can attach your screen to the wall, but you'll need a cabinet or stand to house your other electronics and accessories. Luckily, several talented DIY experts are willing to share their clever plans for TV stands. The plans we discussed are some of the most creative designs available online, and we're confident you'll find one that fits your home and television.