10 Best Paint Rollers of 2023 – Reviews & Top Picks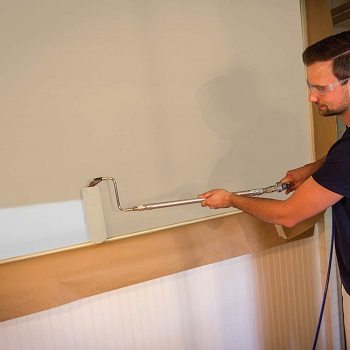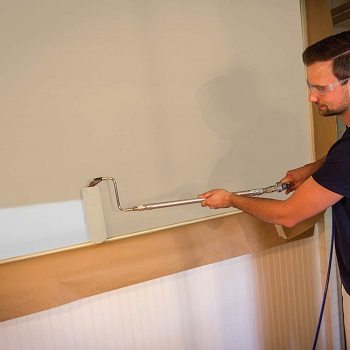 A good paint roller makes it easy to do a great DIY paint job. Faster than brushes and more affordable than sprayers, they serve as an accessible gateway into the world of painting.
However, quality is important. While a good paint roller can serve your purposes nicely and without incident, a bad roller can shed and break down fairly quickly, causing long-term problems with the quality of your paint job. Therefore, it's important to choose a good one.
To solve this issue, we have assembled a serious list of the best paint rollers to help simplify your buying decision. Read on!
---
Comparison Table (updated in 2023)
Rating
Image
Product
Details

Best Overall

Bates Paint Roller Frame

Durable
Comfortable build
Great for creating a nice smooth finish
CHECK PRICE

Best for Ceiling

HomeRight PaintStick EZ-Twist Roller

Great for reaching tough places
Roller cover doesn't shed
Easy to clean
CHECK PRICE

Graco Pressure Paint Roller Kit

Great accessory for paint sprayers
Helps users save time
Hyper precise
CHECK PRICE

Wagner Smart Sidekick Power Paint Roller

Great deal
Enormous paint reservoir
Saves tons of time
CHECK PRICE

Wooster Brush Paint Roller Frame

Very affordable
Fiberglass frame
Stainless steel neck
CHECK PRICE
The 10 Best Paint Rollers
1.

Bates Paint Roller Frame With 2 Covers – Best Overall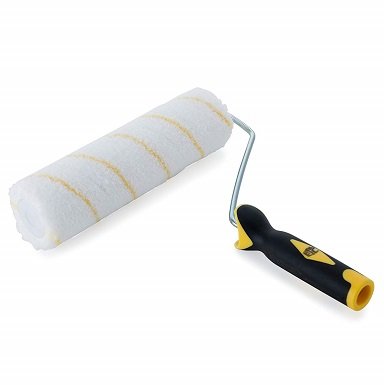 The Bates takes the top spot on our list for being the best paint roller for a smooth finish. The smoothness factor is largely the product of the fibers on the covers. They are designed to be thick but short, so they leave behind highly consistent strokes.
But there is more to these brushes than the accessories. The handle is designed to be comfortable, and the durable build helps ensure that you will be using this roller for a long time.
It is more expensive than most rollers on the market, but the price is still accessible enough that it shouldn't break the bank.
Pros
Durable
Comfortable build
Great for creating a nice smooth finish
Cons
Pricier than the average paint roller
---
2.

HomeRight PaintStick EZ-Twist Roller – Best for Ceiling
For people who need to access hard-to-reach areas, we have the HomeRight. This collapsible unit can extend up to 64 inches so you can paint high walls and ceilings.
The roller cover is also quite nice and made to avoid shedding, which will help guarantee that your paint job goes uncorrupted. The unit is also easy to clean. Simply run water through the spongy cover, and then squeeze it out.
The cover isn't perfect, however. It tends to break down quickly, which means you will need to replace it frequently.
The spring in the adjustment stick also seems to get stuck easily. This may cause problems in the long run and can be frustrating for short-term use.
Pros
Great for reaching tough places
Roller cover doesn't shed
Easy to clean
Cons
Spring tends to get stuck easily
Paint cover isn't very durable
---
3.

Graco Pressure Paint Roller Kit

This unique paint roller is designed to be used with paint spray systems. The elongated unit attaches directly to the spray valve to apply a constant stream of paint to the cover. You can then continuously use the roller without needing to dip it into a paint reservoir.
This saves you time and adds an element of enhanced precision to your paint sprayer, a convenient tool that can sometimes lack nuance.
Because this isn't just a roller but also an accessory, it is quite pricey. The roll cover also produces a fairly textured layer of paint, which may not be what you want. And of course, being a Graco product, it is designed to work only with that brand of spray systems.
It is a high-performing product and one of the best paint rollers without question, but it simply won't be right for everyone.
Cons
Paint layers are overly textured, which may be a problem for some users
Quite pricey
Only compatible with Graco products
---
4.

Wagner Smart Sidekick Power Paint Roller
The Wagner Spraytech has much in common with the previous product in that it is a pressure-powered paint roller. However, there is an enhanced value factor that may be hard for some users to pass up.
For a great price, you get a highly effective paint roller that will save you an enormous amount of time. The system also has a massive paint reservoir of one to five gallons of paint, which means you won't need to refill it as often.
A few shortcomings do hold the entire product back. Because it's mechanical system, the valves are subject to clogging and tend to do so from time to time.
The roller cover that comes with the package is also vulnerable to shedding, which can lead to quality problems with your paint job.
Pros
Great deal
Enormous paint reservoir
Saves tons of time
Cons
Valves tend to clog easily
Paint roller cover tends to shed often
---
5.

Wooster Brush Paint Roller Frame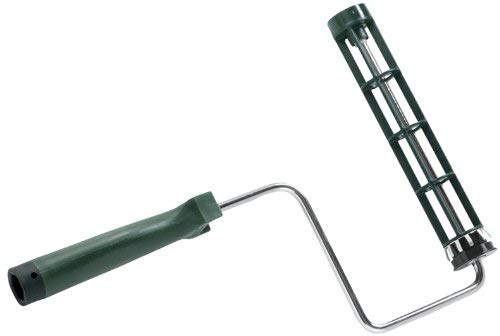 The Wooster brush will be a welcome change of pace for buyers who may have been overwhelmed by the price tags of the last few products. This is a simple and affordable product that's great for budget-minded buyers.
It features a stainless steel neck and a fiberglass frame that will keep it sound enough to be used for the duration of the job. However, bear in mind that this isn't revolutionary in the world of paint rollers, and it will break down over time.
Also, know that this is only a roller, which means you will need to buy your own paint roller covers. This will increase the overall price of the unit.
Cons
Durability concerns
No brush covers are included
---
6.

VANVENE Foam Paint Roller Frame With Cover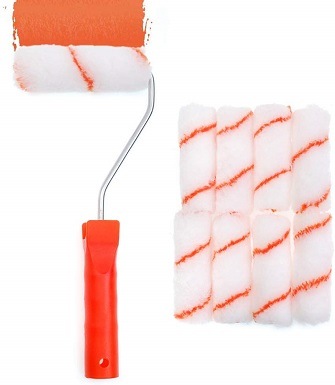 The Vavene is a moderately priced unit that comes with a foam cover. This is a good option for buyers on a budget looking for something that has everything they need to get started on a paint project.
The foam covers leave something to be desired, however. They are difficult to clean and will likely need to be replaced after each use.
Like other cheap covers, they tend to shed quite a bit, which can be problematic for the quality of your work.
Pros
Affordable price
Covers included
Cons
Cover sheds and can be difficult to clean
---
7.

KUPOO Paint Roller Kit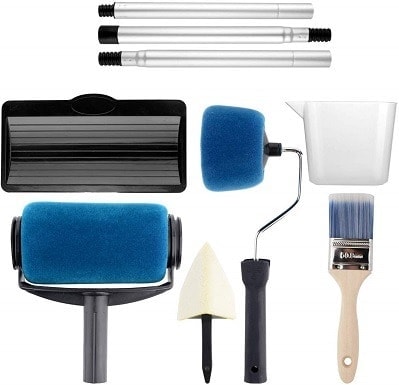 This paint roller kit has everything you need to get started. In addition to a roller, you also get an edger and a brush, all for a manageable price tag. For this reason, it is a great set for beginners who need to stock up before they can get started.
Unfortunately, the set works better as a concept than an actual product. None of the materials are particularly well built. The grips are uncomfortable, the foam covers are not durable, and none of the elements are likely to last for a long time.
If you are just dipping your toes into the waters of DIY painting, this is a fine option to consider. Otherwise, you may find it prudent to invest in something a little more durable.
Pros
Affordable
Comprehensive package
Cons
Not very durable
So-so foam covers
---
8.

Katzco Paint Roller & 3 Roller Covers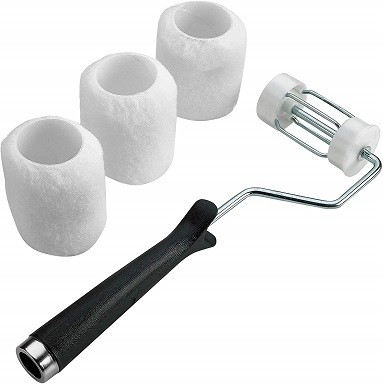 The Katzco package includes a roller and three covers. The wooly material of the latter makes them durable and easier to clean, but it does lead to a more textured coat of paint, which some buyers may not be thrilled about.
The package also has an important money-back guarantee that will help ensure that you're covered if you aren't pleased with the product.
However, the overall quality of the build is a little lacking. The grip is made of cheap plastic and feels uncomfortable in the hand. This may also cause durability problems in the long term.
Pros
Affordable
Three quality covers included
Money-back guarantee
Cons
Grip not very comfortable
May have durability problems
---
9.

Precision Defined Paint Roller Frame & Roller Cover Set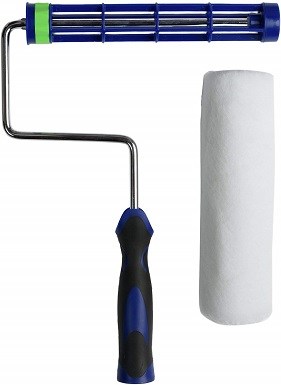 The Precision Defined Self-Lock Paint roller is a good choice for buyers who need to prioritize saving money. It's remarkably affordable for a bundle deal, but the savings are dampened somewhat by the overall build quality.
Like the previous product, the grip leaves something to be desired. The rubber cover is uncomfortable and tends to shed.
The rolling mechanism is on the flimsy side and may lead to the roller being unwieldy. If you want a product that will last a long time, this isn't the roller for you. However, if you just need a quick fix for a one-time job, you may find that it is up to the task.
Cons
Uncomfortable grip
Rubber element tends to shed
Rolling mechanism not very durable
---
10.

KILZ Heavy-Duty Paint Roller Frame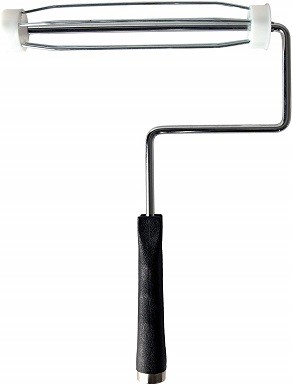 A true budget purchase, the Kilz wire paint roller frame is a decent product even if it does fail to live up to the "heavy-duty" element of its description.
This unit is à la carte, which means that it doesn't come with any covers. It's also not very well-built. The grip is cheap and uncomfortable, the frame is flimsy, and the general experience reflects the cheap price tag.
This product is not bad overall, but keep in mind that it is a budget buy more than anything else.
Cons
Flimsy
Uncomfortable
No covers
---
Buyer's Guide – Picking the Best Paint Rollers
Now that you've read our reviews, it is time to make a final decision. Read on for buying considerations that should simplify your choice!
To Brush or to Roll?
For many do-it-yourself paint jobs, it is actually to your benefit to invest in both brushes and rollers. Rollers are great for broader strokes on large workpieces, such as a wall, and paintbrushes will give you access to tighter areas, such as corners. Selecting the right tool for the job is always important.
The good news is that manual paint tools are usually pretty affordable, so proper preparation shouldn't break the bank.
Understand What a Roller Is
Rollers differ from brushes because the part of the tool that comes into contact with the paint is typically reusable. Typically, you buy the roller cover separately so as to preserve the life expectancy of the overall tool.
As such, you will eventually need to invest in extra paint roller covers. You may want to factor this into your budget before finalizing your buying decision.
Roller Covers Included
Most of the time, the unit you select will come with roller covers, so you may want to account for the quality of this necessary accessory as well. There is a wide range of quality that you can encounter with roller covers.
For example, synthetically made covers are typically much more affordable. Foam is a good material for quick one-time jobs because it will give you the most bang for your buck. However, it might not be suitable for users who paint frequently because it wears down quickly and even tends to shed, which can compromise the quality of your finished paint job.
There are also wooly units available, which are much more durable and reusable. However, they typically come at a much greater expense.
Deciding how to proceed on this matter will mostly depend on how frequently you intend to use the tool.
Nap Length
The "nap" refers to the lengths of the fibers on your paint roller cover. Different nap lengths tend to work for specific surfaces. Shorter naps typically paint smoothly, and longer naps create a more textured finish. Naturally, this can have an enormous impact on the final appearance of your finished product, so keep this factor in mind before you buy.
Grip
Since paint rollers are handheld tools, comfort is at a premium. Ideally, you need a tool that is ergonomic and fits comfortably in your hand.
A nice padded grip, for example, can make the work process go much smoother.
Size
Paint rollers come in a wide variety of sizes. Generally speaking, bigger units are great for large-scale jobs, like painting a wall. Smaller units may be better suited for micro-tasks, such as painting a fence or a deck.
The bigger the roller, the faster your job will go. However, size isn't everything. Bigger rollers may be a little messy if you aren't prepared for how to use them.
Width is the main factor when buying for size. A three-inch roller is optimal for smaller spaces, whereas units that are nine inches or more can serve as a great tool for bigger jobs.
Cost
One of the best things about paint rollers is that they are typically quite affordable. Although you can pick up this tool for just a few dollars, you may find it worthwhile to splurge a little on a higher-end product.
A quality paint roller shouldn't break the bank, and it will probably last longer than a product you get on the cheap.
Telescopic?
Telescopic paint rollers are specifically designed for accessing difficult-to-reach locations. The handle is able to extend several feet, making it simpler to paint ceilings or high walls.
As you might expect, telescopic rollers are harder to control than smaller units, which means you probably won't use them for tasks that require heightened levels of precision.
Did you know? That power paint rollers can get the job done quicker? See our 5 top picks here.
Multiple Units?
Many painters keep several rollers on hand, as different sizes and lengths are useful for performing different tasks.
Some paint rollers are available in packs, allowing you to get multiple sizes at a better price. This is a good, economical way to be prepared for any eventuality, as well as for future jobs down the road.
---
Conclusion
It's not easy selecting from such a refined list of the best paint rollers. However, there are a couple of simple things that may help you decide.
If you want the best paint roller that money can buy, we recommend taking another look at our top pick, the Bates — Paint Roller Frame With Two Covers.
Thrifty people can also get a great deal on a solid product by considering the Wooster Brush R017-9 Roller Frame.
Of course, all 10 products on our list produce great results, so you can't go wrong!
See also: Our 24 Must-Have Painting Tools Checklist