3 Best Electric Power Paint Rollers for 2023 – Reviews & Buyer's Guide
Electric power paint rollers have huge advantages over manual paint rollers.  As a general rule, they're much faster. But unless you pay close attention to the details, coverage ranges from excellent to terrible with very little middle ground.  It seems to be all-or-nothing with power paint rollers.
This makes the task of deciding which one to purchase for your next painting project harder than it needs to be.  Taking one home to experiment with it is a lousy option too.  It's not exactly a jungle out there, but it's definitely deep woods.  Slogging through it isn't a good use of your time.  Leave that to us.
We've researched the power paint rollers on the market, analyzed their performance, looked them over for both good and bad points, and then written reviews designed to fill you with confidence when you're making your decision about which tool to purchase from which manufacturer.  We've done all the hard work, which leaves the easy part to you.  That's the way it should be.  So, here are the results for your edification.
A Quick Rundown of our Favorites for 2023
Rating
Image
Product
Details

Best Overall

Wagner TurboRoll

Easy to use
Fast painting
Good coverage
CHECK PRICE

Wagner 0530010

Effective
Saves time
Good coverage
CHECK PRICE

Wagner 0530004

Runs on 4 AA batteries
15 gallons on one set of batteries
Quick-touch control for smooth paint flow
CHECK PRICE
The 3 Best Electric Power Paint Rollers
1.

Wagner TurboRoll Power Paint Roller – Best Overall

This cordless power roller comes with a built-in trade-off.
On the positive side, it definitely speeds up the painting process.  There's simply no question about it.  It works just as advertised.  The coverage is excellent and at least half of the time savings comes from not having to keep dipping the roller in a tray of paint.  Coating the roller, plus the time spent turning back and forth to the tray, isn't all that time consuming—when you do it once.  But when you have to perform that task over and over all day long, it adds up.
The other time savings comes from the fact that it puts out more paint in a shorter amount of time than regular manual paint rollers.  It's also a lot easier because you don't have to move your arms back and forth so much.  Painting is hard work no matter what tool you use, but this roller takes some of the load off.
The only negative with this tool is the cleanup time; it's definitely longer than with a standard roller.  The time savings on the front end more than make up for the cleaning time on the back end though.
Pros
Fast painting
Good coverage
Easy to use
---
2.

Wagner 0530010 Power Roller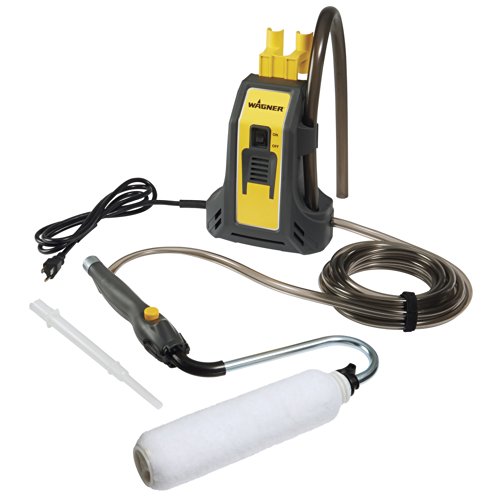 This paint roller sucks up paint directly from the can, delivering it to the roller via a plastic tube.  Since you don't have to stop to coat the roller from the paint tray, the time savings is significant when you extend it over an entire day of painting.  It works well, distributing the paint smoothly and effectively.
This roller can be used with equally good results on 5-gallon cans and 1-gallon cans.  Using it with a 5-gallon can results in substantial time savings.  Not only do you avoid having to manually re-coat the roller in a paint tray, you also don't have to change paint cans nearly as often.  That saves a lot of time.
There is a significant cleanup job on the back end though, so be aware of that.  You'll also have to deal with extension cords and the plastic hose from the can to the roller handle.  When it's full of paint the hose can become very heavy after a while.  The weight will likely take a toll on you by the end of the day. And then you're faced with a thirty-minute clean-up job on top of it.
Cons
Hoses and cords
Significant cleanup time
---
3.

Wagner 0530004 SMART Flow Paint Roller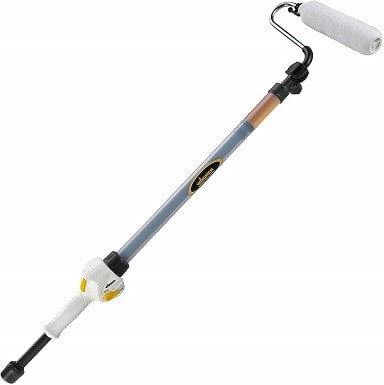 Weighing in at just one pound, the Wagner SMART Flow electric paint roller is easy to use and affordable. Powered by four-AA batteries, you get complete wireless freedom, and they last for 15 gallons of paint. Quick-touch button control allows for completely smooth paint flow. The tube holds 22 fluid ounces, enough to cover 70 square-feet.
Though it's pretty stacked with useful features, this roller has several main drawbacks. First, refilling the paint is a time consuming and annoying process. You must remove the messy paint roller cover, replace it with the suction device, refill the paint, then replace your roller cover. For a device that's supposed to make your life more convenient, this sure seems like quite a hassle. It's not very efficient with paint, and we felt that coverage with this machine was smaller than with a hand roller. Our final complaint was the edger, which left a visible gap that requires touch-up by hand. Overall, it's priced very affordably, but we're not convinced it will save you time and effort.
Pros
Runs on 4 AA batteries
15 gallons on one set of batteries
Holds 22 oz. for 70 sq. ft. coverage
Quick-touch control for smooth paint flow
Cons
Difficult and time consuming to refill with paint
Edger isn't adjustable and left an unpainted gap
Not efficient with paint
---
Buyer's Guide – Picking the Best Electric Power Paint Roller
Most power paint rollers will meet the minimum order requirements for free shipping, at least as far as pricing goes.  Some of them though, because of the long handles on these rollers, might levy extra charges due to package size. So be careful.
Also, consider the warranty versus the price of these rollers.  Some power painters are inexpensive enough for you to consider them disposable.  If you don't like that idea, read the warranty closely.  There often aren't any, or the ones that do exist are minimal at best.
Oftentimes you'll have to interact with the seller instead of the manufacturer, which is a good reason to purchase from a local hardware store as opposed to getting it online.
What makes a good power paint roller?
A good power paint roller should be as convenient and easy to use as possible.  Painting is a physical activity, and the object of any power tool should be to minimize the effort needed for the job you're doing.  Otherwise, there's no reason to spend money buying a power tool.
Preventing paint leaks should be a top priority for any power paint roller.  Paint spills represent money thrown down the drain.  If your power painter is costing you money by spilling paint everywhere, something is wrong.  Spills also require a lot of extra time and effort to clean up.
Coverage of the target area is essential.  A power paint roller that can't cover the walls or ceiling with a solid layer of paint, or that requires you to go back over the same area again and again, is worthless.
Tips when buying
Power paint rollers are sold at most hardware stores.  Although the online price might be cheaper, you'll have to wait for your item to be shipped.  A quick trip to your local hardware store to obtain your tool immediately can more than make up for the few bucks you might save online.
But . . . if you do get it online, make sure you scoop up all the available options at the same time you get the paint roller.  Otherwise, you'll have to make a trip to the hardware store anyway to get the supplies and accessories you didn't buy with it.  Save yourself a headache and get everything all at once.  And speaking of options, let's discuss them.
Available Options
With any roller painter, manual or power, there are a lot of options to pick and choose from.  First are roller covers.   These will help minimize cleanup times and prevent new messes from happening when you store your rollers.
Edge painters and corner painters will be required regardless of the type of roller you choose. Rollers simply can't reach those tight spots.  They also can't do detailed trim work, they'll always be splashing paint where it doesn't belong.  Along with those hand tools, you'll also need a supply of replacement pads for them.
Don't forget the painter's tape either.  There's not a roller in the world that can keep you from painting over the line.  It'll happen no matter how careful you are, so stock up on several rolls of painter's tape to cover areas where the paint shouldn't go.  When you're done you can simply peel it off, leaving a nice, crisp line.  Using tape is one of the cheapest ways available to get a professional look.
Don't forget to purchase a good supply of drop cloths to cover your furniture and floors.  Unless you're a professional painter, cheap disposable drops cloths are probably fine.  There's no need to spend a truckload of money on something you'll only use once or twice a year.
---
Conclusion
In these reviews, the Wagner 0271008 Cordless TurboRoll came in first place on our list of the best electric power paint rollers.  It's a quick and easy to use power painter.  Because it's battery operated, there aren't any power cords to trip over.  All the paint is stored in the handle, so there aren't any hoses connecting to cans of paint that might spill all over the floor.
The runner-up is the Wagner 0530010.  It attaches to 1-gallon or 5-gallon paint cans with equal ease.  Coverage is excellent as is the ease of use.  It falls a little behind because of the hoses and electrical cords, but this is still a great tool.
Hopefully, these reviews have assisted you in making the best choice for your budget and your needs.  You probably won't want a power paint roller for a small project (one room or less), but for the bigger paint jobs, you'll need a power tool.  The information provided for you here should be a big help to you in making that decision.
Learn more about paint spraying here:
Reviews of Gravity feed spray guns
Which equipment should I use to apply lacquer?