5 Best Palm Sanders of 2023 – Top Picks & Reviews
If you work with wood, a hand sander is an obvious must-have tool. But you don't have to be a hardcore woodworker to get your money's worth out of one. In fact, if you like doing it yourself, there are lots of jobs that require the assistance of a sander. Paint jobs. Refinishing a piece of furniture. You name it.
Hand sanders are a sensible addition to any tool collection but you need to be careful which one you get. Remember, this is a tool that makes direct contact with your workpiece. You want the sander to treat it with the same love and care that you do.
So, how do you find a sander that is both efficient and affordable? You survey the market. You perform tests. You do research.
But don't worry. We did all of that for you. In our research, we found five palm sanders that stood out as winners. Read on for some palm sander reviews!
Comparison of the Winners in 2023
Rating
Image
Product
Details

Best Overall

DEWALT DWE6411K

14 000 OPM
Rugged, comfortable design
Heavy-duty paper clamp
CHECK PRICE

Makita BO4556K

Rugged
Comfort Grip
14 000 OPM
CHECK PRICE

Best Value

BLACK DECKER BDERO100

Affordable
Dust Seal
Easy Paper Change
CHECK PRICE

SKIL 7292-02

Affordable
Pressure Sensor
Dust Sealed
CHECK PRICE

Hi-Spec DT40261

Affordable
Powerful
CHECK PRICE
The 5 Best Palm Sanders
1.

DEWALT DWE6411K Palm Sander – Best Overall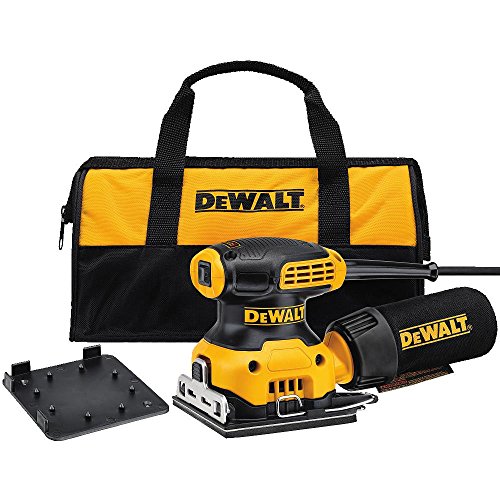 We start at the top with the DeWalt DWE6411K. The DeWalt won out as our best hand sander by being comfortable, powerful, and easy to use.
The 3.2 amp motor allows the tool to reach up to 14,000 OPM (orbits per minute), giving users the power to tackle a wide range of jobs.
We also appreciate the clever design. The DWE6411K manages to be rugged enough to survive heavy use, but also comfortable enough to be used for many hours at a time.
Last but not least, it features a heavy-duty paper clamp that will keep your sanding material secure while you work.
The big problem we have is with the dust bag. It lets a lot of dust out, which makes a mess, and can be hazardous for your health if you experience constant exposure.
Users may need to wear a mask with this tool.
That said, even with this con, we still found it to be the best 1/4 sheet palm sander on our list.
Pros
14,000 OPM
2 Amp
Rugged, comfortable design
Heavy-duty paper clamp
---
2.

Makita BO4556K Palm-Sander
Our runner-up, the Makita, includes a range of features that closely resemble those of the DeWalt: A tough build, an impressive 14,000 maximum OPM, and a nice comfortably padded thick rubber grip that will keep users comfortable as they operate the tool.
It even features a clever layout. The on/off switch is conveniently located in a place on the grip where you immediately deactivate the sander with the same hand you are wielding it with.
You also get a tool case with this unit. The hard shell box is big enough to store the tool and its accessories.
Still, there are a few problems that keep the Makita out of the top slot. One is a matter of value. This sander is a little bit pricey. You can spend less to get similar tools. We also found a problem with the clamping mechanism. The clamps that hold the sandpaper aren't as secure as we like to see, which can lead to uneven wearing, and potential errors in your work.
Pros
Case
Rugged
Comfort Grip
14,000 OPM
---
3.

BLACK+DECKER 5-inch Hand/Palm Sander – Best Value
Shoppers hoping to save a few dollars will find lots to love in the Black and Decker—a tool that earned a place in our "best for the money" slot by offering a fair price for an impressive performance.
One standout feature worth noting is a design element of the tool's sealing. The sander was built to keep dust out of the tool innards, which extends its life expectancy. This is a design choice you see a lot with power tools these days. It's a relatively simple feature that has the potential to make a big impact.
It also features an easy "hook and loop" paper changing system that will make it simple for users to change out their sandpaper.
There are two issues we have with this sander. The first is that the dust collection system doesn't work very well. You will make a big mess when you use this product.
The other problem is life expectancy. We heard from many users who said their tool only worked for around 1-1 ½ years. If you're hoping to get a sander you will have for a long time, this might not be it.
The Black and Decker is a tool that beginners will appreciate more than seasoned veterans. But, if you're trying to get a decent sander at a good price, this is certainly an option worth serious consideration.
Pros
Affordable
Dust Seal
Easy Paper Change
Cons
Poor dust collection system
Short life expectancy
---
4.

SKIL 7292-02 1/4 Sheet Palm Sander
Also in the budget sander category, we have the SKIL—an affordable tool that has much in common with the Black and Decker. It has a dust seal, an easy paper changing system, and it even features a handy pressure sensor that will let you know when you are pressing down too hard on your work surface.
It's also a tool that has some kinks. For one thing, the handles are flimsy. They feel as though they can easily break off, which will sharply shorten the life expectancy of the entire unit.
It also suffers from a problem common to many of the sanders on this list: an iffy dust collection system. The bag doesn't fit very well on the dust port, which leads to a big mess.
All in all, this is an acceptable tool for beginners, but there are some issues to be mindful of.
Pros
Affordable
Pressure Sensor
Dust Sealed
Cons
Dust bag fits poorly
Flimsy build
---
5.

Hi-Spec DT40261 Palm Sanding Tool
Last, we look at the Hi-Spec DT40261 Finishing Sander. An affordable option, with a powerful motor. This sander is able to generate 15,000 orbits per minute which is actually the most out of any of the options we've seen on the list.
That said, speed isn't everything. This sander suffers from a few cons that might be enough to keep some buyers away. The dust collection system is iffy, it's very challenging to change the paper, and the interface is awkward and clunky.
This isn't a tool you buy to keep for years and years. However, if you need something affordable for a few small jobs, the Hi-Spec may be an appropriate option.
Cons
Awkward user interface
Hard to change the paper
Poor dust collection system
---
Buying Guide – Picking the Best Palm Sander
As we considered the top five picks on this list, we saw key palm sander features in action. If you're feeling a little overwhelmed from all of this information though, that's ok. In this buyer's guide, we'll break down some key considerations so you can make more sense out of what to look for in a good hand sander.
Read on!
Comfort
Sanding can take a substantial amount of time, which means you may be holding an awkward, buzzing, rotating hunk of plastic and metal for hours on any given working day.
Comfort features in any power tool aren't always obvious right away. The difference between an ergonomic tool and a more typical option might not be noticeable if you pick them up for just a few minutes. But if you're handling them for a few hours?
You'll notice.
Some comfort features to look out for: A padded grip. An ergonomically shaped handle. A vibration reduction design.
Ergonomic design touches are more and more common in power tools being made today. They aren't quite the standard yet though, so pay attention if you want something that will be comfortable no matter how long you need to use it for.
Ruggedness
Palm sanders don't experience the same wear and tear as a drill or a saw, but they are still very much in the thick of things during any do-it-yourself project. After all, these tools are making constant, high-intensity contact with the workpiece.
A good, rugged tool will last longer than a cheaper, not-so-tough option. Unfortunately for the buyer, testing a tool's ruggedness isn't always easy if you don't have it in your hand.
Most manufacturers say their tools are rugged, but their idea of tough may not always be the same as yours.
If you can't interact with a tool in person, it will help to read reviews like the ones we have assembled here.
Reviewers and users alike will always be quick to point out if a tool is well-built. If you can't hold a tool yourself, listen to someone who has.
Orbits Per Minute
The orbits per minute that a sander can produce determines the type of surfaces it will be able to interact with. Harder woods require more power to work with.
Not every project will need an orbits per minute capability of 14,000. However, some will. Many sanders are capable of operating under their maximum threshold, but none are capable of going higher, so you may find it prudent to get something with a high maximum OPM. Better to have it and not need it than to need it and not have it, right?
Dust Collection
Dust collection! One of the most important aspects of any woodworking tool. The importance of a dust collection system is obvious when talking about a big scary tool like a table saw. It becomes a little less obvious when the tool is as non-threatening as a sander.
However, sanders may be in even greater need of a good dust port than saws. There are a few reasons for this. For one thing, the sander is a fine finish tool. When you're using it, it usually means the project is almost over, and you're putting the final touches on it.
If there's a lot of dust left on the workpiece, you won't get the smooth, refined results you are looking for.
There is also the matter of health. The main reason you need a good dust collection system is that sawdust is a known carcinogen.
Hand sanders generate lots and lots of it, and without the proper equipment, you will be breathing it all in.
Most palm sanders will include a dust port, and possibly a collection pouch as well.
Even if you don't anticipate using the sander much, you should consider a dust port a mandatory feature. Just as you wouldn't do a woodworking project without gloves and goggles, you also shouldn't do it without a dust extraction method.
Corded VS. Battery
The corded vs. battery debate rages in every tool department. Form woodworking to home and gardening. And no matter what tool you are considering, the pros and cons of batteries and cords remain the same.
Battery-powered sanders are more workable. Since there is no chord to workaround, you can move it freely wherever you like.
The problem is that they also won't run for very long. The battery eventually dies, and then you have to recharge it before you can use the tool again.
Another issue is the potential to have a shorter life expectancy. Eventually, the batteries won't hold a charge anymore, at which point you can either purchase new batteries or replace the sander.
Power tool batteries can be very expensive, and often DIYers will simply opt to get a new tool.
That isn't an issue with the corded tool. It can run for hours on end, and it will work for as long as the cord remains in good shape.
The problem is that they also have limited maneuverability. And of course, you're only able to use them when you're within reach of an outlet—a potential problem when you're working outside.
Neither option is inherently better than the other. You'll just need to weigh your needs and choose the tool that works best for you.
Pressure Detection
Some sanders come with a "pressure detector." If you press too hard with the sander, the tool will notify you with a vibration, or sensor light. More experienced hands, of course, will not need a feature that does this.
For newbies, however, a pressure sensor is indispensable. If you aren't careful with a sander, it can do serious damage to your workpiece. Safety features like the pressure sensor allow you to learn without the risk of ruining your project.
Dust Seal
Last but not least, dust sealing. Sawdust isn't just bad for your health. It's also bad for the health of your tools. As dust starts flying, it seeps into the inner workings of the sander. It can clog up the motor, and, worst-case scenario, render the tool inoperable.
As a response to this problem, more and more tools have been moving toward dust seal designs. Tools are now being made with the intention of keeping dust out of sensitive areas so that the tool (in theory anyway) will last longer.
Keep an eye out for this feature if you want something that will last for years to come.
---
Conclusion – Best Palm Sanders
If you learned anything from our palm sander reviews, we hope it was this: there are lots of good options out there. All five of the palm sanders we viewed here will be right for someone. Now it's time to decide which one is right for you.
If you're looking for the very best of the best, the DeWalt will treat you right. Its durable build and high-performance features made it a clear standout winner on this list.
But the Black and Decker also gives budget buyers a place to go. No other tool can match the value/quality combo that you get with our "best for the money" pick.
Even if neither of those tools is for you, something out there will be. You're now well-studied in the world of palm sanders. So go out there, and buy the right tool for yourself with confidence.
More sander top 5 articles: