5 Best Pool Salts 2023 – Reviews & Top Picks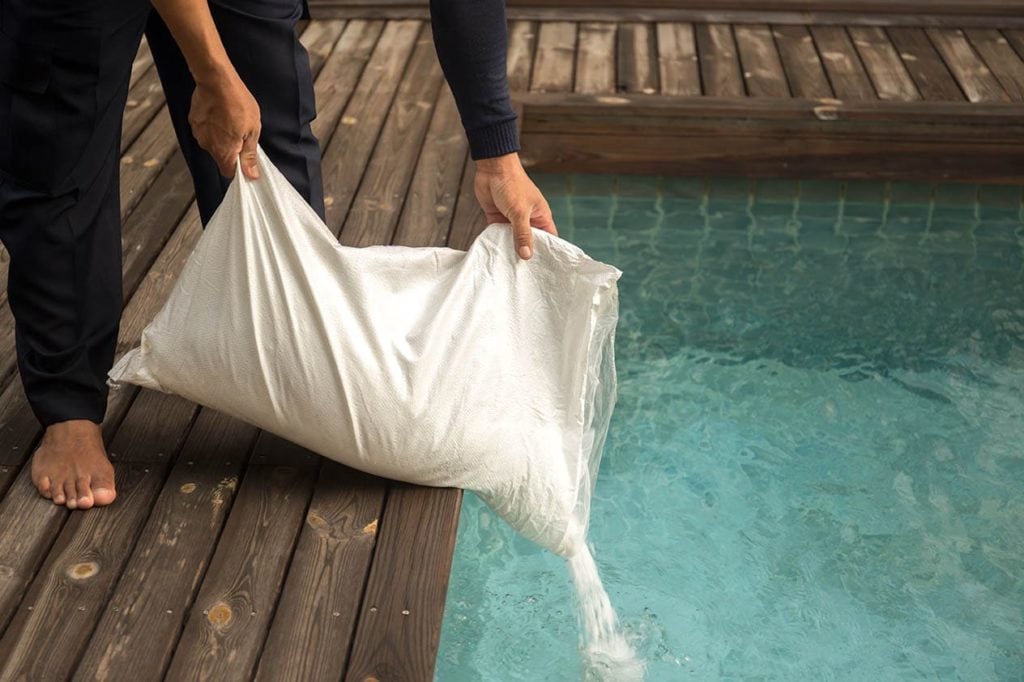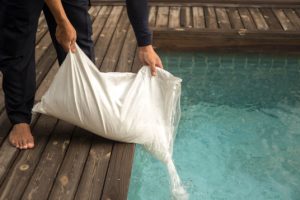 Having a salt water pool can be a new lifestyle for some pool owners. Not having to add chlorine to the pool daily or weekly can feel like a huge weight lifted off your back. Most pool owners have an easier time keeping their pool bacteria and algae free.
Whether you are converting your pool to salt or just find that it is running low, the salt that you put in your pool cannot be table salt, and it cannot be road salt. Trust us on this one, regardless of the deal you can get on table salt; you must use pool salt.
Luckily there are not too many factors in deciding what pool salt is best for your situation, but we went ahead and reviewed our top five best pool salts for you.

A Quick Comparison of Our Favorites in 2023
Rating
Image
Product
Details

Best Overall

AQUASALT Swimming Pool Chlorine Generator Salt

Dissolves fast
Should not take any extra brushing
40-pound bag
CHECK PRICE

Best Value

Clorox Premium Pool Salt

Dissolves fast
Great price for the product
40-pound size
CHECK PRICE

Premium Choice

Diamond Crystal Pool Salt

Very pure salt
Fast dissolving
CHECK PRICE

Morton Salt Pool Salt

Pure pool salt
Dissolves quickly
CHECK PRICE

Home Repair Parts Chlorine Generator Salt

Reasonable price for large pool
Will replace bags damaged during shipping
CHECK PRICE
The 5 Best Pool Salts
1.

AQUASALT 40 Swimming Pool Chlorine Generator Salt – Best Overall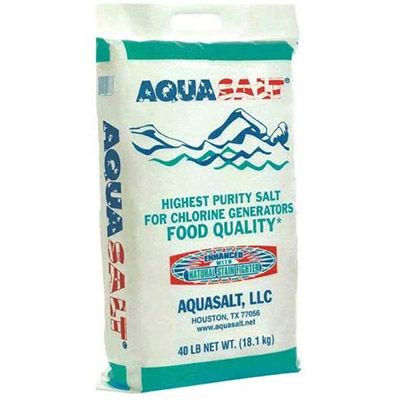 Our top choice for the best pool salt of the year is Aquasalt 40. This is a pure, certified USP grade salt. When we mentioned that you must use a pool grade option when adding salt to your pool, Aquasalt qualifies.
The bag comes in a 40-pound size. The amount you will need to get your pool saltwater levels to where you need them will depend on the size of your pool and the current salt level.
One of the most critical factors in picking a great salt for your pool is its ability to dissolve. Aquasalt dissolves fast and quite evenly as well. As always it is important to make sure that you disperse it evenly throughout the pool. Users report no clumps and no extra brushing involved when using Aquasalt 40.
For the price per bag, the quality of the salt, and the fact that it dissolves quickly, it's a great overall option that pool owners continue to return to when it comes time to add salt to the pool.
Pros
Dissolves fast
Should not take any extra brushing
40-pound bag
Great pricing
Cons
Some pool owners reported having to use a lot to raise salt levels
---
2.

Clorox 81040CLX Premium Pool Salt – Best Value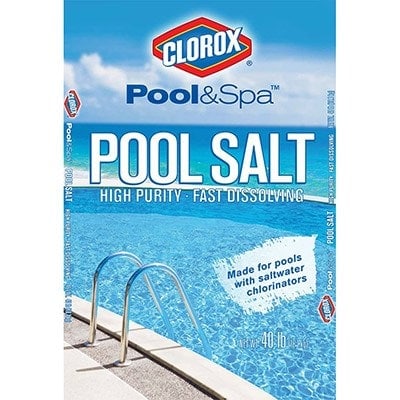 Next on our list is the Clorox 81040CLX Premium pool salt. The Clorox pool chemical and maintenance products usually work very well but cost quite a bit of money. This pool salt is the best pool salt for the money that we can find.
This is a very pure salt that dissolves quickly in your pool. The amount you will need to treat your pool will vary, but the bag does come in a 40-pound size. The major complaint that homeowners had with the Clorox pool salt was the packaging.
The bag that the pool salt is kept in is quite thin and sometimes opens up during shipping. Keep this in mind prior to opening the box to avoid spilling salt all over your front doorsteps. Open this package carefully and make sure the bag is not leaking before removing it. Outside of that, you will be getting an excellent value for this pool salt.
Pros
Dissolves fast
Great price for the product
40-pound size
Cons
Packaging is not very strong
Can spill during shipping
---
3.

Diamond Crystal 8526 Pool Salt – Premium Choice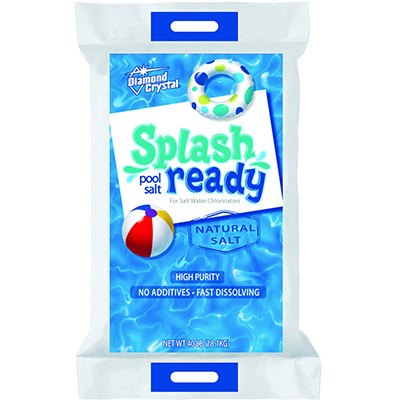 Next on our list is the Diamond Crystal 8526. This is a premium pool salt (just like our first two options), but the Diamond Crystal will cost you quite a bit more money. This pool salt is very pure and will absolutely help to ensure water clarity and cleanliness.
Diamond Crystal dissolves fast and will not require any extra work on your part to make sure this is adequately mixed into your pool. Truly, the only issue with the Diamond Crystal option is the price. We have a hard time figuring out why it is so much more expensive than the other options on our list, when it seems to produce the same results.
Users claim to have much less skin irritation with this Diamond Crystal than other options. Honestly, any saltwater pool should give you less skin and eye problems than a traditional chlorine pool.
Pros
Very pure salt
Fast dissolving
---
4.

Morton Salt 3460 Pool Salt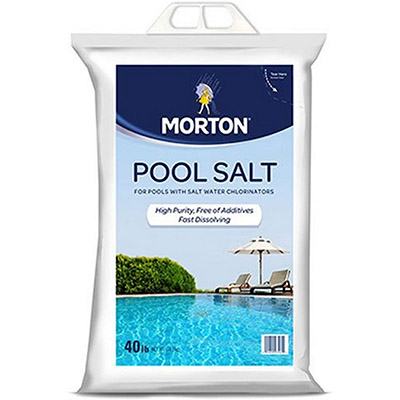 Next on the list is the Morton Salt 3460 Pool Salt. If you don't know the Morton salt name, then you may want to head on over to the grocery store. These guys are the salt experts. Luckily, they make a highly effective and efficient pool salt.
This is a pure pool salt and happens to dissolve very quickly. We have no issues with the Morton pool salt overall except for its pricing. Although it is not as expensive as the Diamond pool salt, it is still almost double the cost of our number one option. We just don't see the benefit of purchasing a pool salt that is more expensive than another.
Pros
Pure pool salt
Dissolves quickly
Cons
Very expensive without a significant benefit
---
5.

Home Repair Parts Swimming Pool and Spa Chlorine Generator Salt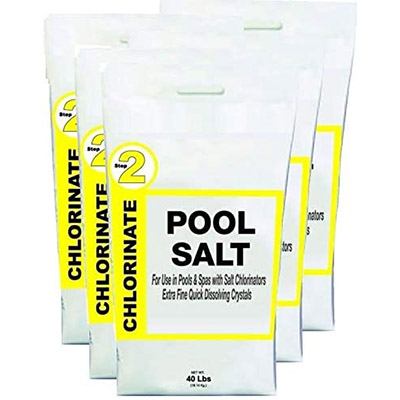 Last on our list is the Home Repair Parts Swimming Pool Salt. The reason this option is at the bottom of the list is the size of the of the product, not the quality. The Home Repair Kit comes with five 40-pound bags of salt. Not every pool owner is going to need this much, and since there is no option to buy just one bag, it did not make it closer to the top of the list.
This is a salt made specifically for pools. One of the things we do like about the product is that if the bags break during shipping, they will replace it for you. Considering this is a problem with many of the other pool salts, it's a nice benefit.
Pros
Reasonable price for large pool
Will replace bags damaged during shipping
Cons
Comes in a bulk option
Expensive because of the amount you must buy

Buyer's Guide – Choosing the Best Pool Salts
As you may have noticed from our review of the pool salts, there is not much difference between one pool salt to the next. Pricing, packaging, and the ability to dissolve quickly are the most important things to consider when choosing the pool salt you need. Here are some things to keep in mind about buying pool salt and properly maintaining a saltwater pool.
What Type of Salt Do I Need To Use?
The type of pool salt necessary for maintaining a saltwater pool can be a source of confusion for some people. Do not stray away from the products that say they are specifically designed for pools. The ideal form of salt for your pool is a granulated, food quality (don't eat it), NON-iodized salt. If you do not use the proper type of salt, you could end up with some significant issues. The wrong kind of pool salt can stain or take a very long time to dissipate in the water. Pool salt is not that expensive for a large amount, don't cut corners and try and use any old salt.
How Do I Properly Add Salt to A Salt Water Pool?
When it comes time to add salt to your pool, you can follow these necessary steps to make sure that it is done correctly.
Determine the proper level of salt for your system. Most salt water systems operate between 3000 and 4000 parts per million.
Test the current amount of salt in the pool, so you have a general idea of your starting point, prior to adding any salt. If this is a brand-new pool that you are turning into a salt water pool, you will have no salt in your water. If you are converting your old pool to a salt water pool, don't assume that there is no salt; usually, there is a minimal amount. Getting a salt water pool test strip or testing kit is vital to making sure this is done correctly.
Calculate how much salt you will need to raise the salt level in your pool properly. Usually, there is a table on the salt you purchase or on your test strips to give you the information you need. As always, make sure you start any pool project, knowing exactly how many gallons of water your pool holds.
Salt almost always comes in a 40-pound bag. When you first convert your pool, you may need many bags of salt, and that is ok. Choose a pure salt and get one that dissolves quickly. Our top two choices from our reviews are the best options that we could find for a fast-dissolving and highly effective pool salt.
If your measurements tell you to add five bags of salt, we suggest you add four and see what happens. It is hard to go backwards if you get your salt level too high. If, however, your salt level is a little low, it is simple to raise it. We recommend this method with most of our pool maintenance procedures. As important as it is to follow tables and guidelines, sometimes your pool reacts differently, or your measurements were off a little originally. Caution is not a bad thing when it comes to pool maintenance.
When putting salt in the pool, leave the pump on but turn off the salt water chlorinator. You can turn the chlorinator back on once the salt is dissolved. You also don't want to put all of this salt in the skimmer. It is best to distribute it around the pool evenly. It will sometimes take up to twenty-four hours to fully dissolve.
When the salt is dissolved, test your water again and make sure that it is within range. If it Is a little low, repeat the same process to get your pool to a safe and clean level for swimming.
Does A Salt Water Pool Need Chlorine and Salt?
Salt water pool can sometimes confuse people. Many pool owners think that salt water pools are chlorine-free. This is not true. Salt water pools use a chlorinator to turn salt water into chlorine and sanitize the pool. This process happens automatically, and you should not have to add chlorine to the pool on a daily or weekly basis as you would with a traditional pool. You will still need to shock a chlorine pool, and other chemicals are essential to add as well.
Salt water pools can be easier to maintain and balance, but continually checking the water is the only way to keep a perfect pool.

Conclusion
As seen in our reviews, the two most important things in choosing a pool salt is to make sure that it is quick dissolving, and to get yourself a reasonable price. There are some large variations in the pricing of pool salt, but not that many differences in the actual quality of the product.
Our first choice, the Aquasalt 40, is the best option we could find for both purity of the salt and quick-dissolving times. The pool owners that use this product continue to buy it and say it causes them no extra time having to brush the pool etc.
If you want to save a few dollars and think our Aquasalt is priced a bit high, check out the deal on the Clorox Premium Pool Salt. Clorox pool products are typically priced a bit high, but this 40-pound bag is a great deal.
---
Featured Image Credit: Bignai, Shutterstock