10 Best Pool Pump Timers in 2023 – Reviews & Top Picks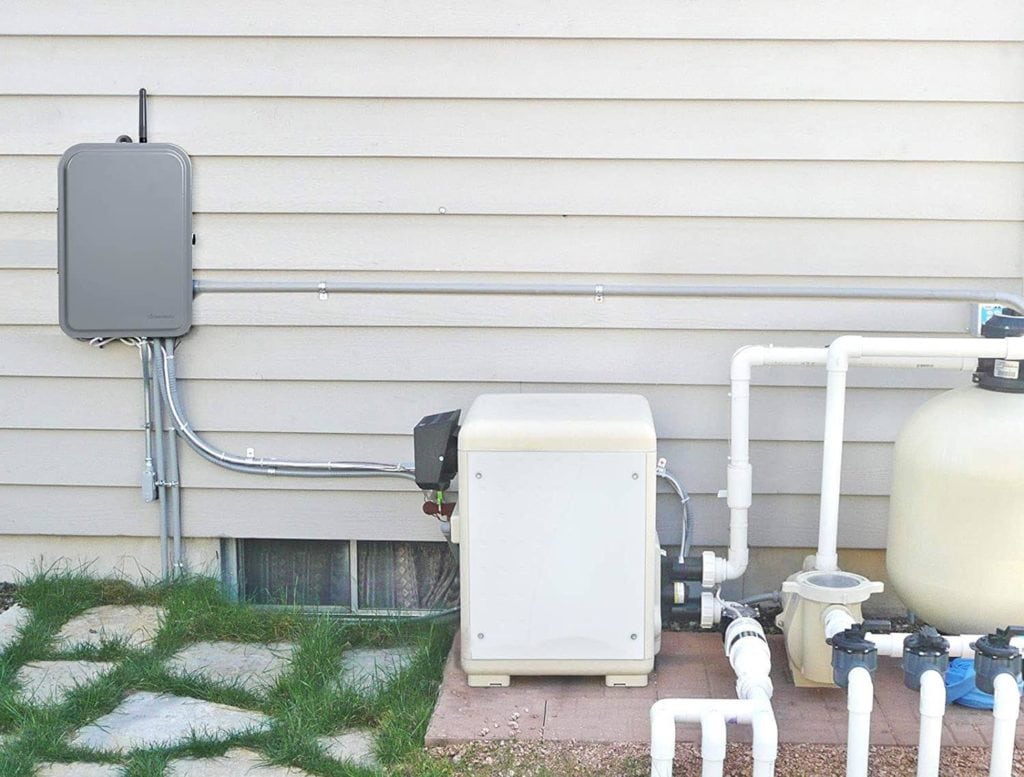 If you are tired of forgetting to turn your pool pump on and off, it sounds like it may be time for an automatic pool pump timer.
We put together a list of the top ten best pool pump timers we could find on the market.
If you are not sure of the factors to consider when buying a pool pump timer, do not get overwhelmed, the process is not that difficult!

A Quick Comparison of Our Favorites in 2023
Rating
Image
Product
Details

Best Overall

Honeywell Programmable Timer

Three operating modes including temporary bypass
Weatherproof cover
Easy to program
CHECK PRICE

Best Value

Intermatic Electromechanical Timer

Easy to use
Can turn pump on and off a few times in a day
Great price
CHECK PRICE

Premium Choice

GE Z-Wave Metal Box Smart Switch

Lots of capabilities
Can work wirelessly
Outdoor safe and lockable
CHECK PRICE

BN-LINK Compact Outdoor Mechanical Timer

Effortless operation
Uses standard outlet
Cheap
CHECK PRICE

Woods Digital Plug-in Timer

Self-charging backup for power outages
Weatherproof
Low price
CHECK PRICE
The 10 Best Pool Pump Timers:
1.

Honeywell TI040 Programmable Timer – Best Overall
When it comes to choosing the perfect pool timer, you want to make sure that you choose something that is easy to program and will hold up over time. The Honeywell T1040 is our top choice for a programmable pool pump timer.
With this timer, you can program for seven days and up to fourteen settings. The TI040 has three modes in which it operates, manual, automatic, and temporary bypass. The temporary bypass is a great feature to have. Sometimes when there is heavy rain, or an algae problem, you want to adjust your pool pump to run more often. With the bypass, you won't have to completely reprogram your pool pump only to have to change it back a few days later.
The Honeywell TI040 has a heavy-duty weatherproof casing that will allow this to work fine in outdoor conditions. Even if your pool pump timer is not entirely enclosed in a pool house, the cover should protect it under normal circumstances. The case is a locking case, so you can keep unwanted fingers out of the pool timer!
Another nice feature on the Honeywell is the option to choose if you want it to run off 120V or 240V. If you don't have an electrician to hardwire this pool timer in, it is great to have the plug and play feature.
Pros
120V or 240V
Three operating modes including temporary bypass
Weatherproof cover
Easy to program
Seven-day programmability with fourteen settings
Cons
There are cheaper models available
---
2.

Intermatic T104 Electromechanical Timer – Best Value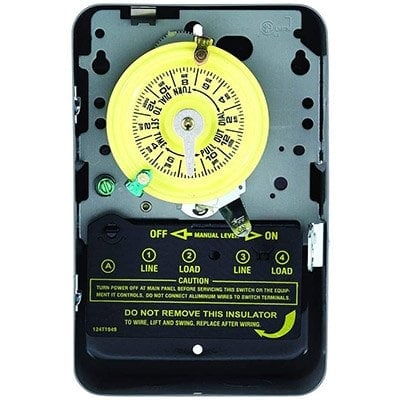 If you read our review about the top choice, the Honeywell TIO40, you may have noticed that the only negative we had for it was that there are other lower-priced options on the market. The Intermatic T104 is one of them. The Intermatic T104 Electromechanical Timer is the best pool pump timer for the money.
This is a timer that will work for industrial, commercial, and residential areas. One of the problems with this unit, and something that probably makes it a little less expensive, is that it is not recommended for outdoor use. You will have to have a pool house or a garage where you can run the pool timer out to the pool area. For some pool owners, this will work just fine, and for others, it could be a deal-breaker.
One of the great things about this unit is that it can allow for up to 10 on and off functions per day. If you want your pool pump to run for a while in the morning, stop for a few hours and pick up again in the afternoon, you can do that easily with this timer.
There is a manual and an automatic mode on this pool pump timer, but you will not find the override feature we mentioned with the Honeywell. If it comes down to the fact that you are tired of manually putting your pool pump on every day, or you don't trust yourself to remember to do it, the Intermatic does a great job of completing this task for you.
Pros
Easy to use
Can turn pump on and off a few times in a day
Great price
Cons
No override features
Must be stored indoors
---
3.

GE Z-Wave 14285 Metal Box Smart Switch – Premium Choice
If money does not matter to you and you want the best option on the market to make your home and pool system smarter, the GE Z-Wave could be a good choice. The GE is a weatherproof option just like the Honeywell. The enclosure is perfectly capable of protecting the wiring and keeping unwanted hands out of the box.
The GE Z Wave is not just for pool pump use as it will also work for industrial lighting and other outdoor electrical needs.
One of our favorite features with the GE Z is the energy monitoring capabilities. Using the Z Wave Hub, you can track watts and kilowatt-hours. As much as we love this feature, it's also the reason this GE Z is even more expensive than you may think. You will need to purchase the Hub in addition to the outside programable unit. By the time you get this thing up and ready to go, you will have spent more than a few of our number one options combined.
You can control this pump manually by turning it on and off at the unit, or you can control it wirelessly using the Z Hub. This is a nice feature if you are away on vacation, and there was a power outage that reset your pool timer. Quickly make sure that it is up and running when you need it to.
On the outside of this unit is a small LED light that lets you know if it is on. Not having to open the door and expose the timer or wires is a nice feature. If you are not a certified electrician, GE has you covered. The inside of this unit has easy access to wiring, and everything is clearly labeled. If you are connecting outdoor lights and pool pumps, you can do so easily with the GE Z-Wave Plus. You can use this timer for up to 11,000 watts. Certainly, more than other lower-priced models can handle.
Pros
Lots of capabilities
Can work wirelessly
Outdoor safe and lockable
Cons
Very expensive
Need to purchase the Z Hub as well
---
4.

BN-LINK Compact Outdoor Mechanical Timer
If our last option had you rolling your eyes about spending even more money on your pool, this BN-LINK Compact mechanical timer could be a good option for you. This is a straightforward model. You will not see any large mounting boxes, and you will only be able to work one machine at a time off this unit.
The BN-Link is safe for outdoor use, and it provides a minimal cover to keep it protected from water. You can set this timer for what you need, and then it will repeat the same setting every day. If you want a timer that can change from one day to the next, this is not the choice for you.
The BN-Link is commonly used for things like Christmas lights, fountains, and pool pumps. It plugs directly into a regular outlet, and the setup on this will only take you a few minutes to complete. This is a grounded unit, so even though it does not look entirely as weatherproof as some of our other choices, it is safe to use outside.
Pros
Effortless operation
Uses standard outlet
Cheap
Cons
Can only use for one thing at a time
Does not have override
Is not seven day programmable
---
5.

Woods 50015WD Digital Plug-in Timer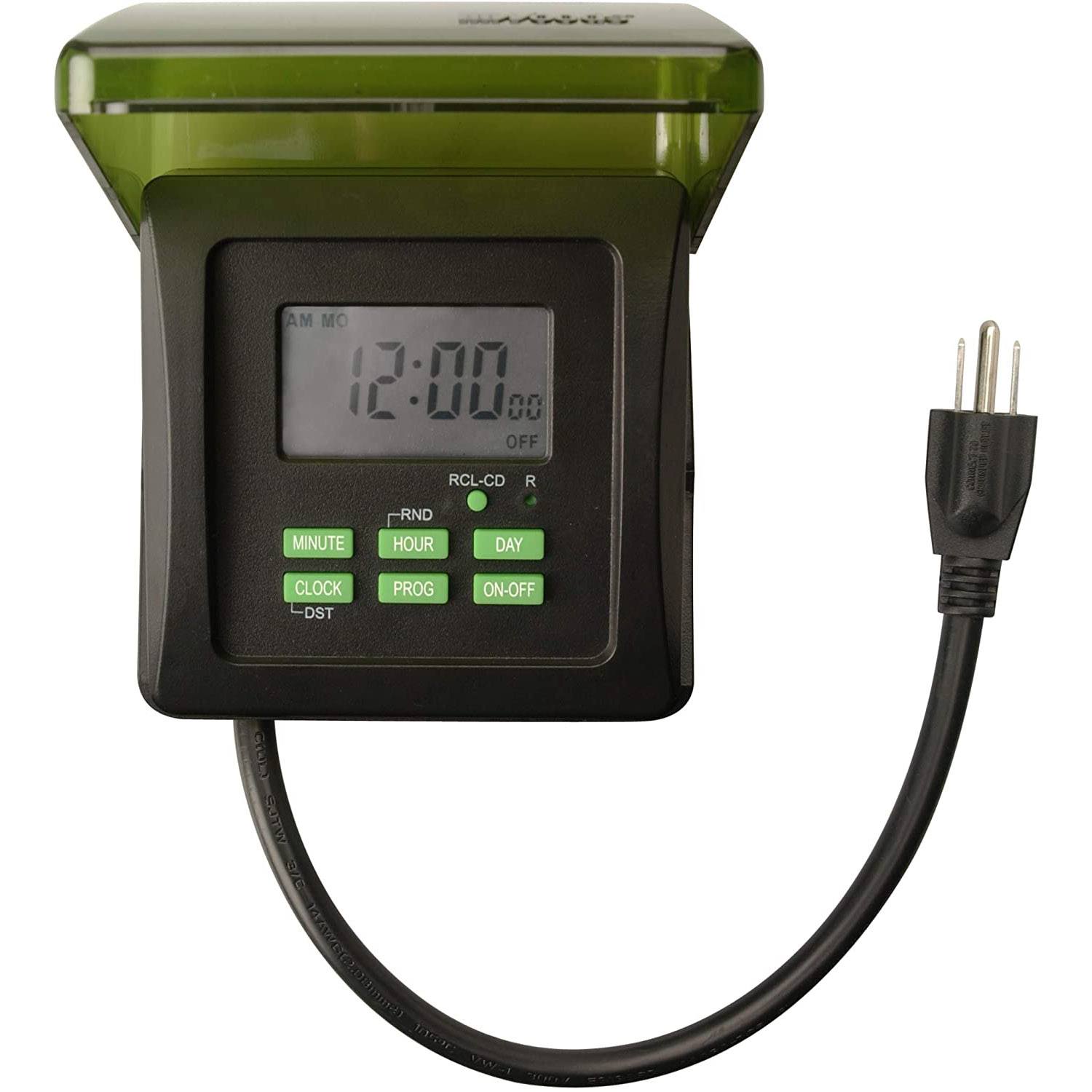 This is a very user-friendly model similar to the BN-Link. The Woods Digital Plug-in timer has three timing features and a seven-day programmable option.
This model calls itself an energy-saving device, but they are mostly just referring to the idea that you can program the pump to run less than twenty-four hours a day. You will not be getting any feedback on actual kilowatt-hours or anything like that.
This is a great timer that is also weatherproof and capable of being in an outdoor setting. The problems that users saw with this particular unit was trouble with programing and seeing the clock on the timer. Many people said that the timer could be difficult to change,      and the display being so dark makes this problem even more complex to deal with.
If you don't have trouble seeing the digital screen, then this model is quite affordable and could work well for you.
Pros
Self-charging backup for power outages
Weatherproof
Low price
Cons
Hard to see
Hard to program at times
Does not have large weatherproof cover
---
6.

Fosmon C-10707US Mechanical Light Timer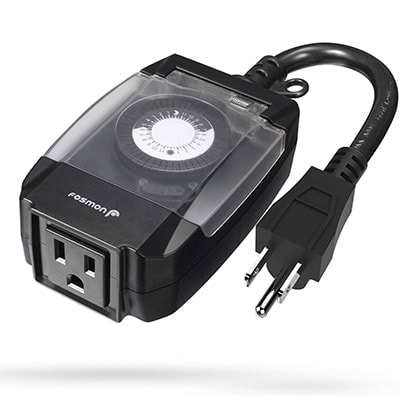 The Fosmon C-10707US Mechanical Light Timer is another 24-hour small outdoor timer with the ability to program one item at a time. Most people are using this timer for outdoor lighting, but it is completely capable of working with a pool pump as well.
This particular timer can program down to thirty-minute segments. Although some of the other units we reviewed could go down to fifteen minutes, thirty should do the trick for most people.
This Fosmon is capable of being outside and has a rainproof lid and casing. This is not quite the same type of weatherproof housing that our number one choice would have. Fosmon does recommend keeping this unit above the ground and not laying it on the ground.
The Fosmon Mechanical Light Timer is a very low price option, but we wouldn't say that this timer will last you forever. Most people rate this timer pretty high but mention that it will deteriorate after several years if it is stored outside.
Pros
Low price option
Rainproof Lid and Casing
Cons
Does not hold up well long term when placed outside
Only plug one thing in
Not seven day programmable
---
7.

Plusmart Outdoor Timer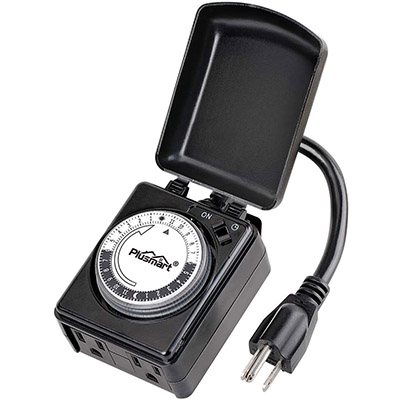 Next on our list is the Plusmart Outdoor Timer. This is a low-priced option that has two outlets so you can run your pool pump and your Christmas light if you so choose. This timer has an excellent waterproof cover on the outside, but there are some conflicting reports as to whether it should be used outdoors.
Some pool owners said that the manual says only to place this outside in a dry location. We wouldn't risk doing something the directions say not to do.
Pros
Low price
Nice protective cover
Cons
May not be able to use outdoors
Not a seven-day timer, just 24 hours
---
8.

NSi 1101B ELECTROMECHANICAL TIME SWITCH
The NSi 1101B is a much more complex pool time switch than the last few items we reviewed.
You can run four different things off of this switch, including lighting or fans. The programming is quite simple to follow, and the dial is easy to see. The problems some users have had with this unit include the fact that it is just not built that well. After several weeks people see issues with it not being able to turn on automatically, and it needs manual help. Not sure why you would by a timer that requires you to do it manually! This NSi can only be used indoors.
Pros
Can program four things
Easy to set up initial programming
Cons
Must be kept indoors
Does not hold up long term
---
9.

DEWENWILS Wireless Controller Timer
Next is the Dewenwils Wireless Controller Timer. This is an interesting unit because it is Wi-Fi enabled. You can control this timer from your phone even when you are not at home. We love this capability.
The Dewenwils comes in a waterproof container that can easily handle outdoor climates and heavy rains. If you are worried about the pool pump being on in a thunderstorm, turn it off from your phone, without having to buy an additional hub.
With the fair pricing and Wi-Fi enable technology, you are probably wondering why this is so far down our list. The Dewenwils Wireless Controller Timer is very difficult to setup. Even after people get this unit working, they struggle with activating it through Wi-Fi. Some say they gave up and just use it as a time with no Wi-Fi.
Pros
Wi-Fi enabled
Weatherproof box
Cons
Extremely hard to setup
More expensive than a simple timer
Wi-Fi can be intermittent and does not always work
---
10.

Sylvania SA307 Double-Pole Zip Set Industrial Timer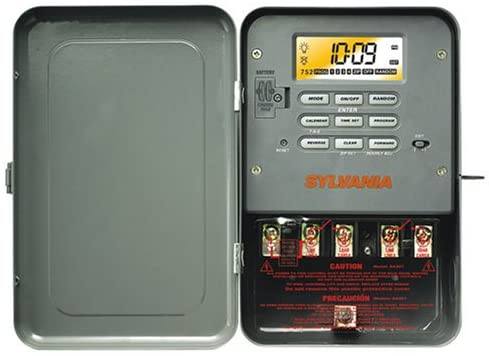 Last on our list is the Sylvania SA307 Double Pole Zip Industrial Timer. This timer made it to the end of our list because of the difficult to program it, along with its mixed reviews about actually turning on and off when it is supposed to.
The Sylvania looks as though it would be an easy to program option with the LCD screen showing the time and other information, but customers say it take a great deal of time and does not work well.
Pros
Timer with screen to see time
Cons
Hard to program
Difficult to use
Priced high for an unreliable option

Buyer's Guide – Choosing the Best Pool Pump Timer
Choosing a pool pump timer does not have to be complicated. Here are the main things you need to consider before purchasing.
Indoor or Outdoor: Do you need this unit to be indoors or outdoors? Prior to purchasing a timer, make sure you read the details about whether or not your timer can be outside. If you have a pool house or cabana near your pool, this may be less of an issue for you.
7-Day/ 24-Hour: Some pool pump timers will give you the same schedule from day to day, and others will allow you to change the settings for the weekends or weekdays. If this matters to you, the 7-day timers do cost a bit more, but you get a lot more flexibility with programming options.
Wi-Fi Enabled: The Wi-Fi-enabled timers cost a bit more than the standard timers, but it can be a very nice feature to have. Two instances where Wi-Fi can pay off is when you are away on vacation, and you want to make sure your pump is being turned on and off, and when there is a storm, and you don't want to go outside to adjust the timer.
Size: When we refer to size, we are talking about how many things you can run off one-timer. If you need a timer for your outdoor lights, a ceiling fan, the pool pump, and a water fountain, you may be better off spending a bit more money on a unit that will allow several things to run at the same time. In the long run, you will likely save some money.
Voltage: Most of the pool timers that we reviewed work with a standard 120V outlet, but others will need to be hardwired in by an electrician. This should be taken into consideration when deciding which one to purchase.

Conclusion
Now all you need to do is decide which one of these pool pump timers will work best for you and your pool. We highly recommend the Honeywell TI040 for its fair pricing, ease of use, and its ability to hold up to weather conditions. If you need to spend a little less money than the Honeywell, the Intermatic T104 is the best pool pump timer for the value that we found in our reviews. There are certainly enough options out there to get a timer that works both for your preferences and your budget.