3 Best Portable Diesel Generators of 2022 – Reviews & Top Picks
You hold the power to choose what generator will fit your needs. Diesel generators are popular for a few reasons. The biggest reason is that diesel tends to be workhorses. They require less maintenance than their counterpart the gas run generator. The other reason is that they have better fuel efficiency.
Anyone who has been around a running diesel engine, either from a truck or other small engine, knows that they have a distinctive sound and a recognizable exhaust smell. That clicking sound that can almost drive you crazy and the odor that will give you a headache. Well, new technology and innovation have made the diesel engine more appealing.
We have reviewed three portable diesel generators and have highlighted many of their excellent features that make the operation of the generator simple and the benefits of its output a convenience. We have made it easy for you to analyze the pros and cons of these models and to make not only a decision on the perfect generator but also on your investment.
A Quick Comparison of Our Favorites
Rating
Image
Product
Details

Best Overall

Generac 6864 Diesel Powered Portable Generator

12-gallon fuel tank
Single-touch electric start
Long run time
CHECK PRICE

Cummins Onan Quiet Series Diesel RV Generator

Powerful 10
000 watts
Quiet operation
Auto shutoff
CHECK PRICE

Premium Choice

Onan 8.0HDKAK-1046 Quiet Diesel Generator

Extremely quiet
Computer-controlled variable speed
Easy maintenance
CHECK PRICE
The 3 Best Portable Diesel Generators – Reviews 2022
1.

Generac 6864 Diesel Powered Portable Generator – Best Overall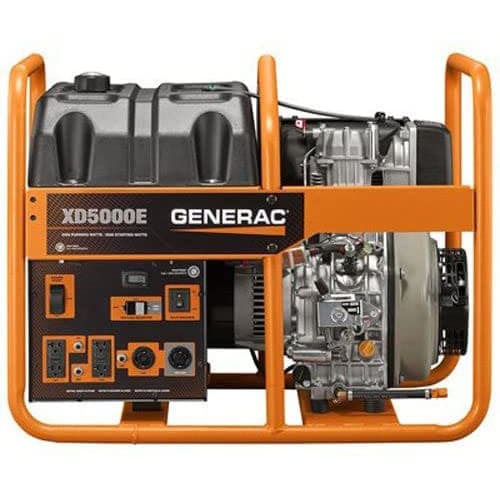 Durability and power are what sets apart the Generac 6864 Diesel Powered Portable Generator from the rest of the field that is why we made it our best overall pick. It has 5,500 starting watts and a 12-gallon fuel tank so it can run for more than 30 hours. Truly a workhorse and because of its diesel engine, you will enjoy its long life with less maintenance.
There are many features the Generac packs into this 254-pound portable generator and at first, you might be even wondering how to transport such a weighty machine. Well, it is recommended to purchase the wheel kit to make it easier.
The True Power Technology 435cc industrial-grade engine has fuel-efficient idle control, air-cooled direct injection is all backed by the Yanmar name. True Power Technology means that you get less than 6% total harmonic distortion for smoother operation of sensitive electronics, tools, and appliances. To get the Generac started you can use the pull start, which has been known to be difficult so purchasing the battery is necessary. The battery is a 330 CCA battery and it will take care of operating the single-touch electric start. It is also the only way that the fuel cutoff will work.
Your generator comes securely cradled in a 1¼-inch steel frame that is fully welded and solidly constructed. The frame has a fully integrated lifting eye that allows you to easily transport the generator or secure it properly.
Pros
12-gallon fuel tank
Single-touch electric start
Long run time
Fuel-efficient idling
Industrial grade
Cons
Difficult pull start
Loud when operating
Weighs 254 pounds
Wheels and battery purchased separately
---
2.

Cummins Onan Quiet Series Diesel RV Generator

The Onan Quiet Series Diesel RV Generators are the heavy-duty choice among diesel generators. They offer low noise and low vibration, and operate below the threshold of National Park Service requirements. In fact, so quiet that they are almost quieter than their gasoline engine counterparts. This particular Onan 10HDKCA-11506 is on the pricier side but produces 10,000 watts of power, enough to run 3 rooftop air conditioners.
This feature-packed machine has enclosed cooling, muffler, and intake systems with a heavy-duty air cleaner. It has a constant speed operation that delivers pure sine wave electrical output so you can be sure that your appliances are protected. It produces both 120 and 240 volts for a variety of applications. For safety, the generator is equipped with a USDA spark arrestor and a maintenance-free electronic governor.
Equipped with a large fuel tank capacity it has an average fuel consumption during run time. There is an hour meter for convenience and goes along with its self-diagnosing capabilities. On the downside this generator is extremely heavy, weighing in at 785 pounds. Not something that you would really consider portable.
Pros
Powerful 10,000 watts
Quiet operation
Auto shutoff
Hour meter
Cons
Extremely heavy
Very pricey
---
3.

Onan 8.0HDKAK-1046 Quiet Diesel Generator – Premium Choice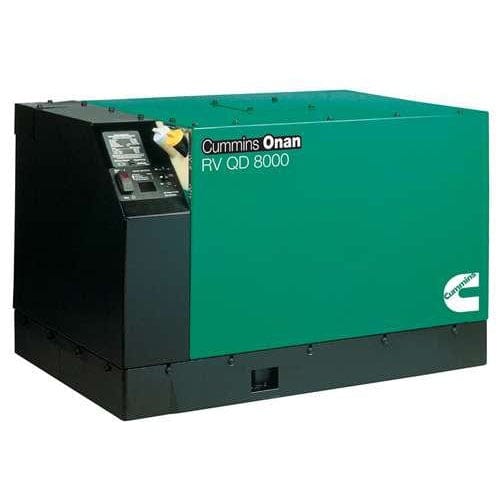 The 8,000-watt Onan generator has some of the same features as its more powerful brother we previously reviewed. It too is on the higher end price-wise and a heavyweight at 420 pounds. Therefore, transporting it may be difficult and there are no additional accessories that can be purchased to help with that.
However, the Onan 8.0HDKAK-1046 Quiet Diesel Generator is our Premium choice. It has a 3-cylinder diesel engine that has computer-controlled variable speed operation in a sound-controlled housing, with an intake silencer. This makes this unit extremely quiet to operate, well below the National Park Service sound level requirements.
It has a digital voltage regulation system providing high-quality sine wave electrical output. The heavy-duty air cleaner, internal radiator, maintenance-free electronic governor, and the bottom air inlet and outlet are additional features that make this generator that stands alone. Add to that the Onan 8000 has a USDA spark arrestor and meets the U.S. EPA and California emissions standards, makes it a complete package.
As mentioned at the beginning, this is heavier and may seem tough to transport, especially if you are using it for your RV, but it will operate two 15,000 BTU air conditioners and several other appliances so you may still consider taking it on the road with you.
Pros
Extremely quiet
Computer-controlled variable speed
Easy maintenance
USDA Spark arrestor
000-watt output
Cons
High Priced
Very heavy
Difficult to transport
---
Buyer's Guide
Several things should come to mind as you consider purchasing a portable diesel generator.
Price
Since it seems to be a high-ticket item, the price may be your first consideration. At least deciding on a budget would probably be a good idea. Once you have a reasonably good idea about the price, it would be wise to consider your needs.
Purpose
Depending on what you will be using the generator for, household use or otherwise will determine the size and power (watts) you will need.
Power
You'll need between 7,000 to 9,000 watts to run household appliances such as refrigerators, computers, TVs, and other small appliances is. You will want to have a generator that produces a digital voltage regulation system that will produce high-quality sine wave electrical output to prevent damaging your appliances.
Fuel Tank Capacity
When operating your generator, consider how large your fuel tank is and the length of time that the generator is able to run on a tank of gas. The larger the tank capacity, the longer you can run your generator continuously, which makes it more convenient.
Size & Style
Choosing a portable generator means you will be researching generators of all different sizes and styles. We reviewed the diesel models that were available. These offer you variety in size, power, and output. While you are making your decision, make sure you are looking at all of your options. Have a firm grasp of your needs so that you don't come up short on power.

Conclusion
Our choice for the best overall went to the Generac 6864 Diesel Powered Portable Generator. Although it does not have the power that the other two generators do, it does have many key features that make it a solid choice for any home or RV goer. It has 5,000 watts of power and the True Power Technology that offers a single-touch electric start and a long fuel-efficient run time. If you remember, the only thing that you had to add to this high-quality generator is a wheel kit to help transport the 254 generator and the battery to help with starting and to keep the direct injection operable.
The Onan 8.0HDKAK-1046 Quiet Diesel Generator was our premium choice because of the 8000 watts of power, the light maintenance it may require, and one of its key features, its quietness. This one will cost you significantly more than the overall pick, but its long-lasting capabilities and performance may make up the difference in cost. It is not likely that it is a highly portable generator because of its 420 pounds, but you will find the rest of its features to be above standard.
We hope this has been helpful to you and that you have made a choice that will prove to be worth your time and investment.