7 Best Water Filters of 2023 – Reviews & Top Picks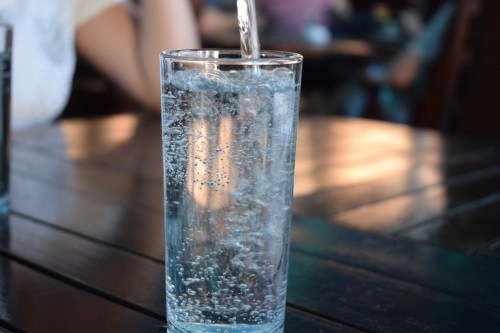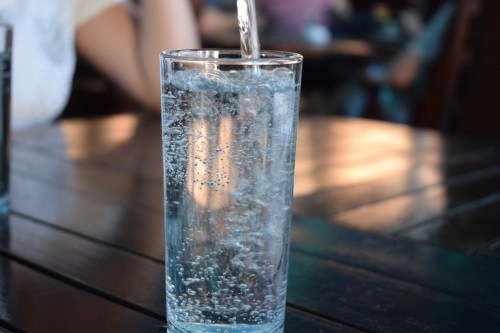 When emergencies cause panic and grocery stores sell out, one of the first things that most people worry about is losing access to clean water. It's one of the most important parts of our daily lives, but we often don't give it much thought. Even under normal circumstances, the water we drink is often contaminated with all manner of substances like lead, mercury, giardia, and more.
Water filters can ensure our access to clean and healthy drinking water and there are many types of water filters to choose from to fit different situations. In this article, we're going to talk about our favorite water types of water filters. You'll get reviews of our top pick in each category, and by the end, you should know which type of filter you want to learn more about.

Comparison of the Winners in 2023:
Rating
Image
Product
Details

Best Under-Sink Filter

iSpring Water Filtration System

Removes up to 99% of 1000+ contaminants
Includes everything needed for installation
Can filter 75 gallons per day
CHECK PRICE

Best Water Filter Pitcher

Brita Everyday

Longlast filters good for over 100 gallons
Affordable water filtration
Simple to use
CHECK PRICE

Best Countertop Filter

Apex Countertop Water Filter

Connects easily to your kitchen faucet
Removes sediment, chlorine, giardia, and more
Affordably priced
CHECK PRICE

Best for Large Capacity

CuZn Under Counter Water Filter

Easier to install than the RO system
Good for 50000 gallons of water
Saves money over the long-term
CHECK PRICE

Best Faucet Walter Filter Attachment

PUR FM-3700

Each filter good for 100 gallons
Easy to find filters
Removes lead and chlorine
CHECK PRICE
The 7 Best Water Filters
1.

iSpring RCC7 Water Filtration System – Best Under-Sink Filter
Reverse osmosis is an excellent way to treat your water. It removes up to 99% of more than 1,000 different contaminants to provide you with an incredibly pure drinking experience. It's one of the most expensive water filtration methods on our list, but it's also one of the most thorough. This will remove pretty much everything from your water.
The iSpring RCC7 High Capacity RO system features five stages of filtration to ensure that nothing gets past your filters. It can filter up to 75 gallons each day, ensuring that you're never without an abundant supply of pure water.
Though it's a bit pricey, you can save some money by installing it yourself. Luckily, this model is pretty easy to install, and everything you need for installation is included. If you have a little bit of DIY experience, you can easily pull it off. Once you do, the filters only need to be changed every six months, so the maintenance is minimal.
It's hard to beat the ease of use this system provides since it purifies the water coming out of your kitchen faucet, so for this and the reasons above, we think it's the best water filter overall.
Pros
Removes up to 99% of 1,000+ contaminants
Includes everything needed for installation
Can filter 75 gallons per day
Cons
Not the cheapest filtration method
---
2.

Brita Everyday – Best Water Filter Pitcher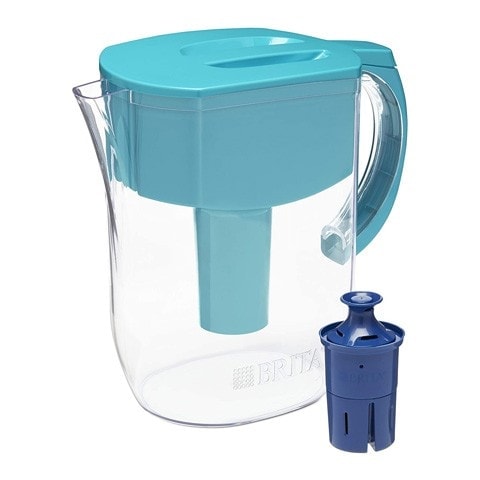 Some water filtration systems can get pretty expensive, but the Brita Everyday water filter pitcher brings healthy water to an affordable price point. This one comes with Brita's Longlast filter that's good for over 100 gallons. Since you only have to replace the filter every six months, you'll save money in the long run with these filters. It's also a simple filter to use. You just fill it up from the top and the gravity will pull the water down through the filter and into the drinking reservoir.
The water from this pitcher filter tastes crisp and pure. Brita filters remove lead, asbestos, chlorine, and more, but they don't remove fluoride, so if you want fluoride filtration, you'll have to look somewhere else. Brita filters also don't remove bacteria, so if that's a concern of yours, the Brita pitcher won't be your first choice. The Brita Everyday Pitcher is the perfect entryway into filtered water since it's easy to use and affordable, making it out pick for the best water filter for the money.
Pros
Longlast filters good for over 100 gallons
Affordable water filtration
Simple to use
Water tastes great
---
3.

Apex Countertop Water Filter – Best Countertop Filter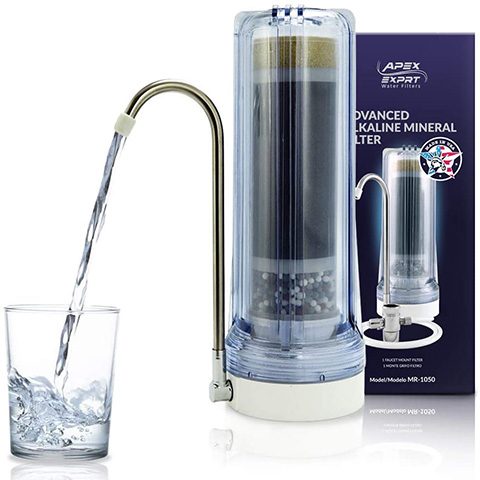 If you don't like the idea of filling up a pitcher several times a day but you aren't ready for the investment of a full-on under-sink RO system, then the Apex Countertop Drinking Water Filter may be an option that interests you. This filter sits on your countertop, besides your sink. It has a hose that runs to your sink and connects to a nozzle on your faucet head with a lever to let you choose if you want the water to go through the sink or the filter. It's easy to install, and for how much filtered water it produces, it's affordably priced.
Our biggest issue with this filter is that it's not very attractive, but it's very visible sitting beside your sink. If you can get over that, it's very easy to install. It also raises the pH of your water so you can receive the health benefits of alkaline water. The filter removes sediment, chlorine, mercury, giardia, and more, but it won't filter fluoride or lead.
Pros
Connects easily to your kitchen faucet
Removes sediment, chlorine, Giardia, and more
Affordably priced
Raises pH for alkaline water
Cons
Takes up counter space
Not attractive
---
4.

CuZn UC-200 Under Counter Water Filter – Best for Large Capacity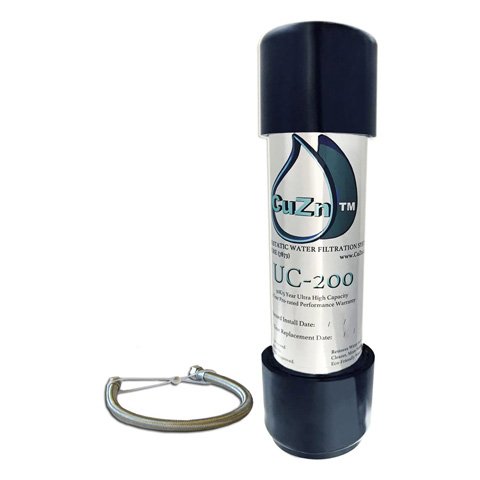 If you want a filter that you can install and then forget about, the CuZn UC-200 Under Counter Water Filter may be for you. It's got an impressive 50,000-gallon lifespan, so you can truly install it and stop thinking about it altogether. The initial investment costs more than most of the other options on this list, but it will save you money in the long run since you have no cartridges to replace. This filter also keeps healthy minerals like calcium in the water so that you can still receive their benefits. Because of this, it won't reduce the total dissolved solids in the water.
This system is cheaper and easier to install than an under-sink RO system. It still hooks into your sink's main water line though, providing you with endless filtered water at your kitchen faucet. You only need an adjustable wrench and a few minutes to install it, which may be attractive to many people.
Pros
Easier to install than the RO system
Good for 50,000 gallons of water
Saves money over the long-term
Keeps minerals in the water
Cons
Expensive initial investment
Doesn't reduce TDS
---
5.

PUR FM-3700 – Best Faucet Walter Filter Attachment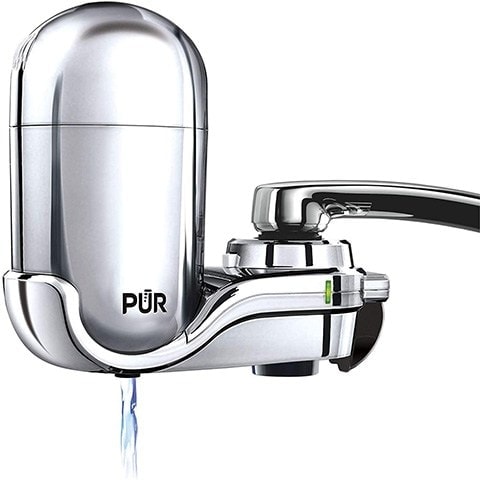 Along with Brita, PUR is one of the most well-known names for in-home water filtration. This faucet filter attaches directly to the head of your kitchen faucet. It has a selector level that allows you to choose between filtered water from the PUR device or allowing the flow from the sink to pass through for normal kitchen use. This means you can still easily do dishes and other normal sink tasks with this filter attached, but it is rather large and cumbersome and tends to get in the way a bit.
The PUR FM-3700 Advanced is one of the most affordable ways to start getting filtered water in your home. It's also a very common filter so you should have no problem finding replacement cartridges. That said, each filter cartridge is good for 100 gallons, so you won't need to replace them too often. When you do, you'll be able to find them online or locally without any issue. These filters remove lead, chlorine, and more, for a total of over 70 contaminants it can help you avoid drinking.
Pros
Each filter good for 100 gallons
Affordably priced
Easy to find filters
Removes lead and chlorine
Cons
Can get in the way of normal sink use
---
6.

Sawyer Squeeze Water Filter System – Best for Backpacking & Camping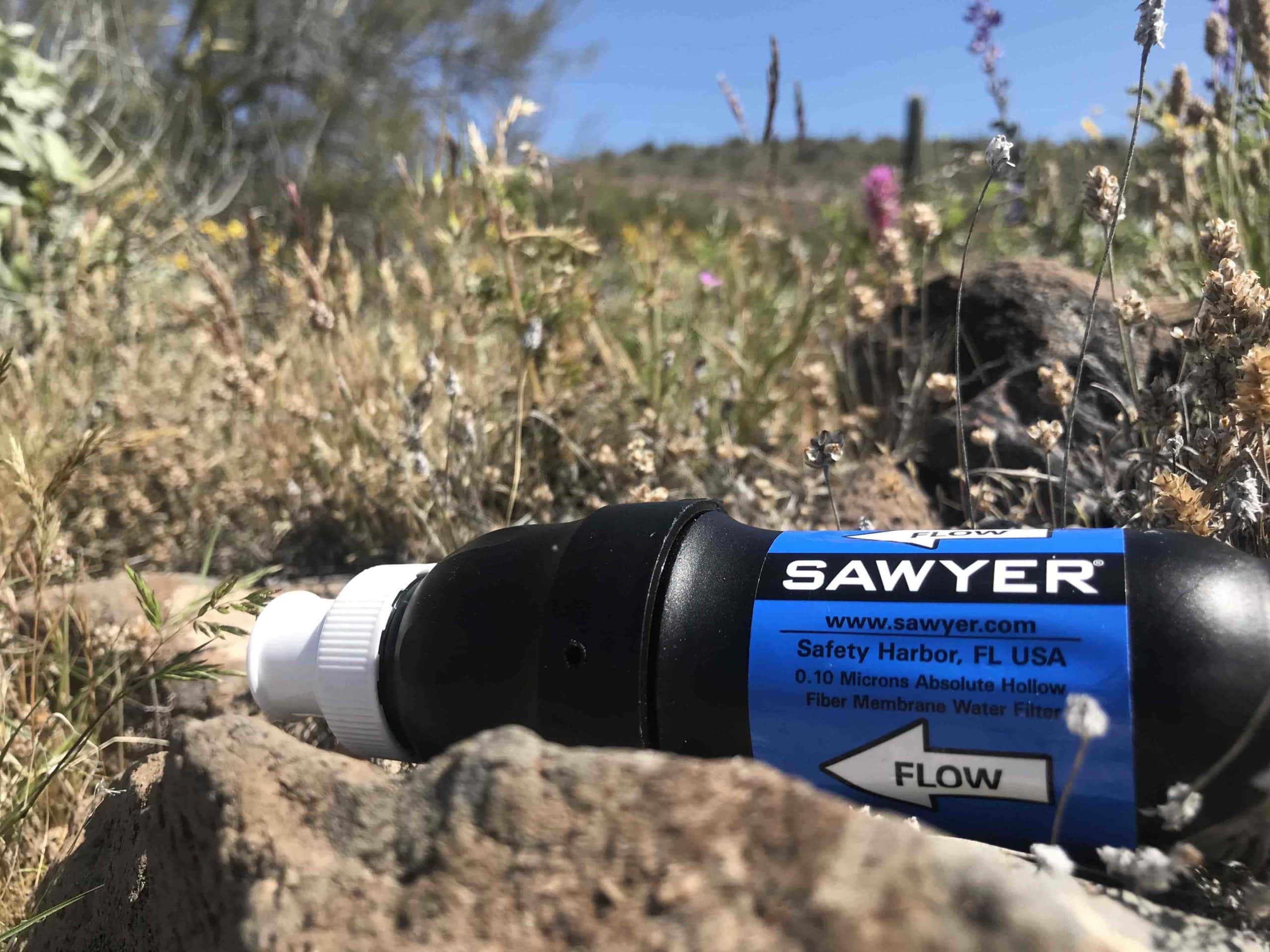 When it comes to backpacking, hiking, or camping, weight, size, and dependability are critical aspects of any water filter. The Sawyer Squeeze checks off all of those boxes and more. It's compact enough to fit in the palm of your hand. Weighing in at a meager two ounces, you can definitely call it lightweight. For dependability, it features no cartridges to fill up and need replacement and no moving parts to break. The Sawyer Squeeze filter is good for 100,000 gallons of water filtration. If it starts to lose some flow, you simply backflush it and it will return to full output.
The Squeeze filters down to 0.1-micron for very thorough filtration. It can remove sediment, bacteria, protozoa, and tons more, but it won't filter out viruses. It's a very affordable piece of equipment, and it's also extremely versatile. You can use squeeze water through it to fill a container with clean water. You can also use it in-line for a gravity system or a hydration bladder. But our favorite way is to screw it on a bottle full of dirty water and drink straight through it, saving us loads of time sitting trailside filtering out our water.
Pros
Good for 100,000 gallons
Ultra-lightweight at just 2 ounces
Many ways to use it
Affordably priced
1-Micron filtration
---
7.

LifeStraw Go – Best Water Filter Bottle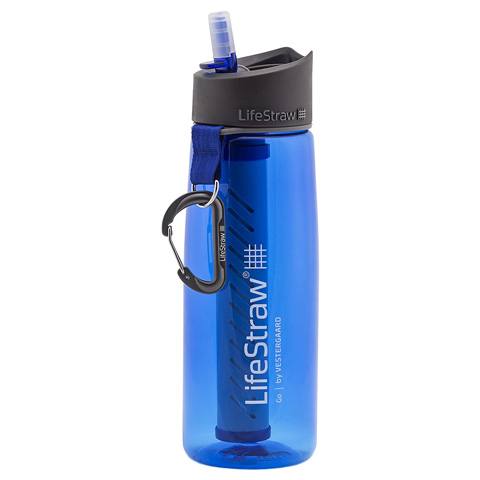 If you've heard anything about personal water filtration, then you've likely heard of LifeStraw. They're one of the biggest names in emergency filtration, but they've moved over into the daily drinking market with the Go Water Filter Bottle. This bottle incorporates their famous LifeStraw into a carry-along bottle that filters your water as you drink it. It's an affordable way to start drinking filtered water today.
The LifeStraw filter removes over 99% of waterborne bacteria and protozoan parasites. It requires no batteries or chemicals. The bottle can carry 23 ounces of water to help you stay hydrated all day long. It's not enough to fuel more than a single person though. For convenience, a side clip with a carabiner makes it possible to clip to your side and leave your hands free for activities. With this filter, you can only use this bottle. You won't be able to use it on another bottle since it is a specific fit. Luckily, the bottle is available in several stylish color variations so you can pick one that suits you.
Pros
Many color variations
Portable water filtration
Removes bacteria and protozoa
Affordable filtered water
Cons
23-ounce capacity is only enough to one person

Buyer's Guide – Finding the Best Water Filters
That's quite a few different types of filters to choose from and they're each suited best for a particular situation. So, which one is right for your situation? If you're still unsure, then this buyer's guide aims to help you figure it out so you can make the right choice right away and start drinking healthier, tastier, filtered water today.
Where Will You Use It?
If you can answer this question, you should be able to narrow down your choices a lot. Each type of water filter is best-suited for certain places, and won't do well in others. For example, if you need to provide your whole family with filtered water, then a water filter bottle isn't going to do the job.
Likewise, if you need a portable filtration device that you can take with you for hiking or store for emergencies, then a water filter pitcher or under-sink RO unity aren't going to do you much good. Let's take a look at a few places you may want access to filtered water and which options are best for those situations.
At Home
Home is where most of us spend a large portion of our time, so it makes sense that you would want filtered water there. But what type of water filter is best for use at home? Well, you have several options.
Water Filter Bottle
How many people are going to be sharing this filter? If it's just you, then a water filter bottle may be adequate and serve double-duty as the bottle you drink from at work as well. However, if you have a family of people to keep hydrated, a single-person water bottle isn't going to cut it.
Water Filter Pitchers
Water filter pitchers are the perfect way to get started quickly and cheaply with filtered water for the whole family. They're very easy to use and require only a small investment to get started with. You will have to replace filter cartridges at regular intervals though, so keep that in mind. You could pick one up today and start drinking filtered water almost immediately without worrying about breaking the bank.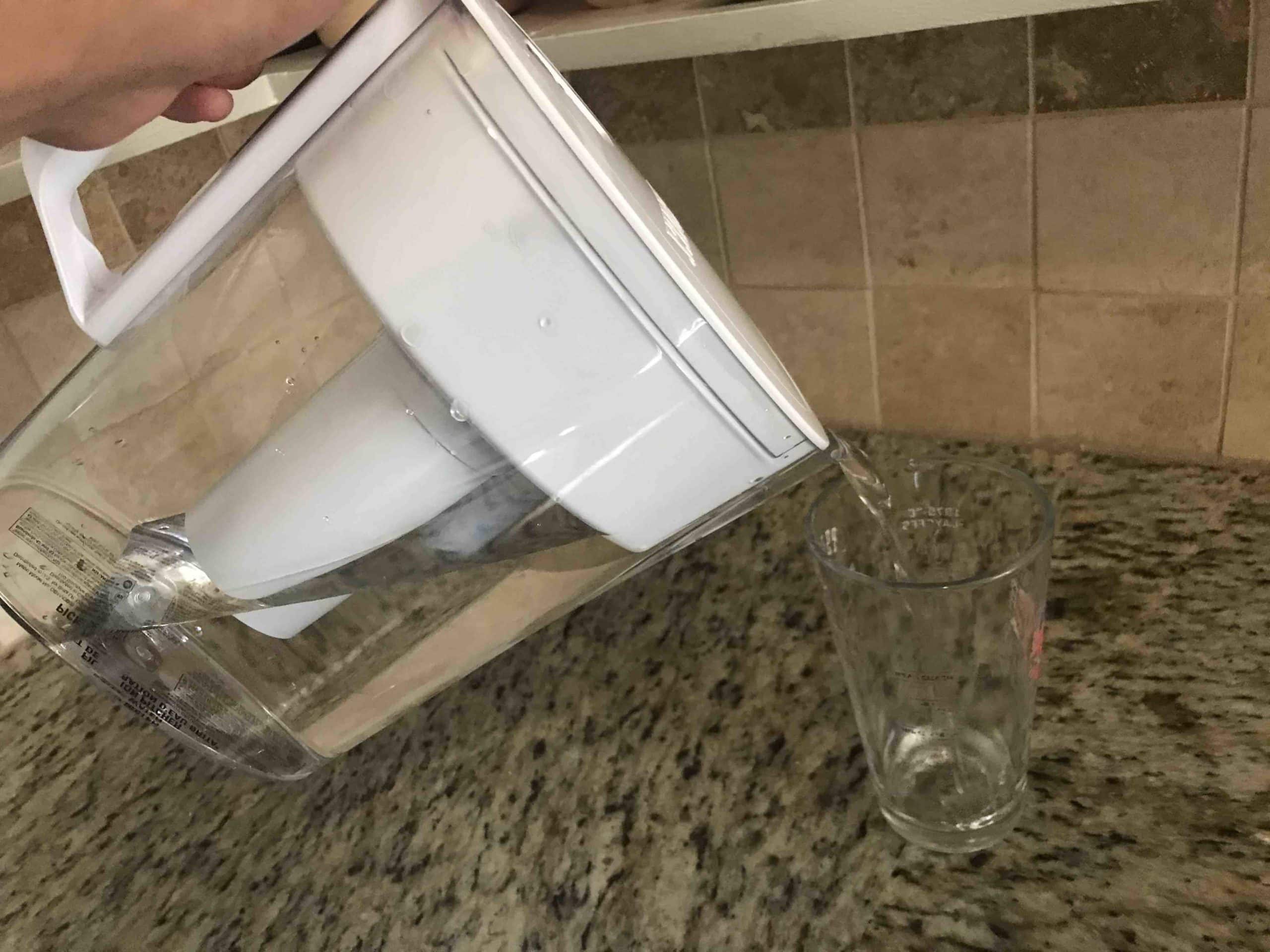 Countertop Water Filter
A slightly more convenient option that takes more initial investment of time and money to get started with is a countertop water filter. These units attach to your sink faucet and sit on the counter beside your sink. They will supply you with nearly endless filtered water at the flick of a lever. It's a level of convenience that's hard to beat, but you'll be sacrificing some sink-side counter space and these filters aren't always attractive to look at. They're not the most expensive, but they're more of a monetary investment than a water filter pitcher.
Under-sink Water Filter
Moving up the list, you could go for an under-sink filter. There are several types of these, including high-capacity in-line filters and RO filters. Both require a considerable investment to get started with. Both also connect directly into the main water line of your kitchen sink, meaning you'll have filtered water whenever you turn on the faucet. That's pretty incredible.
So, which of these is the better bet? Well, reverse osmosis systems strip far more from your water, leaving it virtually devoid of anything besides water. You'll need to do basic maintenance with these systems like changing the filters every six months. With an in-line high capacity filter, you won't have to think about it again for quite some time. Just install it, then it's good for 50,000 gallons without worry.
At School or Work
When you're at school or work, you don't have the option to attach something to the sink faucet or mount it underneath in the cabinet. You don't even usually have access to a fridge to keep your drinks cold! In these scenarios, you need something small and discreet that can filter your water while you drink it. Water filter bottles are perfect for these situations. They hold enough water to keep you from making repeated trips to the fountain for refills, several times the size of a standard water bottle. But they're still small enough to fit in your bag, pack, or purse, and they won't take up much desk space. They're also pretty inexpensive, so it's not much of an investment to lose if someone decides to snatch it.
Camping, Hiking, or Backpacking
When you're going out into the backcountry, you never know what you'll encounter. You may be planning a multi-day excursion and know that you'll need to be able to filter the water you find for survival. Alternatively, you may just want to carry a filter so that you're prepared in case of emergencies. Either way, you need something that's small, versatile, and reliable.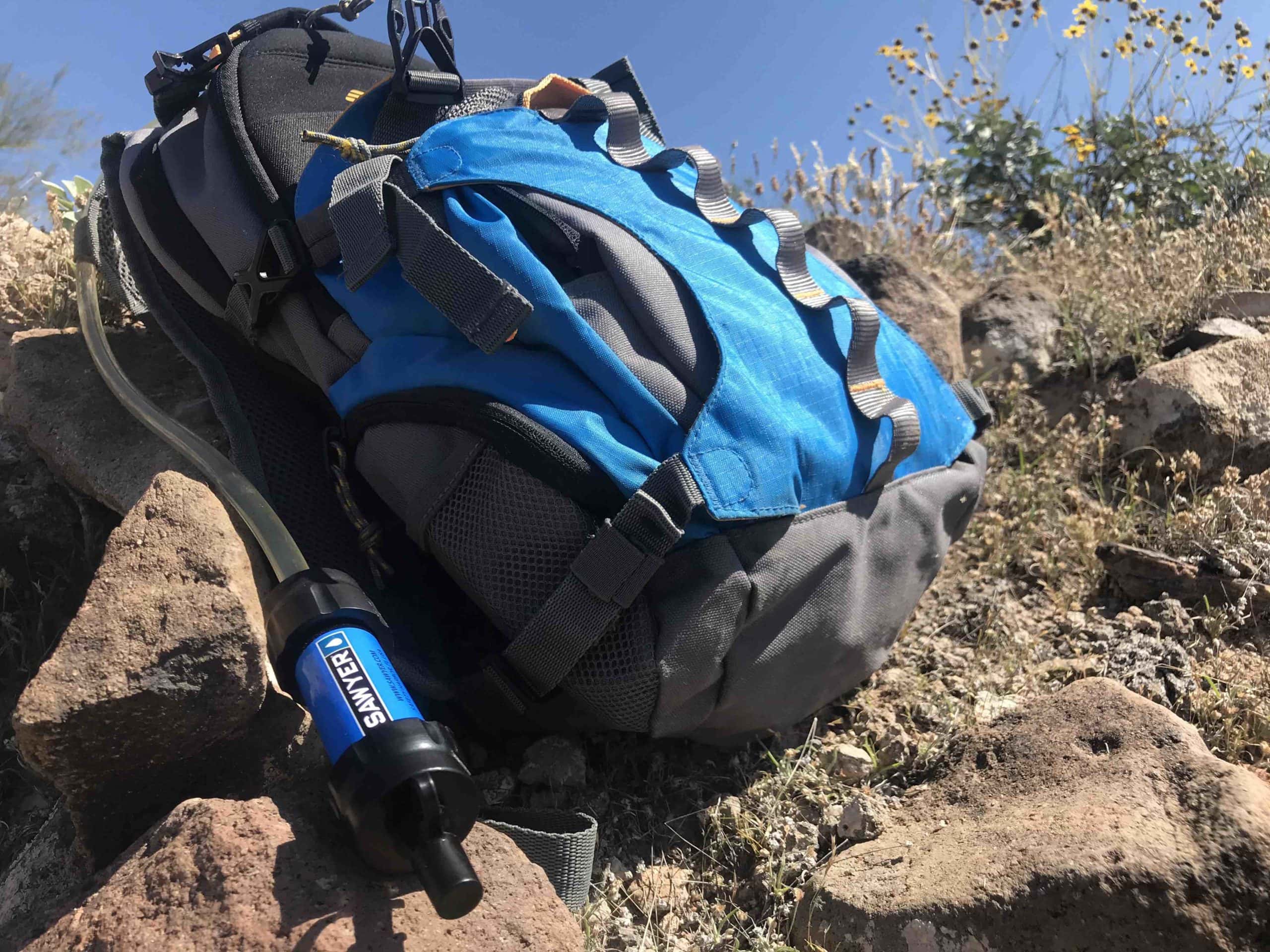 You could consider a water filter bottle. They're small, portable, and generally reliable. But they have some limitations that prevent them from being the best option in this circumstance. They have a limited holding capacity and most can only be used in one way. On the other hand, squeeze filters allow for many different manners of use. You can use them in a gravity system, squeeze water through them, use them in-line with a hydration bladder, or even screw it on a water bottle and drink straight through it. Plus, a squeeze filter weighs just two ounces, so it's perfect for backcountry use.
Emergency Preparedness
When emergencies happen, it pays to be prepared. An emergency is the first time that many people even give thought to how they would get clean water if there were no longer easy access. If you want a filter to keep on hand for emergency preparedness, then you're looking for very specific traits. You don't want anything battery-powered since the batteries could die. You need something reliable that can be used in many different ways to fit many situations since you never know what you'll encounter in a crisis scenario. You also need a filter that's small enough to store away where it will be waiting for you when disaster strikes. Plus, it needs to be simple enough that you can use it in the heat of the moment.
Go for the Squeeze
For us, the squeeze filters represent the ideal emergency preparedness water filtration device. They're tiny and lightweight, so you can easily store them and carry them with you anywhere. You can take them camping, store one in a first-aid box, keep one in the glove box of your vehicle, etc. They're also inexpensive, so if you really want to be prepared, you could purchase several and stash them in places where they may be needed.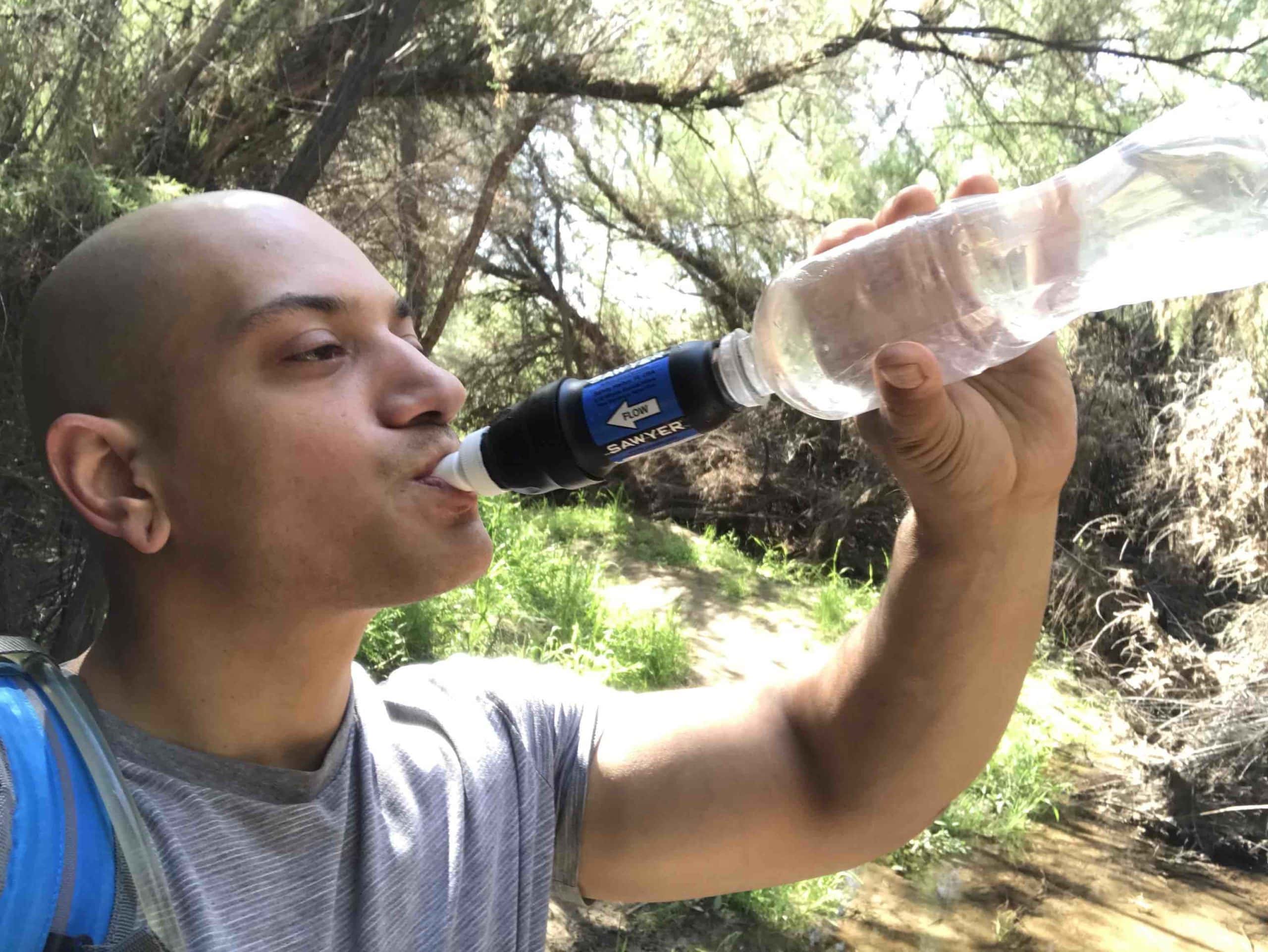 The squeeze filters don't have any cartridges that need to be replaced or any batteries that could die. They can filter out everything but viruses down to 0.1-micron, allowing you to drink from the most questionable water sources with no problems. Even if your water is full of bugs, debris, algae, and all sorts of other uninviting inhabitants that freak you out, the squeeze filters can make it completely safe to drink in a pinch. They're so versatile that you can use them in any situation, so having one stashed away could be a lifesaver if an emergency occurs.

Final Verdict
At one time, there were very few ways to get reliably clean water anywhere, and they were all difficult. Today, water filtration can be a very easy endeavor, provided you have the right equipment. Our reviews have covered several different types of water filters to help you decide which ones you'll trust for your drinking water. For backpacking and camping, we think the best water filter is the Sawyer Squeeze with its 100,000-gallon lifespan, 0.1-micron filtration level, and meager weight of just two ounces. Our favorite countertop filter was the Apex filter that raises the pH of your water to provide you with filtered alkaline water with the pull of a lever.
For us, the best water filter pitcher was the Brita Everyday Pitcher. It has a Longlast filter with a 100-gallon lifespan and it's one of the most affordable ways to get filtered water in your home today. For the most convenience, our favorite RO system was the iSpring RCC7 High-Capacity Under Sink RO System with five stages of filtration and a 75-gallon per day capacity. For faucet attachment options, the PUR FM-3700 Advanced was the best drinking water filter with an affordable price and easy-to-find filters that last 100 gallons between replacements.