6 Best Pulaski Axes of 2023 – Reviews & Top Picks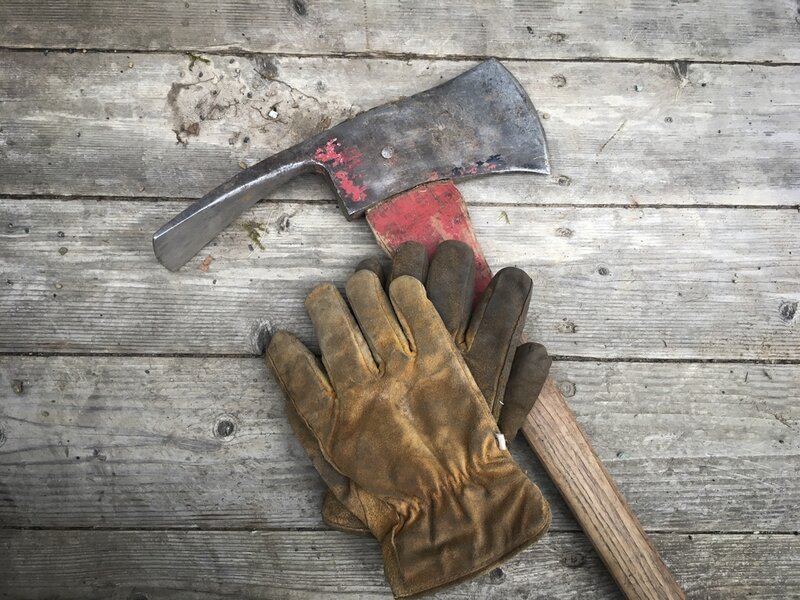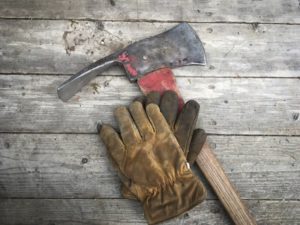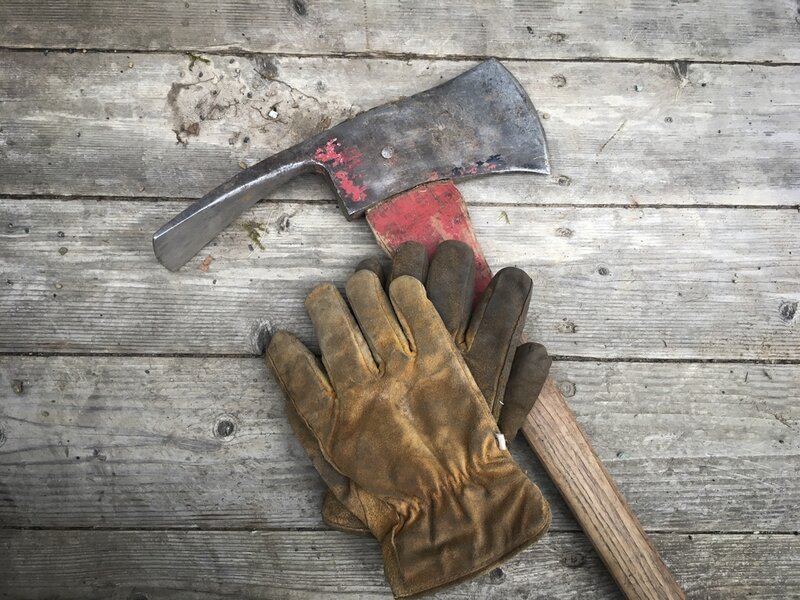 Having an axe in your tool kit can be a very wise investment and can come in handy in more ways than you might think. Pulaski axes are designed to be more versatile than the average single-sided models. They come in several colors and handle materials, but the head of a Pulaski axe is worth paying attention to.
Often known as a "fire axe," the Pulaski axe head features a thinner axe blade on one end, and on the other end is a Mattock blade, designed primarily for digging. The Mattock blade is 90° of the axe blade, giving this tool a range of uses a typical axe lacks.
The Pulaski axe was created by an Idaho forest ranger named Edward Pulaski during the early 1900s. He primarily used it for forest fire prevention and management but recognized it could also be used for landscaping purposes. In these reviews, we will give you some information about six Pulaski axes celebrating this innovator's idea.
A Quick Comparison of Our Favorites (2023 Update)
Rating
Image
Product
Details

Best Overall

Structon 41534 3.5lbs Single Bit Pulaski Axe with 36" Hickory Handle

Quality steel head
Hickory handle
Grip wrapping
CHECK PRICE

Best Value

WESTWARD Pulaski Axe 36IN Hickory Handle

Steel head
Economical price
Hickory handle
CHECK PRICE

Council Tool 9HZV5 Pulaski Axe

Hickory handle
Sharp
American made
CHECK PRICE

Barebones Living 1055 Pulaski Axe

Lightweight
Carbon steel head
CHECK PRICE

Nupla PA375-LESG Pulaski Axe

Ergo Power
Handle SG Grip
CHECK PRICE
The 6 Best Pulaski Axes
1.

Structon 41534 3.5lbs Single Bit Pulaski Axe with 36" Hickory Handle – Best Overall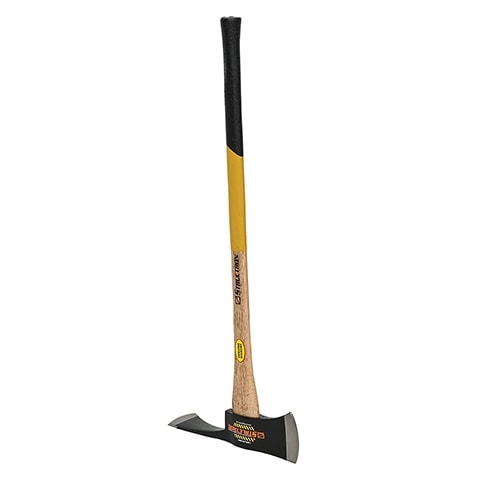 If you are looking for the best Pulaski axe that sets the bar for the competition, the Structon 41534 has done that and then some. It is the metric with which all other axes are compared. With its lightweight design and classic body style, the Structon means business anytime it is used for fire prevention or landscaping.
The head is single bit hardened steel with black enamel on the main body for rust prevention. The handle is a single piece of hickory perfectly set into the blade head and wrapped in the Structon brand colors. And the base of the handle is wrapped for additional grip and comfort.
There is nothing wrong we can say about this axe. It is, for all intents and purposes, flawless. The only thing that might give some folks pause is the weight. It is only 4.6 pounds overall, which means if using it to chop down a tree, you will need some extra effort than with heavier models. Other than that, it is sensational.
Pros
Quality steel head
Hickory handle
Grip wrapping
---
2.

WESTWARD Pulaski Axe 36IN Hickory Handle – Best Value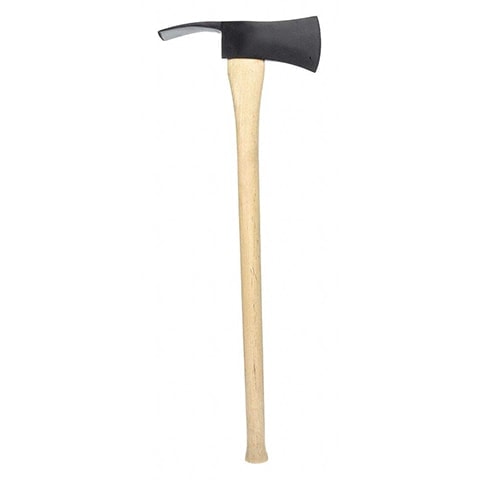 Another terrific tip of the hat to Edward Pulaski himself, the WESTWARD Pulaski axe is a triumph, not only for its quality and craftsmanship but also its price. It has many of the same terrific qualities as the Structon but for a little bit less than you would expect from a quality tool.
Its head is composed of hardened steel, but the cutting edge is only about 4⅛ inches, making it slightly shorter than most. It still has the single piece hickory handle for its low weight and strength, but unlike the Structon, the wood is entirely exposed instead of wrapped for gripping.
Again, no one had a bad thing to say about this Pulaski axe. However, if we had to point out one small flaw, it would be that the handle is exposed, and splintering over time could be possible. It is truly an economical gem and one of the best Pulaski axes for the money.
Pros
Steel head
Economical price
Hickory handle
---
3.

Council Tool 9HZV5 Pulaski Axe
In the classic look of fire engine red, the Council Tool 9HZV5 is the pinnacle of Pulaski axes on the market today. The head is composed of stainless steel that has been oil quenched to ensure an equal hardness across the entire head structure.
The handle is a single piece of hickory at a uniform length of exactly 36 inches. The cutting edge of the single bit blade is 4¾ inches and sharpened to a razor edge. Overall, it weighs a manageable 5.4 pounds, and it is made in North Carolina, USA. A fine tool to have when attacking a blaze or a tree that needs to be removed.
Its flaw is in the steel. Stainless is a fine steel for some things, but hardened steel is the better choice for tools, and Council dropped the ball with the steel they chose for the head. When cutting woods of significant dexterity such as oak, the hickory handle can snap under the weight of the blow.
Pros
Hickory handle
Sharp
American made
---
4.

Barebones Living 1055 Pulaski Axe
This Pulaski axe is a bit of an outlier. Instead of hardened steel, the Barebones Living 1055 is made of high carbon steel, quite a bit harder than traditional tool steel. It is hand sharpened and weighs only 3 pounds.
The handle is made of beech wood, not the traditional hickory, and is a very short 21 inches. It has a removable hex nut for swapping out the handle if broken and features a steel pommel at the base for hammering the new handle in. And this model features a waxed canvas sheath for your safety when traveling.
The serious complaint here is that it comes with the handle already installed but not installed properly, and it feels loose when in use. Even after tightening with the supplied Allen wrench, it rattles loose after a short duration of chopping. And the beechwood handle is cheap and cracks easily.
Pros
Lightweight
Carbon steel head
---
5.

Nupla PA375-LESG Pulaski Axe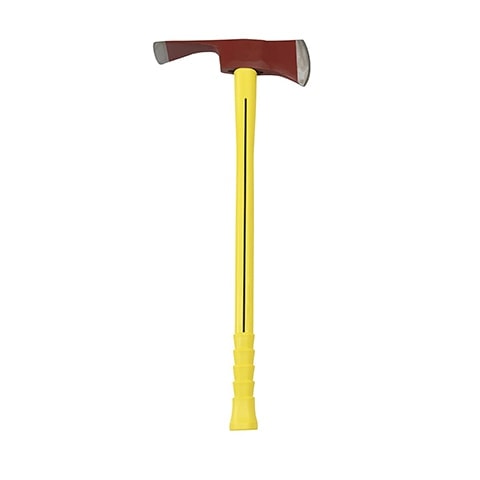 A concrete example of a Pulaski axe, the Nupla PA375-LESG is more versatile than others due to its handle design. Instead of the traditional wood handle, the Nulpa is equipped with an Ergo Power Handle with an SG Grip. It is stronger than wood, resistant to weather and insects, and is excellent for slippery conditions.
The head is composed of hardened steel and painted with epoxy to prevent rust. It is securely fastened to the fiberglass handle and is fixed in place, keeping it from shaking down the handle and hitting your hands mid-swing. This axe shows explicit attention to safety.
The steel is tough to sharpen on this axe. The blade on some models comes dull, adding to the frustration. And some users found its weight to be a little too heavy for long periods of use. It weighs about 7 pounds.
Pros
Ergo Power Handle
SG Grip
Cons
Dull blade
Too heavy
Poor quality
---
6.

Truper 30529 3½ Pound 35-inch Pulaski Axe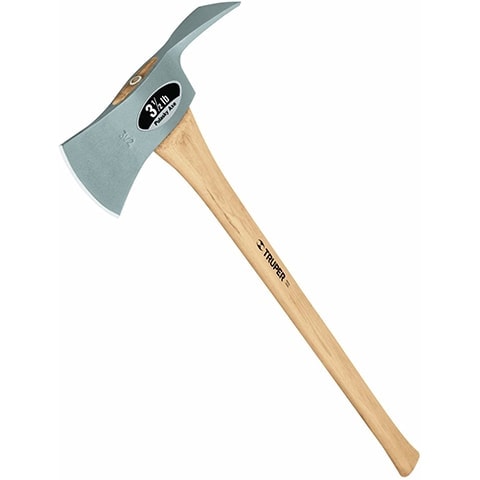 The Truper 20529 is perfect for low-impact uses, such as work on the farm, at home, or in the garden. The blade is heat-treated and tempered for strength and durability. And the handle is 35 inches of American hickory, fastened securely into the head.
Hickory is the standard in the axe industry, providing comfort and strength, so Truper went with hickory over the more reliable fiberglass. At only 5.2 pounds, it is a great tool for the money.
Sadly, some purchasers received subpar heads that were not properly cooled when forged and came out warped. And even though the handle is pure American hickory, there are thoughts that, due to its weakness when in use, it might have been warped as well before it was lathed.
Cons
Cheap handle
Warped blade
---
Buyer's Guide – Finding the Best Pulaski Axe
For forestry, landscaping, and many other uses, a Pulaski axe is a terrific tool to have. Never feel the need to buy a spade for gardening or an edger for your yard. It is ready to tackle the tasks of many standard lawn tools, and it will do so with style.
For commercial needs, the country's forestry services still rely on this versatile axe for many applications from fire lines to prevention. In the grand tradition of Edward Pulaski, they are the go-to tool if a Ranger wants a reliable tool always at their side.
Choosing Your Pulaski Axe
The two components that make up the axe are the head and the handle—nothing too wild here. A sharpened Pulaski axe head in the patented design affixed to the top of a chosen handle style is all a person needs when chopping trees or tilling a garden.
The Head
The Pulaski design revolutionized the fire ax industry. There have been many spinoff styles, but nothing is quite like the raw brilliance of Pulaski's original design. It has a standard axe head, usually about 4 inches tall or better, thin by axe standards for maximum force and wind resistance, and is typically made of hardened steel.
On the back of the head is a Mattock blade, 90° of the axe face, but still sharpened to be useful in grubbing or digging situations. It is never as sharp as the axe blade itself. The Mattock blade is roughly as wide as the axe blade is tall and is quite a bit flatter than the axe blade.
The head affixes to the top of the handle, often with a punch that expands to the handle and uses friction to keep the axe head in place. However, sometimes a bolt is driven through the head to synch the head to the handle. These heads are interchangeable and are a great feature if the handle breaks, as it sometimes does.
The Handle
The original handle design was most often wood; usually, something lightweight by very sturdy, and hickory fits the bill on both counts. Hickory has been used for axe handles since the middle ages and is still used today in many axes on the market. Some woods are substituted for individuality between brands, but the standard will always be hickory.
The other side of the wood debate is fiberglass. It is lightweight and very sturdy, doesn't splinter, is weatherproof and bug resistant, and can be molded for safety and a more comfortable grip. And it fits nicely into the axe head with less effort than its wood counterpart.
The handles can come in many sizes, from 21 inches, which is like a long hatchet, to the industry standard of 36-inches. Shorter handles are designed for axes in close quarters, like cutting branches that are in clusters and hard to hit with a full-sized axe. Longer handles offer a greater range of leverage and maximum force in the swing.
Which Pulaski Axe Do You Need?
Pulaski axes have two standard venues of use: forestry and landscaping. It is used in firefighting, but most commonly, it is purchased by forest Rangers and professional landscaping companies. There is an uptick in these axes being bought for the home, usually for garden tilling and related uses.
When picking your Pulaski axe, you have three variables to consider based on your need:
Length
Head weight
Handle material
For forestry work, the model bought most frequently is the full-sized, 36-inch model with a long blade and a 5-pound head or better. The handle is most often wood. Fiberglass melts at extremely high heat and is an environmental hazard, so eco-conscious rangers would rather have a wood handle burn than a fiberglass handle.
For gardening and domestic applications, the handle length can vary, but the axe head is more appealing if it is light. These axes aren't being used to fell anything significant, and the weight is an essential variable in the decision. As far as the handle material, either will work. Most often, fiberglass is the favorite because of its light weight.
For woodcutting, heavy landscaping, and anything else not listed, a medium-weight head, a fiberglass handle, and a full-length overall unit is what you will most likely see. Wooden handles are still very popular in logging areas, but usually, that wood is more rigid and denser than hickory, so there is no breakage concern.
Sharpening Your Pulaski Axe
Unless it is made of a steel that isn't designed to be manually sharpened, the best way is by hand with a whetstone. You can use a grinding wheel but be careful not to make the edge uneven. To give the best cut, the edge must be flawless. Doing it by hand might take longer, but it offers the option of equal pressure and coverage.
Sharpen the blade edge in concentric circles until you are satisfied. Whetting the stone with oil will give the most consistent and friction-free action without the need to clean up the blade after with a porcelain stone. If you want to take it to an even sharper edge, though, coming behind with a porcelain stone will do the trick.
Safety
There are standard sheaths for Pulaski axes that fit most of them, although the axe blade height might be a factor. Some models already come with a nylon or leather sheath. Because of the blade's sharpness, if you have children or need to store it, putting a light coating of gun oil on the blade head and then covering it with a well-fitted sheath is the best way to keep your axe in its best condition.
When using a Pulaski axe, on either end, safety glasses and gloves are a wise decision. Working with wood or dirt, things fly into the air and can land very easily in your eyes, damaging them. And wood handles can eventually lead to calluses after excessive use. To stem both of these issues, always use personal protective equipment.

Conclusion
It was not at all easy to pick our winner for the best Pulaski axe all around. The Structon 41534 was an epic tool. We applaud the efforts at Structon for making such an excellent piece of equipment for forestry and domestic needs.
For our best value, we went with the WESTWARD Pulaski axe. It had every feature we could want at a price that made us very happy to spend the money picking one of these up. It is a top-quality axe for the money with the perks of more expensive models, and then some.
A Pulaski axe is just something everyone should have in their home for purposes they haven't even considered yet. It falls under the category of tools that are better to have and not need than to need and not have. We certainly hope you enjoyed these reviews, and they helped you in the selection of your next Pulaski axe.
More axes we've taken a look at:
---
Featured Image Credit: S.J. Photography, Shutterstock