5 Best Sanders for Furniture Refinishing in 2023 – Reviews & Buyer's Guide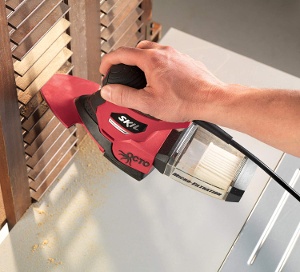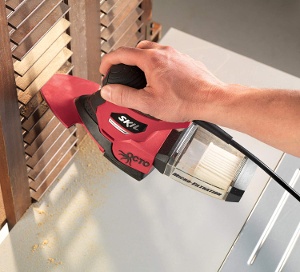 Whether you're a professional furniture craftsman or a Pinterest-inspired novice, you've decided you need a new sander for your next refinishing project.  You can't exactly pull out a piece of scrap wood at the local hardware store and test all the sanders yourself, can you?  But we've done just that for you.
When you're done looking at our reviews, be sure to look through our Buyer's Guide, too, to help you figure out the best fit for you.  And while you're reading, be grateful for the discovery of electricity so that you don't have to do all your sanding the old-fashioned way – by hand.
Comparison of our Top Picks for 2023
Rating
Image
Product
Details

Top Pick

Makita BO4556K

Low vibration
Logical design
Quick and easy paper change
CHECK PRICE

Bosch GSS20-40

Powerful feeling
Little vibration
Can attach to your shop vac
CHECK PRICE

Best for the Money

BLACK+DECKER BDEMS600

Super high 16
000 OPMs
Gets the job done in the nooks and crannies
Smaller price tag
CHECK PRICE

PORTER-CABLE 382

Only random orbital sander on our list
Works adequately
CHECK PRICE

SKIL 7302-02

Comes with eight nifty attachments
12
000 OPMs
CHECK PRICE
The 5 Best Sanders for Furniture Refinishing
1.

Makita BO4556K (Sheet Palm Sander) – Top Pick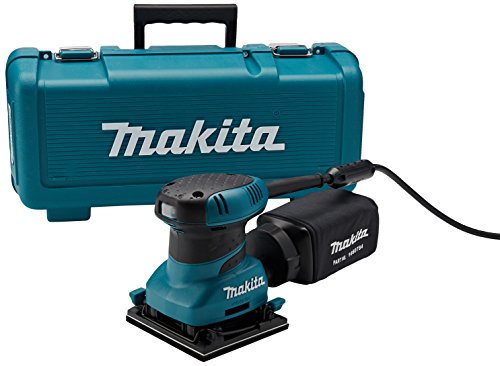 You cannot beat the Makita BO4556K as a finishing tool.  With a 2 Amp motor driving 14,000 OPM (orbits per minute) to give you an outstanding finished product, this Makita is also applauded for minimal vibration and hand fatigue.  Even the on/off switch makes sense, indicating an overall attention to design details and responsiveness to the consumer.  Paper installation is a breeze and the dust collection system rids your surface of as much sawdust as anyone could expect.  In a machine this well-liked, the only feature arguably missing is an option for variable speeds, but that would cause a significant bump in price.
Pros
14,000 OPM for fast and smooth finish sanding
Low vibration
Logical design – comfortable ergonomics
Quick and easy paper change
---
2.

Bosch GSS20-40 – The Runner Up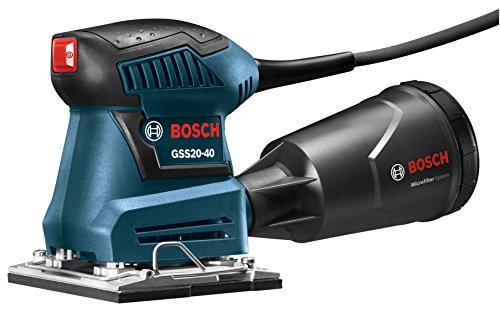 The Bosch GSS20-40 came in second place but is still a great choice.  With a more powerful feel than the Top Pick Makita but with minimal vibration, it has many of the same features – accommodates a dust collection hose, 2.0 Amp motor, good ergonomics, and clamped-in sandpaper.  A unique feature on our list is the Bosch's 3-sided vertical sanding along the edges of the pad, a real plus when sanding in drawers and bookshelves.  And many users report less noise than expected from a sander.  The only place it lost out was in OPMs, unable to quite match the finish offered by the Makita.
Pros
Powerful feeling
Little vibration
Easy change paper
Can attach to your shop vac
Cons
Fewer OPMs than our Top Pick
---
3.

BLACK+DECKER BDEMS600 (Detail Sander) – Best for the Money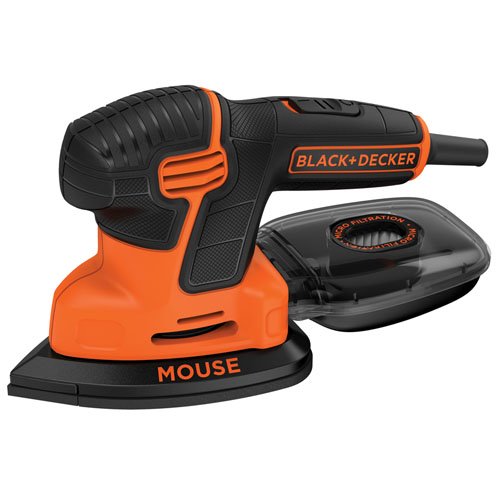 Coming in at about a third less money than both our Top Pick and Runner-Up, the Black & Decker BDEMS600 Detail Sander packs a significant punch in an unassuming package.  Only 1.2 Amps but with an impressive 16,000 OPMs, it balances power and control with the ability to get into tiny spaces, especially with the included finger attachment.  It doesn't have the option of attaching a dust collection hose, but the on-board dust collection system works fine for the small volume of sawdust you'll generate with a detail sander.  It's best suited for small and light jobs, though, and the triangular shape means you'll be hunting for the sandpaper. Overall, we think this is the best sander for furniture refinishing for the money available this year?
Pros
Super high 16,000 OPMs
Gets the job done in the nooks and crannies
Smaller price tag
Cons
Might be overworked if it's your only sander
Can be tough to find replacement paper
No hose attachment for dust
---
4.

PORTER-CABLE 382 (Random Orbital Sander)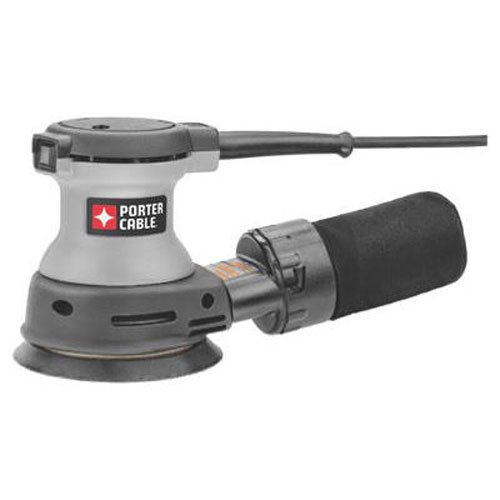 The only ROS on our list, the Porter-Cable 382 Random Orbital Sander is a good choice if you've already got palm and detail sanders.  It lists a 1.9 Amp motor and 12,000 OPMs, but users feel it lacks power and works best on lightweight jobs.  It's also the heaviest on our list (at 3 lbs.), so expect a little more fatigue.  One of the complaints is a frustrating on/off switch, which won't seem relevant until you think about how often you're turning a sander on and off.  And a near-universal criticism is a dust collector that falls off if you so much as look at it, forcing many users to discard it all-together (and allow for extra vacuuming time later).
Pros
Only random orbital sander on our list
Works adequately if you have only modest demands of it
Cons
Feels weak and underpowered
Poorly-designed on/off switch
Poorly-designed dust collector falls off easily
---
5.

SKIL 7302-02 (Detail Sander)
The second detail sander in our line-up, the SKIL 7302-02 is almost a fantastic tool.  Nicknamed the "Octo," it comes with eight (eight!) detail attachments and a small but avid fan base who swears by it.  They love its 12,000 OPM, its comfortable ergonomics, and its suitability for small space sanding.  Everyone else is frustrated and describes it as easily and frequently broken in a variety of ways, particularly the clip that allows for those eight clever attachments.   (And the graphic of a five-armed octopus emblazoned on the side doesn't help you take it seriously.)  If SKIL were to redesign to make it sturdy and dependable, the rest of us might love it as much as its fans do, but for now, it only places 5th on our list.
Pros
Comes with eight nifty attachments to make it easy to sand the tiniest and hardest-to-reach areas
12,000 OPMs
Cons
Doesn't hold up to anything other than the lightest and daintiest of use
Breaks easily
---
Buyer's Guide – Purchasing the Best Sanders for Furniture Refinishing
If you're looking for a sander for furniture refinishing project, you'll have to choose among three types – an orbital (aka sheet or palm) sander, a detail (aka mouse) sander, and a random orbital sander.
Orbital sanders
An orbital sander has a square or rectangular base that rotates in tiny circles. With most models, you clamp a standard-sized square of paper to it, and you can easily cut full sheets of sandpaper to size. The orbital is less aggressive, making it easy to handle well without a ton of practice or costly mistakes. It's best at producing the smoothest finishes. And since it's square, it's also perfect for corners and edges. But less aggressive also means it isn't the workhorse you'd want for removing multiple layers of finish, and you can only drive this with the grain or risk marring your surface.
Random orbital sanders
The random orbital sander (ROS) has a round sanding surface that moves in an ellipse. You attach specially-designed paper with a hook and loop system (and you're not cutting circles from your stash of regular sandpaper for this guy). The ROS is more excited to go on its own, making it great for removing thick finish layers. Since it's round and moving in a circle, you can drive this in any direction on your wood. But be aware that it might drag you around your project, leaving gouges and marks, if you don't keep it under control. If you've never used a ROS before, you will want to practice on scrap wood. And of course, since it's round, it can't do corners.
Detail sanders
The detail, or mouse, sander, is best at just what the name suggests – details. If your project has nooks and crannies and carvings that you need to sand, this is the tool for you. It uses a triangular piece of sandpaper (another one you cannot cut yourself), allowing the point to reach into tiny crevices. Less expensive and less powerful than the other sanders, it can't be beaten for fine work in cramped spaces.
With any of your sanders, you'll want to think about these issues as well:
Power
Although it seems like you'd want as much power as possible – this is a power tool, right? – with a sander that's not necessarily the case. For furniture refinishing, you'll likely want a fair amount of control and finesse, so don't be lured in by raw motor power. Keep in mind you'll be holding this in your hand, probably for quite some time, and less vibration is going to be way more comfortable.
Ergonomics
Not only do you want to avoid extra vibration, but you'll want something that fits naturally in your hand. It's probably worth a trip to your local power tool supplier to actually hold some of these in your own hand before buying one. A sander is a little more intimate a power tool than, say, a chainsaw.
Dust Collection
You're sanding. There's going to be sawdust everywhere. All sanders have little onboard bags to collect dust, but the more serious ones allow you to hook up a hose between the sander and your shop vac. You could also look into a dedicated dust collection system.
Conclusion
The Makita BO4556K is our Top Pick. It produces the fastest, smoothest finish and is the most comfortable to work with amongst all our sanders plus comes with no significant downsides.
If you want to spend a little less, the Black & Decker BDEMS600 Detail Sander is a great choice. A detail sander capable of all the tiny-space work, it's still plenty powerful, with a walloping 16,000 OPMs.
It's easy to decide to buy another tool – who doesn't want more tools in the shop? Just be sure to identify what you're going to do with it, and then let our reviews help you choose the best tool for the job before handing over your money.
Learn more:
Reviews of belt Grinders for Knife Making