5 Best Rakes for Acorns in 2023 – Reviews & Top Picks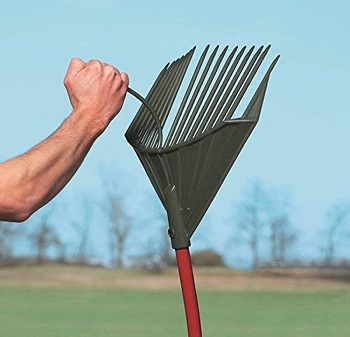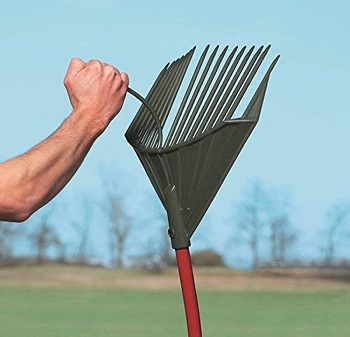 Few yard tools surpass the simplicity of the humble rake. And yet, within this category of equipment, many variables shape the effectiveness of a given unit. For example, acorns present a challenge that is different from regular leaves.
If you have an oak tree in your yard, you're well aware of this. A single great oak tree can drop over 10,000 acorns throughout a year, which puts a big premium on getting the right gear.
The rakes on this list today have been vetted specifically on their ability to pick up acorns. And of course, we've found something suitable for buyers of every budget, so read on for your acorn rake reviews!
---
A Quick Comparison of Our Favorites
Rating
Image
Product
Details

Best Overall

ROOT ASSASSIN

Long reach
Heavy-duty
Rust-resistant
CHECK PRICE

Best Value

Corona RK Fixed Tine Shrub

Affordable
Very lightweight
Head big enough to cover plenty of ground
CHECK PRICE

Premium Choice

Holt's Nut Wizard Gumball

Roller basket
Very effective
Easy to dump
CHECK PRICE

Midwest Aluminum Landscape

Aluminum
Huge reach
Comfort grip
CHECK PRICE

Amazing Rake 3-IN-1

Ergonomic
Claw style
Three-in-one unit
CHECK PRICE
The 5 Best Rakes for Acorns
1.

ROOT ASSASSIN Garden Rake — Best Overall
The Assassin is a heavy-duty aluminum rake that manages to be both lightweight (less than 2 pounds) and durable. The metal is coated with a special solution that helps to eliminate the risk of rust. Meanwhile, the handle is also designed to be comfortable for long periods of use.
The unit is 58 inches long, giving you ample reach and can be broken down into two pieces to make it easier to store. Finally, the rake features a special bend in the neck that is supposed to make it twice as fast as comparable products. While the difference may not be that substantial, the rake works quickly, and the prongs manage to be flexible without being fragile.
Unfortunately, you pay for all of the utility. This rake is four or five times the price of your average budget pick, so plan accordingly.
Pros
Heavy-duty
Lightweight
Rust-resistant
Long reach
---
2.

Corona RK Fixed Tine Shrub Rake — Best Value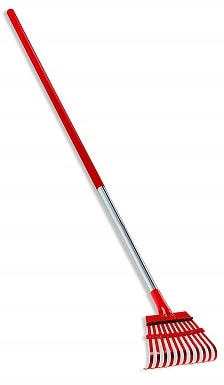 The Corona features a lightweight aluminum build. It weighs less than a pound and features 11 closely spaced prongs that are great for catching smaller waste items like acorns. The width of the rake head is 8 inches, which should give you an ample amount of coverage for quickly treating your entire yard.
Finally, it is also very affordable. The low price earns it the distinction of being the best acorn rake for the money. Unfortunately, though, the low price comes with a couple of concessions. Durability is the biggest concern. The prongs are overly flexible and may bend irreparably from long-term use.
It's still a good rake, but a major acorn situation may be more than it can handle.
Pros
Affordable
Very lightweight
Head big enough to cover plenty of ground
---
3.

Holt's Nut Wizard Gumball Rake — Premium Choice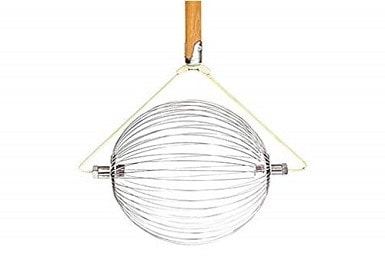 Holt's Nut Wizard Gumball Rake differs from the other units on our list in that it is designed specifically for picking up tree nuts (like acorns). Rather than featuring traditional rake prongs, it uses a roller basket to collect and store the nuts.
The basket is 10 inches in size and can connect to a 5-gallon bucket for quick and accurate disposal. The pole itself is 4 feet in length (slightly shorter than most rakes but still sufficient reach). For raking nuts and acorns, these basket style units are usually extremely effective, and such is certainly the case here.
However, there are some issues to contend with as well. The first is the price. It's one of the more expensive rakes on our list. The other issue is value. Because there are no prongs, it can't be used for leaves or other yard waste.
Consequently, you will only be able to use it on acorns, sharply limiting its versatility.
Pros
Roller basket
Easy to dump
Very effective
Cons
Expensive
Limited utility
---
4.

Midwest Aluminum Landscape Rake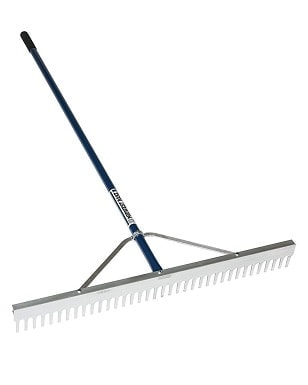 The Midwest is an aluminum unit. The biggest selling point of this unit is undoubtedly the reach. It features a 36-inch width and a 66-inch handle. With that size, you should be able to rake an entire yard in (relatively) good time. The grip itself is also made of a handy non-slip vinyl that will make it comfortable to use for longer periods.
Unfortunately, the enormous size makes it hard to wield. This unit comes in at 5 pounds, making it one of the heaviest rakes you are likely to encounter. Some users have also complained that the hardware isn't very good, leaving the unit wobbly even after assembly.
---
5.

Amazing Rake 3-IN-1 Ergonomic Rake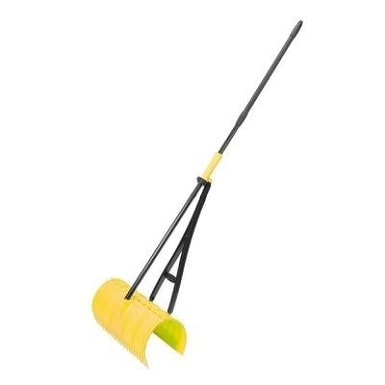 The Amazing Rake features a unique "claw style" design concept. The idea is that you don't have to hunch over the same way that is necessary with other rakes. They call it a three-in-one unit for the fact that it rakes, scoops, and picks up debris, all with the same mechanism.
It also benefits from a lightweight build of just two pounds. This will make it easy to use for long periods. The design concept will be successful in limiting the strain put on your body, but unfortunately, it fails in other key respects.
The plastic is not extremely durable, which will certainly cut against its long-term effectiveness. It's also very difficult to assemble and the nuts fall out very easily. The grip component features two open ends, which makes it very easy for things to slide out.
It's still a good novelty product but it does have its limits.
Cons
Not very effective
Difficult to assemble
Not very durable
---
Buyer's Guide – Choosing the Best Rake for Acorns
You've read the reviews, but perhaps you need some supplementary information to help choose between the various products we've seen. If so, read on for some buying considerations.
The Collection Basket
The standard pronged rakes are great for picking up leaves but significantly less effective at dealing with acorns. The tiny nuts tend to slip between the fingers of the rake, leading to an inefficient experience.
The collection basket is designed to resolve this issue. This feature is engineered for picking up nuts and storing them effectively. The process is far quicker and more efficient than the standard rake approach.
Size of the Rake Head
The bigger the rake head, the more real estate you can treat with a single motion. Bigger heads save on effort, but they come with a few cons. For one thing, bigger heads can be harder to wield. We have one rake on this list as wide as 36 inches. It's great at covering a lot of ground but it also can be hard to store and handle.
You need to find a size that compliments your skill level, as well as the amount of storage you have access to.
Length of the Grip
The average rake length may be somewhere in the 4-5 foot range. Longer rakes give you a little bit more reach, but they are harder to wield and store. Once again, it is all a matter of striking the right balance.
Basket Size
The size of the basket will have a big impact on your user experience. The bigger the basket, the longer you can use your rake without emptying it out. That said, bigger is not always better. You also need to factor for your budget, your ideal product weight, and how much storage space you have at your disposal.
If you have a modest-sized yard (or just one tree to contend with), you may be better served by investing in a smaller product. However, the more acorns you're dealing with, the more pertinent it becomes to invest in something bigger.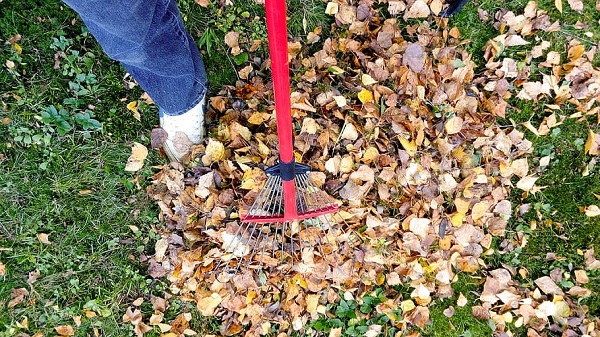 The Motor
Some units are actually motorized. This takes the manual approach largely out of the equation. You still have to hold the collection component but the motor itself does most of the hard work, sucking them into the "rake" and storing them effectively.
Motorized units are obviously extremely effective, but they cost more money. You also need to contemplate the power source. Typically, they will either require a battery or a cord. Battery-powered units tend to be a little bit heavier and significantly more limited in terms of how long they can run.
However, corded units tend to have a very limited range. You need a long cord to access your entire yard and even then, maneuverability is complicated. The benefit is that they are more affordable and they can run forever, just so long as you have access to an outlet.
Material
If you've ever had a standard wood-handled rake, you are well aware of the fact that they don't hold up for very long. If they spend a couple of damp autumn nights left out on the lawn, the wood becomes splintery and deteriorated.
Once that happens, the rake won't last longer than another season or two. Fortunately, there are ways around this. Plastic aluminum or fiberglass handles are going to last a lot longer than wood. They may also be lighter and more comfortable to handle.
Weight
Your average rake won't weigh all that much, but occasionally, you will encounter an outlier. Naturally, the lighter the build, the easier the tool will be to use in the long run. When it comes to buying hand tools of any kind, it's always a decent idea to look at the specs. The weight of a rake may or may not be a make-or-break feature, but it is certainly a handy bonus when you can get it.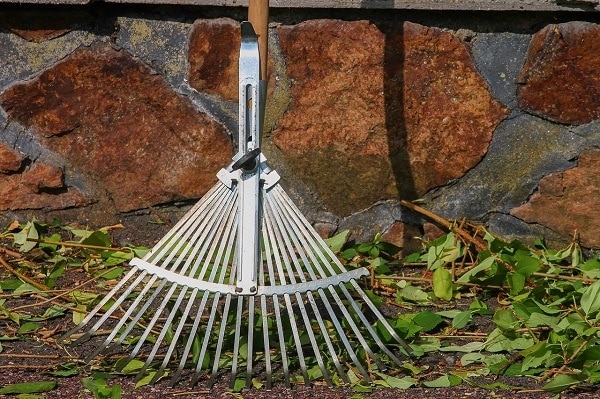 Comfort Grip
Ah, the comfort grip. Back in the day, rake grips were pretty much universally uncomfortable. However, modern technology has gone a long way towards making just about everything more ergonomic. Now, you can find rake handles with comfort padding and other design components that make them cozier to use in the long-term.
Price
Most rakes cost under $10. However, acorn rakes are more specialized, and therefore, cost more money. We aren't talking huge bucks here, but you may be more interested in budgeting for something in the $30 range. For this price, you will get a high-end comfortable rake that should last for many seasons.
Leaf Blower?
If you have a highly versatile leaf blower, you may not even need to buy a full rake. You could possibly get by with a special attachment. The attachment should be a little bit cheaper than a good rake, and it will also be highly effective.
Bottom line? If you have a specialized leaf blower, take advantage of it.
---
Conclusion
Did one of the acorn rake reviews speak to you? By now, you are kind of an expert on the topic, but that doesn't make the process of choosing between five great products any easier. If you are still on the fence, consider taking a second look at two of the standout options on our list.
Buyers that drift towards getting the best product available no matter the cost, will be best served by our top choice, the ROOT ASSASSIN RK-001 Garden Rake. It's a great product that should treat your yard to an effective experience for many years to come.
However, there is also something out there for budget-minded buyers. If that describes you, you'll probably want to go with our runner-up choice the Corona RK 62060 Fixed Tine Shrub Rake. And, of course, it may help to remember that all five of the products featured here are all-stars. There really is no going wrong.