10 Best Concrete Saws – Reviews & Buyer's Guide 2023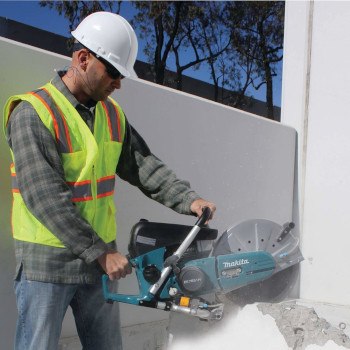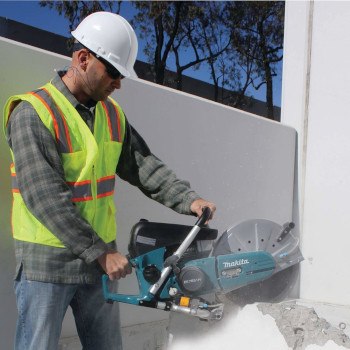 Cutting concrete project is a bit more involved than a simple woodworking task. Because concrete is not an easy material to get through, you will need a powerful and heavy-duty saw. In addition to the size, most concrete saws are also wet saws. Choosing a concrete saw should not be difficult, but you will want to make sure you are honest with yourself about the length and difficulty of the project.
If you plan on using your concrete saw on a professional job site, you will need to make sure you get an industrial grade saw. If, however, you want to work on your back patio and improve your landscaping, a homeowner or consumer model will be just fine. We put together a list of the 10 best concrete saws of the year. There is an option here that will work for all tasks.
---
A Summary of our Favorites (updated in 2023)
Rating
Image
Product
Details

Best Overall

Husqvarna K770 Concrete Saw

Low vibration
Active air filtration
Low fuel consumption
CHECK PRICE

Makita 14-Inch Gas Concrete Saw

Four-stroke engine
No oil mixing required
Lower noise
CHECK PRICE

Best Value

Evolution Concrete Saw

Electric motor
Low maintenance
Fast blade changes
CHECK PRICE

Metabo CM4SB2 Concrete Saw

Easy depth adjustment
Low vibration
Weight
CHECK PRICE

SKILSAW Worm Drive Concrete Saw

Wet/dry dust management
Electric
Retractable pointer guides
CHECK PRICE
The 10 Best Concrete Saws
1.

Husqvarna K770 Concrete Saw – Best Overall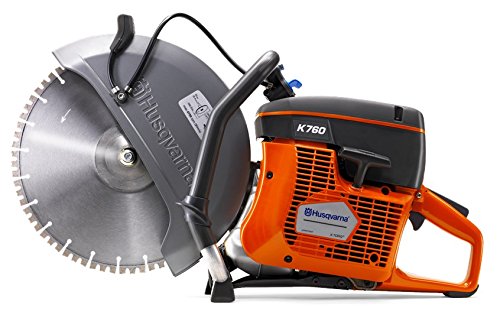 The Husqvarna K770 Concrete Saw has too many positive features to discuss them all, but we will give you some of the key points to help you understand why the Husqvarna jumps to the top of our list.
This is a versatile saw that you can use to cut small holes as well as cutting a curb or pavers. The Husqvarna has dust handling, vibration, and sound dampening features to make the saw user-friendly. The K770 comes with a one-year consumer warranty and no professional warranty. As much as we love this saw, it's probably not going to be a go-to saw for a professional outdoor landscaper or road work company.
The Husqvarna is a 5-HP model, and it has a very tight-fitting and comfortable to use water hookup. We don't notice any leaks, and it is easy to adjust the overall water flow into the unit as well. Overall, the Husqvarna is a perfect concrete saw for the residential/light industrial user.
In short, we think that this is the best concrete saw this year.
Pros
Low vibration
Active air filtration
Low fuel consumption
Dust-sealed starter
---
2.

Makita 14-Inch Gas Concrete Saw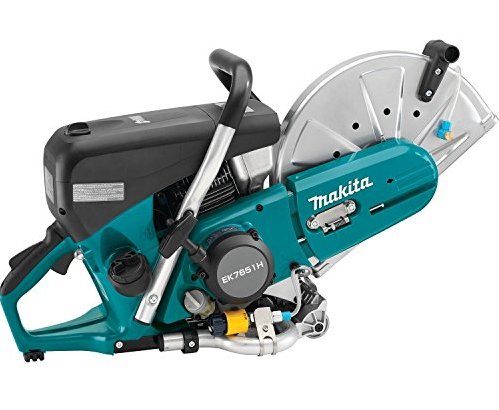 The Makita EK7651H 14-Inch MM4 concrete saw changes out the two-stroke engine found in most gas-powered saws for a four-stroke engine. While this doesn't lead to a direct increase in power, it does have a host of other benefits. For instance, you can use regular gas in a four-stroke engine, as opposed to the 50:1 gas to oil mix needed in two-stroke engines. That means you won't have to mix gas and oil before use, and you won't ever accidentally burn out the motor with the wrong ratio.
While no saw of this power could ever be described as "quiet," this model is quieter than competing saws of a similar size, which is something you'll appreciate while you're using it. It also comes with a five-stage, foam-paper-nylon filtration system which does an excellent job of keeping dust out of the engine and greatly extends its life. However, this model is very slow starting, sometimes requiring five or more pulls to turn over. It also costs hundreds of dollars more than our top model. It's powerful, however, so you must decide if you value the four-stroke engine at such a premium over a two-stroke with similar power.
Pros
Four-stroke engine
No oil mixing required
Lower noise
Excellent filter
---
3.

Evolution Concrete Saw – Best Value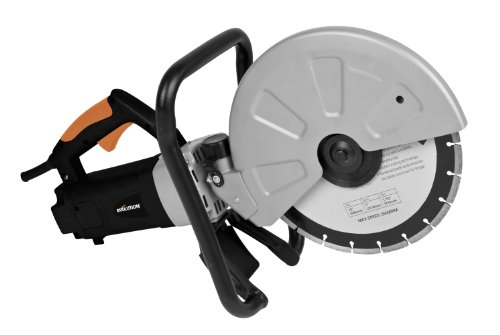 If you are here for the value pick, then this is your saw. The Evolution Concrete Saw is the best concrete saw for the money. The Evolution is capable of cutting through concrete, stone, brick, and other materials. Although this saw is not as large or as powerful as other models, it may be all you need to get the job done.
The Evolution has an electric motor, so you won't be dealing with as large and bulky a unit as the gas-powered Makita. Also, you won't need to worry about having gas with you every time you want to operate the saw.
The design of this saw is a good one when it comes to user comfort and ease of use. Even at this low price, the saw comes with a 12-inch diamond blade. If you have a few projects lined up where you think you may need a concrete saw the Evolution is an excellent choice. You won't have to do much-continued maintenance, and at this price point, you will likely save yourself some money from having a professional do the job.
Pros
Electric motor
Low maintenance
Fast blade changes
Price
---
4.

Metabo CM4SB2 Concrete Saw
The Metabo CM4SB2 is one of the more portable models on our list, but it has some significant flaws to consider. It is a circular saw, which means it functions differently from the other models so far. It has easy depth adjustment with a one-touch level, which comes in handy if you're only cutting part of the way through something. It's also low-vibration, which means you can last longer with this tool than you'd want to with others. It also weighs between half and a third of what other models on this list weigh, which makes it a good choice for anyone who doesn't want to be worn out by their tools.
However, this is a circular saw, and it lacks any kind of bevel adjustment. There are some complaints about the saw not coming at a perfect 90-degree angle, so there's some potential for frustration there, especially if the job you're doing needs perfect 90-degree cuts. Likewise, it has average power at best. This isn't a tool with industrial-power, so it's a good choice for people doing jobs at home but lacks the power for many kinds of construction work.
Pros
Easy depth adjustment
Low vibration
Weight
Cons
No bevel adjustment
Not very powerful
---
5.

SKILSAW Worm Drive Concrete Saw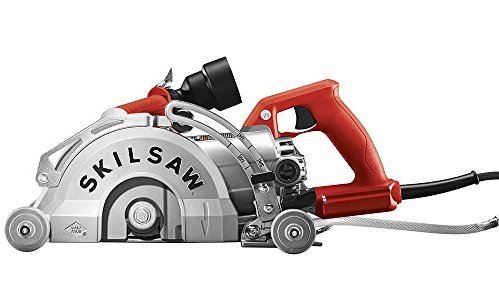 The SKILSAW SPT79-00 Worm Drive Saw is, as the name would suggest, a worm drive saw. This means it's narrower and longer than a direct drive circular saw. That makes it better for cuts in tight spaces, and typically means that it cuts a bit better with the same amount of power used. This model is electric, which means it's low maintenance, but also that you need to have a power outlet available if you want to use this saw. It comes with retractable pointer guides, which make following a pre-drawn line very easy.
This model is compatible with a dry or wet dust management system, and it's GFCI protected, so you're safe to use water with it even though its an electric tool. However, the dry dust management system doesn't work the best and results in lots of dust getting left behind. It can also only support 7″ blades. That means you won't get nearly as much depth as you would with our top models, which use 12″ or 14″ blades. Overall, this model has its uses, but you're not going to get the same depth or the same speed you'd get with a bigger saw.
Pros
Wet/dry dust management
Electric
Retractable pointer guides
Cons
Inefficient dry dust collection
Small blade
---
6.

XtremepowerUS Concrete Saw
Equipped with a 14-inch blade powered by 15 amps, the XtremepowerUS wet/dry cement saw is a very capable beast. It's electric, so no gas or oil needed and it's never difficult to start. Hook your hose up to it and you'll get steady streams of water to keep the blade nice and cool while you make your cuts. That said, you'll need a trip to the hardware store to get a connector for your hose since from the factory, this tool doesn't have one. The motor has overload shutoff to stop it from overheating, which meant that we had to work in two-minute intervals. While this is great for the tool's longevity, it's not great for productivity. This saw is priced quite moderately, which puts it in the range of most homeowners.
Cons
Needs hose connector
Have to work in 2-minute intervals
---
7.

Husqvarna K4000 Concrete Saws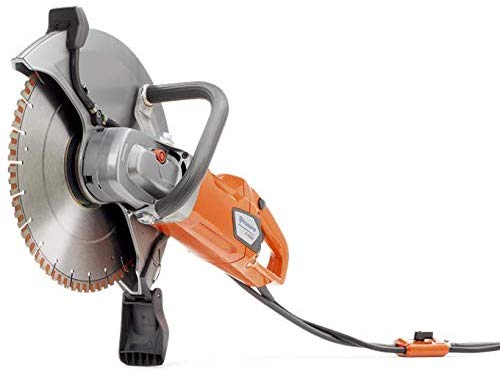 This powerful 15-amp wet saw from Husqvarna makes short work of standard cuts in cement, though it's missing a few important features. It's priced at a premium, so we don't expect to see such important features missing.
This is a fully electric concrete saw and is powered by a standard home outlet. That means that it's not going to make your cuts quite as fast as a gas saw would. At 17 pounds, it's a burly saw. Most other saws of this power and weight include a set of rear wheels to rest the saw on during use, allowing it to slide forward while making the cut. Unfortunately, this model does not have any such wheels. This makes it much more difficult to use. Another thing missing is the blade, so you'll have to shell out even more to pick up a blade for your new saw.
Cons
No rear wheels
Doesn't come with blade
Very high priced
---
8.

Makita 4100NHX1 Concrete-Saw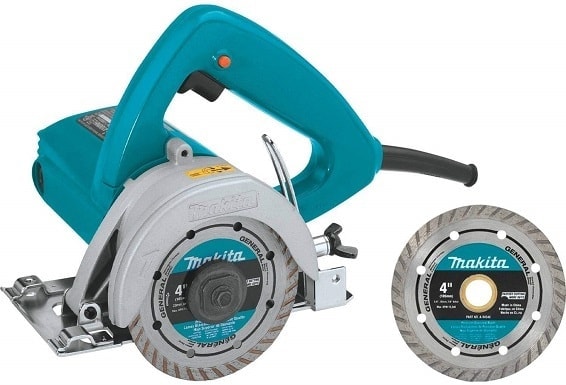 This cement saw from Makita is very compact and portable. It has a shallow cut depth of 1⅜ inches, so you won't be using it for anything major. However, it's very light at only 6.5 pounds, and much more manageable than the large wet saws. Of course, that's another drawback. This is not a wet saw and doesn't have hookups for water.
The 9.6-amp motor is plenty powerful for the small 4-inch blade size, and it cuts through concrete quickly with little effort. Although this saw operates well and is plenty powerful, since it can't make the large cuts often necessary of a cement saw, it's capped out at the eighth position on this list.
Cons
No water hookups
Small 4" blade
Only makes 1⅜" cut
---
9.

DEWALT DCS690X2 Concrete Saws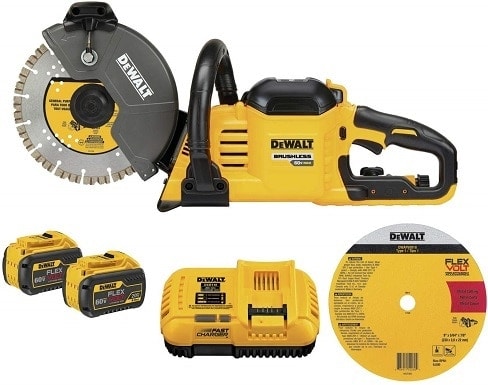 Although this Dewalt FLEXVOLT cordless cement saw is powerful and works well, it's got a few major flaws that can't be ignored. To start, it uses a special style blade that only Dewalt makes. You won't find it at your local home improvement store, so when this blade goes bad (and it will) you're going to be dealing with a headache replacing it. Moreover, the batteries that power this will not even last 10 minutes. Until this machine can run for 20-30+ minutes on a charge, it's not going to be very useful. Despite these major drawbacks, this saw is priced very high. While it is certainly a very capable tool, the faults are more than can be overcome.
Cons
Terrible battery life
Very expensive
Blades are hard to replace
---
10.

Makita EK7651H Saw for Concrete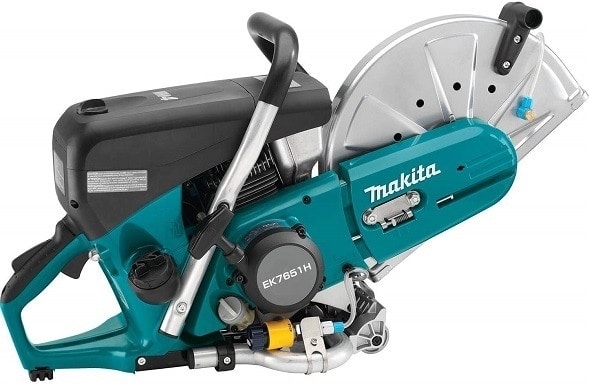 Makita is a well-respected manufacturer of power tools, and some of their cement saws are excellent hard-working products. However, the EK7651H missed the mark by a significant distance. Let's start with what it does well. For what it is, it's quiet, doesn't vibrate too bad, and it's got good power. The saw seems to be fairly decent so far. What's bad about it?
For one thing, it doesn't start well! She wants to give a fuss every time we tried to get her running. Worse off, if you want to use it for dry cutting, you'll have to take half the tool apart to change filters. Speaking of dry cutting, this saw hates the dust, which constantly seems to clog and cause it to run terribly, often shutting off. Overall, we don't think this saw lives up to the Makita name. When you consider the price, it just doesn't seem like the best investment.
Cons
Poor starting
Changing filters is laborious
Doesn't run well when dry cutting
Very expensive
---
Buyer's Guide – Choosing the Best Concrete Saw
Hopefully, our reviews already have you thinking about what features you'd like to see in your next concrete saw. There are many features you need to consider before you buy, so if you're not sure how to go about picking the right model for yourself, check out this buyer's guide.
Electric vs Gas
Electric tools have been around for a while, but they've made a big push in the last few years because of advancements in electric engines and batteries. While you'd be hard-pressed to find a concrete saw that uses a battery, some corded electric models are worth your consideration.
Electric
Corded electric models tend to be far lighter than gas-powered models. They don't have a fuel tank, which cuts down on both weight and bulk, and the electric engine itself is more compact and weighs much less. While it's hard to find a heavy-duty concrete saw that weighs less than 20 pounds, you can often find electric models that weigh less than 10 pounds, meaning they could weigh as little as one-third as much as an equivalent gas-powered model.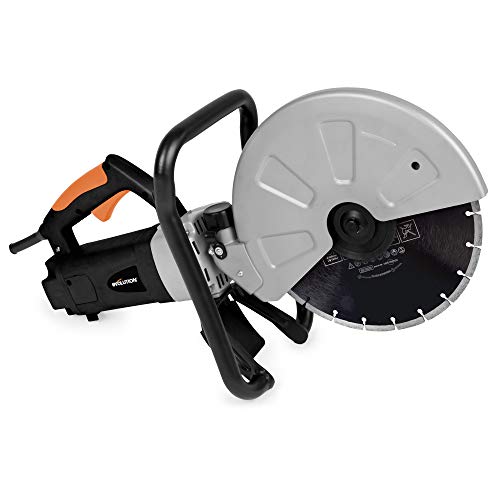 They also don't produce any kind of emissions, so they're better for the environment and better for people who are sensitive to gas fumes. Since they don't have any moving parts, they don't need as much maintenance, and break down less often, meaning they can be a less frustrating model in the long run. However, you have to keep in mind that these models require an electric outlet, so you'll need to have access to a power supply to use them.
Electric Concrete Saw Pros
Compact and lightweight
Zero emissions
Low maintenance
Electric Concrete Saw Cons
Tethered to a power source
Not as powerful
Gas
Gas-powered models are the clear winners when it comes to portability. While they often weigh more, they don't use a power cord, so they're good for situations where you won't have easy access to power. The models with the most power are all gas-powered, so if you're looking for something for industrial or construction use, you'll want to get a gas-powered concrete saw.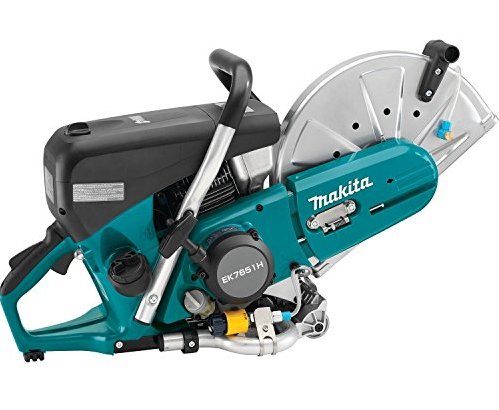 More power also means more speed in the same job relative to an electric model, so gas-powered is the way to go if speed is of the essence.
Gas Concrete Saw Pros
Portability
Excellent power
Fast
Gas Concrete Saw Cons
High maintenance
Dependant on a fuel source
You should keep in mind that gas-powered concrete saws can come with two-stroke or four-stroke engines, which have different requirements that are explained in the section below.
Two-stroke vs four-stroke engines
Two-stroke
Two-stroke engines tend to be more common in handheld power tools than four-stroke engines. While the name may seem to imply that the four-stroke engine is more powerful than the two-stroke engine, this isn't the case. Instead, the number of strokes refers to the way in which the engines use oil for lubrication.
Two-stroke engines don't have as many moving parts, so they tend to be far smaller. They also tend to start much more quickly. Usually, one or two pulls is enough to start them, as opposed to four-stroke engines which often require far more. They can't use standard gas, however. They need to have gas and oil mixed together before it's poured into the fuel tank, and that means that you either need to buy a special blend or do the mixing yourself.
Two-stroke Engine Pros
More common
Fewer moving parts
Quick starting
Two-stroke Engine Cons
Need a gas-oil mixture
Not as long-lasting as a four-stroke
Four-stroke
The four-stroke engine has two extra strokes that are dedicated to lubricating the moving parts with oil. This reduces wear on the parts relative to a two-stroke engine, and it means that four-stroke engines should last longer. It also means that they have more moving parts, which means more can go wrong, but if you care for it properly, you should see a longer life out of a four-stroke engine than a similar two-stroke.
You can use standard gasoline with a four-stroke engine, though you will likely want to find a gas station that doesn't add ethanol into the mix as smaller four-stroke engines frequently don't handle it well. You also have to add engine oil through a separate valve on the tool.
Typically, that means a blend that's 50:1 gas to oil, though that does vary sometimes. However, you don't need to add discrete oil as all the oil the engine needs is already in the gas. Two-stroke engines won't last as long as four-stroke, so you shouldn't expect them to last forever, but good models should give you many years of excellent service. Two-stroke engines also have better fuel economy and produce fewer fumes, so if you want a model that excels in those areas, go with a two-stroke engine.
Four-stroke Engine Pros
Long-lasting
Can use standard gas
Fast
Safety
Concrete saws are among the most dangerous power tools known to man. After all, they cut through concrete. Just think what they could do to human flesh and bone. Like any advanced power tool, you'll want to wear protective equipment when operating a concrete saw. However, the most important item has to be eye protection (goggles). Concrete saws kick up a lot of debris and there's no way to control where it goes.
Check out the video below for more concrete saw safety tips.
---
Conclusion:
The Husqvarna 967181002 is our top model due to its low vibration, active air filtration, and low fuel consumption. The Makita EK7651H 14-Inch MM4 concrete saw is a good choice for people who want a four-stroke engine but is likely to be too pricey for people who don't have a preference between two-stroke and four-stroke engines. The Evolution DISCCUT1 is a great electric model available at a low price, making it the best value on our list.
We hope that our reviews and buyer's guide have helped you learn about concrete saws. Armed with this information, you should be able to find the best concrete saw for your workshop.