4 Best Rear Tine Tillers of 2023 – Reviews & Top Picks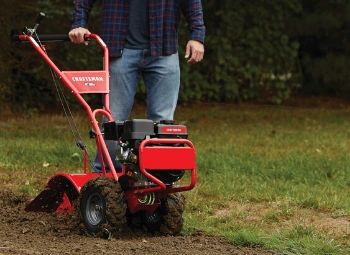 There are several rear tine tillers on the market. On one hand, it means you'll likely be able to find the perfect machine for your situation and needs. On the other hand, it means there are quite a few options you'll need to sort through before finding the best model.
However, we're here to help you with in-depth reviews of some of the most popular rear tine tillers. We'll also discuss how to choose the best model for you in our buyer's guide.
---
A Quick Comparison of Our Favorites
Rating
Image
Product
Details

Best Overall

Champion 19-Inch Dual Rotating Rear Tine Tiller

Dual-rotation tilling
Durable and powerful transmission
13-inch tires
CHECK PRICE

Best Value

Yard Machines 208cc Rear Tine Tiller

Adjustable handle
18-inch tilling width
Comfortable handles
CHECK PRICE

Premium Choice

EARTHQUAKE 33970 Victory Rear Tine Tiller

Instant reverse
Compact frame
Maneuverable
CHECK PRICE

Southland SRTT212 Rear Tine Rotary Tiller

Replaceable parts available
Very powerful
CHECK PRICE
The 4 Best Rear Tine Tillers – Reviews 2023
1.

Champion Dual Rotating Rear Tine Tiller – Best Overall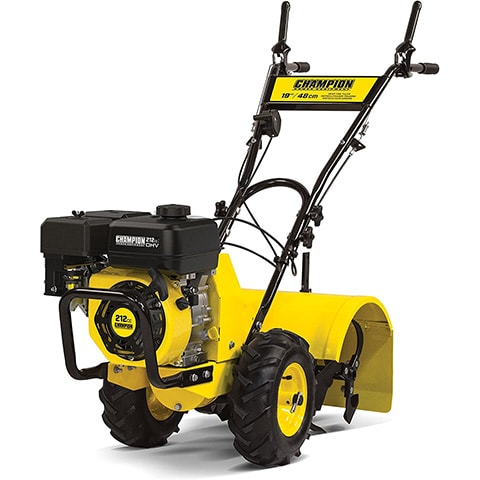 The Champion Dual Rotating Rear Tine Tiller is a versatile machine. It has a 19-inch tilling width and an 8-inch tilling depth. This is more than enough for the average homeowner and some professionals. It features a dual-rotation tilling, allowing you to switch quickly from forward to reverse as necessary. Because it allows you more flexibility in the garden, you'll be able to get your tasks done fast.
The cast iron and gear-driven transmission makes it more durable than most competitors. The cast-iron case is sure to hold up to a lot of wear and tear. We imagine the Champion will run for years without a problem, and we think it's the best overall tiller available. The self-propelled tires allow it to quickly travel over most terrain, even if it is a bit uneven.
It has little problem with rocks, thanks to the 13-inch tires. The tines are heavy-duty hardened steel, which is one of the most durable materials used in rear tine tillers. The Champion also has a 2-year limited warranty and free lifetime technical support. The customer service is quite good, so you should have no problems.
Pros
Dual-rotation tilling
Durable and powerful transmission
13-inch tires
2-year limited warranty
Low price
---
2.

Yard Machines 208cc Rear Tine Tiller – Best Value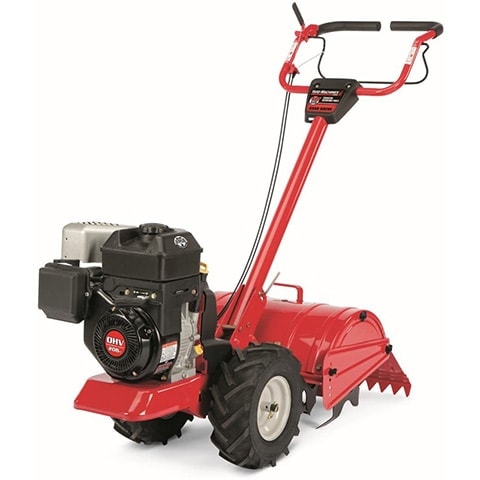 If you need an inexpensive rear tine tiller, you should consider purchasing the Yard Machines 208cc Rear Tine Tiller, we think it's one of the best rear tine tillers for the money on the market today. It is a reliable option for small and medium gardens, though it is not necessarily built to handle large jobs. It has an 18-inch tilling width with a 6-inch adjustable tilling depth. This is a bit smaller than some other tillers. However, for smaller gardens, it shouldn't be a problem. Plus, you really can't beat the price.
The handle height is adjustable to ensure that the machine is comfortable for you to use. The handle is also quite comfortable, so you shouldn't experience much fatigue while using this machine. The tines are made of steel, as they should be, which ensures that they are strong enough to last for many years to come. A 2-year warranty is included, and we also loved how easily it tore through the dirt, including hard clay.
The main problem is that you have to reposition the wheels to move it around without turning it on. This is a minor inconvenience, but it was enough to keep it out of first place.
Pros
Adjustable handle
18-inch tilling width
Comfortable handles
2-year warranty
Cons
Must remove wheels off assisted axle for transport
---
3.

EARTHQUAKE Victory Rear Tine Tiller – Premium Choice
For larger jobs, you might need something a bit more substantial. In those cases, the EARTHQUAKE 33970 Victory Rear Tine Tiller may be the best option for you. It is mighty and can cut through practically any type of soil without a problem. It can attack even previously untilled ground with confidence. The tines spin in the opposite direction of the self-propelled wheels to ensure the maximum force is delivered into the ground.
We loved that this tiller had an instant reverse. This means you can pull the reverse lever and move the tiller backward to change directions. Despite its powerful engine, it is effortless to move around. It has a compact frame, and the weight is evenly distributed for easy transportation. It can be easily maneuvered in tight spaces and along the end of garden rows.
It even comes with a 5-year warranty with US-based service and support. The tines can be adjusted, allowing you to achieve the perfect depth for your garden. The handlebars are adjustable as well, ensuring you can comfortably use this machine for an extended period.
Pros
Powerful
Instant reverse
Compact frame
Maneuverable
We reviewed the top electric tillers – Click here to read!
---
4.

Southland SRTT212 Rear Tine Rotary Tiller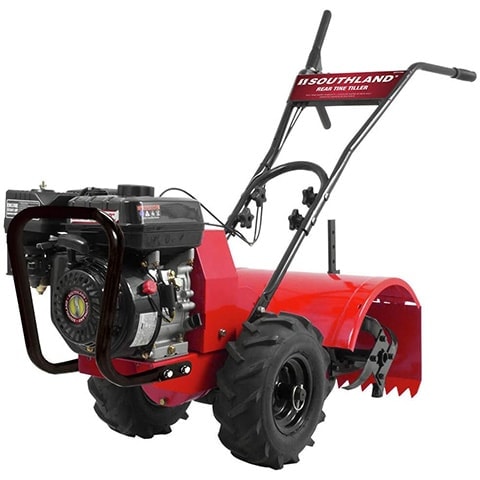 The Southland SRTT212 Rear Tine Rotary Tiller is decent, but it isn't our favorite by any stretch. It is a workhorse and can till a lot of ground quickly. For those who want to get their work done in a hurry, The Southland delivers. It seems to be somewhat durable as well. Many users reported that it worked for years. Parts are also decently cheap. Because it is a straight shaft system, you can easily replace parts that break.
However, there are many defects reported as well. Whether or not you get a working machine seems to be a matter of chance. We are unsure how good the customer service is, but the machine has no warranty. That is a big red flag you should consider carefully.
Pros
Replaceable parts available
Very powerful
Cons
Defects are common
No substantial warranty
---
Buyer's Guide – Choosing the Best Rear Tine Tiller
Choosing a rear tine rototiller is essential to getting your garden ready quickly. Whether you're a beginner with a few rows or a homesteader with an acre to till, selecting the correct tiller could be the difference between an easy start to the season and a major headache.
We wrote this complete buyer's guide to help you choose the best tiller for your garden. It will review everything you need to know about these handy machines and help you select the best model for your needs. It isn't always a matter of just choosing the top-rated model. Rear tine tillers come with many different features and functions. Which ones you need will depend on what you're trying to do.
Type of Tine
Each tiller can be equipped with a few types of tines. Each has its purpose and is best in certain situations. Choosing one that matches your situation is vital.
Standard Rotating Tines: These are the basic tines that most low- and mid-range models come with. They go in the same direction as the wheels and are also called "forward rotating tines" for that reason. They don't cut very deeply—usually, about 5  inches is all they can do with ease. They do work very well for leaf coverage, however.
Counter-Rotating Tines: As the name suggests, these rotate in the opposite direction as the wheels. This counter-rotation creates a lot more power, which is perfect for breaking up tough ground that has never been tilled before. If your yard is full of hard soil, like clay, they are the tines you probably need.
Dual-Rotating Tines: These tines are the premium option. They allow you to choose which way you want them to rotate, making them suitable for every situation. They are the best of both worlds and are becoming increasingly common.
Transmission
The transmission of a rear tine tiller will control how versatile it is. Some models can only go in one direction. If you need to re-till a section of ground for whatever reason, you'll have to perform fancy maneuvers to get the machine back in the correct position.
However, some machines allow you to reverse. Therefore, it would just take a few seconds to re-align the machine and re-till the ground. It also makes it easier to turn the machine, especially in tight places.
Otherwise, you might get a bit stuck in tight quarters. Different speeds are also sometimes available, making the machine even more versatile. In the end, this is an easy feature to overlook. However, a sound transmission can make tilling your garden much more comfortable.
Tires
Size
Every tiller relies on its tires, so they must be high-quality. Larger tires will make it easier for the machine to move along uneven or rocky surfaces. Of course, not everyone's lands are uneven or hilly. Therefore, you may not need to worry much about this feature. However, for most people, this will be an essential feature to consider in your hunt for the perfect tiller.
Durability
The durability of the tires is also important. While you can replace the tires on most tillers, it is probably the last thing you want to do while tilling your garden. Most tillers use air-filled tires that will need to be refilled regularly. They're a lot like tractor tires. However, others use solid, plastic tires. These don't need to be refilled and won't puncture for that reason.
Counter-Rotating
The tires on counter-rotating tines are even more critical. Because the tines pull the machine backward, the tires must be strong enough to get the machine moving in the right direction. They need to get traction on the ground, which can often be uneven and rocky.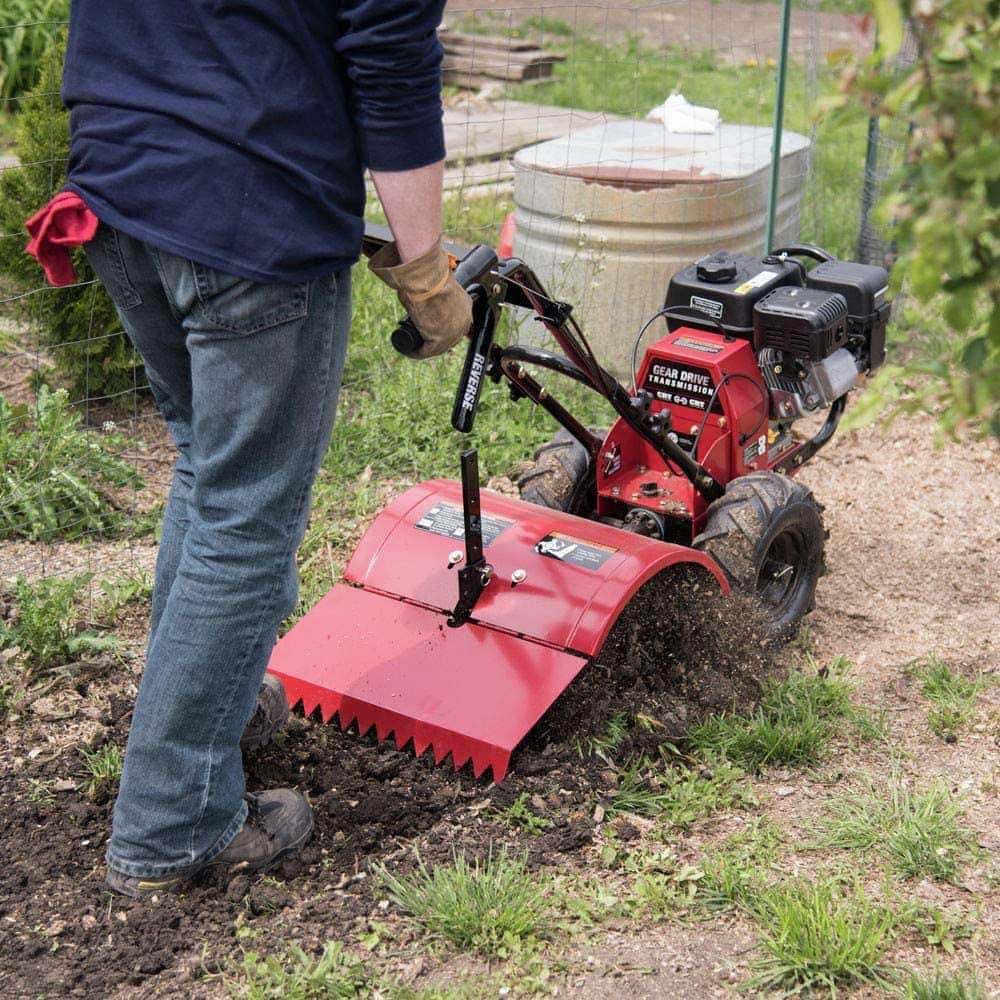 Tilling Depth and Width
All tillers will have their tilling depth and width listed on their machine (or, at least, they should). Both of these metrics are important, though these features perhaps aren't as essential as the others we've discussed thus far.
Depth
Firstly, the tilling depth is how deep the tiller can reach. A tiller with a 6-inch tilling depth can only reach 6 inches into the soil. How deep you need a tiller to go depends on what you're planting and your location. Most small-time gardeners don't need a tiller that can reach deep into the ground. Usually, the depth is adjustable for tillers that can dig deep.
Width
Secondly, the tilling width is how wide of an area the tiller can till at a time. (Try saying that three times fast!     ) Generally, larger is going to be better. However, a larger width also means a more massive machine. This feature can cause the price to go up and make the machine harder to store. Consider how much room you have in your garage as well as how much ground you need to till when considering this feature.
The Engine
As you can probably guess, the engine is an essential feature of any machine. However, it probably isn't as important as you think. Your machine needs to produce enough power to avoid getting bogged down. Besides that, the exact specs of the engine aren't particularly important.
Most machines have an engine that fits their tilling depth since you need more power to turn up more dirt. Those with more tilling depth are going to be substantially more robust.

Conclusion
Rear tine tillers are a vital part of any gardening operation. However, choosing one for your garden can be challenging. There are many options available on the market that are suitable for different situations. We hope our reviews and our buyer's guide gave you a good idea of which model you need.
For most people, we recommend the Champion 19-inch Dual Rotating Rear Tine Tiller. It has dual-rotating tilling, a powerful motor, and larger wheels. It is suitable for most situations and gardens. Plus, it isn't expensive either. Out of all those we reviewed, it is easily the best.
For those who need a cheaper option, we recommend the Yard Machines 208cc Rear Tine Tiller. It is less expensive than other brands, while still being suitable for small and medium gardens. It isn't going to blow your mind, but it will get the job done.