10 Best Hand Tillers of 2023 – Manual Models Reviewed & Compared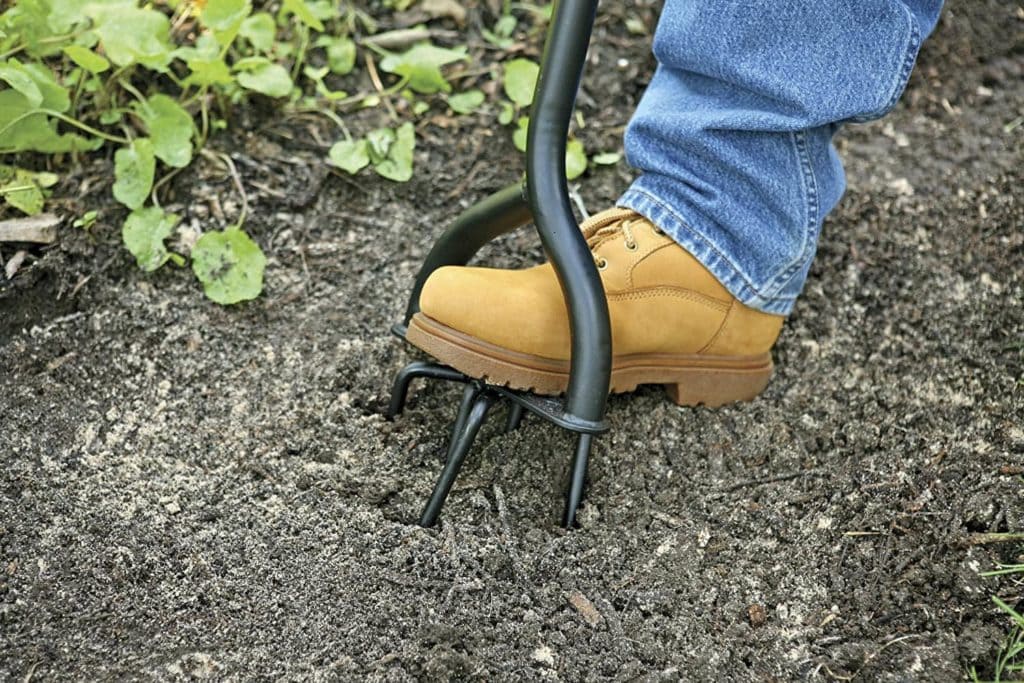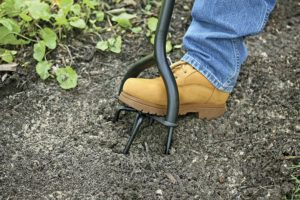 Do you like to garden? Or maybe you've always dreamed of it and want to make those dreams come true? Either way, a good hand tiller is a must-have accessory.
Tillers can do things like aerate your soil, blend soil supplements, remove unwanted weeds, and more. But hand tillers are like any other tool, meaning that some are much better than others. That's why it is so important to pick the hand tiller that is best for you and your specific needs.
But who has time to review the different hand tillers on the market and evaluate their pros and cons? As it turns out, we had the time! And we've put together a list of reviews and a comprehensive buyer's guide that will give you all the info you need before you buy a new hand tiller.

A Quick Comparison of Our Favorites (2023 Update)
Rating
Image
Product
Details

Best Overall

Fiskars Steel Tiller

Long handle
Comfortable T-handle with padded grip
Durable
CHECK PRICE

Best Value

Asano Japanese Ninja Claw Rake

Sturdy steel
Strong, curved tines
Easy to store
CHECK PRICE

Premium Choice

DeWit 5-Tine Cultivator With P-Grip Handle

Durable steel
Easily aerates and cultivates
Lifetime guarantee
CHECK PRICE

Garden Weasel Garden Claw

Adjustable tines
User-friendly
Good for clay and hard soil
CHECK PRICE

Yard Butler 100051051 Terra Tiller

Dual-head
Steel construction
Cushioned hand-grip
CHECK PRICE
The 10 Best Hand Tillers
1.

Fiskars Steel Tiller – Best Overall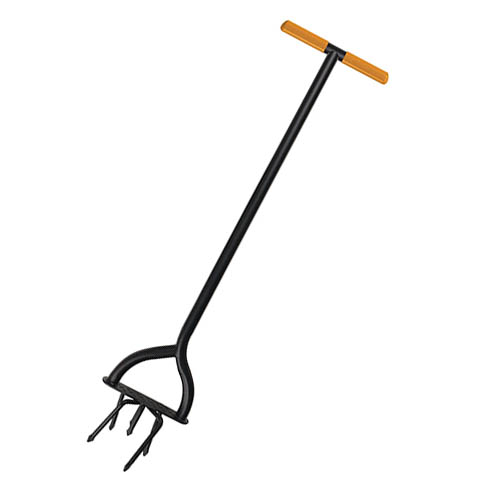 You'd probably like to find a good tiller and get back in the garden. In that case, you need to know the best hand tiller overall. And our choice for best overall is definitely the Fiskars Steel Tiller.
Because it's made of welded steel, this tiller has the durability you need for the toughest garden projects. On top of that, the 19-gauge steel shaft and the six arrow-tipped pines make the whole thing likely to last a good, long time.
The 40-inch handle is good news for your back and knees, though taller people may struggle to use it (the handle cannot be adjusted for height). And while this tool is very versatile, you'll need a good amount of strength in your arms and hands to get the most out of it.
Pros
Long handle
Comfortable T-handle with padded grip
Durable
Does well with hardened soil and clay
Cons
Handle may be difficult for taller people
May be less effective if the user doesn't have plenty of physical strength
---
2.

  Asano Japanese Ninja Claw Rake – Best Value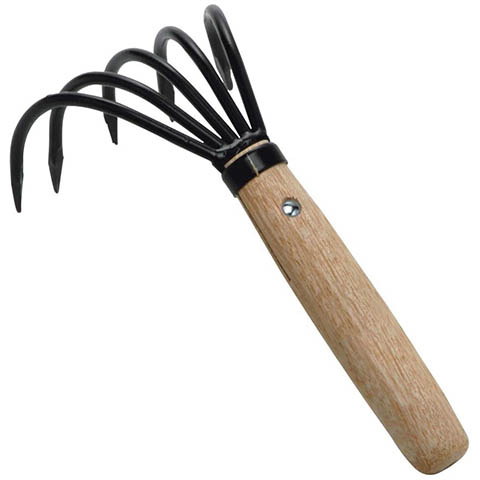 Gardening requires many different tools, and you don't always have a lot of spare money for a new item. If that sounds familiar, you're probably searching for the best hand tillers for the money. And the clear winner in this category is the Asano Japanese Ninja Claw Rake.
The smaller size of this tiller makes it easy to use and easy to store. The solid wood handle looks and feels good, and the five curved tines made of Japanese steel are perfect for digging into soil, raking woodchips, and mixing compost.
So, what keeps this value pick from being our choice for best overall tiller? While the short handle is convenient for some, it may cause strain for others. And the wide tines of the claws don't perform well in tighter spaces. Finally, this tiller doesn't perform as well with hard-packed soil as some of the others on this list.
Pros
Solid price
Sturdy steel
Strong, curved tines
Easy to store
Cons
Short handle may cause strain for some users
Not effective in tight spaces
Not effective on hard-packed soil
---
3.

DeWit 5-Tine Cultivator With P-Grip Handle – Premium Choice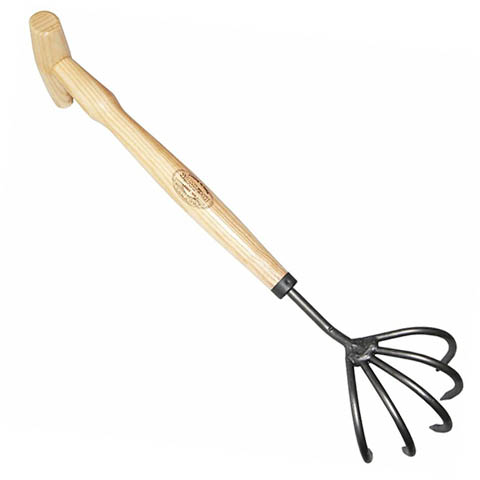 Ever wonder why we talk about our tools as an investment? Simple: you often get out of a tool what you are willing to put into it. And if you're willing to invest a bit more money in a hand tiller, the DeWit 5-Tine Cultivator With P-Grip Handle is our pick for the best premium choice.
One of the best features of this tool is the ergonomic P-grip. And the tines are both lightweight and strong–no surprise, since they are made of hand-forged, tempered boron steel. There are other nice touches, too, from the luxurious ashwood handle to the lifetime guarantee from DeWit.
Honestly, this tool only has a couple of drawbacks. First, the short handle may cause strain to certain users. And second, the tool isn't as effective when it comes to hard-packed soil.
Pros
Ergonomic handle
Durable steel
Easily aerates and cultivates
Lifetime guarantee
Cons
Short handle may cause strain
Less effective on hard-packed soil
---
4.

Garden Weasel Garden Claw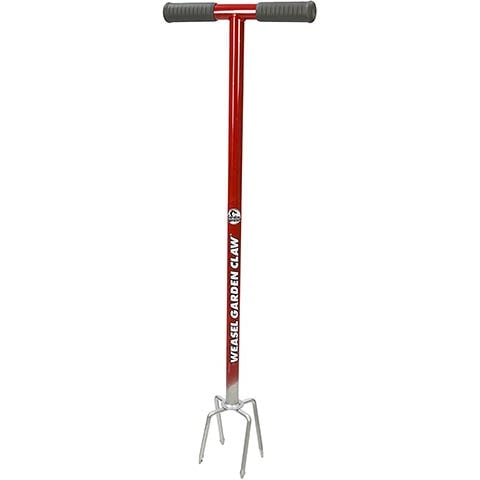 The Garden Weasel Garden Claw comes in at a premium price, but does it offer premium performance? For the most part, yes–though not enough to dethrone our premium pick.
This tool is very easy to use: with a simple "step and twist" motion, you can cultivate, aerate, weed, or simply loosen almost any soil, including clay. The adjustable tines mean that no space is too tight for this tiller, and the 38-inch handle is good for beginners and good for your back.
Aside from the higher price, there is only one drawback with this tiller: the convenient adjustable tines are likelier to bend or snap over time. However, you can mitigate this risk by being careful whenever you use and store your new tool.
Pros
Long handle
Adjustable tines
User-friendly
Good for clay and hard soil
Cons
More expensive
Tines may bend or snap
---
5.

Yard Butler Terra Tiller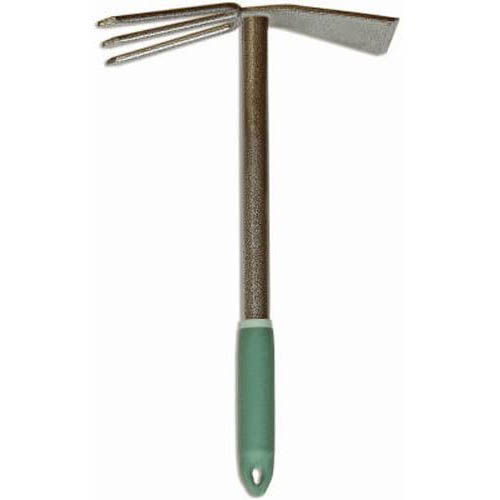 You don't always need a fancy or flashy new tool. Sometimes, you just need to get the job done. And that's exactly what the Yard Butler Terra Tiller is here to do.
This tool features a dual-head, and this allows you to plant, till, dig, cut, chop, and hack with ease. And the three sturdy prongs make it easy to cultivate, loosen, and break up solid ground. It's great for removing weeds, and the steel head and steel handle make the entire thing quite durable.
There are only two marks against this particular tiller. First, the 15-inch handle is short enough to cause some unwanted strain. And second, the tool is so lightweight (1.3 pounds) that it can be difficult to get the leverage you need.
Pros
Dual-head
Steel construction
Cushioned hand-grip
Cons
Short handle may cause strain
Lightweight design makes leverage difficult
---
6.

Edward Tools Hoe and Cultivator Hand Tiller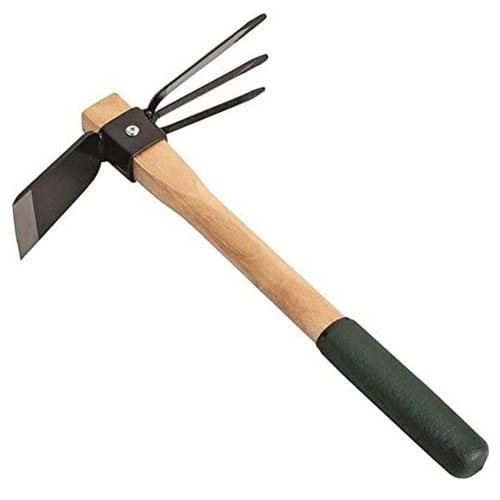 The Edward Tools Hoe and Cultivator Hand Tiller is another tiller with a simple and straightforward design. But nothing is wrong with simplicity, and this tiller has several features every handyman will love.
The carbon steel blade is durable and effective, helping this tool stand the test of time. And the ergonomic rubber handle is comfortable to hold while helping you keep a good grip. The solid oak design adds to the durability, and the lifetime warranty should give you serious peace of mind.
However, there are a few drawbacks to consider. First, the tines bend rather easily. Second, the rubber grip is prone to sliding off. Finally, the tool isn't balanced very well, and this can be distracting while you work.
Pros
Carbon steel blade
Ergonomic handle
Durable
Lifetime warranty
Cons
Tines may bend
Robber grip may slide off
Tiller is not balanced
---
7.

Corona LG 3634 DiscCULTIVATOR

Want something simple and easy to take into your garden? It's possible the Corona LG 3634 DiscCULTIVATOR is your best bet, but you'll have to consider some of its design flaws.
First, the good stuff: we loved that the three different tine configurations made it easy to aerate, till, and weed the soil. The tines are self-cleaning, making this a low-maintenance tool. And the 60-inch handle is very convenient.
Like some of the other tillers on this list, this tool struggles with clay. And some users report shoddy construction that causes the end piece to break off under very little pressure.
Pros
Multiple tine configurations
Long handle
Low-maintenance
Cons
Bad for clay
Liable to break
---
8.

Ashman Garden Cultivator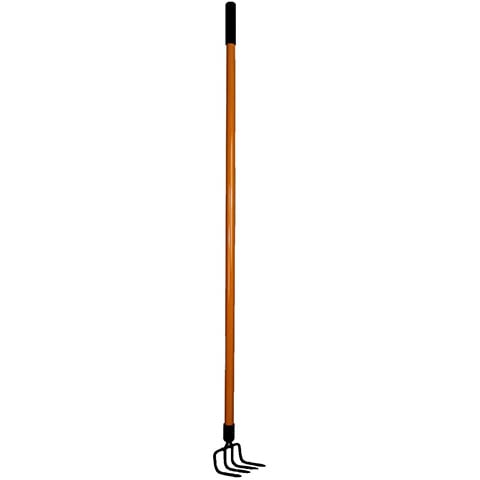 Various hand tillers have their own sets of benefits and drawbacks. Unfortunately, the Ashman Garden Cultivator is a tool with more drawbacks and fewer benefits.
This tiller is built with practicality in mind, and the coupled blade and shaft makes this easy to use. And the L-shaped tine design makes this tiller particularly handy for weeding.
However, the blade isn't nearly as sharp as advertised. And at 2 pounds, it's a little heavier than other tillers, and this may throw off your balance. Finally, this tiller isn't quite as beginner-friendly as some of the others in our reviews.
Pros
Coupled blade and shaft
Good for weeding
Cons
Dull razor
A tad heavy
Not beginner-friendly
---
9.

CartChamps Garden Paw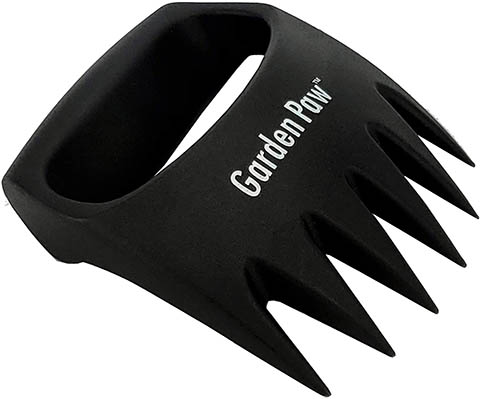 More glove than traditional tiller, the CartChamps Garden Paw is unlike anything else on our list. But does that make it more effective? Sadly, the answer to that is "no."
What we liked: despite the unconventional design, the actual "paw" is pretty ergonomic. And it is lightweight enough to not drag your hand down while you work.
However, the design of this paw means it is very short, which means you'll be doing a lot of bending over. And while the lightweight design helps you work for longer periods of time, it can keep you from getting the leverage you need. Finally, the paw claims to be multi-functional, but the limited design keeps it from doing any single task particularly well.
Pros
Ergonomic design
Lightweight enough for long work
Cons
Short design
Hard to get leverage
Less multi-functional than advertised
---
10.

Berry&Bird Handheld Triple Claw Rake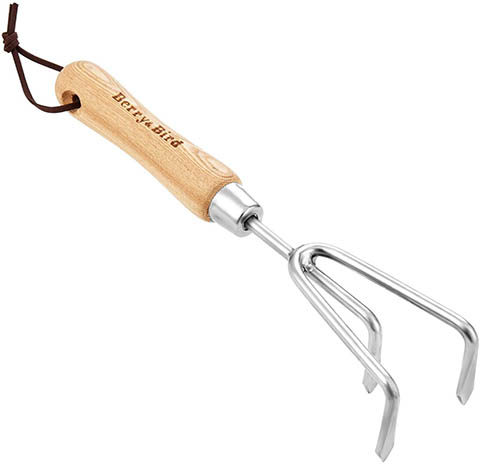 The Berry&Bird Handheld Triple Claw Rake is the final tool on our list. But is it a tool you can trust with the fate of your garden? No: it's more like a tool you'll want to bury in your garden!
Let's start with the good qualities: the triple claw design is simple and beginner-friendly. And the handle is both ergonomic and environmentally-friendly (it has been certified by the Forest Stewardship Council).
Unfortunately, parts of this rake (such as the trowel) are likely to break under pressure. And the lack of bag and gloves is disappointing. Finally, the triple tine design limits what you can effectively do with this tool.
Pros
Beginner-friendly
Ergonomic handle
Cons
Some parts are likely to break
Limited design
Does not come with bag or gloves
---
Buyer's Guide – Finding the Best Hand Tiller
We hope that our reviews have given you a solid overview of the different hand tillers that you can buy. However, you can't make a fully informed decision about your next hand tiller until you have all of the information in hand.
That's why we put together this comprehensive buyer's guide. It will tell you more about the different uses and features of hand tillers and what you need to be on the lookout for. On top of that, you'll learn some very important information on what to avoid when you're shopping for a tiller.
Ready to learn everything you need to know about these important tools? Keep reading to discover our buyer's guide!
Tiller Versatility
At first glance, most hand tillers will look pretty simple. And these are simple tools compared to your more robust power tools. But they have one important thing in common with your power tools: you want a tool that can do more than a single task.
That's what makes versatility so important with tillers. Sure, you can pick a tiller that is only good for something like weeding. But why do that when you could have a tiller that can also aerate, loosen your soil, and cultivate the lawn?
It's true that you may not need a tiller for every one of these features at this exact moment. But if you go ahead and buy a more versatile tiller now, you'll have more options when gardening in the future.
User-Friendly
You might be a veteran "green thumb" in your garden. Or you may just be getting started. But both kinds of people should want the same thing from a new tiller: user-friendliness.
How easy is the tiller to use? And how likely is it to cause you back pain and strained muscles? This usually comes down to different factors like the height of the handle, the formation of the tines, and how many different features the tiller brings to the table.
If you've used a tiller before, you can basically work your way backward from that experience. Ask yourself what gave you trouble about your previous tillers and then look for modern features and amenities that will help avoid these issues in the future.
What's It Made Out Of?
Earlier, we made some comparisons between hand tillers and power tools. Here is another important thing they have in common: the quality of the tool mostly comes down to what it is made from.
Think about the things you are going to be doing with your tiller. Will you be digging into hardened soil or clay? If so, you need a tiller that is sturdy enough to keep up with you.
That's why we recommend tillers that are made out of stainless steel or, even better, carbon steel. These materials are less likely to break, even when you are working with very hardened soil.
Be sure to pay attention to what the tines are made out of as well. If they are made of significantly flimsier material than the rest of the tiller, then they are likely to bend or break during routine use.
Warranty Protection
Speaking of bending and breaking, ask yourself this: what's your gameplan if something goes wrong with your hand tiller?
The best tillers offer a warranty that helps to protect against defects and other problems. And in some cases, your new purchase may come with a lifetime guarantee.
Generally speaking, products with a lifetime guarantee are more expensive than products without it. But can you really put a price tag on the peace of mind that comes with this kind of protection?
All About Tines
Arguably, the most important part of a hand tiller is its tines. The material and design of these tines plays a large role in how well this tool will work for you.
As we already mentioned, you want tines that are made from sturdy material. This helps to keep them from bending or breaking during use. Otherwise, your new tiller will be about as useful as grandma's rusty old rake!
On top of that, the tine configuration may dramatically change the way different tillers work. Some are in a kind of wheel formation while others look more like an artificial claw. Both of these configurations are useful, and which one you should go with is mostly a matter of preference.
Is It Easy to Adjust?
Versatility is the hallmark of any great tool. But what does that mean in terms of a hand tiller? It means the ability to adjust your tool in different ways to deal with different kinds of challenges.
One example of this is adjustable tines. Tillers with this feature let you adjust the tines into different configurations whenever you want. This is a solid feature because it means you can tackle plenty of different jobs with the exact same tiller.
Other tillers may feature adjustable height. This feature is useful because you can lengthen or shorten the tiller when working in different spaces. And finding the size that is "just right" can really save your back a lot of pain in the future.
Are these adjustable features a "must-have" when it comes to a hand tiller? Not necessarily. But it's generally better to have more options than fewer options, especially if you don't know what all you will be using the tiller for.
Handle Height
Not every tiller has an adjustable height. Before you buy a handle you cannot adjust, it's important to review the pros and cons of both long handles and short ones.
The biggest draw of a long handle is that it can help protect your back from aches and pains. When you can do your work from a standing position instead of bending over, you are far less likely to have aches and pains the very next day.
However, short handled tillers can do a few things better than long handled tillers. For example, shorter tills do a better job of aerating tight areas, removing weeds, spreading mulch, and cultivating smaller gardens.
As usual, it comes down to the handyman to make a tough choice. Do you want a longer handle to make work that much easier? Or do you want a shorter handle that may produce higher-quality work? The decision is up to you.

Conclusion
Now that you have read our reviews and our buyer's guide, you may be ready to choose the best hand tiller for you. But we still need to answer the question: what are our top recommendations based on these reviews?
For the best overall pick, we must go with the Fiskars Steel Tiller. It combines durability, versatility, and comfort into a single package that makes working in the garden easier than ever.
But what if you're a gardener on a tighter budget? In terms of value tillers, we definitely recommend the Asano Japanese Ninja Claw Rake. It packs great features into a killer design, and you'll find yourself marveling at how little you paid for it.
While these are our top recommendations, the truth is that every handyman is very different. Only you can decide on the hand tiller that works best for your garden and your needs. But we hope that our reviews and our buyer's guide have made the purchasing decision easier.
Now, the only thing left to do is grab your taller and get back in the garden!