10 Best Reciprocating Saws of 2023 – Buying Guide & Reviews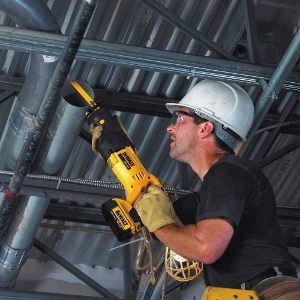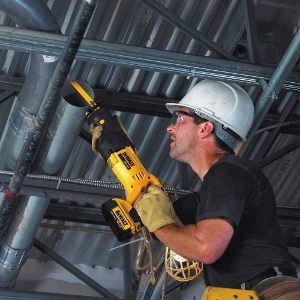 When choosing a new reciprocating saw, you may be surprised to find there are many types available. Battery power is quickly becoming as good as a corded model, and there are plenty of features added to new models, like anti-vibration and adjustable guides. It's natural to have questions about what type is best and what features you need.
We've compiled a list of 10 different reciprocating saws to review. We'll go over the pros and cons of each model so you can see what features are useful to you. We've also included a short buyer's guide where we take an in-depth look at the reciprocating saw and take an in-depth look at the critical components that make it work.
Keep reading while we take a detailed look at the reciprocating saw and discuss vibration, changing blades, RPM, durability, and more to help you make an educated purchase.

Comparison of our Favorites (updated in 2023):
Rating
Image
Product
Details

Best Overall

Milwaukee 6519-31 Reciprocating Saw

Vibration reduction
3000 SPM motor
No-tool blade change
CHECK PRICE

Best Cordless

DeWalt DCS380B Reciprocating Saw

Four-position blade clamp
3000 SPM motor
Lightweight
CHECK PRICE

Best Value

PORTER-CABLE PCC670B Reciprocating Saw

Roughly half the price of our other favorites
Battery powered
With variable speed trigger
CHECK PRICE

Makita JR3050T Reciprocating Saw

11-amp engine
1⅛" stroke
Built-in dust blower
CHECK PRICE

Best Compact

DeWalt DCS367B Reciprocating Saw

Variable speed
Pivoting shoe
Lightweight
CHECK PRICE
The 10 Best Reciprocating Saws:
1.

Milwaukee 6519-31 Reciprocating Saw – Best Overall
The Milwaukee 6519-31 Reciprocating Saw is our pick for the best overall reciprocating saw. The brand name synonymous with reciprocating saws features a 1⅛-inch stroke, a powerful motor that produces up to 3000 strokes per minute (SPM), and it has a built-in vibration reduction system that makes the saw easier to hold on to and to use. This model allows you to change the blade without tools, and a clutch system helps protect the internal gears. It also comes with a handy carrying case.
While we were reviewing the Milwaukee 6519-31 Reciprocating Saw, the only real problem we had was the rubber handgrip continuously fell off as we were working.
All in all, we think that this is the best reciprocating saw of the year.
Pros
No-tool blade change
Vibration reduction
3000 SPM motor
Carrying case
Clutch
Cons
Rubber handgrip doesn't stay on
---
2.

DeWalt DCS380B Reciprocating Saw – Best Cordless

Like the Milwaukee Sawzall, the DeWalt DCS380B gives you a variable speed 3,000 SPM with 1⅛-inch stroke length but the DeWalt runs on a 20V battery (one that interchanges with other DeWalt tool batteries).
The DeWalt brand makes durable tools, and they are one of the brands responsible for advancing the power of battery-operated tools. This saw features a four-position blade clamp for flush cutting and increased versatility. The 1⅛-inch stroke length helps reduce the time spent cutting, and a pivoting shoe lets you adjust the depth of cut. You can control the speed by how hard you squeeze the trigger. This saw is also lightweight and shouldn't be hard for most to manage.
The only problem we had with the DCS380B was it puts out a lot of vibration, so fatigue develops quickly in the fingers. We also didn't like that the battery and battery charger don't come with it. Unless you have other DeWalt tools, these extras will add significantly to the cost. However, this is definitely one of the best cordless reciprocating saws on the market.
Pros
Four-position blade clamp
1⅛" stroke length
Variable speed
3000 SPM motor
Pivoting shoe
Lightweight
Cons
Battery and charger sold separately
Strong vibration
---
3.

PORTER-CABLE PCC670B Reciprocating Saw – Best Value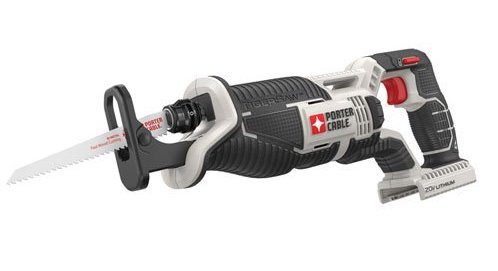 The Porter-Cable PCC670B is our pick for the best reciprocating saw for the money. This model features a variable speed, 3000 SPM motor that uses a 20-volt lithium battery as its power supply. Many other popular brands top out at 16 or 18 volts, so this is a significant increase in power. The 1-inch stroke makes fast cuts, and the tool-fee blade release makes blade changes quick and easy.
We enjoyed using the PORTER-CABLE Reciprocating Saw even though it is quite loud and gives off strong vibrations. It also received high praise for packing surprising power into a small, lightweight, battery-operated saw at roughly half the price of our favorites. It doesn't seem to be preferred amongst pros, but homeowners are very happy with its performance cutting everything from trees to lumber to antlers to aluminum siding.
Like our Top Pick, it also has a variable speed trigger. This is sold as a bare tool, so factor in the battery, charger, and blade purchases, but that's the same as it is for the more expensive models. You won't be handing this machine down to your kids – it definitely lacks long-term durability – but at this price point, the Porter-Cable PCC670B is a real bargain for the weekend pruner or demolisher.
Pros
Roughly half the price of our other favorites
Battery powered 3000 SPM with variable speed trigger
Cons
Not built to last
Bare tool – battery, charger, and blades sold separately
---
4.

Makita JR3050T Reciprocating Saw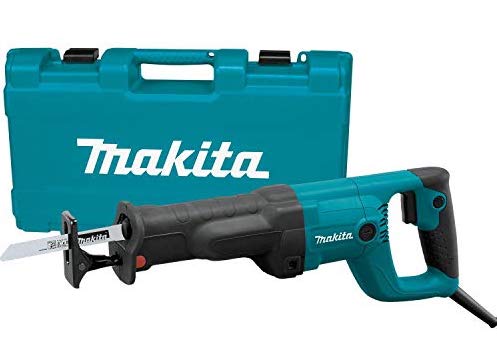 The Makita JR3050T Reciprocating Saw is an 11-amp electric saw that features a 1⅛-inch stroke for fast cutting action. Ball and needle bearings help extend the life of the tool, and accessible brushes allow for easy maintenance. A two-finger trigger features a handy lock-on that helps reduce finger fatigue over extended cuts, and the built-in dust blower helps keep the cutting area free of debris.
We found the JR3050T to be a slow cutting tool despite its long stroke. The lock-on helped reduce some of the fatigue, but the excessive vibration created made large jobs impossible. The case is handy but flimsy, and ours cracked after a few weeks.
Pros
11-amp engine
1⅛" stroke
Ball and needle bearings
Storage case
Lock-on
Built-in dust blower
Cons
Cuts slowly
Cracked case
Excessive vibration
---
5.

DeWalt DCS367B Reciprocating Saw – Best Compact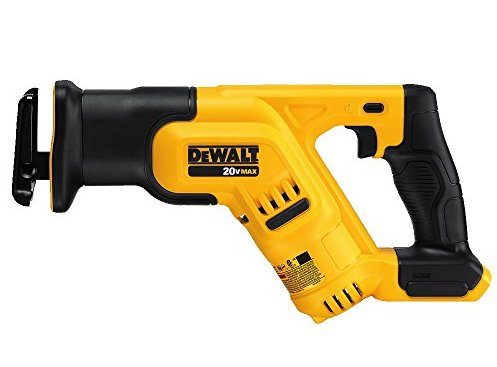 The DEWALT DCS367B Cordless Compact Reciprocating Saw is a variable speed saw that uses an 18-volt rechargeable battery to deliver 2900 SPM of cutting power. A pivoting shoe helps make sure the cuts aren't too deep, and the bright LED makes cuts easier, especially in low light conditions. We also found this saw lightweight and well balanced.
The problems we had with the DCS367B include the strong vibrations it creates. Straight cuts are difficult with the vibrations, and hand fatigue occurs much faster. It doesn't come with batteries so you will need to purchase them separately. The battery and charger are quite costly, and the battery loses charge quickly while sawing, so you may need to purchase more than one battery for larger jobs.
Pros
Variable speed
2900 RPM
Pivoting shoe
Bright LED
18-volt motor
Lightweight
Cons
Strong vibrations
Doesn't come with batteries
Batteries quickly lose charge
---
6.

BLACK+DECKER BDCR20B Cordless Reciprocating Saw
The BLACK+DECKER BDCR20B Cordless Reciprocating Saw is a 20-volt saw that can provide 3000 SPM. It features variable speed cutting ability and tool-free blade change. Fans of this brand may tout the versatility of this highly portable saw, but a ⅞-inch stroke is merely adequate for most jobs.
Unfortunately, the BDCR20B is a tool-only purchase; however, you can opt for the package that includes a low-quality battery and charger. The battery is different than the one used by many other Black+Decker models; it loses charge quickly; and the charger burned out after a few months. The shorter stroke caused strong vibrations that were hard to control, and precision cutting was challenging. This is a middle-of-the-pack tool that neither impressed nor disappointed us.
Pros
Variable speed
Tool-free blade change
20-volt motor
3000 SPM
Cons
Poor battery and charger
Strong vibrations
Short ⅞" stroke
---
7.

WORX WXL550L 20V Recip Saw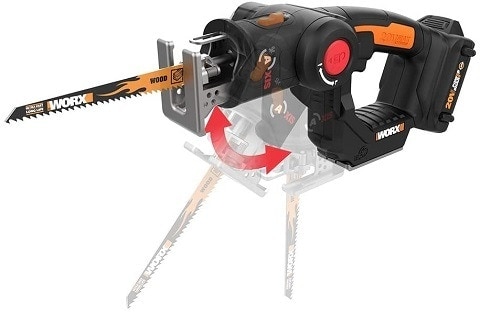 The WORX WXL550L 20V reciprocating saw is a 2-in-1 unit that can convert into a jigsaw for a more functional saw. The included 20-volt rechargeable battery can power the saw for more than 30 minutes at a time. It's lightweight, and the orbital cutting function allows you to make much quicker cuts but removes more material. Overall, it's an interesting little tool that doesn't cost a small fortune, and would be a great addition to a completist's workshop.
The downside to the WXL550L is the instructions are challenging to follow. When explaining how to convert the reciprocating saw into a jigsaw, the directions were of little help. We also noticed the blades were slightly loose, which we believe played a big part in the lack of cutting power we experienced.
Pros
2-in-1 functionality
Orbital cutting
20-volt battery
Lightweight
Battery included
Cons
Difficult instructions
Loose blades
Low power
---
8.

RYOBI RJ186V Reciprocating Saw
No one looks to Ryobi for high-end, professional tools, even though it has the same parent company as Milwaukee, and this saw is no reason for that to change. (And truth be told, few of us have professional-grade tool needs). In the hands of an occasional DIYer, it holds up just fine and makes a good stand-in for anyone reluctant to get a chainsaw. Its 10-amp motor produces 3,000 SPM and it comes with a variable speed trigger and anti-vibration technology, just like our more favored saws.  It's moderately priced and comes packaged with one blade. But it's not a tool anyone will be using to tear down a building – it doesn't have the quality feel to tackle anything that ambitious.
If you're only in occasional need of a reciprocating saw, this isn't a bad choice, but if you have grander visions for your saw, look elsewhere.
Pros
Anti-vibration technology
10-amp, 3,000 SPM variable speed
Cons
Lacking in sturdiness
Lacking in durability
Best suited for small projects
---
9.

VonHaus 9-Amp Reciprocating-Saw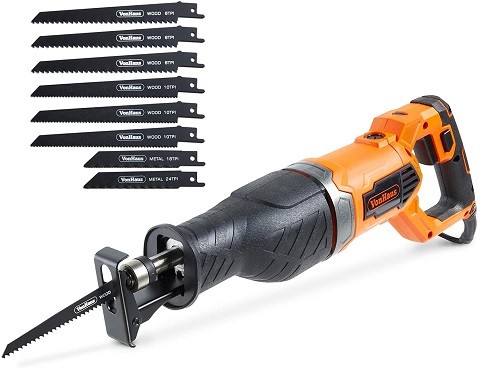 The VonHaus 15/138US has a 9amp motor that tops out at 2,500 SPM, so it's not quite the workhouse that our earlier choices are.  It does have the variable speed trigger, with lock, and unlike many reciprocating saws, it comes with eight blades (two for metal, six for wood).  But it's heavy, the included blades wear out very quickly, and it vibrates more than it reasonably should, all of which make it suitable only for quick and simple jobs.  It does come at a bargain price, especially considering the blades are included, but it also comes with reports of the trigger lock getting stuck while it's running, which is a serious hazard.  The VonHaus might be for you if cost is a big factor and you've only got short and sweet projects to tackle.
Cons
Heavy
Included blades are low quality
Vibrates a lot
Alarming reports of trigger locking while on
---
10.

SKIL 9206-02 Reciprocating Saws

The SKIL 9206-02 Reciprocating Saw is the last model on our list, and this saw features a tool-less blade change system that helps reduce downtime while you are working. A metal housing protects the gears, and it features a counterbalance vibration control to help reduce fatigue in your hands. A pivoting foot helps you make stable, even cuts, and the saw is lightweight and easy to maneuver.
The downside to the SKIL 9206-02 Reciprocating Saw is its small 7.5-amp motor. This small engine is about the smallest on this list, and you can notice the reduced power as soon as you start it. The housing is also very flimsy, and we cracked the handle after a few uses. The guide is also hard to get tight and wobbles while you are cutting, and the machine gets very hot while you are working
Cons
5-amp motor
Flimsy
Loose guide
Gets hot

Buyer's Guide: Finding the Best Reciprocating Saw
Let's look at some of the most important things to look for when shopping for a reciprocating saw.
Power
There are two primary ways that the reciprocating saw is powered: electric power and battery power.
Corded Electric Power
You
plug-in electric reciprocating saws
, so they deliver a constant, even power and can produce high RPM without ever needing to refuel or recharge them. They are very reliable, and most brands can last several years without any maintenance. They tend to be lightweight and easy to maneuver.
The downside to electric power is that it requires an outlet, so you will most likely need to purchase an extension cord to use with it. The cord will also limit the range to inside the home or workshop and you need to be careful you don't accidentally cut the cord.
Pros
No refueling or recharging
High RPM
Lightweight
Low maintenance
Reliable
Cons
Requires an outlet
Extension cord
Not portable
Battery Power
Battery-powered reciprocating saws
are technically electric saws, but these get their power from batteries. These saws are extremely portable and you can use them anywhere and there's no cord to accidentally cut. The technology behind lithium batteries is rapidly advancing and rechargeable tools are becoming a real option for many people. The batteries can deliver power rivaling the plug-in models for a considerable amount of time before requiring recharging.
The downside to battery power is that most tools don't come equipped with one and you will need to purchase It separately. They are costly and many brands have their own battery which locks you into using a certain brand if you intend on using more than one battery-operated tool. You also need to continuously recharge them and if you forget, it could delay your project. You might also run out of power before your project is finished. We recommend purchasing at least two batteries if you are using battery power.
Pros
Portable
Advancing technology
Stroke
The stroke is the distance the blade moves back and forth to do the cutting. Most of the blades on this list have a stroke between ⅞ and 1⅛-inch. The difference between the two may not seem like much but when you consider that the blade can move back and forth 2500 or more times per minute, the difference becomes quite large. A longer stroke will cut faster and smoother, while blades with a smaller stroke tend to kick back more often.
RPM
You will see the RPM of reciprocating saws listed on the package, and this refers to the number of times the blade will move back and forth per minute. More RPM will result in a faster, smoother cut with fewer kickbacks. We recommend opting for the most RPM you can find and don't go below 2000. All the models on this list are capable of 2500 RPM or more.
Blade Changing
Early reciprocating saws required using tools to change the blades, which could result in lost parts and improperly inserted blades. Almost all modern reciprocating saws will use a tool-free system that requires you to push a lever to release or catch the blade This system is much faster and much safer.
We recommend only purchasing reciprocating saws that use the tool-free system, and each of the models on our list has it built-in.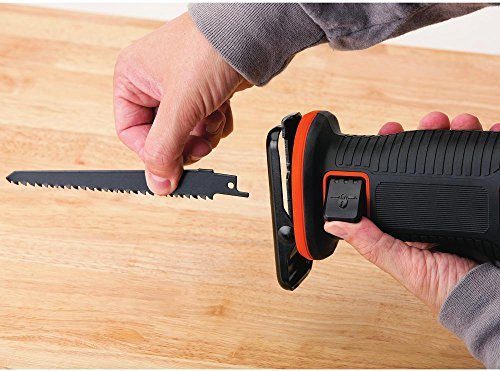 Shoe
The shoe is a plastic guide at the end of some reciprocating saws. This simple device can serve many purposes while you are working but is typically used to make sure the cut you are making isn't too deep. It can also guide your blade so it doesn't hit unintended surfaces and can also hold objects down while you cut them.
Orbital Setting
The orbital setting is a feature that is confusing to many people but it's actually very simple. When the orbital setting is on, the blade will not only move back and forth, it will also move side to side slightly. This action tears away more wood and results in a more jagged cut, but it is much faster than cutting with the back and forth motion alone.
Weight
The weight of the reciprocating saw can come in to play if you have a lot of large jobs to do, or the jobs are in a high location causing you to need to reach up. Most modern reciprocating saws weigh less than ten pounds, but some battery-powered models may exceed that.
Blades
Your choice of blade is almost as important as your choice of saw. They vary in length, teeth per inch (TPI), width, thickness, shape, and material. Blades will be 3-12 inches long, with the most common falling between 6 and 9 inches and longer blades producing deeper cuts.
TPI ranges from 3-36. Low TPI cuts faster but with rougher edges and is best suited for cutting wood. High TPI results in slower cutting but gives you a smoother edge, making it great for cutting metal.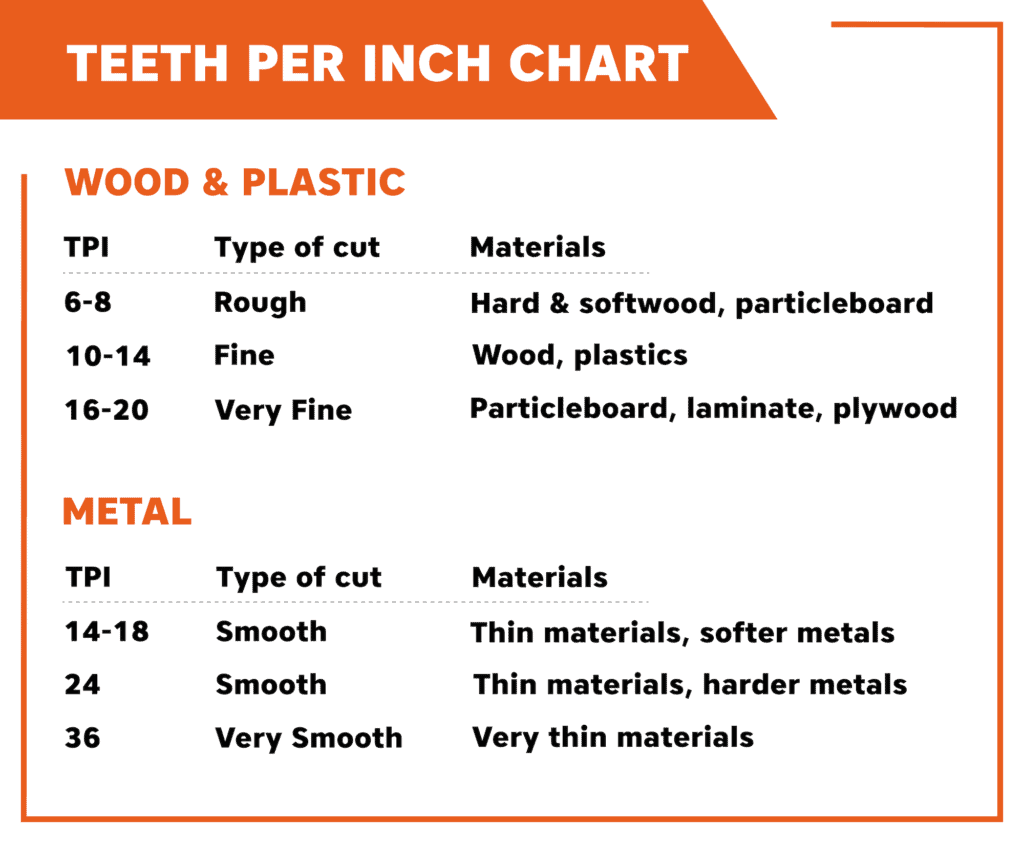 Why Blades Matter
In our experience, many of the problems people have with their reciprocating saw is a problem with the blades that they are using. There is a huge array of blades designed for every purpose and using the wrong blade can create unpredictable results. Jagged cuts, blades that dull quickly, continuous kickback, and blades that snap, are all signs that you are using an incorrect blade for the job.
We recommend extensively researching the material you intend to cut and finding the correct blade before doing any work.
Safety
The reciprocating saw can be dangerous if you are not careful while you are using it. It's not as bad as a chainsaw, but you should still wear a minimum amount of protective equipment while you are doing any cutting. We recommend wearing the following protective equipment at a minimum:
Safety Goggles
Heavy-duty Gloves
Youngstown Glove Company mens Kevlar Gloves, Gray, Large US
A cut resistant performance work glove that is completely lined throughout with Kevlar fiber by DuPont
Every inch of this glove (top, palm, side of fingers) is lined with DuPont Kevlar fiber for increased cut and puncture resistance
The outer glove is a heavy duty performance glove featuring non-slip reinforcement on the palm, fingers and thumb for lasting grip and...
Ear Protection

Final Verdict
When choosing a reciprocating saw it's important to remember that this tool is primarily for destruction and is not meant for making neat and clean cuts like a jigsaw might. A shoe can help straighten the lines and a skilled user can work wonders, but these are not precision tools.
For most people, the electric reciprocating saw is the way to go. They are inexpensive and lightweight, and most people need work done around the home where there are plenty of outlets. Our top choice is a perfect example of a high-quality saw. The Milwaukee 6519-31 Reciprocating Saw features a high-powered motor and vibration reduction. It was one of the best-balanced tools on this list and it runs cool.
If you need to do some cutting away from outlets or plan on assembling an arsenal of battery-powered tools, it's hard to beat our choice as the best cordless reciprocating saw. The DeWalt DCS380B Sawzall has a powerful motor and a long stroke. Best of all, DeWalt has a long list of high-quality tools that can make use of the same battery and charger.
We truly hope that our guide helps you find the best reciprocating saw for your workshop. Good luck in your search!