Hackzall vs. Sawzall: Pros, Cons, Uses, & FAQ
Reciprocating saws are extremely useful tools, especially when it's time to demolish or perform other tasks that don't require a fine finish or precise cuts. Two reciprocating saws often confused with each other are the Hackzall and Sawzall. While they are the same type of saw, they have some significant differences and are ideal for different jobs.
This article will explore a brief overview of each saw, and then we'll look at their main differences and give some examples of when to use each one. At the end of the day, if you're an avid DIYer or work in construction, you'll probably find that both would be great to have.
The nice thing about each saw is that you can often get models that share batteries. For example, suppose you mainly run Milwaukee power tools. In that case, you get each of these saws, plus batteries and chargers that fit the other battery-power saws and drills in the line.

Overview of Hackzalls
You're probably already familiar with Sawzalls, but Hackzall is another Milwaukee reciprocating saw with some pretty handy applications. There are other brands like DeWalt or Rigid that make similar-sized reciprocating saws. However, Milwaukee is often praised as a leader with these saws and holds the trademarked names: Hackzall and Sawzall.
Many people assume that a Hackzall is just another name for a Sawzall. While they are similar saws, they are still very different. For example, a Hackzall is designed for one-handed use and has a much smaller cutting stroke.
Ideal Jobs for a Hackzall
As a reciprocating saw, a Hackzall uses the same blades as others. Wood, metal, and plastic are all materials these handy saws can cut. The biggest difference is that they are pretty compact, so they can fit in areas where a full-sized Sawzall wouldn't fit. Plus, being able to use them with one hand makes them a convenient choice for awkward positions.
Pros
Compact and lightweight saw
Maneuverable in tight and hard-to-reach areas
Convenient, one-handed use
All-purpose saw for many tasks
Cons
A short cutting stroke isn't great for big cuts
Won't power through thicker or harder material very well

Overview of Sawzalls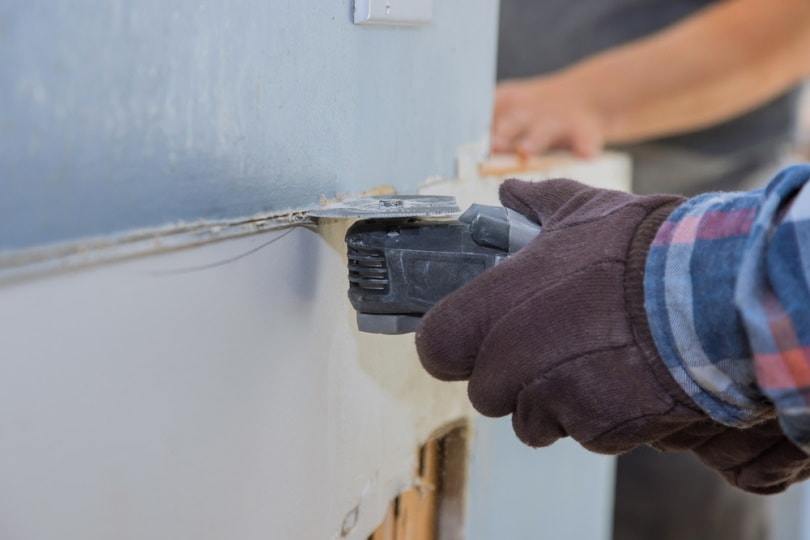 Anyone who has spent time in the construction industry or used many tools has likely heard of a Sawzall. But what many people don't actually know is that "Sawzall" is a registered trademark of Milwaukee. However, many people use the name interchangeably with other brands' reciprocating saws.
Sawzalls are available as corded tools or battery-powered. When it comes to convenience, battery tools are incredible. However, if you have access to power, a corded tool will offer the best power possible, and you won't have to worry about needing to charge a battery.
Ideal Jobs for a Sawzall
Sawzalls are great tools when it comes to demolition. You can get reciprocating saw blades designed to cut wood with nails or screws in them without damaging the blade. You can also get blades designed for cutting metal. So, there's a wide variety of different jobs it can do.
If you're using a Sawzall, keep in mind that this is not a tool that is designed for precise cutting or leaving a nicely finished cut end.
Pros
Great all-purpose saw for many applications
Gets the tough jobs done
Two-handed operation for better tool control
Long cutting stroke for a wider variety of materials
Cons
Not a great tool for tight areas
Can be bulky and heavy
Corded versions can create a tripping hazard
Everything You Need to Know About These Saws
As you can see, the primary difference between a Hackzall and Sawzall is their size. While they use the same blades and can cut the same materials, for the most part, they do cut differently. Let's look at some things to consider when going with one or the other.
Which One Should You Buy?
In many cases, if the budget allows, most people would benefit from having both because they do excel in different scenarios. However, these aren't cheap tools, especially once you factor in needing additional batteries or chargers.
If you find that much of your work needs a heavy-duty tool to get the job done, whether that's demolition or trimming 6×6 fence posts, a Sawzall will likely be the better choice. Plus, you can save a significant amount of money by going with a corded version too.
On the other hand, if you don't really need a heavy-duty tool but find yourself in some weird or awkward positions where you don't have a lot of room, a Hackzall may be the better option. You have a few choices (M12, M18, or M18 FUEL) that give you different pricing options.
Reciprocating Saw Safety
Like any powered saw, there is the potential for serious injury if the tool isn't used properly or suitable personal protective equipment (PPE) isn't worn.
Here are some safety tips to keep you out of harm's way:
Wear eye protection
Wear hearing protection (especially when cutting metal)
Wear leather or cut-resistant gloves
Keep free hand out of the cut zone (Hackzall)
Pay attention to the task at hand
Confirm what's on the other side of what you're cutting because the blade often goes right through
Corded vs. Battery-Powered
Before battery-powered tools became so popular, all a person had to work with was manual or corded tools. In some cases, a corded tool is an ideal version because you don't have to worry about charging batteries, and you'll always have maximum power.
However, battery-powered tools are popular for a reason. They're convenient and allow you to use power tools in areas you normally wouldn't be able to due to lack of power. Unfortunately, battery-powered tools are typically more expensive, especially when you factor in needing several batteries and chargers.
On the other hand, most tools within the same line will use interchangeable batteries, which is also a convenience. When deciding between the two, it comes down to budget and your primary place of work.
If you're always in a work area with power, corded tools give you maximum, reliable power. Otherwise, battery-
powered is the best route to go in most cases.
When to Use Each Saw
When to Use a Hackzall
Cutting PVC
Tight or awkward areas
Electrical or plumbing construction
Smaller metal material
When to Use a Sawzall
Cutting PVC
Heavy-duty tasks
Electrical, plumbing, and general construction
Large or hard material

Conclusion
If you're running Milwaukee tools, it pays to have each of these tools. And if you're using the M18 FUEL line of battery-powered tools, these saws share batteries and chargers. However, a Sawzall is an option if you'd prefer to go the corded route. Then you can supplement your tool kit with a smaller M12 Hackzall.
---
Featured Image Credit: Left: Hackzall: ungvar, Shutterstock | Right: sawzall ungvar, Shutterstock