10 Best Sewage Pumps of 2023 – Top Picks & Reviews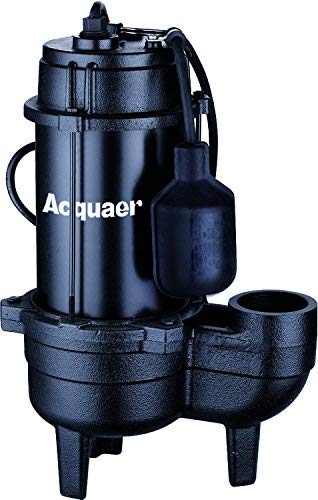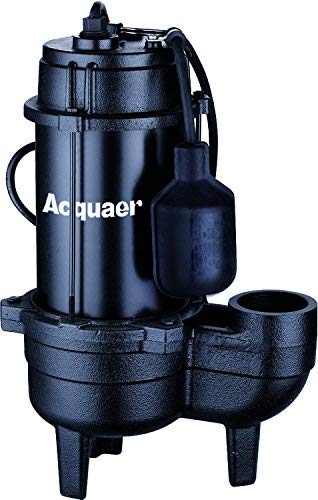 Most of us would rather never have to think about sewage, or how it's transported out of the home. If you've ever had your sewage pump fail, you're all too aware that the consequences of neglect can be catastrophic. The last thing you'd ever hope for is a backup of wastewater in your home!
When it's time to replace your sewage pump, you'll want to make an educated decision that you can trust won't leave you in panic mode with a failed pump and an awful mess. To help you, we've researched and tested the top sewage pumps on the market to determine how they measure up. Important features like flow rate, durability, and efficiency were put to the test.
We've compared warranties, capabilities, and affordability to make sure these reviews will help you find the best sewage ejector pump for your needs.
---
Quick Comparison of the Winners in 2023
Rating
Image
Product
Details

Best Overall

Liberty Pumps LE51A

Long lifespan
160GPM flow at 0.5 HP
Very efficient for lower energy costs
CHECK PRICE

Best Value

WaterAce WA50RSWW

Affordable price
Moves 2" solids
20' cable plugs into standard 110V outlet
CHECK PRICE

Premium Choice

Zoeller M267

Three-year warranty
Each pump is factory tested
Cast iron grinder impellers pass 2" solids with ease
CHECK PRICE

Acquaer 1/2 HP

Affordable price
Maximum head of 27'
Two-year warranty
CHECK PRICE

Hallmark MA0387X-9

49' lift
120 GPM flow
Cast iron grinder impeller crushes solids
CHECK PRICE
The 10 Best Sewage Pumps
1.

Liberty LE50 Submersible Sewage Ejector Pump – Best Overall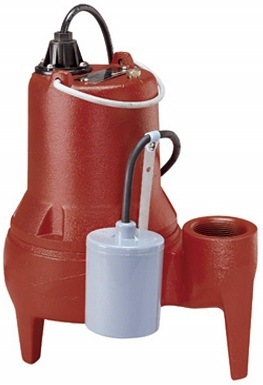 Commercial-grade durability for residential homes is the theme of the Liberty Pumps LE51A. This efficient motor manages to produce a flow rate of 160 GPM on just 0.5 horsepower, making it very efficient. This efficiency helps translate to reduced energy costs and longer life expectancy. Further aiding in lengthening the lifespan of this pump are the permanently lubricated bearings and oil-filled, thermally protected motor. Add a shut-off head of 25 feet and the ability to handle two-inch solids, and it's clear that this is one of the best sewage grinder pumps available.
The power cord features a quick-disconnect design that allows you to replace it in seconds without breaking the motor seals. Even better, this pump also offers manual operation in the event of a switch failure or any other issue. All that said, there are two things that hold this pump back. First, it's at the higher end of the price range, though it does provide longevity and features to match. Second, some of these pumps seem to have been shipped with faulty gaskets from the factory that don't properly seal. Thankfully, the two-year warranty covers any such experiences. Overall, we think this is the best sewage pump on the market you can buy today.
Pros
160GPM flow at 0.5 HP
Very efficient for lower energy costs
Grinder can handle 2" solids
Long lifespan
Two-year warranty
Cons
Premium price
Some are shipped with faulty seals
---
2.

WaterAce WA50RSWW Sewage Pump – Best Value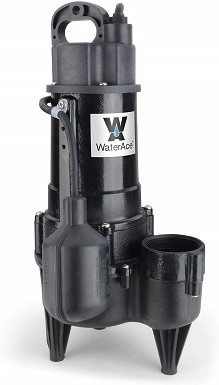 Constructed from cast iron and thermoplastic, this sewage pump from WaterAce is built durable for a long life. Although it's not a grinder pump, it is able to move two-inch solids like our number one pick, but a flow rate of only 95 GPM holds it back. In its defense, this pump is at a much lower price point, which is why it makes our pick for best sewage pump for the money.
When it comes to installation, this pump is quick and easy. A 20-foot power cord is attached to a 3-prong plug that connects to a standard 110V outlet. If anything will go wrong with this pump, it would be the float ball getting stuck. A minor fix that's covered under the two-year manufacturer's warranty.
Pros
Moves 2" solids
Affordable price
Two-year warranty
20' cable plugs into standard 110V outlet
Cons
Mediocre flow rate of only 95 GPM
Float ball occasionally gets stuck
---
3.

Zoeller M267 Sewage Pump – Premium Choice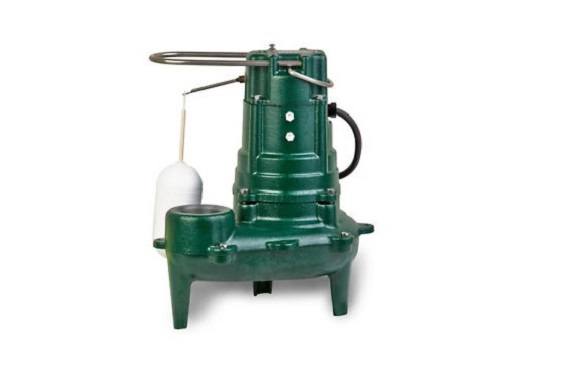 Zoeller makes a great pump that is worth considering if you want a premium product and don't mind the accompanying expense. Built in the USA and equipped with a three-year warranty, each pump is 100% factory tested before being shipped out for distribution. Zoeller stands behind the Waste-Mate sewage pump, and it continues to deliver reliable performance year after year. Although uncommon, this pump has occasionally failed within the first year. Zoeller honors their warranty and a full replacement can be expected on the off chance that this happens to you.
At ½ HP this pump produces a flow rate of 128 GPM, and a 21.5-foot shut-off head. With a non-clogging vortex impeller made from cast iron, this grinder pump can pass two-inch solids with ease. The fully submersible cast iron housing is watertight and dust-tight to ensure no external damage occurs.
Pros
Three-year warranty
Each pump is factory tested
Cast iron grinder impellers pass 2" solids with ease
Cons
Very high price
Other pumps offer higher flow rates for lower cost
---
4.

Acquaer 1/2 HP Sewage Ejector Pump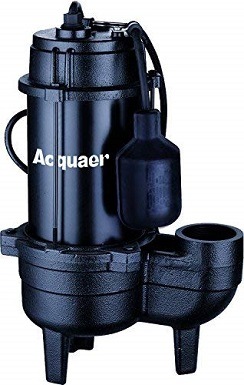 At only 80 GPM of water flow, this 0.5-horsepower pump isn't the most powerful on our list. It is able to pass two-inch solids but does not feature grinding capabilities. With a maximum head of 27 feet, this pump definitely creates a respectable vertical lift. Combine that with the affordable price and it easily makes its way onto our top 10 list.
With a cast iron volute built durable to protect the pump for long-life operation, Acquaer shows confidence in their product by backing it up with a two-year warranty. Installation is simple with a 10-foot power cord plugging into standard 115V electric. It is recommended to test the float switch before installing. The first one came with a faulty switch which wasn't noticed until after installation. Besides this, pumps have also been known to arrive DOA for other reasons. Luckily, Acquaer was good about sending out a replacement pump quickly since it's covered by their warranty.
Pros
Can pass 2" solids
Maximum head of 27'
Affordable price
Covered by two-year warranty
Cons
Faulty float switch
Some units arrive DOA
---
5.

Hallmark MA0387X-9 Sewage Pump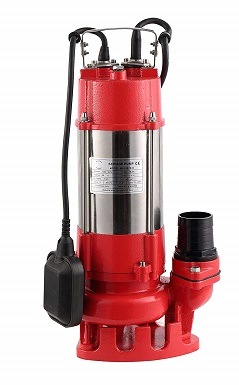 Showing a stout power rating of 1.0 horsepower, the MA0387X-9 from Hallmark Industries is a powerful pump. With a flow rating measuring just over 120 GPM, this pump moves a lot of water, though not quite as much as some of its less powerful competitors ranked higher on this list. This means it's not as efficient either, even though it does move respectable volumes of water. Where it really shines is the 49' lift capabilities it boasts.
This submersible pump contains a hermetically sealed motor with thermal protection, helping prevent overheating to ensure a long service life. The cast iron impeller makes this grinder pump able to crush serious solids and the two-inch discharge will have no problem evacuating them. On the downside, only a one-year parts warranty is included. Also, a 220V outlet will be required. The float switch also has problems getting stuck and running continuously. A great pump overall, it's held back by several small issues.
Pros
120 GPM flow
49' lift
Cast iron grinder impeller crushes solids
Cons
Only includes a one-year parts warranty
Requires 220V electric
Float switch could get stuck
---
6.

Wayne SEL50 ½ HP Sewage Pump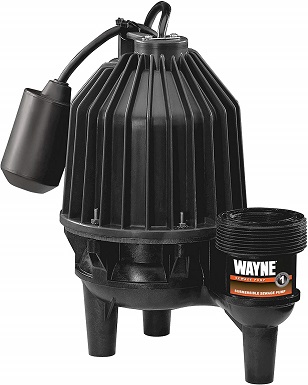 Topping out at 166 GPM of water flow, the ½ HP SEL50 sewage pump puts up very respectable numbers. At 20 feet of lift it still manages a flow rate of 33 GPM. It can handle the standard two-inch solids with ease, though it doesn't offer waste grinding capabilities. It is built for automatic operation, but it does have manual operation abilities should you happen to need them.
This pump comes with a standard one-year warranty, a necessity since it's known to sometimes fail within just a few months. If you have the option to purchase an extra warranty, do so. For the price, more reliable pumps can be found that also offer more features.
Pros
High flow rate of 166 GPM
Automatic and manual operation
Cons
Only a one-year warranty
Known to fail within the first year
---
7.

Superior Pump 93501 ½ HP Sewage-Pump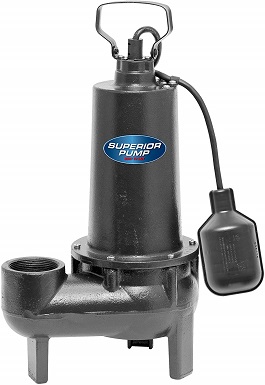 Superior pump offers an affordable alternative with some worthwhile features. The cast aluminum, non-clogging vortex impeller will easily handle two-inch solids. The split-capacitor motor is thermally protected and built for continuous duty. At 0.5 horsepower, it offers 80 GPM of water flow. While better than some models on the market, it's one of the less powerful options on our reviews list. It is capable of pumping water to a height of 25 feet maximum.
Regrettably, this pump often dies before the three-year mark. After discovering flooding, it was determined that the float switch was no good. Sadly, the float switch turns out to be a common weak link with this model. In this case, it was within the one-year warranty time frame. While the warranty covered it this time, it won't cover the cost to repair the damage caused by flooding. It also wouldn't cover it if this had happened a few months further down the line. Though priced quite affordably, the 93501 sewage pump may not be the best long term investment.
Pros
Cast aluminum non-clogging vortex impeller
Affordably priced
Cons
Only a one-year warranty
Float switch a common weak point
Often dies within three years
---
8.

Wayne RPP50 Sewage Pump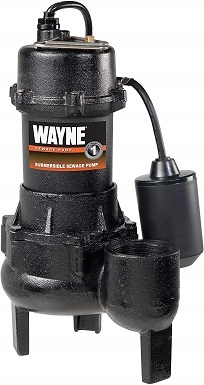 Offering a 103 GPM flow rate from a 0.5-horsepower pump, the Wayne RPP50 offers better performance than many of its competitors. It's constructed from durable cast iron and is able to pass the standard two-inch solids with no problems. Since it features a piggy-back tether float switch, you have the option to enable manual operation should you need it. While this pump can replace most existing sewage pumps without a change in plumbing, it's only designed for sewer basins with a diameter of 18" or greater.
The one-year warranty will protect you from factory defects, though not much else. You may be glad for the limited warranty though if you do happen to get one of the semi-common problems that manage to sneak through quality control. Seals leaking oil, severed wires, and float switch failure aren't commonplace, but they're not exactly rarities.
Pros
Good flow rate over 100 GPM
Automatic and manual operation capable
Cons
Limited one-year warranty
Prone to quality control problems
---
9.

ECO-FLO RSE50W Sewage Pump
ECO-FLO Products offers an economically priced automatic sewage pump. It can handle 2" waste solids with no problems, but it does not have a grinding function to handle other solids. This submersible pump is advertised as having a 20-foot long power cord, a feature that may be a selling point if your situation requires the extra length. To our dismay, the shipped unit was only equipped with a 10-foot power cable. If you purchase this pump expecting it to cover a distance over 10 feet, you'll be very unpleasantly surprised. The low price mirrors the lower-end quality, and this pump should only be expected to survive a few years of hard use.
Cons
Advertised with 20' power cord, arrived with 10'
Life expectancy of only a few years
No grinding function
---
10.

BURCAM 3/4 HP Sewage Grinder Pump
With a powerful 0.75-horsepower motor, this BURCAM sewage grinder pump should have one of the best flow rates on this list. On the contrary, it has a dismal flow rate of only 70 GPM maximum, far less than lower-powered competitors. This also means it's an inefficient design that won't save you on your energy bill. This poor performance is disappointing from a product with such a high cost. Constructed from stainless steel, this unit is rugged and is unlikely to be damaged externally. The biggest draw to this pump is its grinder type impeller of cast iron, which allows it to make quick work of solids. That said, don't expect it to handle trash and sanitary pads, as it may cause lasting damage. While the grinder makes this a very capable pump, it's also noticeably louder. A two-year warranty is standard.
Pros
Rugged stainless-steel construction
Grinder type impeller of cast iron
Cons
Loud operation
Dismal flow rate of only 70 GPM
Inefficient design
Very high priced
---
Buyer's Guide – Choosing the Best Sewage Pumps
Even if you already know which sewage pump you want, it can be useful to consult a buyer's guide to ensure you're getting the best option for your needs. This buyer's guide will offer you key factors to consider when buying a sewage pump, applications of sewage pumps, and compare sewage pumps to other pump types.
Factors to Consider When Buying a Sewage Pump
Power/Flow Rate
The power/flow rate of a sewage pump tells you exactly how much waste the pump can move. The higher the flow rate, the more powerful the sewage pump is. Although the pump motor is rated in horsepower, this does not tell you exactly how much water the pump moves. Instead, look for the GPM, or gallons per minute rating to find out the exact flow rate of a sewage pump; this rating is more important than the horsepower.
Electric Hookups
Most sewage pumps are designed to operate off of a standard outlet. However, some are designed to run off of 230V instead. If you currently have a 230V pump installed, you will need to replace it with another 230V pump. Similarly, if you only have hookups for standard 110V electric, then you'll need to make sure that you don't get one designed for 230V.
Power Cord Length
Ten feet is about the standard length for a majority of sewage pumps. For many applications, this length will be sufficient. In cases where a longer power supply is required, look for one of the pumps that is equipped with a 20-foot power cord instead. Our pick for best overall value, the WaterAce WA50RSWW in second place, includes a 20-foot power cable for a very affordable price. If you need the extra length to reach a power source, it's the pump we'd recommend.
Efficiency
If your sewage pump has a high horsepower but low GPM rating, then it is considered low efficiency. Conversely, a high GPM rating but low horsepower results in a more efficient sewage pump. Look for the most efficient model possible because it will decrease your energy consumption, which is better for the environment and will save you money on your monthly utility bill.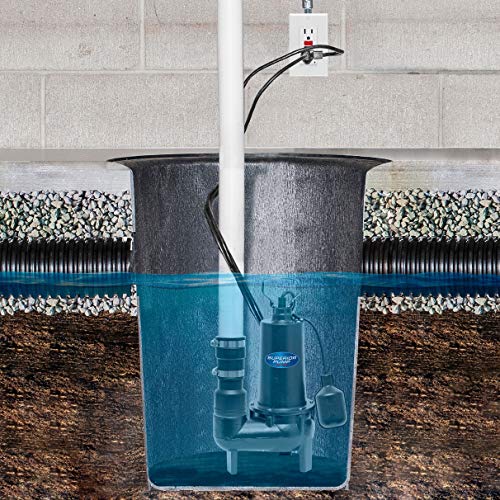 Reliability
The last thing you want is for your sewage pump to break. They cost a good sum of money, and they keep all the nasty gunk out of your home. Read reviews and other users' experiences on the reliability of your sewage pump. This ensures you will find a model that will work exactly when you want it to.
Warranty
Always select a sewage pump with a long warranty. Not only will the long warranty potentially save you money in the case that the model should break, but it will also tell you that the manufacturer believes in the pump, an indicator that the pump is effective and reliable. If a manufacturer does not offer a warranty on their sewage pump, take that as a sign that the pump is ineffective or faulty.
Sewage Pump Applications
Sewage pumps are unsung heroes of the modern home. They carry away all the dirty and toxic sludge away from our homes, allowing us and our loved ones to live happily and healthy. With this in mind, there are two main applications for sewage pumps.
Basement Bathroom
Since basements sit below-grade, they are often below the sewage line as well. If you install a bathroom in your basement, you will certainly need a sewage pump to pump the waste and water out of the basement. Since sewage pumps are more powerful than a regular sump pump, this device is guaranteed to eject the water from a basement, which requires more power since it is lower than other water lines.
Septic System
Septic systems are installed in homes without access to public sewers. A sewage pump will help breakdown waste and pump it out of the house and into the septic tank. To ensure the longevity and effectiveness of the sewage pump, select a model with heavy-duty materials. This will allow the pump to work better, ensuring that the waste enters your septic tank.
Sewage Ejector Pumps vs. Sump Pumps vs. Grinder Pumps
Sewage ejector pumps, sump pumps, and grinder pumps all work similarly, which can make it difficult to know which one is right for you. Let's take a closer look at all three options to see what situations they perform best in.
| | | | |
| --- | --- | --- | --- |
|   | Best For | Materials It Can Handle | Strength |
| Sewage Ejector Pump | Residential use | Solid waste (2 inches or below) and graywater | Medium |
| Sump Pump | Areas prone to flooding | Graywater | Low |
| Grinder Pump | Commercial use | Heavy-duty solid waste (2+ inches) and graywater | High |
Sewage Ejector Pumps
A sewage ejector pump is a pump that is able to handle both solid waste and graywater. These devices will pump these items out of the home. They are often built with a heavy-duty, cast iron finish, allowing them to handle a lot of elements. Sewage ejector pumps are ideal for residential homes that do not frequently see heavy waste entering through the toilet.
Sump Pumps
A sump pump is a pump that is really only suitable for graywater. These pumps are most commonly found in areas with frequent water buildup, such as basements. It will prevent the area from becoming overflowed with rain or natural groundwater.
Grinder Pumps
A grinder pump works similarly to a sewage pump, but it includes metal blades. These blades allow all debris to be shredded. A grinder pump is most often used in commercial buildings like bars, restaurants, hotels, etc. with a higher chance of loose debris accidentally making it to the pump. A grinder pump will take away a lot of the stress of accidentally flushing a non-flushable item down the toilet.
FAQs
What pump type do I need?
If you only need a pump for water, then a sump pump will suffice. For solid waste, you will need something stronger, such as a sewage ejection pump or grinder pump. Sewage pumps are ideal for residential homes, while grinder pumps are ideal for commercial use.
Do I need a grinder?
Any sewage pump can handle 2-inch solid waste since that is what separates them from sump pumps. If your system sees more heavy-duty waste, then you might need to upgrade to a grinder. A good rule of thumb to help determine if you need a regular sewage pump or grinder is how large the potential waste is.
If you only expect waste of 2-inches to reach the pump, then a regular sewage pump will suffice. For anything larger, select a grinder. If you offer your bathroom for public use, opt for a grinder to be on the safe side.
How can I check how powerful a sewage pump is?
A sewage pump will typically come with two ratings: the horsepower of the motor and the gallons per minute. The horsepower will tell you how powerful the motor is, but it does not necessarily correlate to how much waste it can pump, the real indicator of pump strength.
To find out exactly how much waste the model is capable of pumping, look at the gallons per minute rating. The GPM rating is more important than the horsepower.
Conclusion
Equipped with the information presented in our top ten reviews list and buyer's guide, you are now prepared to make a well-educated purchase. Our top pick was the Liberty Pumps LE51A. With an incredible flow rate of 160 GPM from a motor pushing just ½ HP, this pump is powerful and efficient. Once you consider the long lifespan and two-year warranty, it's easy to see how it earned our top position.
For best overall value, we feel the WaterAce WA50RSWW earns our second spot on the list. The affordable price puts in the budget of every homeowner, with a two-year warranty included to protect your investment. The 20-foot power cord plugs into a standard outlet, making installation simple and painless. When budget is of no concern though, the Zoeller M267 Waste-Mate is our pick for premium choice, earning it the third position on our list. Although priced very high, the lifespan matches the price. A three-year warranty backs it up and each unit is 100% factory tested to protect against DOA units. No matter which model you choose, you're sure to be satisfied with your decision as your new pump hopefully stays out of sight and out of mind.
---
Featured image credit: Sewage pumps by Matt Brown licensed by CC 2.0