12 Cleaning Supplies Every Home Should Have In 2023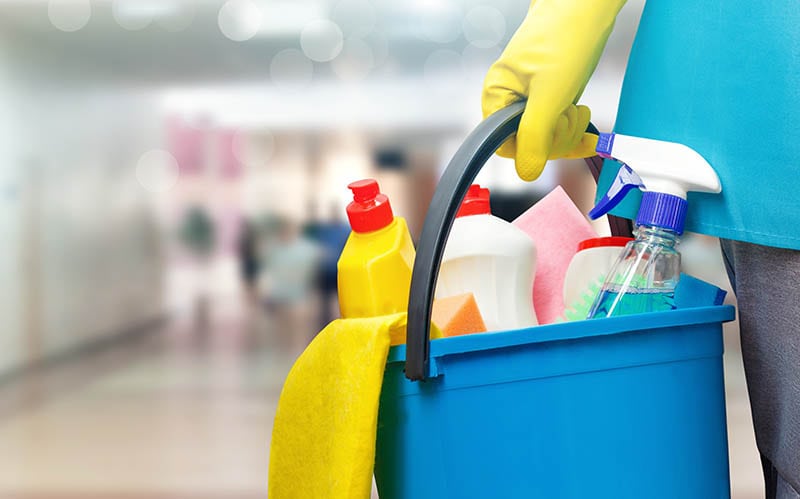 Good cleaning supplies can be worth their weight in gold. High quality cleaners last longer, clean more effectively, and leave your home looking fresher for longer. But how do you know you are getting quality cleaner and not just water? Most cleaning supplies advertise excellent cleaning power, but not all of them manage to deliver on that promise. Some people mistakenly choose the cheapest option thinking that quantity can make up for quality, but that is often not the case.
Here are 12 cleaning supplies every home should have in its arsenal, including a brief review and top pick for every category.

The 12 Cleaning Supplies Every Home Should Have
1.

All Purpose Cleaner: Method All-Purpose Cleaner Spray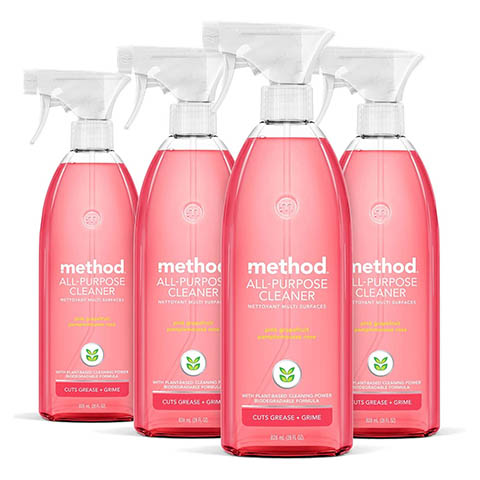 | | |
| --- | --- |
| Type: | Liquid all-purpose cleaner |
| Scent: | Grapefruit |
| Count: | 28 oz. (x4) |
A good all-purpose cleaner needs to have a few consistent traits. It needs to clean a variety of surfaces without worrying about side effects. It needs to smell good. It also needs to be cleaned effectively. Otherwise, what is the point? That is what you get when you pick up Method All-Purpose Cleaner Spray.
These simple bottles pack a lot of punch. The grapefruit scented cleaner provides powerful cleaning with one spray. Method All-Purpose Cleaner will tackle dirt, dust, grease, and grime. It can tackle a variety of surfaces and a variety of messes in one bottle. It is also supremely affordable. You get four bottles in this pack allowing you to clean to your heart's content without worrying about having to constantly refill or buy replacements. The scent is amazing and consists of hues of pink grapefruit, blood orange, and cassis. It is a unique scent that is more inviting than the harsh smell of pine or lemon that usually is found in all-purpose cleaners.
If you are looking for a great all-around product to clean various parts of your house, you need to check out Method All-Purpose Cleaner Spray. The bottles are even made out of 100% recycled plastic.
---
2.

Laundry Detergent: ARM & HAMMER Plus OxiClean with Odor Blasters 5-in-1 Power Paks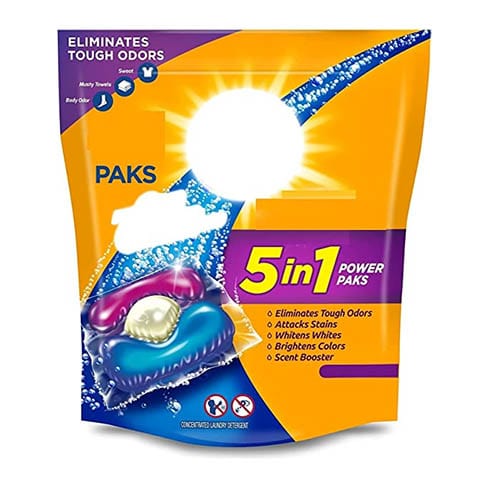 | | |
| --- | --- |
| Type: | Laundry pods |
| Scent: | Fresh Burst |
| Count: | 42 pods |
ARM & HAMMER Plus OxiClean with Odor Blasters 5-in-1 Liquid Laundry Detergent Power Paks might be a mouthful, but it is also filled with a ton of excellent cleaning power. These pods combine the excellent whitening prowess of Oxiclean with Arm & Hammer's cleaning pedigree to create an all-in-one laundry detergent that should not be ignored. These pods do every type of cleaning imaginable, including whitening, stain removal, odor removal, and color brightening. Simply toss a pod in with your load to see the results for yourself.
Like all laundry pods, these pods carry a safety risk. Keep them out of reach of children and pets and call poison control if anyone accidentally ingests one of these pods. These pods do not come in a locking tub like other competing brands, so that is something to be aware of.
---
3.

Dishwasher Detergent: Cascade Platinum Dishwasher Pods
| | |
| --- | --- |
| Type: | Dishwasher pods |
| Scent: | Lemon |
| Count: | 62 pods |
The difference between budget dishwasher detergent and well formulated products can be startling. Some detergent just isn't strong enough to really get your dishes clean, especially if you tend to leave food or stains on your plates as they go into the dishwasher. If you want the best dishwasher clean available, you need Cascade Platinum Dishwasher Pods. These pods are made from a proprietary formula that combines the dish cleaning power of Dawn dish soap with special enzymes that are designed to specifically break down food. Simply toss a pod into your dishwasher to get the best clean possible. Cascade Platinum Dishwasher Pods are endorsed by every major dishwasher manufacturer as a preferred product which shows how powerful these pods truly are.
---
4.

Disinfectant: Lysol Multi-Surface Cleaner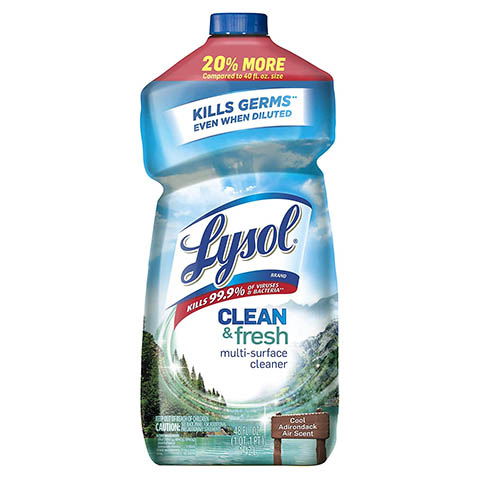 | | |
| --- | --- |
| Type: | Liquid disinfectant |
| Scent: | Cool Adirondack Air |
| Count: | 48 oz. |
In light of recent global events, it is probably a good idea to keep a versatile disinfectant in your house to help ward off illness. That is what you get when you select Lysol Multi-Surface Cleaner. This disinfectant can be used in multiple ways, including as a diluted cleaning solution. Pour it into a spray bottle to disinfect as you clean. Or you can simply dab some onto a cleaning rag and wipe down almost any surface. Lysol claims that this disinfectant will kill COVID-19. They say that their product "eliminates SARS-CoV-2 on hard, non-porous surfaces in 3 minutes," which will be music to many people's ears.
Because this is a concentrated liquid disinfectant, it can cause skin irritation if you are not careful. The scent is also very strong, so be sure to dilute the product to comfortable levels.
---
5.

Air Freshener: Glade Automatic Spray Refill & Holder Kit
| | |
| --- | --- |
| Type: | Automatic room freshening sprayer |
| Scent: | Clean linen |
| Count: | 1 sprayer, 2 refill canisters |
Some people don't feel like a space is truly clean unless it smells clean. Keep your home smelling its best with the Glade Automatic Spray Refill and Holder Kit. This sprayer releases fresh linen scent periodically thanks to a timer. That means your room will always smell fresh and clean throughout all hours of the day. This handy pack comes with everything you need to get started.
This is not the simplest air freshener on the market. It requires batteries and refills to keep it running effectively. Some people might prefer cheaper and simpler options, but Glade Automatic Spray Refill and Holder Kit does most of the air freshening work automatically, leaving you to focus on other areas of your life. Once you get it set up you can set it and forget it for weeks at a time.
---
6.

Bathroom Cleaner: Lysol Bathroom Cleaner Spray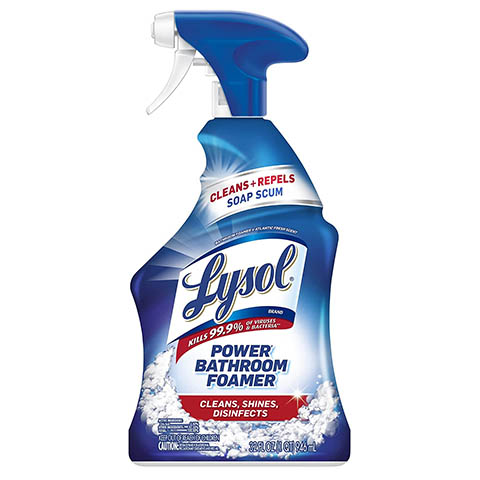 | | |
| --- | --- |
| Type: | Foaming bathroom spray |
| Scent: | Lysol |
| Count: | 32 oz. (x1) |
Lysol Bathroom Cleaner Spray combines the effectiveness of a foaming bathroom cleaner with the patented disinfecting power of Lysol. The result is a great all-around bathroom cleaner that is strong enough to scrub porcelain clean as well as kill 99.9% of viruses and bacteria that could be lurking. The formula is strong enough to cut through tough soap scum, can sanitize bathroom surfaces in as little as 30 seconds, and does not require heavy scrubbing to get the best effect. The product performs as advertised, cleaning, disinfecting, and shining just like it says on the bottle.
---
7.

Window & Glass Cleaner: Glass Plus (3 Pack)
| | |
| --- | --- |
| Type: | Liquid glass cleaner |
| Scent: | Spring waterfall |
| Count: | 32 oz. bottle (x3) |
If you want a cleaner that leaves glass looking its best, you want Glass Plus Glass Cleaner. This value pack includes three large spray bottles, which is enough to replenish your supply for months to come. This cleaner does one thing well: cleans glass. It is safe for all types of glass, including windows, screens, windshields, plexiglass, and fiberglass. It cleans in one pass, doesn't leave streaks, and is safe for nearly any glass surface. That makes this product the perfect addition to any cleaning supply stash.
There were multiple reports of damage during shipping, so that is something to keep in mind if you are planning on ordering online. You can't see the cleaning power if the bottles get jostled during shipment.
---
8.

Floor Cleaner: Aunt Fannie's Vinegar Wash Concentrate
| | |
| --- | --- |
| Type: | Concentrated floor cleaner |
| Scent: | Lemon |
| Count: | 32 oz. jug |
If you want versatile cleaning power for your floors on a budget, you want Aunt Fannie's Floor Cleaner Vinegar Wash Concentrate. This floor cleaner is available in a large bottle of concentrate, meaning you get weeks of fresh smelling cleaning power for one low price. It can be used on a variety of different flooring types, including hardwood, tile, concrete, linoleum, bamboo, vinyl, and laminate. Just mix 1/4 cup of cleaner with a gallon of water to get a powerful clean. Aunt Fannie's Floor Cleaner Vinegar Wash Concentrate's formula cuts through dirt, breaks up grime, and even annihilates grease while remaining environmentally friendly.
The biggest gripe seems to be with the scent. The lemon scent is very potent because it is a concentrate, so if you are not a fan of lemon, you might want to find another scent to fill your house with.
---
9.

Sponge / Scrubber: Scrub Daddy Colors (3 Pack)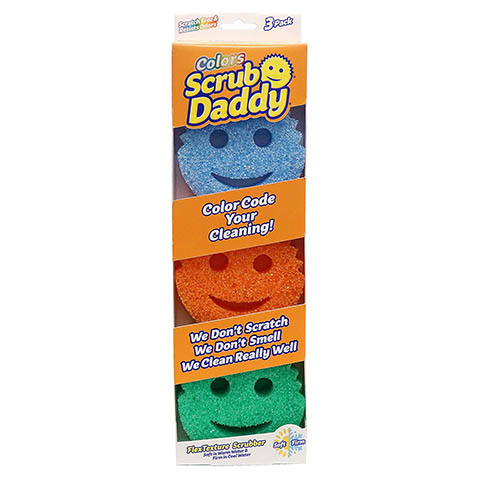 | | |
| --- | --- |
| Type: | Scrubbing sponge |
| Scent: | None |
| Count: | 3 colored sponges |
Some people think that all sponges are the same, but those people would be wrong. Cheap sponges break apart after just a few uses, are hard to clean, and provide very little scrubbing power. The Scrub Daddy Sponge resolves all of those issues. This sponge can be used for months, it rinses off very well, and it is strong enough to provide rigid scrubbing power without disintegrating. This pack provides you with three colorful Scrub Daddy Sponges so you can put one in your kitchen and your bathroom and save one for later. Don't settle for subpar sponges again. Upgrade your cleaning power with this affordable pack of amazing Scrub Daddy Sponges.
---
10.

Mop: O-Cedar EasyWring Microfiber Spin Mop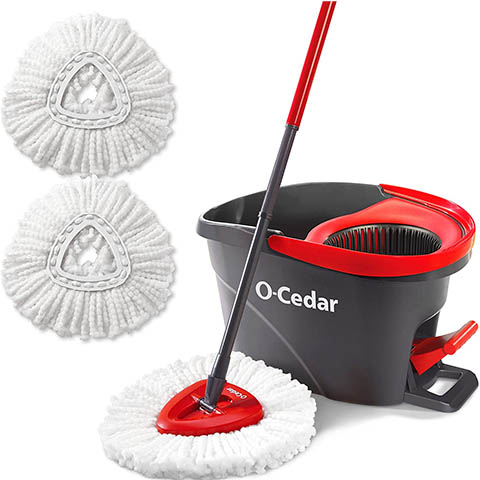 | | |
| --- | --- |
| Type: | Mechanical floor mop |
| Scent: | Added by your choice of cleaner |
| Count: | 1 mop, 1 bucket, 2 mop heads |
Sometimes simple is better than complex, and basic is the most functional. It is clear that O-Cedar is aware of this fact. Their EasyWring Microfiber Spin Mop is as simple as it is useful. The microfiber head provides a ton of cleaning power with just cold tap water. The bucket is deep and provides you with plenty of water to work with. When you want to dry your mop, simply give it a spin with the foot pedal and wring it out without having to touch the damp mop head. The mop is easy to handle and easy to clean. Just toss the pads into the wash. The bucket is easy to dump because it is made of durable, lightweight plastic.
You get a bucket, a mop, and two mop pads for one fair price. There are cheaper mops on the market, but few are as functional as the O-Cedar EasyWring Microfiber Spin Mop.
---
11.

Duster: BOOMJOY Microfiber Feather Duster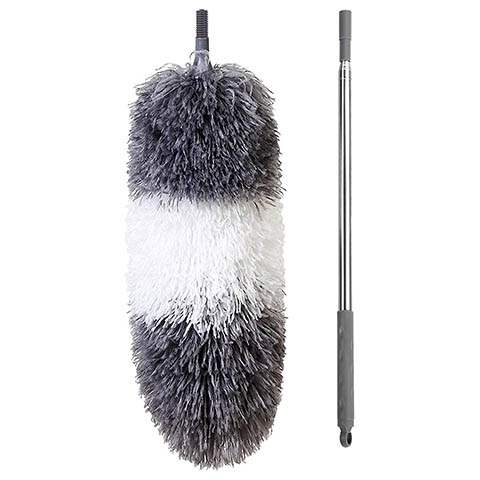 | | |
| --- | --- |
| Type: | Microfiber duster |
| Scent: | None |
| Count: | 1 telescoping duster |
If you want to ensure that you can reach all of the nooks and crannies where dust accumulates in your house, you should check out the BOOMJOY Microfiber Feather Duster. This simple duster comes with an extendable pole that reaches over eight feet. Other hand held dusters only allow you to reach the areas that you can physically touch with your hands. This duster allows you to reach the tops of tall furniture, ceiling fans, and upper corners where cobwebs like to accumulate. This duster is also a steal of a deal, available at a super low price. The microfiber pad locks in dust and dirt, preventing you from just spreading it around while you are cleaning.
---
12.

Vacuum: Dyson Ball Multi Floor Upright Vacuum Cleaner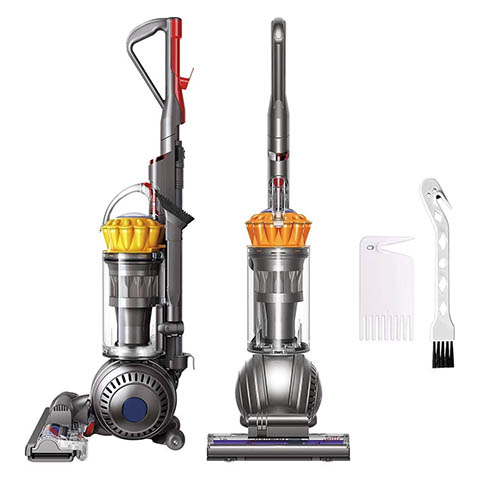 | | |
| --- | --- |
| Type: | Upright vacuum cleaner |
| Scent: | N/A |
| Count: | 1 vacuum |
If you are looking to upgrade your cleaning game, you should look into grabbing the Dyson Ball Upright Vacuum. This vacuum is made with Dyson's well-known quality and functionality. It has powerful suction, a unique and innovative ball design that makes maneuvering the vacuum a breeze, plus an easy empty system. The result is one of the best vacuums on the market right now. Dyson also has a very responsive customer support team and warranty system. The back-end support ensures that any issues you may have with this product will be quickly resolved.
Dyson does not make the cheapest products on the market, so be prepared to pay a little more for this unit. But the power, innovation, and customer support make this vacuum a great deal, nonetheless.

Conclusion
These 12 products are sure to bolster and replenish your cleaning supplies. All of these products are vetted, well-liked, and effective. Whether you want a powerful disinfectant for the flu season or a new vacuum to keep your floors looking their best, there are some excellent cleaning products here for every household.
See also: How To Use Laundry Detergent Pods (Types & Advantages)
---
Featured Image Credit: Natali_ Mis, Shutterstock