7 DIY Boot Dryers You Can Make Yourself (With Pictures)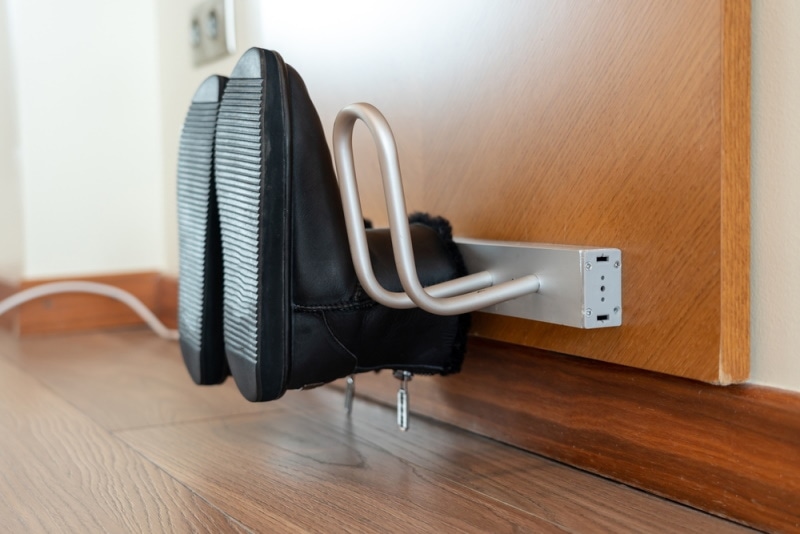 If you love exploring the outdoors irrespective of the weather, your good old boots are your best bet. Unfortunately, drying your footwear can be a time-intensive process, especially during colder climates. Also, wearing wet boots is messy and uncomfortable and can trigger the growth of fungus and bacteria inside your shoes.
So, what do you do if the boots can get damaged in a regular dryer and you don't have the cash to buy an expensive thermal convection dryer?
It's easy; you can make a DIY boot dryer over the weekend!
Here are seven simple, inexpensive, and creative ideas to build a structure that will help dry your boots faster while making your front porch or hallway look a tad neater.

The Top 7 DIY Boot Dryers
1.

Marvelous Man Crafts DIY Boot Dryer by Tracy Lynn Crafts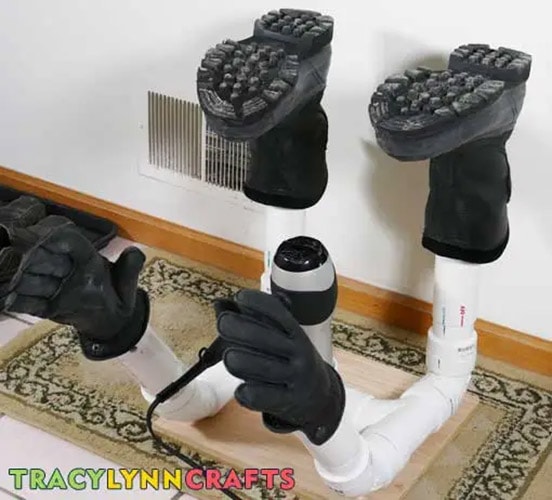 | | |
| --- | --- |
| Materials: | 2 inch x 5 feet and 1-1/2 inch x 18 inches of PVC pipe, (2) 2 inch PVC vent elbow, (2) 2 inch PVC sanitary tee, (4) 2 inch x 1-1/2 inch PVC coupling, (2) 2 inch PVC 60-degree elbow, (4) 2 inch PVC cap socket, (4) 2 inch PVC test knock-out plug, (4) 1-1/2 inch PVC test cap, (1) 2 inch PVC flush clean-out tee, 12″ x 14″ plywood board and (6 ) 1/2 inch flat head self-tapping wood screws |
| Tools: | Drill, 5/32″, 3/8″, 1/4″ drill bits, glue sticks, glue gun, box knife, coarse grit sandpaper, blow dryer |
| Skill Level: | Advanced |
Wearing wet boots can make your feet uncomfortably stinky. If you want to build a DIY boot dryer to fit your boots, gloves, and helmet, you must attempt this project. The structure forces air to flow from the pegs to cut drying time to as little as five hours. It is practical and would look neat in your mudroom.
---
2.

Family Size DIY Boot & Glove Dryer by The Crazy Outdoor Mama
| | |
| --- | --- |
| Materials: | 1/2″ PVC (as much as you need), 1/2″ PVC T's, 1/2″ PVC end caps, 1/2″ NPT lock nut, 1/2″ PVC 1/2S to 1/2NPT adapter, 1 1/2″ vacuum hose, 2/3″ NPT nut, (8) 3/4″ screws, (6) 3/4 "self-tapping screws, silicone sealant, and a double-sided foam tape |
| Tools: | Saw, drill, and hot glue gun |
| Skill Level: | Intermediate |
Do you have a big family, and soaked boots and gloves keep piling faster than you can dry them? Here is a simple boot dryer you can make for a family of five or more. With some creativity, you can modify the design to suit your needs and the size of your family. The structure provides reliable air movement to dry everything in little time without being as damaging as a regular dryer.
---
3.

Boot Dryer DIY by Evo Davo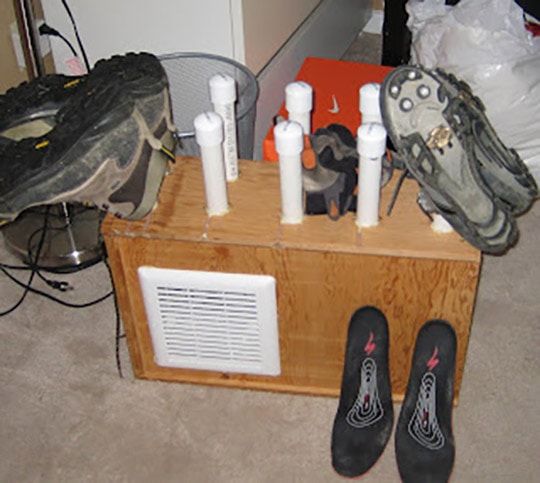 | | |
| --- | --- |
| Materials: | PVC pipes (enough, depending on your needs), an old drawer |
| Tools: | Drill, small ceiling fan |
| Skill Level: | Beginner |
If you are on a budget and prioritize function over great aesthetics, you can make this DIY boot dryer in less than three hours. It's a no-frills structure designed to work as intended: dry your boots. It is perfectly okay to tweak the design to fit as many pairs of boots and gloves as you like. Because you need to attach a fan and not a dryer, you can even leave your boots to dry overnight!
---
4.

Homemade Boot Dryer by Mamma Can Do It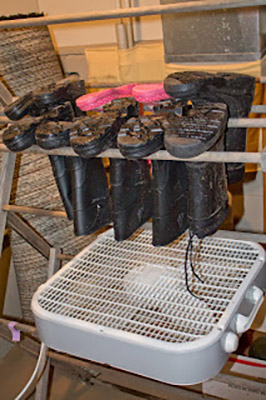 | | |
| --- | --- |
| Materials: | Old wooden boot rack |
| Tools: | Box fan |
| Skill Level: | Beginner |
Do you have an old box fan collecting dust in your basement? That is all you need to make a homemade boot dryer with no budget. Use your wooden boot rack to elevate your boots, place your box fan underneath, and voila! Your boots, gloves, and even snow coat can dry overnight. This is one of the easiest projects requiring only creativity.
---
5.

DIY WildSnow Turbo Boot Dryer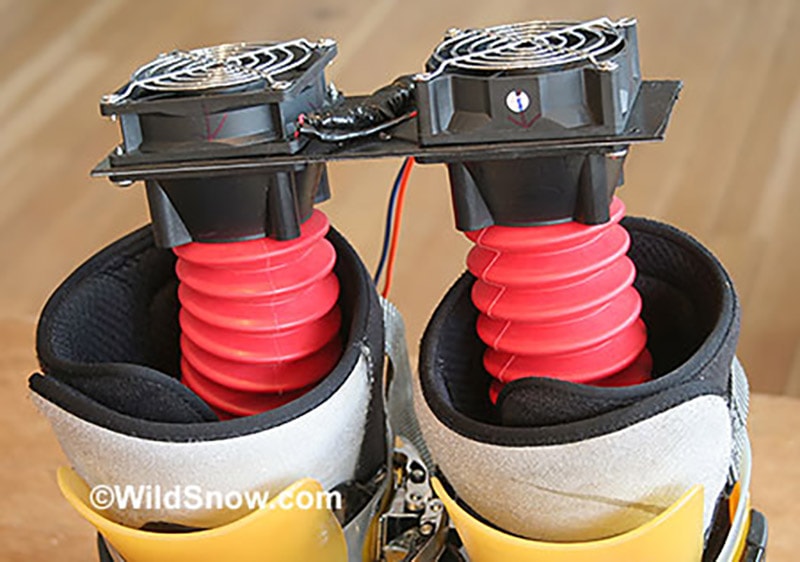 | | |
| --- | --- |
| Materials: | Fan reducers |
| Tools: | Computer fans |
| Skill Level: | Intermediate |
If you are a daredevil and don't mind the risk of your boots getting blown out the door because of a faulty wiring connection, here is an exciting project you must attempt. You can fix a dryer for a pair of boots in less than an hour. Better still, you can make this futuristic-looking boot dryer using stuff you can find in your man cave.
---
6.

Exhaust Fan DIY Boot & Glove Dryer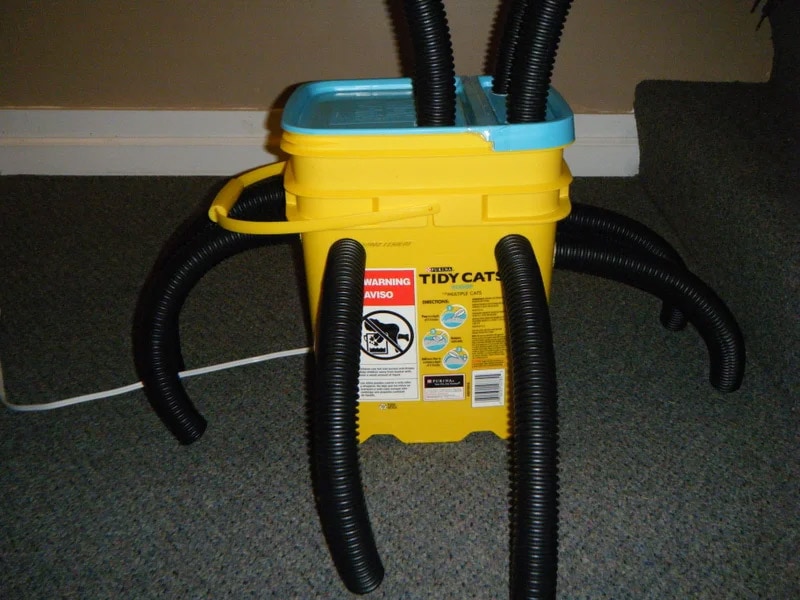 | | |
| --- | --- |
| Materials: | wooden box or old drawer, bilge hose |
| Tools: | Drill, exhaust fan, packing tape |
| Skill Level: | Beginner |
If your hometown has a cold, wintery climate, you know how yucky it can be to slide your legs into cold, damp, squishy boots. In case you don't have a sizable budget to buy a boot dryer, here is a project that can make your life easier after a day of slogging through the ice and snow. It will be pleasant to slide your toasty warm toes into warm boots in the morning.
---
7.

Cheap DIY Boot Dryer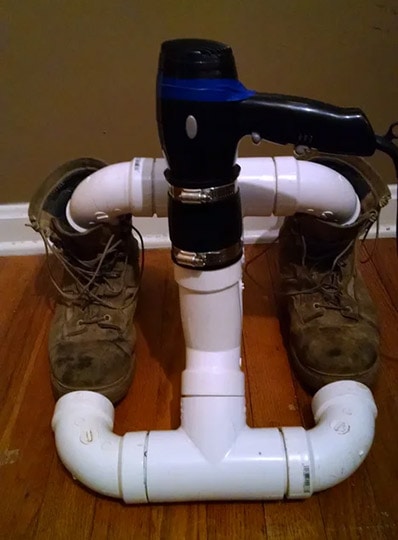 | | |
| --- | --- |
| Materials: | 3 feet of 2 inch PVC pipe, (4) 2″elbows, (2) 2″ T's,(1) 2″ Y, (1) 2″ fernco ci/plastic |
| Tools: | Saw, drill and hair dryer, hot glue gun |
| Skill Level: | Beginner |
This easy and cheap-to-make boot dryer may not have the best aesthetics, but it works! It can be the perfect power tool to dry two pairs of boots at a go or one pair of shoes and your gloves. The design allows easy air circulation, which helps to remove moisture and speed up drying time. Also, this boot dryer is small enough to fit in a discrete corner of your home.

Conclusion
We hope you enjoy our recommended projects and find your new boot dryer useful, practical, and aesthetically appealing.
If you love your boots and put them on frequently, now you have no excuse to have them wafting gross odors because you wore them wet. Building a DIY boot dryer doesn't have to be arduous or time-intensive. You also don't need to have a big budget, and the only sizable expense will involve finding a source of air.
---
Featured Image Credit: sdf_qwe, Shutterstock