20 DIY Entryway Bench Plans You Can Build Today (with Pictures)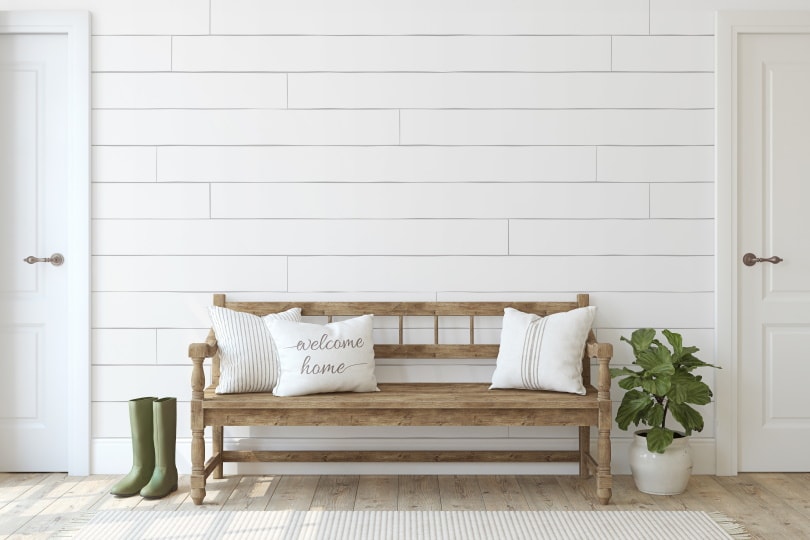 We must preface this article by saying how surprised we were with the fantastic assortment of DIY projects available online. We found examples in a vast array of decors, from minimalist to Bohemian. If you have something particular in mind, you'll have no problem finding an entryway bench plan with the look you want.
A common theme in many of these projects is repurposing other materials, and this article provides you with 20 entryway bench plans that you can get started on today.

The 20 DIY Entryway Bench Plans
1.

Pretty Useful Entryway Bench
This entryway bench plan covers all the bases. It does the job but also provides some much-needed storage area to boot. And speaking of footwear, what better place to put them than where you're going to sit when you put them on again before heading out the door?
---
2.

All-in-One Place Entryway Bench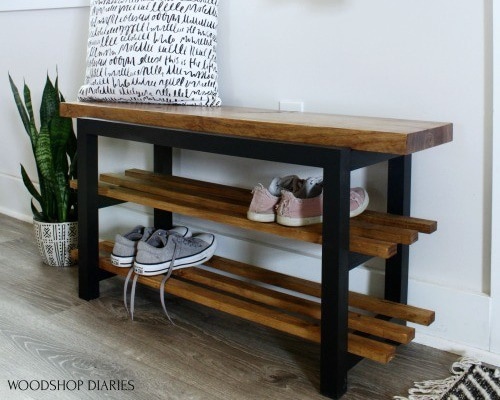 There's a lot to be said for having a place to store all your things to make them handy for a quick dash to the store. We liked this plan because it's also a space saver. It has a small footprint that you can also resize to fit your entryway.
---
3.

To the Point Entryway Bench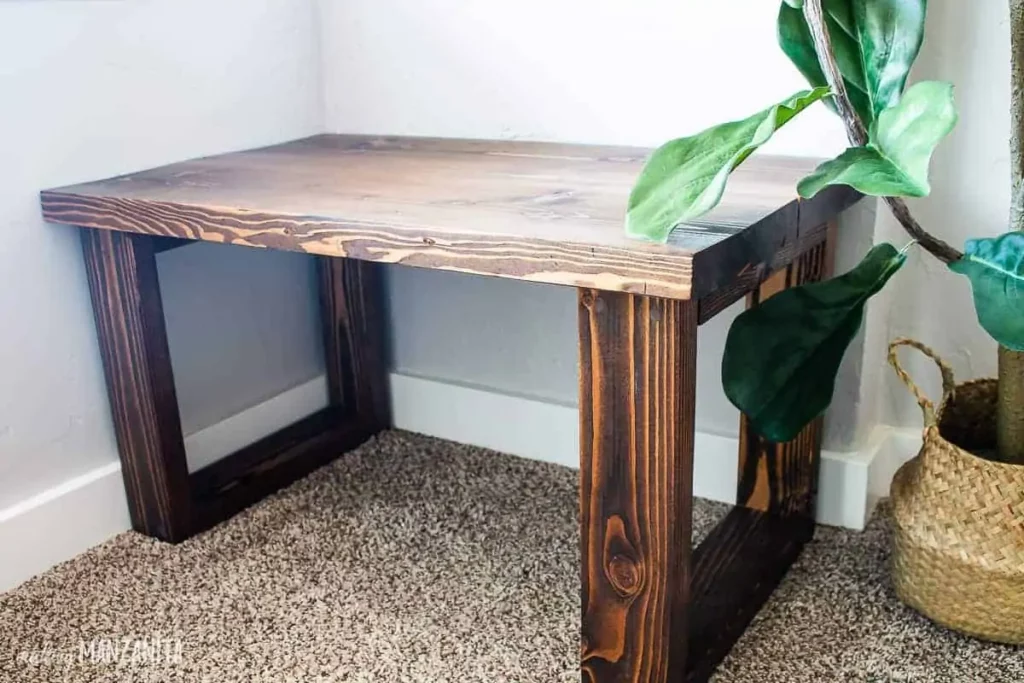 We're all about plans that are simple and easy enough to complete in an afternoon. This entryway bench plan is that and much more. You can have fun with this one by choosing different types of wood or finishes. We could also see repurposing some other pieces of furniture to give it a vintage look.
---
4.

A Different Riff on a Common Theme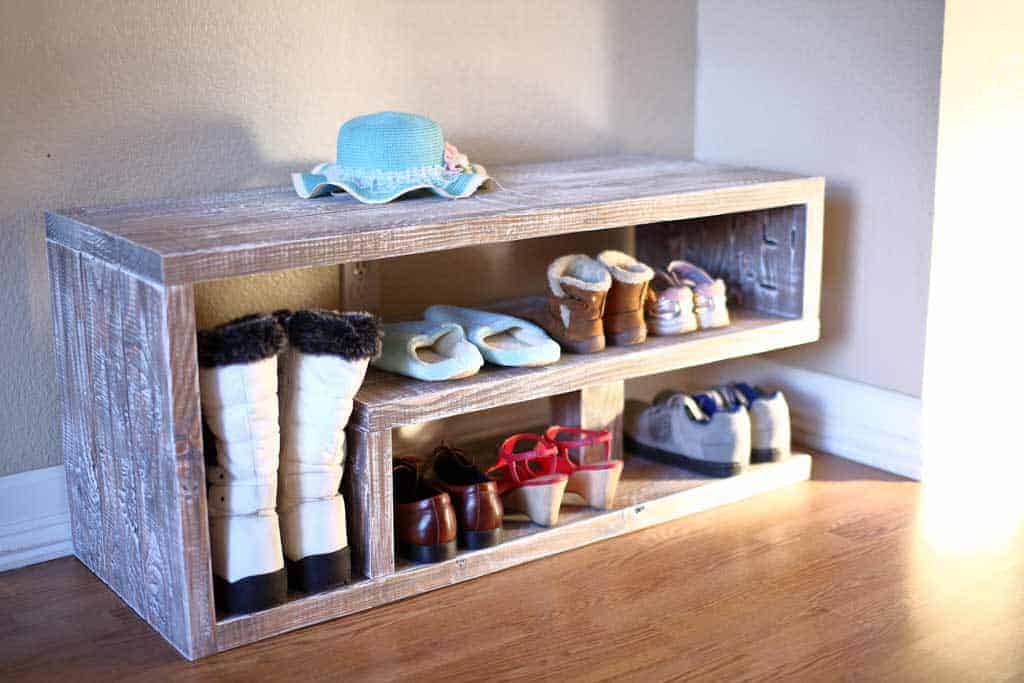 Sometimes, it's just the little touches that make a noticeable difference. The L-shaped shelf of this entryway bench plan fits the bill. We also liked the varying heights that provide enough space for all kinds of footwear, including tall boots. Brilliant!
---
5.

Finishing Touches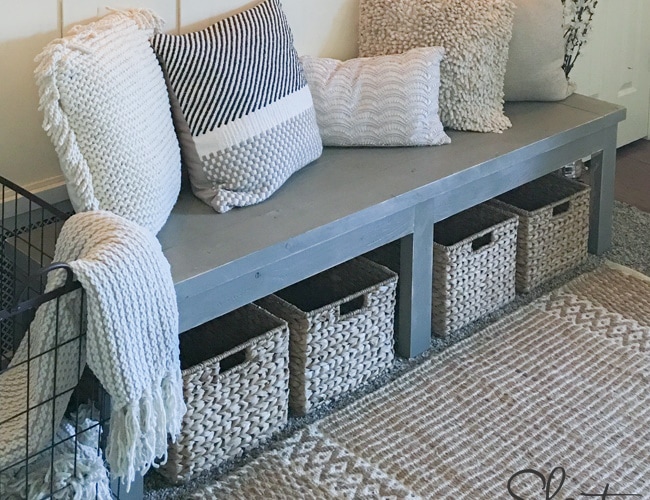 Part of what makes this entryway bench plan so neat is the use of the space above and below it. The bench is the height of simplicity. However, using storage bins underneath it makes it even more useful. And did we mention the wall hooks for outerwear above it?
---
6.

Making It Complete Entryway Bench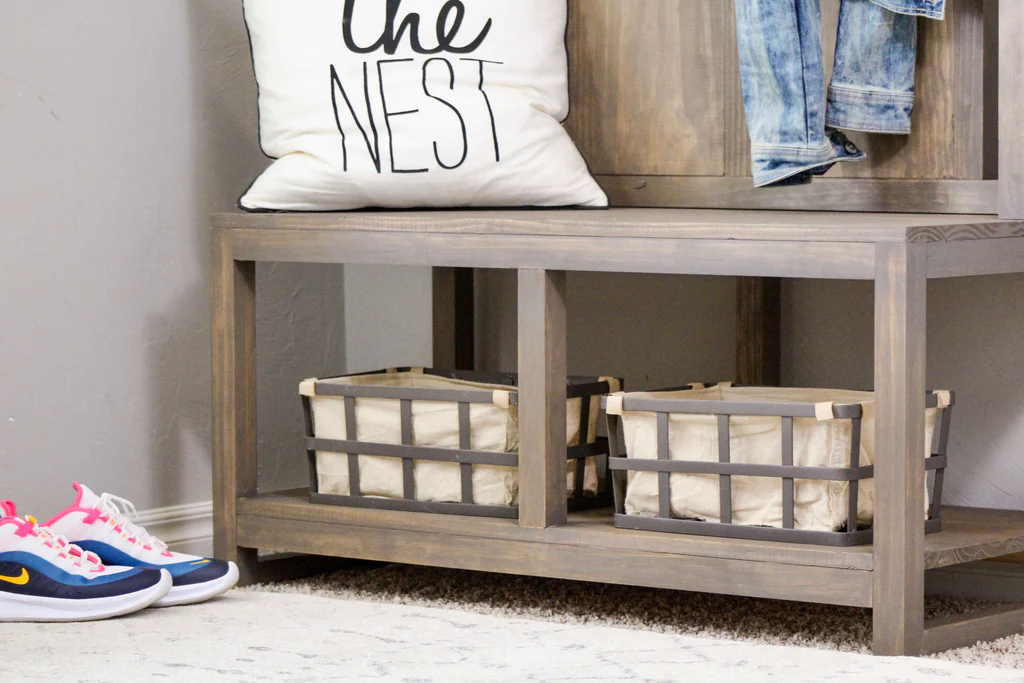 If you are short on room yet want everything in one space, this plan is for you. You can keep footwear and coats together with a handy place to get dressed to go outside again. It's an attractive design that belies how functional it is.
---
7.

Repurposing to the Next Level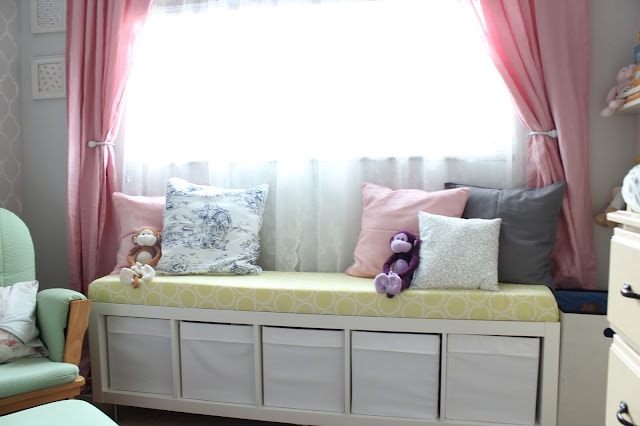 It starts with a simple bookshelf and becomes a padded entryway bench with storage compartments like magic. While it sounds like a challenging project, it's not as involved as you think. After all, the store-bought shelving unit provides most of the framework. All it needs are some finishing touches.
---
8.

Making It Comfortable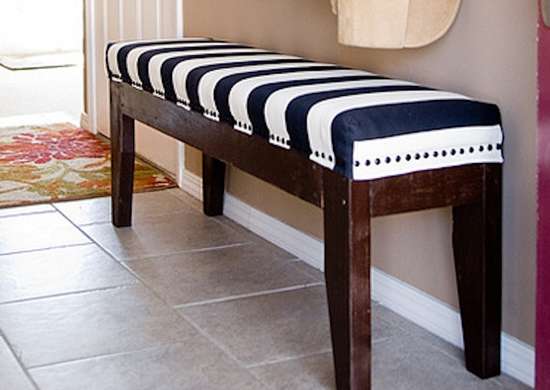 An entryway bench is a useful piece of furniture that serves a much-needed purpose. However, that doesn't mean it can't be a comfortable place to sit while taking off your shoes or waiting for someone to get ready. Of course, the sky is the limit when choosing the amount of cushioning you want and the fabric to cover it.
---
9.

A French Touch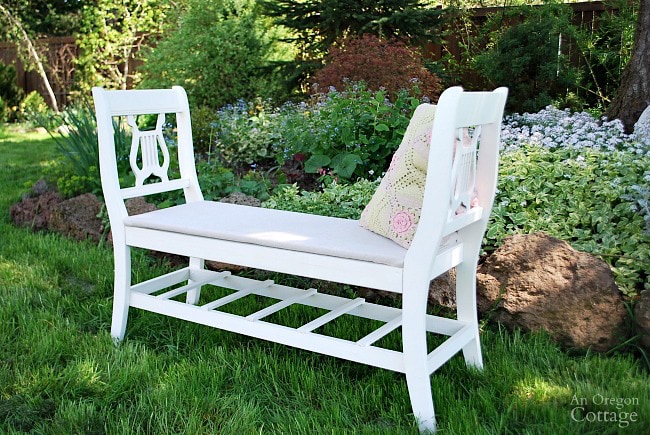 This entryway bench began as two dining room chairs. Connecting them with a padded slat turns them into a pretty bench with all the looks of a fancy and expensive piece. You can quickly assemble this one for under $100 in a single afternoon. Now, that's an excellent use of time and money!
---
10.

Becoming Useful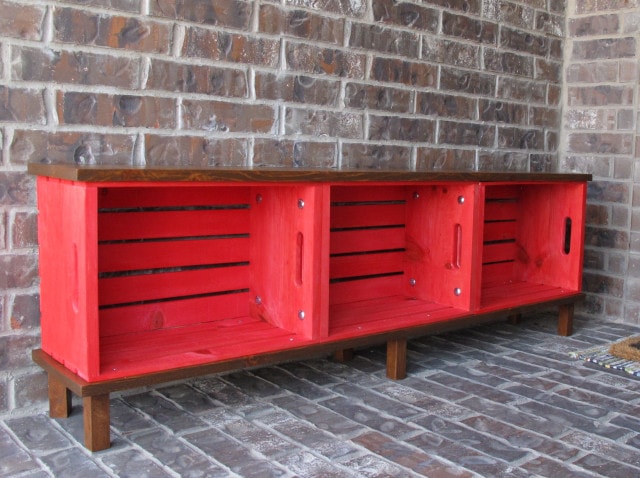 Your local antique shop is a treasure trove of DIY entryway bench ideas. This one is no exception. We liked that it takes something you may not consider useful, such as these crates. Then, it turns it into an eye-catching bench with a coat of paint and a frame to bring it all together.
---
11.

Side by Side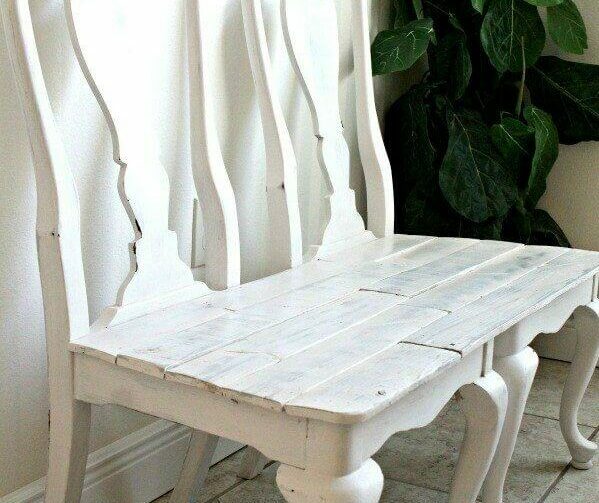 We've looked at making a French-style bench by joining facing chairs. Another variation is to put them side by side if you need something freestanding. Again, your local thrift shop can supply the materials. You just need the creativity to make it happen.
---
12.

Retro-Fitting It
We can see this entryway bench in a home with a mid-century modern or minimalist design. It will fit right in well. It's the type of project that will have your friends asking you where you bought it. The upholstered top is an excellent addition that adds to the beauty of this piece.
---
13.

Customizing It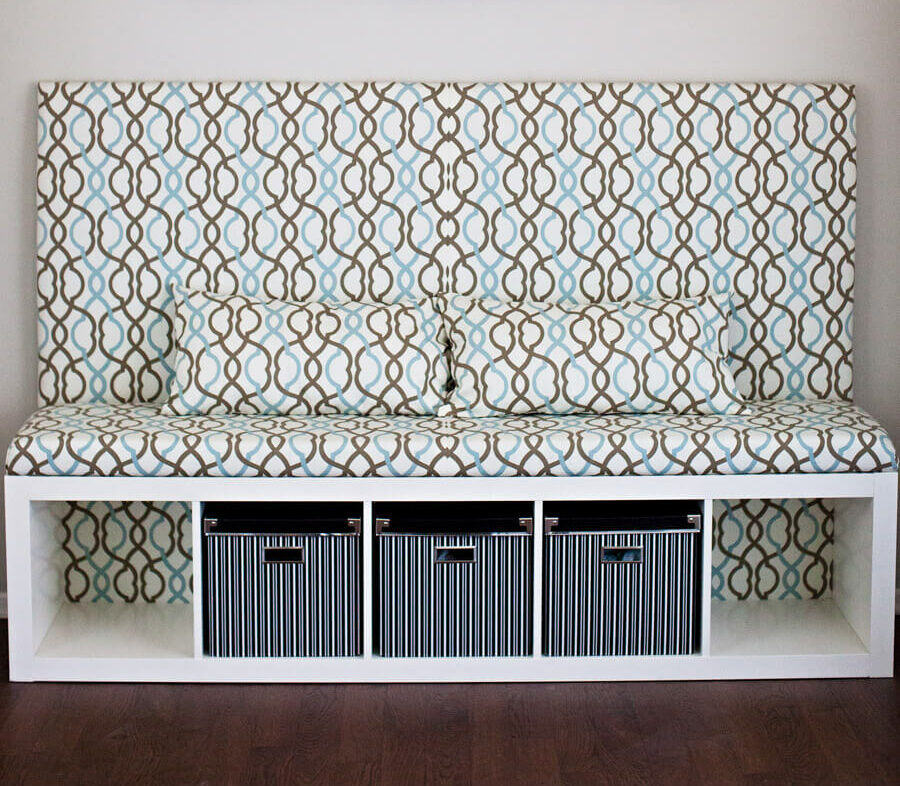 Maybe this design is a bit out there for some. However, it might be right up your alley if you have a Bohemian-style home. We liked that it takes something practical and makes it into furniture. The cushioned back and the matching pillows are clever additions that hide its functional purpose.
---
14.

Country Living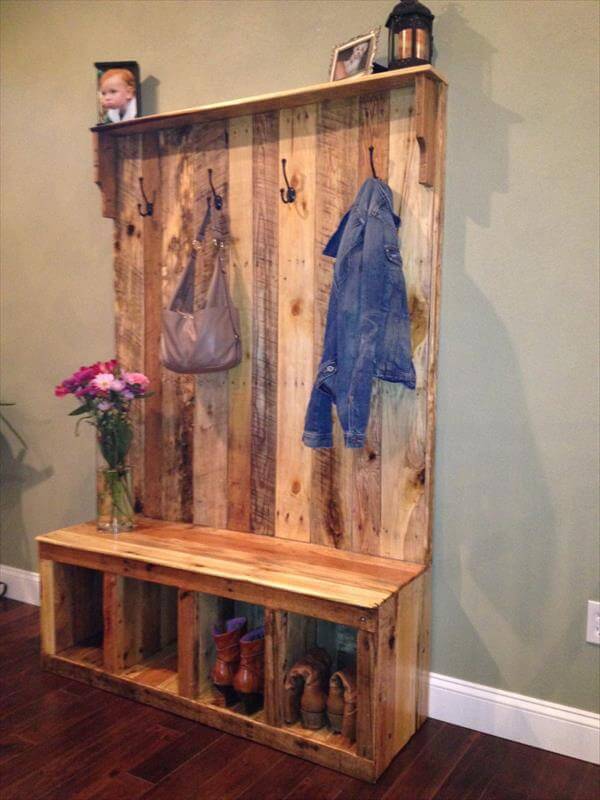 We'd be remiss if we didn't include at least one pallet project. This one proves how useful the materials are for creating pieces such as this full-sized entryway bench. The grain and texture of the wood make it an excellent choice in a country-style or rustic home.
---
15.

Making It Vintage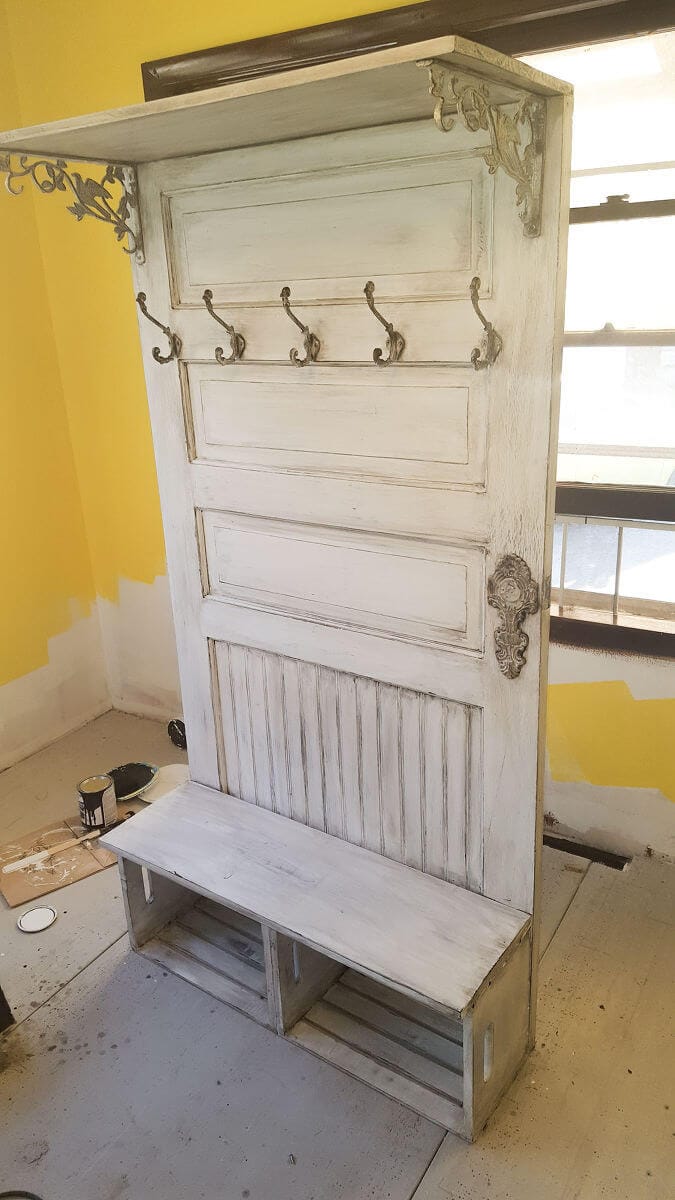 If you have rustic or shabby chic decor, we've found your ideal entryway bench with this plan. It starts with an old wooden door with lots of character. Then, add a simple bench and some coat hooks, and voilà! Your entryway is complete with a fun, retro design.
---
16.

Heading Forward
This entryway bench plan is one of the more interesting ones we found. Who would think of using a headboard as the basis for this piece? We sure didn't until we saw it. What's great about repurposing a headboard is that it brings elaborate woodwork into the project.
---
17.

Upgrading It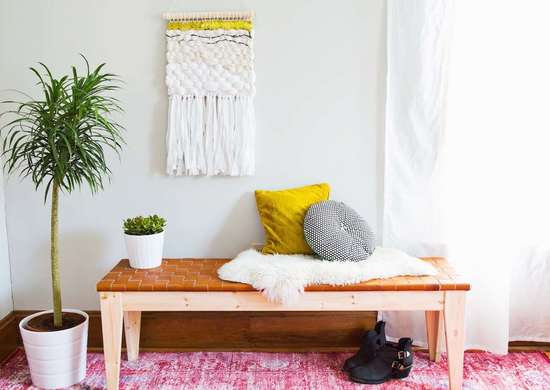 Here's a thought. Take a used bench and upgrade it with a new leather top. What was old and discarded becomes a gorgeous piece of furniture that makes an excellent first impression on visitors.
---
18.

Benching It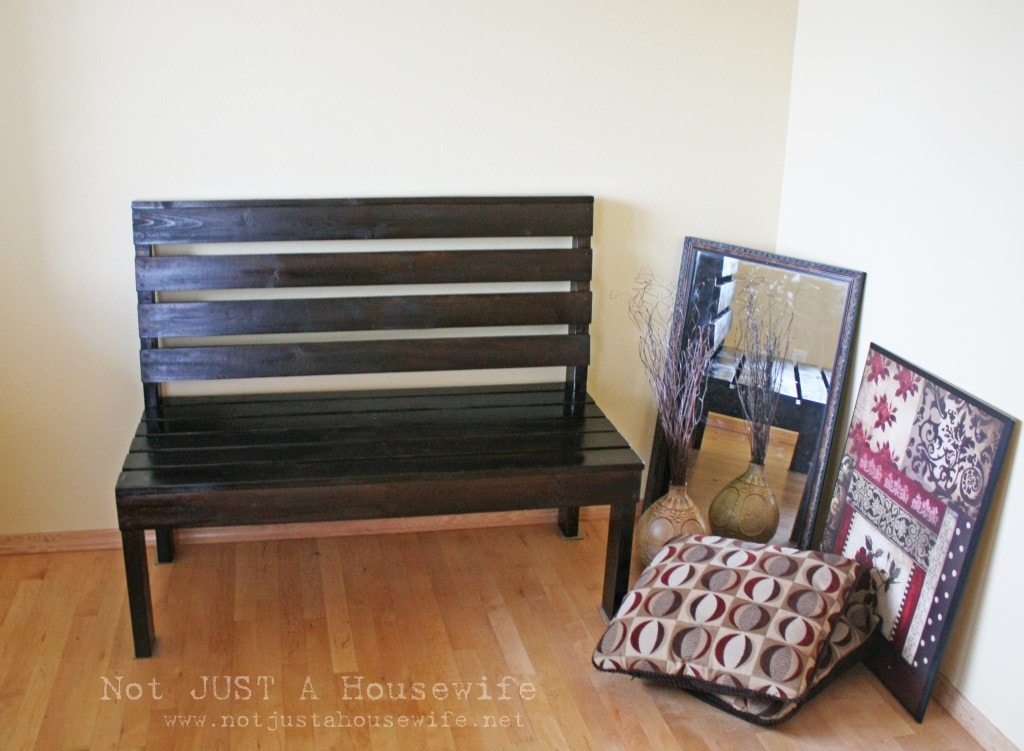 If you're handy, you can start from scratch using 2x4s and make a bench worthy of the space in your home. We liked this design because it's a classic. It's not a challenging project, either. It's an excellent option if you want to use a more expensive wood without paying a high price tag for a ready-made piece.
---
19.

Close Quarters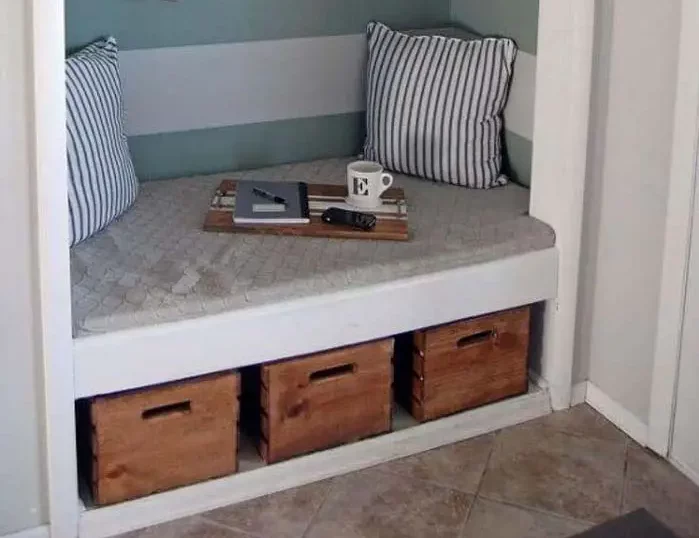 We've talked a lot about repurposing other pieces to make a DIY entryway bench. However, we didn't consider applying this logic to a closet. Of course, it depends on whether you can give up the space. However, we liked that it made the entryway a cozy room.
---
20.

From Dresser to Cozy Nook

It's hard to know where to start with this clever DIY project. It uses an old dresser you can easily find at a garage sale or vintage shop. Then, you'll remove a layer of drawers and fashion a bench from the rest. Keeping a set of drawers on the bottom is an excellent way to add storage space because you can never have enough.

Final Thoughts
It almost seems silly to spend money on an entryway bench from a furniture store when you can make so many attractive pieces yourself. The best part is that you can easily repurpose other items and create something unique for your home. Many of the projects we've detailed are simple, even if you don't have much woodworking experience. All it takes is imagination.
You might also be interested in: How to Build a Bench from an Old Tailgate: 4 Plans
---
Featured Image Credit: Tr1sha, Shutterstock